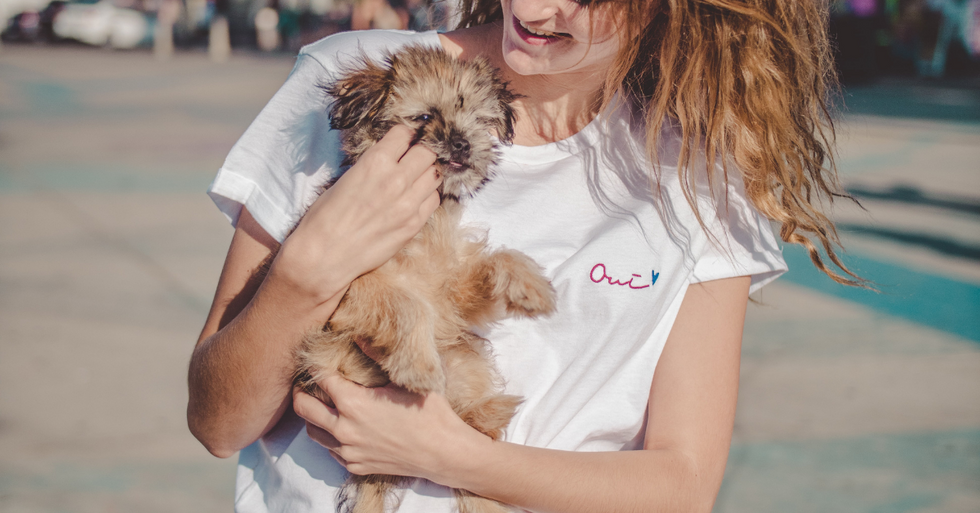 We all know someone who was let off with a warning constantly with their parents. Their behavior tends to be super annoying as a result, but sometimes it even causes problems for other people, pointed out the "Am I the A**hole?" (AITA) subReddit. Redditor OnlyAt4AM didn't appreciate always having to watch her brother more closely when […]
More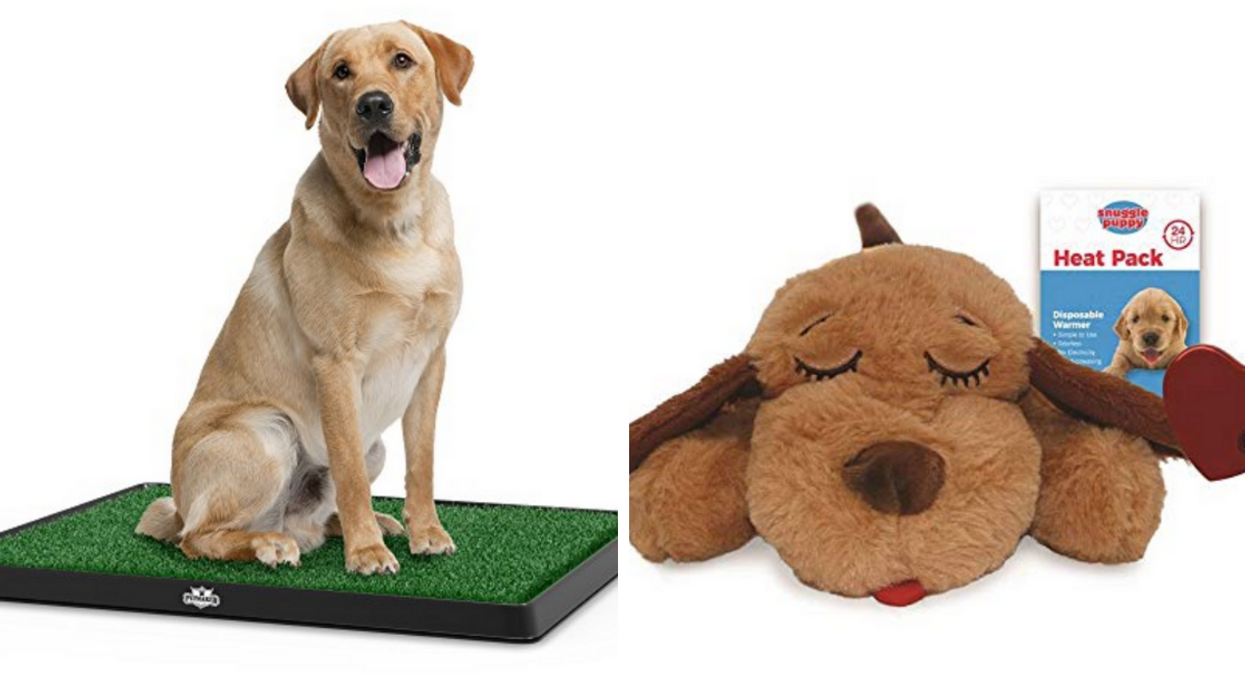 It's National Puppy Day and to celebrate I rounded up the cutest puppy items because we all know man's best friend deserves the best.
Bringing home a new puppy is a learning curve for everyone so gathering these essentials (and a few toys) can make life easier. So, when you're finished puppy-proofing the house, buying all the puppy food and personalized dog bowls you will want some extras to make sure you're truly ready for your new bestie.
Keep reading...
Show less
The Massachusetts State Police are no strangers to calls about wounded animals on the highway, but a call they received on May 5th wasn't quite what they were expecting.
Dispatch received a call about a "wounded dog in the road," and Trooper Carlo Mastromattei responded.
What Mastromattei found when he arrived on-site on Revere Beach Parkway was, in fact, a tiny lone coyote pup.
The poor pup had apparently been separated from its mother, as she was nowhere to be found.
Trooper Mastromattei contacted several local wildlife services after he realized how much danger being on the parkway posed for the pup, but none of the agencies he contacted had personnel available to assist.

He then contacted Ocean View Kennels. The owner, Lisa Cutting, was able to come help him wrangle the pup safely into a crate.
Cutting told CBS Boston about the rescue:
"Put my gloves on. Grabbed a towel and a quarantine cage, and picked him up and brought him to safety."
Mastromattei then took the pup home, where he and his girlfriend AnnBeth cared for it overnight before bringing it to the Tufts Wildlife Clinic for an evaluation.
The coyote pup was given a clean bill of health, and Tufts arranged for him to be taken in by wildlife rehabilitation specialist Dawn Collins, of Berkshire Wildlife Services.
He will spend some time being taught how to survive on his own in the wild, and will eventually be released once he can fend for himself.
You can read Massachusetts State Police's Facebook statement (and see some adorable photos of the pup) below:
The response of Facebook users was overwhelmingly positive and supportive.
Many thanked Trooper Mastromattei for his compassion and quick thinking.

Jamene Murphy/Facebook

Kerry Howeson/Facebook

Cheryl Gaffny Floyd/Facebook

Tracy Ann/Facebook

Samantha Gitschier/Facebook
Some also thanked AnnBeth for her part in caring for the little ball of fur.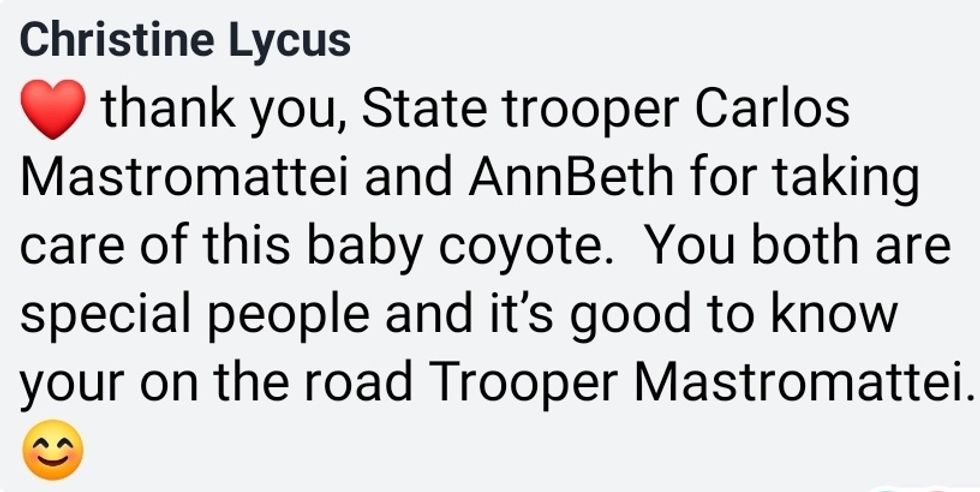 Christine Lycus/Facebook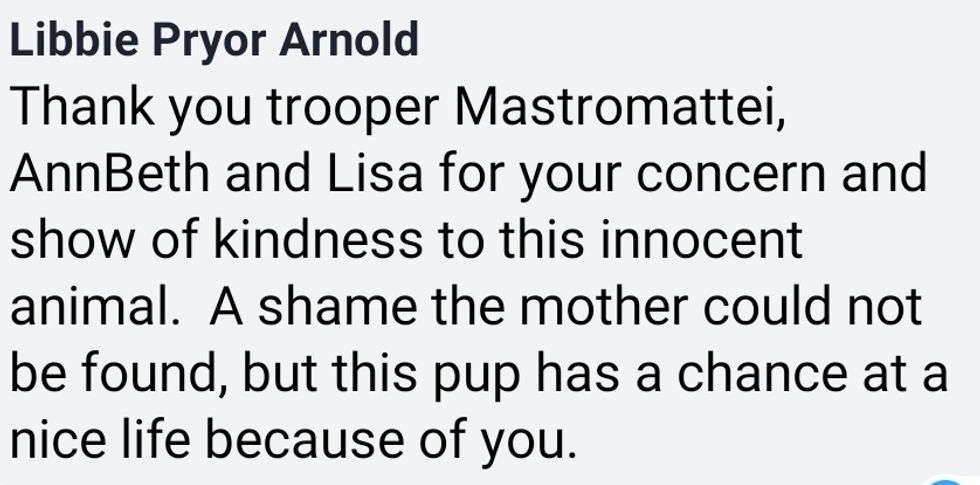 Libbie Pryor Arnold/Facebook
This certainly isn't the only orphaned or injured coyote that Dawn Collins has taken in for rehabilitation. She is the only person licensed in wildlife rehabilitation in Massachusetts that will take coyotes.
According to the Berkshire Eagle, she has already taken in 5 pups this year. This pup will join them after 2 weeks in quarantine to make sure that all is well.
If you want to support the work that Collins does with Berkshire Wildlife Services, you can donate via their website.
Keep reading...
Show less
That means that dogs know exactly what they're doing when they destroy their owner's possessions.
Like this doggo:
Who, though looking like @MaryBeth's innocent little baby, secretly has the smuggest look on his face:
The way he's staring at you says, "yeah, I destroyed this blanket. Big whoop. Wanna make sum'n' of it?"
And he ain't the only dog who knows exactly what he's done.
We've seen that expression before.
So the next time you feel bad for your pup who destroyed your property:
Just remember that little grin.
It tells you everything you need to know.
Keep reading...
Show less
The morning commute is often the most boring part of the day.
It's hard driving to work while you're still waiting for your first cup of coffee to kick in.
Twitter user @TeganG_ recently had a decidedly un-boring trip to work however, when a "branch" on the side of the road started moving as she drove by.
She shared a photo of a beautiful puppy with the caption:
"Sooo... I found a puppy in a ditch on my way to work this morning. How was your day?!"
Tegan, who lives in a rural part of Wisconsin, was driving along a dirt road she always takes to get to work.
She noticed that the detritus on the side of the road seemed a bit different from the way it usually looked.

Then a "branch" in the ditch moved, and she stopped the car.
Tegan had to coax the poor thing toward her with some cheese from her lunch.
She wasn't used to dealing with puppies, so she decided to keep him as close as possible while she went in to work to retrieve the things she needed to telework.
When she tried to get ahold of someone to take the puppy, she had to call around to a few different people before she landed on the right shelter.
Tegan got a heck of a surprise when she told Forest County Humane Society where she had found the pup in the ditch.
The poor doggo, now named Larry, had been outside by himself all night in dangerously cold temperature.
The reunited pups were super adorable!
They were much too excited to cooperate when Humane Society staff tried to weigh them.
This was obviously the best time to run around and dodge the humans; they were just trying to play, right?
Tegan decided that Larry would become a permanent part of her family, after Forest County Humane Society made sure he was healthy enough to go home.
Tegan also asked anyone who enjoyed her epic tale of puppy saving to consider donating to the shelter who took in the puppies.
Rural animal shelters often struggle to get enough funding, so even a small donation can make the world of difference in the lives of the companion animals they rescue.
The call for donations was a huge success.
Tegan will definitely give little Larry a wonderful home, and thanks to her and those who enjoyed her story, Forest County Humane Society will be able to help hundreds of other animals find the same.
If you would like to help the Humane Society in their mission to help companion animals find loving homes, you can donate on their website (via PayPal): https://www.forestcountyhumanesociety.org/donate

If a monetary donation isn't your thing, try calling your local animal shelter and asking what you can do to help. Shelters are often in need of volunteers or gently used items like towels and blankets.
It doesn't always take money to make a difference!
Keep reading...
Show less