People Explain Which Animals Many Believe Are Harmless But Are Actually Quite Dangerous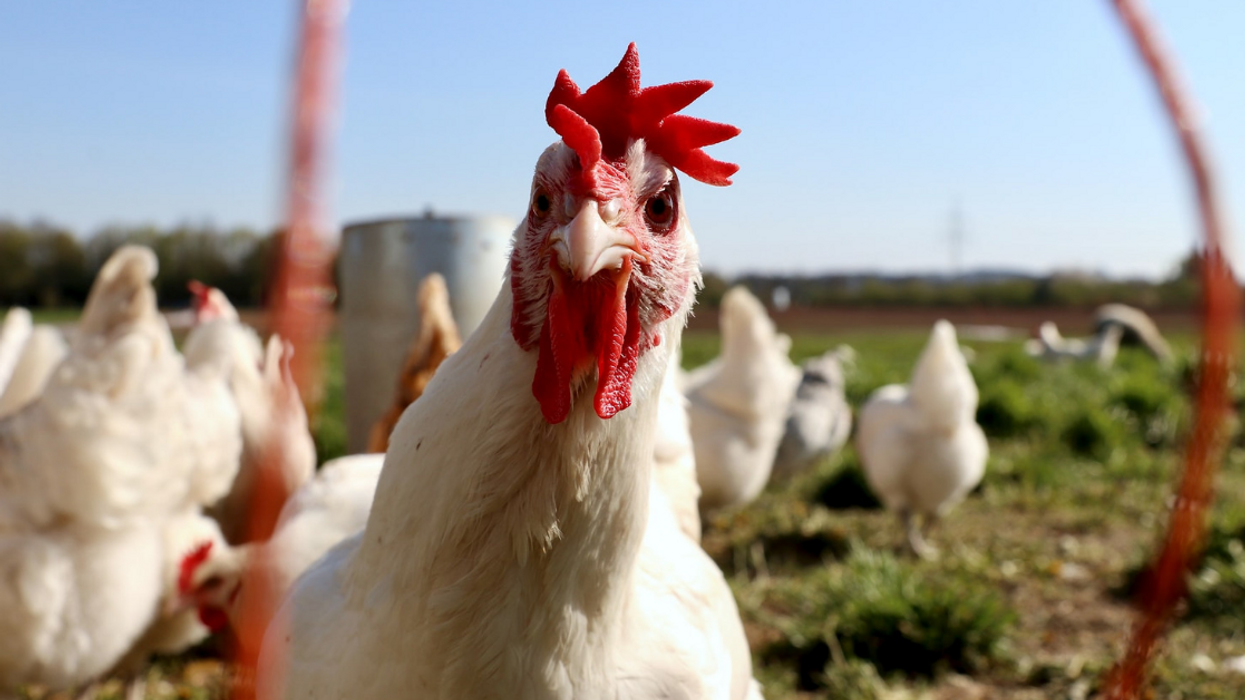 Chickens. Are. Terrifying.
If you think "chickens" and think of flighty, cowardly animals, it's clear you've never actually met them.
They're mean. They're bloodthirsty. They've killed people.
Nature made them small and delicious so we'd eat them and give ourselves a fighting chance against these New World Velociraptors.
---
Reddit user Click-bayt1025 assked:
"What's an animal everyone thinks is harmless but in reality is very dangerous?"
... we should probably be very afraid.
Bye-Son
"Bison, every year someone gets hurt or killed in Yellowstone because they think the bison are slow and dumb and you can take selfies with them."
"Really they are quick and powerful, but have poor eyesight. As you approach a bison it may not see you until you are close, then it can panic and gore you."

- Riverrat423
"People really treat Yellowstone like a petting zoo. Seen many videos of people being flipped into the air like ragdolls."
"Also the kid who got his chin gored because the family had the windows down"
- chiefs_fan37
"I legit cannot fathom seeing an animal as massive as a bison and assuming it's safe to approach."

- aliceroyal
"It seems like there's more stories coming out from Yellowstone about people getting killed or critically injured by Buffalo because they're getting to close to them."
- shrimpsauce91
"The stupidest sh*t I ever saw in my life was the tourist I saw in Yellowstone tiptoeing through a thermal area (where the earth/crust is really thin and barely covers deep pools of boiling hot acidic water) with his camera to get closer to a bison and its calf to take a photo."
"Dude must have had a death wish."
- g-a-r-n-e-t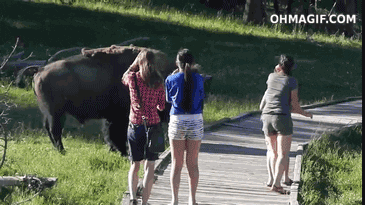 Giphy
Cone Snail
"Cone snails."
"You see their shells decorating bathrooms all the time. But find a live one and make the mistake handling it and it will lance you with a venomous harpoon."
"For several species, such as the geography cone, this venom is sufficent to swiftly kill a human."
- Trips-Over-Tail
"Definitely snails. Certain fresh water snails carry parasitic worms that in turn carry a deadly disease known as schistosomiasis. When humans come into contact with water where these snails live they can become infected and die of organ failure."
"In sub-Saharan Africa, schistosomiasis is the second leading cause of death after malaria, with more than 200,000"
- elizletcher
"There's one species of cone snail nicknamed "cigarette snail" because the time their venom takes to kill you is about as much as it takes to smoke a cigarette."

- WeirdStray
"This is the answer I was looking for. I'll never forget reading about this as a kid and being surprised they can harpoon people and kill them while they collect shells."
- Rhodri_Suojelija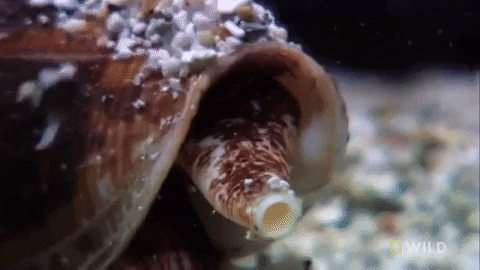 Giphy
Donkey
"Donkeys although they look innocent but they have nasty kicks and bites"

- musanifshah3010
"Anybody that thinks donkeys aren't terrifying should see what happens when they get a hold of a coyote."
- mgj6818
"They have wild donkeys near Lake Pleasant. I camped there one time and I just heard this mean ass beast in the bushes—we were scared. I got up some courage and went to go look and it was just a really mean donkey."
- xXSpaceturdXx
"And even if you somehow defeat one, you'll have to fight its pissed off dragon wife next"
- P1SSY3LL0W
"Used to work near wild Burros. A lot of those Burros had scars on their backs from when a mountain lions attempted to take them down."
"Attempted, being the key word there. Saw one with a bad eye, one ear, scarred up back, and no fear in its one good eye. Of me or my SUV."

- 2DamnBig
"Donkeys are smart tho, really just don't get on their territory unless you live their or they allow it."
"We had few and they all had different jobs. Those that moved stuff from the farm to the sorting room knew the way around the farm. We load them up and they go drop it and come back and eat a treat."
"They knew when guests are coming and would guide our herd of sheep to the other side of the farm."
"Kept our sheep protected at night.""
"Just take care of them, feed them, shelter them, and clean them. That's all they ask for and they are loyal."
"Also let them be them. They like to run around or just lay down and do nothing, they got amazing personalities."
- momo88852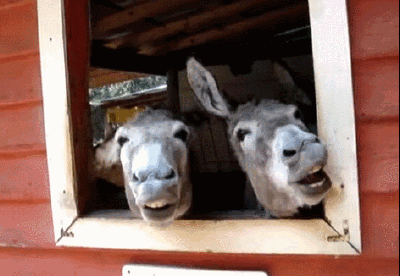 Giphy
Big Big Birds
"Not everyone but I see a few people get dangerously close to big birds like hawks and eagles. I'm like, people, those birds almost got bigger claws than bears, leave them alone."

- TheShadowOfKaos
"I work with them quite often and yeah, if you don't know what you are doing and how to properly handle them it can be very very dangerous."
"Also people letting their little tiny rabbit sized dogs walk off leash in areas where I know there are raptors drives me mad. There's no way you'd be able to save your dog if one decided they looked like a good meal."
- chamomilehoneywhisk
"I once rescued an adult redtail hawk with a broken wing. Having to catch her up was very scary - she flopped on her back, talons up, ready to grab me."
"Luckily I was able to cover her head and grab her legs."

"Most people, if they have the sense to be afraid of raptors, fear being bitten. Nah, the beak isn't the primary weapon, those talons are!"
- sainsa
"I went on a falconry experience once, had a golden eagle on my arm which was super tame and chill, and it was still terrifying. When it jumped off my arm to take off the force sent my arm downwards about 45 degrees."
- godoflemmings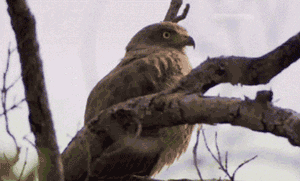 Giphy
Timon
"My uncle is a zoologist and the only animal he was ever attacked by was a meerkat."
- doej0
"I'm a zoo volunteer, got bitten by a meerkat a few months ago. It just darted up and bit my finger for no reason, little jerk. They are FAST."
- Sleeplesshelley
"Small animals like that come preprogrammed with the rage of 1,000 demons."
- kendrahf
"Meerkats also have the highest environmental risk factor of any potentially escaped animal. They'll breed and dig until theyve reached carrying capacity, destroying root systems and creating deserts wherever they go."
"If you wanna cripple a nation's food supply, just drop in a few horny meerkats."

- fuckasssss
"The only scar I got from working with animals was from a meerkat, didn't give her her chicken fast enough 🥲"
- tribblemethis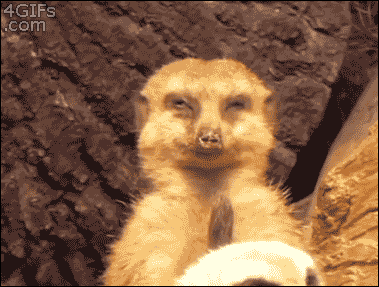 Giphy
Beavers
"Beware of Beavers!"
"Beavers will stand their ground and confront a threat. If trapped, cornered, or ensnatched, a beaver will attack a human."
"The rodents' sharp teeth may cause serious injury as well as infection. Beavers carry tularemia, parasites, and rabies, which can transfer through bites, body fluids, or infected water."
"Before beavers attack humans or other animals, they send a warning by growling and hissing. On land, the animal rises to its hind legs to face a threat. In the water, a startled beaver slaps its tail against the surface to alert others in the colony before diving to safety."
- Back2Bach
"I've heard a beaver slap its tail in the water before. You'd think someone just fired a shotgun at you!"
- mikeybab123
"I had a beaver shadow me for about a half mile while I was wade fishing a small river. Whenever I stopped to fish, it swam within about 15 feet from me and slapped its tail against the water."
"So I would move farther downstream, but it would just repeat the process. It was probably protecting little ones, but finally I got so unnerved I decided that was enough fishing for one day."
- twisted_stepsister
"Nickelodeon was right. Those beavers are Angry Beavers."

- FM1091
"When I was in highschool, me and my buddies were walking along the river bank one night and I heard rustling in the tall grass up the bank. Being a very stupid teenager, I pulled the grass to the sides like a cartoon character and put my face right in there."
"I saw two large, shiny, black marbles and a yellow coffee mug. When my eyes adjusted to the light, I made out a toaster oven-sized beaver with MASSIVE yellow teeth."
"We started at each other, frozen in fear for what felt like a lifetime when I slowly closed the opening in the grass and backed out before strolling away. It was a total Scooby Doo moment."
"I didn't tell my friends until we were well away so they didn't go back and disturb it because I didn't how dangerous a beaver could be."
- Broosevelt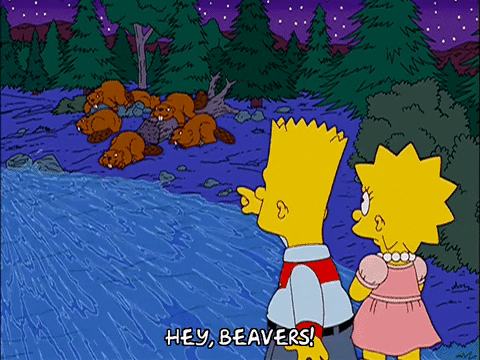 Giphy
All-around MVPredator
"dragon flies, but not to people. I went off the beaten path hiking around an old slate town and there was a lot of horse/deer flies buzzing around attacking me. I Came across the edge of a huge beaver pond that hasn't really been touched by humans in 100+ years."
"As soon as I get to the marshy beach all the sudden i see these little flashes of black zooming around my head and all of the flies are gone these fuckin dragon flies came in and took them all out in a matter of seconds mid god damn flight."
- Outnabout3535325
"Dragonflies are really good predators. They are the perfect flying machines"
- gandalfium225
"Dragonflies actually have the highest kill ratio of any animal"
"I don't remember the exact stat, but its over 90% of the time they hit their target."
- Gasp32
"Dragonflies are vicious, vicious predators. Something like 95% success rate at hunting, they can fly up to 30 mph, and are ridiculously agile, about to fly up, down, left, right, forwards and backwards, and can hover."

- Dorgamund
"Yeah, they will pick them right off your skin while in mid-bite. When I was working in a forest we used to go to bridge over a water way in the evening to get some relief from the bugs. The relief was an airforce of dragon flies feasting on those bastards."
- socialism-scientific
"As an avid outdoorsman, I regularly plan trips to certain areas based upon predictions and reports about whether dragonflies are out yet that year."
"They are true friends of the outdoors enthusiast."
"But they do, in fact, pack a nasty bite if they so choose to use it. Usually they don't, but I've been bitten by them before and it hurts like f*cking hell. I still love them."
- flargenhargen
"The real heroes."
- Dark_Vengence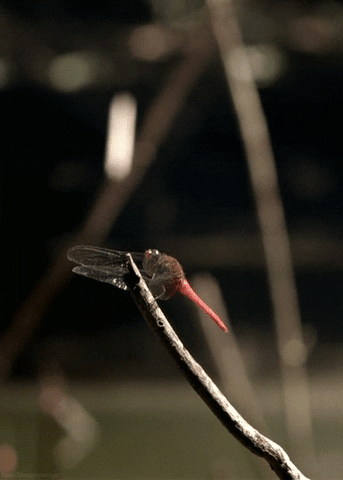 Giphy
Flippin Flipper
"Dolphins. Those things can be little psychopaths."
- AgentAwesome2008
"Came here for this. The biggest rapists and druggies on the planet"
- LordChaos404
"Little meat torpedoes that can weigh over half a ton, bite like crocodiles and sometimes find humans sexually attractive."
- Nephilims_Dagger
"YES!! One bit me at Sea World, I thought it was an accident because it was a feeding tank but he turned around and BIT ME AGAIN."
"Tons of other kids were standing there, that bottle nosed bastard targeted me!"
"I don't blame it though, poor guy living in captivity."
- Fishbate333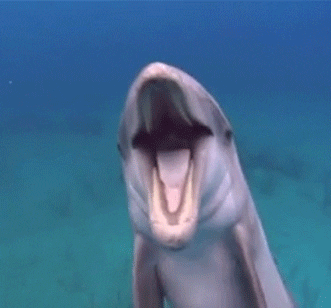 Giphy
Careful With The Fedora
"Platypus. The males have a big venom spike on their back legs, which is intensely painful."

"This sounds like a joke, but it's absolutely true."
- IncredulousPulp
"Platypus is an animal that makes so little sense the first person to send one back to Europe was labeled a fraud."
"Like other monotremes, it senses prey through electrolocation. It is one of the few species of venomous mammals, as the male platypus has a spur on the hind foot that delivers a venom, capable of causing severe pain to humans. The unusual appearance of this egg-laying, duck-billed, beaver-tailed, otter-footed mammal baffled European naturalists when they first encountered it, and the first scientists to examine a preserved platypus body (in 1799) judged it a fake, made of several animals sewn together.[5]" -Wikipedia"
- shwaga
"They are also surprisingly fast at chasing you on land, and it's looks hilarious until they catch you"
- Deadlybutterknife
"I also heard they make for a great secret agent…"

- Mecha106
"Their venom is so painful infact morphine can't even touch it. You have to pinch off the nerves thus fully numbing the area to find relief from the pain."
- The_Book-JDP
"HE'S A SEMI-AQUATIC EGG-LAYING MAMMAL OF ACTION!"
- FinniboiXD
"I saw a segment from a documentary series about stings and bites once. This guy grabbed a platypus by accident because he was trying to grab hold of a log. It spurred his hand and caused him excruciating pain. At the hospital, the doctors had to figure out how to stop the pain because they had given him so much morphine that anymore would have been dangerous, and it had little to no effect on the pain."
"They were able to figure something out, but it took several months for the guy to be able to fully use that hand again."
- CelticGaelic
"The platypus is nature's way of saying "I made this thing out of spare parts I found lying around the workshop and it can still f*cking cripple you."
- Hypersapien
"But the females can sweat milk"
- Easthwestnorth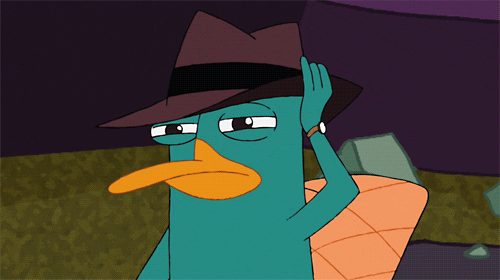 Giphy
Pigs
"Pigs, people thinks they are harmless packs of bacon but in reality they can easily kill you if annoyed"

- clari_man
"There's a reason everyone on the farm in Wizard of Oz freaked out when Dorothy fell into the pigpen in the beginning."
- WineAndDogs2020
"And they are omnivorous. They will eat you, if they have the chance."

- Apotak
"My grandparents always kept animals and my grandmother grew up on a farm. She was always the most afraid of the pigs and always said as much. Pigs are dangerous and can be quiet a bit larger then people imagine."

- thiswilltakeamiracle
"My aunt tripped one day feeding her pig, he was on her in a second. She managed to drag herself partially upright while he tried to get a good grip on her legs and grab the ballpeen hammer hanging on the side of the barn. She ended up having to smash his skull in while he was trying to crush/eat her."
"I can't imagine how terrified she was and I'm so happy she was able to pull herself up enough to grab the hammer"
- MossyDwarf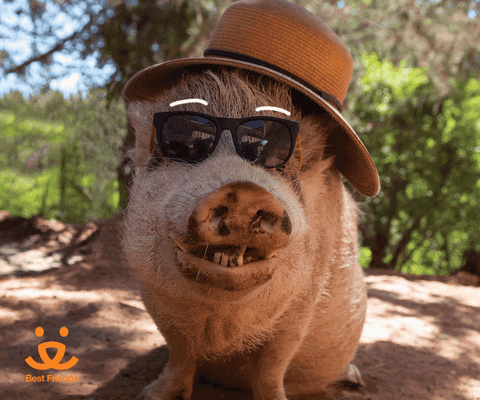 Giphy
Are you feeling suddenly uncomfortable in the food chain?
Us too.
Reddit user AnitaDickenme123 asked: 'What are some signs that your married friend doesn't have a good marriage?'
No matter how good it might be, no relationship is 100% perfect 100% of the time.
On the contrary, there are some relationships that seem pretty doomed to fail, and it's disheartening how many signs we can spot of the relationship coming apart, perhaps even before the couple themselves is aware of it.
But as clear as a sign of trouble might be, it can feel impossible to talk to a loved one about it when it's about their relationship.
Redditor AnitaDeckenme123 asked:
"What are some signs that your married friend doesn't have a good marriage?"
All Joking Aside
"Talking s**t about their spouse, even if it's in a joking way, is a clear sign to me. I went to a bachelor party with a bunch of guys I didn't know and they spent the entire time b***hing about their wives, and they all sounded miserable."
- FunctionBuilt
Desperate to Hide the Truth
"They are withdrawn or secretive. If your friend is suddenly withdrawn or secretive, it may be a sign that they are having problems in their marriage."
- LiaRipsx
Weird Gestures to "Mark Their Territory"
"His hang glider now has a full-sized graphic of his spouse holding the cat on it. And he wasn't asked beforehand."
- BarcodeNinja
Hypothetical Divorces
"They talk about divorce hypothetically."
- LaximumEffort
"Okay, but what if, say, I am watching a lot of true crime murder shows, and he tells me we can just get a divorce instead of me killing him? Does that count? Lol (laughing out loud)."
- HopefulKitty
Detached Relationship
"When they don't care what the other person is doing or where they are. Basically, two people who live separate lives and live like roommates."
- Lucyinthesky
"My friend never says anything bad about her husband, but she also doesn't speak about him much at all. They've been married less than a year, but she's said things like not caring what he's up to a couple of times, and it made me wonder if that was normal in marriage. It feels wrong."
- happinessinasong88
Fighting in Public
"I've known two different couples that off and on fought a lot around me at certain points, which isn't obviously a great sign."
"The fighting stopped, but what I realized after a while that may be worse is that they didn't interact at all unless absolutely necessary."
"I'm mostly oblivious, so it took my wife pointing it out to notice that both of these couples never really talk to each other besides mandatory stuff like plans or the kids."
"No casual conversations, no eye contact, no touching each other; literally no interaction that's not necessary for the family to function."
"I suppose it's better than fighting in public, but it's kind of weird once you notice it."
- non_clever_username
Social Media Cover Stories
"If they're plastering social media with how HAPPY they are, and they're SO IN LOVE, and THEY'RE GOING TO BE TOGETHER FOREVER, that's a sure sign that things are in the process of going sideways."
- wilderlowerwolves
"This confuses me SO much. I have two close friends (women) who have been texting me nonstop about how s**tty their significant others are, like going OFF about them, long voice messages, etc."
"Then between messages, I will open Facebook and see they just made a post about how much they love their partner with a cute picture and tons of hearts and s**t."
"Like... WHAT. I have never called them out, but what the h**l?"
- perfectdrug659
"Gah, my BIL (Brother-in-Law) divorced after a short two-year marriage, and this was the prime indicator of knowing that they were doomed."
"They did this kissy cutesy schmoopy lovey-dovey thing in public, and the worse their relationship got, the more publicly showy they were about showing how in love they were. It was horrific to watch unfold."
- abqkat
Controlling and Jealous Behavior
"In my experience, going out with my old homie that was married, I couldn't ever post us out at the bar or anything. If his wife saw it, she'd blow her top apparently."
"We went out for my 23rd birthday a couple of years ago and merely his elbow was in the video of me sipping on whatever drink I had. In a panic, he urged that I delete it before his wife saw it for whatever reason."
"They're divorced now."
- jailbreakthetesla_
Mean to Their Partner
"When their identity is the 'person who is mean to their spouse.'"
"I was at a party this weekend and there was a woman who just bad-mouthed her husband and talked about how nice it was to be away from him and the kids for the night. That's like her shtick… she talks about how her kids and husband are s**tty. It's such a gross personality, and it's relatively common. It shouldn't be common at all."
- SpacemanPete
Flirting Elsewhere
"They flirt a lot. A lot of unhappily married people I know are quick to flirt with anyone who seems interested because they want to feel that spark again."
- FlatulentDwarf
Constant Check-Ins
"When one of them is out and their spouse does not stop calling them."
- BansheeShriek
"I can't imagine living like that. I took a 10-day road trip to the beach alone, and all my husband asked of me was to keep my location turned on in case of an accident, and text a few times a day so he knew I was alive. That's trust."
- HopefulKitty
The Depression or Glow Up Era
"If they suddenly seem really down on themselves or stop taking care of themselves for seemingly no reason, If their outlook on relationships and/or marriage had changed since getting married, If they have nothing good to say about their partner or just don't talk about them..."
"The list goes on."
- Misspent_interlude
"Or reverse, they start glowing up. They lose weight, focus on appearance more, it means they're getting ready to split."
- Alternative-Post-937
Wishful Widows
"When my husband died, some friends admitted that they were a little jealous."
- emmymcd
"My ex-husband responded, 'One can only hope,' and looked at me when he heard someone's wife died."
- foldinthecheese89
"I would never say this to someone, but I understand the sentiment. I absolutely wished my ex-husband dead a handful of times. It's one of those things where you can't leave because I had very little money of my own and staying meant living with abuse."
- IsThatBlueSoup
Jealous of Working Relationships
"It's bad when you avoid or feel guilty talking about how happy you are or about the nice and thoughtful things that your partner does because you know your friend can't relate."
- anemic_girlfriend
"Yikes. This is how I am with a friend group of mine. They're always complaining about their husbands, and I stay silent. I don't want to rub it in that I love my husband and he's mostly awesome. In the past two years, one has gotten divorced and another is on her way there."
- Nonny70
"It gets weird for me when people are like, 'Must be nice to get away from the wife' if I'm on a work trip or something."
"I don't understand. I sleep better when my wife's next to me, I feel better about the day when I get to see her and talk to her, she makes me smile all the damn time."
"Everybody on the planet is a very distant second on my list of people I want to be around, and even though we do plenty of things separately I don't see time apart as some sort of reprieve from her presence."
- HereToTheSquatch
Wishing They Were Out
"I got married young and a lot of older guys gave me s**t for it, like they resented their wives for settling down too soon. It upsets me when men talk s**t about their wives. If you hate your wife, then leave, she's probably better off without you."
"My wife is my best friend. Seven years later, our relationship only grows stronger over time. If you love someone and they love you back, be grateful for that and show it!"
- Apprehensive-Hall254
There are many ways to tell that a relationship is in a downward spiral, especially when the relationship is not our own.
But these accounts were intense and ones that we can only hope are less common.
Whenever we feel like something isn't right about our bodies or we're suffering from some kind of medical issues, we want them taken care of straight away.
The problem with that is, that depending on whom we're getting information from, we tend to believe in the initial diagnosis or remedy because we trust the professional sources and we want quick solutions.
But do doctors and health specialists always know what they're talking about?
Unfortunately, that is not always the case.

Strangers online shared their medical horror stories when Redditor Ohyo_Ohyo_Ohyo_Ohyo asked:

"What is the worst health advice you've been given?"
Not doing further research into something that raises eyebrows can be a fatal mistake.
Turns Out It Was Brain Cancer
"i went cross eyed and my primary said 'could be a sinus thing, get some mucinex.'"
"turns out it was glioblastoma."
– Guy_Faux
"Wow, that's an absurdly sh**ty doctor. The same thing happened to my mother and it was quickly determined that it was stage 4 lung cancer. She made it about 3 months after that. She was 48 and I was 18 so the idea that any doctor would ignore that is infuriating to me."
– Frisky_Picker

Second Opinion Saves Lives
"My primary doctor kept telling me that nothing was wrong with my thyroid, and I was a hypochondriac."
"I had been told at 12 years old that I had thyroid issues and she told me that doctor was wrong. I had to see a whole other doctor to get a referral to the endocrinologist because she literally refused to refer me to one."
"The endocrinologist said, I had scarring all over my thyroid, I had Hashimoto's, and my levels were horrible, and she didn't know what the doctor was talking about. She said she was glad I advocated for myself."
– littlemybb
Tiny Grandchild
"I was not the recipient of this 'advice' but I had a coworker proudly say how small her new grandchild was when they were born and that her daughter smoked her whole pregnancy to try and have a smaller baby. This was in like 2010, not the 1960s for reference."
"ETA: smoked cigarettes. clarified since that can mean more than one thing."
– Emkems

Unforeseen Ailment​
"Was sick for a year in my late teens. Saw multiple specialists to find the cause. Experimented with diet. Saw a naturopath that did some 'electric pulse test' thing that apparently gave indicators of organ health. After a few visits, and months of eating the weirdest sh*t, the test said things were improving (including my gallbladder). Months went on but I was still quite sick. I eventually ended up in hospital and one of my specialists decided to take my appendix out on a whim to see if it might help. Turns out I had something called a 'grumbling appendix' and it completely fixed me. Funny thing is, while they were in there, they discovered I was born without a gallbladder."
– Ok_Ear_8848
These are not appropriate remedies.
That's Not How That Works
"When I had an urinary tract infection someone told me to wash my vagina with vinegar..."
– _Puke_Bucket_
"And maybe add some diced onions and tomatoes to make a refreshing Mediterranean salad."
– Bos_lost_ton

Pushing Through
"Just push through whenever you're sick. If you can get to a doctor's office for a doctor's certificate you can get to school/college/work."
– BoyMonday
"My childhood pediatrician told my parents that 'A sick child never smiles.'"
"I tend to laugh/smile when I'm nervous or uncomfortable to self regulate."
– pinotproblems
"A doctor once told my parents that a child who isn't crying can't really be hurt. Because of that, it took me days to convince my parents to take me to the doctor after I fell on my arm because I wasn't crying. It turns out it was broken."
– slowsunslumber

"Ignoring" The Problem Isn't A Solution
"A friend of mine was in horrible pain, and was repeatedly told (by multiple doctors) that she should stop complaining and just get used to it because periods are painful and that's the way it is."
"After being blown off for years, she finally got a doctor to take her pain seriously- and it turned out she had severe endometriosis. The surgeon said it was the worst case he had ever seen in his career, and was horrified that it had gotten so advanced with no one listening to her."
– sapphireblossoms

Choking On Blood
"The school nurse telling me to tilt my head back for a bloody nose. That was an awful experience."
– hypo-osmotic
"I do like doing this because when I cough up the blood I can pretend I'm in a period drama and I have tuberculosis."
– OrangeTree81
These Redditors discovered that all pain is not necessarily "normal."

The C-Word
"Doctor said certain pain is normal as you get older. Turns out it was cancer."
– REDDIT
"That's a fibrous strip of breast tissue, you're too young to have breast cancer."
"Delayed diagnosis by 6 months. I was 31."
– juniper_max

Thinking Twice About Back Pain
"I got from a doctor, 'everyone has back pain. There's nothing wrong with you, just use a heating pad.' It was kidney stones."
– 5hrs4hrs3hrs2hrs1mor
"Yikes, I am so sorry."
"I had a kinda similar experience. I went to the doctor for a morning appointment to get some persistent, worsening back pain checked out. Doc asked me where my back pain was, looked me in the eyes and told me I was fine and must have just slept wrong. He shut me down when I tried to advocate for myself."
"That night, I was admitted to the ER due to the crippling pain I was in. Turns out I had a serious kidney infection that was turning septic."

"One of the ER staff who helped me told me if I had waited another 24 hours, my kidneys would have shut down and I very likely would have died from organ failure?!"

"I've been dismissed by doctors over and over again in my personal health journey, and it is so frustrating and scary, as they've dismissed me for 'being dramatic' when there's actually something very serious going on with my body."
– Yarr0wFeather

Vitamin D Overdose
"If you have pale skin, get just a little sunburnt every day so that your skin will 'learn' to get a tan. That's how everyone else does it."
"My Solar Keratosis skin cancers would beg to disagree."
– comfortablynumb15

As much as we want to believe our doctors when they give us a health assessment and assure us we're "fine," you should never ignore your inner voice telling you that something is not right.
Your conscience is there for a reason.
Even if a doctor tells you it's okay to ignore the problem, you should think twice about ignoring your gut feelings.

When giving a speech and making an argument, the most effective way to reach other people or get your point across is to speak with conviction.
However, speaking with conviction doesn't always mean people are speaking the truth... or even coherently.
Redditor MonkeyGentleman420 was curious to hear more stories of ludicrous things people said with unwavering conviction, leading them to ask:
"What is the stupidest thing someone has told you with complete conviction?"
We Know How Often Birds Check Clocks...

'That we set the clocks forwards and backwards so the birds don't get confused with their migration patterns."- alliecita410
Speaking From Experience?
"'Two people can breathe underwater forever if they have a hose'."
"The first person breathes in while the second breathes out, then the first person breathes out and the second person breathes in etc'."- PahoojyMan
Dream On...

"She said:'
"'If you are dream about falling and you hit the ground in your sleep you'll actually die'."
"'It's been proven'."
"I said 'If you die in your sleep, how can anyone know what you were dreaming?'"
"Ruined a favorite story of hers."
"Sorry."- FrankieMint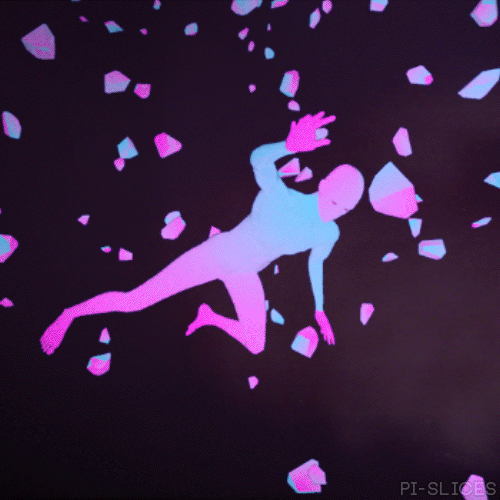 falling GIF
Giphy
Because ALL Cops Ask For Your SSN Before Cuffing You...
"From a coworker: 'If you don't have a social security number then the government can't do anything to you'."
"I asked if that meant, if I didn't have an SSN then I could just go kill someone on the street and the government couldn't arrest me."
"'Yep', he said, 'if you don't have an SSN then they can't enforce any laws on you'."- AllAboutThePotatoes
Keep Them Away From Needles...
"A former coworker insisted that the body believes the ears are injuries, and we are all constantly trying to heal our own ears closed."
"The only thing keeping them open, you ask?"
"Ear wax."
"We worked in healthcare."- Reflection_Secure
Credit To the Visual Effects Designer
"A girl I worked with was convinced that every single mythological creature was real."
"I'll never forget one of her claims."
"Think about it, every movie you done seen all those creatures and aliens and sh*t, all that's real."
"Someone has to have actually seen it to come up with that!"
"Apparently there's no such thing as the human imagination to her."
"So yes, transformers are real, Godzilla is real, Independence Day is real."
"This was a 20-year-old that said all of this."- Dragonborn83196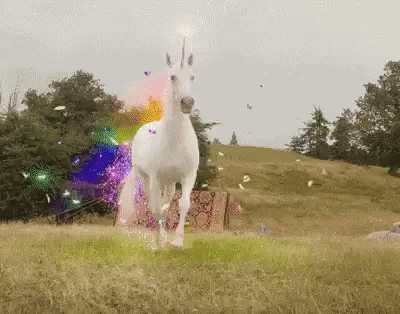 Unicorn GIF by MOODMAN
Giphy
In Theory... Still Wrong!

"That the speed of light wasn't like an actual number, it was just a figure of speech."- sunbearimon·
Check The Date...
"Sunburn is not caused by the sun, it is actually caused by sunblock."
"If you don't use sunblock then you will never be burned."
"Sunburn was created by the sun cream industry to sell their products."
"Seems easily testable, why not lie on the beach all day in one position with no sun block and see what happens?"
"Make sure you fall asleep for maximum effect."
"You go bright red and then blister to the point that you get taken to hospital for a combination of sunstroke and the beginning of shock then spend the rest of the holiday indoors face down with regular application of creams and replacement paraffin patches on the burns."
"It puts a bit of a dampener on your 2 week break."
"Sunburn is mentioned in Livy's history of the second Punic war and others over 2000 years ago which is solid proof that the 'Big Sunscreen' claim is ridiculous."
"However it would be hand-waved away by a True Believer of big Sunscreen."- Magnus_40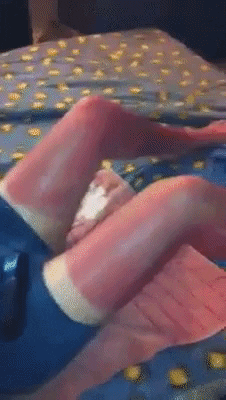 Sonne Sunburn GIF by Mitteldeutscher Rundfunk
Giphy
Ignorance Is Not Always Bliss...

"A distant relative, recently retired, once told me that he was going to hire a gardener and a housekeeper because 'the government will give you a grant to pay for them now'."
"This was a few minutes after a lengthy rant about how the welfare state should be scrapped because only lazy people lose their jobs and need to claim benefits."
"The same relative, some years ago, also announced with absolute conviction that he was going to hire a neighbor as a cleaner because 'she won't have anything to do now her kids are grown up'."- Plantagenesta
The Price Of Never Looking Up!

"Pineapples aren't real."
"They're entirely manmade and do not exist in nature."- tricksterloki
ALWAYS CONSULT YOUR DOCTOR!!!
"My dad was experiencing end stage renal failure (was on dialysis at the time and has since had a transplant)."
"My best friend's boyfriend at the time looked at me dead in the eye and said he could reverse his condition with a vegan diet and that the only important organ in the body was the skin, so as long as you take good care of your skin, your other organs will function properly."
"Mind you, by the time my dad got on dialysis his kidneys were functioning at 11% and his SKIN WAS JUST FINE."- lyingintheleaves
But What Causes Cavities?

"I'm a dental hygienist."
"We had a patient come in with terrible teeth."
"They thought toothpaste caused cancer."- dilapidatedfungus
If Only...

"That women don't burp or fart, because only men have (the ability to pass) gas."
"Spoiler alert: he was horrified when I burped in front of him."- sequoia_summers
Guilt Is Easier When You Know It's Coming.

"First girlfriend was religious, and apparently it was okay that we had sex 'as long as she feels bad about it after'."
"Pre-planning regret was her loophole to do what she wanted."- Lone_Buck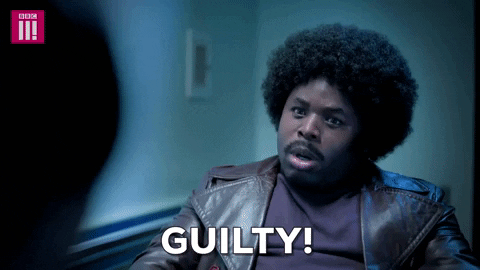 season 2 famalam GIF by BBC Three
Giphy
When people do speak with conviction, more often than not they firmly believed what they say.
So much so, that they have trouble believing the person brave enough to correct them.
In spite of the concrete evidence thrown in front of them...
When you're in a relationship, it's important to stay alert.
Yes, you of course want to give in to love.
But when you start seeing red flags, be vigilant.
You're gut always knows more than you give it credit for.
Sometimes those flags are a sign that it's time to jump ship.
if you see them... run.
Redditor Shinfekta wanted to compare notes on why people would immediately end a relationship, so they asked:
"What red flag is an instant break up reason for you?"
The signs are always there, but I tend to put on blinders.
I need to do better.
A Big Deal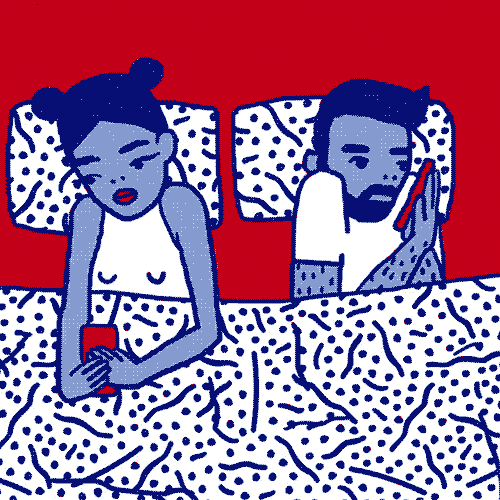 Illustration Text GIF by Jacqueline Jing Lin
Giphy
"Someone that casually says they've cheated. There's no way around that for me."
Kitchen-Bid-8235
"Or worse when they treat cheating as somehow noble."
2diceMisplaced
Hear Me!
"Wanting and demanding my attention but not reciprocating whatsoever."
Cranky_Windlass
"My ex. She would get pissed when she would talk to me about something while I was working and I wasn't giving her my full attention. But every time I wanted to tell her something while she was doing nothing, she would get 'ADHD distracted' and completely ignore me or interrupt me to say something completely irrelevant."
ModestMustang
"I had a friend like this! he literally completely ignored me for 6 months and then blew up at me for not responding to him within an hour. Very strange."
KindBrilliant7879
Wronged
"Never admitting a mistake."

Curious-Force5819
"I know a total hottie that is notoriously known for not being able to admit he's wrong, sucks because he's a gem outside of this. Don't get me wrong, he's a fair and responsible person in general… but he 100% can't admit he was wrong in banter or a light argument even when he realizes he realizes he's wrong hahaha lost confidence in him ASAP."
Zomgirlxoxo
"This is a big one, even when these types of people apologize they still pass the blame. 'I'm sorry for my behavior but you made me really angry.'"
space_being135513
Never Again
"Unmanaged mental illness. Never again."
RuggedHamster
"I was with a girl that had that and I helped her through all of it and it was so hard to deal with it all but somehow I managed but when she felt better she just left me for her best friend's ex and I was left with all that trauma because I loved her with all my heart and soul but she was just using me to feel better… and when she broke up with her best friend's ex she came crawling back begging me to be with her again but it was too late.. the damage has already been done and I can't do that again even though I still love her but I can't tell her that... sorry for venting."
d7oomy998899
Afterthought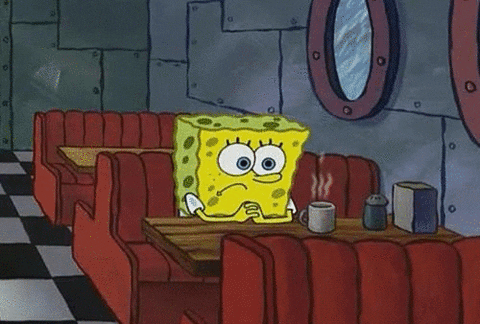 Sad Sponge Bob GIF by SpongeBob SquarePants
Giphy
"If someone makes you feel alone, that you don't matter, or if you are a second choice on most of the occasions, you need to leave."
​Mycatsnameislegolas
Always know when to acknowledge your feelings.
And know when to depart.
Behavior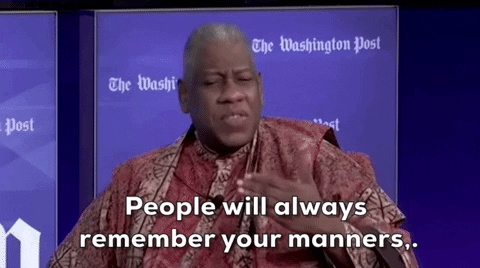 Andre Leon Talley Manners GIF by GIPHY News
Giphy
"How they treat animals, children, elderly, handicapped, and service workers."
REDDIT
"A wise man once said: judge a person not by how they treat their equals, but by how they treat their inferiors."
Major-Ad148
Just Kidding
"Being mean as their 'thing' or 'just a joke.'"
netsbr
"'I'm just sassy!'" No, you're a bi*ch."
BansheeShriek
"I'm going to be honest, with certain friends I am absolutely ruthlessly mean, to the point that people are actually concerned it's just bullying."

"However with strangers, I'm nothing like that. And the friends that I am meant to, they do the exact same thing back to me. We also know that if we need each other, then the meanness is dropped instantly, and it's nothing but support and love."
5tr4nGe
​Well-Meaning
"Zero accountability for anything. Everything they do is absolutely justifiable because, well, they mean well."
Throw_thethrowaway
"Yeah, I was looking for this answer! And it's true outside of romantic relationships also! I had to end a friendship over this exact behavior- it was never her fault, always the victim, and her hurtful behavior shouldn't be addressed because she 'meant well…' but my feelings are still hurt so why don't I matter?!"
helibear90
"This. Can't stand people who always play the victim or blame everyone else and never take accountability for what they do."
_5minutesalone
Boundaries
"This one may take a while, but I would break up if I notice them creeping over personal boundaries, and not stopping when I tell them about it."
"People cross each others' boundaries all the time. I'm happy to give the benefit of the doubt until it becomes apparent that they have no intention to respect me."
"For example, if I don't like tickles or being startled, don't do that. It's not about the tickling, it's about them respecting me. And if there's no respect, there's no relationship."
Ptatofrenchfry
Talk to Me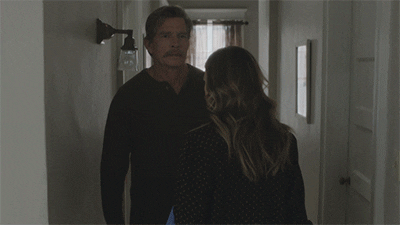 Sarah Jessica Parker Hbo GIF by Divorce
Giphy
"If I'm hearing about a problem in our relationship from someone else rather than the partner. It shows huge trust issues."
"I've seen three divorces in my life, and they all were the result of the girl venting to her mother and her friends about issues she should have discussed with her husband."
michajlo
Communication is key.
If you're not talking to you're partner, why are they you're partner?