We've all known people who abuse their power. It's often some lower-level peon, the office drone who makes it their business to ruin everyone's day, for example.
More often than not, those who abuse their power don't actually have much––if any. They seem to get off on this. It's absurd, isn't it?
After Redditor G30WOLF asked the online community, "What is the biggest powertrip you've seen from someone with little actual power?" many weighed in with their own experiences, and you know what?
We're almost as frustrated as they were!
---
"She lectured me..."
So, when I was in a community college, I finally made the big decision to apply to a real university (at the time I didn't understand that I could just transfer as a junior). So, I marched very confidently into the office and told the secretary I needed to see a counselor to get the paperwork going. She lectured me on how irresponsible I was for waiting so long into the semester to put this on her. I sat very patiently in the hallway waiting for 2.5 hours. She kept reminding me how I brought this on myself.
Anyway, the last counselor of the day walked out and I was so excited. I said: "I am going to go to college, I just need a few minutes of your time to get the paperwork going!" And she looked at me, and said, "You don't need to see me for that." She reached into a basket and pulled out a form. "You just need to fill this out and submit it." I was a little confused, but grateful. So, I took the paper and got my backpack and started walking out.
But I remember hearing this counselor march over to the secretary and yell, "HOW LONG HAS THAT STUDENT BEEN SITTING OUT HERE FOR, NANCY."
Anyway, I made it to college just fine. But that was a pretty crappy 2.5 hours, and I don't know why she would have spent all that time berating an 18 year old kid for trying to get paperwork.
"But the biggest power trip..."
I was a waitress at a large cafe. The owner was nice but never around. It was just us wait/kitchen staff and baristas in our teens and early twenties, and the manager - a middle-aged man who earned about 50 cents more an hour.
I can't describe how disliked and incompetent he was. If I had to sum it up in a few sentences, I'd say that we weren't allowed to refer to him by his first or last name - it was 'The Boss' and when he brought his son in once, he had to be called 'The Mini-Boss', which he thought was really funny. My colleague, a teenage girl, once referred to him by his first name and she was yelled at about 'respecting hierarchy'. He resigned after the owner found out the business degree listed on his resume didn't exist, which is a story in itself.
But the biggest power trip was when he used up all the duct tape to tape off a corner of the cafe. There were no extra rooms for an office, so he just made his own office and we weren't allowed to cross the duct tape at anytime - even though it included the supply closet with all the cleaning equipment. Then he made me go out on my lunch break to buy more duct tape, because he had used it all up.
"...and I'm sure..."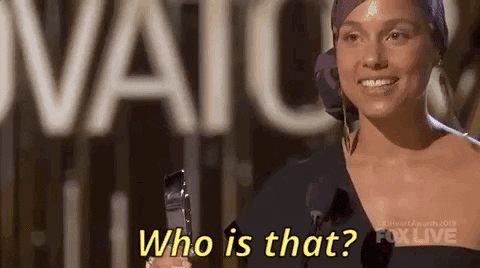 Giphy
Once saw Conor Maynard's brother try and get into my local night club for free because he was Conor Maynard's brother... and I'm sure most people on here would have to look who Conor Maynard even is.
"I literally don't get..."
Chicago street parking attendants. Ever see someone thinking they are cops without a badge. This one guy, he had the cut off gloves, Some dollar store badge, cargo pants, utility belt, the works. I literally parked in a 15 minute standing zone to pick up something from my house. This jag off proceeds to write a ticket and I'm telling him it's a standing zone. I literally didn't get in the house as I stood arguing with him. He wrote me 3 tickets. I took a deep breathe, asked for all his information. Took pictures. Went to court and he had the nerve to show up!!! Proceeded to do the same thing to the judge!!! Huge power trip. Judge dismissed the tickets and apologized for wasting my time.
"My birth country's embassy..."
My birth country's embassy refused to renew my passport while I was in the USA, unless I flew to said embassy for a fingerprint (the lady I spoke with on the phone was doing the power tripping), even after I told them I physically cannot travel to the embassy for a while. On top of that, due to similar power trippers being so common in my birth country, red tape and such, my quoted time for renewal was 9 months.
So I applied for a USA citizenship, and got my brand spanking new USA passport within 3 months.
I am so glad I now have legally nothing to do with my birth country.
"She ended the class..."
A substitute teacher in middle school.
She ended the class and everybody stood up and then she screamed something along the lines of "Boys, Where are your manners? It's Ladies first! Sit down and wait" everyone was so stunned so we just sat while the girls walked out and then we left. It was really bizarre because she had been so nice during the class.
"No, Karen."
Military spouses.
No, Karen, IDGAF if your husband is a First Sergeant, I do not stand at parade-rest for you and I sure as hell WILL laugh in your Estee Lauder caked face if you try to "order" me to do something. No rank = no authority.
"Like clockwork..."
Like clockwork once a year a Nurse Manager will emerge from her office on the floor, choose a patient and follow the patient on their journey from admission to discharge.
They will look for things to improve along the way.
On paper this sounds good, great even.
But really what it means is the Nurse Manager finding and then unilaterally implementing new, often unneeded processes. Hell, one year, a healthcare worker could get written up for not smiling while passing someone in the hallway.
Why do the Nurse Managers do this? To prove they are worthy of their job, and they aren't a waste of space and resources. More often than not, they totally are.
"When I worked at..."
When I worked at one of the larger home improvement big box stores, the hierarchy for the management was quite odd. You had one manager. Assistant store managers. Then each department had a supervisor.
The cash and parking lot were lumped into the same department. I worked the parking lot. My supervisors were always really chill. They knew I was just there to get money for college but busted my butt anyways cause that's how I was raised.
The problem was with this bullshit position called "head cashier." Usually occupied by very grouchy 50/60 year old women who'd never been given power before and loved to go off the rails with it.
One summer they got annoyed because I would spot for the forklift drivers when they needed extra help getting large objects. Or to load skids of materials into customers trucks. They got annoyed I did this because I would be occupied doing that instead of sweeping the entire front apron (the entire length of the front of the store).
These head cashiers then went to the manager and got all the parking lot attendants banned from spotting or driving the forklifts. So for an entire summer we all had to load everything by hand, ironically slowing the process down even further.
This lasted until one day my 60 year old lady "head cashier" was forced to load 44 bags of cement into a truck by hand cause I was on break. Each bag weighing roughly 88 pounds. When I returned from break she came up to me and asked me why there isn't an easier way to load cement. I said "There is. Forklifts."