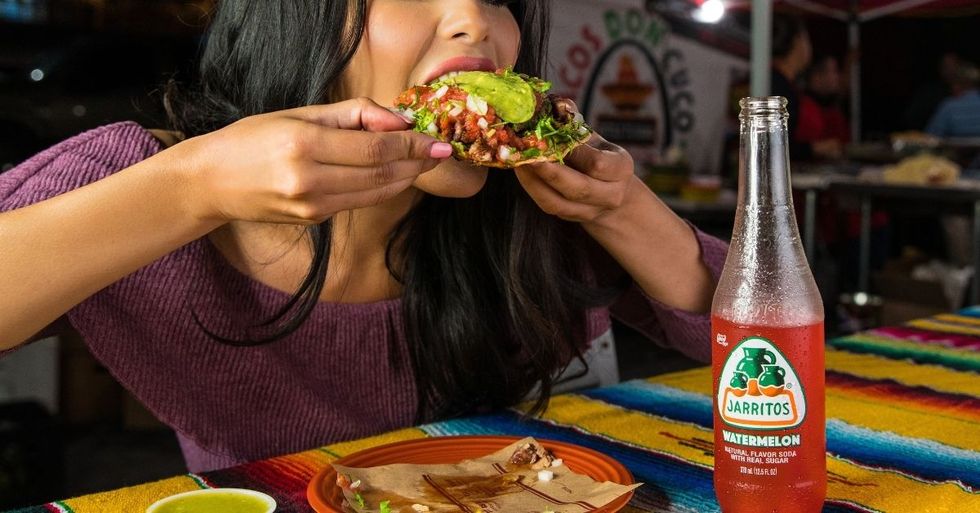 Redditor The_Death_Flower is a nineteen-year-old with whom her friend "Claire" has struggled to find a date. Claire has a theory as to why they are still single, but our Redditor had a contrasting point of view. When their discussion about dating problems reached a boiling point, our Redditor visited the "Am I the A**hole?" (AITA) […]
More
Dating and the search for love can be a treacherous disaster.
Even when you finally find someone to swipe right, you meet them and you wish they didn't even own a phone.

How do some people believe their behavior is appropriate?
Dates are meant to be fun and easy.
Not an episode of "Game of Thrones."
Redditor zippez wanted to hear about the times the love merry-go-round was a disaster. They asked:
"What was the worst date in your life?"
I can't even remember my last date. And I don't want to.
The First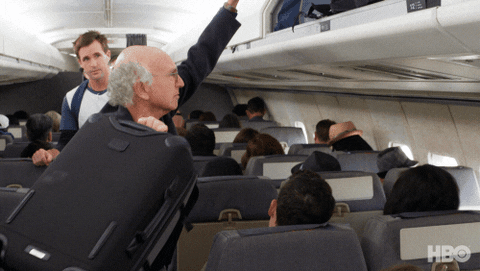 Season 9 Wow GIF by Curb Your Enthusiasm
Giphy
"She had her luggage with her, and expected to move in with me (1st date)."
kavijak
16
"Went on a group date when I was like 16. There were 2 established couples and I was seeing a guy for the first time. We went to a bowling alley my date's friend worked at. The entire time this guy was trying really hard to show off and in general being a massive tool. I was sitting with my friends on the outer right seat in the row. Date's friend was standing about 3 feet to my right."
"My date went to toss the bowling ball to his friend because he was sooo cool and strong. He missed so hard that the bowling ball hit my left shoulder and my friend's right shoulder (we were sorta leaning into each other to talk), then fell on another friend's foot. He got 3 of us in one throw. He awkwardly apologized and then said he needed to use the restroom. Didn't see him again and went home with my friends lol."
Puzzleheaded_Storm79
Baffling!!!
"On the only date, he pointed to another woman at the bar and said that was his ex. This woman happened to be my lesbian roommate who was there with her girlfriend. So I called BS. It's still hilarious how bad his luck was. Why would I be interested in someone intentionally trying to make me jealous by lying? Baffling!"
Grapegoop
Blacked Out
"I was meeting a girl at a bar by her school, which was an hour away. We planned on bar hopping all night and I would spend the night at her house. When I got there, she was already black out drunk and her friends just left her with me. Wanted to give her the benefit of the doubt."
"Maybe she was just nervous and would sober up a bit. But no, she was belligerent the entire night and almost got in several girl fights for bumping into everyone as she walked around. when I came back from the bathroom she was being passed around a group of dudes as she grinded every one of them."
At this point idk what to do. I wanna just bail, but she's blacked out with a dead phone. So I hung out on my own, made some new friends, waiting for her to party herself out. She did, I walked her home and she started to ball her eyes out when she realized I wasn't spending the night. I've never felt more awkward or embarrassed in my life."
SprinklesMore8471
Check Please...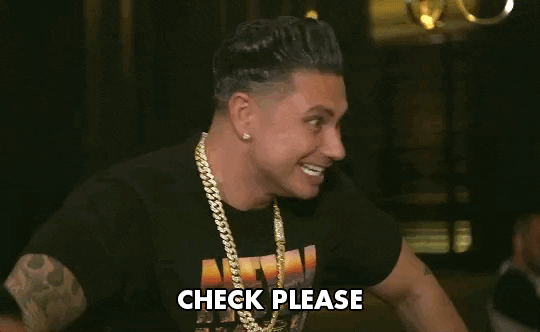 Check Please Premiere GIF by Jersey Shore Family Vacation
Giphy
"A guy took me out to dinner and excused himself to use the bathroom. Was gone for about 10 minutes. Found out the next day that he was actually in the parking lot having a quickie with the waitress, who knew a friend of mine."
Gardengoddess83
What in the world? I mean. And we still have more stories. Lord.
"ok I guess"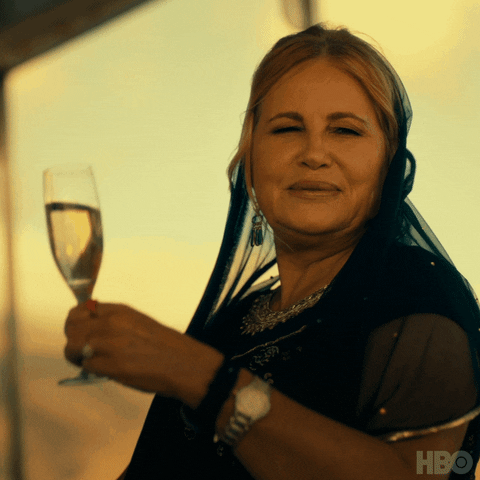 Happy Spring Break GIF by HBO
Giphy
"I had a very persistent neighbor who I finally agreed to go out with."
"I got to the restaurant and he had already ordered me a drink. He asked to order my food for me and I was like 'ok I guess.' He made comment after comment about my 'smoking hot' pale complexion. Asked me if my ex was circumcised. Told me that women who think they are equal to men are out of touch with reality."
"Wouldn't let me pay half, so I asked to tip, but he told me the $20 I was going to leave was too much. I went to the bathroom and came back to a glass of wine that I'd already told him not to order. He texted me 15 minutes after the date saying 'with a woman of your complexion a man must be careful not to leave a hickey.'"
rapbattlechamp
not your babysitter...
"He told me we were going on a 7 mile out and back hike to go fly fishing. Turns out it was 7 miles of steep uphill to get there, we only fished for a few hours because we got rained out, when I asked for help he told me 'I'm not your babysitter' and farted the entire day because he ate a bean burrito on the drive over that morning."
"He also spoke to people we passed on the trail more than he spoke to me. The 7 mile hike back back downhill gave us both a ton of knee pain, and it was horrible. Worst part? It was the second date, because the first date was magical."
turtledovefarts
for practice...
"Not the worst date because there have been of course some that were legitimately scary but the most awkward at least. He spoke several languages and when I said I spoke a bit of one of them, he insisted that I needed to practice and kept speaking in that language even after I repeatedly and increasingly stronger terms said okay that was fun but let's go back to English now, we're in a loud crowded place and this is above my skill level."
"He kept agreeing and switching back but then switching to the other language again 'so I could get the practice.' He kept correcting my vocabulary too. And by the way this man started out by saying he was fluent in English but only advanced in this language, so it wasn't as though it was actually easier for him to speak it. I would have been happy to struggle through if that was our best language overlap."
deqb
THE. WHOLE. TIME.
"I'm sure other girls have scary dates that are much worse but here's my non-scary awful date... I told the guy on the site we met on that I was nervous when it came to dating so not to show up in a suit or anything. He showed up in a stained t-shirt and sweatpants with holes in them. It was a weird choice for 'casual' but he seemed interesting online so I stuck it out."
"I kid you not, he didn't stop talking about himself THE. WHOLE. TIME. I asked him a total of 3 questions and he asked none. He sounded like a preacher on a pulpit sharing his life story. Most uncomfortable, longest, date of my life. Needless to say there was no second date."
green_hobblin
Single is looking so much better. Dating makes me want to sob.
Want to "know" more?
Sign up for the Knowable newsletter here.
Never miss another big, odd, funny or heartbreaking moment again.
Keep reading...
Show less
Love is a gamble.
That is just fact.
Even if they seem perfect that can often change.
That's why a lot people have taken a chance on the "not obvious" person.
Why not try with this guy? See what happens.
Have y'all seen "Fatal Attraction?"
THAT is what happens.
Creepy is creepy for a reason.
Be careful ladies.
Redditor HorizontalInterrupt wanted to hear from all the ladies out there about the times they decided to go ahead and see what happened with a guy. So they asked:
"Women who gave the creep a chance, how did it go?"
I give no creepy people a chance. I barely give anybody a chance.
"hi, I miss you"
"Guy had serious untreated mental health problems, which resulted in him spending four years stalking me and making me resent giving that one chance. I made multiple calls to police and paramedics because he would call me up threatening suicide unless I would help him. He still finds me on social medias and random gaming apps to say 'hi, I miss you' but I now live more than 1000km away."
WittyMathematician1
"good guy"
"I had a bad vibe but my friend told me he was a 'good guy.' So we went on a date and he asked to drive my car. He curbed my rims and talked about how he was fired unfairly from his job. The next weekend I avoided his calls and instead went out to dinner with friends. While I was gone, he broke into my apartment. My neighbors and the cops were waiting outside when I got home."
"I spent the night at my moms, he showed up at 0300 when the my let him out and was trying to get in a window. Wonderful officer spent the rest of the night in the driveway. Fast forward a couple weeks and he shows up at my work, mopes over to me and hands me folded papers."
"It was 8-10 handwritten front and back notebook papers where he alternated between telling me I was the love of his life to why he hated me and wished I would die. I was terrified, security escorted him away. Never saw him again but found out later he did the same thing to some girl in Spokane but he was able to actually get in, beat her and landed her in the hospital."
"The friend was dating my best-friend and the 'good guy' was his cousin. I think he really wanted us to hit it off so the 4 of us could all hang out together or something?? He was shocked by the actions of his cousin but did tell me later that he had 'thought he changed.' They're not longer dating and haven't talked to him in years and years! This happened 20 years ago in the PNW."
TuesdayWednesdayMe
"check in"
"Met him when I worked as a cashier in a small downtown shop. Wasn't my type and seemed a little off, but I was young and had zero real dating experience. Agreed to grab coffee as a friend and made it clear I didn't have a romantic interest. He became convinced he was Gatsby and I was his Daisy (the Great Gatsby film had just come out that year). Started stalking me and endlessly sending letters and gifts to me at work describing how we were fated to be together."
"When I confronted him to stop, he started having his friends follow me at work or drop by to 'check in' on me. Prowled outside on nights I had to close shop alone. I ended up quitting that job and things fizzled. Seven months later I got a call from a number I didn't recognize."
"It was the same dude -- he just got released from a short prison sentence and was letting me know he thought of me every day and was going to find me so we could finally be together. I made up a story that I was travelling abroad for college and would be gone indefinitely. Changed my number and luckily haven't heard from him again!"
justascrolling
Maybe just shy?
"Back in High School several of my female friends and I (also female) had an off period before lunch, so we were all sitting around a table chatting. One of the female security guards came up to us and told me that there was a new exchange student from Amsterdam that thought I was cute, but he was too nervous to come over and introduce himself."
"I have zero interest in men, but I figured there wasn't any harm in letting the guy come sit with us and helping him feel more comfortable at our school. So he comes over, sits down with us, and chats a bit. He seemed rather shy, and he had about a dozen piercings going up each arm that he kept fiddling with (and a bunch of facial piercings). Then class lets out and people, including a bunch of my male friends, start showing up for lunch."
"First male friend sits down and introduces himself. New guy doesn't not respond AT ALL, doesn't even look at friend. Weird. Maybe just shy? Second male friend comes and sits down. Same thing. Slightly unsettling now. We kept trying to include him over lunch but he would ONLY respond to the women."
"Wouldn't even acknowledge the other guys at the table. I never talked to him again after that lunch period and two weeks later he got expelled for slamming a girl against a locker and choking her to the point she nearly passed out."
Katy-L-Wood
Sorry Bud
"Did one video chat with him during which he asked if he could (video) call me again later in the day. When I told him 'no I'll be busy.' I started getting random text messages throughout my day that said 'are you okay? Just let me know you're okay.'"
"The first I responded to, I said 'hey — yeah, I'm fine. I just hung up with you 30 minutes ago bud.' He took that as a sign that I wanted to talk more so he attempted another video call. When I didn't respond, he started again with the texts. Didn't even bother responding to the rest. Up to 20 unread messages later before I was able to block him while leaving him on read."
Wazoo53
This is nonsense. Why can't people just be a little sane?
Different People
"Knew he was weird before the first date. I was sad and thought maybe he'd be different in person. Showed up to the date and he walked with a crazy limp, wouldn't pay for dinner, tried to kiss me 3 times. When I got home that night he sent me a full body nude completely out of the blue. I never saw him again. He texted me 3 months later to tell me I was the worst human and most selfish person he's ever met. And then he blocked me."
pamshmam
That Guy
"Reading this I realized I actually have something to contribute lol. I gave him a chance in high school I was 15 he was 18. Ended with him sticking his tongue down my throat several times quite aggressively, joking about stabbing me as he lunged a knife at me and laughed about it while carving pumpkins got suspended and no one ever saw him again. Update: My friends and I found out he's now in the military."
powerhouseofthiscell
"broke his heart"
"He stalked me. He made videos of himself crying because I 'broke his heart' after him knowing me for a month. He told everyone I was just a fat wh*re who used men (I didn't take anything from him or have sex with him.) I gave him a whole month and every time I would hang out he would keep me up until 3am crying that I didn't love him. It was bad."
ayyoowhatevr
In the Dark
"I bought him a coffee one time and we chatted about our music tastes. Three days later, I was sitting in my dorm and I got a text from him that was just a selfie. I sent one back and the conversation got really boring so I sent him a snap of a black screen. He responded, 'are you in a dark place?' And I said 'yeah lol.'"
"His response was 'well you'll have to leave soon because you have class in (insert building with insert professor) at 6:00.' I literally never told him anything about my classes so he just freaking stalked me until he learned my entire schedule. It turns out he was a serial creep preying on freshman girls."
Crazybish123
Colors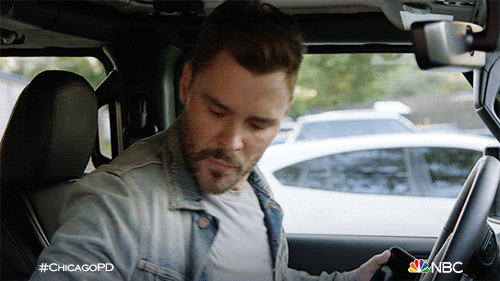 Watching Chicago Pd GIF by One Chicago
Giphy
"On our first date, he told me he loved me and that he would let me pick out the color of our house. The rest of the evening was super awkward. I never talked to him again."
willingtoeatsushi
Guys are crazy. Stay single. That is all.
Want to "know" more?
Sign up for the Knowable newsletter here.
Never miss another big, odd, funny or heartbreaking moment again.
Keep reading...
Show less
Imagine the object of your affection locking eyes with you at a party, and you feel that in that moment, they feel exactly the same way you do about them.

How do you physically react? Do you break out into a sweat? Do your hands shake? Do you pass out?
However your body reacted, it was undeniably the result of sexual tension.

Curious to hear from strangers' past experiences of feeling twitterpated, Redditor skyl3rw3st asked:

"Which situation will always create high sexual tension?"
The innocent touch of an amorous person can set off major fireworks.
Cinematic High
"Movies as a tween. You and your boo share that big a** $27 popcorn tub and your fingers touch."
"Welcome to your first giggity."
– Elo_Solo

They Knee'd You
"When you're sitting next to someone you like who likes you back and your knees/legs start touching but neither of you pull away so you're both just aware that you're touching and getting closer."
– oceanofflavor
Even if you don't touch, the honesty can still be too much.
Face To Face
"Standing really close together."
"At an old job of mine, I was doing a bit of work on a computer and this girl, who I happened to be interested in, comes up to me and starts to have a conversation, so I turn and face her. Couple sentences later, she takes a step towards me so we're about half a foot apart. The tension was strong. Should have asked for her number or something- Stupid past me."
– Renardodavinci
Where To Lay
"When a fanfic writer types 'and there was only one bed.'"
– bizarre_adv_TJ
Sharing Water
"Swimming alone together."
– glowy_clublights
"Night swimming. If you ever get invited night swimming you're in for a helluva time."
– DaMoltisantiKid

And Then There Were Two
"When you hang out in a group get-together all day and everything dies down until it's just the two of you talking in the middle of the night."
– cheesehuahuas

Nowhere To Go But Up

"being stuck in an elevator with someone who you have major chemistry with."
– Musician-Round

The simplest act can turn into a highly erotic happening.
A Sensual Trim
"In college I got a pretty meh haircut and was lamenting about it to a group of friends. One girl chimed in that she could fix it for me and she had all the tools in her room to do it."
"We went back to her dorm room, and she slowly spent a lot of time snipping little bits of my hair, moving around me, and we made a f'k ton of eye contact while she checked it from every angle. She'd get in close to check things, and I could feel her breath on my neck, or she'd run her fingers through my hair and across my scalp to pull some up to be trimmed."
"The tension was so thick I could barely breathe and she did a great job on my hair."
– LA_Nail_Clippers

Tell Me Moore
"Sitting behind a lady at a pottery wheel helping her make a vase. Bonus points if one or both people are ghosts."
– Lumberjack1229
There's A Name For This
"Literally anything involving adrenaline. Scary situations, roller coasters, horror movies, etc. The heightened levels of arousal (physical not sexual) that come with those situations get the juices flowing and the two people are much more likely to attach those intense feelings to each other than the actual stressor"
"It's called the misattribution of arousal phenomenon."
– FatherMiyamoto

It's a common romantic trope, but going to the movie theater–assuming people still do this–with someone with whom you've developed a crush can be a huge waste of money in terms of getting the most out of the tickets you paid for your date.
Who can pay attention to the details of a plotline when all you think about is who will initiate the hand holding or placement of palm on knee?
But depending on what follows after you leave the theater, you may get more bang for your buck.
Want to "know" more?
Sign up for the Knowable newsletter here.

Never miss another big, odd, funny or heartbreaking moment again.
Keep reading...
Show less
People wanting to help you navigate through troubling relationships have the best intentions at heart.
But that doesn't necessarily mean the wisdom they're imparting is always sound advice.
Nevertheless, anyone who is concerned about your romantic foibles is worth keeping as a confidant–even though they have no idea what they're talking about and are not qualified enough to speak on the subject.

Curious to hear from strangers online, Redditor mistarry asked:

What's the worst relationship advice you've ever heard?
Highly insecure people may be prone to taking these words of advice.
Using Ultimatums
"To test how much they'd fight for me with petty remarks and ultimatums. Kind of like 'you didn't say you missed me' or 'if you don't come by today then I'll have to move on.' I did not listen to them, and I'm glad I didn't."
– milkbreadsimp

Exploitation Of Attractiveness
"Those people who 'test the loyalty' by hiring attractive people to flirt with them via instagram. People have suggested it directly. Please don't. It's all sorts of wrong."
– noahisadumba**_

When It's Up To The Other Person To Salvage A Relationship
"You can fix him."
–Rina_Bambina
"Why would you even want to? You could be with someone who's actually a desirable partner in the first place."
– BigPoopity

Times may have changed, but that doesn't necessarily mean certain suggestions aged well.
Outdated Expression
"'Love means never having to say you're sorry.' ... That's the dumbest, 1970s, movie tag-line sh*t I've ever heard."
– J_David_Settle_1973

Bringing Life
"Have a child, it'll make your problems go away and you can understand each other better. Lulz."
– pgg1610

Dodged A Bullet
"My ex wife consistently tried to pressure me into having a child towards the end of our marriage. Not sure if she thought it would save the marriage or to cover infidelity but I flat out refused. It was mainly because we were nowhere near ready financially and I also saw how rocky the marriage had been. One of the best decisions of my life."
– Gone_Back

Harsh Concept
"Treat em mean, keep em keen."
– k1ll3rGorilla
One Size Fits All
"Always be the one who wears the pants."
"Horrible, horrible advice I got from my mom. She was super upset when I told her that we're a team and that both of us wear the pants."
– BuffOne1124

Idealized romantic notions are better left in Harlequin romance novels found at the grocery store checkout counter. Like these:
Not It
"The whole idea of 'the one.' Nothing kills more relationships than this notion of whether or not they've found 'the one.' Have an argument? You start being paranoid they aren't 'the one.' Have a small personality clash? Start being paranoid they aren't 'the one.' Have different dreams or goals? Wonder if they are 'the one.' Have different hobbies? Wonder if they are 'the one.' I've seen so many relationships crumble because people are so damn quick to chalk up their partner as the 'wrong one' as opposed to trying to work through problems like an adult."
– Johnnywannabe

Change The Perspective
"'Follow your heart' While having the feeling of love is important, it can be confused with infatuation. If you have family or friends that tell you the relationship is bad or isn't going to work, take that into consideration. Try to take a step back and look at the situation. On a happier note, best advice I've gotten is 'Love is a choice' The feeling will come and go. If you really want to have a long term relationship, you'll have to chose to love when things are hard.​"
– yttikmood

When it comes to marriage, these ideas may be more of a miss than bliss.
**s Backwards
"Get married first. You can take your time to get to know them after that."
"WHAT THE F'K."
– Walteryuen99

"Arbitrary External Standards"
"'Marriage is meant to be holy, not happy.' This was genuine advice from my (at the time) MIL while my marriage was actively failing and my then - husband manipulating and gas lighting me. And I believed it at the time. F'k that, don't structure your relationships around arbitrary external standards."
– cornygiraffe

That Glue That Shouldn't Hold It All Together
"Stay together for the kids."
"It's not in the kid's best interest when the relationship is abusive."
– ancientflowers

Maybe some of these work in your relationships. Or maybe not.
The thing about most relationships is that open communication can usually solve many of the problems, and that is more effective than any old adage casually dispensed to you by a well-meaning friend.
Want to "know" more?
Sign up for the Knowable newsletter here.

Never miss another big, odd, funny or heartbreaking moment again.
Keep reading...
Show less