We've all probably heard of the "flat earth" conspiracy theory or something related to QAnon conspiracies. Well, some theories go far beyond anything we've heard before.
A conspiracy theory is defined as:
"A theory that explains an event or set of circumstances as the result of a secret plot by usually powerful conspirators."
Whether the theory makes sense or not, people who tout these theories have worked it around in their mind enough to believe it. Ask Reddit has shared some of the most outlandish conspiracy theories that people believe today.
Redditor mycarnage2000 asked:
"What is the single most ridiculous conspiracy theory you've ever heard?"
Some of these are lesser known but they have big followings.
Satan burned the dinosaurs.
"That Satan buried dinosaur bones to deceive humanity into believing the earth is vastly older than a couple thousand years."
"I have encountered people who wholeheartedly believe that."
- TheSmegmatician
"It's wild....I have a family member who is a born again Christian who used to be scientifically oriented. Now they truly f*cking believe the earth is only 6000 years old or some sh*t. Going with the morals and values in the Bible is one thing, but please use your f*cking brain!!!"
- throwingplaydoh
Dinosaurs aren't real at all.
"Idk if most ridiculous, but definitely favorite that I try to spread. The CIA invented dinosaurs to discourage people from trying to develop time travel."
- ColdHardPocketChange
"Dude. I'm MORE encouraged to develop time travel, and bring back a T-rex to guard my sh*t."
- CordialTrekkie
Sign language interpreters.
"The sign language interpreters at press conferences are actually brain washing us."
- Aloha1959
"🤛👆🤏🙌🤙🤛🤲"
- Azigol
Super soldiers on Mars.
"Secret Space Program - people believe that a Nazi group split off from the Third Reich and discovered super advanced technology in Antarctica. They then moved to Mars and have been fighting reptilian and insectoid aliens using time travel and genetic super soldiers. Most of the members believe that they are part of this super soldier group and have been alive for hundreds of years. It's absolutely bonkers."
- PocketBananna
"I wintered over in Antarctica with the US Antarctic Program. While I was there I had my Instagram set to public and would post cool pictures fairly often. You would be shocked how many people DM'd me legitimately asking if there were secret armies, secret blackout zones, etc down there."
- vocatus
"So they thought there was all this secret conspiracy stuff going on down there but also thought you'd just tell them it was there if they asked?"
- thylocene06
Earth is especially flat.
"Flat earth, all day."
- Jack_McFakey
"The craziest thing that blew me away was learning that there are some flat earthers who will admit that Mars is in fact..round as well as other planets. But Earth just...isn't one of them."
- justsound
"That's weird. The flat earther I knew simply claimed that space wasn't real."
- Trademark010
JFK Jr. is living.
"The one where JFK Jr. will rise from the dead in Dallas just to reinstate Donald Trump as the president."
"Actually these QAnon people believe that he never died in the plane crash and just lived in hiding for 22 years for unknown reasons."
- TheBassMeister
"My Gf's mom believes JFK himself is still alive and will be Donald's VP. I simply state 'wow I'm impressed he still has the cognitive abilities for such a role as a person who is 106 years old.'"
- cleatus_the_noodle
"Windmills cause cancer."
- chicken-bean
"Literally my local government believes this and a lot of the voters do. I've worked elections where other volunteers go on this conspiracy theory with the county auditor. I visibly shake my head whenever they go on the tangent cuz it's so ridiculous."
"The idea noise can cause cancer is like the whole backwards music thing and Satanism."
- Pfroggy1
The UN has a hidden army.
"A million man UN army was hiding in the mountains along the Idaho - Montana border getting ready to take over America."
"This was big after Bill Clinton was elected President; 'that a United Nations army was 'hidden' in different remote places all over America, training and getting ready to spring out and take over the country, thus removing all American freedoms and enslaving the American people.' It was supposed to be one of the final steps to create a One World Government - the New World Order. It was tied directly to the 'black helicopter' conspiracies."
- Viker2000
Vaccine's make you magnetic.
"The vaccine makes you magnetic. I thought this was stupid, but on my way home from getting dose 3 I got pinned to an old shipping container and I've been stuck for 3 days now... Please send help."
- Downvotecollectineur
"I feel like the conspiracy theories have been getting crazier and crazier over like the last decade or so. Flat earth, magnetic vaccines, 5G, etc..."
"I remember in the 90's reading about this theory that the big oil companies hire people [to] drive their cars slowly in major cities to cause traffic jams and make people burn more gas. THAT was just about the craziest thing I'd heard at the time. Sounds absolutely quaint in comparison."
- pm_me_your_taintt
A number of conspiracy theories have come true over the years, but it's not looking like the earth will ever be proven to be flat. And certainly none of the conspiracies in this list.
Hopefully, we never see a day where we see any of them to turn out true.
Want to "know" more? Never miss another big, odd, funny, or heartbreaking moment again. Sign up for the Knowable newsletter here.
Keep reading...
Show less
Let me make a quick point about conspiracy theories: Do people understand just how difficult it is for many of the conspiracies they claim to believe in to come to fruition? We're talking global levels of cooperation here, by the way, and it's clear the world can't even get itself out of a pandemic sooo...
But thankfully, there are some more innocent comnspiracies out there. For example, a former classmate once told me that he was convinced he couldn't remember all the items on his shopping list because of shopping elves distracting him to buy other things he didn't exactly need.
To be fair, he was a little stoned at the time and I told him he might want to consider just writing and referring to a shopping list.
People shared their thoughts with us after Redditor ConcentrateNext1734 asked the online community,
"What's a conspiracy that you believe, but the majority of people don't believe or know about?"
"Colonel Sanders..."
"Colonel Sanders puts an addictive chemical in his chicken that makes you crave it fortnightly."
artiallthings
This one is very specific.
Blink twice if you need our help.
"Netflix's marketing team..."
"Netflix marketing team releases memes about shows to give off the appearance that everyone is watching said show. Since people have FOMO they watch the shows to understand the memes until everyone eventually does watch it."
FriedBacon90
Honestly, is this even a conspiracy theory? It sounds like good marketing strategy.
"My parents have a sensor..."
"My parents have a sensor that tells them whenever a sex scene appears in a show/movie/game on my TV so they can always walk in at the most embarrassing moment."
DynamicPJQ
This one might actually be good. Parents are eerily good at this. I think my own mother might be in on the conspiracy theory.
"This is one..."
"This is one I believe because it doesn't really affect anything and I think it's fun: the Loch Ness Monster is the ghost of a dinosaur that now haunts the lake."
Snailpics
Okay, this is rather cute, I have to admit. I can get behind this, lol
"That cats..."
"That cats can see ghosts. And I don't even know if I believe in ghosts."
LordVonChill
Have you SEEN cats stare into space for no reason?? What are they looking at?
"Big companies..."
"Big companies use Reddit and other social media to normalise shady behaviour. It seems every time news breaks about a company doing something shady, the top comments on Reddit are always along the lines of: 'Well duh! We've known this for years!'
"So instead of outrage, the news are met with apathy, and there's a feeling that you can't change the system anyway."
ElectricalPotato21
Pretty sure this has been happening for a while – and not really a conspiracy. Look at how big companies are infiltrating online communities to undermine workers' movements.
"A bot..."
"A bot posts this question every once and a while to see how many conspiracies people know about."
ParkerTheCuher
Quite possibly. Reddit is sneaky that way.
"Toothbrush heads..."
"Toothbrush heads are purposely oversized to make you use more toothpaste."
neohelamay
Take this one up with the toothbrush head lobby, why don't you!
"All the stop lights..."
"All the stop lights in my home town are timed so that you get stuck at each one if you drive the speed limit. The stop light people got paid off by big oil!"
Dinkle
Whoa, whoa, whoa. Slow your roll, Erin Brockovitch. We can't have you digging much deeper.
"Trump didn't..."
"Trump didn't intend to win the Presidency."
pattyG80
You know, many people have suggested this and there is a contingent that believes he just got too drunk on the idea of all that power and felt he couldn't back away.
Well, let's be real: These conspiracies (or shall I say "conspiracies" are just a trifle bit healthier to believe in than Q-Anon related stuff.
Sure is nice to have people believing in the Loch Ness monster being a ghost than sullying its memory to overthrow constitutional democracy.
Have some theories of your own to share? Feel free to tell us more in the comments below!
Want to "know" more?

Sign up for the Knowable newsletter here.
Never miss another big, odd, funny, or heartbreaking moment again.
Keep reading...
Show less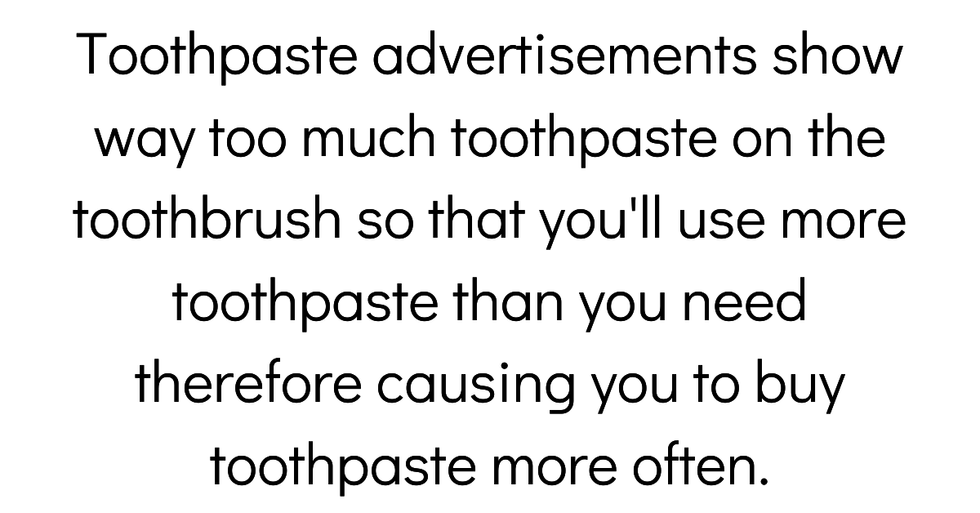 Every single group has the friend: wildly adept at the far reaches of the internet, clearly doesn't consider that texted links are time stamped so we know they were freaking out at 3:37am, and refuses to trust photographs.
But the wild, outlier, believe-every-conspiracy types are not the focus here. There are plenty of people that, for some reason they can't quite put their finger on, believe one very specific conspiracy theory.
And it's often the bizarre, almost trivial ones that take hold in these cases. A Reddit thread dedicated to plumbing the depths of those flashes of paranoia did not disappoint.
u/ComprehensiveMenu1 asked, "What conspiracy theory do you believe is true?"
Keep reading...
Show less
Conspiracy theories are fun. What if Nicolas Cage is part of the illuminati?? What if Beyoncé is from the moon????
But some conspiracy theories have to be true. There must be some basis in truth for these rumors to exist at all, so naturally, just by probability, one of them has to be true. But which is it?
Keep reading...
Show less
Life is full of questions and theories. Often, big, unexplainable moments are shrouded in mystery. People tend to try and weave a tale that makes sense, even when there is already basic reasoning. What can I say....sometimes we're really bored.
Redditor u/thats_a_doozy wanted to hear what odd ideas some people are concocting by asking.... What's the goofiest conspiracy theory you've ever heard?
Keep reading...
Show less