People Share The Best Real-Life Cheat Codes They Know
The infamous Mortal Kombat ABACABB code doesn't actually work in real life, but there are absolutely times when some overly dramatic poorly-rendered game blood would make a moment way funnier.
We could use it for educational purposes, or in trauma reduction.
Ted the Feminist might even still have a girlfriend!
Sometimes a sense of humor is all you've got left, ya know?
Hilarious as that could get - if cheat codes actually DID work, we can think of quite a few we'd try before that one. Sorry, Ted.
---
Reddit user citizen287 asked:

"What is a real life cheat code you use?"
Instead, we're just stuck with these "real life cheat codes" from people who are somehow good at life or whatever.
Look It Up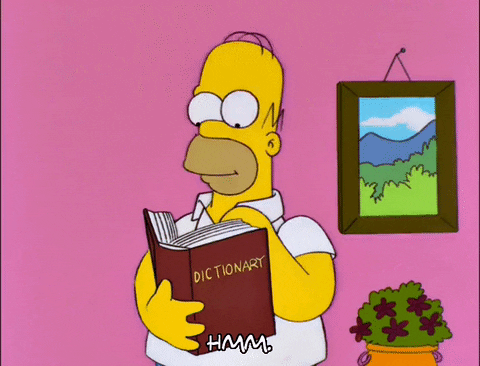 GIF by The Simpsons
Giphy
"When I hear a word I cannot define, I stop whatever I am doing and look it up."
"You would be amazed how that helps you understand the world around you and all aspects of it, especially finances."
- Codeine-Radick
"You are absolutely right."
"It was the philosopher Wittgenstein who said: 'The limits of my language means the limits of my world.' "
"In other words, your field of experience of the world will increase as you become more competent in learning language, vocabulary, words and definitions."

- Quh49zvf
"Wait, I thought everyone just did that? How else would you understand the sentence or whatever"

-funlight45
"Context."

- r3coil
Size Matters
"When you decide to use a teaspoon instead of a tablespoon for ice cream or yoghurt or pretty much anything."
"It gives you more bites, forces you to take more time to enjoy something, really savor it -- and I think that's pretty special."
- KokoTheBanana
"I only use small dishes and utensils for the past few years :) Makes a huge difference!"
- AnotherThrowAway1320
"Completely agree with you!"
"I have tons of little spoons specifically for that reason, so I can savor what I'm eating instead of gobbling it down right there"

- Anzulia_Art
"Agreed. Except cereal, which requires bigger bites so it doesn't get soggy."

- ComplexCost4496
Thoughtful Notes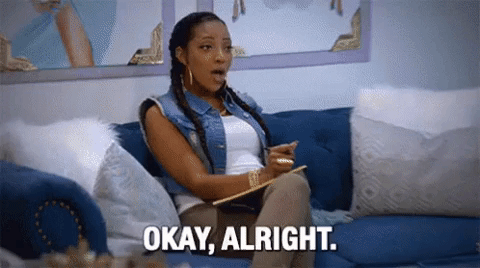 Taking Notes GIF
Giphy
"Keep a list of things people love or want."
"It comes in super handy during birthdays and Christmas."
"I always get complimented on how thoughtful my gifts are. A little planning goes a long way."
- Wonderful-Rich-3411
"My brother decided to create a Google sheet for all of us."
"We each have our own tab, and after Sept 1, no one is allowed to look at their own tab, because the rest of us make changes to it to indicate what was bought."
"He got tired of all of us screaming for lists from his family."
- schroedingersnewcat
"I do this too! As people are chatting and mention something they like, a favorite restaurant, etc I'll remember and add it to a list in my notes app on my phone."
"I'm constantly complimented on my thoughtful gifts but I'm just listening!"
- TuesdayWednesdayMe
To The Left To The Left
"Whenever I have to fart/have a belly ache I lay on my left side. I did this long before actually looking up the science but apparently your GI Tract is situated in such a way that laying on your left side helps move things along."
- Drive_Academic
"Same. Did it for years before understanding the reasoning why."
"Sometimes I can only burp if I lean up and to the left as well. When I was very young, I just told everyone I had a leaky chamber."
- PoopedACreature
"Yeah, this one's a good tip, which I also follow. Any of you who suffer GORD or similar can use use this to take some of the edge off the burning too."
"Doesn't always work, of course; but I'll say anecdotally that I've suffered severe GORD my entire life, and sometimes just moving into this position is the only thing that brings any kind of relief, even if slight or brief."

- EafLoso
Clean As You Go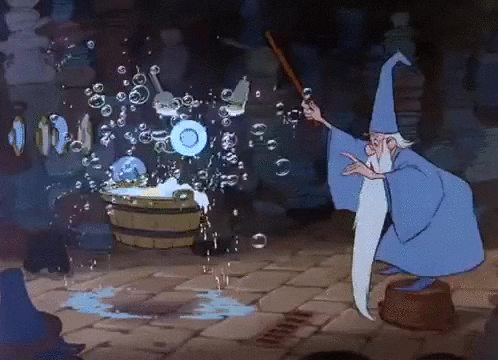 cleaning GIF
Giphy
"Wash your bowls, spatulas, and so on while you are cooking. After supper you will have hardly any dishes to do."
- butter00pecan
"YES. My dad swears by this, the 'clean as you go' strategy, thus I use it in my daily life even at work and not just in the kitchen."
"My mother is a 'leave all the dirty dishes in a pile and clean them after the food starts to cook' human"
- cyaveronica
"I do a lot of this while I'm waiting for the food to cool down before I eat. So much nicer being able to enjoy a warm meal knowing there's no cleanup afterward."

- pmw1981
"Also accept that you will clean your kitchen every day. It's just a law of physics."

- freehatt2018
One, Two, Three ...
"If you go into another room and forget what you came for, next time start counting in your head as you are getting up to go to the other room."
"You can think about other things but for some reason the counting keeps the original thought tied to it."
- whyunoletmepost
"I'm going to have to give this a try!"

- i_liek_games
"I did it all the time, I called them trigger points, basically recount your step so your head trigger and help you remember what you were doing in the first place."

- K2P2C
Save The Zipper
"I had a pair of jeans where the zipper wouldn't stay up."
"I put a keyring through the little hole in the zipper and hooked it around the button. Zipper stays up and the keyring is hidden behind the fabric that fastens over the button."
"Saved me buying a new pair of jeans for a while. I hate buying jeans, they're the worst clothing to go shopping for."
- Random_Guy_47
"this is great!"

- Cute-Connection
"Elastic band works too"

- otisreddingsst
Let It Go
"I abandoned my ego about 11 years ago."
"Life has been immensely easier since then."
- drallafi
"100%. The easiest thing to do in life is to sometimes just say sorry or not have an ego about things and everything goes smoother."

- Latifi_WDC_2023
"So true. The focus returns to just what needs to get done in life/work/school without the ego clouding or triggering a lot of baggage."

- jesucont01
Don't Shed A Tear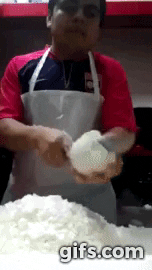 world onion GIF
Giphy
"When dicing onions, cut it in half and peel the paper then rinse it good. No tears."
- No-Return-3368
"5 - 8 sec microwaving the half onions do well, too."
- Fakedduckjump
"Didn't know that, nice."
- No-Return-3368

Opposable Toes
"You can pick up relatively anything with your toes instead of bending over."
"Yes I know it's weird but it actually helps a lot whenever you have back issues"
- Creative-Sun2453
"And pregnancy!"

- Hrager333
"I do that, my family looks at me weird tho"
- Blister999
"Everyone that lives with me collectively agreed that I do not have feet, but rather four hands."
- Jexify
"This is a good one, I often use this especially when picking up clothes that have be put into the washing machine or something falls down and your hands are not free."

- Fakedduckjump
Friendly And Silent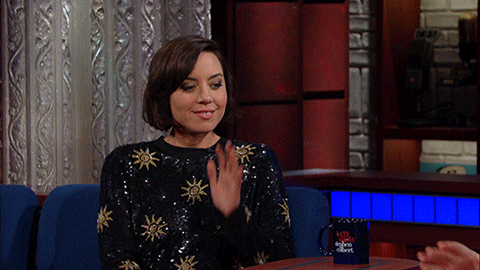 Happy Stephen Colbert GIF by The Late Show With Stephen Colbert
Giphy
"Let people talk and sound friendly they will always let out more than they are willing."
"Also always start a negotiation with a positive with the other party, then you start working your way through more sensitive terms of your soon to be agreement."
- Much_Committee_9355
"Also, make use of silence. Lots of people will be keen to fill the silence by saying something (anything!) which can give you an advantage."
- 365Anonymous
"I work in an inspection and enforcement role and I have had great success with this. I am friendly and personable by nature but also as a rule. I ask open ended questions and let people talk. They will inevitability keep talking and give me all the info I need."
"I was on an inspection recently and the employer had a work term student who came along. I told him that people will almost always tell you what you want to know, you just have to give them the opportunity. It's an easy job, listen and take notes, the workers will tell you what is wrong"
- Agile-Guarantee-7206
"Same thing I work in a very nieche part of the legal word, which mainly deals with contracts and maneuvering and expediting things with state institutions, while I was an intern through a lot of frustration and the express course from my coworkers I sort of started developing and honing this skills, which made life 100 times easier."
- Much_Committee_9355
Electric Kettle For The Win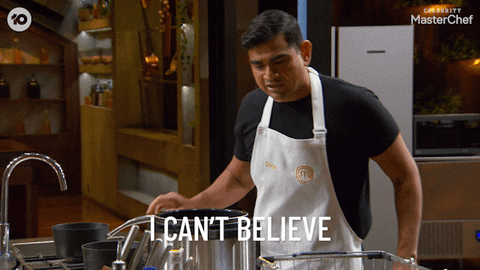 Celebrity Masterchef Omg GIF by MasterChefAU
Giphy
"When I'm cooking, I'll boil the water in the electric kettle and then add it to the pot, so I don't have to wait as long."
- Competitive_Ruin_370
"Another step to this is adding a bit of water to the pot and heating it as the kettle boils. It means that the pot is hot when you add the water from the kettle and usually goes straight back to boiling"
- Craunch_the_Marmoset
"I started doing this a few weeks ago! A lot faster"
- poopycactus
P.E.
"Exercise and eat well. An hour a day makes the other 23 SO MUCH INSANELY BETTER."
"I've been in amazing shape, then I had some medical stuff knock me down into depression/drinking/doordash every day and got fat as hell. Everything hurt. I slept like shit. People, men and women young and old treat you so much worse when you're unattractive it's ridiculous… snapped out of it, got back in shape, felt like myself again, body feels amazing, strangers are nice again."
"I've been the same person in both physical states. There is absolutely no comparison whatsoever. Life is much, much, much better as even a moderately fit person. It's bizarre how much it effects your day to day social interactions with strangers"
- [Reddit]
"This was my cheat code when in therapy for depression and a restrictive eating disorder. I realized that even a short walk around my building complex boosted my mood a little, and that little could be enough to actually brush my hair or eat something decent. Some days were truly so awful that I couldn't bring myself to do even that, and I reached out to friends or neighbors who were kind enough to knock on my door and get me on a walk."
"For a while, cardio was one of the biggest weapons I could use against my condition, and afterwards I thought of it as just something I do a few times a week as preventative treatment."
- setsurenka
Proper Search
"Actually understanding how to use google search engine."
"first tip. if you're looking for a specific quote, keyword or company and want to find only the reddit results type in first:"
"site:reddit.comthen you add in your actual query. It would look like this:"
"site:reddit.com what is a real life cheat code you use?"
"And you will be able to find this answer more easily. Google has a large variety of filtering tools to allow you search more effectively."
- filthyburrows
"You can honestly simplify it to just 'search term reddit'. So if I want to see what reddit thinks of a movie I'll do "the avengers reddit" and if I'm mostly getting memes might refine it to 'the avengers review Reddit'."
- PillowcaseGhostie
Efficient Commute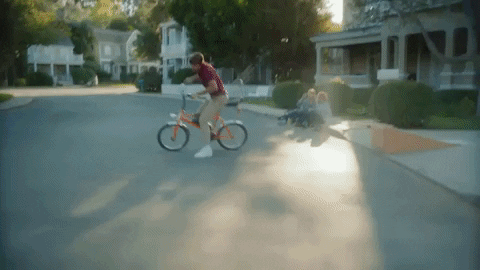 Bike Drive GIF by Bosch
Giphy
"I ride an ebike to work. I save money. I am in better shape. And because I don't have to go to the gym to get cardio, I save time too."
"My commute is kinda far at 8 miles one way, so the adult helps with the time and sweatiness."
- Victor_Korchnoi
"I don't know how people pull this off TBH. I get a collar of sweat walking out to the mailbox sometimes. Not horribly out of shape or anything, I just sweat a lot."
- kylew1985
"The eBike helps a lot. You still sweat, but the 20 mph breeze evaporates it. Works better in drier climates, but I've been pretty happy with it in New England."
"Also, have a rack to put your bag. Wearing a backpack will keep you back sweat from evaporating. And finally, wear breathable clothes."
"That can mean wearing workout clothes & changing or I like to wear shorts that look like dress clothes but are made of breathable materials."
"I'm a notoriously sweaty dude, and it's worked for me here and in Arizona."
"Somewhere like Miami might be different though."
- Victor_Korchnoigeico_fire
AM Errand Run
"If you can, go run your errands at night. All the stores you have to go to? Do it at night.
No people, no road anxiety, just you getting shit done in (mostly) quiet. The only things I go out in the daytime for are doctor's and dentist appointments."
- geico_fire
"i would not recommend this to anybody that isn't a man or at the very least cant physically defend themselves"
- xanxbar
"As a woman, I've found that if I shop before 9am, I feel completely safe. And most people dont want to be up that early so the stores are mostly empty and I dont have to stand in absurdly long lines to buy my groceries, gas, or fast food."
- kleigh1313
"i work nights so i too do most of my shopping in the mornings and can confirm the lines are almost non existent"
- xanxbar
"Fair. It depends on where you live. I live in a city where the downtown area is sketchy and full of druggies, but all the big-box stores are about 5-10 minutes away in a (generally) safer area. Haven't gotten attacked yet and I'm a woman. But other areas are far more dangerous regardless of store placement."
- geico_fire
Two Out Of Three
"Neil Gaiman's trio:"
"Submit quality work"
"Submit work punctually"
"Be pleasant to communicate with"
"...you only need two out of three."
"Over my academic career,"
"I've submitted absolute dogshit, but it was on time and I was polite about it."
"I've submitted requirements really late, but it was good work and I was apologetic about it."
"I can sort of ignore messages and be blunt in communication as long as I submit good work on time."
- NoStressAccoun
"Pretty much every professor has allowed me to submit at least one late assignment because I'm polite and participate class"
"I had one professor for 4 semesters and got As in all his classes. I had him for one more class a year later and was like 'Hey I know this assignment is 3 weeks late but I'm gonna go ahead and submit it now' and he was just like 'yeah that's cool' and gave me full credit"
- NoThorNoWay
"My dad used to quote a variation on that regarding buying products/services:"
"You can get it quick"
"You can get quality"
"You can get it cheap"
"Pick 2"
- LorenzoStomp
"I agree with this but I feel like punctuality outweighs the other factors in certain situations where the proctor is anal. I've experienced many situations throughout my degree in which I couldn't submit assignments 10 minutes past the deadline even though the quality was great and I was as nice as I could possibly be."
"Although that's pretty situational. Usually proctors aren't total d*cks."
- Poiuytgfdsa
"I've gotten a 50% raise doing exactly this in my first year after graduation. It really works and it's really easy, as long as you have integrity."
- GetInMyBellybutton
Night Hydration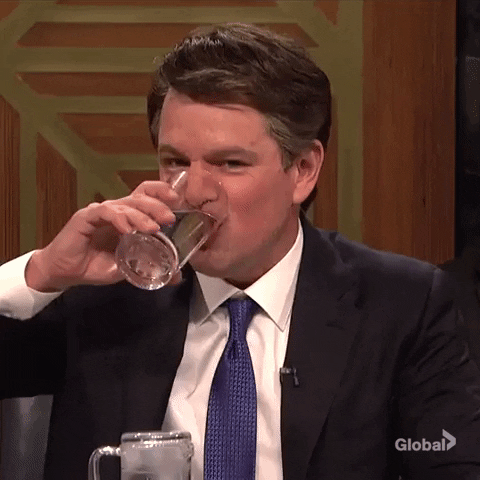 saturday night live drinking GIF by globaltv
Giphy
"Drinking water before you go to bed on a night out is the only way to prevent or diminish an inevitable morning hangover, especially useful if you work early."
"You're hangover is the result of you being dehydrated, you don't need to drink a gallon, even just a pint will save you from a day of headache hell"
- LynxZealousideal3344
"If you foeget drinking more than normal at breakfast also works just fyi"
- RelativeStranger
"I really don't think it works as well, as a seasoned drinker I can say drinking before you go to sleep works much better"
- LynxZealousideal3344
"You are right, it doesn't. You get the morning headache. But it doesn't last all day"
- RelativeStranger
"This is true. Also if you're going straight to sleep after there's no point drinking more than a pint cause apparently your body can't process that much water at once so most won't be absorbed anyway."
- JamieTeatime
We may not be able to use video game cheat codes, but if you're nailing it at life and have a cheat the rest of us can use, share it in the comments.
Please? Seriously, 2022 is a mess and we need all the help we can get.
In almost every interaction with a Karen, there will come a point where she (or he) will ask to speak to the manager. They seem to think that if they over others and just act a fool, they can get what they want—but the following managers REFUSED to let these Karens get away with their inconsiderate antics.
In the United States, it's no secret that sex education for minors is inconsistent at best.
But some people learned very unexpected stories about how babies were made, and those stories had a way of making a lasting impression.
Curious about other's stories, Redditor ILoveYourCat asked:
"How did you think babies were made when you were little?"
One Time's the Charm
​"I knew babies came from sex as a fairly young child. My parents never sugar-coated that. But for some reason, as a kid, I thought you only had to have sex once to have multiple pregnancies. I seriously didn't fix that misunderstanding until early middle school."
- Crazey1988
"At some point, when I finally accepted that you had to have sex to have a baby, I thought the only time people have sex was to make a baby, and it only took one time to get the job done."
"Then when I figured out teenagers were having sex, I thought you had to be married and have sex to make a baby, but then when my unmarried cousin got pregnant, I was just confused."
"But I was sure my parents only had sex four times, and then when my mom got pregnant with number five, I thought, 'Wow, they did it again.'"
- Raw_Combination_438
Stealing Storks
"A stork delivered them, of course. What the f**k, lol (laughing out loud)."
- Dells51
"Storks... I thought people trained them to steal babies from a factory and you would leave special treats on your doorstep as payment and encouragement for the stork to steal one for you."
"I was scared to death of birds for the longest time and would have a tantrum at the zoo when I saw a flamingo."
- No_Finish_3144
Young Conspiracy Theorist
"The government. I used to think that we lived in a totalitarian society and that the government was in complete control of everything."
- bebotak**t
"I thought the President sent people their babies when asked by mail."
- GustavoAlex7789
Scheduled Baby Delivery
"The women in my family explained to me at the age of six that a doctor calls you sometime after reaching adulthood at the age of 18 to schedule a baby delivery date."
"The husband either pays to schedule the appointment or the government does after verifying that you have been married and financially stable for quite some time."
- Lokikat00
Marital Kissing
"When two people kissed."
- Short-Reality7353
"I thought the same thing, but I understood that when my mom gave me a kiss, there was no risk. Being someone raised in a very Christian background, I assumed that when you got married, God made kissing a reproductive act."
"Since I made this assumption, I remember questioning why teenage pregnancy could possibly be an issue."
- meuserj
The Ultimate Christmas Gift
​"I thought Santa was bringing them."
- NorskoTheScorpion
"He was. I mean, Christmas comes but once a year..."
- Nouveauuuu
"I MAY NEVER ENJOY CHRISTMAS AGAIN."
- NorskoTheScorpion
A New Meaning to 'Forest Friends'
"When I used to ask my dad where I came from, he'd say he found me under a rock in the forest. Of course, I would go look for babies under rocks, too, but all I ever saw was dirt and those rolly-polly pill bug thingies."
"It was so gross thinking babies were just found THERE that I was actually relieved to find out how they were actually made!"
- melodie-artist
Pregnant By Proximity
"I thought women got pregnant by just being around a man, and I was always confused about what would happen if a woman still lived with her parents or dad after she's an adult."
- ILoveYourCat
Coming of Age Story
"I thought it was a 'just happens once you reach a certain age' sorta thing. As a woman, I was terrified because pregnancy sounds like the most awful thing, lol (laughing out loud)."
"(I know the end result is worth it but even as a 31-year-old, I'm like, nope.)"
- BansheeShriek
Sounds Plant-Based
"I thought they grew like a seed inside the mother's belly."
- maclaglen
"Technically, that's true."
- ManagementFresh4960
"Watermelon seeds."
- bravovice
"Well, not like that."
- ManagementFresh4960
The Power of Marriage
"My mum told me you couldn't have a baby if you weren't married. Note that she said 'couldn't', not 'shouldn't'."
"When my unmarried cousin was sleeping a lot my mum told my aunt 'she's having a baby'. I thought 'she can't be having a baby, she isn't married.'"
"A couple of weeks later she had an engagement party, quickly followed by a registry office wedding. She had a baby a few months later."
- MolassesInevitable53
Baby Trees
"I thought they grew on trees. True story."
- 8inchsalvatorre
"Baby trees, lol (laughing out loud)."
- ILoveYourCat
"I was surprised when I learned how it really happened, lol. I was like, 'You mean there are no trees?' And Mom just shook her head."
- 8inchsalvatorre
They Were Just There
"I don't recall a time where I gave the matter any thought without knowing the reality of it."
"Like, literally, until the day I was first introduced to the concept of birth, I don't think I cared where babies came from."
- N_Who
"Right, the little guys just EXISTED."
- Mizar97
Educated Is Best
"I asked my mom and she told me the truth."
"Educate your kids, folks. They can handle it."
- Bite_Me_23
Spontaneous Babies
"I didn't... They just showed up, honestly."
- badguywindow
"That's what I thought. I was terrified as a little kid that I'd wind up being a teenage mother because I thought it just happened spontaneously."
- dinosore
"Exactly what I thought would happen. Like one day you were just, boom, six months pregnant."
- badguywindow
While these responses might be funny, it's an important reminder of an area in the educational system that's often lacking.
But in the meantime, while the system's curriculum is getting sorted out, at least we can take comfort in the fact that we weren't alone in believing these tall tales.
One of life's many challenges to being successful and happy is to work hard and stay focused on our respective goals.
There are many obstacles that can discourage us, but persistence and a drive to overcome can be rewarding.
Unfortunately, there are some things that are simply beyond our control, and it has nothing to do with fate.
It's the qualities we're either born with or without that can impede us or prevent us from ever achieving what can only be seen as a pipe dream.
Curious to hear examples of one of life's cruelties, Redditor G00dR1ddance asked:

"How did your genetics f'k you over?"
These Redditors were unhappy with appearances.
Uncooperative Vision
"Lazy eye, and a total lack of depth perception."
– Crow_of_Judgem3nt
"Same. Do you struggle with driving? I just moved to a big city and I can't drive here bc navigating all the traffic is too hard with no depth perception. It's so scary!"
– Subnautica24

The Worst Parts
"Moms Family: Perfect teeth, male baldness. Dad's family: Terrible teeth, perfect hairline."
"Me: Sh**ty teeth, bald before 25. My 2 brothers: Perfect Teeth, Perfect Hairline."
"Feels FN bad."
– Yogannath
"They should all chip in for a trip for you to Turkey for a cheap hair transplant and dental work."
– turboprop123

Made For Farming
"All 4 grandparents were farmers. I look like I was bred to farm and f**k to make more little farm workers. Broad shoulders, big boobs, no waist, no @ss worth mentioning, and thick legs. I just look like I was bred to work forever until I die. 120 years ago."
– bwvdub

Stop With The Flattery
"I too am sturdily built. I am not tall but I am muscular and broad with the big boobs and the broad hips and sturdy legs. I could carry very heavy sacks of feed from when I was very small. My family nickname was 'the forklift truck', so that's.. nice."
– LibraryOfFoxes
Room For More

"My mother's OB said she had a pelvis 'you could drive a bus through'. I was a natural breach birth and share those genetics. You could host the last supper on my a** and have room for plus ones."
– Elephant_axis

These Redditors are living on borrowed time.
Cardiovascular Health
"Bad heart. I'm the first male in at least 4 generations to make it to 40. And that's only because I was finally properly diagnosed and treated. I wouldn't have made it to 35 if I didn't find the right cardiologist."
– socteachpugdad
"Bum ticker - dad's aorta exploded when I was 11 and my brother died from the second heart at 41. Just hoping to see my 60s."
– poontong

Being Kept At Bay
"I have a blood condition where I retain iron. It's slowly killing me. Destroyed my liver, pancreas, and led to a massive heart attack."
​"Fortunately, I live in the 21st century where modern medicine can keep me going with...bleeding."​
– Objective_Stick8335
"Sad Aspect" Of A Family
"Huntington's disease"

– alc1864

"My oldest uncle married a woman who had Huntington's, but they were very young and she wasn't symptomatic yet. In the 70s so no genetic testing or much public awareness. They had 5 daughters. My aunt and their eldest have long since passed away, and the remaining 4 are in various stages of the disease. It's always been a sad aspect of our family. A truly cruel disease."
– Wasyloosker12

BRCA Genes
"I'm BRCA2 positive, giving me roughly 74% chances of developing an incurable genetic breast cancer in my life. It also gives me about 22% of having an ovarian cancer."
"On the other side, double mastectomy lowers my chances to about 3%, but it should ideally be done before I reach 30. I will also need a hysterectomy in my 40s."
"I had 50/50 chance of getting the BRCA2 gene mutation so well, genetics did f'k me over!"
– PoutineMaker
Redditors share more of their crosses to bear in life after being blessed with these traits.
"I'm more attractive to mosquitoes than most people. If I'm out when mosquitoes are around, I end up covered in bites (which I'm also allergic to, so I end up with quarter sized welts that itch for daaaays after the fact)."
– p1013

It's sobering to realize the ailments your parents struggled with are starting to become our own to bear. ​
High blood pressure, arthritis, and predisposition to atherosclerosis are some of the undesirable parts of my family's genetic makeup that I never really thought about until I noticed how fatigued and in pain I've become with age.
Although I have so much gratitude for surviving every year I get to celebrate my birthday, getting old still sucks.

Being let go from your job is never a pleasant experience.
Particularly if it comes out of nowhere, without any possible warning that this was a possibility.
Even if it isn't any more pleasant, generally speaking, most people have at least an inkling of why they were let go.
Budgetary reasons, dissolved departments, being told you weren't meeting company standards, or bad blood with the boss.
As well as some less common, highly unusual reasons which at least might make a good story down the line.
Redditor Sweetlo123 was curious to hear from people who were let go from their jobs, and why they were met with this fate, leaving them to ask:

"What did you get fired for?"
For Standing Up For What's Right.

"We were told we get OT for night work."
"The new 'company manager' let it slip that we don't actually get OT for night work, so when I was scheduled for five nights in a row working on a transmission line cell site I mentioned that I expect everyone working from our company on site get OT."
"Once it was said that we won't get OT and that it wasn't an actual policy (was written in employee handbook), I forwarded the email chain to the entire company and leadership at Verizon."
"I was canned, but now everyone gets OT for night work."
"My life is better now anyway and got my people what the deserve."- drklunk
This Was Never Going To End Well...
"Aggressively squeezing breakfast muffins lol."
"I was a few days into working at Mcds and someone complained I gave them a muffin that was too hard-they bake them at like 3 am and sit in a warmer all day."
"This was before they had the full bakery menu, I think muffins was the only thing baked and maybe cookies."
"So my manager told me to squeeze them before I hand them out."
"Me being a dumb teenager squeezed the s*it out of these muffins and got another complaint."
"They stopped scheduling me, haha."- eatmyknuts
You Have To Do The Work To Get Paid...
"I just stopped working and began only attending meetings."
"Lasted almost 9 months that way before they let me go."- frantictossing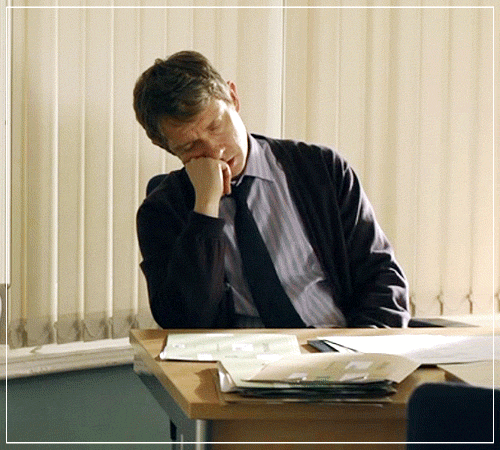 martin freeman sleeping GIF
Giphy
Wrong Time, Wrong Place
"I was fired after a month into my first job at a local pizza joint when I was 16."
"They called me during the Super Bowl and said I had to come in."
"I told them I was out of state without a car so no way I could make it."
"They said I should've known this was one of the busiest days of the year and I should've stayed in the area."
"I came in to work my next shift and they just gave me my paycheck and said they had to let me go for not being a team player."
"10 years later I was fired from a job in tech because I refused to move out of state."
"This one hurt a lot more."- seventyfive1989
Hard Not To Say They Had It Coming...
"The company's timeclock software ran off of the computers time, so when I was late I would just close the software, change the time back to before shift start and then clock in and change it back."
"The supervisor who showed me the trick fired me."
"A day or two later he saw me pulling in late, and when he went over the time info that day, it showed me clocked in on time."
"He knew why."- Grief-Inc
Nepotism Always Screws Someone Over...
"Worked at a gas station and was a sucker for the free soda."
"I would drink a few 24 oz glasses of Dr. Pepper (don't judge) per shift and had to piss relatively frequently."
"I usually worked with the same lady every shift and every shift my drawer came up short even like $10-20 bucks."
"One day my usual co-worker was off and I worked with another lady who warned me to watch my drawer around the other and hers had been short when she was around."
"That got me to thinking."
"The next shift with the usual lady I stuck some receipt paper into the lip of the bottom of my drawer and hit the bead."
"When I came back the paper was on the floor."
"My drawer was short $20 at shift change and my boss fired me."
"I told her of my findings and asked her to review the security tape."
"She told me to f*ck right off the other lady had been there years."
"I left heart broken and rented some VHS tapes to indulge in and recover."
"One of the movies was Casino and man is that a good movie."
"Come to find out the usual lady was the boss lady's cousin and they f*ckin told people I knew I got fired for stealing money."
"I though about calling a lawyer but also, I was in high school and was delusional I suppose."
"I got out of that town after high school and rarely return, especially considering all my family moved off."- woohhaa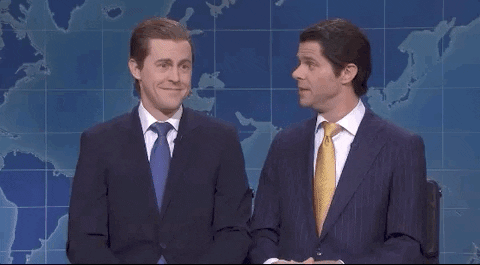 Snl Smiling GIF by Saturday Night Live
Giphy
The Age Old Story Of Men In Power
"Caught the boss stealing."
"So he fired me."
"His word vs. mine and it didn't go my way."- freezingprocess
People Tend To Get What They Deserve
"Embezzled almost $500,000 from the doctor's office I worked at."
"Oh no, wait."
"That was my former supervisor who did that...26 years after she fired me for taking home a left over slice of pizza after a drug rep hosted a pizza party for the office staff."
"Karma can take a long time, but it always comes through."- YourFront
Late To The Game...
"Being the last hired when they instituted layoffs."- BubbhaJebus
Some Plans Can't Be Cancelled
"1970s YES 'Close to the Edge' tour."
"I had my tickets and had the request approved for time off, they changed their mind at the last minute and would not let me off."
"Pfft."
"Left anyways and was genuinely surprised when I got back on Monday and they informed me that I was fired."-AmandaBRecondwith
Treat Others Like You Want To Be Treated

"My boss was talking sh*t about me to employees, and I confronted her with 'how would you expect the people below me to respect me when you show them that you don't?'"
"She didn't like it and literally went crying to the owners, who then fired me for 'causing problems'."- Successful-Snow-562
For Literally Doing What They Were Supposed To
"I got fired for slacking off and underperforming at work by taking my legally required lunch."- 10leej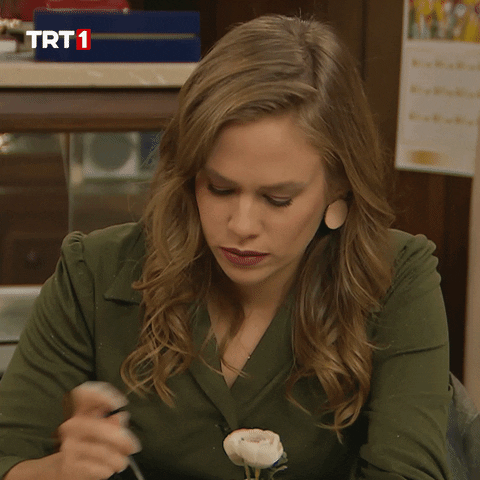 Hungry Lets Eat GIF by TRT
Giphy
They Couldn't Have Waited One Day?
"Worked as a QA tester for an online game company."
"Found bug while on my personal account at home."
"Came in the next day and reported the bug."
"I was VERY clear I found the bug while playing at home on my personal account."
"It was a nasty bug that let you duplicate very expensive items."
"A few weeks later someone in customer service was checking the logs for people exploiting the bug."
"They found mine and the company decided to fire me on my birthday."
"That was around 15 years ago but it still upsets me every year, on my birthday."- PedanticCyborg
While most believe "ignorance is bliss", anyone handed a pink slip deserves to know why.
Even if sometimes the reason gives no closure whatsoever, and instead only results in even more questions.