When we're young the world can be a scary place, hell, as an adult living in 2020.... I'm still frightened. When we're growing up there are so many things we aren't able to comprehend until a certain age and more often than not--out of shame or embarrassment--we tend to not ask the adults to explain sooner. There a life lesson for children early on, ask, no matter how bizarre it seems. Imagine the hours of haunted sleep that would be saved? Paranoia as a child is no fun, and that memory stays with you, viscerally.
Redditor
u/silvermoon_182
wanted everyone to let their inner child speak out all the spooks they had to endure by asking....
What random thing were you paranoid about as a child?
I See You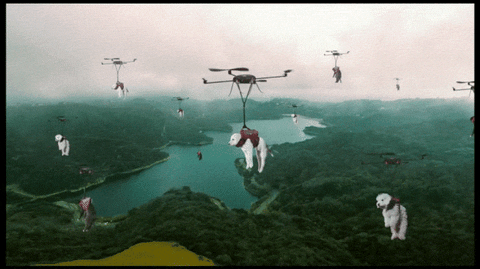 dog adopt GIF
Giphy
I used to believe that girls had tiny drones to spy on the boys they liked and I was so paranoid about it.
This is the first time I'm telling anyone.
Edit: You know I was real insecure about this secret and thought "no one is gonna see this." But now 100 people have. Im gonna go die now.
The Follow
Cars following our car. Genuinely used to memorize number plates then turn around 5 mins later and check if any of those number plates were still behind us. I'm talking like 3/4 cars back because "they may not want to make it obvious and be directly behind us"
We're literally no one special so idk why anyone would even want to follow us.
Can you hear me?
When I was young I was never sure if other people were real and I was paranoid over other people's ability to read my thoughts. Took many years until I was satisfied that they couldn't hear what was going on inside my head.
Not gonna lie, I occasionally still have to try and check to make sure no ones reading my thoughts by thinking something specific to get a reaction.
Dr. Lecter...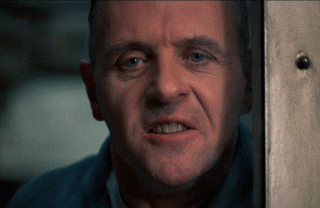 the silence of the lambs hannibal GIF
Giphy
My grandma told me dragonflies would sew my mouth shut so... yeah, dragonflies.
Bye Car....
Rust on cars.
I thought it meant they were dying and I felt really bad for them, like I shouldn't be looking. So I would hold tight to my mom or dad's hand and stare at the ground in parking lots, hoping I wouldn't see any rusty cars.
Behind the Glass....
Mirrors.
Yeah, specially if there is only a soft light so I can just barely recognize my face. And since I am dumb hell, I keep staring at myself doing weird faces, which causes me to freak out and get out of the bathroom. Recently I found out that if we look in a mirror constantly for like 5 mins with soft lighting, our brains start to see ourselves as if we had schizophrenia.
The Chucky Hair
That my dolls would suddenly come alive and yell at me because I was brushing their hair too hard and try to kill me. I even had several night mares about it. It's like when your mom is brushing your hair and then suddenly the pulls that one hair that pinches your nerve and you wince. Like that but they would try to kill me instead.
My Babies...
I loved my cats so much as a little kid that I honestly believed that if someone broke into our house that they would try to hurt our kitties on top of trying to steal things.
I had no concept that a burglar really isn't interested in pets but rather are only focused on valuables.
I just thought people who broke into places they shouldn't were generally evil and would do as many evil things as they could once inside, such as hurt my animals.
I am SUPER sensitive to pet or animal abuse as an adult now.
Is it Me?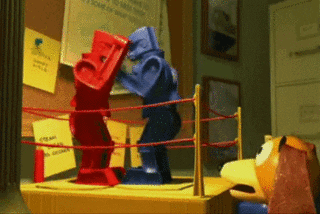 maywa denki japan GIF
Giphy
Personally, I was extremely concerned that everyone but me could be a robot and I wouldn't know.
Want to "know" more? Never miss another big, odd, funny, or heartbreaking moment again. Sign up for the Knowable newsletter here.

Keep reading...
Show less
It can be easy to write feelings of unease off as simple paranoia, especially when you aren't the one feeling uneasy. There's an important reality to keep in mind though, before you write someone off as simply being paranoid:
It isn't really paranoia if you're right.
Reddit user IMjudas asked the users of r/AskReddit:
"People who have been accused of being paranoid but ended up being right, what happened?"
10.
I was called a conspiracy nut years ago for claiming that my text/phone conversations and even in-person conversations with my phone on the table were being recorded and used for advertising.
Even did an experiment with my brother talking about parrots all day (a topic we've never had occasion to bring up) and watched our targeted ads from instagram. Hoho! Seeing birdfeed ads come up on my explore was VERY gratifying, but not enough to be taken seriously.
And now it's so apparent that it's a common joke/meme.

9.
I was being stalked via social media. Kept getting follow/friend requests from sketchy looking profiles and people talking to me who I hadn't contacted in years. I mentioned this to a few people but they all seemed relaxed about it and made me think I was overthinking (which I do do sometimes..). Turns out this was all from one guy who had made HUNDREDS of fake account and even hacked (or faked) other accounts to get in touch with me. Had to delete all my socials and return with a new name.
8.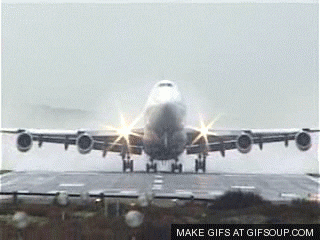 Giphy
I was studying abroad in Spain this semester. I decided to go home early because the coronavirus seemed to be getting bad and it was giving me anxiety to be there. Everyone told me I was overreacting and making fun of me for essentially being a wimp and leaving early. 3 hours after I booked my flight (for the coming Friday) Trump announced the European travel ban.
7.
In college, this new guy joined the org I was president of. Always thought there was something off, but he got along so well with everybody else. About a semester goes by, and we've all become friends, but I'm still a little off put by him. Pretty sure he drugged my drink at a hangout once, but a friend of mine drank it instead. That friend ended up in the hospital.
ALWAYS trust your instincts.

6.
I was worried during my junior year of high school that my best friend secretly hated me and was trying to sabotage parts of my life. My boyfriend at the time said that that wasn't true; that he's talked to her and she really loves and cares about me.
Fast forward to a few months later, just before senior year starts. I broke up with that boyfriend and for some reason a bunch of my friends seemed to have stopped talking to me. I find out during the summer from two of my friends that she had spread rumors about me after the breakup to make people think I'm crazy, and for years she's told the whole group about my love life and how badly I "mishandle" it. Cut her off that same day.
5.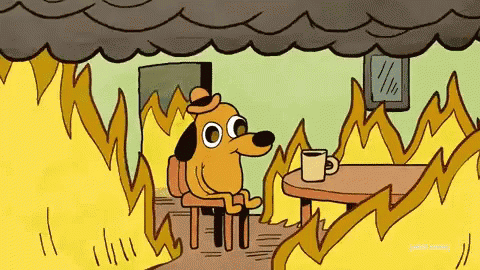 Giphy
I could smell gas everytime I opened the cupboard under the stove and said something to my mum. She just shrugged and said "pretty sure that's normal" and kept using it.
It took a long time, but one day the spark didn't ignite right away, so she used a lighter. PHWOOSH. Big rush of fire explodes out of the cabinet.
It made her nervous, but she STILL didn't do anything about it for a few months before she decided to upgrade. The installer who removed it was shocked nothing worse happened.

People Break Down The Best Purchases They've Ever Made | George Takei's Oh Myyy
4.
My ex boyfriend and his best friend ending up together. I knew it the day I heard him speak about her when we were 2 weeks in the relationship. We dated for a year, broke up and they started dating a while after. Now, they have been together for 5 years, engaged for 5 months and a bun in the oven. I'm so happy for them, I love being right about love!
3.
Worked in a company for almost 16 years and knew everyone from the facilities workers up to the president, would go to lunch with the director of HR at least once a month.
One day I came in and made my usual rounds but people that I knew really well seemed a bit off. They didn't want to engage in conversations like they were doing the day before, this happened several more times and I just couldn't put my finger on it but I knew something was up.
2 days went by and one of my jobs was to upload the board meeting minutes to an online database so they could search it. While doing it I saw that they retained a management consulting firm and tasked them with evaluating salaries and tenured employees but didn't explain why.
Put 2 and 2 together and got my resume out in the field, IT was booming and I got 4 interviews in the first week. 3 weeks later I got to upload the board meeting minutes and see the results of the management consulting firms analysis it had my name on the list along with numerous other employees that were suggested for termination.
I received 3 offers from other companies and selected one of them, walked into my directors office and handed him my resignation. He acted surprised and asked why I was leaving, I said just saving you the trouble of terminating me.
The company laid off over 300 of it's 600 employees within the next 3 months, I wasn't paranoid.
2.
I've always had anxiety, and one of the problems that came with my anxiety was the fear that nobody actually liked me or wanted to be my friend— they were all just pretending. Eventually I settled into a group of three girls while I was in High School.
Well one day I hit a very low point. After years of knowing these girls, I confessed to one of them that I had this anxiety, and that I wanted to kill myself because it was non stop all day. She tearfully assured me that I was wrong; they all loved me and wanted to be around me.

Until two weeks later when I didn't want to go to the mall with them and that girl flipped the f*ck out saying none of them actually liked me at all, they only hang out with me because they feel bad for me and because I paid for things. She told them all those pathetic things I'd said, so now they knew I was crazy, and it was rude of me to "dump all that on her" because she had to "pretend she cared" otherwise people would think she was a b*tch.
When I asked the other girls if they felt the same, they admitted that they absolutely did. She not-so-subtly suggested I should just kill myself and get it over with because all those things I think about myself are true.
If you're out there, f*ck you Cassie, you short, nasty b*tch. I'm still here.

1.
Anybody who's been cheated on has had the experience of picking up on clues, getting a bad gut feeling about the situation, and being told they're paranoid. If this goes on for awhile, it's one of the harder things to get past as you need to learn not only to trust other people again, but your own instincts.
Yep. You don't know why you know something is off, but you know something is off.
If you or someone you know is struggling, you can contact the National Suicide Prevention Lifeline at 1-800-273-TALK (8255).
To find help outside the United States, the International Association for Suicide Prevention has resources available at https://www.iasp.info/resources/Crisis_Centres/
Keep reading...
Show less
You never know who's around the corner, gazing into your window, or listening in on your phone conversations, or...controlling the President? Paranoia manifests in many ways, not always the same, and thankfully we have the internet to see how they play out.

Reddit user, u/Vulpes1_1, wanted doctors to share what they could when they asked:
Keep reading...
Show less