In 1995, the movie Clueless became a sleeper hit, developing a cult status that continues to this day. It's hard to channel that '90s lingo with that powerful vocal fry and think of any other film.
So when members of the cast reunited over the weekend at C2E2, the Chicago Comic & Entertainment Expo, fans got excited. The group drew a massive crowd to their panel and ignited fans' hopes for a possible sequel.
---
Alicia Silverstone, who played the main character Cher, posted a photo to her Instagram with herself, Breckin Meyer, Donald Faison and Paul Rudd.
"So much fun hanging out with these boys today #paulrudd @donald_aison and @breckinmeyer! They had me laughing so hard on our panel. Such a great day at #c2E2"


Faison and Meyer, who also have Instagram accounts, posted the same photo saying respectively,
"Rolling with the homies… #clueless #PaulRudd"


and
"We. Have. No. Clue."


And fans could not be more excited.

@aliciasilverstone/Instagram

@aliciasilverstone/Instagram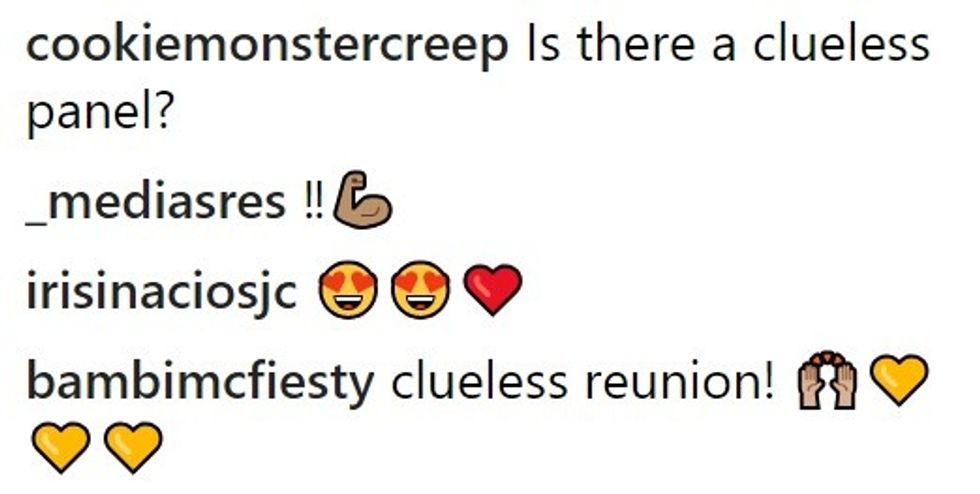 @aliciasilverstone/Instagram

@aliciasilverstone/Instagram
The film earned the love of fans by being a decently faithful, modern retelling of the book Emma by Jane Austen. Cher plays matchmaker with her friends, and through the course of the film comes to understand herself.
The movie was praised for its accuracy in its depiction of '90s teenagers. The characters' lingo is still memorable to this day. And their chemistry was absolutely wonderful.
Which was on full display in the panel.
.@donald_faison: Thank you for including Breckin. @breckinmeyer: Which is also the title of my autobiography. #clueless #c2e2

— Clare Kramer (@Clare Kramer)1553362747.0
Okay, someone just asked Breckin and Donald about doing a DuJour reunion, all is forgiven, audience.

— Genevieve Koski (@Genevieve Koski)1553362888.0
.@donald_faison: Do you remember, y'all took me out for my 21st birthday? @AliciaSilv: *I* was there?!? Paul Rudd… https://t.co/4Iy8WVYnAQ

— Clare Kramer (@Clare Kramer)1553362396.0
Donald: "For some reason my nickname became 'Clueless!' Like 'YO CLUELESS!'" Breckin: "That wasn't because of the m… https://t.co/GwLNv30wTn

— Wendy Fox Weber (@Wendy Fox Weber)1553363300.0
Q: I wrote my dissertation on how #Clueless is the best Jane Austen adaptation of all time… @breckinmeyer: Yeah! Suck it, Paltrow! #c2e2

— Clare Kramer (@Clare Kramer)1553364281.0
Silverstone revealed she had some difficulty relating to Cher at first, dismissing the character as too materialistic. However, she eventually found the sweetness in the character, crediting Amy Heckerling's writing.
"Her script was brilliant and I laughed the whole way through."


Faison and Meyer were cracking jokes like old friends.
And everyone agreed that Paul Rudd has not aged in over twenty years.
"They had to knock on Paul's trailer an hour early because he had to finish sucking the lifeblood out of babies."


Meyer jokes.
The only problem with this reunion is that I wasn't there.
Lmaooooo at there being a clueless reunion at c2e2 today and we're going tomorrow https://t.co/Vs8XQmh8PS

— Fanny Dooley (@Fanny Dooley)1553390030.0
Nothing made me more upset than not being able to get in to the Clueless Reunion panel today, I even wore my Cluele… https://t.co/xi2Rql7HHI

— spooky ghost e 👻 (@spooky ghost e 👻)1553388781.0
I wish I was at the Clueless reunion just so I could ask someone how the fuck Josh knew where Cher was when she jus… https://t.co/9TsJOXvQTB

— Brandi, #1 Libby the Cat Fan 😾 (@Brandi, #1 Libby the Cat Fan 😾)1553465022.0
The cast didn't confirm anything about a sequel, letting fans cheer for a "if we were to ever do a sequel…" comment. However the enduring camaraderie of the cast makes us excited if they ever can put it together.