Clueless in love?
Grab a pen and get ready to get a clue because we're breaking it down today.
Firstly, don't feel bad.
Lots of us are completely and totally oblivious. You're among friends here.
Reddit user IsellKidneys2356 asked:
"What screams 'I'm attracted to you?' "
If you're reading this article with a particular someone in mind, hoping this article will help you figure out if they're into you or not, keep reading til the end and we'll give you a sure-fire way to know.
You're Not That Funny
"Laughing at your worst jokes."
- scrimmybingus3
"I told my friend when he was nervous on his first date 'if she laughs, you got a shot' to which he replied 'why?' "
"I said 'cause you ain't f*cking funny and she's catering to your frail ego just like all girls do when they like a guy' he said it was great advice lol 😂"
- thelastride23
"My girlfriend was so giggly when we first met and it was so precious."
"I have a good sense of humor but I know I'm not THAT funny. It gave me peace of mind early on knowing she probably had the same butterfly feeling in her stomach as me."
- lanman33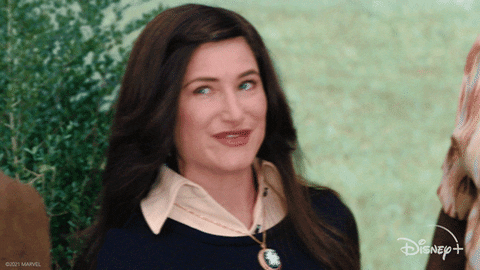 Marvel Studios Reaction GIF by Disney+
Giphy
​Terrified Silence
"I worked alongside this guy for several months, and he never said a word to me."
"For the longest time, I thought he hated me, as he would actively go out of his way to avoid speaking to me at all, or even make any kind of eye contact."
"I thought he was super cute, but I'm also pretty shy and introverted, which is why I just let it go for several months."
"It eventually got to the point where it was just uncomfortable, and I asked him what the deal was, and what I could have possibly done to make him dislike me so much."
"It took him a minute or so to respond, and then he said 'I'm really sorry. I'm incredibly shy, and have been since I was a kid. But I think you are the most flawlessly beautiful woman I've ever seen, and I am terrified to talk to you.' "
"We've been together for over three years, and married for four months."

- littletinylotus
Big Hints
"Apparently my fiancee dropped a whole lot of hints before we got together."
"A big standout was complaining that she didn't have any plans for our Junior prom, and then asking me what my plans for that night were."
"My dumb@ss responded with something to the effect of 'F*ck prom, I'll be home playing Mario.' "
- uwu-lmao-xD
"My girlfriend did the same thing, to the point she kissed me and I managed to convince myself that she wasn't interested."
"I ignored it for another month before I got told by multiple people that she was into me and I asked her out. In conclusion, I am a f*cking idiot."
- original__pickles
"When my son was about 16 he went off on a camping weekend with a heap of friends. There was one girl who'd he'd been getting kind of close with for ages, and I had a fair idea that something would happen while they were away."
"So when I picked him up, I asked him how it had gone."
"He said it was so weird, they'd had a great night, it was almost bedtime and she hasn't set up her tent yet. He asked her about it and she said she didn't know how to put it up so she was just going to have to sleep on the ground by the fire."
"Ever the gentleman, he sprung to his feet and recruited a friend to help set it up for her in the dark and the cold. Damsel saved."
"Fast forward an hour or so and everyone's asleep. He hears a rustle at his tent door and there she is, complaining that she's so cold all on her own in her big scary tent."

"Bless that sweet ignorant boy, he said 'oh. Well here you go, take my sleeping bag' and held it out to her. He remembers she looked sad and confused and he didn't understand; he'd done a nice thing and now she wouldn't be cold. Damsel saved."
"He shivered and froze all night and ended up climbing into another tent and going top to toe with his buddy."
"I said to him 'Mate, do you reckon maybe she wanted to sleep in your tent with you?' and the look on that poor kid's face when the penny dropped…"

- Kristyyyyyyy
The Looks
"When you're in a group and the person consistently looks at you whenever something funny or interesting happens."
- take-a-ride
"I had a meeting yesterday afternoon. It was the first time for most of us meeting in person."
"The last person to arrive was this stunning girl and when we looked at each other I swear to God there might as well have been lightning shooting out both our eyes."
"At first I thought 'nah I imagined that.' As she sat down close to me we looked at each other for a solid second and smiled at the same time for no particular reason other than it just feeling right."
"She started making conversation with me specifically. We had to split up into groups to interview people, and she and I were paired by the supervisor (best supervisor ever)."
"For the next two hours, we just joked and talked with each other and every time something funny happened we just looked at each other automatically."
"I've been with a lot of people but never had this sort of easy chemistry happen before, certainly not so quickly. I'm excited to talk to her some more, regardless of where it leads. I asked her out to lunch sometime and she said yes!"
"It might be a bit because we're noth busy but it's a good development :)"
- RomanRodriBR
Full Of Excuses
"Excuses to be near them. 'Lets study together - we'll get more work done ; 'Oh, you're going that way? me too, lets walk together.' "
- pronouns-r-they-them
"My sophomore year of college a friend of mine said we should skip a formal to get more studying done."
"These formals were a big deal campus-wide and everyone went. Also, we didn't take a single class together."
"She showed up at my dorm wearing knee-high stockings and a men's dress shirt that was unbuttoned to her cleavage. She was not wearing a bra."
"I…studied. Hurts to think about to this day."
- m4gnum_89
"I'm guilty of that second one lol."
"There was a girl in one of my college classes that I got to know really well that I started to get a huge crush on her. We would always walk out of class together and I had always said that her spot was on the way to my spot when in reality it was way off."
"But I just enjoyed those walks every day. I looked forward to that."
- yeezyfan23
Distraction
"Losing their train of thought when you walk by, while they are talking to someone else."
- buck-status-BROKEN
"Yup."
"I work with my spouse. We've been married 14 years. I still lose my train of thought when he walks by."
- take-a-ride
"This happened to me once."
"It was absurd how I trailed off when she went by in a summer dress. Good lord, 100% embarrassing."
- mynameisbp
"Omg this is true."
"I was giving a mock presentation to my group mate and that guy suddenly joined and spectated. I tripped up so many time in that presentation."
- andrew_hihi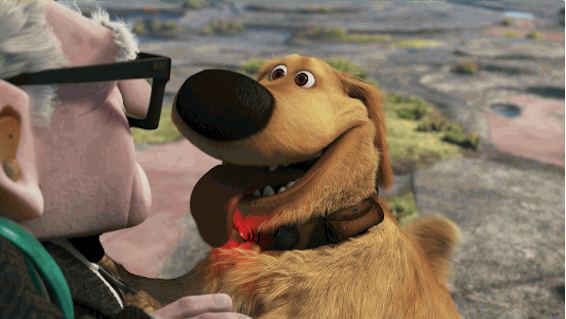 Surprised Pixar GIF by Disney
Giphy
This Classic Move
"Finding any reason to touch each other."
"Whether is play fighting, feeling up muscles, poking someone's bruise, comparing hand sizes of they actively try to find a reason to touch you, they probably like you."
- biggaylikewoman
"Comparing hand sizes is a CLASSIC move."
- WinterBird01
"Comparing hand sizes is like my go to :/ I'm ashamed."
- Aldroe
Food = Love
"If they know you like a certain food and buy it for you."
"The guy I liked loved this one dumpling place near uni. He'd constantly stop and get some on the way home."
"One day when we where walking together, beforehand he said he felt like some but didn't have his card so no money. So even though I knew he wanted some, when I asked if he wanted me to buy it for him he politely declined."
"So I pretended to buy some for myself (since I sometimes would). Then I ate like 3 to make it believable and said I was suddenly full and he could have the rest."
"I just wanted him to be happy with his dumplings."

- JackSparrowscompass
Absentmindedly
"When you catch them absentmindedly looking at you."
"Even if they're doing something/talking to someone else but they're still in tune with you and mindful of where you are in the room. Because, even subconsciously, they're thinking about you."
"Also, going out of their way to make you smile/laugh is a good one. Same with keeping notes on your interests."

- NinjaCakies
"Most of the girls that I knew were interested in me were girls who I kept catching staring at me."
"Initially I never made any effort go further, but then I did and found out they were actually interested in me. I have figured out the 'I like you' gaze now and it's easy to know who likes me."
- garlic_bread_thief
"Finding reasons to touch you, wanting to see you, hear your voice and most important - their gaze."
"You can just tell by the way someone looks at you. When you're in a group or a party, you look at them and find them already looking at you from across the room."
- Skinnylicious3
"Its in the way they watch you from across the room when they think you are not noticing."
"The easy smile when you are talking to them. They really listen to what you have to say without talking too. much because they are cataloging and filing it into their brain for future reference."
"But it starts with the look..."
- Melesa-rdwudforst
Third Person
"A tendency to end sentences by looking at each other even if there's other people around."
"Also, making frequent side comments to each other in group settings. They just want to talk to each other more."
"It can be hard to notice if it's happening to you, but is super obvious from a third person view when people are into each other."

- Nightthunder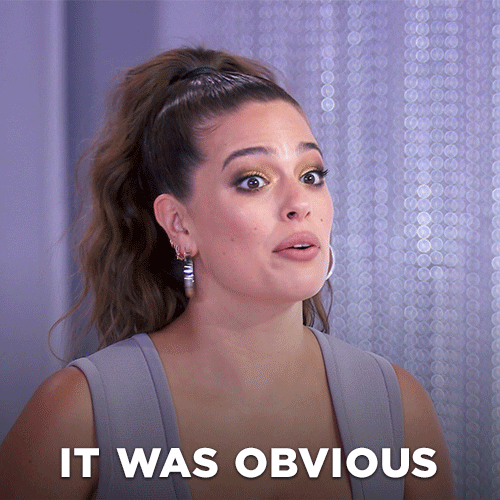 make up lol GIF by Lifetime
Giphy
Talk Talk Talk
"Always trying to find ways to talk to you."
- rottingrodents
"Walking up to you and finding an excuse to start a conversation with you is usually a good sign, in my experience."
- in_the_comatorium
The Reflex
"This might come off as egotistical, but it's something I noticed and haven't been able to tell anyone ..."
"At the gym I have a 'friendly acquaintance' who I see all the time. We generally just exchange pleasantries, but in December I ruptured the triceps tendon in my right arm."
"She happens to be a physical therapist, so there has been a lot more chit-chat since then."
"A few days ago I entered the gym, and went to stow my jacket in a cubby. She was nearby, so I said 'Good morning' and when she turned I saw her pupils dilate to like 11."
"Since then I've seen the same thing twice."
"Ocular reflexes don't lie."
- SurlyJason
This List
"Men to women:"
"Driving. He takes you home or picks you up without being asked."
"Killing things. He drops whatever he is doing when you need him to help you smash a bug or trap a mouse."

"Paying attention. He notices changes in your grooming and dress and remembers things you say."
"Ponying up. He pays for meals, coffee, movie tickets, etc. even if you aren't dating."

"Showing off. He subtly or not so subtly mentions how much he can bench press or how much his last client paid him."
"Spending time. He seems not to mind hanging around you for no apparent reason."

"Telling you in so many words. He voluntarily admits that he did all these things because he was attracted to you."
- Loud_Ad_5518
Some people aren't just oblivious - they're almost impossible to convince.
Even if you tell them flat-out that you're attracted to them.
Even if you have sex with them.
Even if you marry them!
Yeah ... there may be no hope for these folks.
I Do. For Real.
"It took a while of being literally married for me to be convinced my husband was into me."
"I'm not always the smartest lol, no matter how much he told me or kissed me or did sweet, thoughtful gestures, my own insecurity fought me every step of the way."
"I do understand now that I'm truly loved just as much as I love him."
- carsandtelephones37
"For me it's the intrusive thought that my wife believes she loves me but doesn't realize she's actually just tolerating me and when someone better comes around she'll be like 'oh damn I was wrong.' "
- A_Doormat
"Married 5 years, that's how it feels to me."
"I'm slowly realizing that she didn't just marry me because I was the best option at the time."
"She has a hard time expressing love because she grew up in a very suppressed household. Her parents never kissed, showed much affection in front of the kids beyond saying I love you."
"Most of the extent of her showing love is just flat out telling me."
"She's brutally honest with her words and words mean a lot to her so, that's good, but I'm just not a words guy, I need physical touch, quality time, etc."
"But over the past 5 years, I've slowly been noticing the subconscious things she does that tell me she loves me. Some of the signs that people have posted here are actually what she does and it shows that even though she has a hard time expressing it, that adorable heart of hers yearns after me."
"A year ago, we were in a really rough spot, mostly fueled by me not feeling loved by her, so the fact that I can acknowledge this is huge for us."
- [Reddit]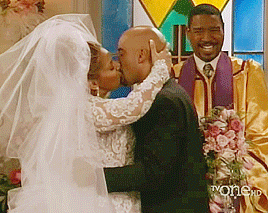 Living Single Kiss GIF
Giphy
Sis Dropped The Ball
"A girl that had a locker beside mine in high school asked if I was going to prom and who I was going with."
"I replied, 'Nah, I'm not going I don't want to pay for that sh*t.' Even more, one of her friends also pushed even further by asserting that we should go to prom together and I held my ground by, once again, stating that I wouldn't even be going."
"I later found out that this girl had asked my sister if I had someone to go to prom with and made it clear that she wanted to go with me."
"Why my sister didn't let me know of this information I will never know."
"I was definitely very attracted to this girl but my dumbass couldn't comprehend that she would actually want to go with me."
"Oops."
- Mironium
I Cringe
"Close contact, especially the unconventional ones."
"Went out with workmates and a colleague (slightly tipsy) started rubbing my leg with her foot while at table."
"Never been flirted with like that and didn't know how to respond appropriately, so I panicked and just gently pushed her away. I cringe at how I handled the situation to this day."
- someguywithdiabetes
Cherry Stem Saga
"What screams 'I'm attacted to you?' I wouldn't know because I'm an idiot."
"My wife tied a cherry stem in her mouth for me the night we started dating. Tied a cherry stem - it's such a cliche but I still missed it."
"She had to 'scream louder' and hold my hand and press into me hard later on because I was f*cking hopeless taking the hint."
- Threndsa
Don't worry, we didn't forget out promise - you're here for that sure-fire way to find out if someone is attracted to you.
You ready?
ASK THEM.
Yes, it's awkward - but it really is the only way to know for sure. Sorry. Thems the breaks, fam.
You're gonna have to just ask.
Want to "know" more?

Sign up for the Knowable newsletter here.

Never miss another big, odd, funny or heartbreaking moment again.
Keep reading...
Show less
There are things you kind of assume people can't make it into adulthood without understanding.
But you'd be amazed how much those assumptions don't exactly match up with reality.
Redditor The_Sh0w asked:

"What's something you can't believe you had to explain to another adult?"
Want to "know" more?

Sign up for the Knowable newsletter here.
Never miss another big, odd, funny or heartbreaking moment again.
Keep reading...
Show less
In 1995, the movie Clueless became a sleeper hit, developing a cult status that continues to this day. It's hard to channel that '90s lingo with that powerful vocal fry and think of any other film.
So when members of the cast reunited over the weekend at C2E2, the Chicago Comic & Entertainment Expo, fans got excited. The group drew a massive crowd to their panel and ignited fans' hopes for a possible sequel.
Alicia Silverstone, who played the main character Cher, posted a photo to her Instagram with herself, Breckin Meyer, Donald Faison and Paul Rudd.
"So much fun hanging out with these boys today #paulrudd @donald_aison and @breckinmeyer! They had me laughing so hard on our panel. Such a great day at #c2E2"


Faison and Meyer, who also have Instagram accounts, posted the same photo saying respectively,
"Rolling with the homies… #clueless #PaulRudd"


and
"We. Have. No. Clue."


And fans could not be more excited.

@aliciasilverstone/Instagram

@aliciasilverstone/Instagram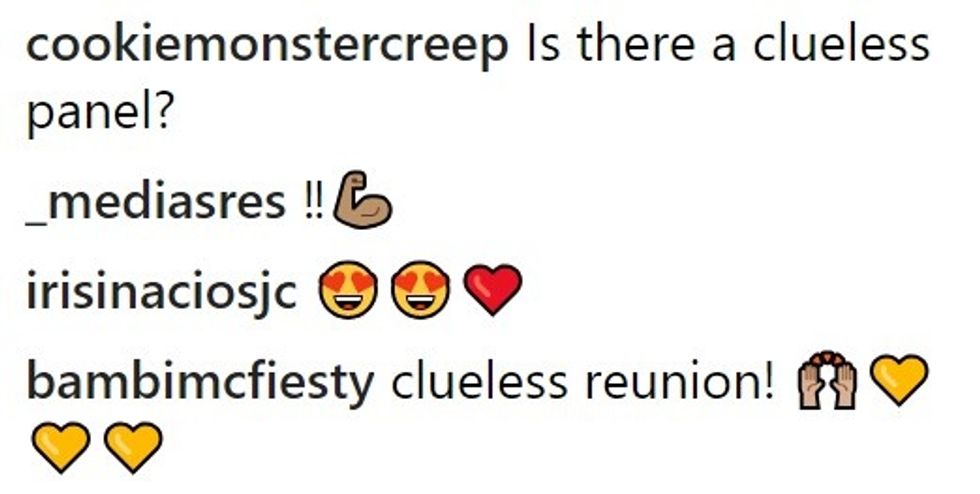 @aliciasilverstone/Instagram

@aliciasilverstone/Instagram
The film earned the love of fans by being a decently faithful, modern retelling of the book Emma by Jane Austen. Cher plays matchmaker with her friends, and through the course of the film comes to understand herself.
The movie was praised for its accuracy in its depiction of '90s teenagers. The characters' lingo is still memorable to this day. And their chemistry was absolutely wonderful.
Which was on full display in the panel.
.@donald_faison: Thank you for including Breckin. @breckinmeyer: Which is also the title of my autobiography. #clueless #c2e2

— Clare Kramer (@Clare Kramer) 1553362747.0
Okay, someone just asked Breckin and Donald about doing a DuJour reunion, all is forgiven, audience.

— Genevieve Koski (@Genevieve Koski) 1553362888.0
.@donald_faison: Do you remember, y'all took me out for my 21st birthday? @AliciaSilv: *I* was there?!? Paul Rudd… https://t.co/4Iy8WVYnAQ

— Clare Kramer (@Clare Kramer) 1553362396.0
Donald: "For some reason my nickname became 'Clueless!' Like 'YO CLUELESS!'" Breckin: "That wasn't because of the m… https://t.co/GwLNv30wTn

— Wendy Fox Weber (@Wendy Fox Weber) 1553363300.0
Q: I wrote my dissertation on how #Clueless is the best Jane Austen adaptation of all time… @breckinmeyer: Yeah! Suck it, Paltrow! #c2e2

— Clare Kramer (@Clare Kramer) 1553364281.0
Silverstone revealed she had some difficulty relating to Cher at first, dismissing the character as too materialistic. However, she eventually found the sweetness in the character, crediting Amy Heckerling's writing.
"Her script was brilliant and I laughed the whole way through."


Faison and Meyer were cracking jokes like old friends.
And everyone agreed that Paul Rudd has not aged in over twenty years.
"They had to knock on Paul's trailer an hour early because he had to finish sucking the lifeblood out of babies."


Meyer jokes.
The only problem with this reunion is that I wasn't there.
Lmaooooo at there being a clueless reunion at c2e2 today and we're going tomorrow https://t.co/Vs8XQmh8PS

— Fanny Dooley (@Fanny Dooley) 1553390030.0
Nothing made me more upset than not being able to get in to the Clueless Reunion panel today, I even wore my Cluele… https://t.co/xi2Rql7HHI

— spooky ghost e 👻 (@spooky ghost e 👻) 1553388781.0
I wish I was at the Clueless reunion just so I could ask someone how the fuck Josh knew where Cher was when she jus… https://t.co/9TsJOXvQTB

— Brandi, #1 Libby the Cat Fan 😾 (@Brandi, #1 Libby the Cat Fan 😾) 1553465022.0
The cast didn't confirm anything about a sequel, letting fans cheer for a "if we were to ever do a sequel…" comment. However the enduring camaraderie of the cast makes us excited if they ever can put it together.
Keep reading...
Show less
I once overheard my dad call me fat. It sucked. He wasn't being mean, he was attempting to describe me to a stranger because he had lost me in a crowd. Since I stopped growing in 4th grade, it happens a lot and for whatever reason people almost never think to just turn in a circle and look down. I'm often right there, just lower than your normal line of sight - so I've heard people describe me about a zillion times. I'm a big girl, so I've heard about 150 million totally unoriginal people attempt to use my size to insult me like it was going to be some huge revelation and I didn't wake up in the morning with all this. I had just never heard it from my father before.
Overall it's not the worst thing in the world. It wasn't even meant as an insult in the way he said it. He described me as "short, fat, curly hair, big eyes, cute as sh!t." Tons of people have called me worse - and heard others say worse about them. One Reddit user asked:
Whats the most hurtful thing you've overheard about yourself by accident?
Here are some of the best (worst?) responses we found, edited for language or clarity where needed. If you're a sensitive type, now might be a good time to grab some comfort food or hug a dog or something. Brace yourselves, folks. It's about to get REALLY harsh in here.
Like, this level harsh.:
media0.giphy.com
Keep reading...
Show less
I am an absolute out-and-proud Daddy's girl. My dad and I share the same ridiculous sense of humor. He was only 19 when I came along, so he has often been more of a friend than a true "dad." We have spent decades tormenting my poor mother with poorly sung renditions of Bon Jovi songs, and when things in life go sideways a hug from my Dad is everything I need to feel okay again. One of my favorite things about my dad is how absolutely stereotypically Dad-ish he has gotten now that he's older.
As a kid he was the cool dad that all my friends had crushes on (don't worry about mom, Dad has been hopelessly hers since the day they met and she did pretty decent in that department too. She was young and beautiful and at least 3 men have dumped me because they were too interested in my mom)
Now that he's older, he's started doing things like buying 5 of the same pair of sneakers because he doesn't want to have to come back when he wears them out. His dad jeans game is flawless. He refuses to throw anything away because he needs it all for ... something. Oh, and you want puns? He's got you covered in multiple languages. His favorite joke is a play on the word "vacation" and asking what cows need a break from. The spanish word for cow is "vaca." I've heard this joke at least once a month for ten years and the only person who ever laughs is him - and he laughs until he cries. It's glorious.
One Reddit user asked:
What is the most "dad thing" your father has ever done?
And yeah, dads are a magical creature, aren't they? Here are some of the daddest dad stories we found in the thread.
So tell us, what's the Daddest thing you've ever witnessed?
Keep reading...
Show less