Jonathan Gualpa, 19, of New York City was arrested in Rochelle Park, NJ, after allegedly stealing a taxi and making the nearly 2 hour drive there.
---
Gualpa was reportedly on his way to the Six Flags Great Adventure in Jackson, New Jersey. He only made it about halfway there before deciding to stop for a nap in the stolen taxi.
NYPD were alerted to the theft of the cab, and used its built-in GPS locator to track it to where Gualpa had stopped to rest.
They informed the New Rochelle Police Department of the taxi's location and when they went to investigate they found Gualpa fast asleep in the back seat of the cab.
When questioned by police after his arrest, Gualpa revealed his plans to go to Six Flags. The biggest problem with his plan? The park isn't yet open for the season.
Six Flags Great Adventure opens for business on April 6th, and it will be an additional 3 weeks before it is open during the week.
Gualpa was almost a month too early for his plan to have succeeded at all.
Some were understanding.
Others were quick to note the park's operating schedule, and the similarity of the story to a certain beloved film.
Still others were a bit less understanding.
Gualpa has been charged with receiving stolen property and has been released from custody, pending a court appearance and the taxi has been returned to the company it belongs to.
Six Flags Great Adventure is a pretty awesome place, and the crowds can be pretty impressive during peak times; if you're thinking of visiting maybe check the schedule before you leave, and don't steal a taxi to get you there.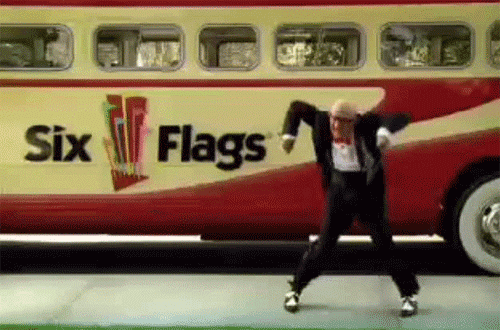 media3.giphy.com