When my brother was about 10, he almost killed himself trying to act out a fight sequence from the Mortal Kombat movie. I laughed (which I got grounded for) - but in my defense he totally yelled "GET OVER HERE!" before he fell.
So we were leaving the movie theater and my brother is about as hyped as you'd expect a sugar-high child who just saw a cartoonishly violent martial arts film to be. He spots a railing and decides he is going to try to reenact the Johnny Cage/Scorpion fight scene - but he's gonna be all the characters because I'm a lame sister who doesn't want to play. (see also: get punched repeatedly)

He climbs the railing, makes it to the top and shouts out Scorpion's tag line, "Get over here!" Which ensures a whole parking lot full of recent movie-goers turns to face him.
It's important to note that my brother had been training in martial arts for several years at that point and his form was impeccable. So he pulled back his arm and threw a proper punch, pivoting on the ball of his foot and rotating at the hips to throw his body weight into it.
Like so: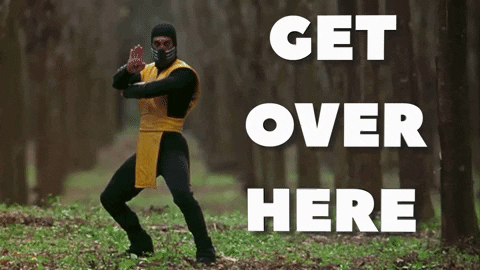 get over here mortal kombat GIF Giphy
Do you have something to confess to George? Text "Secrets" or "
" to +1 (310) 299-9390 to talk to him about it.
Keep reading...
Show less