The six figure salary is the crown jewel of professional aspirations.
That seductive, round-numbered, annual cash flow would provide a life of security for so many of us. Of course, getting to a job with that salary is easier said than done.
But plenty of people out here do have that salary.
They probably don't appear super rich when we see them walk around. They wear typical clothes and do typical things for fun. And yet they walk around on just a little bit more cushion.
A recent inspiring thread on Reddit showed that the $150K annual salary is absolutely possible.
Plaidshirt17 asked, "Redditors who make over $150K/year, what do you do for a living and how did you get to that position?"
So yes, those jobs are out there. They will not be given to you, and, as we know, there are so many unjust, institutional barriers that keep these positions at bay for countless people.
But with some luck and the right credentials, there are opportunities out there.
Want to "know" more? Never miss another big, odd, funny, or heartbreaking moment again. Sign up for the Knowable newsletter here.
Keep reading...
Show less
When hunting for a job, making it to the interview stage is an exiting moment. The tedium of resume beefing, cover letter writing, and phone interview minutiae has finally paid off.
But it's important to not allow that excitement to cloud one's judgment. Just because an employer may want you, that doesn't automatically mean you need to want them.
Some Redditors recently gathered to discuss the clearest signs that you should think twice about a prospective employer and keep searching.
Sardinesocks asked, "What are some red flags when talking to potential employers?"
Many people identified the signs--both subtle and glaringly obvious--that a workplace is not a socially or professionally comfortable place to be.
They advised ways to determine if a place would turn out be a toxic environment day in and day out.
Sensing a Pattern
"Everyone assures you the dozens of people, who had your position before you, were simply disgruntled or had political agendas to damage the organization."
"A bigger one is verbal statements become totally different, whenever it becomes a text or e mail, after you start."
-- ThePoetZiggy
Maybe It's the Team 
" 'We've had a hard time finding someone who fits in well with our current team' "
"Usually it's because there's something weird or toxic about the 'current team' and they can't find anyone willing to stay and put up with it."
What Would Happen When You Leave the Room 
"When the interviewer makes insulting remarks about their current employees." -- WebsiteArchivalBot
"Or, uses the statement 'I know I probably shouldn't be saying this, but.....' " -- CircleBackMurray
"I would add the more subtle 'we like your enthusiasm, it's refreshing' "
"Turn out every employee is either overworked and/or depressed because it's understaffed."
"Yeah, my enthusiasm quickly faded." -- sunforrest
Flipping It Around 
"when I'm interviewing I always ask about turnover in the team and company. like 'how long have YOU been with the company' and 'how much turnover did this team have in the last year?' "
"if everyone you talk to has been with the company months, not years, and you find out that half the team quit in the last year, they've got a very serious turnover problem."
"even if it's for legitimate reasons, it's a good sign of a poorly functioning team."
Others discussed the very cute and enthusiastic ways that company's divulge just how structurally unsound they really are. Typically, this amounts to under-staffing or general personnel chaos.
Either way, you'd be best to turn the other way.
Way Too Easy 
"When they hire you on the spot they're understaffed and you're gonna be doing the work of at least two people." -- peachu_
"and it'll never be enough" -- frequentstreaker
"Also means they probably aren't getting qualified candidates. If you aren't in the industry, that can be a good signal. If you are, you've probably already gotten that signal." -- Fadnn6
That Fun Lingo 
"Any time they use 'rockstar,' 'ninja,' 'unicorn' or 'guru' to describe a position. Extra-neon-red flag if they can't easily describe or articulate the duties and responsibilities of the role." -- SDFDuck
"Looking for a self-starter rockstar. Must be flexible and comfortable with multi tasking and wearing different hats. We have competitive wages and a casual atmosphere. We work hard, we play hard!"
"Are you this unicorn? Come join our family!" -- the_electric_company
"Many Hats" Isn't Always Ideal 
"Be aware of the term 'Wear many hats.' It means they aren't sure what they want and your job duties will be largely ambiguous."
"This could lead to you getting all the work nobody else wants, or leave you with no clear direction for what to do."
"This can be good if you are truly a self-starter who looks for opportunities to improve things and acts on them, but if you need direction with your job duties it's probably best to steer clear."
-- Byizo
Finally, some people described the problems that accompany employers who are dodgy with their information about finances, be that of the company or the payment standards of the particular position in question.
Nope, It's a Job 
"When they don't offer salary/pay rate info, or are reluctant to give it. Or if they imply that you're there for something other than a paycheck."
"They're trying to guilt you into taking less pay than you're worth."
-- VVillyD
6 Months Becomes Forever 
"We can start you off at ____ because we are a small buisness but we can talk about a raise in 6 months. ( you will never have that convo)" -- qwertycvbnmasdfkhgfs
"See also: postings with a salary range from some low figure to as much as 100% more as the high. They're gonna waste too much your time before they tell you you'll have to start near the lower figure and not the one that was merely there to draw you in." -- The_Quibbler
Just Came Right Out With It 
"In an interview a potential employer once told me..."
" 'Well you certainly have the skills for the job and then some and we all really like you so far...the problem is, it's not that I don't want to pay you what you're worth, but I don't have the money to pay you what you're worth. Will that be a dealbreaker?' "
-- RayDeaver
Ideally, you're happy at your job and have no need to go through these kinds of interactions.
But in case you're on the hunt, or unemployed altogether, keep these tidbits top of mind.
Want to "know" more? Never miss another big, odd, funny, or heartbreaking moment again. Sign up for the Knowable newsletter here.
Tradespeople have some of the toughest jobs that often involve physical exertion.

Skilled workers like welders, electricians, and consruction workers often put their lives at risk at the work site but they possess a lot of pride in what they do are very dedicated, hard-working people.
But even they have a breaking point that leads them to walk out on a job.

Curious to hear from blue-collar workers, Redditor imakesawdust asked:

"Electricians, plumbers and tradespeople of Reddit: Have you ever noped out of a job? What was it?"
Hard No
Adverse working conditions and difficult people can determine if a job is worth sticking around for.
Flying Roaches
"I am an automotive tech, the only jobs I utterly refuse to work on are cars that are filled with trash and filth. I have literally had roaches fly out of the ac vents when the ac came on. Y'all would be disgusted at the way some people keep their cars."
Wild Accusation
"I used to work on a crew that built additions on houses. One lady got upset that we were cutting a hole thru her wall for the door. She called her husband who came home from work, he told our boss that she was accusing us of trying to break in and assault her. My boss had us pack up and leave and we never went back."
– Sigg4444

Too Much Wood
"Work in a lumber mill, a loader operator knocked 4 bundles of 2" thick by 6" wide by 16' long into the river, so over 1200 pieces and a boss told me to get it out of the river... during a thunderstorm."
"F'k all that noise sir."
"Edit: the wood wasn't 2 feet by 6 feet by 16 inches, that would be weird just fixed it lol not American my bad."
Unsanitary Wasteland
"Mechanic here.""
When I used to work on cars, I had to pull the front seats out of a horrendously dirty smelly car to remove the center console."
"Proceeded to removed the front seat, and found the whole area under the seat was stuffed full with Dirty used tampons and pads."
"I nearly threw up and I yeeted the f'k outta there. We had to call up and get biohazard guys in because she wouldn't come and clean out the car."
"'Karen' then proceeded to have a screaming match with my foreman about the bill....."
"I've seen alot of sh*t but hands down this was the worst."
When Life Matters More
These people prioritized their lives over their jobs. Because they should be alive to cash their paychecks.
Wobbly House
"Got hired to do a vapor barrier job in a crawl space. Old 1920's home. I suited up and got in about 15 ft and saw that the center load bearing beam had rotted out near the footer. Somebody took a cinder block and a 8 ton harbor freight bottle jack to shore it back up. Whole thing wobbled as folks moved around in the house. Got the f'k up out of there."
Project Of Peril
"I was called out for a termite inspection. Homeowners said they had been told for years they had a problem but it took one of their bedrooms floors collapsing to finally do something about it."
"I hauled a** out of the crawl space when I found the only thing that was keeping the floor from fully collapsing was a single electrical wire that at any moment it could snap and collapse the floor on me."
– dahopppa

Unexpected Shower
"I was working in a newly restarted 130 year old paper mill, they hadn't worked out the kinks in the pulp mill yet. The short version is my toolie and I got coated in black liquor that flowed from an uncapped pipe 70 feet in the air. It was outside, in December, so luckily it wasn't boiling lava hot when it hit us but we still had to make a trip to urgent care. And we lost our work truck because it was white and after the spill was black. We came back the next week, but refused to work on that end of the digester."
"Edit: I'm an electrician."
The Unexpected
These tradespeople found that unforeseen circumstances can be enough of a reason to peace out.
Saying 'No'
"Landscaper here. Honestly it's about 50% of the meetings I go to. Learning how to say no is essential in this business. You can go out of business doing not good jobs quicker than you can not working."
The Panicked Landscaper
"I hired a landscaper once, small-time guy doing it as a sideline. We talked about all kinds of plans, seeding grass, cleaning up overgrown parts of the yard, and taking out two giant, ancient bushes that were crowding the house."
"He shows up to take out the bushes, and a few hours later calls be, all freaked out that the bushes have roots that go down to hell and it was taking a lot longer than estimated to get them out. I made it clear to him that I had half expected that, and that I had no problem paying for however long the job actually took. He was absolutely in a panic, though. He got the bushes done, then noped the hell out on the rest of it and never got back to me."
"Somehow, I couldn't make him understand that I was way more pissed that he bailed on the rest of the work than the fact that he underestimated the job initially."
– DMala

The Clog
"A bit late to this but.... I'm a plumber, went to unblock an old ladies toilet, she'd tried to flush her dead cat, it was stuck, and very wet, and soggy...."
Result Of Depression
"I noped out of a job back when I was a sparky. We had ~100 men onsite at a uranium enrichment facility; pay was good, but the conditions weren't. It was way out in the middle of nowhere New Mexico, with nothing to do beyond go to work then go back to the camp and drink. I got depressed after spending 6 weeks onsite, as did a lot of others. The straw that broke the camels back for me was when we found one of the apprentices dead in his trailer. His girlfriend broke up with him because he was never home anymore, he turned to the bottle.
Based on the comments shared in the subReddit, many of these skilled or unskilled laborers have dealt with their share of hardships.
But the situations prompting many laborers to bail out on a job were mostly the ones where their lives were in jeopardy.
Because would you rather have an old home come crashing down on you and bury you alive, or come face to face with a mountain of used tampons while working on a car?
No toss-up here.

Keep reading...
Show less
Everytime I start a new job I make a solemn pact with myself that I will not get mixed up in an unnecessary drama. I will promise to avoid any all scandals. And I refuse to bear witness to or participate in any and all salacious nonsenses. Cut to me and two to three weeks later... the main character or important supporting player in a storyline too hot even for Melrose Place.
Redditor
u/lanyeweisst
wanted people to dish on some salacious nonsenses they came across by asking....
What's your workplace scandal?
"I need an Amen." 
I've seen it all... thieveing, lying, fornicating in every possible corner of space. And sometimes I was all of the above. I'm just an expert at not getting caught. For some reason though, so many other people feel the need to include me in the drama as a confidant or a witness. "I need an Amen." Many of the people here know of which I speak.
Call HR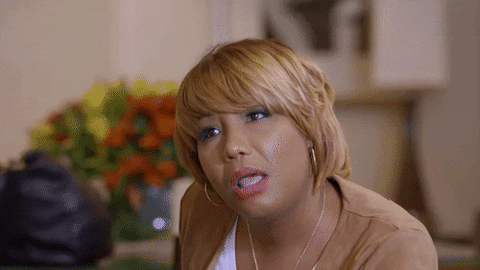 braxton family values traci GIF by WE tv
Giphy
Walking past my colleagues door, middle of the afternoon and looked in his office door window.
Saw him absolutely shagging with an intern. At the same time another colleague also stopped, saw the same thing. He called our boss, who came and a small group watched them have to leave the office and go down to HR.
"Warpath"
A divorced couple worked at my company in separate departments. The ex-husband went to the ex-wife's house to pick up their kids one night and got into an argument with the ex-wife's boyfriend, who was a cop. The cop shot him. The ex-husband died. The ex-wife was not exactly contrite about it.
For weeks or even months after that, the ex-husband's coworkers were on a warpath against the ex-wife and her supportive coworkers. This is in HQ for a big company and there were regular outbursts if those people saw each other in the lobby, elevators, cafeteria, etc. It was wild.
"That" Room
I used to work for a large insurance company in Colorado Springs, CO - When I worked there they had nap rooms which were used for other nefarious means. My favorite workplace scandal is when one coworker stopped cheating on his wife with another coworker because he found a new workplace hookup. Work hookup #1 anonymously called the man's wife to rat him out AND security to bust in on him and his new hookup.
Jabs
Years ago I worked at a company that hired a sales guy who was pretty hard-working and definitely put out a, 'I am trying to come back from a dark time in my life' kind of vibe. We all really liked him as a first impression, but we didn't get a chance to know him very well. One day he went out to his car at lunch, drank himself to a point of insensibility, then came back into the office like nothing was wrong. When his boss called him on it, he took a swing at him and missed by a mile, spinning himself around and almost falling over.
He was immediately fired —I don't even think there was paperwork involved. He was only a few weeks into the job— and escorted out of the building. By unspoken rule, no one talked about the incident. Enough time has passed now, I don't even remember the guy's name or really any more about it than I've said.
"Bad Combos"
Now why is it people feel the need to get X-Rated at the office. There seems to be an over abundance of that. That's the usual scandals though, isn't it? Sex and money. That combination will often lead you down the wrong path. Of course just when you think you've heard it all...
The Pooper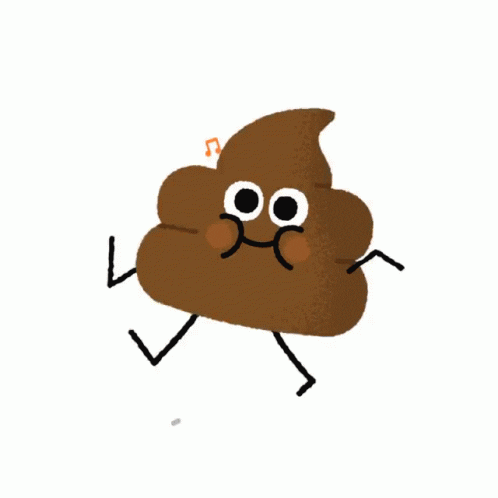 poop GIF
Giphy
A lady pooped in the men's urinal and tried to frame a guy who turned down her advances at the Christmas party.
She informed a manager that she saw the guy go in to the bathroom around the time the poop was laid. However CCTV showed otherwise. She wasn't fired or faced any serious repercussions.
Bonnie & Clyde
From my first workplace as a college intern: The Director of Engineering was working on a special project and required the PM's admin to assist, every day in his office from noon to 1pm. One Thursday they forgot to close the door completely and as it turned out their special project was shagging each other stupid. They were sent home and told not to come back until the following Monday, by which time management would know how to address the incident.
Monday rolls around and they don't show up. After calling both of their spouses, it turns out that each came home Thursday, made up an excuse to their families, packed a bag and left. Within a few weeks it turns out that their special project also included embezzling $870,000 in company funds and absconding to the Caribbean.
Staffing Concerns
When I was in high school, I got a job in a local chain drug store. After I was there about a month, I showed up for work and was greeted by corporate security. Apparently, the entire management staff, as well as the bulk of the store's employees, were fired and arrested as part of a mass theft ring. Apparently they were issuing fake merchandise refunds to their credit cards, as well as voiding cash transactions and pocketing the cash.
They managed to re-staff the store temporarily with employees from other locations, but I went from being the new kid to the senior associate pretty quickly lol. I ended up being there for 4-5 years, and it was great because most of the new part time employees were kids my age. We had a lot of fun.
Tragedy...
A few years back I was working for a national non-profit, one of the ones that's trying to cure a disease.
We all got called into a mandatory meeting first thing one morning, and that meant folks calling in from all over the country, probably 2,000 of us total. We were told that our CEO's wife had been murdered and set on fire. It was tragic.
Couple hours later, they called a second meeting to tell us it was one of our coworkers that did it. That was a mind screw of a meeting.
Turns out the dude was stealing from the charity in a big way, got caught, and the CEO gave him a chance to turn himself in. Instead, he drove to the CEO's house, killed his wife, set her on fire and sped away, crashing into a tree and killing himself.
It was never quite the same at work, CEO left and never set foot in the office or his house again.
A Royal Schemer
Woman in the finance department fell for a Nigerian prince scheme disguised as our CEO and corporate lawyers. Transferred 2 million Euros to the scammers. Police found nothing. Holding that has the most shares of our company was not amused and almost sacked our CEO who is a great guy in general. Investments in new tech was denied and everyone lost their bonus for that year.
Responsible person for the transfer was not fired but lost procurement responsibility. Many in our company said that she was into the scheme.
And these are the Days of Our Lives...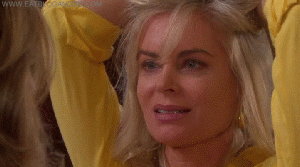 Days Of Our Lives GIF
Giphy
I used to work at a place where two employees who were both married had an affair then divorced their spouses and married each other. Two years later the guy has an affair with a client then he divorces and marries client. Everyone is somehow shocked.
Of course thanks to Covid work scandals seem down a bit. A ZOOM scandal just doesn't seem as appetizing. Heaven knows the amount of homebound craziness we'll all have to share about in 2022! Should be interesting.
Want to "know" more? Never miss another big, odd, funny, or heartbreaking moment again. Sign up for the Knowable newsletter here.
Keep reading...
Show less
Working in HR is no picnic. The warning about the job is in the title... "Human Resources." You know right away that you'll be dealing with people, constantly. That can be a bit much, as most workplaces are wrought with drama. Of course the HR department is an essential branch of a business, and the people who run it are supposed to be a safe place for employees to go for questions. So it is unfortunate when one discovers the department whose purpose was designed to look after the little guy is actually a viper's den.
Redditor
u/ceowin
wanted to hear why the HB department is s place where we all need to watch our backs most by asking...
What's the worst "HR is not your friend" story you've witnessed/experienced?
Want to "know" more? Never miss another big, odd, funny, or heartbreaking moment again. Sign up for the Knowable newsletter here.
Keep reading...
Show less