Teachers Who've Taught A Legitimate Genius Reveal What It Was Like
Teachers Who've Taught A Legitimate Genius Reveal What It Was Like
[rebelmouse-image 18360916 is_animated_gif=
dam=1 expand=1]

Do you know any geniuses? Have you ever even met them, or have you just read about them and heard tell of them? Well, somebody had to have known them before they were well known. And it's crazy, but someone had to have been their teacher, too!

u/JaysonTatumIsMyDad asked:

[Serious] Teachers of Reddit: Have you ever taught a legitimate genius? What made them so smart?

Here were some of the answers.
Masterful
[rebelmouse-image 18360917 is_animated_gif=
dam=1 expand=1]

I've had some really, really bright kids in my classes over the years. Perfect ACT's, a kid on Jeopardy, Ivy League schools. But I think "M" might be the brightest I've ever had and quite possibly a genius. He took several AP tests without having taken the class and scored 5's. He didn't really self study them either. He just knew the subject. The AP Physics C teacher wasn't happy about it.

He was genuinely curious. Shows up at my door with an old smoke detector and CRT tv monitor and wants to experiment with the radioisotopes. I had to shoot that one down. Looked beyond the labs we were doing to find the more obscure uses or derivations that come from the lab, like the relationship between molar mass and specific heat capacity for some metals. And he understood it all. Every bit. Didn't pay attention in class because he was constantly looking something up. Incredibly frustrating for some of the other teachers. He wasn't too interested in homework but his English teacher commented that the one paper he did turn in was an original analysis out of this world - and she's a top notch teacher. He rarely used my methods for solving problems. He would develop his own that actually showed a deeper understanding of the relationships involved and it worked. Every time. Rarely was there a situation where I was actually teaching him. It was more me introducing something to him and then he would go off and master it. Come back to pay attention for the next new topic and then poof - off to M land to just get it.

He isn't just bright in one subject. If he wants to I'm positive he will master whatever is put in front of him. I tried talking him into graduating early because there's only so much we can offer him. He was interested but didn't get support from home. So I tried talking him into taking some CTE classes - like welding, autos, mechatronics. We'll see if he shows up next year.

As you would expect he's socially awkward and does not understand why other students don't get it. Comes off as cocky but he's not. I think he feels that everyone is this way - just smart. I really like the kid but he needs to move on
Lab Partner
[rebelmouse-image 18360918 is_animated_gif=
dam=1 expand=1]

My lab partner for college organic chemistry was a 15 year old high school freshman. He was taking it "for fun"since he had to wait for sophomore year for high school chemistry. He was the smartest student in the class, aced every test, perfect score on all homework, but was pretty clumsy in the lab. Gave me lots of laughs during our shared lunch hour. He used my cell phone every day to call his mom to pick him up at 5pm.
Thank Goodness For A Turnaround
[rebelmouse-image 18360919 is_animated_gif=
dam=1 expand=1]

I worked as a substitute teacher at a high school a long time ago, and I wound up getting the same girl in class multiple times over several years. Most notably, I subbed in for the school's AP Bio teacher for four months.

She clearly had problems at home, and maybe mental problems as well. Her clothes were always really ratty, and everything about her just screamed child neglect. She didn't seem to have any friends and she was hellishly awkward whenever you talked to her.

She was also one of those smart kids that wound up so bored with school that she just checked out completely at some point. By the time I got her in high school she never did homework and rarely did in-class assignments, and she almost never paid any attention to the lesson at all. She did just enough work to pass, barely. She just sat in the back and read or drew in her sketchbooks. Often the books she was reading were things like college textbooks or books in various foreign languages, and it was always kind of interesting to see what she was reading. She was an astonishingly fast reader. She'd burn through reading assignments in five minutes that took the rest of the class almost an hour, and she'd understand them when the rest of the class was struggling.

Initially I wrote her off as just being a slacker, until I subbed for that AP Bio class. Every test I gave out, she'd get every question right, and her essay answers were absolutely flawless and often really interesting. The first time this shocked me, because again this was a student that never did ANY work and never paid attention at all. And she blitzed through the test twice as fast as everyone else, and got a perfect score when even the best and brightest students were struggling to get Bs. When the AP tests came around, she took several including some for subjects she didn't take the class for, and as far as I know she got a 5 on all of them. I'm sure her ACT and SAT scores were equally amazing.

I don't know what made her so smart. She clearly had an amazing memory and was just... smarter than the average kid I guess. Or, smarter in some ways.

I've kept track of her on social media over the years. She never went to college and for a while it looked like she was just going to burn out completely. It was pretty sad. But eventually things turned around. She owns a company now and seems to be pretty damn successful.
Awwww
[rebelmouse-image 18347002 is_animated_gif=
dam=1 expand=1]

He built a solar powered motor for our class's robot. He wanted to be an electrical engineer when he grew up.

His parents and K teacher thought he might be on the autism spectrum because he was so strange and awkward. He didn't have any friends. He didn't really talk to anyone. Each year I usually have one or two students that I pick out as a priority. I make a goal to help that child achieve something outside of academics. That year my goal was to get this genius out of his shell and interacting with the other students. At the time I didn't know he was so smart. A lot of kids are good readers. A lot of kids know sight words and phonics. It wasn't until we started doing STEM activities that I noticed that this kid was special. He really liked an activity where we built a simple circuit with Christmas lights and batteries. After that he started reading books about electricity and engineering. I got a circuit set for him to mess around with and decided that our end of the year project would be something with solar energy. That's how the solar powered robot happened. The other kids build the robot body and he put together the solar panel and motor. It was awesome.

He was a funny little guy, but it wasn't 6 year old humor so he never spoke up. I wrote a comment in his weekly journal telling him he was funny. From that point on he opened up and crack jokes. Even if the kids didn't get it, I would laugh and they would follow suit. He became very popular with the other students. They looked up to him.
Clock Cycles
[rebelmouse-image 18360921 is_animated_gif=
dam=1 expand=1]

When I was in high school, there was a kid one grade older than me who was the smartest kid I knew at the time. Very bright, kind person, an excellent mathematician. He would regularly get perfect scores on tests and studied some advanced topics outside of class. He went on to study physics at MIT.

My high school was right next to an elementary school. One day, these parents hired this smart kid to tutor their 7-year old child in math. And when I say "tutor him in math" I mean "teach him calculus".

I would walk by a math classroom after school and see this 18-year old drawing gradients on paraboloids (so early vector calculus stuff) and lecturing a 7-year old. The older kid said once that "that kid's brain has many, many more clock cycles than mine."
When Kids Love To Learn
[rebelmouse-image 18360923 is_animated_gif=
dam=1 expand=1]

I have. The student could learn complex concepts in the span of minutes. Kid once missed an entire unit that I taught over the course of several weeks. I spent 20 minutes with her when she got back, explaining and drawing diagrams and she got it...and got it better than anyone else in the class had. It was so much fun teaching her!
Good Will Hunting
[rebelmouse-image 18345838 is_animated_gif=
dam=1 expand=1]

Yep. A medical resident. Reminded me of Good Will Hunting guy. His own history, as he'd tell it, was "I had 3 last names before I was 18. My dad was in prison for as long as I can remember and will be in prison forever. You can check my family tree as far back as you'd like: I'm the first one to ever attend college."

Scary smart. He learned Hungarian in his spare time as a trick to play on his (Hungarian) wife. When I first met him as a student I understood he spoke a lot of languages so I asked him if he could speak to a Greek patient. "I did not speak Greek". That was Monday. On Wednesday he was asking the patient simple questions in full sentences and understanding the answer. I was annoyed and asked him "hey I thought you didn't SPEAK Greek!?" Him: "I didn't. On Monday".

You could make an entire career of following him around with a notebook and writing down his many good ideas, big and small, about literally everything (which he seems to forget as soon as hey comes up with them). I do ok. I am a professor of surgery. I don't have any of this guy's pure mental horsepower.

I still know him and he's still white hot bright. But very much an easygoing dude, and still sometimes a product of a rough and tumble Early life. Years ago, I had to explain to him (back to Good Will Hunting guy idea) "you can't beat anyone be up in the hospital no matter how much they annoy you". Him, incredulous "never? But what if they do X?"


"No. Never". "But what if they do Y". "No. No beating up, ever, in the hospital." <>
Bizarro
[rebelmouse-image 18360924 is_animated_gif=
dam=1 expand=1]

I attended math classes with someone that was a literal rainman. As a junior he completed all the undergraduate and masters level math courses his elite university had to offer. They sent him to a special math program we were both in to challenge him further. He skipped 16 weeks of our very difficult advanced graduate level math courses to play video games, but aced his midterms and final exams (which included oral exams). He scored perfect on every standardized test he took including SAT, GRE, Math GRE. I never saw him put any effort whatsoever into anything he did. He also published in difficult areas of pure mathematics as an undergrad. He seemed to know everything about math and seemed as if his professors were below him. He ended up completing a PhD from an elite university in pure math. One of the smartest people I ever met. He was also very bizarre in his behavior.
Historic Genius Movement
[rebelmouse-image 18360925 is_animated_gif=
dam=1 expand=1]

Unquestionably a musician I've worked with is on the genius spectrum. Only one example being: We were playing a movement from John William's Five Sacred Trees concerto for basoon. It's actually quite modernist and not at all repetitive or "popular" sounding. Well... he left his percussion part at home and the show was starting in the next hour. Without skipping a beat, upon realizing he didn't have the auxiliary percussion part (which contains many different instruments all on one page), he pulled out his manuscript paper and wrote, from memory without consulting other parts or the score, his part perfectly. All different instruments, many time changes, measures of rest etc... Genius indeed and this is only one instance....
From Scratch
[rebelmouse-image 18351384 is_animated_gif=
dam=1 expand=1]

Kid came to Australia at 15 from Somali, never went to school in Somali . Both parents dead. He walked his two younger siblings out of Somali to Ethopia using a map he found. Then he came to Australia and entered into school. Picked up English and math so fluently he was able to graduate high school in 4 years.

He's doing computer science at uni now. If that kid had grown up in Australia he'd be on the news for being in uni at 12.
The Workroom
[rebelmouse-image 18360927 is_animated_gif=
dam=1 expand=1]

I'm a substitute teacher and I went to cover a middle school math class. There was one very shy kind of awkward kid who was working on an assignment involving square roots. Without using a calculator that kid was coming up with answers left and right. I thought I was some kind of joke or prank but for the heck of it I took out my phone's calculator and asked him to multiply different three and four digit numbers. Without batting an eyelash this kid would give me the answers almost as quickly as I could ask the question. A few occasions he had to recalculate things in his head once or twice but it was scary how quickly the answers came. I asked him what it was like and he said that it was like having a tiny room inside his head filled with white boards. You can go inside this room to work on calculations. To this day I have not met another kid like that.
Photographic Memory
[rebelmouse-image 18360929 is_animated_gif=
dam=1 expand=1]

My buddy was a genius as a kid he could read something and remember it exactly. It was unreal.

Smartest dude I ever met as far as every single subject. Went to Harvard after high school and we lost touch. He's a judge now.

His memory was so good.
The Seven Ways To See History
[rebelmouse-image 18346424 is_animated_gif=
dam=1 expand=1]

My one/ favorite history professor in college told me about a kid named Gabe. Gabe wasn't great with math, wasn't great with science, but this kid could create a complex map of history in his mind to be able to explain a situation in history from multiple historical standpoints.

An example was when he was in my professors Nazi Germany course and my professor was talking about Hitler's takeover in a general sense (quick overview of the course type stuff/my professor learning what people do and don't know to shape the course a little) and one questioned how they let Hitler be elected considering Hitler's jail sentence and mein kampf. Gabe apparently cited 4 or so different sources of German people at the time as well as examples of sympathizers in other countries after the Nazi take over to explain Hitler's zeal and demagogue capabilities.. My professor still uses the sources Gabe cited because he wasn't even read on them!
A Genius By Any Other Name
[rebelmouse-image 18360930 is_animated_gif=
dam=1 expand=1]

I taught a girl who was an absolute genius. She hated it when I or other people called her that, because she didn't think she was.

The main thing that set her apart was her ability to understand a concept as well as the significance that concept had to other areas based on me explaining something orally once. Most students wouldn't realize that class had started yet by the time she already figured out my lesson.

See, most students, after several attempts at me explaining something, will just memorize my explanation word-for-word and regurgitate that on the test because they still don't understand what on earth you're talking about. Bright students? They actually figure out what you're talking about and can explain it in their own words. But this girl? She not only understood, but then applied it to other areas. That's why she was brilliant.
Intense Topics
[rebelmouse-image 18360931 is_animated_gif=
dam=1 expand=1]

I once taught a four year old Chinese kid who really enjoyed talking about the collapse of Yugoslavia.
Nature Vs. Nurture
[rebelmouse-image 18355675 is_animated_gif=
dam=1 expand=1]

Yep, a few. One was a genius in math (not the subject i teach), and the other is a genius when it comes to writing/research/reasoning/etc.

What makes them both so smart is probably a combination of environment (they both have very supportive families), and an intense desire to learn on their own. Both of these guys did way more independent learning on their own than what they got in school, and the math kid is now in grad school working on electromechanical engineering and has been published multiple times. The philosophy kid is doing his own thing and writing books.
Information Intuition
[rebelmouse-image 18360932 is_animated_gif=
dam=1 expand=1]

I've taught for 12 years: all math Algebra 1 - AP Calculus, Robotics, Engineering Math, and Computer Science. All high school grades.

In that time, I have taught a lot of really smart kids. I have met a lot of really smart kids. I am not sure just how you are qualifying genius, but I am reading it to mean the truly exceptional student who displays intelligence in a way that outshines average "best" students.

To that extent, I would estimate that I have taught about five such individuals.

What these kids all have in common is that everything came naturally to them almost like it was intuition. Tons of smart kids will get bored and actually do poorly in class (they don't do their "easy" class work). But usually the genius kids have a thirst for knowledge. They are inquisitive and motivated to find answers.

As for what "makes them so smart", I would say that their lucky genetics plus an internal motivation to learn is what made them so smart.

I will end by saying that I think anyone can be "smart" with enough hard work. Depending on your genetics, your environment, and your determination it may take a little bit of work or a whole bunch of work.
Several Types Of Genius
[rebelmouse-image 18360933 is_animated_gif=
dam=1 expand=1]

I've taught a lot of smart kids, and while these two stories may not be the most genius kids (I mean, maybe they were, but I can't really tell), they're good stories.

One was a little boy I had when I taught first grade. At that age he figured out that the squares of numbers always end in a pattern (0, 1, 4, 9, 6, 5, 6, 9, 4, 1 and repeat). He asked me what that was called and I didn't even know it was a thing. I spent most of his first grade year trying to teach him how to not be so obvious when he thought people were wasting his time. The kid could already read and do math, but he did not yet know how to control his eye rolling. That was sincerely the most useful skill I could teach him.

The other was a girl I taught in 6th grade a couple of years ago. Her parents had homeschooled her for a while, and basically she just learned whatever she wanted to learn. That worked for my class, so she did random reports on the history of Chinese food or essays about her grandmother or whatever. Just recently she was part of a young composers workshop, and I got to see professional musicians perform her work. She's 13.

The thing is, geniuses don't always do stereotypically genius things. The boy from the first story is now attending a pretty average state university. I'm sure he will always be smart and always be great at what he does, but that super amazing genius thing is only one aspect of a person.
A High Trajectory
[rebelmouse-image 18360934 is_animated_gif=
dam=1 expand=1]

I'm a preschool teacher so I can't accurately judge a genius or not. My students range from 3-5, but I did have one student that stood out. He was a peer (not special ed/not on an IEP) and he was one of our younger students (4). We would often let kids have some supervised computer time playing on a site with lots of letter games, math games, etc for all grades. This kid taught himself how to tell time, addition, subtraction, multiplication, and started division at the end of our school year. He had little to no help with the work. If he couldn't figure something out on his own he'd ask for help once and then be perfectly fine continuing on his own. He's going on to kindergarten now and I'm so excited to see where he goes in life.
Jason
[rebelmouse-image 18360935 is_animated_gif=
dam=1 expand=1]

Okay, I'm going to shamelessly brag about this kid. For the record, I teach high school Spanish.

We'll call the kid Jason because that's nothing like his real name and I don't wanna break FERPA. Jason played basketball and soccer. He was in Art Club and Beta Club and National Honor Society. He was even the Valedictorian. Jason basically taught himself Spanish 1, and by the time he got to my Spanish 2 class, had vastly surpassed his classmates. He asked great questions and even caused me to learn quite a few things about the subject. His Spanish was f-cking impeccable. He never made even a single B in my class. When we played games, his team always won. He studied hard, he was focused, and he was so fucking affable. And he was like this in every fucking class, including the AP classes.

He went on to the best college in the state, full ride. He's done study abroad in several countries , and he's been recognized several times in the school's magazine. And not a single person has a negative thing to say about him. He's so genuine and good. He's a serious, preppy white boy that gets along with everyone: the athletes, the nerds, the goth/emo kids. He can even freestyle.

I've gotten off track with the question, but he just makes me so proud. Jason is a f-cking genius.
Sometimes, the strangest things happen when we're not paying attention. Thankfully, we have security cameras to catch us up on what we miss out on. From awkward situations at work to creepy occurrences taking place right outside one's front door, these unreal moments captured by security cameras will make you want to install a CCTV system of your own.
The basics of human behavior have changed so much over time.
The change feels especially rampant over the last decade.
Somethings that were considered "normal" or "just everyday behavior" have been researched, studied, and cast aside.
A lot of these changes are for the better.
Once you do a deep dive into a few "traditions," you stop and ask yourself...
"Who the H*LL thought this was ever a good idea?!"
But once you learn more, than you do better.
Redditor irish-springs wanted to hear about which norms in life feel very outdated, so they asked:
"What are some social norms that are pretty f**king weird if you think about it?"
I'm used to odd behaviors.
So I doubt I'll be shocked by this list... well, maybe.
Sorry Bob...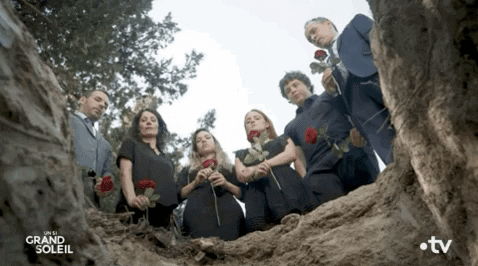 Roses Funeral GIF by Un si grand soleil
Giphy
"Spending so much for a funeral. Uncle Bob is dead, a $1200 coffin or a $100 coffin is the same for him."
8champi8
"Funerals are just weddings with really muted colors and a few extra sad people."
Oseirus
"Paying tens of thousands of dollars to bury corpses in the f**kin' ground."
ieatsthap***y
"It's even worse: we are not burying in the ground. That would be better. We are paying to embalm corpses so they are preserved for a long time, in wooden/metal boxes, using valuable space."

"Modern embalming techniques can preserve a corpse for a long time. If we were simply burying them in the ground and letting them decompose, it would be way, way better."
IWishIHavent
We Hear You!
"I feel like too many people talk on speakerphone. Do you remember when conversations were private?"
kellykellyculver
"I live in a cul de sac and a neighbor has their phone hooked up to the car Bluetooth. I can hear the phone ringing while calling someone and I can hear the entire conversation from my garage with 2 houses in between us. It's fascinating and I don't think they have any idea how loud it is."
ember3pines
"If someone is having a conversation on speakerphone in my presence, I am now part of the call and will insert myself into it as much as possible."
twilightchickens
No Frills
"The expectation to have a huge wedding."
asj0107
"The expectation to have a wedding at all. They're overrated IMO."
hiremeplz2017
"My fiancé and I are having a registrar's office wedding, just us, two witnesses, the registrar, and the paperwork. His sister complained we weren't having a proper one and that solidified my position to do it this way. No frills, no drama. We can't decide if we want a reception of any kind."
ElliotFrickinReed
A Creepy Custom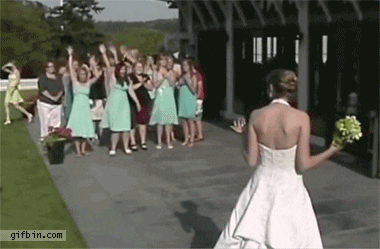 wedding fail GIF
Giphy
"Garter toss is f**king weird."
coronakiddos
"Yeah, we did not do this at my wedding. Really creepy custom. I don't need to see my coworkers and my husband's friends clamoring for something that's just been around my thigh. And I wanted to keep my bouquet, so I tossed the maid of honor's bouquet instead."
ZoraksGirlfriend
That garter idea always seemed off to me.
Danger Attire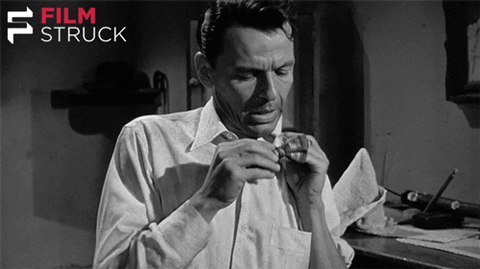 Black And White Vintage GIF by FilmStruck
Giphy
"I can't think of a single reason for ties being the standard for business attire other than it's a reminder to everyone in the room that you could be easily strangled at any time."
Taxitaxitaxi33
Small Talk
"Asking people how they're doing as a matter of courtesy when you truly don't care and are hoping they just say 'good hbu' in response."
TheMaskedSandwich
"You know, you walk out the door. You see someone that you know, and they ask you how you are, and you just have to say that you're fine when you're not really fine, but you just can't get into it because they would never understand."
shall_always_be_so
"It's even perfectly acceptable to respond with, 'Hi, how are you?' And have neither person ever actually answer with how they're doing."
OfficialLindsayLohan
Traditions
"Blowing out candles on a birthday cake."
Lallner
"It never occurred to me to look up the origin until now..."
"For the Ancient Greeks, putting candles on a cake was a special way to pay tribute to the Greek moon goddess, Artemis. They baked round cakes to symbolize the moon. Candles were added to represent the reflected moonlight. Candles on cakes became a popular tradition long ago in Germany, too. For religious reasons, Germans would place a large candle in the center of a cake to symbolize 'the light of life.'"
"Some scholars believe that other meanings have also been attached to the use of candles on cakes. People may have believed that the smoke from the candles carried their wishes and prayers to gods who lived in the skies. Others probably believed the smoke helped to ward off evil spirits. Today, we still put birthday candles on cakes. Many people still hold superstitious beliefs about them, too."
powderp
Wasted Paper
"Cards. I'm just giving Hallmark money in exchange for a piece of paper that someone's going to look at for about 10 seconds and then completely forget about."
TheTurtleOfWar
"Lately I've been making my own handmade cards and they get a lot more love than your average store-bought ones, and I see the ones I make always end up out on my friend's dressers for display over anyone else's."
hellboyyy25
"Hallmark cards are an all-too-common phenomenon of capitalism replacing a genuinely heartfelt gesture with a store-bought, mass-produced one… and in so doing, removing the meaning from it altogether."
bearded_dragon_34
Hard Labor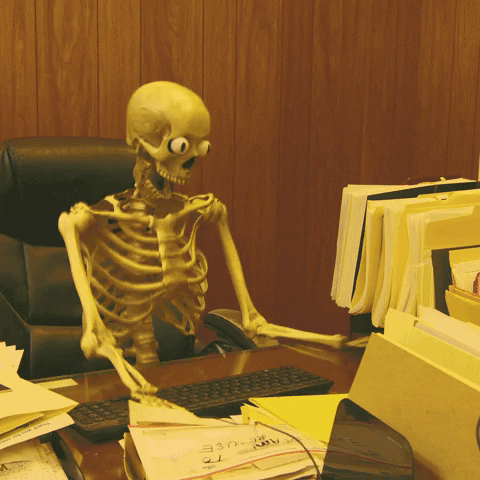 Working Out Of Office GIF by This GIF Is Haunted
Giphy
"Working your butt off for 65 years to then live for 10 years."
maybetoomuchrum
There are so many things on this list I never thought about.
We really need some life updates.
I like the idea of working less, for sure. (Or at least not to death!)
Growing up was full of learning opportunities and expressing ourselves, but some of those phases were more successful than others.
Some of them were so embarrassing or cringey, it's almost impressive.
Redditor SurfinRay12 asked:
"What's an embarrassing phase you went through?"
The Favorite Accessory Phase
"In high school, I would regularly wear a top hat to school because I thought it made me look cool and edgy."
- SadCicada
The Choosing a Style Phase
"I used to wear an old, thrifted black trench coat and fake Birkenstocks to school in the 90s with a knitted beret."
"I wasn't sure if I wanted to be goth or grunge. But I was mostly supporting myself and definitely didn't have the money to buy more than a few pieces of clothing a year anyway."
- TheLakeWitch
The Enlightened Phase
"I went through the edgy intellectual phase as a teenager because I read one book on philosophy and was therefore an enlightened genius."
- MagnificentExample
"I bet it was Nietzsche, lol (laughing out loud)."
- ShiroKuroKage
"It was. I felt like I had gained access to secret elder lore that no 15-year-old should possess."
"Thankfully I kept most of my thoughts to myself, and that there was an even more insufferable guy in my year because otherwise I would have been one of the cringiest people in the school."
- MagnificentExample
The Nihilism Phase
"Reading Kurt Vonnegut in high school started that phase for me. That idea that everything is bulls**t along with my parents going through a nasty divorce really turned me off to basically everything."
"I didn't take the SAT, didn't go to college. Never wanted to work in an office. Now that I'm 31, it's definitely changed and I would love an office job, but I still think everything is bulls**t."
- paperpens
The Fake Accent Phase
"I spoke in a fake British accent for a whole month at school."
- buckyhermit
"In middle school, I brought a dry-erase board to school and communicated by writing on it instead of talking for literally no reason at all."
- Zekumi
The Poser Phase
"My ninth and tenth-grade years."
"Black leather motorcycle jacket heavily customized with spikes, leopard print fabric, band patches, and stripes made with white-out. Black jeans sewn tight with more band patches. Black band shirts with sleeves and collar ripped off. 14-inch Doc Martens boots. Studded, bondage, and/or bullet belts placed loosely around the waist."
"And I'm deaf and almost never attended a concert. What a f**king poser."
- schwarzes__loch
The Unique Typing Phase
"I ussseedddd to typeee like thisss."
- scarr3d_angel
"Lol (laughing out loud) I Used To Type Like This !"
- h*eforspaghettios
"I Know Someone Who Uses To Type Like This Too And I Started Doing It Back To Her And Found It Can Become Strangely Addictive Lol."
- anderoogig
"I Used To Talk Like This Too But It Just Looks Like I'm Writing A Book Title."
- imnotnocturnal
"i u s e d t o t h i n k t y p i n g l i k e t h i s w a s c o o l"
- pxstel_flower
The Name-Changing Phase
"That time at 16 when I wanted to change my name to Shampajne."
- PrimCrow
"What a Tragedeigh."
- Brodojour
The Celebrity Connection Phase
"During an 'introductions game' on the first day of second grade (six or seven years old), I told the entire class that Amanda Bynes was my step-sister."
"I then kept up the charade for the school year. One kid even asked for an autograph and I gave him a piece of notebook paper with her name written down in my baby cursive handwriting."
- sleepyselenophile
"I once told a girl in my class that Melissa Joan Hart was my stepsister, and the girl gave me a letter to give to Melissa that said how much she loved her and her show. That's crazy how similar our stories are."
- LepreConArtist
The Emotion-free Phase
"'Emotions are weak and useless. I have no emotions, I'm a logical robot.'"
"Sad girl. Very sad. Emotional unavailability is nothing to be proud of. I'm happy I grew past it."
- Wafael
"Oh my god, I went through that phase, too. I actually recently found my Fictionpress account from 2005, where I described myself as a 'prototypical human' who was 'missing the emotions of sadness and love.' Not really something to brag about, is it?"
- ostentia
The Oh So Classy Phase
"In junior high, I went to Chess King and bought a black nylon button-down shirt with a red Japanese sun cheaply printed on the back and red Japanese characters down the front. It had a big floppy collar and glossy black buttons."
"I wore that s**t to school with the top three buttons unbuttoned. A 13-year-old kid in a rural New England town in 1986 wearing a cheap, shiny disco shirt that's at least eight years out of fashion tucked into his Tuffskin jeans without a belt. Pure class at recess."
- hiro111
The Country Pride Phase
"After I graduated from boot camp in the Navy and finished A-School in Florida, I went home on leave and wore my dress blues to IHOP when I went to dinner with my family."
"This was back when the Military was glamorized, so I considered it celebrity status. I was young and it was the pinnacle of achievement for me and wanted to show it off. And I figured I had the right to because I earned it."
"Now, I cringe every time I think back to when I did that."
- LaughableEgo740
The Tough Breakups Phase
"Crying over dudes who treated me like garbage. Embarrassing."
- Proper-Bid-9732
The Book Series Phase
"I read 'Warrior Cats' religiously in sixth grade, hissed at people when I was mad, and insisted on going by 'Scourge.'"
- Noimnotareddituser
"Dude, I f**king LOVED that series in middle school! I never did anything like that but godd**n did that series have me hooked! Ironically though... I'm a dog person, and allergic to cats."
- Xavak_Stormbringer
The Random Words Phase
"I have a thing where I pick up words and just use them a lot for no good reason and I can't help it. Ever. It happens pretty automatically."
"The worst one I had was Ahoy. Said Ahoy instead of hi and a lot of other things I wish to forget."
"Currently, it's Goofy, which arguably is a lot better than saying Ahoy to everything."
- Possessed_potato
A lot of these were really cringey, mostly because we could see ourselves doing some of the same things when we were younger.
At least we can say that we grew past these things, and now we can look back and laugh.
When we were kids, we could not wait to grow up. We had big dreams about what we were going to do and who we were going to be, and we could not wait to get started.
But there were some things we were expecting that were totally off the mark, too.
Redditor Caseated_Omentum asked:
"What's the biggest misconception you had about adulthood?"
Staying Up Late
"I thought that I could stay up as late as I wanted. I envisioned myself adventuring all over town until the wee hours, meeting interesting people and experiencing life."
"Turns out 'as late as I wanted' is about 8:00 PM after a quiet night in with my girlfriend and a cup of tea."
- Calm-Ad6493
Going By Too Fast
"Time. It turns out adulthood is stuck on fast forward."
- VegetableTears
"Boy! Is this ever true! A week used to crawl by and now you blink your eyes and it's, 'Is it (choose a day) again already?'"
"Summers were almost never ending and now they are over in a blink of the eye!"
- miffsc
Lots of Guesswork Included
"I always thought that adults knew what they were doing."
- sorengray
"We're all winging it. Most of us are competent at certain s**t and can function day to day. I've been in my field for nearly five years now and work with people in my field that have been in it for nearly forty years. I'm not bad at what I do and they're great at it."
"We still end up scratching our heads, wondering what the h**l we should do next on a project, because that s**t's just weird."
- thewaterglizzy
Forever High School
"I thought graduating high school meant I'd be out of high school. It turns out that all of life is high school. I'm still dealing with the exact same problems except even fewer people care."
- Individual_Speech_10
"That was the biggest disappointment of my life. As a kid growing up, I absolutely hated most other kids for all the bulls**t mind games, bullying, playing favorites, etc. I couldn't wait to be an adult where that all stopped, life was fair, and bad people were brought to justice."
"Holy f**k was I ever wrong. As you said, adults are just kids in grown-up bodies as nothing else has changed."
- ZiggerTheNaut
Full-Circle Moment
"I was always a little salty that my dad was kind of a goofball. He'd play pranks and s**t and you couldn't confide anything seriously in him like you had a crush on a girl or something, because he'd make fun of you."
"I wanted a dad like in the movies where they put you up on their lap and say, 'Now listen here sport...+ and go into some kind of sage-like monologue on how to handle life's problems."
"Then I got to be an adult and I'm EXACTLY like my dad. And so is every other adult male I know."
- SweetCosmicPope
So Much Free Time!
"You could do anything you wanted, whenever you wanted."
"I never have the time between working full time and being exhausted the rest of the time, lol (laughing out loud)."
- ravynmaxx
Owning a Home
"Homeownership apparently, lol (laughing out loud)."
- Gentleman_T-Bone
"I came here to say this! Embarrassing, I even thought I'd have like a beach house as well. I was so dumb."
- PumpkinPieIsGreat
"Growing up, I was told I may inherit my parent's house one day. I was grateful but wasn't that excited because it was a small house on a small property and I always wanted a nice piece of land."
"Now home prices in that area are creeping into the high six-figure range and I'd be over the moon to have it."
- slinkocat
Hard Work Means Success
"If you work hard and give everything you got, then you'll succeed and get what you worked so hard for."
- Useful_Dane_319
"As someone who works in finance, the most valuable lesson I've learned is that money doesn't come from hard work, it comes from the presence of existing money."
"Wall Street bros who make seven figures don't work any harder than your average teacher or public servant busting their butt making 50 thousand a year at best."
- AdmiralPlant
A Living Wage
"I thought that most jobs actually paid a living wage. When I was a pre-teen, I thought that all you had to do was show up to basically any job clean, polite (and don't be a total id**t obviously, but you don't have to be Einstein either), and work 40 hours a week, and you would have everything you need."
- True-Sound-9240
Easier After Graduation
"I was under the false impression that having a job would be less stressful than going through school."
- Friendly_Neighbor12
"Well, it depends. Until I was 14, I used to go to school from 7:30 AM to 4:30 PM with an hour to get lunch. When I got home, I still had to do homework or study for tests. Now I work the same amount of hours but when I finish working, I'm free to do whatever I want. So I would say at least in my case that school was way more stressful."
- CollapseIntoNow
Happily Ever After
"I thought you'd always have a relationship and money and you lived happily ever after."
- llcucf80
Chronic Illness
"I thought that your body would remain healthy. I got chronically sick in my late 20s (27+). I'm 33 now, and I hate it. Docs still don't know what's up. SMH (Shaking my head)."
- xAdrtxx
Natural Obstacles
"I believed quicksand would be a real concern."
- Euclid_Interloper
"I thought being on fire would be a more common occurrence, what with how often we were taught about stop, drop, and roll."
- anonymousbach
​Professionally Independent 
"I used to think adults had autonomy in their jobs. Like, as a professional who went to college, your expertise and knowledge would be sought after and people would treat you with respect. But no, we're just capitalist pawns."
- Majestic_Heart_9271
Actually Much Better Than Expected
"That it would be zero fun and all bills."
"This is way better and more carefree than childhood! No one controls me and I don't have to babysit anyone if I don't want to! No one yells at me and I can 'talk back' if I want to!"
"I can just… be. I don't have to beg and plead to leave the house and see friends."
- Dom-Franson
"I think this ALL the time. I'll be having the time of my life just... I don't know, WEARING SHORTS IN PUBLIC, or HANGING OUT WITH SOMEONE THAT ISN'T A FAMILY MEMBER, or something absolutely crazy like that, at almost 30 years old, and think, 'Wait, why were all the adults in my life when I was little telling me adulthood would suck so much because I would have to figure everything out for myself?'"
"That's the part I love the most about adulthood. No controlling, narcissistic, emotionally abusive a**holes around to dictate my every move and tell me I'm a worthless female. H**l, I don't even have to speak to them as an adult!"
- thatonespicegirl
For most, adulthood fell far short of what their childhood dreams called for.
But a few loved the independence that came with adulthood after having traumatic childhoods.
This is one of those concepts that is all about perspective, and all we can really do is try to make the best of it.