There's nothing more frustrating than lazy dog owners not picking up after their dogs.
Actually, there is something worse: when dog owners don't pick up after their dogs that took a dump on your lawn.
---
And it doesn't help if you're not the confrontational type. Your bottled anger festers like the pile of warm dog poo baking in the sun on your property.


But what's a poor passive homeowner to do?
Shame the rude pet owners by revealing their identity for all to see, of course.
Steve from Mitcham has had enough of dogs leaving surprises on his front footpath. He told @ali__clarke he captured… https://t.co/WICHMUrac1

— ABC Adelaide (@ABC Adelaide)1534458171.0
Steve Tamblyn of Adelaide, Australia, had enough of the unsolicited fertilization of his front yard. So he devised a way to discourage others from doing the same thing.

Instead of removing the waste himself, Tamblyn added a picture of the perpetrator in action next to the unclaimed poop.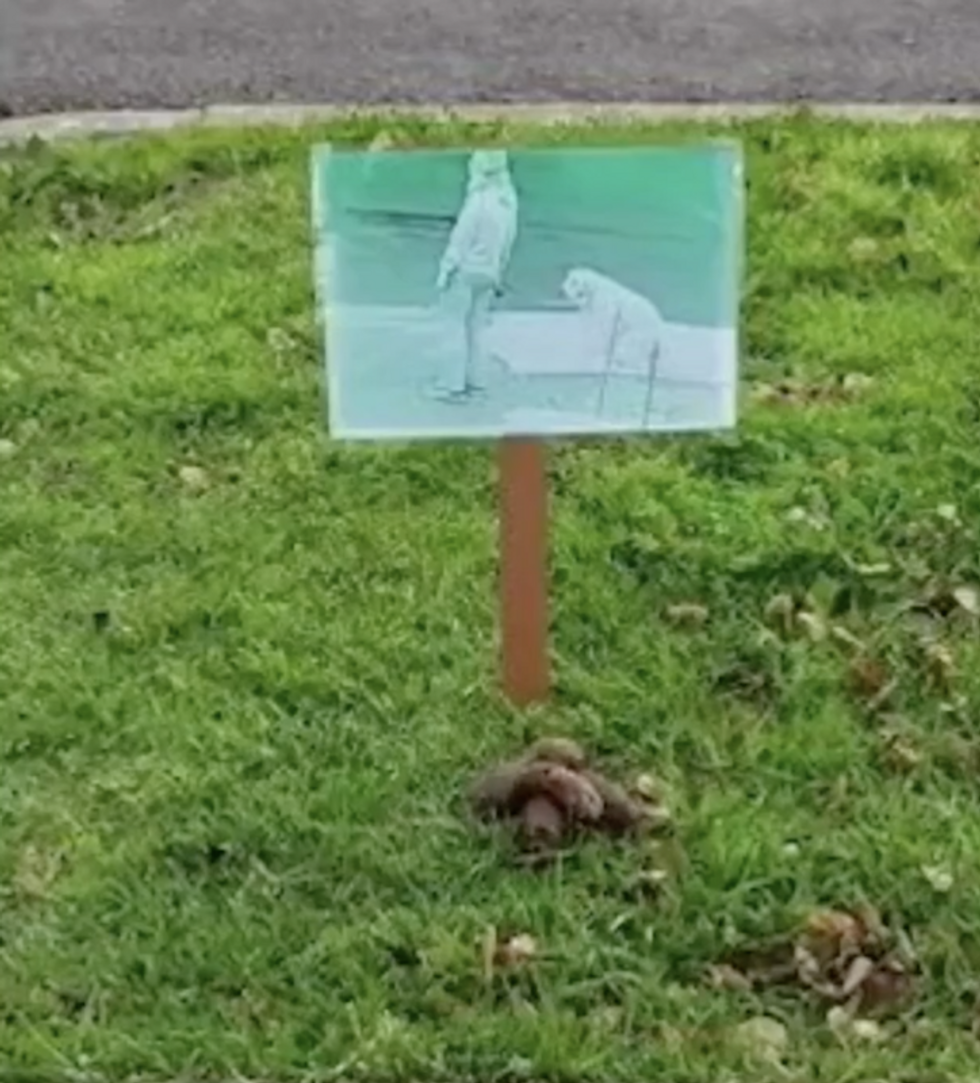 Steve Tamblyn will call you out. (KIDbible/YouTube)
The self-proclaimed "pet detective" had a CCTV camera installed on his property facing the street to capture unsuspecting pedestrians with their pets doing their dirty deed then walking on.
It didn't take long for Tamblyn to capture the crime. Some of the retrieved footage showed a golden retriever squatting on its haunches and dropping a deuce, or two. Maybe three.
It was a prodigious pile.
The owner then proceeded to walk away from Tamblyn's property with nary a backward glance.
With dog droppings left near his property, Steve Tamblyn has taken matters into his own hands... Using CCTV to catc… https://t.co/KuOgts3V08

— Nine News Sydney (@Nine News Sydney)1534481211.0
The woman from the video is now immortalized as a laminated screen capture and used as a sign post to warn other pet owners that Tamblyn is not one to be messed with.

He's also hoping she'll notice the sign and feel mortified enough to finally remove the stale stink bomb.

He even posted a warning on Facebook.

"[I] took a screenshot and put a picture right by the number left there, so I thought if she walks past and sees that there's a good chance she'll clean it up."
Tamblyn is a dog owner himself and often takes walks in the lower Mitcham area.
"I'm sick of dodging parcels left on the footpath by lazy dog owners so I thought I'll take some action here and help clean up the footpaths."
@9NewsSyd I agree, I carry dog bags for my dog and it is my responsibility to clean his droppings. Ignorant dog own… https://t.co/aUgX5xCEs3

— Tulip (@Tulip)1534481609.0
As of this writing, the poo is still there though.
Tamblyn stated:

"I've been checking the surveillance each morning to see whether she has [stopped or walked by]."
"There have been a lot of dog walkers though walk past and notice it so I think this might be the last deposit left on my verge."
People empathized with Tamblyn.
@abcadelaide @ali__clarke I have two rescue chihuahuas and carry old bread bags to collect their poop....it is not hard people!!!!

— Anthea Mur (@Anthea Mur)1534468697.0
@abcadelaide @ali__clarke 🤦🏼‍♀️ ffs people, clean up after your animals

— Krystal Scott (@Krystal Scott)1534469845.0
Inspired by Tamblyn, others are sharing their newly installed poo cams as well.
Genius https://t.co/jYFGCJrEtW

— John charlton (@John charlton)1534524122.0
Irresponsible pet owners beware or it could be you caught in the act.
Or caught not acting.
Pick up your pooches poop people. Please.
H/T - BoingBoing, YouTube, Twitter, ABC,