Spooked Adults Reveal What Haunted Them As Children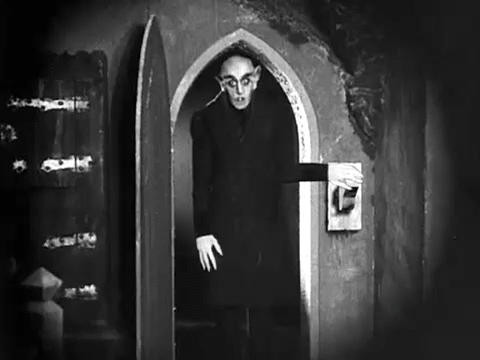 Things that happen to us in our childhood stick with us throughout our lives, especially the scary memories. Some adults have experienced or witnessed some creepy things in their childhood that still have them freaked out in their adult life. These examples would spook any child and most adults!
leyaroo asks:
What used to haunt you as a child?
When religion doesn't bring you peace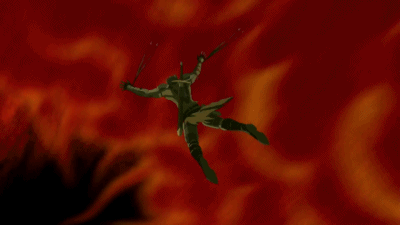 The fear of dying in my sleep and burning in a Dante's Inferno hell. Southern Baptist preachers can royally mind-f*** with a child's head.
The freakiest dream ever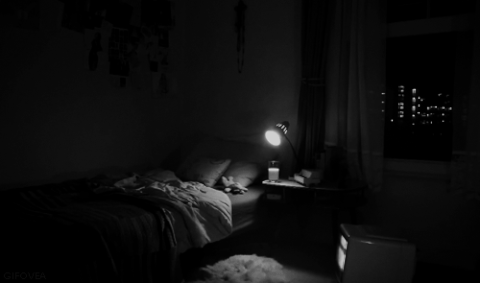 I have had this reoccurring nightmare that started when I was a child and it still haunts me now.
I dream that I've woken up and I'm in my bed in the room I'm in, everything looks totally normal so I assume I'm awake. But in the corner of the room there is a tall man in a long black tail coat and suit with a top hat on. He's facing me with his head slightly tilted down. He never approaches me but his presence fills me with so much fear. I never try to approach him either and normally wake up after feeling freaked.
This would make anyone shudder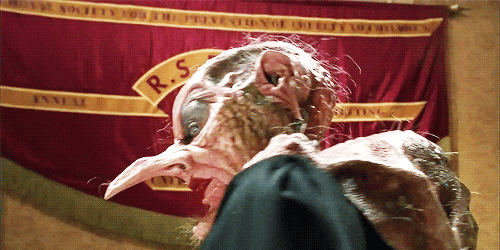 That scene in the film The Witches where all the ladies remove their wigs and reveal hideous spotted bald heads.
Kidnappings are terrifying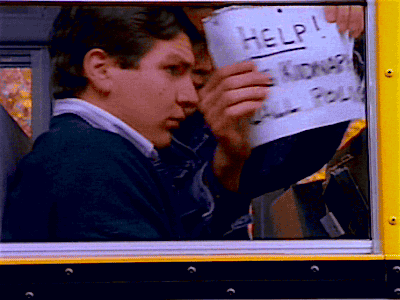 Watching a kid getting picked up by a woman that was not his mom. She takes him into getting into the car. I watched the news for weeks to see if anyone is missing and I would report the car. 305 NKE.
It's been like 30 years and I still remember the license number.
Loss in childhood can leave a scar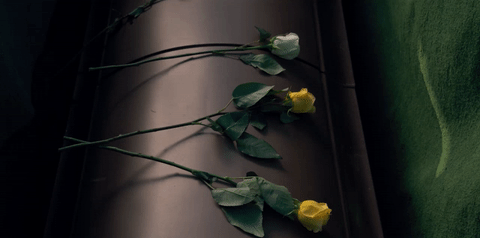 After my grandpa died, I was terrified that another adult figure would also die. I thought it was completely justified behavior to check on my parents when they were sleeping to make sure they were still breathing. I thought if I could wake them up soon enough after they stopped breathing then they would be fine, but if I wasn't there to wake them up then they would die. So I was afraid to be too far away from them when they were sleeping. It wasn't till years after that I even realized what I was doing.
The fear of abandonment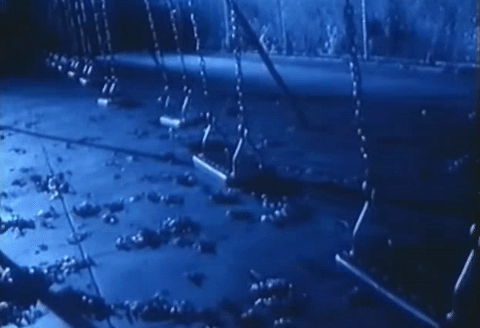 As a 6 years old with a 2 years old younger brother I always used to fear my parent's death. Like whenever they go out I used to think what if they don't come back, what will we do and who will take care of us?
When the dreams feel real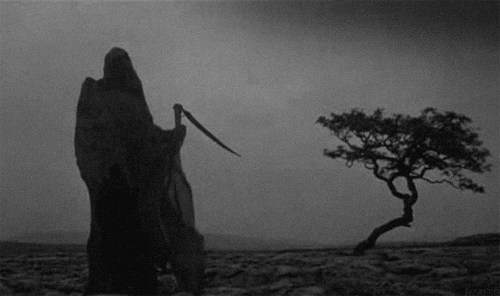 I would have dreams of being hunted by the grim reaper in a dark, abandoned version of my city. No matter what I tried I would "die" to a swing of his scythe. Never seemed like I could wake up until dying either.
Nowadays my nightmares are usually depictions of me laying in my room trying to fall asleep until something either attacks me or causes immense fear and I wake up. Sometimes I am able to fight back, while other times it feels like I have no control.
The clowns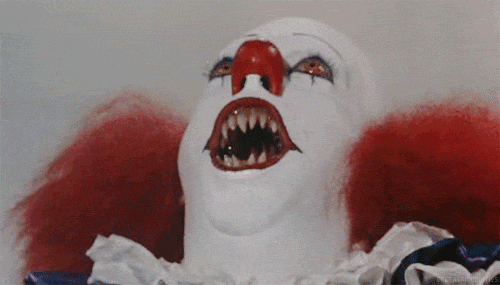 When i was about 7/8 I had to have grommets put into my ears, a pretty standard operation but still terrifying to a child! Anyway, the anethistist dressed up as a clown and that awful face paint and oversized red nose was the last thing I saw before going under, that damn clown haunted me for years.
There is some psychological explanation behind this dream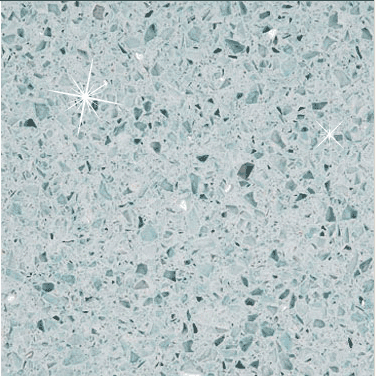 I used to dream of this giant block world. It had absolutely massive blocks of marble.
I had to push these blocks into a certain configuration, and I knew I wouldn't wake up until i got it right. The problem is I didn't know the configuration.
I used to wake up in tears.
The house is coming alive...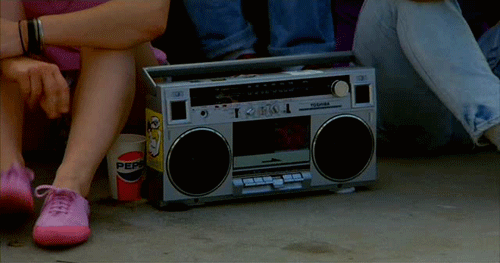 There was this radio in the living room and it looked like a face. So i got really scared of it. I used to get nightmares from it.
Extraterrestrial fear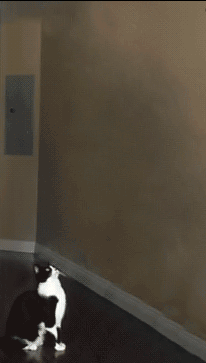 The aliens from Mars Attacks, sleep was not possible if I thought they might be in the house.
Those movies that burn into your brain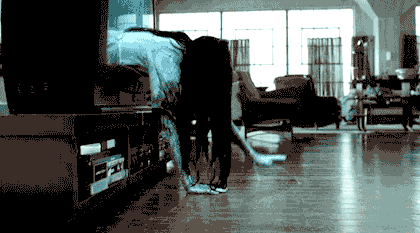 Watched The Ring as a child. Every time a phone rang I s*** bricks.
A classic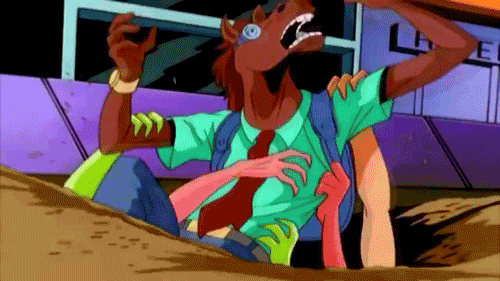 Quciksand. F****** quicksand.
Those tales we were told to scare us, but it went too far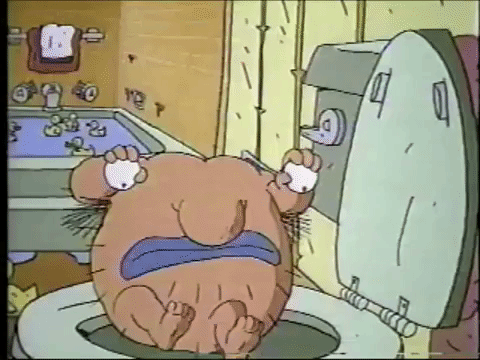 The witch in the toilet. Every flush she could come up through the toilet and get me or so I thought. Parents thought it was hilarious seeing me use the bathroom and run away as fast as I could.
People in masks are freaky!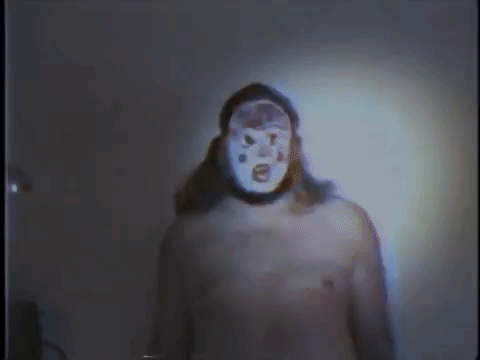 When i was 6 i saw a man with a kabuki mask lurking in my back yard when i was looking for one of my Nintendo games that i got grounded from using at the time. He didn't notice me but it was creepy as h*** and the whole neighborhood was talking about him the next morning. I get the creeps to this day if i go down there at night.
Disney at it again...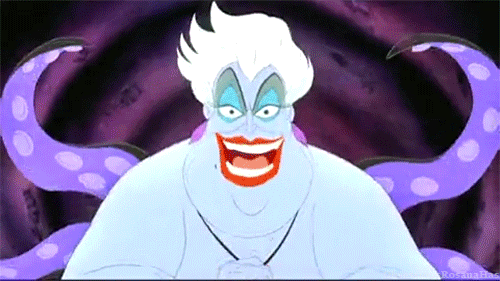 I had this dream when I was 6(so 18 years ago) that I remember like I dreamt it last night. I woke up and went to wake up my parents like I always did , but when I got to their room they were being pulled apart and eaten by Ursula the sea witch.. I remember the look, sound, smell, everything. Of course, because I dreamt that I had just woken up I thought what was happening was real and couldn't "wake up" again so I had to stand there and watch.
Not kids movies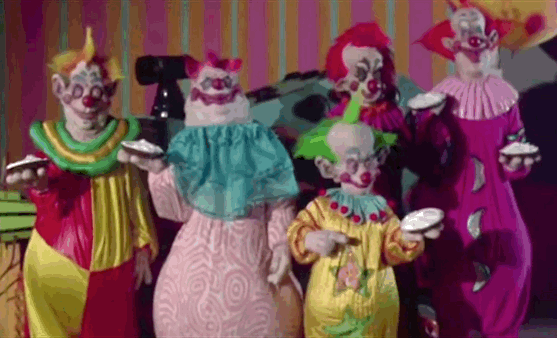 Killer Klowns from Outer Space. F*** that movie.
Also another scene that stuck with me from my late 80s childhood, but I have no clue what movie it is, is a guy squishes a girl with a heavy crane lowered load. He does it really slowly too while she begs, though I can't remember if it was out of torture or revenge.
The doll phobia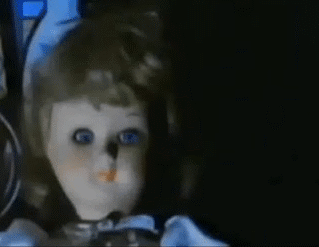 This one porcelain doll.
Every year until middle school, my grandparents would get me a new porcelain doll for my birthday. Due to an accidental exposure to the movie Chucky (all it took was seeing the VHS case at Blockbuster) I was terrified of porcelain dolls. I felt really dumb for being scared of them, so I didn't tell anyone. So every year, they kept coming.
I would have nightmares about this one doll in particular. My parents installed a shelf in my bedroom to display all my dolls, and I would fall asleep with my eye on that particular doll to make sure she didn't do anything tricky. In my dreams, she would open and close her mouth while staring at me, and when I tried to tell my parents they didn't believe me. I also had a dream that she killed my dad.
A Halloween staple, skeletons!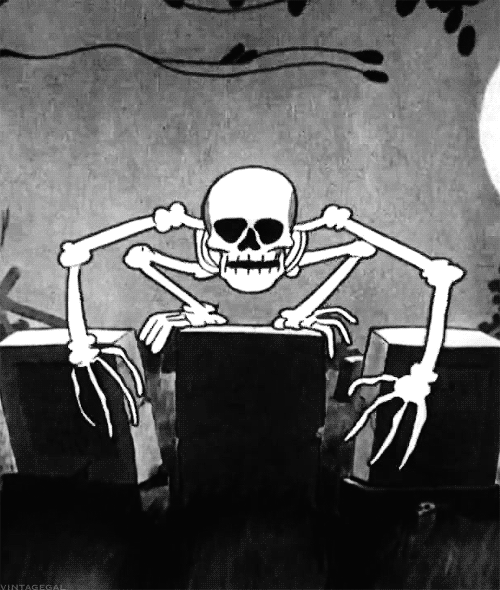 A friend of our parents - a retired chiropractor - kept a skeleton hanging from the rafters in his attic.
At Halloween, he'd illuminate it with dark purple and green lighting and invite my brother and me up there to see it.
As a kid, the image of the hung skeleton somehow "haunted" me in dreams.
When you freak yourself out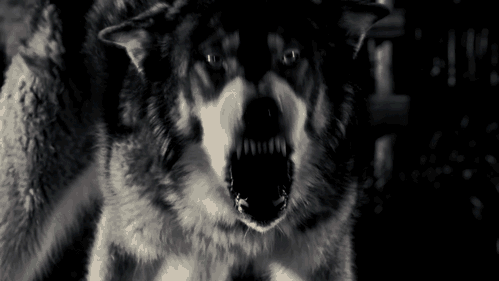 If I walked in front of a window at night (we didn't pull the shades we lived in the country) the "big bad wolf" would look in to see me so I had to crawl, jump or run as fast as I could to get by a window so I wouldn't die. Played this game for years and it genuinely freaked me out