People Break Down The Scariest Moment They've Ever Experienced On A Date
Dating is supposed to be fun, right?
You get to go out with a person you've hopefully made some kind of connection with, spend quality time together, alone, and forge those bonds with the intent to lead to something better.
And then there's dates like these, which are so awful you might reconsider the whole concept of "dating" ever again.
---
Reddit user, LankyJeweler4925, wanted to be a little terrified when they asked:
"What was the scariest moment you've had on a date?"
First dates are already a cocktail of nerves and excitement. Odds are you might say something awkward and or not phrase something the way you pictured in your head, and that's cute, don't get us wrong.
And then there's saying or reacting the way these people did.

Classic "Shmosby"
"He said he was in love with me and he couldn't live without my scent. It was the first date. I didn't check if he's still alive lol"
Freckles1339
When Your Date Throws You Into The Line Of Fire...
"Dating an extroverted woman that convinced me to go out dancing/cubbing with her. She got drunk and started talking sh-t to some chicks and their boyfriends somehow and telling them that I would bear them up. The bouncers stepped in but they were mean mugging me all night. I thought I was going to get curb stomped or shot at coming out of the club."
BidDaddyFarts
There's a lot you can say about someone who gives off the following vibe on a first date.
None of it is good, but you can say a lot.

Asserting Imaginary Ownership
"He took me out to several different bars and was an @ss the whole night. Plunked me down in a seat and promptly ignored me. I struck up a conversation with the lady next to me. Her husband was talking to someone on my other side. My date comes up to me as the lady and I are exchanging numbers. He accuses me of trying to start a lesbian relationship, takes my phone, and leaves me at the bar. I had to walk back to his place to get my car."

"I knocked on my door and asked for my phone back. He gaslights me, telling me he didn't have it and I must have dropped it. The next day I got my phone back and he got upset when I told him we weren't seeing each other anymore. Sat outside my house a solid 5 minutes after I kicked him out."
MuffytheBananaSlayer
Overcompensating For Something
"I just turned 18 and met this guy at a job I was at. My long term partner had recently passed from a drug overdose and this guy invited me to a classic car show."
"I wasn't really interested in him, but my parents said I should go. I decided why not. He complained because I didn't wear a dress (first red flag)."
"Then, he asked me if I was afraid of guns. I said not really, I've shot them before."
"Well, he pulled out a pistol in the middle of the car drive. I was hours away from home with this guy that I just met, and he had a gun. This was at the beginning of the date."
"I tried to get him to take me home, but I had to spend several hours with him. I ended up getting away from him using the bathroom excuse and calling my parents."
"It was the worst and most frightening date I have ever been on."
Hello891011
GUNS
"I once hooked up with a guy while I was in college (I'm also a man) and, after we were finished, he started talking about guns and asked if I had ever held a pistol before. I said no and he pulled one out and handed it to me. I didn't want it but he was super insistent and I just remember it being shockingly heavy. I handed it back and tried to be as cool as possible while leaving and going to the car."

"Told him I'd see him again, told him the gun was cool and thank you for letting me hold it, told him to text me soon, etc. Once I was gone I blocked his number and was more paranoid about who I slept with going forward."
Esosorum
And then there's these, stories so harrowing you almost wish the person never went out on the date to begin with. Doesn't matter if they ended up married in the end, no one should have their life threatened on a date.
Dude Needs To Work On His Pickup Lines
"i was once told in the car coming back from the date that i would look good in the coffin. i swear to god that i left his car in the middle of nowhere and yet i felt safer than sitting next to him."
awellintentionedmess

"Wtf that's some psycho sh-t. How did you leave?"
Biosentience
"literally jumped off. still i was nice. i told him i didn't like what he had said to me and told him to pull over and then i left. i didn't want to risk since there was a big covered plastic bag in the backseat with something in it. watching all these crime stories all my life made me being really conscious at that very moment. paid off. later in life i found out that there was an axe in this plastic bag."
awellintentionedmess
Be A Better Person Than This
"When I was 18 and naive, I went to the cinema with this guy from tinder and the whole time he kept touching my leg and trying to put his hand up my skirt. It gave me the ick and just wanted to leave."
"After the movie he dropped me home and I went upstairs to bed. About 10 minutes later I turn around and the guy from the date is stood in my bedroom threshold. I was home alone for the weekend too, so I started to panic."
"I asked him why he was in my room, and he said he needed the toilet, knocked but apparently I didn't hear so he let himself in. At this point my heart was pounding in my chest and I didn't know what to do."
"He said he had a really nice time and basically pushed me onto my bed and started kissing me. I pushed him away as nicely as possible and said my mum would be back in a minute."
"He then left and I locked the door behind him. I didn't sleep that night and was terrified he'd break in or something."
smf101
A Happy Ending, At Least?
"I went on a date with a girl not knowing that her ex boyfriend was in a local Mexican gang. She had just broken up with him about a week prior… he didn't take that well. On top of being a garbage human for physically and mentally abusing her, did I mention he was in a f-cking gang? She and I went out on a whole date, multiple places, back to her house to drop her off."
"I don't realize until I'm leaving the parking lot of the restaurant we went to that we were being followed… all the way back to her house. I dropped her off, and the guy continued to follow me. Knowing I don't go home, I make intensional turns and things to confirm he's following, and he was. Called her, she said don't go home and I'll call you back."
"She called me back 20 minutes later after I drove through 2 different police stations and she said "you're okay to go home now, just act normal" which isn't sketchy at all. I went home, he followed and drove off… I walk to my apartment door and there's 30+ Mexican gang members there and her cousin who's in that gang, as well as her brother who isn't but knows them. I had never met them before, so I was like I'm dying today. The brother asks how I'm doing, and said "just go inside, you're good."
"They stood outside my door and in my apartment complex for 4 hours and then went home after the brother knocked on my door and said that shouldn't ever happen again."
"That girl I took on a date, ended up dating for 3 years and is now my wife and we had our first baby in September, and celebrated our first year of marriage last week."
MTB199262
"let's go outside"
"I don't want to make this story too long, but I met this guy on tinder that I really liked and we went out dancing and to get drinks. We were talking for weeks but this was our second time going out together. During the time we were talking, there were a lot of little red flags that would tell me he drank too much, but I was a lot younger and naive back then and tried to give him the benefit of the doubt."
"Any who out of no where he's like 'let's go outside' starts messing around on his phone and is telling me 'I'm trying to find us a way out of here' and said the guys standing by the door were after him. So I'm like okay, let's go back to my car so maybe we can go somewhere else. My car was parked pretty far away because we had gone to multiple locations that night.. anyways he gets it into his head that multiple people are after him."
"Like random people on the street. Once we were in a part of downtown that wasn't so busy, nobody around, he started to think that I was out to get him too. I was trying to call his friend (who was nearby) to come get him but he took my phone away from me because he thought I was calling the cops, and then he threatened me. I got scared because I thought 'if he hurts me here and leaves me here, nobody's going to find me until morning' and it was pretty cold out."
"His friend eventually came and got him and I left. Once I was safe I was jittery all night from the anxiety having been in rocky relationships before. I told him about it the next morning and he didn't remember any of it. I broke things off shortly after."
cheese007_
Bye...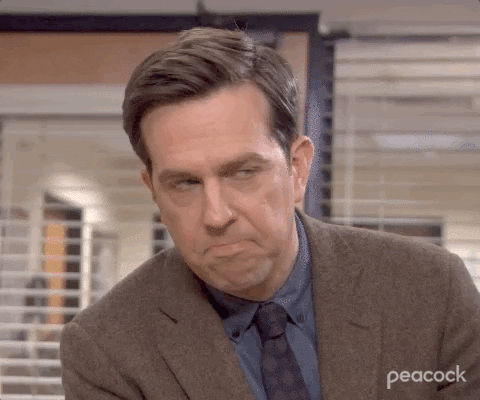 Season 9 Smh GIF by The Office
Giphy
"Woman asked me back to hers, got there and she introduced me to her boyfriend....noped outta there."
Candy_Lawn
The Crazy One
"I was at a guy's house, it was like our 4th time meeting and we started getting a bit more touchy and kissed more, I said I was gonna head home around 12 as I had a long day and he got in my face and got super aggressive and angry about it, like a child having a tantrum asking me why I didn't want to stop over at his place, this guy was 6ft 6, huge muscular guy who could probably pick me up with one hand."
"I stood my ground and told him to stop overacting and respect my decision. After that blow up I never saw him again. Should have seen the flags as he always claimed his exs were crazy... looks like he was the crazy one."
spiralgalaxym83
Broken
"I took my date to the city from the burbs maybe a 15-20min ride. I was 17 and had an old S-Class Benz that I bought from my dad's friend an old timer who didn't use it too much and owed my dad some money for work on another car. The car ran like a dream and I loved it. We were on the way and traffic started to build up so I removed my foot from the gas and as I braked I noticed the gas pedal was stuck at about 60mph."
"Without thinking I reached down and tried to pull the pedal back. I did it just in time without her noticing. I didn't tell her anything and the date went spectacular. I damn near broke a rib bending like that. Don't forget to stretch kids it could save your life."
Jenghrick
Get Sober
"Was on a date with a girl who proceeded to get very drunk, by the time we finished eating I had to carry her out. Honestly I didn't notice she was that drunk during the date. Probably cause she was Korean and her English wasn't very good, that and I was a horny early 20 something I kind of just assumed she was being silly on purpose."
"Well she was so drunk I had to walk her like 9 blocks to where I had parked the car since we had done some window shopping before settling on a restaurant. I have never felt more stress than walking a nearly blackout very attractive Korean girl 9 blocks in the middle if the city with people all down the street giving me looks. I honestly wanted to take a less popular street to avoid the looks but thought that would for sure look way creepier."
_Steve_French_
Oh Well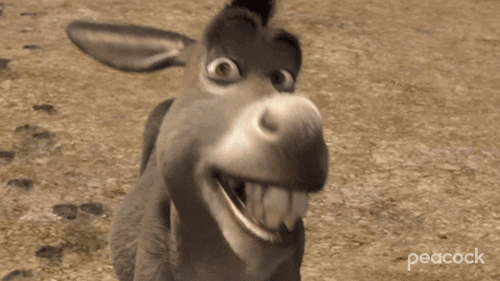 Shrek Film Smile GIF by PeacockTV
Giphy
"First date with my wife she took me off roading and when we went over a hill into a dip a donkey was just chilling in the middle of the trail, we drove off the trail and finally came to a stop without hitting any of the car sized boulders that are common in that area. The donkey just stood there the entire time not giving AF."
Peelboy
Walk On By
"We were walking by a river and he said « don't worry i won't drown you today » Safe to say i didn't go out with him again."
zestygerman
Dumb Move
"We were driving past a police station. She was looking for something in her bag. Placed a big bag of weed on the dashboard, with cops outside. This was well before the acceptance and legalization of it. Not that it would have mattered as it was not a small bag. No one saw it, but what a dumb move on her part."
TheBklynGuy
Hi Mom
"I recently went on a second date with a girl (we're both in our mid-late 20s) at a café and 20 minutes in a middle-aged woman at the table next to us just butted into the conversation. I was kinda confused until she introduced herself as the mother, and then she proceeded to hang out at the table for like 5-10 minutes before leaving. It was incredibly awkward, and although I kinda smoothed past it in the moment it did weird me out that her mom was just spying on us without me knowing, and the daughter never acknowledged her either until she joined in."
Reddit
Nowhere
"There is a popular beach near my university, and you need to drive though a road that looks like it takes you to the middle of nowhere. Freshman me didn't know this, and I swear I thought I was going to die during that 10 minute drive."
pups_and_doggos
Be open. Be honest. Be your true self. These are the simplest ways for you to make a real connection on a first date.
Unless being honest means taking a gun out. Just, don't.
Reddit user A_KULT_KILLAH asked: 'Native Americans of Reddit, what are your or your tribes ghost stories, legends, or supernatural occurrences?'
People the world over develop their own specific folklore, heavily influenced by the natural world around them and their own culture.
The North American continent was no different.
Reddit user A_KULT_KILLAH wanted to know about the myths and legends of the Indigenous peoples of North America.
They asked:
"Native Americans of Reddit, what are your or your tribes ghost stories, legends, or supernatural occurrences?"
Here are some of the interesting legends and superstitions of North America's First Nations and Indigenous tribes.
Uktena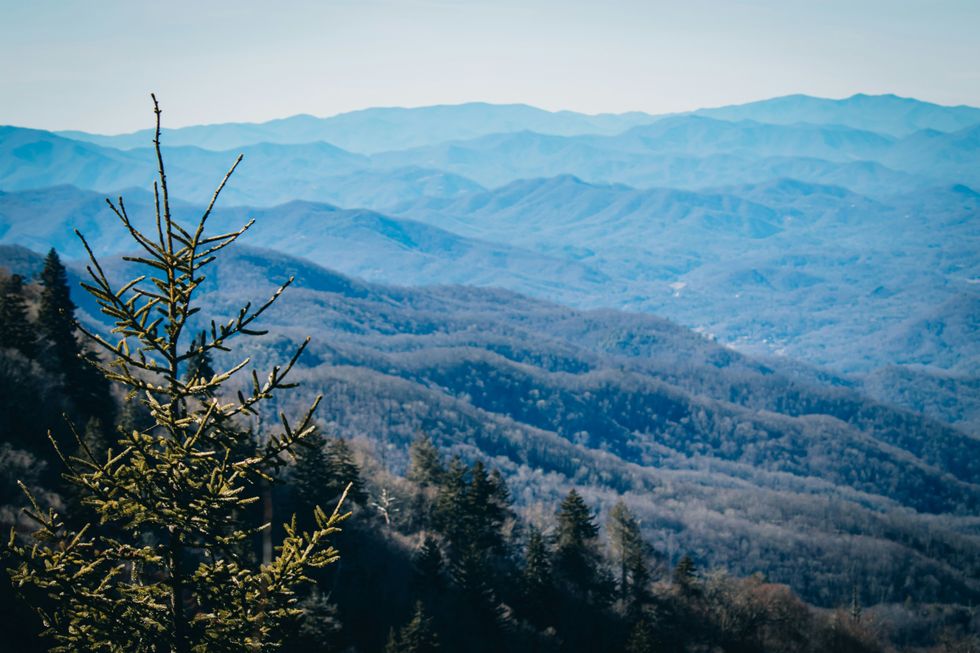 Brice Cooper on Unsplash
"Uktena. It's a legend about a horned snake in Tsalagi [Cherokee] legend. Uktena is said to be very large and round like a tree trunk, with horns on his head."
"The only way to wound him is to shoot at a singular spot on his forehead that emits bright light. It's similar to a diamond. If you defeat Uktena, you become a miracle worker."
"A great warrior. Yet, once you see the light of his forehead, you run toward it instead of trying to escape."
"Even to see Uktena sleeping is death. Not to the hunter, but to his family."
~ Faith-Hope-TacoBell
Dog Tails or Why They Sniff Each Other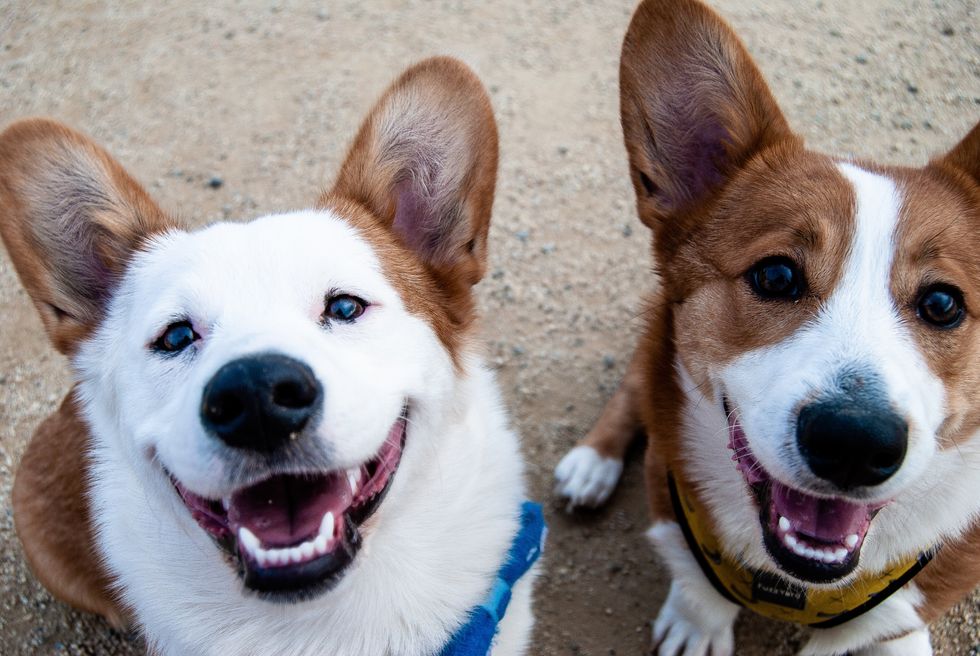 gotdaflow on Unsplash
"Lenni Lenape story about why dogs sniff each other's butts."
"When the humans slept, dogs would get together and party, but not before taking their tails off. They'd dance the entire night, put their tails back on and return home."
"But one time a wolf found them and all the dogs had to scramble away to their homes for safety, but a lot of them grabbed the wrong tail."
"They never danced again at night because they were afraid of the wolf, so they were stuck with weird mismatched tails for the rest of their lives."
"This is the reason that dogs sniff each other's butts; to see if the other dog has their tail."
~ ChurroChick
Haida Raven Brings Light to the Earth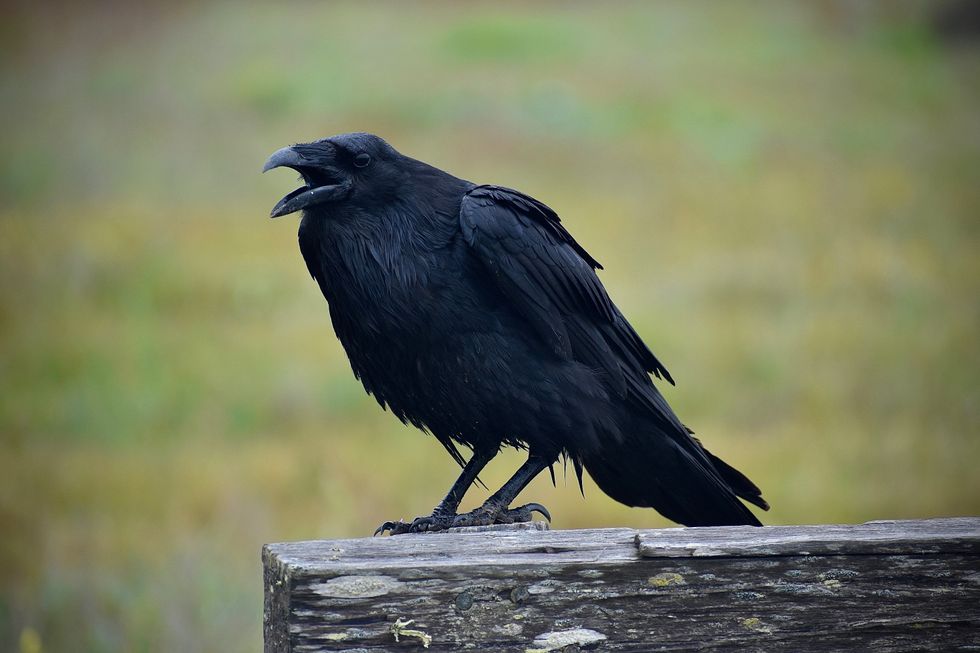 Cristina Glebova on Unsplash
"In the beginning there was no light in the world, because an old magician kept it hidden in a box inside his house. Raven, who was always hungry, didn't like the darkness because it was difficult to find food."
"One day he was looking for food near the old magician's house. He heard a voice saying, 'I have a box, and inside this box is another box, and inside this there is another box, and inside the smallest box is all the light in the world'."
"Raven decided to steal the light."
"Raven waited until the old man's daughter went down to the river to collect water. Just as she was dipping her basket into the river, he changed himself into a hemlock needle."
"The needle floated into her basket. When the girl drank some water, she swallowed Raven too."

"Inside the girl's belly Raven took the form of a human baby. He grew and grew, and in time she gave birth to a funny looking child with black eyes and a big nose."
"The old man loved his grandson so much that he gave in to the child's every wish. Raven became spoilt and greedy. He was bored with all his toys, and wanted to play with the box that held the light."
"Finally the grandfather opened the box and tossed the glowing ball of light to Raven."
"As soon as Raven caught the light, he immediately changed into his bird form. Holding the light in his beak, he flew up the chimney hole into the dark world."
"The magician was angry. He wanted to get the light back into his box."
"He flew after Raven."
"The light was heavy in Raven's beak, and he was getting tired. The magician was coming closer."

"Raven broke off some pieces of the light and threw them into the sky. They became the stars."
"The magician was still coming closer, so Raven broke off another piece of the light and threw it into the sky. It became the moon."
"Finally Raven became so tired that he tossed the last and biggest piece of the light into the sky. It became the sun; and that is how daylight came to the world."
~ deviety
Nakani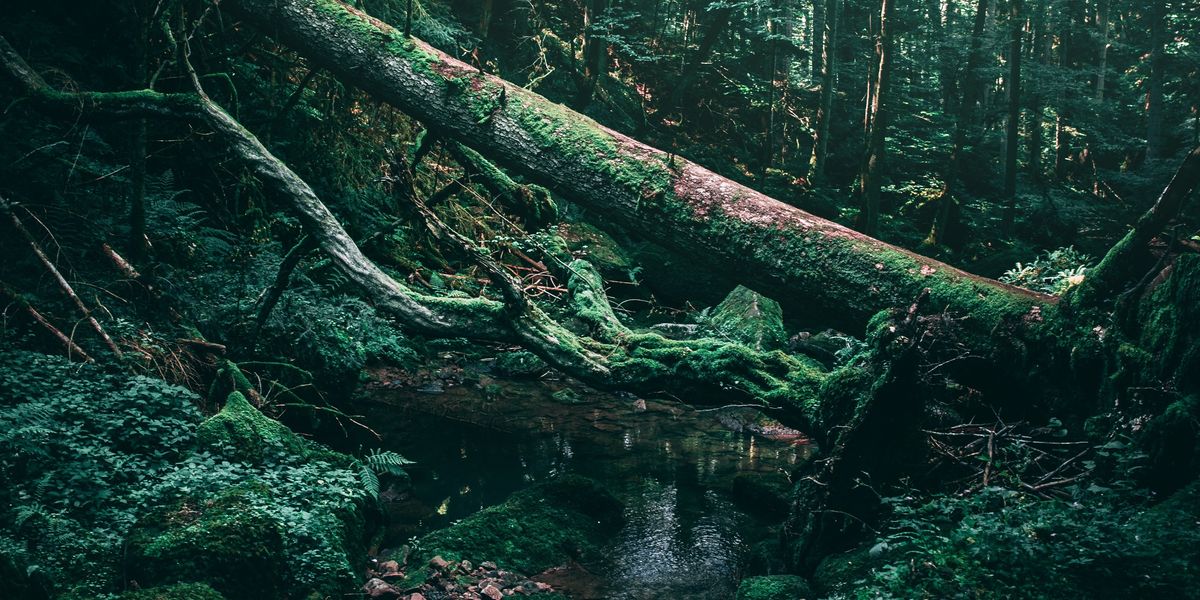 Oliver Roos on Unsplash
"Dené from northern British Columbia here, my mom used to always tell me stories of the Nehgunni [Nakani], or bushmen/wild-men when I was young."
"They were people who lived in the forest and took away people who wandered too far out, specifically children."
"I always figured these stories were created by my people to serve two purposes, first to teach young children to not wander far off, and second to give explanations to kidnappings or missing people."
~ spanishLION
See-at-coh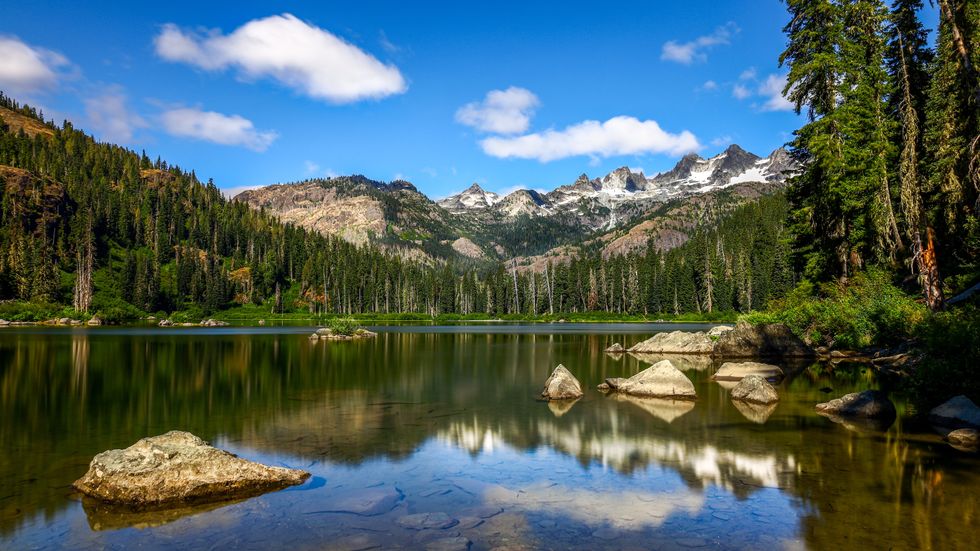 green trees near lake under blue sky during daytimePhoto by
Jasper Gronewold
on
Unsplash
"See-at-coh (don't know the translation in English) is a Cowlitz legend. Lived at this lake and it was his spot."
"We DO NOT go there or he will kill you. Used to have nightmares about him based on what I was taught as a kid."
"Like how you could stand at the edge of the water and be looking in and he would come out of it and just grab you. No whistling at night and keep windows covered."
"But then the mountain blew up [Mt. Saint Helen] and filled in the lake so don't know if he's still around or not."
~ kalimah1
Nahual of Mexico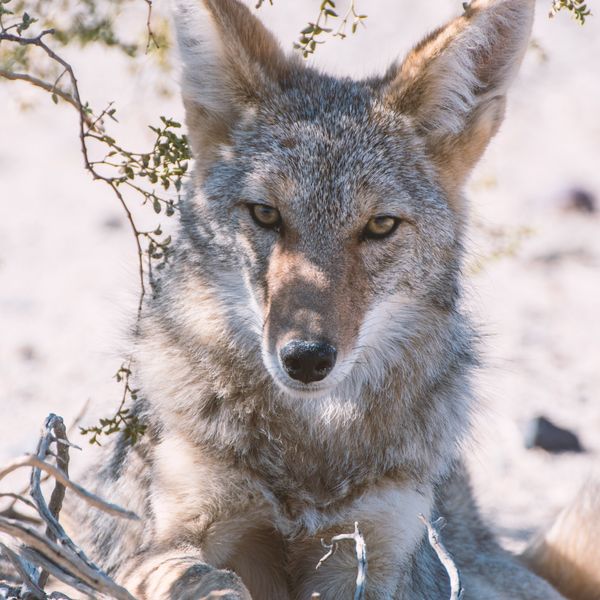 Joshua Wilking on Unsplash
"I live in rural Mexico. There are many, many different Indigenous peoples in what's now Mexico."
"The ones who settled here speak Nahuatl—the language of the Aztecs. This legend took place in the early 1900's."
"One of my favourite Nahuatl myths is the Nahual."
"Some people were thought to be able to turn into an animal. Most of them could only turn into one, but the most powerful Nahual could turn into different animals."
"There was a man who owned a hacienda where my town is, and he had a sort of overseer that everyone was afraid of."
"Said overseer could take a message all the way to the next state (think hundreds of miles) and bring back a sealed response in a single day."
"He also seemed to know everything everyone did, all the time. He was rumoured to be a Nahual that could turn into a coyote and an eagle."
"His quarters were heavily warded in his absence, which only added fuel to the rumor. You can only kill a Nahual if you find the human skin he sheds to transform and burn said skin."
~ CTalina78
Yamǫ́rıa & Yamǫǫ̀zha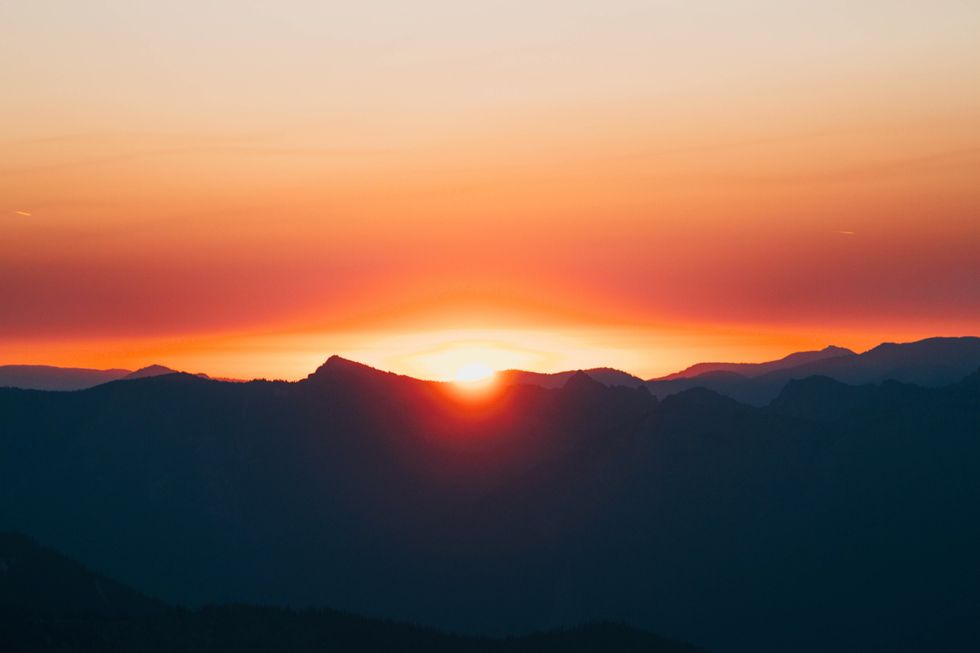 Nathan Dumlao on Unsplash
"Yamǫ́rıa & Yamǫǫ̀zha—the giant twins [of the Dené]."
"There are landmarks all around the territory I live in that is exhibited as 'proof' they were alive."
"In the middle of the Mackenzie river( biggest river in the NorthWest Territories) there is a large stone sticking out of the river which looks like the petrified guts of a beaver, there is a giant branchless, leafless tree sticking out of the top of this stone."
"It is said that Yamǫǫ̀zha had hunted a giant beaver and gutted him there in the river. He used his spear to anchor down the cuts so fish may feed on them. They are still there to this day."
"Yamǫ́rıa's body can be seen laying down, it is essentially a mountain range that looks like a giant human laying on his back, completely with face and feet. This can be seen from the peak of the hill as you enter a town called Ft. Liard, the southwestern most town in the NWT."
~ Reddit
Walking Sam of the Pine Ridge Reservation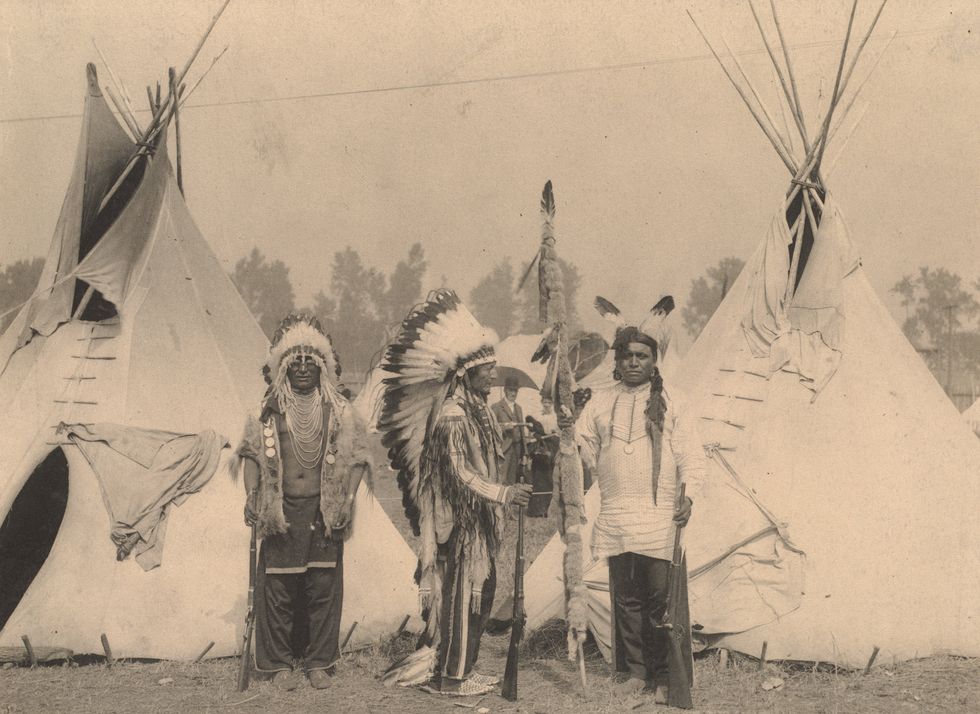 Boston Public Library on Unsplash
"'Walking Sam' skulks in the shadows of the Pine Ridge Indian Reservation in South Dakota and convinces people to take their own lives, especially young people."
"He's 7 feet tall, very thin and has no mouth. When he stretches out his long arms, nooses hang down with Lakota children hanging from them."
"Walking Sam finds you when you're alone and puts thoughts in your head until you feel worthless and kill yourself.
"Sometimes Walking Sam is depicted looking like Abraham Lincoln, complete with the stovepipe hat. 'Walking Sam', 'Uncle Sam', I don't know if that's where the name came from."
"But Walking Sam is an evil infected upon the people when the Oceti Sakowin were forced onto the reservations; he isn't a legend of the people before Pine Ridge Reservation existed."
"Lincoln was President when the Lakota were being forced onto reservations. Lincoln also ordered the execution of 38 Lakota men the day after Christmas in 1862. It's the largest mass execution in U.S. history."
"I always thought Walking Sam was Lincoln. They carved his face onto Ŝa´kpe Tuŋkaŋŝi (Mount Rushmore was called Six Grandfathers) in the Paha Sa´pa (Black Hills)
"My Father attended Holy Rosary boarding school at Pine Ridge in the 1940s & 1950s, but our people didn't live on the reservation. My Grandmother said evil stalked the people there."
"My Father never wanted us to ever even visit any of our cousins or his Uncles there."
~ LakotaGrl
Este Lopocke or Este Lubutke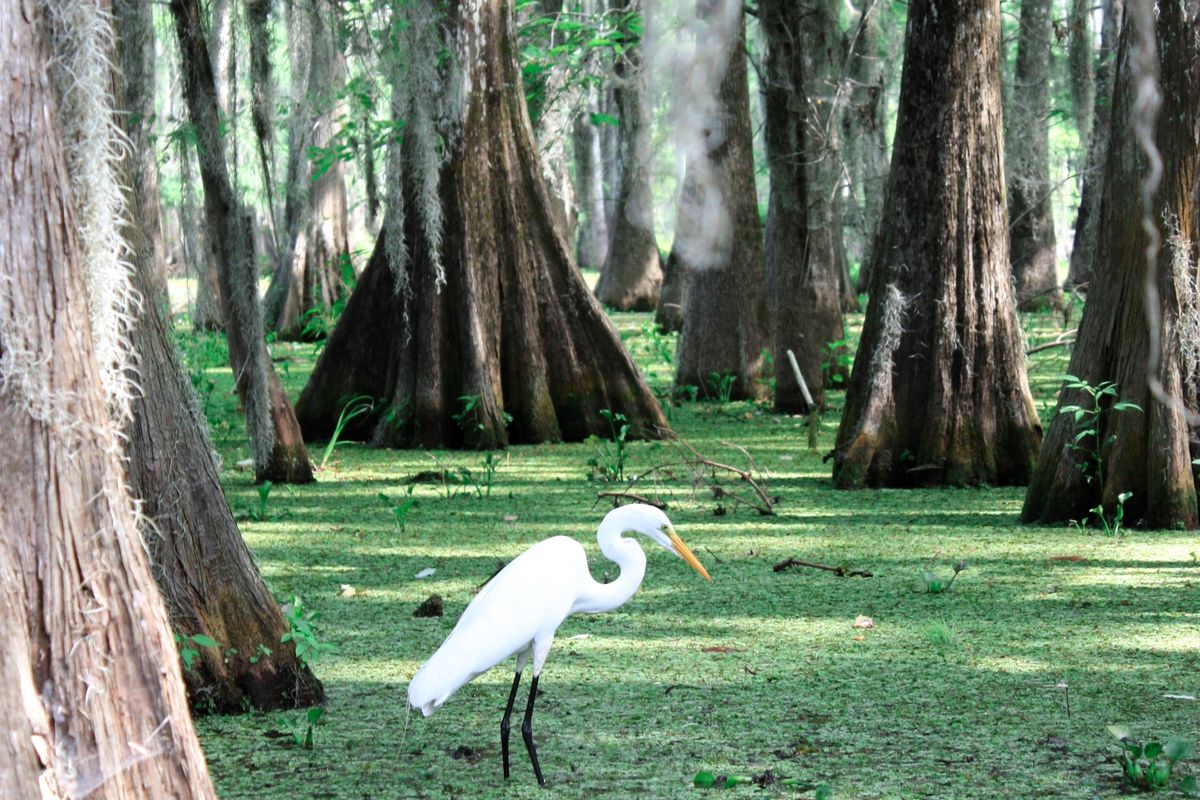 Morgane Perraud on Unsplash
"Miccosukee [Seminole] tribal member here (South Florida) and for us it's the little people."
"Essentially really small people (like barbie doll sized and smaller) that live in the trees. They play jokes and stuff mainly, unless you piss them off."
"Had family members get tricks played on them that couldn't be explained."
"And then we have our fair share of stories that circulate our reservation like a tribal member being taken by the little people."
"All on the reservation in the Everglades (like 40 mins west of Miami)."
~ SSBMBabyCakes
Haudenosaunee Rules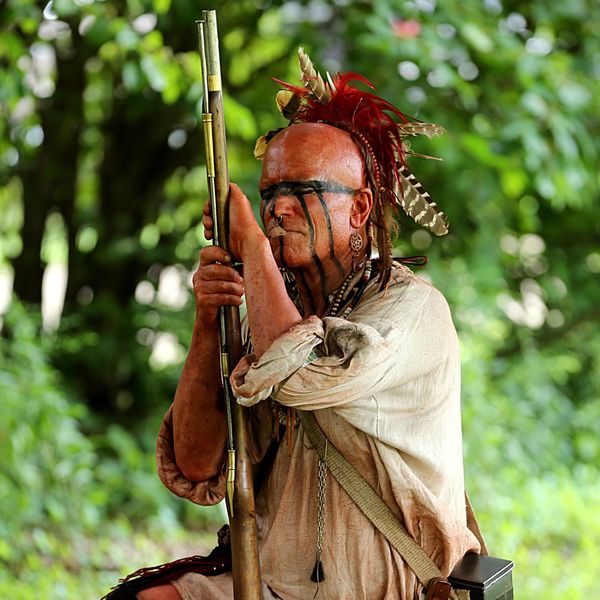 Chris Chow on Unsplash
"I know the Haudenosaunee [Iroquois Confederacy] rules."
"1. If you hear someone you know calling your name, but you also know they are not supposed to be there, DON'T respond. Especially if they are out of sight and insisting you come to them."
"2. Always play group games in counter-clockwise order, otherwise your playing with the dead."
"3. Also don't eat in the dark, this is considered inviting the dead to eat with you. If you can extend your hand all the way out and still see it clearly then your fine."
"4. Don't play card games past midnight. If you do, and someone knocks at the door, don't answer it."
"5. Try not to drop your cards, if you do then don't bend down to pick them up, or you will see hooves under the table. That's bad."
"6. Say thank you after meals, even if you're the one that made it. Even better if you say it in native tongue."
"7. If someone finishes their meal and says thank you, you say 'you're welcome', even if you didn't give it to them. Even better in native tongue."
"8. After someone dies, you should gather family as quickly as possible to have feasts for 10 days. The first dinner is large, then every meal after that is a smaller feast meant for portions of the family to come at different times to help.
"The last feast on the 10th day is the closing dinner, which is the largest, with the entire family expected to show up and help. For every meal of these 10 days, put out a plate of the deceased's favorite foods first."
"Contrary to rule 6, you do not say thank you at any time during these 10 days. This is because it is believed that it takes the dead 10 days to relive their lives before they pass on, so this is your last chance to eat with them."
"Saying 'Thank you' during this time will make them stop before they're done because you're saying you're done. This will have bad consequences."
"9. Don't try to contact spirits, especially with board games. This is not a tribe custom, it's more of an unspoken common sense among the Rez people."
"10. If a bird flies into your house, someone's going to die."
"11. Pregnant woman should not hold any child that isn't theirs."
"12. It's accepted that if you actually try to curse someone, literally going through all of the steps with the intention of harm, not accidentally wishing them bad luck, then your family will also be cursed horribly."
"13. If you play with fire you'll wet the bed."
~ kinda-always-hungry
To learn more general information about Indigenous mythology of the United States, visit the Smithsonian's National Museum of the American Indian website.
For Canada, visit the First Nations in Canada website.
For information about specific tribes, visit their tribal government website for recommended resources.
Every now and again, when talking to a friend or family member, a rather shocking piece of information might casually slip out.
Information one imagines they wanted to keep secret for as long as they possibly could.
In some cases, it's something embarrassing, that everyone will be able to laugh about with the passage of time.
In other cases, however, it's information that stuns us silent.
Learning something we wish we hadn't.
Redditor DarthAbhinav11 was curious to hear the most disturbing information people have ever been casually told or overheard, leading them to ask:

"What is the most disturbing thing you've heard said casually?"
An Acquired Taste
"I work in a deli and some lady asked me to cut her ham extremely thin to the point of seeing through it."
"I heard her justify it as 'so you can get rid of the ham taste'."
"I still think about this one."- Alternative_Net8931
Utterly Horrid

"When I was walking to my front door."
"My neighbor had their window open and was scolding their 3 year old adopted child."
"She was howling crying."
"'Do you want mommy to send you back?'"- BoredBSEE
It Arrives Sooner Than You Think...

At Macy's, two teen girls: 'Women over 30 have the ugliest elbows'."

"'OMG. I know'."
"'Very disturbing'."
"'I always ask my mom to wear long sleeves when we go out to eat'."- CapitalPhilosophy513
Never Too Late
"I when younger I worked at a pool and had to lifeguard senior aerobics classes."
"Most participants where 65+."
"'Where's so and so'."
"'Oh he won't be here, his wife was put into hospice'."
"'Well I feel bad for him, but we do need some more single men around here'."
"'He's not bad looking, has a retirement too'."- CuriousOne9320
Round And Round It Goes...

"'If the Earth is spinning, then why my front door is always facing east?'"- SuvenPan
"Something I once heard a passing stranger say for which I have no context: 'He wears a scarf around his neck so you can't see where he's decaying'."
"I've been curious for years and it annoys me that I'll never know."- xyanon36
Breaking Up Is Hard To Do
"An ex after I ended things 'I don't understand, if I want to be in a relationship with you but you don't want to be in a relationship with me why do you get to win?'"- TinyFurryHorseBeak
Not His Decision To Make

"Was at an end of season event for my kid's baseball team when he was little."
"The coaches brought Italian ice for everyone."
"Mom has just served her kids and husband and comes back with her own."
"As she's sitting down to eat, I hear her husband loud whisper behind her something like 'absolutely not'."
"'You don't need any more calories'."
"I just watched her face fall."
"I can't imagine what their marriage must look like behind closed doors and what life must be like for her."
"Heartbreaking."

"Note that this woman was already probably a size 2 at most so this was not a scenario where there were serious weight-related health problems."
"This guy was just a jerk and this really wasn't the first time that season, but his reminders that they aren't living up to his standards were usually aimed at his kids on the field."
"I try to assume the best of people but that guy sucked."- littleirishpixie
The Truth Hurts

"I was in an accident once and was hospitalized."
"The accident left me severely disfigured."
"I was out of my mind on pain meds when I arrived at the hospital and told my family to call my girlfriend and let her know what happened and where I was."
"My mom called my girlfriend and my sister not knowing the particulars of my life called my ex."
"Neither knew the other had called and both ended up showing up."
"They arrived within an hour of one another while I was asleep."
"Since someone was there with me it gave my family a chance to go home and take a break."
"So I woke up to my ex and my girlfriend talking to one another."
"Obviously my girlfriend was mad my ex was there and things got heated between the two."
"My ex being level headed suggested they step into the hall since I was half awake and in no condition to deal with the drama."
"As they're arguing in the hall voices are being raised until finally a nurse comes to reign the situation in."
"The nurse breaking them up made my girlfriend leave."
"As she was leaving she yelled 'you can have his a**'."
"'It's not like I wanna be with some burnt up scarred dude anyway'."
"'He's f*cked'."
"At this point I was still bed ridden and hadn't seen a mirror."
"I was aware my body was f*cked but had no idea what I actually looked like."
"Hearing that was such a gut punch and it really messed with my head at the time."- Burnvictim49percent
Where To Even Begin?
"I am a tutor."
"I heard some of my students say ;What's the point in learning history? We should live in the present'."
"We are German."- GentlemanPirate13
Most of the time, when a friend or family member warns us or apologizes for sharing "too much information" or "TMI", what we've heard isn't that shocking in the grand scheme of things.
Indeed, as evidenced by the sad and shocking stories above, when people really share TMI, they often have no idea they're doing so.
There are rules in life where people are expected to just know how to operate without being told.

For instance, if someone falls down... help them.
When you like a sweater in a store... get money to buy it.
Just leaving with it won't go over well.
And there are more rules, or guidelines to adhere to...
Redditor christygl7 wanted to hear about what is expected in people's homes without words, so they asked:
"What's an unwritten rule in your household?"
If you have to pee... lift the seat cover.
The people in Port Authority always miss that one.
Routine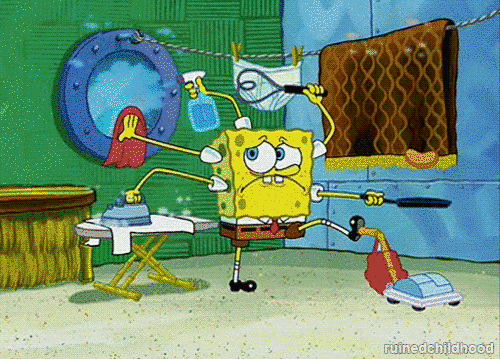 Cleaning Chores GIF by SpongeBob SquarePants
Giphy
"Either my wife or I can do any chore when noticed. We thank each other for routine chores as we appreciate each other."
cwsjr2323
"That's how my fiancée and I handle chores. Whoever's around when the core needs to be done does the chore, typically. I find she does more regular cleaning of the whole apartment while I do more dishes and cooking."
radtech91
Trashed
"Replacing the trash bag IS PART OF taking out the trash."
UndiagnosedReptard
"Similar to this, in my house, the rule is if the toilet paper ended on your turn (or there's barely enough for the next person) then it is your job to procure the next roll and put it in the bathroom. It is NOT acceptable to let it run out for the next person."
wavesnfreckles
"We have extra stored in every bathroom. I make sure of it. However, if it runs low/out on the roll, my wife will 100% of the time take the new roll and set it on top of the empty tube on the spindle, refusing to replace it. I actually called her over and shamed her into changing it in front of me the other night (not in an abusive way - we were both laughing about it)."
on_the_nightshift

Finder's Keepers
"If you find money in the laundry while you are doing the laundry, it's yours."
Rich1926
"Yep. My boyfriend learned that lesson the hard way when we first started living together. He had a bad habit of just crumpling up bills in a big wad in his pocket, usually just ones, but sometimes he accidentally leaves a twenty in there. I tipped myself the twenty. It took him a couple of days of trying to figure out where it went before I took pity on him and told him."
"He now both turns out his pockets and washes his own clothes. I still find the occasional single dollar in the dryer."
Head_Razzmatazz7174
Dropped something?
"If food is dropped on the floor it becomes the property of the dog. The dog knew this rule before we did."
Altruistic-Bit-9766
"That was one of the hardest things after our family dog died. Dropped something? Who cares! Riley will get it. But then he didn't."
"Also, I don't live at home anymore but coming home to him barking and crying out of excitement and greeting me always made my day and I looked forward to it every time I opened the door and could hear him wiggling in excitement on the side hahaha. It's a little less exciting coming home now."
ohno807
Obligations...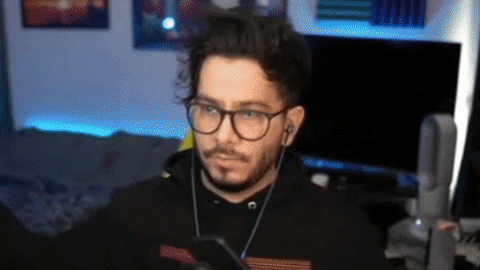 Water Stay GIF by Kinda Funny
Giphy
"If the water you take from the Brita pitcher leaves what's left below a certain line, you are obligated to refill the pitcher on penalty of death."
halcyon3608
If you stay in my home and don't refill the Brita pitcher...
I'm setting your hair on fire at 3 AM!!!
Flushed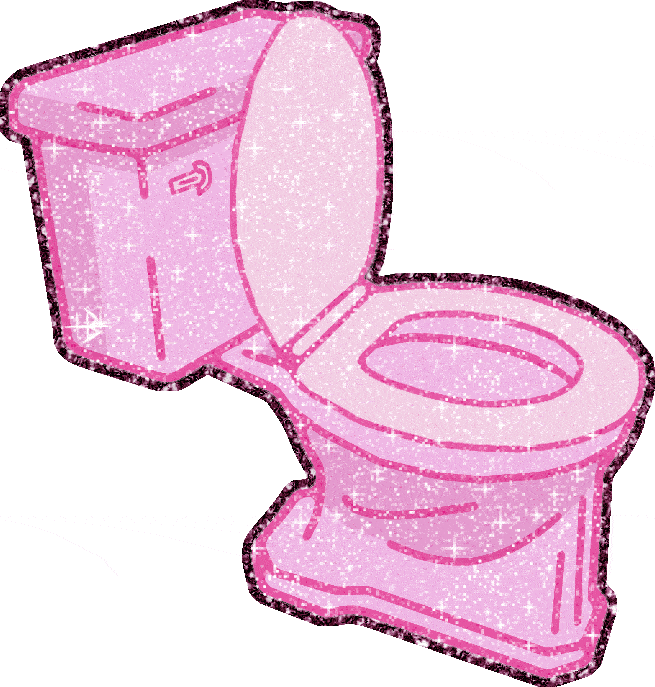 Go Away Pink GIF by Hacklock
Giphy
"Check the toilet after you flush."
NANNYNEGLEY
"This. My brother-in-law never does this. It's annoying and disgusting! You don't want to clean up after yourself because you think it's gross? How do you think it makes me feel to clean up after you?"
purplestarsinthesky
WAKE UP!
"Wake someone up if their alarm goes off. It's a pretty weird one but setting up alarms is a conscious and deliberate decision for all of us and you want to wake up when it goes off, so we just help each other out."
DonMartiniMacaroni
"I'll do this a few times, but my roommate needs to learn not to hit snooze because he's taught his body that alarms don't need to be woken up to. I don't wake him up anymore. He started waking up to them."
stumblinbear
"I'll wake them up because it annoys me when people snooze especially if I'm next to them in the bed and I don't have to get up."
chill90ies
No Exceptions!
"Shoes off at the door. No exceptions."
Next-Dark-4975"
"Shoes-on people must not be using the same public bathrooms that I do. 100% of them have a lake of dirty urine in front of the urinal. They must also be amazing at finding two urine-free spots that are shoe-sized on the shores of said lake. It's fine if they want to bring that into their homes. It's not allowed in mine, though."

Bmadray
Table Manners
"No tech at the table."
"Even with a teenage daughter this has proved eerily easy; we all love food though!!"
"Also murder is out of the question, it is non-negotiable. If any of us kills another then they are outlawed in the true sense."
"Other than this, we are pretty cool."
Dante2005
Woof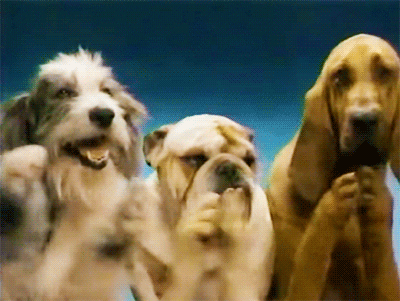 Well Done Applause GIF by MOODMAN
Giphy
"Let the dog out to go potty before you use the restroom. (Seriously, the dog is asking to go out and you think she can wait while you take a 30-minute poop first? Not cool.)"
InfiniteBackspace
Always let the dogs go first.
If you wait, you won't like the surprise they leave!
Sometimes we look at a product and think "who would buy that, and why?"
For me the "Flowbee" home haircutting tool comes to mind. If you're unfamiliar, it's a shaver you attached to your vacuum cleaner so you hair was pulled past cutting blades.
It was sold on late night infomercials in the 1990s.
Who wouldn't want to style their hair like this?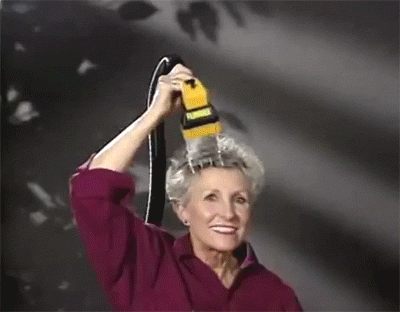 Giphy
As fabulous as that looks, results did vary with most veering toward "yikes!" yet by 2000 the company reported 2 million were sold.
And *surprise* you can still buy one—for about $150.
It seems no matter how bad a product is, someone will buy it.
Reddit user NoBridge255 asked:
"Which product doesn't work as it should, but people still buy it?"
Unflushable Wipes
"Septic tank safe flushable toilet wipes."
"The gentleman that pumps our tank brought me outside to see the evidence when his hose clogged. Sorry about that, Clint."
~ TwinkleToesMamaFox
"Amen! I work water and sewer for the town I live in, 80-90 percent of the sewer issues are from a huge chunk of 'flushable wipes'. Yea, they went down the toilet then gathered up in the city's main!"
~ Uhhhhhhhhhusername
Don't Tear Here
"Any cardboard package with perforated 'Tear Here' lines."
"They never tear there."
~ nino2244
"As an engineer, one of my peeves is a product where the perforation is the structurally strongest part of the whole thing."
~ UlrichZauber
Useless Cleanse
"Anything that is supposed to cleanse, flush, or remove 'toxins' from one's body."
~ MR_NIKAPOPOLOS
"People forget that we have organs in our bodies that do this already."
~ augdog71
Brace Yourself
"Those silly copper bracelets that supposedly do everything from healing things to fixing your golf game."
~ cmparkerson
Printless
"Every printer I have ever purchased no matter how expensive is the flakiest of products I ever own. Wifi constantly disconnects, PC's constantly have connectivity problems with them no matter if it is USB, WIFI or ethernet or all three."
"When you finally connect to them unless you print on them every week they will no longer work, ink will leak, or be dry and the printer is destroyed."
"Get a laser printer? You now skip the ink drying issues but the other issues still remain. That device has dementia."
~ Slobbadobbavich
Lowest Bid
"Whenever something is marketed as 'military grade', I recall the DOD-procured wrench that broke on me right after I removed the tape from it."
~ QaPlaH1981
"Military grade simply means 'made within our generally vague specifications for the lowest price'."
~ richwarlockfinger
The Glitches
"The Sims 4 expansion packs."
~ imperialviolet
"I miss the days where games had to work out the box and didn't rely on day 1 patches or, hell, with The Sims it's like 6 months after they finally patch out 25% of the glitches."
~ McRibSucks
Bladder Uncontrolled
"Living with my mother who was incontinent near the end of her life….all 'medical supply' style adult disposable diapers. Depends and McKesson ought to be a shamed of themselves for putting out such godawful products."
"Thank God for the folks at Northshore Care. They actually made products that did what they were supposed to do."
"And it allowed my mother to sleep soundly at night and function throughout the day without having to worry about feeling embarrassed in front of others."
~ Flynn_lives
Ax The Axe
"Pretty sure no woman has smelled Axe body spray and thought 'I really wanna have sex with him, he smells amazing!'."
~ frodosbitch
"As a woman I can confirm, I despise the scent of Axe body spray."
~ GirlMayXXXX
"Can confirm, makes me nauseous and want to run away."
~ Myhairison_fire
Can Mangler
"Every can opener ever purchased from a dollar store."
~ Theearthhasnoedges
"Man, it feels like every can opener these days. Growing up we had the same can opener for YEARS and now I feel like I need a new one every year."
~ dougielou
Fire Hazard
"Gas cans with their mandated safety spouts. It takes two hands to operate them."
"Very unwieldy, especially when filling small tools like chain saws. Often leads to spillage."
~ Fablabster
"The annoying irony is that they were created to stop spillage, yet they are so difficult to operate, that I have spilled far more fuel since the change than I EVER spill with a regular old funnel."
~ CivilRuin4111
Don't Tell Snuggle
"Fabric softener dryer sheets ruin the absorbency of your bath towels."
~ Other_Molasses2830
"Also ruins wicking fabrics—clothing that is designed to dry quickly"
"And ruins fleece—destroys the soft/fluffiness."
~ 0ttr
Viral Load
"Personal AntiVirus software. It all sucks and doesn't effectively work."
"And even then, the most effective is actually Windows Defender which is built in and free."
~ pentesticals
Close Shave
"Disposable razors. Especially the 3-5 blade ones that cost a ton of money."
"I avoided shaving because anything other than a single pass from a trimmer would irritate the hell out of my skin."
"I tried out a unbranded basic safety razor, and the difference is unbelievable. Far less irritating that an electric razor and the disposable razors. Takes fewer passes to actually get shaved. And the blades cost pennies, so you can literally use a fresh blade every time if you heart so desires."
"I have no idea how the advertising industry convinced us that modern 3+ blades nightmares are remotely good."
~ SelectCase
🤦♂️🤦♀️🤦
"Memory soles. The ones you put into your shoes."
"I bought them, put them in my shoes, went upstairs and STILL forgot what I went up there for."
"Don't be fooled people. They do not work."
~ KittySpanKitty
I never bought a Flowbee, but I have fallen victim to can openers.
Many, many can openers. Pull-tops are my friend.
What products would you add to the list?