Let's put this up front: the United States of America is not the greatest country in the world.
It's just a fact. We're not tops in the world in education, our maternity leave for new mothers pales in comparison to most European countries, which is to say nothing of our healthcare as a whole, and our average income per household?
8th. Last we checked, that's not 1st.
It's not all doom and gloom though. There are still a lot of things to love about the good ol' U. S. of A. And if you love something, you fight for it, to make it better, and truly try to achieve the ranking of "best."

Reddit user, kake92, wanted to know what the U.S.A. actually gets right when they asked:
"Americans, what thing do you appreciate the most about America (USA)?"
Not everything that makes the U.S.A. great is honorable or noble.
Sometimes, it's just funny.

Too Much, Then Dial It Back
"Drink refills at restaurants."
MisterMorgan1206
"You get ice! And you get ice! And you get ice!"
PrisonerV
"yes, and most of the time way too much! Europeans complain that we are obsessed with ice. This might appear to be true, but im more comfortable asking for less ice in the US than for ice at all in Europe."
MisterMorgan1206
I May Not Agree With What You're Doing, But...
"we can have all sorts of outlets that mock people in positions of authority and dont get sent to labor camps or prison"
"hell we can burn our own flag"
"pretty gud I think"
King-Grey
"I think people who burn our flag are sh-theads, but I'll defend their right to do so to the death, and that's a fact. I don't always love what I hear from "free speech" but I love that it's free. For now, anyhow.."
LittleArkansas
You know what we have a lot here? Land!
There's a lot of land and a lot of land to see, so why not take a trip this summer and get lost in the wilderness of your imagination.
This is starting to sound like a travel ad.
The Most Gorgeous Vacation You Haven't Taken
"National Parks"
Ezzy17
"Sounds braggy, but I work for the National Park Service and it's the best job I've ever had in my career. I don't think I ever want to leave. Plus, paid trips to all the parks and getting to see things "off the beaten path" that normal visitors just can't get to. I love it and I love our parks."
clyde2003
Not As Crowded As You Might Think
"Wide open spaces can still be found here. I don't like most people, and I frequently need to get away from them."
salthecrawfish
"I grew up in rural Idaho and the wide open spaces are truly amazing. I live in the city now, but still look for any opportunity to get away. My wife is from back east and she thought she knew what the "middle of nowhere" was like until I took her to my grandparent's ranch. The nearest neighbor is five miles away. The nearest "town" is 30 miles away. She didn't realize how much nothing there was in the Western-half of the US."
clyde2003
And We've Got The Disaster Movies To Prove It!
"We've got all the weather. You want hot and humid? We have it! You want frigid? We have it! You want all the weather within 24 hours? We definitely have it!"
"Tornadoes, hurricanes, earthquakes (not weather, I know), lightning? We've got it all!"
CitizenCobalt
Location, Location, Location
"This is going to sound really dark but with all the talk of war recently…especially with the Russian invasion of Ukraine, I appreciate how far we are from all the other major powers."
"Yes, they can always send missiles but any land invasion is very difficult to achieve. China and Russia would have to put in major effort if they were going to try to invade America….."
OSUfirebird18
Maybe we're not the "greatest country in the world," but we should all be doing everything we can, every day, to make that come true.
Go Do What You Want
"Answering this as a serial expat that has spent at this point 25% of my life overseas and has lived in multiple countries."
"Few places on Earth embrace the "go do what you want" mentality like America. You want to be a wiccan priestess that lives in a yurt in the Cascade mountains? You want to be a rancher in Utah?"
"You want to live your dream of opening a cupcake store for pets? No matter what you do there is a community of people cheering you on in America and that is a very rare and very cool thing."
RootlessNumbers
Mostly, We're Alright
"I have lived in lots of other countries, but I am from the US. I have a few things to point out."
"The roads are generally nice. Smooth, without huge potholes. I am generally talking about the highways."
"Cleanliness. I have been to places with mountains of trash 6 feet high. Another related thing is that the US has very few stray dogs, and that keeps things overall cleaner."
"The last thing is kind of hard to explain, but I would say the sense of order. Everything is structured, and I kinda like it. The places I have lived, people are just not raised with the mindset that everything should be standardized."
"It really grinds my gears when people talk about how bad the U.S. is. It does have its problems. So does every country. When people go on and on about how bad the US is, I try to put it in to perspective how much worse it can be. My house almost got burned down because the government removed the gas subsidies (which after having them for 2 decades, were bankrupting the government) and people were afraid that the transportation system would shut down. I doubt many people who complain about the US have experienced that."
Mawd14
We're Trying To Get Better, A Little, Every Day
"Having lived outside of the US, I have some perspectives that differ from the norm."
"I'm gonna say some stuff that is gonna make Americans and foreigners alike scratch their heads but I'm hoping some people will know what I'm talking about."
"I truly and wholeheartedly believe that America is the least xenophobic place on the planet."
"I think that xenophobia is so deeply ingrained and normalized the world over that people genuinely do not recognize it in themselves. People will engage in the most hateful xenophobic behavior that I've ever seen and then say with a straight face that they are afraid of moving to America because of xenophobia."
"I think that people think America is xenophobic because America's xenophobia is highlighted, fought, and condemned in ways that no other nation's is."
"This is because of the second thing that I love about America."
"America is the most diverse nation in the world."
"More than half of our population is people of color, and those people of color are made up of American Black people, North Africans, Sub-Saharan Africans, Native tribes, East Asians, south Asians, central Asians, Latin Americans, Pacific Islanders, Indians, Arabs, and more."
"Every single world diaspora has a politically significant population in America, most of whom are also American citizens who participate in our democracy and our national conversation."
"No other nation in the world comes even close. France and England also have diaspora but not like America does."
"This diversity has created an environment in which that xenophobia which does exist is magnified in its relevance because it actively effects people; a xenophobic American has much more opportunity to cause harm because of their xenophobia than a xenophobic Chinese person."
"But also, this means that America is the epicenter of the movements against xenophobia, and we are the only nation in the world who is engaged in a national conversation about it."
"I'd argue that America is not more xenophobic and thus more backwards than the rest of the world, I'd argue that America has advanced to the stage in attacking our xenophobia that the rest of the world isn't even close to doing yet."
Brandywine5
We many not get everything right, but it doesn't mean it's not worth living here, fighting for here, and always doing our best to make sure the mistakes get corrected.
What's something you like about living in the United States? Tell us about it in the comments!

Not all friendships are meant to last. Sometimes, there's a good reason for it, like maybe moving away to start a new job or falling out of touch because your babies are taking up all your free time. Whatever the accepted reason, you value the time you had together, reminisce on the good times, and move on.
However, there are those times when the friendship falls completely off the rails and you're not sure how everything went wrong.

Reddit user, FemaleThings, wanted to understand why a friendship fell apart when they asked:
"How did you lose your best friend?"
A One-Way Relationship
"I realized that they were my best friend, but I wasn't so much so theirs. Made evident when I started being bullied in high school and she immediately turned on me, as if she had waited for this opportunity to ditch me"
– tizbean
Never First Priority
"Similar here. I was the backup friend. Any time she found someone 'better,' she'd completely abandon me. Would even avoid me sometimes so her new friends wouldn't see me with her."
"Then either they'd get tired of her or she'd get tired of them and guess who's coming back to be friends with me like nothing happened? She is. When she didn't have anyone else, she was an awesome friend. But when she had anyone else, she'd do things like ignoring me at my own birthday party so she could text them."
"After high school she'd sometimes randomly message me acting like we were going to be best friends again, then drop off the face of the Earth like usual when something better came along. Eventually she just never showed back up, and by then I was fine with that. I was done with dealing with that."
"Did give me serious trust issues that took years to work through tho."
– ShiraCheshire
Thinking They Need To Move On
"when we both graduated high school, she blocked me on everything (phone, socials, etc.) without any reason or notice. we weren't fighting or anything and i wasn't annoying either. idk it was just weird."
– urlocaldumbgurl312
Too Dead To Be Brought Back To Life
"Her sh-tty boyfriend drove a wedge between us and ultimately ruined her life (she did some shady sh-t too). I ran into her 10 years later and she apologized for everything. I accepted and forgave her, but knew I'd never really have a friendship with her again."
– ATru05
Too Taken By Something Else
"Cocaine. He isn't dead, he's just not the same anymore."
– ThrowawayzVI
"Same, kinda. I stopped drinking so much, quit partying and hard drugs altogether. All my best friends from that period of my life didn't. Turns out that's all we had in common and me trying to hang out with them just feels awkward now."
– NativeMasshole
We All Have To Give It Our All
"I stopped trying to maintain relationships with people who wouldn't try themselves"–
– themarkof
Can We All Just Keep Our Hands Off Each Others' Spouses?
"7 weeks into marriage found out my best friend and husband are "together" and have been for a while. (I had known her for 5 years, he had known her for 13 years)"
– diet_pepsi_lover
"This happened to me. My wife ran off with my "best friend." It gets easier to deal with but the pain never fully goes away."
– oskiew
Not All Best Friends Have
"Old age. Was a great dog."
– TheDrunkyBrewster
"Same here. 13 years of friendship has flown away from me."
– SweetLopez01
They Prefer Each Other
"One day I introduced my best friend to a friend so I could spend time with both since they were good friends to me."
"A couple months pass and now my best friend became best friends with the friend I introduced. I'm not angry that they are best friends now, I'm angry that they keep ghosting me when I text them."
:So while me trying to spend time with both, it was the exact opposite."

"It was really sad for me to lose my best and them ghosting me really made me sad."
– metosuz
Way Too Far
"Got into a fight for something trivial and she told me she understood why my mom left me"
– Prestigious_Web1124
Better Left In The Past
"We were both insecure about ourselves as teens, but she started putting me down in front of other people, especially if there was a boy she liked - making me the target of her jokes and making comments that were supposed to make her seem cool and sarcastic. I told her several times that it was hurtful, and she would always end up in tears, swear to me she wouldn't do it again but after a while she would always start again. She was the first real friend I made, so it was difficult, but I decided to just cut her out of my life after a few years of repeating that pattern."
– -_Midori_-
No Effort, No Friendship
"(english is not my first language, i apologize for any mistakes)"
"We were next door neighbours and spent the majority of our time together since childhood. She went to college and I barely heard from her but we still spent a lot of time together, especially during the summer (also since we were little we were in the same school, church, etc)."
"She got a girlfriend and didn't tell me, but I never pushed it even though I knew since it's not my place to tell. I noticed because there were pictures of them hugging, and she is not an affectionate person so that's how i knew. She told me a year after they started dating. I didn't tell her I knew because that is mean and she would feel that she was outed and that would be plain awful."
"When they started dating she basically cut contact with me. If I wanted to make plans she wouldn't be available because she would be going to meet her and 2 other friends she had made recently (one being a former friend of a friend of mine, who also cut contact with her when this friend group was created), plans would be cut short and she basically doesn't talk to me unless she has to. when she knows I'm in town from college it's like I'm not there, even though."
"I go over to her house to say hello to her parents and she is there (and I say hello out of politeness, because after all we have known each other since we were babies, but I know that if I didn't say anything there wouldn't be any effort on her part). So basically, she started dating and I was left behind. I think I'm being petty and a little too attached, but I'm not the only person who has complaints about this. One doesn't do anything if the other one isn't present, so sometimes people don't make plans with them (this includes going to the beach, grocery store, playing video games...)."
"I tried to revive the friendship many times - I actually like her, like I've said we have been friends forever. For some reason. all those advances were useless, The effort to make contact again was useless. Her pet (whom i loved very much and also named) died and she didn't tell me, she didn't come to my graduation because I didn't invite her girlfriend (i never had a deep relationship with her even though I knew her, so it didn't make sense to me)."
"All of the good things that happen in her life are not shared with me anymore. I obviously was the only one who cared at all to maintain a friendship of a lifetime, so i stopped texting to see what would happen or if she even cared - much to my surprise nothing happened. I saw her last weekend at a mutual friend's graduation, before that the last time I spoke to her was in the ending of January or beginning of February."
"It took me a while to understand that if someone enjoys your company they will make an effort."
– moodeq
Friends From Afar
"She set me and my new boyfriend up to get jumped by my ex and thought it was hilarious. We were trying to mend a tough friendship that suffered a falling out due to the rumors she spread about me. We were inseparable until high school hit. I got a lot of attention from people that she didn't. She didn't like that. She spread rumors. In an attempt to repair our once inseparable bond, I suggested a double date. One thing turned into another, and she set me up."
"We tried to reconcile as adults. She was strung out on drugs and could never visit me alone; had to have druggie boyfriends around all the time. It was uncomfortable."
"She does great now. Clean, in a long term relationship, and has a child. It's easier to clap and love her from a distance. Up close was just toooooo much for me."
– Electrical_Potato934
Not Really A Friend
"realized she was bullying me my whole life. sure we had good times, but there was more bad then good. she would call me names, hit me, tell me i was ugly or fat. she isnt in my life anymore, although it seems that because now that ive found better friends and a new best friend, she wants to come back. i miss her, but i dont want her to be apart of my life."
– shieldxex
It Was All A Lie
"she found a new friend and left me, even though she said a day ago that I was her closest person. later it turned out that she was forced to be friends with me by her mother. =)"
– justmaryy2
Sometimes, It's Neither Of Your Choices
"Undiagnosed heart condition suddenly killed him. It was and still is awful. He was only 27. I have moments that I want to share with him, just call him, set up a trip together, text a funny anecdote etc, but can't and it hits me all over again that he's gone forever."
– WanderingPuppy
Treat others how you want to be treated. It's really not that hard.
Also, value the time you have with your friends. The future is wide and open and occasionally that openness means you won't always be together.

Secrets, secrets, are no fun, you say?
Wrong. Secrets are very fun to keep. In fact, we should all work on building our trust we've set up with our loved ones so they feel comfortable holding on to our secrets for a long time. That way, ours don't end up on a list like this one.
Since we're all here, however, let's learn some stuff!

*The following article contains discussion of suicide/self-harm.
Reddit user, Duck_Diggler_, wanted to know the secrets no one else was supposed to know when they asked:
"What's a secret you'll take to your grave but you'll share with reddit because you need to get it off your chest?"
It's Just A Habit That Got Out Of Hand. Right?
"The amount of empty liquor bottles I found hidden around the house after my husband passed away. I knew that he liked to drink, sometimes a little too much, and it was something we bickered about occasionally, but I didn't appreciate the full scope of how much exactly he was drinking. Maybe 2-3 years before his death he started working from home full-time and I'm guessing being home alone all day was when he started going off the rails."
"Absolutely nothing to do with the circumstances surrounding his death and I wouldn't want to tarnish his memory to family or friends, so I keep it to myself but I don't mind sharing it with strangers."
– Hrekires
Unable To Properly Move On
"A year ago my partner of 8 years left me out of the blue, two months before our wedding."
"People tell me how 'strong' I am and how well I'm doing. Compliment my work ethic (I work 60+ hours a week between two jobs) and tell me how 'admirable' my coping skills are. When people ask I'm quite firm in saying how much better off I am without him and how happy I am."
"Truth is, I think of him every minute of everyday, I work so much to avoid being alone in our house, I still love him, I cry myself to sleep at least twice a week, I think about suicide a lot and truly I don't think I'll ever love anyone like I love him. He was truly my best friend."
"We bought a dog a few months before he left me, I don't know where I'd be if she didn't come into my life."
– ArtVirtual6866
When Even The Family Doesn't Back Them Up
"My ex-girlfriends family told me to break up with her because of her erratic behaviour - I will never ever let her know this -"
– beermansam
Exploding Tank, But Not The Cool Kind
"I lit a firework in a public park and panicked so I flushed it down the toilet... boom. No more toilet. Whoops, I was 12."
– No_Housing_4819
Walking To What She Really Wants
"My first day as a nanny looking after a baby girl. I take her to the park and I'm taking videos of her and getting her to walk to me. She walks three steps to me and then falls on her butt and cries. It occurs to me that I don't actually know if she has walked with her parents yet, she isn't sure of foot yet. Speaking to her mum later on she tells me she is super close but hasn't walked yet. I figure she must have walked with me because she was feeling clingy without her mum. I never told her parents she walked with me and it was about three weeks later she finally walked for her parents."
– Sydneyfigtree
Getting Revenge Any Way You Can
"Not as dark as the most in here..but as a teen I had a really bad relationship with my dad...and one day I was really pissed and signed his e-mail up in any freakin newsletter I could find online... He still get's spam mails and doesn't know why .. (we get along great now)"
– CutimedSiltecSorbact
Sometimes It Never Leaves You
"The first and only time I stole something in my(M8) life was from my neighbor who was having a yard sale to take his kids to Disney land. He had a DS game of backyard baseball and I had the money for it, it was $5 and I wanted it. I went up with the money and he told me that he was going to give it to the landlords kid who was my age too. I was so mad and annoyed that he was going to get the game for free. A few hours later I went back outside and I saw he wasn't there, I walked up to the stand and I saw the game was still there so I took it. I also grabbed a bag of golf balls he had for $10 and a few more games that were marked $1 each so he wouldn't think it was me."
"I then ran into my apartment and the guilt was eating me up, 30 minutes later he knocked and asked if I took the games because he knew I wanted one. I told him no that I was inside the whole time. I never played any of those games I felt so damn bad I couldn't put in my DS. I even wanted to take them back but I knew I would get caught. They did end up going to that trip, and the landlord kid was mad he didn't get his game (I didn't like him so I was fine with it). I still have that guilt and I remember the prices of everything and the stand."
"Edit: to clarify I'm 23 now"
– Chivasguy1906
All It Takes Is A Lifeline To Hold On
"When I was nineteen I was seriously considering suicide. I had written letters to my family and everything. The day I was going to do it my mom took me on a surprise errand. It was a woman selling chihuahua puppies. My mom had me pick one out to be just my dog. I fell inlove with that puppy and knew I couldn't leave her by herself. My mom and that dog saved my life."
– UnicornQueefsGlitter
Heartbreak So Bad You Don't Think You Can Go On
"When I was 26 I got divorced. Should have never been married to that woman but here we are. I was already in a bad mental state but that put me to the edge. I after the first couple weeks where I was kinda shell-shocked, then it really sank in and I was just looking for the best opportunity to do it."
"She calls me one day and says she's taking my dog to the shelter because of some bullsh-t reason. I tell her to f-ck off, I'm coming to get him. I pick him up and get him home, look down at him and know that as long as I have that little fuzzy f-ck, I can't do it. That was 7 years ago and he's the reason I'm alive. I don't know how I'm going to handle it when he passes."
– Barf_el_Moggo
Never Ever Mess With An Allergy
"My cousin purposefully tried to find the people lying about food allergies by putting a little bit at a time of something they were allergic to in their food at a restaurant she worked at. Most of the time she would tell me people would lie just to make sure something wasnt on their order. I'm not sure the restaurant but she got caught and fired after she almost killed a young girl that had a severe reactions to onions."
"My best friend who worked with her when they happen, told me they were regulars and that no matter what they ordered everyone in the family would ask for no onions. The cook was aware of this and would always make sure nothing he used for their food had touched or been anywhere near an onion. Well my cousin, not believing the girls allergy, grabbed a little bit of chopped onion and put it in her food and covered it with something so they wouldn't notice it."
"Well the little girl took a bite and immediately couldn't break. The boss called for an ambulance and her dad used the epipen but she still couldn't breath as good. My cousin found out later that she was put in the hospital due to her putting some onions in her food. The parents were mad and they demanded the owner pay for her medical bills."
"Apparently they wanted to press charges as well but they didn't have cameras and no one would own up to who did it so my cousin didn't get arrested but later on after the owner paid someone told him it was my cousin and he said he wouldn't report her but he was keeping her last check due to him paying the medical bills for the girl. My cousin got arrested a year later for almost killing her then boyfriend at the time doing the same shit. She's now serving time for attempted murder due to her knowing about the allergy."
– Glitter_Love1
Different Paths To Success
"I didn't graduate college, I dropped out, just got lucky with a job that doesn't have anything to do with my 'degree'"
– jojo_ryoko
Too Late To Tell Her Now
"I ratted out my sister for sneaking her boyfriend over to the house at night because she was always mean to me. I told my therapist who I knew would insist I need to tell my aunt. I told them I didn't want her to know I ratted her out so my aunt said the neighbors saw her one night. My sister brought it up the other day and still hates the neighbors for telling on her. (We are both now in our late 20's) We are actually really close now and I love my sister so much. I don't have the heart to tell her it was me. I'd rather she just hold a grudge against the neighbors."
– itsgoingtobeokayyy
Too Late To Tell HIM Now
"I used to work night shifts."
"My dad would let me drive his truck on nights/mornings when the weather was expected to snow bad."
"The morning after my shift it snowed pretty bad.. traffic was absolutely terrible."
"I was finished with my last 3rd 12 hr night shift and absolutely exhausted and not patient."
"I went through a neighborhood to avoid traffic only to find more traffic within the neighborhood, guess people had the similar idea. There was a crash ahead, out of frustration I backed into someone mailbox... luckily I was able to reposition it. As for the truck.. there was a large dent."
"My dad noticed it later that day and blamed the snow plow trucks. I went along with it. To this day he still thinks the snow plow truck was responsible"
– AwkWORD47
Do You Smell Smoke?
"I almost set a kitchen fire about 2 weeks ago. I was boiling some food on the electric stove when it started over spilling. I'm not really sure if water effects a stove, I just know water + electricity = bad. So I turned the stove off and moved the pan away, the area it was on still glowing red."
"Then I was a dumbass and decided to dry the water with kitchen roll. After all, there's no fire, and I just turned the cooker off, so there was absolutely no way it would be hot enough to start a fire!"
"Feel free to laugh at me now."
"The sheet of kitchen roll sets on fire. Panic. Grab the bot burning end and put it down on the side. Put it right next to the toaster like the absolute moron I am. P a n i c. I didn't want the fire to spread to the toaster and burn the house down, when I suddenly remembered: I was in the kitchen. Water exists. I just cupped water in my hands and threw it until all the flames were gone. And I will never tell my family because I won't live it down"
– CC12gg
My Secret Based
"I skipped an intire 2 terms of school by hiding in the tiny hatch in the attic"
– MyHatHasDepression
Hoping For The Best
"I'm pregnant right now, but I can't tell my husband because I usually have miscarriages. I don't want to make him sad because I know how badly he wants a second child. I'm 39 and time is running out. I'm just waiting, trying not to feel anything about it, not excitement, not sadness, just nothing"
– Apprehensive-Ad4244
Something for all of us to learn, really. Make sure you're friends with people who have an eye out for you.
Feel like sharing a secret you were never going to share with anyone? Tell us all about it in the comments!

You might think you have it bad at your job, that somehow your career of turning in spreadsheets before the boss goes home for the day or making sure your "deck" is adequately formatted will somehow bring about the end of the world if you don't spend hours on it. (This isn't really taking the weight off anyone's career. Obviously, do your best and all our jobs are important.)
But then you read about jobs like these, where even the slightest misstep could lead to actual death, and suddenly your deck doesn't seem that important anymore.

Reddit user, Guilhermedidi, wanted to know what job have zero room for error when they asked:
"What job allows NO f-ck-ups?"
When your job is to make sure other people make it out of any particular situation alive, it certainly adds another level of difficulty to your job.

Always Double Check Yourself
"The person who checks the safety harness on a bungee jump."
QuinnieB123
"I did a rock climbing wall with my friend when we were 18. They messed up and didn't secure her harness. I watched her fall from the very top. 2 weeks in the hospital. 2 months in rehab. It was awful."
exhaustedmommyof2
Too Little, Too Much
"Anesthesiologist."
[usernamedeleted]
"My cousin is an anesthesiologist at a teaching hospital. He has some stories, people with multiple pre-existing conditions, the complex cocktails of meds and monitoring needed...dang... not a profession that tolerates mistakes."
joeyjojojoeyshabadu
"And you don't lie to your anesthesiologist."
"They don't care if you recreationally use opioids or pot or something even heavier."
"Not disclosing to them could be fatal"
CrotalusHorridus
You Said A-, Right? RIGHT?
"Working in the blood bank. Any f-ckup, even the tiniest clerical error, can cause someone to die a horrible death."
coffeeblossom
The job itself may not even appear that challenging on the surface. Maybe a majority of your day is spent sitting around, doing nothing. However, when it comes time to be on it then you better be prepared to not make any mistakes.
Zooming Overhead
"Air traffic control. At one point, IIRC, it was ranked the most stressful job in the world based on number of decisions per minute. You're responsible for a LOT of lives."
Plug_5
Big Crane Go Boom
"My ex made a small miscalculation on an industrial part he was engineering for like a big crane and cost his company hundreds of thousands of dollars and they had to shut down. The part was for a high precision valve where even a fraction of a millimeter is the difference between something being perfect and absolutely useless."
"As a web developer if that were the case in my industry I would be out of a job today."
texting-my-cat
Watching Someone Else Face The Consequences

"The clinical technicians who prepare cellular material for bone marrow transplants."
"I worked at a major cancer treatment center across the hall from the lab that did this. They slipped up once and gave the cells for one patient to a different patient. Both patients died. One from being given incompatible cells, the other from not receiving their transplant in time after their radiation treatment."
"Lots of pain for everyone that day. Imagine losing your job because you killed two people."
scoobasquid
With consequences like these, it kind of makes you wonder why someone would take this job in the first place.
You Think Your Job Is Under A Lot Of Pressure?
"Underwater welder. And they have the fatality rate statistics to prove it."
djvandebrake
"Saturation divers in general, any time you need to be that deep for that long, any screw-up can be the last one you make."
"Underwater cave diving is generally thought of as being similarly dangerous, however nowadays you can be trained and if you spend the time to learn and understand how to avoid the main risks, you can do it relatively safely. Shout-out to Divetalk."
Tempos
One Slip Up, And You're Gone
"The people who climb and repair those radio towers. my brother fell off one of the towers while working on it, his harness luckily caught him and they got him down and he was immediately fired."
pushittothemax11
"What did he do wrong?"
KaiserRebellion
"Lost his grip and fell, if he didn't have his safety harness on he would have died, and that's a huge liability most employers are not willing to deal with, so yeah if you fall once it's a done deal."
pushittothemax11
They Usually Make Movies About This Kind Of Thing
"Astronaut"
"If you mess up in space it's usually bad."
Emergency_Paperclip
In the Air
"Air traffic controller."
JBAnswers26
"My uncle was an air traffic controller until the mandatory retirement, got his start in the Air Force as a controller in Da Nang during Vietnam. He has this unnatural calm about him and is the kind of guy you would want with you when things hit the fan."
tdfitz89
Underwater
"Anything involving space travel or being aboard an active duty submarine."
Much-Meringue-7467
"In the early days of submarines you could destroy the whole boat by flushing the toilet wrong, I imagine things are a lot safer nowadays."
JeffSergeant
"As a former submariner... oh man we f**ked up TONS of s**t all the time. It's still partially true depending on the job or the system, though. Like the emergency surface system. Not a lot of room to mess that one up and get away with it."
Careless_currency
Space Watch
"When I visited Johnson Space Center, we got to watch the Mission Control people, guy explicitly said that job requires you to make exactly 0 mistakes. It may not matter, but in my comment I was referring more specifically to the people watching over ISS."
Azeda_
"The multimedia product that I worked on was actually used to build the app that launched the Space Shuttle. Sorta made me think."
OneLostOstrich
"I work in mission control. Many things you can't mess up, but we make our fair share. The biggest problem is messing up the same thing twice. So we have ways to track errors and correct them so they don't happen again."
tallnginger
Precise is a Must
"Pediatric pharmacy. The only error my husband made in something like 10,000 scripts was nutrition. Never a medication error. He'd remember the kids by name and would question changes (typos on the doctors' parts) because he knew the kid hadn't gained/lost that much weight that fast. Their dosages are by weight, not age."
propita106
He just got up...
"Lineman. One mess-up and you are dead."
Truthisnotallowed
"No crap. I saw an electrician working an interior BET when a thunderstorm rolled in and a near strike knocked him 15 feet back. He just got up, dusted himself off and said 'that was weird.' When he was leaving I followed him out and was surprised he got in a van, thought he was going to fly away."
match_
"I guess this depends on what a 'f**k up' is. Every football player ever has made plenty of mistakes that some would consider f**k ups, and it's not like mortal injuries are common."
spicydangerbee
Errors
"I'd guess brain surgeon but I'm not 100% sure and an anesthesiologist would be bad if it got past you and put into the patient."
Spiritual_Koala8259
"Brain surgeon here. Errors are made with relative frequency, but knowing how to properly address them is very important and can be the difference between a good and poor outcome."
whag460203
"My father is an anesthesiologist and said the exact same thing when I called and asked him this question."
grizzz666
Codes
"I was a software dev for trading tools that were used on the stock market. You're literally writing the code that executed millions of dollars of transactions. I'll never do it again."
tenaciousDaniel
"I wrote code for a company that did billions in transactions on a team of 5 engineers. Millions of dollars settling on the hour every hour every single night. All in batch files. It was a little stressful."
BooBear_13
Actually...
"Airplane mechanics."
rurdytoboogie
"My friend who's a military helicopter mechanic said you'd be incredibly surprised at the number of f**kups they have. Luckily they check things a few times before approving it (although sometimes people even skip on the checks)."
Extreme_Design6936
"I work in aviation, mess ups happen constantly, they usually get caught by quality control. What can really be bad if leaving objects in the plane where they shouldn't be. A misplaced wrench could cause a crash."
RedditMcBurger
Be safe out there. Seems like even driving in to the office can be the end of something.
What's so dangerous about your job? Tell us about it in the comments!

The convenience of flight comes with a few expected inconveniences. First, your seat is never going to feel like it's big enough for you. Second, the person either in front of or behind you is going to put their feet up or lean their seat too far back. And, third, you have to roll the dice with the TSA checkpoints.
They scan you, check your baggage, send you on your way. Installed as a form of protection, they do their jobs before you even arrive at the airport, keeping very obvious weapons and dangerous minded individuals from boarding your flight.
Most of the time.

Reddit user, False_Philosophy_412, asked:
"What's the weirdest reason you were stopped by TSA?"
Most of the time, the agents are doing their best job to figure out what's on your body with a machine that may not be accurate 100% of the time.
It Already Has A Name
"Crotch anomaly".
"I was wearing normal joggers, nothing in my pockets."
"The lady behind me loudly said 'yeah it's called a penis'"- wot_in_ternation
Packing A Different Kind Of Heat
"TSA agent asked to search me with the back of his hand and I said 'okay sure'."

"The back of his hand hit my unit and he said 'what's that?' to which my only response was 'That'd be my penis.'"
"The TSA woman next to him started laughing at him and his face went pale before he said 'you're clear, move along.'"- DarkSlayerKi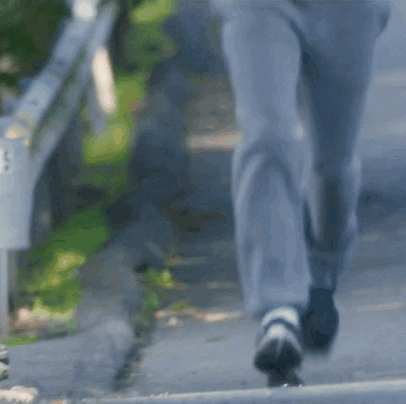 the leftovers no GIF
Giphy
Keyword: "Random"
"I have maintained a decent beard and have a darker skin complexion for a white dude."
"I am 'randomly' selected for a search or shoe swab every single time I fly."= batkevn
You can assume a lot of these are simple misunderstandings, agents doing their best to make sure everyone gets on the plane safely.
Still, it's got to feel bad to open up a loved one's ashes in a public setting.
Mad Respect For Your Wardrobe
"Not in the USA but in France, I got stopped on the way through customs by an agent who said something fast and aggressive-sounding in French."
"My French isn't great, so I just looked puzzled and said I didn't understand."
"The guy quickly beckoned another guy over and explained to him in rapid-fire French what was going on."
"The second guy turned to me and said 'He says your T-shirt is really cool and can you tell him where you got it?'"
" It was a Star Wars T-shirt that I got as a birthday present, so I couldn't even tell him where it came from."
"Luckily, he didn't arrest me."- 99thLuftballon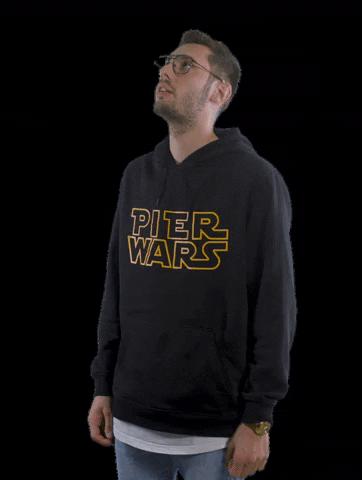 Giphy
Sinister Teddy
"My niece has a teddy bear."
"She has had this teddy bear essentially since she was born."
"The doggo has bitten a hole into its belly, so we sew onto it like a lion head sticker, to keep its guts inside."
"One time we were on holiday visiting family, and she left it there, luckily I was staying a bit longer so I could grab it on my way back."

"An adult man with a teddy bear that had its guts torn open and fixed with a lion bandaid apparently looks pretty suspicious, so they shoved the poor guy into x-ray 3-4 times."
"She is still in ownership of the teddy bear and it is still in decent shape."- Gacsam
It's A Weapon For A Certain Type Of Person...
"I had a nutcracker in my carry-on."
"Like a legit, festive Christmas soldier nutcracker."
"It was a gift for my mom's birthday, she collects them."
"I was only flying in for 2 days for my grandmas funeral so didn't check any luggage."
"They stopped me and questioned me for 30 minutes."
"Kept insinuating I was going to use it as a weapon."= Pamplem0usse__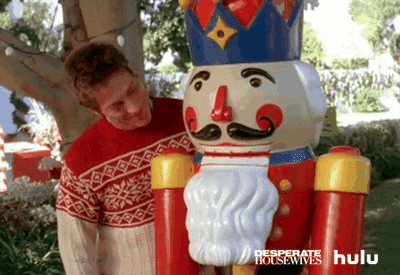 desperate housewives nutcracker GIF by HULU
Giphy
Spider Truck. Spider Truck. Does Whatever A...
"When the Andrew Garfield Spiderman's first came out they did some amazing merch for them."
"My Stepdad is a HUGE Spidey fan, so I picked him up the corniest Spiderman film merch when in the US, one of those being like a whirling cement truck thing?"
"It was a big tonka sized thing and the only bag it would fit in was my carry-on."
"They stopped me and said 'Is that a spiderman toy?' and I took it out and showed them."
"They said it was the best thing they'd seen all day."- CharacterSuccotash5
No Smuggling Of Animals
"Glass jellyfish"
"Like those blown glass ones that are super cool at art galleries."
"I got pulled aside into a small room because they thought I was smuggling sea life. Was an interesting time."- Aelsar
When Things Look Like Other Things
"One time my dad had a few rocks of petrified wood in a bag, and had his phone charger right next to it."
"They almost went DEFCON 1 and did radio people to show up and act if it went down."
"But they opened the bag and saw it was rocks and a charger."
"They told him that it looked absolutely identical to what they had been taught a bomb looked like."- AudiieVerbum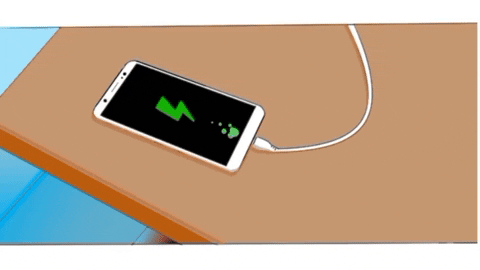 Phone Charging GIF
Giphy
One Last Look For Ol' Mom

"My mom passed away unexpectedly in California."
"I flew out to pick up her ashes and there was a terror alert at LAX."
"It was unreal; the military was in the airport with what looked like machine guns."
"I was out of my mind with grief and drugged to the gills."
"I was dealing with a bad back, and had to fly from California to a small town in Virginia for the memorial service."
"Security was heightened and everyone was being searched."
"I only had a small carry on and my mom's ashes."
"When I got to the TSA, the agent wanted me to open my mother's box of ashes! "
"I refused and insisted they x ray the box instead."
"It showed nothing inside ( duh- ashes) which convinced the TSA agent that it had some sort of cloaking device and was hiding a bomb."
"Again he insisted that I open the box that held my mom's ashes."
"I was beginning to lose my sh-t."
"I called my husband who works in nuclear power and explained what was going on."
"He told me to tell the TSA agent to place a coin under the box and send it through the X-ray again."
"He did and thank goodness he saw the coin."
"Otherwise I would have been arrested for assaulting a stupid TSA agent."- Due_Judgment_9518
Agents Put Up With All Sort Of Sh*t...

"Previous TSA Agent here - not a passenger."
"This happened on like my 2nd day of training in baggage."
"A bag went off & I had to clear it."
"The owner, a gay gentleman, stood directly across from me, glaring thru my soul."
"I opened the bag & the very first thing in it was a plastic 'laundry bag' from a hotel."
"So I squished that bag, as we were supposed to do, and looked over at my trainer with this look on my face."
"He was confused & I just kinda shook my head like 'please don't make me do this'."
"The passenger had a smirk on his face at this point."
"Of course, I HAD to take it out of the bag."
"It was a dildo COVERED IN sh*it & they'd JUST used it before heading to the airport & didn't bother to clean it off!"
"I whipped it out so everyone saw, my trainer was hiding behind the x-ray ROLLING laughing, & I had to swab it to test it for explosives."
"Of course it cleared, so I put it back in the bag & the guy's boyfriend was standing by him at this point."
"Passenger says to me (all pissy) 'Happy now? Did you see what you wanted to?'"
"The bf is also rolling at this point."
"I just put the bag on the floor, scanned it thru the x-ray again & dropped it on the conveyor to go downstairs to cargo."
"My trainer was like OMFGGGGG...I SWEAR that NOTHING like that has ever happened before!"
"Of course the story spread quickly to everyone else & for a while, til people knew me/my name better, I was "THAT girl"- HalloweenFreak260
You Never Know When You'll Have The Craving...

"Not me, but my friend went on a family vacation."
'Her dad's carry on gets flagged and TSA starts freaking out calling back up, and ask him to come over to them."
"As he walks by my friend he just says 'oh no, it's the jerky'."
'This man brought 14 PACKS of jerky in his carry on for each day of the trip and TSA thought it was sticks of dynamite, and then had a good laugh at the suitcase full of beef jerky."- raccoonslikecheese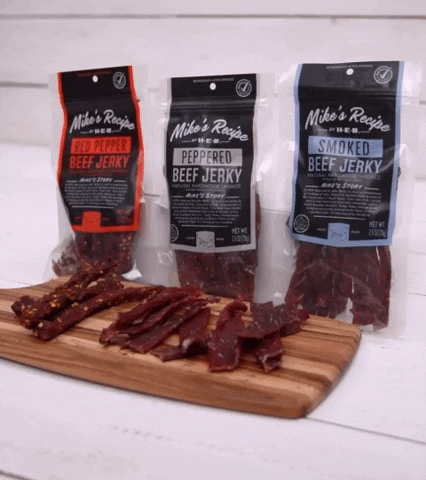 Beef Jerky Texfest GIF by H-E-B
Giphy
Don't Be Fooled By Their Sweetness
"M&M's"
"They thought I was smuggling drugs."- hchristian13
Double Check What Counts As A Liquid...
"Not necessarily weird but Peanut Butter."
"We were going to Disney and we brought groceries to make sandwiches and they took it away."
"I wouldn't have considered peanut butter a liquid but I guess so."- PrincessLuma
Double The Trouble
"I have two stories."
"We were flying to the Caribbean for my aunt's wedding and everyone got through alright except my uncle."
"He kept setting the machine off no matter what he did."
"He had taken out all of the change in his pockets, his belt off, his jewelry etc., and it still went off."
"I want to point out this was not long after 9/11 so security was a bit different to what it was when he last had flown."
"So when the metal handle thingy scanned him and it went off on his hip the TSA asked 'are you made of mental sir?'"
"In a surprised voice then my uncle just responded 'oh sh*t sorry mate, I didn't know it would detect my metal hip joint!'"
"They had a laugh about it to each other and he was let through."
"Second story."
"I was coming back from Germany and the day before somehow I have come down with a severe throat infection."
" I lost my voice and could barely speak."
"The TSA were asking me all these questions and honestly it was pretty awkward because they couldn't hear me despite how hard I tried, they took it well and asked if I was okay."- After-Land1179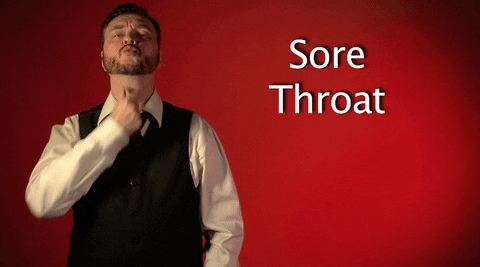 sore throat GIF by Sign with Robert
Giphy
Let's Not Forget, They Do Have A Job To Do...
"I had injured my ankle so had it wrapped in some of that adhesive wrap tape, with a sock and shoe over it."
"Bomb dog alerted on the bandage."
"The TSA agents were extremely nice, got me a chair I could sit in since I was limping and we had a great talk about books while they were doing the routine check of my bags etc."
"They were extremely baffled and couldn't figure out why the dog alerted, so brought it back over to see exactly where it alerted."
"Once they figured it out we all had a good laugh and they made sure I made it safely to my gate."- WanderingWordsmith19
Talk About Bad Hair Day
"My hair."
"Every time I fly out of Logan in Boston."
"They pull me aside and pat down my hair."
"I finally got a black lady that told me that it's the thread in weaves and wigs."
"Sometimes they use something similar to thin monofilament wire."
"It doesn't always show up so they check to make sure it's just a weave that doesn't double as a bomb I guess?"- bballpixie
Ever been stopped by the TSA for something silly? Tell us about it in the comments.