Sometimes the internet is just the absolute best.
---
Michigan photographer Matthew Dippel was shooting in Yosemite National Park earlier this year when he happened upon a truly stunning photo op: what appeared to be a marriage proposal taking place high atop a cliff as the sun was beginning to set over Yosemite's Taft Point.
Dippel tried to find the couple to share the photo with them, but to no avail. "I ran over there to try and find them," he told ABC News, "asked maybe 20-25 individuals and came up short." That's when he turned to the internet for help.
Twitter help, idk who these two are but I hope this finds them. I took this at Taft Point at Yosemite National Park… https://t.co/9dnvOCfvXQ

— Matthew Dippel (@Matthew Dippel)1539797427.0
The tweet and photo immediately went viral as internet sleuths tried to track down the lovebirds. But social media users came up short too. Several people sent Dippel potential solutions, but all turned out to be the wrong couple.
Update #2: Still no luck. A lot of people saying they found them but doesn't turn out to be the right couple. If yo… https://t.co/dP92ljKO0c

— Matthew Dippel (@Matthew Dippel)1539988678.0
After almost three weeks, Dippel was just about to give up hope, assuming that the couple might want to stay anonymous.
Tunnel Vision. Update: At this point I'm beginning to believe they have seen it and choose to remain unnamed. I w… https://t.co/lVn6gJUyQy

— Matthew Dippel (@Matthew Dippel)1540475381.0
And then: eureka!
UPDATE: I FOUND THEM. Check out my latest tweet to all the details.

— Matthew Dippel (@Matthew Dippel)1540656882.0
But it wasn't Dippel who found the couple. The couple found him, in the unlikeliest of ways! The man proposing in the photo, Charlie Vo, was scrolling through a local news station's Instagram feed after they'd re-posted a friend's photo, when he stumbled upon the viral post of him and his fiancee. What are the odds?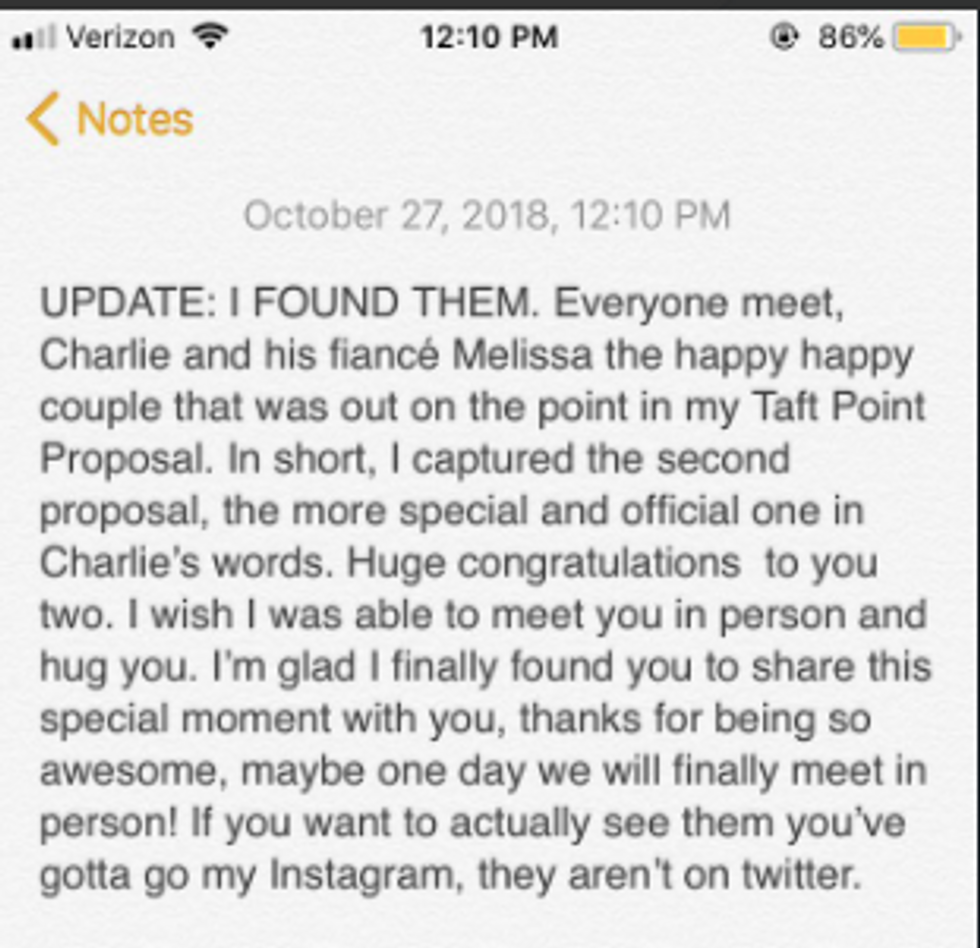 @DippelMatt
https://t.co/ay9NZMF8wD

— Matthew Dippel (@Matthew Dippel)1540657687.0
"Basically we went on a hike at Taft and I decided to surprise Melissa with a 2nd proposal, for personal/meaningful reasons," Vo told ABC News. "Since Melissa and I love to travel and hike and the outdoors I wanted to give her an epic proposal photo and that's how it came about."
Perhaps best of all, since their official proposal had already happened back in February, Charlie was giving Melissa a Ring Pop in Dippel's now famous photo. Cute!
Naturally, social media folk were elated by this story:
@DippelMatt Thank you, Matt Dippel, for making a week with unbearable news a little more bearable. This shot is br… https://t.co/MK8yiIyWKS

— Kelly McDonald (@Kelly McDonald)1540875153.0
@DippelMatt Well they best book you as a wedding photographer now!

— Laura 🌹 (@Laura 🌹)1540881737.0
@DippelMatt Awwweeeee..... that is wonderful news. We need more people like you in the world!

— Veronica Saunders (@Veronica Saunders)1540864204.0
@DippelMatt What a gift your photo is! So happy you found them!

— traceybwilson (@traceybwilson)1540857666.0
@DippelMatt It's amazing how dedicated you were to finding them. You're a real one🤘🏾

— Cody Dunn (@Cody Dunn)1540689459.0
@DippelMatt https://t.co/f6AJcXSEyk

— luis gonzález (@luis gonzález)1540680210.0
@ABC This was some top level dope ass proposal!

— DERRICK (@DERRICK)1540819810.0
@ABC Aggggg that makes me so happy!

— Panickypumpkin (@Panickypumpkin)1540882040.0
@ABC Beautiful♥️

— Heather Sande (@Heather Sande)1540886732.0
@NBCAsianAmerica The best part was that it was a ring pop lol

— Edward Cao (@Edward Cao)1540859023.0
The wedding is in April in Malibu. No word on whether Dippel will be the photographer but, either way, this is one heck of a happy ending!
H/T NBC News, The Independent