Unless you've been a member of the armed forces, you may only know drill sergeants as uncompassionate leaders who yell at privates all the time.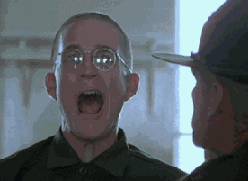 War Face GIF Giphy
But contrary to what's depicted in Hollywood, drill instructors endeavor to bring out the best from privates through tough love in addition to discipline.
Apparently, their sense of humor has no bounds. Curious to hear from drill sergeants online, Redditor darkstalker1000 asked:

"Drill instructors, what is the funniest thing you have seen a Private do?"
The following examples were utterly humiliating, but valuable lessons were learned.
Longheld Punishment
"Had 2 guys get in a fight in our bay during basic. The drill sergeant made them hold hands and pretending to be on a date all week. Only time they could let go of each other's hands was rack time. They ended up becoming pretty good friends."
Confusing Paycheck
"Ex British Army officer here."
"A corporal went on a nine week mortar course and was accommodated (obviously) while he was away. It turned out he knew one of the DS teaching the course and was invited, regularly, to dine and drink in the Sergeant's Mess."
"The month after coming back from the course, he brought his payslip to me with a puzzled look on his face and, embarrassed, explained he didn't understand what it meant and could I help him?"
"It emerged that the Sergeant's Mess had a chitty system - you didn't pay for your drinks at the time, but signed for them and the total bill was deducted from your pay."
"This legend had managed to drink more than his monthly salary both months he'd been away and his payslip was a negative balance."
"I'm sorry Smith, I'm afraid you owe the Army £235 ($327.50) this month."
Asking For An Advance
"Former European Anti-Air Trainee here."
"Recruit spent his first check on alcohol and sex workers, asked his commander for next months check in advance the next day. Instead of having a good excuse prepared to actually succeed in that proposal he blankly told him in front of 80 other recruits why he'd need it."
Eye-Level Reprimand
"I saw a guy post about how he was like 6'3 and his DS was like 5'2, so whenever he messed up the DS would go up to him face to chest and yell 'Elevator!' and the guy would bend down to eye level with the DS and say 'Ding!' and the DS would proceed to look him in the eye while he chewed him out."
Some experiences were downright hilarious.
The Stain
"Not an RDC, but in boot camp I was over the laundry crew. One recruit sh*t himself because he thought he couldn't leave his rack after taps. It was funny at the moment before I realized I had to wash it."
– ScootaFL

People Share The Scariest Thing They've Ever Experienced While Home Alone | George Takei's Oh Myyy
Ambush Training
"This was the funniest f'king thing I ever read from u/odomotto"
"Recruit fired all his blank ammo during 'ambush training.' He crawled in ditch opposite where the aggressors were, and started throwing rocks at them. DI came running in middle of the road blowing his whistle and screaming 'what the f'k are you doing?' Recruit screamed back, 'throwing hand grenades drill sergeant!' Without missing a beat, the DI screamed 'out f'king standing.' And walked away."
"My sides hurt and I was wheezing laughing so hard at this when I first heard it!"
Painful Salute
"Not me, but my uncle is a drill instructor for Canadian Cadets and basically when the trainees were saluting, one of them karate chopped their own eye and he was so nonchalant about it that he just had one eye open for 5 minutes and my uncle was trying so hard to contain his laughter."
"I could only imagine how embarrassing that would be."
– jman857

Consequences Of Volunteering
"This one was told to me by a retired army vet. The platoon was gathered and the instructor says 'We need someone to drive the colonel around base. Who has an Ohio driver's license?' So he whips out his ID all excited like and gets picked. Then one of the instructors pulls out a push broom and says 'Salute the colonel!' So he ends up sweeping the base for the day. Moral of the story, don't volunteer for anything."
Johnny Appleseed
"When you come off a shooting range you have to be checked to make sure you aren't taking any live ammo off of the range. The DS would pat you down and check your pockets/magazine pouches for any."
"One guy smuggled an apple out of the dining hall at breakfast and was storing it in his grenade pouch. As he was coming off of the range the DS felt in the pouch and asked him what it was. He had to eat the entire thing right there including the core. He was Jonny Appleseed for the rest of training."
"Good times."
These punishments made no sense. And that's why they're memorable.
The Replacement
"When I was in basic, a kid we called 'Albino' shot off a blank round accidentally in the field. The sergeants were pissed and took his weapon away and replaced it with a broomstick for the remainder of the week in the field."
Pukefest
"Not a DI, but we had this kid in my platoon pass out from heat exhaustion while staying in the sh**ty range barracks on Parris Island (Marines) DI's made us get on line and force fed us all water in a timed period and had to hold the canteen of water over your head upside down whether it was empty or not when the time ran out, then we all ran back to the bathroom and filled our canteens with water and ran back on line. Repeat this about 4 more times and eventually 1 recruit puked EVERYWHERE, AND THAT CAUSED ANOTHER RECRUIT TO PUKE, AND THEN THAT CAUSED EVEN MORE IN A HORRIBLE CHAIN REACTION OF EVENTS. I had to hide behind one of the columns because I was about to start laughing my butt off... THEN I SMELT THE OVERWHELMING STENCH OF STOMACH ACID IT WAS HORRIBLE."
"Luckily I didn't throw up, still one of my fondest memories during that horrible 3 months."
Wrong Boots
"Day one of basic training, a private in another Platoon came down to formation wearing one summer boot and one winter boot, I noticed it and laughed. 10 minutes later, and a Drill Sergeant from that Platoon had still not made the private go and fix himself."
"I informed the other Drill sergeant of the situation; wondering if maybe she hadn't noticed, so she yelled at him to go change."
"Another 10 minutes later and I heard her screaming again."
"The private had come back downstairs with the OTHER winter boot and the OTHER summer boot on."
Bed Sheet Cloak
"Man I remember some dude didn't put the sheet on his bunk the right way and had to wear the sheet as a cloak and go to all the other barracks dancing around sing about how he was the 'Catch Edge Fairy' or something. It was pretty silly, he owned it though. He was doing twirls the whole time. This was Navy bootcamp."
– Konebred

Despite how they are depicted on film, drill instructors are people who care.
Like, Beals – a drill sergeant at Fort Knox, Kentucky – who said:

"We provide more than just physical, mental and emotional guidance for them. You are a father, a preacher, a financial advisor, a counselor-you provide so many different services to the Soldier that the regular public doesn't see on day to day basis."
"They see what they see in movies and what they hear about by word of mouth. But you are fulfilling so many roles other than just being a trainer and teaching an individual how to be a Soldier in the Army."
And occasionally, they are having a laugh at the crazy things their trainees do.

Keep reading...
Show less
For young people pondering at least a few years--or even an entire career--in the military, a military recruiter might be a key component in the early stages of the process.
And it's important to remember that their purpose is, above all, to recruit people.
That's an inherent bias to keep in mind when speaking to such a person. Of course ethical standards are high enough to not expect lies or deceit, but given that all the facets of the military experience could never be covered in a couple meetings, plenty of the nitty gritty details may get left out.
Some Redditors who did spend time in the military gathered to set the record straight. They recounted the aspects of a life in service that they absolutely did not expect when they embarked on the journey.
MrAnonymous418 asked, "What are some things about the military that recruiters don't tell you?"
Want to "know" more? Never miss another big, odd, funny, or heartbreaking moment again. Sign up for the Knowable newsletter here.
Keep reading...
Show less
Nearly everyone lies—whether to get out of trouble, get what they want, or just to escape the awkwardness that can result from telling the truth when someone else only thinks they want to hear it.
Some people take things to extremes, though. Their lies can be so obvious that it's hard to do anything but laugh at the absurdity.
Keep reading...
Show less
While serving our country, soldiers are deprived of certain things that they were used to having as a civilian. They don't exactly have stuff like candy on the battlegrounds, so receiving packages with fun things is always a special treat. Here are some things that our troops crave the most while they're deployed.
u/ImNotF*ckingSerious asked: Soldiers of reddit, what are things that the military doesn't provide that would be good for people to send in care packages?
Thanks, Nigel.
My parents sent me a box just absolutely stuffed of snack sized "experimental" Taki flavors. Best thing I ever got. Next was a generic note from a 3rd grader named "Nigel" said "I hope you can see your family again". Kinda murdery, but the intent was good, everyone in the squad got a laugh.
Also disclaimer, I was only in Norway which made the note all the more hilarious.
The letters from kids are always the funniest. My favorite one was "Good luck in the next war." Little guy must have had some insider info...
Edit: found the letter
Good to know.

Giphy
Make sure your care package isn't for someone in training, they might not be allowed to use those products.
My aunt sent me fuzzy pajamas and a box of chocolates to boot camp. She could not understand why I got in trouble for them and had to throw them away.
That's inventive.
I turned 40 while deployed and received a care package from my wife that had a fully inflated Mylar balloon, which I thought was pretty damn nifty and creative. The box had other stuff in it too, so it wasn't suspiciously light, yet when I sliced it open (thank god I didn't slice through to the balloon) up floated the colorful Happy 40th! balloon. Made my week.
Don't pack food with soap.
What ever you send PLEASE do not pack any soap or detergent in the same box as food. We got some really big boxes that had packages of detergent and lots of candy and all of the candy tasted like tide.
My father in law made me a few lbs of deer jerky long ago. The wife added a few bars of dial to the flat rate box and ruined every bite. I still ate it. I regret nothing.
Hot sauce makes everything better.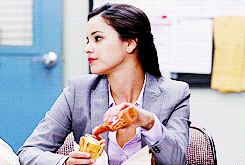 Giphy
Condiments such as hot sauce.
Food is not always bad but it's very predictable. Hot sauce makes it much better.
Just make sure you wrap the bottles really well. Postal centers overseas tend to just ignore "fragile" during the shipping and handling process.
Also, the hotter the better. Daring each other to test the hottest sauces we can find is great entertainment.
The best care packages ever.
I've seen a few of these on here already, but I will reiterate for the important ones:
Beef jerky. Any kind of jerky, honestly. Tuna fish too. Sounds weird, I know. Sometimes that quick shot of salty, greasy fish will keep you going. It comes in single serving bags, way better in the field than cans.
Hot sauce. One of the best care packages I ever had the pleasure of was nothing but 16 bottles of different types of hot sauce one of my buddies got and we all shared. Not joking, seeing what was in that box when my buddy opened it is one of the best memories I have of the war.
Baby wipes. When I was deployed I went out on a few extended missions, sometimes for a week or two. I took a shower in the field once. One time.
Things have changed a lot in the last 14 years, but I loved getting DVDs. I don't know what the equivalent would be in 2020.
Visine. I discovered this too late for it to have been helpful for me. To this day I still occasionally have dreams where my mouth and nose and eyes are completely clogged with dry sand and no amount of me trying to get it out helps. My eyes at least would have loved me discovering visine long before I did.
Magazines. The print kind, not the bullet-holding kind. Anything from smut to housekeeping, it doesn't matter. National Geographic was my favorite, and it ages well.
This was specific for me, I just wanted to share it: My girlfriend used to put a small note on anything she sent me. Message simple and sweet, and she'd leave a kiss in lipstick on it and spritz it with her perfume. I don't think I ever told her how much that meant to me. But damn sometimes that really got me through. I still have some of those notes.
FLAVOR FLAV!
My parents sent me a care package full of cheap toys once. Dart guns, noise makers, little toy army men, a small etch a Sketch etc. We all played with the toys for a day or so and it was entertaining, and afterwards we gave all the toys to local kids who enjoyed the hell out of them.
Saw a kid 3 weeks later who made the etch a sketch into a weird necklace. Looked a little like a 3rd world version of Flavor Flav. Kinda made me feel like not all is bad in the world.
Now I'm just laughing my butt off thinking about some 3rd world kid running around shouting "FLAVOR FLAV!!!!"
Better than a woobie.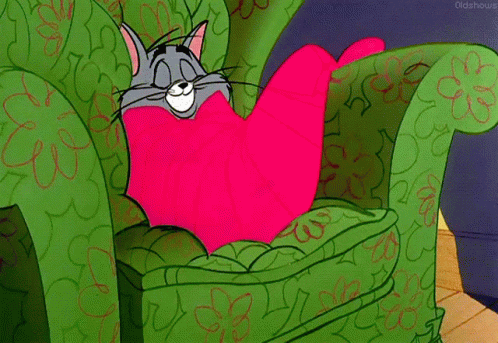 Giphy
My all time favorite was a church group where each contributor made a blanket representing their home state. I still have that blanket and NO ONE, not even my girlfriend is allowed to use it. It's draped over the back of my reading chair in the library. It's even better than a woobie.
"It's even better than a woobie."
Now now now, let's not get ahead of ourselves.
Yum.
Someone sent us two rum cakes. Wrapped in cellophane, still moist and delicious. That was a golden, sunlit moment amid a dreary and painful deployment.
We sent Christmas cake... It was so moist with the rum we got them merry....and then sick .... But they all loved it..
This is nice.
Send spicy ketchup from Whataburger
386 ELRS/CSS Unit 61408 APO, AE 09855/1408
-Skinwalker-
All needed items.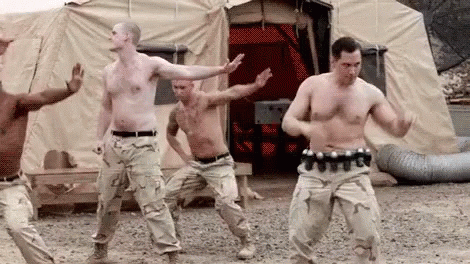 Giphy
Batteries. You wind up having half as many as you need, and it gets you mad. Command want you mad, so you take it out on the enemy.
Cards, travel games, dice. Not only is it nice to have entertainment that doesn't need batteries, but can be stored in a pocket, and sometimes traded or gifted to a local as goodwill.
Baby wipes. Does it need to be stated why these are good and useful?
There's a reason why they have PTSD.
I knew someone who was infantry in Iraq so I sent his squad a crate of Gatorade powder. Like enough to make vast quantities of the stuff when mixed with water. According to him they had water but not nearly enough electrolyte replenishment. It was very well-received.
I also made the mistake of sending him a cheap digital camera (this was slightly before phone cameras were any good) for him to keep, and asked him to send pictures. He did, and some are horrifying beyond description. I have no idea how anyone can *not* get PTSD after living through that.
Noted.
I was always grateful for care packages when deployed, but 2 hard lessons learned:
Booze shipped in an emptied mouthwash bottle (like rum) still tastes like Listerine, no matter how many times you wash out the bottle prior. Made us super sick.
Bar soap, included in box with food goodies, makes said goodies taste like soap.
Fair.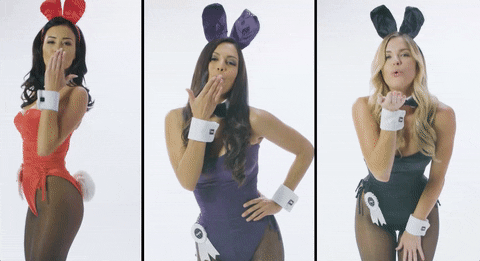 Giphy
Porn mags, loads and loads of porn mags.
Good point.
High quality toiletries.
Soldiers will generally always have access to basic hygiene supplies but rarely the nice, name brand stuff. Those sorts of things can really make someone's day.
When sending a care package remember that you're trying to make someone's deployment less miserable, not providing for their basic needs. Please don't send stuff like razors from the dollar store. While the thought is appreciated, that sort of thing usually sits unused in a pile at the MWR.
So things like nice, Gillette razors, electric toothbrushes, nice tissues that don't aggravate your nose, high-quality running socks and underwear, manicure kits (just the kinds with clippers and nail files, no polish), boot insoles, salon shampoo and conditioner, high quality skincare products, etc.
And don't forget the women. Tampax pearl tampons are extremely popular. Smaller sizes of nice socks and underwear. Brushes and hair ties. Face masks. But try to avoid super scented stuff.
Keep reading...
Show less
The military is not for the average human.
Military officers often move from place to place, and have no home--troops go in and out of countries in varying states of war. In a state of peace, the military is still a dangerous job. In a time of war, there are no words to describe the horrors those in the military face daily.
u/Overcooked-Banana asked:
Redditors who joined the military and regretted it, what made you regret it?
Here were some of those stories.
Life On The Line
I regret the last 6 years I was in. It cost me my marriage, my sanity, health, and all around sucked the joy out of life. The stupid game got really stupid in those last six years. Truth is, if I had reclassed to a different MOS, I'm sure I would have been happier and would still be in. But no. I chose to stay in the infantry for 6 more years. Once I got out, I felt 125% better about myself and my life.
A Product Of Capitalism
My coworkers were jerks that would bully specific troops into being afraid to work, because would get yelled at if they ever made mistakes (they were apprentices. They'll make mistakes). The shifts were long and irregular; sometimes I would walk in at 7 in the morning for work, only to be told "oh! I meant to call you. You're moved to nights. Come back at midnight". People got placed on weekends for 5 or 6 months at a time and only got pulled off so I could due-process or deploy. People shame you for using vacation days and often deny you vacation time. It's a mess.
Generally The Opposite Problem
I left after 7 years. The reason I regretted joining is that I never got to used the skills I trained for. It's the main reason I left. I'd see the same people getting cycled back onto deployment and I'd be stuck in a shore office dealing with paperwork at a desk.
I didn't sign up to ride a desk, I signed up to be at sea. I was ready and available to go every time, and my name just never came up.
But now I'm in a better job making more money with way less bull to deal with so... No worries
The Mental Repercussions
My buddy has PTSD and is deaf in one ear. He's deaf because that was the radio ear and the PTSD shows up in fits of anger when his anxiety jumps for no apparent reason. He gets wound up if he feels like he's being attacked leading to him losing jobs, losing relationships, and alienating friends.
Shame
Sexual assault on US Navy ships is constant and is swept under the rug. Reporting assault is drilled in by PowerPoints but actually reporting can lead to alienation, harassment, or still having to work in close quarters with the person that assaulted you. Males and females.
Job Is A Job
Been in 12 years now, and I feel like most people regret it, in some form or fashion during their time. That doesn't mean that you regret it all the time, but it certainly has it's moments. Even guys with the "cool" jobs have regrets about things. I fly Apaches for the Army, which is arguably the coolest job out there but just like any job, shit sucks sometimes.
Messed.  Up.
Its illegal for you to quit, and you're salaried and overtime exempt. There is zero incentive for them to not ride you like the indentured servant you actually are at that point.
100 hour weeks are not uncommon.
Beyond that, the sheer amount of control over your life that they have, and more specifically all the incredibly stupid stuff they choose to make a big deal out of instead of letting you do your job.
The specific job itself was fine. But everything about the military and military life is bad.
Keep Yourself Untethered
Joined, got married, had kids, the trap. Afraid to get out because the fear of not being able to provide for my family. Used to the benefits. Healthcare for the family. That's the trap. Long deployments. Typical bull of being in the military. Constant fear of getting into trouble. Made it to 20. Retired. I can say the retirement check is nice. But you still need to work to keep things going. Don't fall into the trap. That way you can get out if you want.
A Terrible Conglomerate
It was the greatest concentration of the absolute worst people I've ever come across in my life. Don't get me wrong, there were some great people in the military as well, but the distribution of liars, cheaters, drunks, abusers, backstabbers, and bigots was so much denser than the average distribution in regular society that it got to be too much. Also, dear lord, the number of people who expected to be treated like a goddamn hero just for enlisting was nuts. Like, dude, you sit in a climate controlled lab all day in a butts-in-seats position. You haven't done a damn thing for your country.
Make An Informed Choice
Joined right out of highschool, and was pigeonholed into a job I hated 2T2. All I got was a gi bill, a nicotine addiction, and work skills in a field that is both hard to get into and doesn't pay well since it's so easy to do. Higher ups will tell you "civilian life sucks compared to this" but honestly those guys have stockholm syndrome. Sure you don't get a guaranteed housing allowance or free healthcare from your job but if your boss comes in drunk screaming at everyone, or the good old boy system comes into play at work, or your boss and coworkers screw your career up. Unlike the military, you can just leave.
I regret it because I wasted a few good years of my life for the government doing work I hated and when I got out I essentially had to start from scratch. My advice is that unless you know you're getting a job that you know you'll love, really weigh out your options.
Keep reading...
Show less