Ever take a look online?
It certainly feels like everything about the world, as of writing, is awful, terrible, and just downright no good. While there's positives out there to be found, don't purposefully overlook the subjectively bad stuff.
There's knowledge to be gained from this practice, so be sure to look at the dark and bleak facts of the world.
Reddit user, RefrigeratorDry495, wanted to hear some truly awful things when they asked:
"What are some simple yet incredibly disturbing/scary facts?"
The Stats Change On How Many Years It Takes To Solve
"1/3 of US murders go unsolved."
– jdward01
"That's a relief."
– Lazerith22
"On average since 1965, sure, but in 2019 the solve rate was 58%. In 2020 it was 50%."
– ak_doug
*peaks out the window
"If you live in a major city there is a nuke aimed at you"
– Copious-GTea
"I live on the outskirts of a city in the top 100 American targets. Out of morbid curiosity I looked some blast radius maps when Putin said to get them ready. Anything smaller than the largest theoretical nuke ever designed (never built) puts me squarely in the "everything will be on fire but you'll probably survive the initial blast with severe burns if you're inside when it happens" so that was a fun night"
– DontBotherNoResponse
On Your Feet, Soldiers
"Despite literally all war propaganda from every country saying otherwise, you are not going to make an individual impact in glorious battle and die valiantly in a hail of bullets. Statistically, you are overwhelmingly more likely to be killed by an explosive device launched miles away by a vehicle you will never see, long before you ever get a chance to pull the trigger."
– grumpy_hedgehog
"Which, relatively, is such a new human experience. To quote Dan Carlin (Hardcore History) "I am fascinated by the extremes of the human experience."
"It used to be that a single, well trained, well armed soldier on a battlefield, who is physically imposing could single handedly turn the tide of a battle. The Romans used to fear the Gallic tribes to the north, because while the average Roman soldier was around 5'3-5'5, the average Gallic warrior was more like 5'10 to 6'. That used to mean something, EVERYTHING. I mean, I myself am 5'8, and I sure as hell wouldn't want to fight hand-to-hand combat with someone 6 inches taller and at least 30 pounds heavier than me if I was given the choice."
"In the modern era, it means jack sh-t. A 6 foot 200 pound soldier goes down to bullets and artillery all the same as his 5'6 comrades. Infantry combat from the American Civil War onward is just a glorified meat grinder. The winning side is the one with the most expendable soldiers, and no individual can change that anymore, at least not on a battlefield. Today, it's more about the technology than ever before, since the most technologically advanced countries are nearing being able to fight, and win, a war without ever having any actual boots on the ground. It's fascinating how far we've come in just a couple thousand years"
– ItsDrap
In Short Supply Of Iron

"If given access to it, butterflies will happily drink blood."
– Didsterchap11
Meat Is Good. Hard To Argue With That.
"Bored ducklings can become cannibals!"
– nova777666
"The amount of animals that are opportunistic cannibals or even carnivores would shock some people."
– Beezo514
"Yeah, there aren't a whole lot of actual herbivores in nature. Deer, horses, cows, and most other 'herbivores' love eating insects and other small animals when the opportunity presents itself."
– Traditional-Ad3161
Just When You Thought It Was Safe To Back In The Water
"sharks have been around for at least 420 million years, meaning they have survived four of the "big five" mass extinctions. That makes them older than humanity, older than Mount Everest, older than dinosaurs, older even than trees. Yet we could potentially see them extinct in our lifetime"
– LfcOsh
Reading This Late At Night? Go To Sleep.

"Moving back the start time for school in an area resulted in 70% less car accidents."
"Similarly at each daylight saving, heart attacks and accidents decrease with an hour of extra sleep and increase with an hour less of sleep."
"Sleep is crazy important."
– JamieBensteedo
Cotard's syndrome, also called "walking corpse syndrome," is a condition wherein the patient believes they are dead, dying, missing parts of their bodies, or don't exist.
Some people with Cotard's syndrome may stop speaking or eating since they believe they're dead.
– Back2Bach
I would like to add its extremely rare and that most medical professionals will never encounter it.
– SoulParamedic
When You Can't Trust The People In Front Of You

"Capgras Syndrome is a mental delusion where you believe that the people closest to you have been replaced by impostors"
– KikiKiwii
"This will probably get buried in the amogus spam but the theory behind how it works is actually super fascinating, basically it turns out that there are two independent facial recognition processes instead of one, where one is subconscious and emotional and the other is conscious and objective; This is evidenced by research showing that people who developed facial blindness (a really interesting subject in its own right) due to brain damage would still subconsciously react to faces of people they had been familiar with before their condition, so essentially in FB the conscious level of facial recognition breaks down even if the subconscious level doesn't, but Capgras is the inverse of that where the conscious level remains intact but the subconscious level breaks down so you recognize that they're physically indistinguishable from the person you know but that emotional and familial connection with them that tells you that they are who they are just stops firing."
– N0thingtosee
Maybe Humanity Was A Mistake
"Egyptian mummies wouldn't be so rare today if the Victorian British hadn't eaten most of them."
– Heikold
"Wow, that was something I never knew or imagined. Thank you. History of Eating Corpses as Medicine"
– NiccoMachi
Mmwah! Good Night, Everybody.
"You have no way of really knowing if everyone experiences reality and consciousness the same way you do."
– catomi01
"You really have no way of knowing if you are experiencing "reality" at all. You could be a brain in a box, a delusional god, an alien's computer science experiment for their 4th grade science fair..."
– Spong_Durnflungle
I Didn't Need To Know That
"There is a chance that you will walk past at least 3 murderers in your life."
– _cloudy_demon_
How Do We Taste?
"Butterflies taste through their feet so if they land on you they're just getting a quick taste test Yaaayyyy.......... "
– SavageKitsune762
I Can't See!
"Your immune system does not know your eyes exist if it ever find out it will just basically attack it as a bacteria or some sort of virus in short you will basically blind yourself"
– kidsforsaleoff
I Dream Of You
"Everyone in your dreams are based of a real person as you are unable to make up a face"
– username087544
This Is Why I Hate Coconuts
"Coconuts kill more people then sharks kill people."
– SelfApprehensive853
Glad The Crabs Are Okay With It
"Crabs are aware that we eat them and even eat each other to prevent over population."
– StableMable8008135
I Will Never Forget This One
"Most laugh tracks were recorded in the 1950s, you're hearing dead people laugh"
– Greatest-Memelord
Won't We All?
"Rabbits can scream, but will only do so if they think they're about to die."
– guywithnolife69420
Eight Extra Minutes Of Life
"if the sun exploded, you would be unaware of it for 8 minutes"
– Gold_Army_2889
Don't let facts like this get you down. There is, you just have to go find it.
Keep reading...
Show less
Unless you've been a member of the armed forces, you may only know drill sergeants as uncompassionate leaders who yell at privates all the time.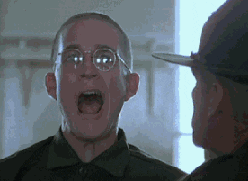 War Face GIF Giphy
But contrary to what's depicted in Hollywood, drill instructors endeavor to bring out the best from privates through tough love in addition to discipline.
Apparently, their sense of humor has no bounds. Curious to hear from drill sergeants online, Redditor darkstalker1000 asked:

"Drill instructors, what is the funniest thing you have seen a Private do?"
The following examples were utterly humiliating, but valuable lessons were learned.
Longheld Punishment
"Had 2 guys get in a fight in our bay during basic. The drill sergeant made them hold hands and pretending to be on a date all week. Only time they could let go of each other's hands was rack time. They ended up becoming pretty good friends."
Confusing Paycheck
"Ex British Army officer here."
"A corporal went on a nine week mortar course and was accommodated (obviously) while he was away. It turned out he knew one of the DS teaching the course and was invited, regularly, to dine and drink in the Sergeant's Mess."
"The month after coming back from the course, he brought his payslip to me with a puzzled look on his face and, embarrassed, explained he didn't understand what it meant and could I help him?"
"It emerged that the Sergeant's Mess had a chitty system - you didn't pay for your drinks at the time, but signed for them and the total bill was deducted from your pay."
"This legend had managed to drink more than his monthly salary both months he'd been away and his payslip was a negative balance."
"I'm sorry Smith, I'm afraid you owe the Army £235 ($327.50) this month."
Asking For An Advance
"Former European Anti-Air Trainee here."
"Recruit spent his first check on alcohol and sex workers, asked his commander for next months check in advance the next day. Instead of having a good excuse prepared to actually succeed in that proposal he blankly told him in front of 80 other recruits why he'd need it."
Eye-Level Reprimand
"I saw a guy post about how he was like 6'3 and his DS was like 5'2, so whenever he messed up the DS would go up to him face to chest and yell 'Elevator!' and the guy would bend down to eye level with the DS and say 'Ding!' and the DS would proceed to look him in the eye while he chewed him out."
Some experiences were downright hilarious.
The Stain
"Not an RDC, but in boot camp I was over the laundry crew. One recruit sh*t himself because he thought he couldn't leave his rack after taps. It was funny at the moment before I realized I had to wash it."
– ScootaFL

People Share The Scariest Thing They've Ever Experienced While Home Alone | George Takei's Oh Myyy
Ambush Training
"This was the funniest f'king thing I ever read from u/odomotto"
"Recruit fired all his blank ammo during 'ambush training.' He crawled in ditch opposite where the aggressors were, and started throwing rocks at them. DI came running in middle of the road blowing his whistle and screaming 'what the f'k are you doing?' Recruit screamed back, 'throwing hand grenades drill sergeant!' Without missing a beat, the DI screamed 'out f'king standing.' And walked away."
"My sides hurt and I was wheezing laughing so hard at this when I first heard it!"
Painful Salute
"Not me, but my uncle is a drill instructor for Canadian Cadets and basically when the trainees were saluting, one of them karate chopped their own eye and he was so nonchalant about it that he just had one eye open for 5 minutes and my uncle was trying so hard to contain his laughter."
"I could only imagine how embarrassing that would be."
– jman857

Consequences Of Volunteering
"This one was told to me by a retired army vet. The platoon was gathered and the instructor says 'We need someone to drive the colonel around base. Who has an Ohio driver's license?' So he whips out his ID all excited like and gets picked. Then one of the instructors pulls out a push broom and says 'Salute the colonel!' So he ends up sweeping the base for the day. Moral of the story, don't volunteer for anything."
Johnny Appleseed
"When you come off a shooting range you have to be checked to make sure you aren't taking any live ammo off of the range. The DS would pat you down and check your pockets/magazine pouches for any."
"One guy smuggled an apple out of the dining hall at breakfast and was storing it in his grenade pouch. As he was coming off of the range the DS felt in the pouch and asked him what it was. He had to eat the entire thing right there including the core. He was Jonny Appleseed for the rest of training."
"Good times."
These punishments made no sense. And that's why they're memorable.
The Replacement
"When I was in basic, a kid we called 'Albino' shot off a blank round accidentally in the field. The sergeants were pissed and took his weapon away and replaced it with a broomstick for the remainder of the week in the field."
Pukefest
"Not a DI, but we had this kid in my platoon pass out from heat exhaustion while staying in the sh**ty range barracks on Parris Island (Marines) DI's made us get on line and force fed us all water in a timed period and had to hold the canteen of water over your head upside down whether it was empty or not when the time ran out, then we all ran back to the bathroom and filled our canteens with water and ran back on line. Repeat this about 4 more times and eventually 1 recruit puked EVERYWHERE, AND THAT CAUSED ANOTHER RECRUIT TO PUKE, AND THEN THAT CAUSED EVEN MORE IN A HORRIBLE CHAIN REACTION OF EVENTS. I had to hide behind one of the columns because I was about to start laughing my butt off... THEN I SMELT THE OVERWHELMING STENCH OF STOMACH ACID IT WAS HORRIBLE."
"Luckily I didn't throw up, still one of my fondest memories during that horrible 3 months."
Wrong Boots
"Day one of basic training, a private in another Platoon came down to formation wearing one summer boot and one winter boot, I noticed it and laughed. 10 minutes later, and a Drill Sergeant from that Platoon had still not made the private go and fix himself."
"I informed the other Drill sergeant of the situation; wondering if maybe she hadn't noticed, so she yelled at him to go change."
"Another 10 minutes later and I heard her screaming again."
"The private had come back downstairs with the OTHER winter boot and the OTHER summer boot on."
Bed Sheet Cloak
"Man I remember some dude didn't put the sheet on his bunk the right way and had to wear the sheet as a cloak and go to all the other barracks dancing around sing about how he was the 'Catch Edge Fairy' or something. It was pretty silly, he owned it though. He was doing twirls the whole time. This was Navy bootcamp."
– Konebred

Despite how they are depicted on film, drill instructors are people who care.
Like, Beals – a drill sergeant at Fort Knox, Kentucky – who said:

"We provide more than just physical, mental and emotional guidance for them. You are a father, a preacher, a financial advisor, a counselor-you provide so many different services to the Soldier that the regular public doesn't see on day to day basis."
"They see what they see in movies and what they hear about by word of mouth. But you are fulfilling so many roles other than just being a trainer and teaching an individual how to be a Soldier in the Army."
And occasionally, they are having a laugh at the crazy things their trainees do.

Keep reading...
Show less
Being a soldier isn't at all like what many people think it's like.
For one thing, it's actually quite boring. Yes, you read that correctly.
There are long stretches of time, particularly in the infantry, where soldiers don't really have much to do, if anything at all. Some of the soldiers I've spoken to (who've since left service) have recoiled telling me about that.
They said it was a big shock for them.
I have a relative who also said he thought being a soldier would be far more exciting than it actually is. He was surprised to find out otherwise.
Redditor GeofryGold asked the online community:
"Soldiers of Reddit, what's something you wish you knew before you enlisted?"
"Couldn't have a phone out..."
How godawful BORED you're going to be 99% of the time. I was in the infantry, and it seemed like 99% of our time was spent sitting around doing nothing. And at the units I was in, that literally meant NOTHING. Couldn't have a phone out, so you just sat there, from 9 am to 5 pm, or really until 4:45 pm, when they'd magically find a conex you need to 100%.
That, and you'll be punished for other people screwing up. I can't tell you the number of times I was standing in formation at 1:15 AM on a Friday night/Saturday morning because some idiot got a DUI, and that meant everyone got punished because of it.
What did I tell you about that boredom, huh?
Crazy, right?
Let's continue.
"Magical night."
Getting pulled out of bed at 2330, to sit in the basement of battalion while the MPs and dogs searched the barracks for drugs. Magical night.
"The military..."
"The military doesn't care about you. You can be the best in everything, they can still discard you like you never existed."
William84000
This one...
...definitely hurts. The truth often does.
"Be sure..."
Be sure to get an MOS that translates to a civilian job. That way you have a skill set that you can use on the outside.
"That I'd go through training..."
That it wasn't a band of brothers.
That I'd go through training with a bunch of guys who never should have graduated high school and in many cases were only not in jail by luck and circumstance.
That no matter how loyal you are, if you lose your current spot, even with exemplary ratings you may be denied re-enlistment due to budget concerns - basically no loyalty back to you.
That you will be expected to do your job in ways that are dangerous, negligent and often illegal because the resources don't exist for you to do it right, and it is YOUR @ss on the line - basically no loyalty back to you.
I met some truly good people that made me proud to serve. I wasn't in long enough to feel as though I have the right to call myself a veteran though I am, and honorably discharged.
But the only branch I will support a child of mine joining is the Air Force, and even then I'll be very careful about coaching them on picking their MOS and to remember it is a job as political as high school or any cube farm.
"You can find yourself..."
How much of a difference there can be between units. You can find yourself hating your experience and chalking it up to it just being how military life is, but rather than getting out as soon as you can, it might just take a transfer to completely turn things around.
"It didn't happen to me..."
Definitely do your own research on MOS and don't listen to your recruiter, even if he/she claims to have been that MOS or worked directly with them. Look it up for yourself.
Assuming this is about the American Army, you'll meet the absolute best and worst that America has to offer. Everything from "that guy is an actual hero" to "that piece of s*** beats his wife."
It didn't happen to me, but one thing you should know is that it's very easy to accidentally break your end of the contract... you do that, and you're f*****. Had a couple guys in AIT fail the same test twice in a row. Well, that's it for them. No more bonus. No more MOS they wanted.
As far as I know, they were both reclassed as cooks per "the needs of the Army." Fail a couple PT tests or otherwise get flagged? You broke the contract, no more bonus payout. I've only heard of that happening anecdotally, never seen that one. Still good to keep in mind.
There's good and bad with everything of course. Don't let people talk s*** and convince you to sign up for an MOS or something else you don't want to. Infantry guys will tell you, "There's 11B, and 11-wanna-B." I'm a POG and I'm happy as a pig in s***. Do what's best for you.
Well...
This is about as real as it gets.
"I would be willing to bet..."
PTSD, depression, alcoholism, sexual assault... they are all very real. I would be willing to bet you won't leave your first unit without first or second hand experiencing all of the above. Before you join, try to get your head on straight. You will probably need some support throughout your time in the service, don't be afraid to call friends or mom (after basic training).
Sadly, this is true.
Sexual assaults, in particular, are quite common in the military.
"When you join..."
Physical fitness: it really is important and there are tons of physical, physiological, and psychological benefits to it. When you join, you need to be at or near your peak physical fitness level. I hated to kick out good kids (and even a Major) for being overweight/weak/slow.
True!
Boot camp really has a way of weeding out those who can't handle the pressure.
"Make sure you are cool..."
You are almost surrendering your freedom. They will tell you what to wear, where to go, what to do, and when to do it (they sometimes might tell you why). Make sure you are cool with someone having that much control over your life.
"That your recruiter..."
That your recruiter will outright lie to you about what will happen and what to expect, and what benefits you will get out of it. As fun as heavy demolitions and land mine warfare are, unless you get a job in big construction, you will never do it again.
People really misunderstand a recruiter's job.
A recruiter's job is to just get you in the army. No more, no less. Some are more ethical about the process than others. Some are far less so.
Things rarely live up to the hype.
Want to "know" more?
Sign up for the Knowable newsletter here.

Never miss another big, odd, funny, or heartbreaking moment again.

Keep reading...
Show less
For young people pondering at least a few years--or even an entire career--in the military, a military recruiter might be a key component in the early stages of the process.
And it's important to remember that their purpose is, above all, to recruit people.
That's an inherent bias to keep in mind when speaking to such a person. Of course ethical standards are high enough to not expect lies or deceit, but given that all the facets of the military experience could never be covered in a couple meetings, plenty of the nitty gritty details may get left out.
Some Redditors who did spend time in the military gathered to set the record straight. They recounted the aspects of a life in service that they absolutely did not expect when they embarked on the journey.
MrAnonymous418 asked, "What are some things about the military that recruiters don't tell you?"
Want to "know" more? Never miss another big, odd, funny, or heartbreaking moment again. Sign up for the Knowable newsletter here.
Keep reading...
Show less
Nearly everyone lies—whether to get out of trouble, get what they want, or just to escape the awkwardness that can result from telling the truth when someone else only thinks they want to hear it.
Some people take things to extremes, though. Their lies can be so obvious that it's hard to do anything but laugh at the absurdity.
Keep reading...
Show less