Reddit user Educational-Coast304 asked: 'What's the best pickup line you've ever heard?'
Meeting someone new isn't easy, especially if it's someone you want to snuggle with.

How do you say "hi" and be cool?
How do we weed out the crazies who say "hi?"
There has to be a perfect way.
Who has used some good verbiage that set you aflame?
Redditor Educational-Coast304 wanted to hear the most creative ways we've all been picked up, so they asked:
"What's the best pickup line you've ever heard?"
There is no magic line for me.
But I'm a lifelong pessimist.
Let's Play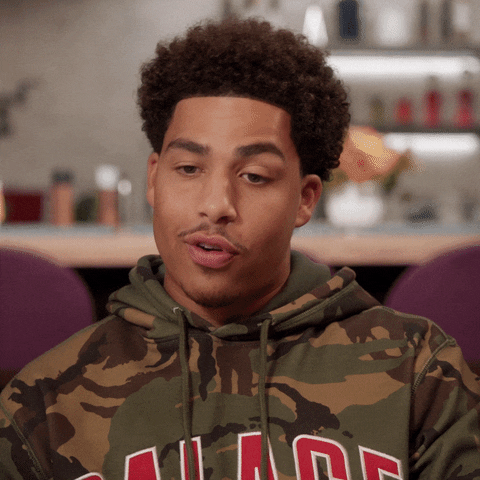 Marcus Scribner Comedy GIF by ABC Network
Giphy
"When I was teaching kindergarten, one of my students (who knew I love video games) dropped this one on me..."
"'You're pretty. You should come to my house after school and we can play Little Big Planet. My mom makes great snacks.'"
"His mom and I had a good laugh about it at pick-up time."
donkeyuptheminaret
The Mice
"This girl I used to work with and I went to a bar after work and we're having fun, and she leans over to tell me a joke. And she says..."
"3 boy mice and a girl mouse were all stuck in a room with no doors and no windows. One of the boy mice asked the girl mouse how to get out and she said 'Sleep with me tonight, and I'll tell you in the morning.'"
"Next day he is gone. The 2nd boy mouse asks the girl mouse how he got out and she says, 'Sleep with me tonight, and I'll tell you in the morning.'"
"Next day, he's gone too."
"So now the girl telling me this joke says to me. 'Do you want to know how the last mouse gets out of the box?' And I say 'yes.' And she says, 'Sleep with ME tonight, and I'll tell you in the morning.' All this while staring me in the eyes and smiling.
"I said,' 'Check please bartender!!' I forgot to ask her in the morning, but that was the best pickup line I've ever heard."
reb678
Tequila
"A woman once told me 'Every time I drink tequila I wind up sleeping with someone' and then proceeded to take a shot of tequila while holding eye contact with me."
Thefuturehasbears
"LOL, I was on a date in Hawaii and she said 'Tequila either makes me h**ny or angry' and I replied 'Don't be angry, be the other one' and she went to buy us more tequila shots."
"I was so drunk I fell asleep on the car ride and she dropped me off."
Scytherx781
"They said 'best pickup line' not 'best drop off line' lol."
chalmedtomeetyou
That Kid
"I was at my friend's house and his 5-year-old brother grabbed one of our friends by the hand and asked if he could play her a song on his guitar. She said yes, he picked up his guitar but stopped just before strumming it, thought for about 30 seconds, and said 'I don't know any songs for princesses.'"
"That little kid had way more game that 19-year-old me had."
physics515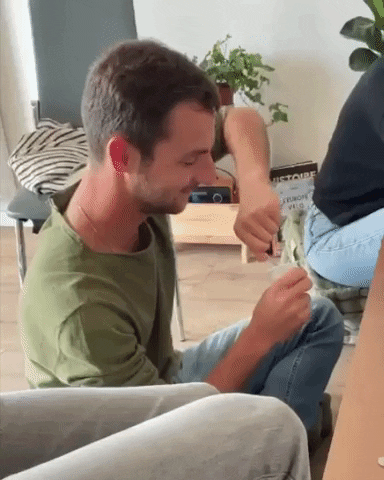 Miam GIF by philoyolo
Giphy
"When I was a student at University, I saw a pretty girl eating a particular brand of yogurt in the crowded dining hall before morning classes."
"I had the same brand of yogurt on my tray. I asked if I could sit at her table and she nodded. I looked across the table at her and pointed at her yogurt and said with a big shmucky smile 'Yoplait or mine?' It was said with humor and not as a pickup line. I ended up marrying that pretty girl. Amazing, given the horrible first line."
cblatnik
This is why I have never trusted any Yogurt.
Convince me otherwise!
I'm Hungry!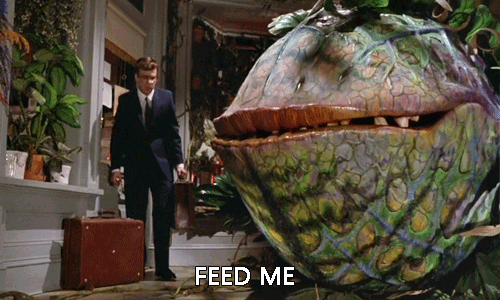 hungry feed me GIF
Giphy
"It's not a pickup line as such, but this guy once said to me in passing, 'GIIIIRRRLL, I wanna feed you STEAK and GRAPES!' and I have never forgotten."
PicardiB
Wanna Share?
"Once was at a festival where an org was giving out free condoms at a booth. One of the ladies is talking to a guy and a girl saying 'the condoms are free by the way, take as many as you want... oh but we don't have unlimited stock so please don't take more than you need.'"
"The girl picks up a condom, turns to the guy, and says 'Wanna share?'"
getyourshittogether7
The Frost
"It was the first snowfall of the season. The person and I were walking around campus together - we were friends who were heading out to grab a snack in between classes. We were quietly walking when the person suddenly said to me: 'The snow looks beautiful today.' In my native language, my name means snow/frost/ice. Turned out they were hitting on me and I didn't realize until later."
Confident_Cell_1350
Over the Shoulder
"On Halloween, a buddy of mine was dressed as a Viking. He asked a girl if she wanted to hear his Viking pickup line. She said yeah. So he literally picked her up and threw her over his shoulder and said he was taking her back to the boat. They dated for almost a year."
Reddit
Lines
"Take note that many of the best 'lines' are not openers, but are relevant follow-up comments once you are already in the flow and have a friendly rapport. And they are not really 'lines' per se, so much as situationally appropriate wit and timing (which are always attractive). Always better to just be present and focus on connection and context, not memorizing and saving a particular line for some future situation that may never come."
lurque
SCORE!!!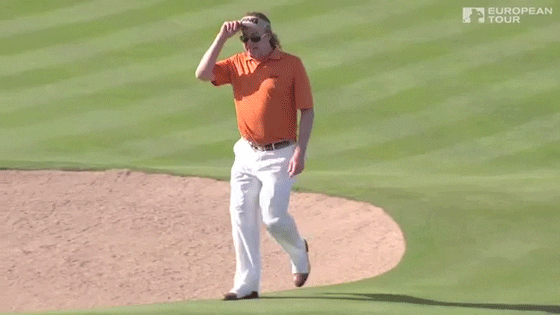 Moon Walk Dance GIF
Giphy
"At a college Halloween party, I was dressed up as Kazooie (although everyone assumed I was an angry bird) and I walked up to a woman dressed up as a golfer and told her that she could score a birdie tonight."
thepasz
Halloween is always an issue.
There are better holidays to meet people.
Flirting is always a delicate balance.
While an obvious way to get someone's attention, and let them know they find them attractive and (hopefully), are interested in dating them, it's not always appreciated.
As some people find flirting to be little more than thinly veiled sexual harassment, particularly when intentions are less than honorable.
Flirting is an even more dangerous game when in the office.
While some people flirt with colleagues for little more than harmless fun, others take flirting in the workspace much more seriously.
Whether they're the ones doing the flirting, or the ones being flirted to.
Redditor sunnyhappysky was eager to hear people's honest feelings about flirting in the workspace, leading them to ask:
"What's your opinion on flirting with / hitting on co-workers at work?"
Avoid In Office... Free Reign Outside
"I dated a coworker."
"We were not flirty or anything at work (it was a very professional/corporate place) but we went out to lunch together most days."
"We actually started off working in separate offices across the country but went to business events almost monthly and hung out."
"We only worked together a few years but have been married going on 28 years."- ncconch
Just Remember, No Means No...

If you socialize with them outside of work, that's the right time to flirt. And if they tell you no, then make sure you forget all about them before you come in to work the next day.- Metal-Dog
Just Don't

"That can go south quickly and cause a lot of issues."- Material_Joke1324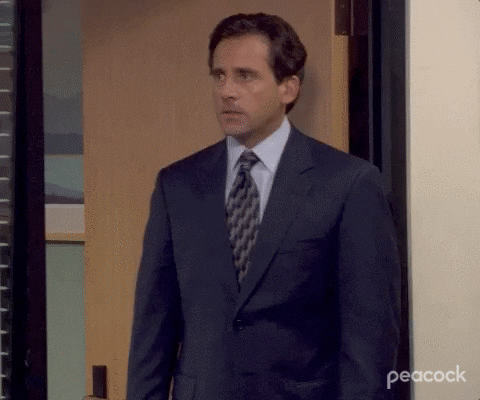 Season 3 Flirting GIF by The Office
Giphy
As long As It's Done With Care And Good Intentions
"20% of married couples meet at work."
"Can't really get away from that."
"That's why most companies train to distinguish between sexual harassment and flirting, which is totally allowed if it is done in a non-harassing way."
"I dated a coworker."
'I'm female and he's male."
"Same department, same titles."
"I started flirting on messenger first."
"We dated for 3 years and were always professional at work."
"We 'came out' after one year, shocking everyone."
"Coworkers were very supportive."
"After 3 years we broke up amicably and worked together with no drama or issues."
'I understand that this is probably an outlier but it does happen."- typical_friday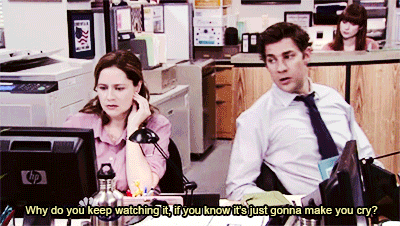 season 8 jim and pam GIF
Giphy
Just Be Open To All Possibilities
"I admitted to a co-worker I had a huge crush on that I liked her on a staff night out."
"She didn't reciprocate those feelings."
"She dealt with it really well at work but it absolutely ripped my heart out and made seeing her every day very difficult."
"It's a real gamble, could work out for you as it has a few people in this thread but I'd never do it again."- knopparp
"Anything that could lead to you f*cking your coworkers is a risky move."
"Source: spent several years as a 'f*cks her coworkers' girlie."- glittertits09
What You Do On Your Own Time...
"F*ck it! "
"Do it on the boss's desk."
"Leave a souvenir."- justimus_maximus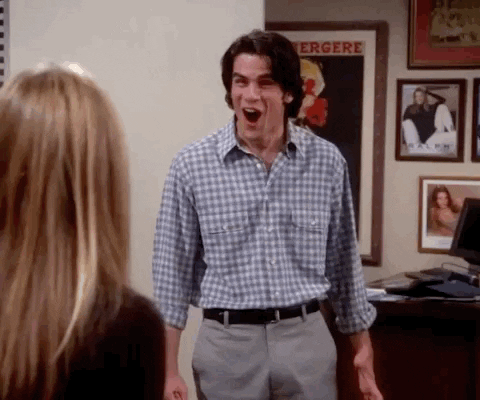 excited episode 4 GIF
Giphy
Too Big A Risk To Be Worth It...
"You're playing with firecrackers, while checking the gas line."
"Because, you're not sure your oven is working."- K_Odena
As The Saying Goes...
"Don't dip your pen in the company ink."- Agreeable_Stick_6484
"Never dip your pen in the company ink, as they say."
"If things go south, it can cause a lot of problems in the workplace."
"You don't want to be working with a vindictive ex, or have any kinds of personal issues with someone you have to work with regularly that might affect your work output."
"Plus, you run a very serious risk of losing your job due to sexual harassment, or fraternization rules."- SweetCosmicPope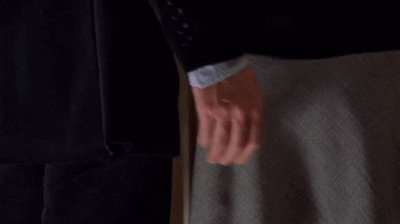 renee zellweger comedy GIF by Bridget Jones
Giphy
What Will Other's Say?
"It's fun, but I've been getting weird looks at the family business."- GroundbreakingFox833
Stay Away From Prying Eyes...

"If it's reciprocal, go for it."
"Just probably don't do it with other people around."
"Some people here are overreacting."- AReformedHuman
Just Be Careful, And Know Your Place
"Everyone here is overreacting."
"Don't be a creep or a weirdo and also don't presume to know somebody just because you work at the same place."
"The same rules that apply everywhere."
"But also don't try and get with inferiors or superiors."
"Other than that go for it."- Pepsplayed
When at work, it's a generally acknowledged rule of thumb to always be on your best behavior.
So if you think flirting might get you into trouble, probably best to avoid it.
Let's just be honest: the dating scene can be rough, especially when you're not sure if that person likes you back or not.
Some people, however, are very comfortable with their dating histories and believe there's a certain "cheat code" to confirming if someone is interested.
But for those of us who have always been bad at flirting and consider ourselves "oblivious" to other people's advances and compliments, maybe there could be some hope for us after all with these tips.
Redditor Independent_Slide932 asked:
"What are signs that there's sexual tension between you and someone?"
Their Undivided Attention
"It's serious eye contact for me, like when they would rather admire you than look anywhere else. It just makes it so obvious."
- GoGoHesHere
Butterflies
"For me, it's not just the eye contact itself, but when the eye contact is made, the two of you are in your own little world. There's communication happening in that eye contact that you aren't having with other people."
- la_metisse
The Thrill of the 'Chase'
"To answer the actual question OP asked, it's finding reasons for eye contact."
"It's 'accidentally' making physical contact. It's always ending up sitting next to each other in a group."
"It's a tingly tight feeling in your guts."
"It's a beautiful pain to experience. It's almost more fun than actually 'getting' the other person."
- AllAfterIncinerators
Literal Physical Attraction
"Angling. Always feeling like your center of gravity is shifting towards them."
- thelibrariangirl
Interested or Not?
"There's a regular who comes into my work who makes serious serious 'seductive' eye contact with me and has a smile that looks flirty."
"But he's also hot as f**k. He's just incredibly attractive. So like, just because it's making me turn to jelly doesn't mean it's anything other than just being friendly and having a regular smile to him."
- MangoMambo
It is, Indeed, ...Tense
"It's that awkward, 'I want to f**k this person, and I'm pretty sure this person wants to f**k me, but I'm not sure enough about it to actually make a move.'"
"That's sexual tension."
- Grueaux
Sounds Awkward
"It can manifest in a lot of ways. Usually, sexual tension develops when two people are attracted to somewhat attracted to each other. The funny part is, sometimes they aren't even fully conscious of it, or want to acknowledge it."
"That is where the tension lies. There is a reason why both are not participating in healthily acknowledging attraction for each other. It can look like tense awkwardness, constant fighting, overt flirtatiousness without any progression, and even consciously ignoring/avoiding the other person."
- EimiCiel
Silent Communication
"It's a shared gaze that at once leaves you both relaxed and on edge. It's like being old friends with a stranger."
"It's like an inside joke that isn't funny, it's sexy. I mean, it could be funny or sexy, but you see what I mean, it's a common understanding."
"It's like, 'You've got a secret, and I know it, and I've got a secret, and you know it, and the secret is the same thing, and we both know it, and it's so f**king delicious that we both know that without discussing it. The secret is nothing and everything, it's the knowing and sharing and the edging that is wonderful."
"It is something that is involuntary, but also once you've experienced it (enough), you can put yourself in that mode, make eye contact with a sexy stranger, and they may respond positively. It won't be as good as spontaneous mutual attraction, but you can put the signals out, 'Hey, I dig you, are you interested?'"
"Some people that you have that intense mutual attraction for aren't the right one(s) for you, except that they are the right ones to practice making that connection with. The person who is perfect for you might be someone who grows into the right emotional responses... and that's true of you, for them, as well."
"And lastly, you can choose to ignore both the mutual and asserted versions; the right relationship choices are both an emotional and intellectual decision, don't rely on one exclusively."
- im_dead_sirius
A List of Obvious Signals
"Reading signals is tough, I'm glad I don't have to date these days."
"But some legit signals I've learned, in no particular order:"
"Prolonged or suggestive eye contact."
"Body positioning mirrors yours or stands closer than typical in your culture."
"Playing with hair when you interact."
"Light unconscious brushing up against or touching."
"If seated, leaning forward towards you frequently and/or touching you hand in a friendly way."
"Flushed or light blushing when they interact with you but not others."
"Suggestive teasing."
"Excessive awkwardness that isn't the case with them around other people. Especially if they straight up start babbling like a loon."
"Awkward silences you could cut with a knife but they still keep seeking you out."
- AndrogynousRain
When Someone Gets It Wrong
"It's hard to explain. Basically, it's a nervous, delicious breathless feeling when they are close to you. You both go out of your way to stand just a little bit closer to each other."
"The sad thing is, some people think they 'feel' this with someone just because the other person is being friendly and misread signals. I once had a guy insist that we had sexual tension simply because I twisted my hair."
"He told me that twisting my hair was a 'mating signal.'"
"I told him that I had been twisting my hair has been a nervous habit of mine since I was a toddler, but of course, he wanted to believe I was interested and insisted that I must secretly want him."
- Joygernaut
Obvious to Other People First
"When other people pick up on it."
- The_She_Ghost
Responding to Looks
"When they suddenly look and hold eye contact and then look away. (Low)"
"When they look and notice you're looking then they run their hand through their hair. (Medium)"
"When they notice you looking and suddenly gently bite their lip looking away. (High)"
"When they notice you're looking and do something to draw attention to their body either stretch and reveal skin or adjust an intimate part of their clothing. (Extreme)"
"Each of the above will make you get butterflies as you know that she knows AND that she knows that you know."
- DragonofDojima_
Trying to Keep the Conversation Going
"When there's a lull in the conversation, and eye contact is maintained while you both are trying to figure out what to say next."
- djpack
Looking But Not Looking
"Catching glances, by either party. The kind where they're looking at you and don't think you'll look up or at them. Then suddenly the ceiling is really interesting to them when you make eye contact."
- HuxEffect
The Classic Note Trick
"When they hand you a piece of paper that says:"
"'Do you think that there is sexual tension between us?'"
"'[ ] Yes or [ ] No'"
- xaradevir
While we'd all love for the dating scene and general flirting to be straight-forward, simple, and stress-free, this thread serves as a reminder that it comes easily for some while being a puzzle for others.
At the end of the day, if you're interested in someone, the easiest thing to do, though it's terrifying, might be to ask them.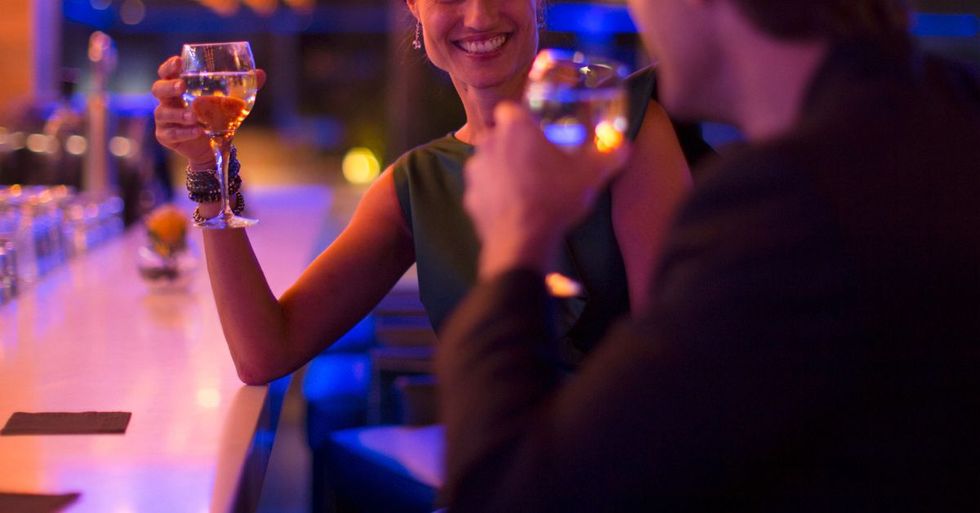 Giving people advice is never an easy thing to do. It's a fine, fragile line to walk. It's especially difficult when it's relationship advice. The heart wants what it wants. Be careful about getting in the way. Case in point… Redditor Ok-Key7943 wanted to discuss his experience and get some feedback. So naturally, he came […]
More
There are a lot of great things that go along with being a girl. We can grow our hair as long as we like, we can wear clothes generally meant for guys, and we never have to worry about getting judged for getting certain beauty treatments.
However, it's not all sunshine and rainbows (or sugar, spice, and everything nice). Girls are often held to unfair beauty standards, expected to act in restrictive ways, and sometimes get harassed by strangers when getting hit on.
Now, we're not saying women can't be creepy when coming on to a man, but generally, women are the ones who have to deal with men coming on to them in the creepiest of ways.
Curious to find out more, Redditor springreleased asked:
"Women of Reddit: What is the creepiest way that a stranger has tried to come to you?"
Reverse Cinderella
"Not me, but one time I went to a party with a girl I had a huge crush on and some drunk guy started negging her by telling her her shoes made it look like she had horse hoofs instead of feet. Also that her pants were too high. He proposed removing both on her behalf."
– Suspicious_Lynx3066
Not Given A Chance
"Guy who I served in a bar I worked at when I was 18. He told me he was going to "walk behind that bar and finger you until you fucking cum". He was in his 50s."
"He did not finger me, as I threw him out and barred him."
– ElonMusksCarRecovery
"That's one of the reasons why I hate how underpaid people in restaurants are. Idk how a company just allow that, there's been several times where female coworkers asked to hide behind me or pretend I'm their boyfriend just to keep a creepy guy away from them, but they're regulars, so they get to stay. I'm glad you were able to throw him out."
– TylertheDank
Whodunnit?
"Before I met my husband, there was a guy I knew who liked to break into my car and leave me gifts. Creepy AF."
– Deathangel1976
"So they stopped after you met your husband?"
"Veeeeeeeeeeeery interesting..."
– NightsOW
"Plot twist. It was always your husband and he's always been too embarrassed to tell you."
– occpotato
Not Sure That's A Compliment
"I'm a guy but I have long hair, so a few fellows have gotten confused. One dark night, I was walking my large potato-like German Shepherd mix dog."
"We passed by some shrubs that were very dark. A man stepped out of a shrub and into my path. He looked at my dog, and looked at me, before finally saying, "Beautiful dog, so beautiful." I thanked the guy, then he looked deep into my eyes and said, "And you look just like your dog.""
– SlavojVivec69
Following The Leader
"Sat behind me on the bus for weeks, then followed me home to see where I lived. Next day he knocked on my door holding wine and flowers. I was 18, he looked 30s. I slammed the door in his face, thankfully he never came back"
– Apprehensive-Ad4244
"I really want to know what goes through people's heads when they do this. I had something similar but less extreme."
"I met a man on the bus and he started talking to me which I don't mind the random conversations (I've had interesting and innocent conversations before on the bus). But then he followed me out of the bus even tho it wasn't his stop. I told him I was meeting my brother and he thankfully didn't push."
"Another time a "friend" followed me home. He had made some girls uncomfortable by trying to touch/hug them even tho we told him not to do that. He wanted to ask me out by coming to my house but he couldn't remember which house I entered so I'm also thankful for that."
– I_love_misery
Ew, Ew, Ew!
"once a man attempted to push me down the stairs at the library and then pull me back up by my shoulders when I turned around he smiled and said "i think you owe me a feel?" He even made the boob-grabbing gesture with his hands it was weird and gross."
– No_Number9780
"Holy crap people are disgusting"
– DoggoGamrr
Like Mother, Like Daughter
"Probably this old dude from my mom's facebook contacts whose method of hitting on me was to inform he's sexed my mom before and wants to do the same to me."
"Yikes."
– Senrik95
"That's phenomenally disgusting. My mom told me that when a sleazy guy falls out with a girl he slept with, sometimes they'll go for the mom, then the sister, and onto the next girl in her family.
– Krispy_Krane
"Wow! Did he really expect you to respond positively to that!?!"
– Hthrhrry29
"I'm going to hell for laughing at how bad that is. MY GOD"
– wandringstar
Nowhere Is Safe
"My first job out of school, I was a server at this takeaway with a few tables (about 5) for people to sit and eat."
"I used to the Sunday morning shift, the breakfasts were popular."
"This guy (late 40s maybe) comes in as the breakfast rush is ending and makes some small talk and asks me how old I was, I was about to turn 18. He looks me up and down and says "that's old enough" and proceeds to place an order and pay for the Sunday roast - only ready in 3hrs time."
"He spends the time lurking, saying creepy stuff, and not moving from the register counter. I was too scared to leave him alone at the counter but also too scared to leave me alone with him."
"Eventually told my boss and he came and punched the guy."
"He never came back."
"Edit: i remembered another one. I think I was about 21 and I was driving home alone, at night. A pair of cops pulled me over because my new tires somehow looked bald to them. They started asking if I lived alone, if my car was locked, if it locked automatically. They let me go, but I was SO freaked out."
– MzFrazzle
"Are you certain those were cops that pulled you over? I don't doubt that creepy police exist but that experience makes me wonder if those men even were legit. It all sounds so sketchy."
– paidcatlady
Un-Relaxing Beach Day
"I was alone at the beach & had fallen asleep on my oversized beach towel after surfing all day"
"I woke up to a smiling guy laying right next to me on my own towel asking if I had a nice nap"
– slavicgypsygirl
And now I will never take a nap on the beach again!
Do you have any stories to share? Let us know in the comments below.