People Share The Weirdest Way They Met Their Best Friend
Best friends can come out of everywhere, anywhere, at any time. Unfortunately, this rule usually applies to kids more often than adults. It seems so much easier when you're younger. You can basically make a friend out of accident. Sometimes, it can last forever and then you can talk about it on the internet.

---
Reddit user, u/pijeN57, wanted to hear your best friend "meet-cute" when they asked:
Best Aim
Giphy
I threw a rock. I wasn't aiming at him, but I hit him in the eye. The teacher made us sit together for the rest of recess.
He's a really nice guy.
A Rivalry Turned Partnership
We were both trying to get with the same girl.
Eventually started talking, became best friends, and completely forgot about the girl. We've been best friends for nearly a decade now.
At Least No One Was Hurt?
Car accident, my fault.
We have been friends for 15 years.
Never Doubt The Power Of Rainbows
I went to her birthday party in kindergarten.
Realized she had the same Rainbow Brite sheets as me and we instantly bonded over that. 30 years later and we are still best friends!
Friendship Out Of Pain
He kicked me in balls (He thought I was someone else) dude had the same hoodie as me.
Been friends for 8 years now
What more do you need to start a bromance?
Beans? Beans.
We're both 22 now and met in 6th grade.
During class, our teacher had asked "who here doesn't like beans?" and I raised my hand since...you know, I'm not a big fan. I was the only one in class to raise my hand. He told me years later that he started talking to me and wanted to be my friend so badly because I was "different" from everyone else lmao
Edit: I feel like I should say I'm a girl before people start looking at my name and thinking he was into me or something. We're actually both gay. Life is funny.
Family Out Of Nowhwere
First day of kindergarten. Begged her daily to come over to my house to play/have dinner. Finally agreed to at the end of the school year. Been friends 30 years now. She was my maid of honour at my wedding, is probably my daughter's favourite "aunt". Oh, did I forget to mention she was my teacher in kindergarten? Now she's family.
Punches...Of Love
One of my best friends an I met at our first fight.
He thought I was someone else and punched me. Me not knowing what was going on, punched back.
We fought for about 3 min before someone stopped us and asked what was going on.
I answered "I dont know he hit me so I fought back."
He said "I thought you were someone else but then you hit me back and I saw you weren't him and panicked, so I just kept going."
It made me laugh so hard I was in tears.
We went and got some food, his treat, and that was 12 years ago.
Bonding Over Any Means
Made a suicide joke. He was severely offended by said suicide joke. We talked it out, I apologized, and he explained why he was offended.
Turns out we both work as suicide counselors and have very different ways of coping with the stress. We became great friends, are roommates, and got the opportunity to help a lot of people along the way, for which I am eternally grateful.
Formed In The Most Dire Of Circumstances
Shortly after graduating high school, I was at a party and chatting to someone who had gone to my high school, but I never really liked. She told me her parents had kicked her out and she was homeless.
I freaked out and insisted she come home with me. She lived at my house for a month and we quickly bonded.
Reddit user beesechugersports asked: 'What was the worst year of your life?'
Ideally life is a rollercoaster of highs and lows.
Constant highs set up an unrealistic expectation of the world that can come crashing down hard over the smallest setbacks.
Constant lows are just plain cruel.
A mix helps develop coping skills and problem solving while not crushing the spirit.
Curious about what constituted low points, Reddit user beesechugersports asked:
"What was the worst year of your life?"
Childhood Trauma
"1987. I was 13."
My dad was killed when he was hit by a car. Total accident."
"I think about the driver sometimes. I hope he forgave himself."
"I honestly don't recall ever feeling anything toward that guy. I think I was more upset with the neighbor who came to our door to tell us he thought my dad was in an accident."
"My mom piled us in the car and we drove down the street to the scene. My dad's body was under a sheet.
"That night I was numb until my mom hugged me and I bawled in her arms. After that I pretty much shut down emotionally for a couple decades."
"Took me a long time to get help for my own PTSD."
~ surfingonmars
Losses
"2011 - Lost my job, girlfriend, friends, had to move back in with my folks where I fell into a deep depression."
"That went on on until 2014 when I was able to turn the ship around."
~ max-peck
"People underestimate how horrible those 2-3 yrs of depression feel."
"I was in rock bottom depression for 2 yrs and it felt like a decade passing by."
~ secondhand_bra
Future Derailed
"2012. The year started out great. I met and befriended an adult film actress on my birthday and had an active sex life for the first time ever."
"I was finally off the night shift at my job. I applied for grad school. I was accepted into a program for veterans at the Writer's Guild of America."
"I had finally arrived."
"But by September it was all over. My relationship with 'Nadia' had turned toxic and ended in a huge fight."
"I was rejected from grad school. The WGA program didn't pan out for me."
"Worst of all, I was fired from my good job. I nearly became homeless and had to go back to working the night shift guarding a gated community in Beverly Hills."
"By the year's end, I was alone and broke (I would declare bankruptcy early the next year) with no hope for the future."
~ SgtSharki
Economic Downturn
"2014. My business suffered a 4 million dollar loss."
"Then my fiancée who I was with for 6 years left me for her boss just 3 months before our wedding."
"I wasn't able to find another partner but I did recover from the absolute shambles I was in."
"Just the fact that I'm able to function normally and interact with people again without breaking down is a big win for me."
~ S_MZ
Post College Struggles
"2014—the year I graduated college and was looking for work and had bad acne and unrelenting pressure from my parents and a poor social life and I worked Uber while studying for the Chartered Financial Analyst exam that I ended up failing."
~ Damerman
Friends Lost
"2017. I lost my best friend that year.. we met during our first year of university and immediately hit it off and became close."
"We were inseparable for 7 years. I've never been the same since then.. I died with him."
"I wish I could've helped him.. I wish I could just take one last drive and smoke one last cigarette with him ,and tell him how much I love him and how much he means to me."
"Please tell your friends that you love them whenever you get the chance.. you never know when will be the last time you hang out together."
~ Syouf
Seeing the Light
"2018. Realized I was part of a cult."
"It was called the Great Commission Churches when I attended though they've changed their name multiple times over the years when they've been accused of abusive practices."
~ Consistent-Way-2018
Long Road to Recovery
"2019. Last straw at my job, where the management team turned on me, resulting in me putting in my 2 weeks after my complaint against a lying supervisor was dismissed."
"Had no more income, so I couldn't pay rent, and thus had to move out of the shared house I had with a friend and his fiancée (wasn't on lease, had no obligation to stay, and the fiancée even told me "you know, you don't have to live here" during an argument)."
"Said fiancée convinced him to turn on me and drop me as a friend, which resulted in him going off and convincing the only other friend I had to do the same."
"Covid hit."
"My cat developed a genetic illness that paralyzed her and my step-father put her down behind my back. My childhood dog developed cancer and was suffering so she was also put down, but I was able to hold her while she passed."
"Great aunt died of cancer, great uncle (other side of family) died of cancer."
"That was the lowest I've ever been, and I haven't even recovered 20% yet."
~ Whatsa-Throwaway
Pandemic Pandemonium
"2021 was the year when my mental health was worse than ever."
"Looking back I'm proud of myself that I just survived."
~ Master-Mood1816
"Well done on that and also, same."
"2021 can go straight in the bin."
~ sicklything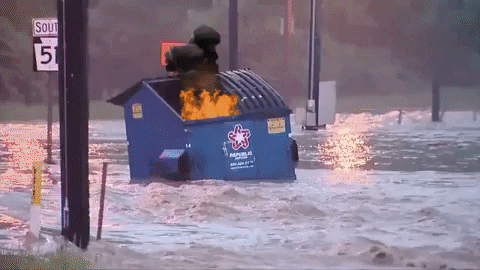 Giphy
Aftermath
"On the flip side 2021 was probably one of the best years of mine as an adult."
"My girlfriend and I were able to spend so much time together because she was only working maybe 1 day a week and I worked at an empty warehouse from 7 to 3 Monday to Friday."
"When everything went back to normal we both were working so much we ended up splitting up, so I guess 2022 sucked pretty bad."
~ ofTHEbattle
Piling It On
For some, their worst year isn't done with them yet.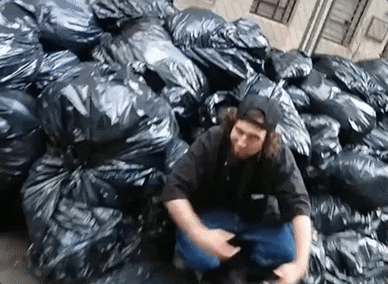 Giphy
"2023. By far the worst year of my life.
"Got laid off, took forever to find a new job, fiancée got pregnant then lost it then she got cancer, hated my new job, went heavily into debt to survive, fiancée beats cancer, she gets a life insurance payout from her father's passing, she gets pregnant again."
"Then I find out after she up and vanishes suddenly that every single thing was a lie. She faked it all from top to bottom for two years and pulled the rug out from under me, suddenly running off with our dogs."
"Since then I guess she needs some sick gratification that she's not getting from just all that and continues to stalk me on social media/Reddit as well as spoof her phone number to text me sh*t with purely the intent of trying to hurt me."
"Losing the dogs hurt and still hurts, won't lie, but being rid of her has been nothing short of a blessing."
~ Ok_Outside_4650
"This year—2023."
"My dog died in June."
"My wife died in July."
"My cat died in August."
"I have 5 kids."
~ MichaelHoncho
Dear whatever doesn't kill me, I'm strong enough now.
"Every year seems to beat the previous."
~ BenChodABQ
Oof, that's a lot to take.
While some are still going through it, many have already come out on the other side.
Here's hoping better days are ahead soon for everyone.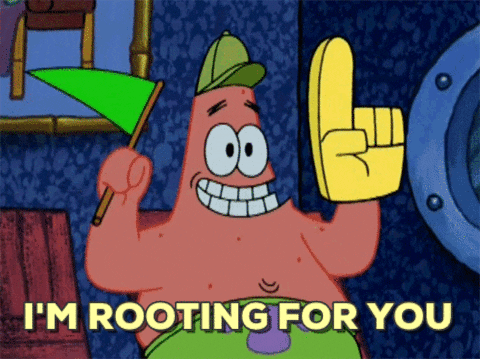 Giphy
Cheating is one of the worst things a person can do to a loved one. Betraying the trust of someone we are supposed to be committed to on such a fundamental level is truly despicable and heartbreaking, and the users of Reddit blew off some steam by telling the tales of their very worst, no good cheating exes.
Relationships are meant to be fun, and having a crush can feel so dreamy in a way, but there are reasons for relationships to end and crushes to dissolve.
Those reasons are absolutely valid, but some of them are also really terrible to think about.
A Redditor who has since deleted their account asked:
"What killed your feelings for someone you were once madly in love with?"
All For Convenience
"He just didn't seem to actually give a s**t about me, unless I was doing something for him or making his life easier."
- Foreveragu
The Biggest Ick
"When he left me for someone half my age. By the way, I was 29 years old."
- delusionallinkedchic
No Needs Met
"He stopped meeting my needs. I noticed he would bend over backwards for anyone else but neglected me all the time. Any small thing I asked was just too much."
"If he did ask me if I wanted anything from the store, etc., he would come back with everything everyone else asked for and he would forget mine. He peed on the toilet seat so many times and refused to be considerate and wipe after use..."
"The final straw was when I lost my brother recently. He just left me to grieve and didn't really give me any emotional support, no hugs, no asking if I'm alright. He became irritable and moody and now I've just lost whatever was left."
- velvetcharlotte
Their Smallest Fan
"Their constant daily criticism of everything I do, every little thing!"
- jay105000
The Unfaithful Partner
"She cheated on me with a married man. I cried and said I thought we were going to get married someday."
"She said, 'I was NEVER going to marry you!'"
"Nice way to kick someone when they're down..."
- Weary_Boat
Too Humbling of an Experience
"She said, 'I'm just... better than you.'"
"That was said to me the night after I finished my first degree in music. Apparently, I wasn't a 'hard science' major, so all her friends convinced her that I wasn't as good as them... or her."
"Ah well. Could have been worse."
- ThePencilRain
Not In Sickness, Just Health
"He treated my like s**t while I was going through cancer treatment."
- Multipass08
In Love With Being Chased
"In secondary school, I had a crush on a close friend, we were close as friends but nothing more. I eventually (after probably four years of showing hints, getting her gifts, and asking her out to meals and dates) told her exactly how I felt, and asked her how she felt."
"She knew already, but she wanted me to keep trying. She didn't want to be with me, she enjoyed having someone follow her around and dote on her. She then proceeded to have a relationship with every bloke in a friendship group."
"Not gonna lie, I was broken for a good while, but several relationships later, I haven't spoken to her in several years, but keep up with our old friend groups. According to them, she is desperately lonely after doing this with several other guys and now no one wants anything to do with her..."
"But yeah, being told she knew and that nothing was going to change killed all sorts of feelings in me for a long time."
- Practical_Junket8195
The One Who Projects
"The lying, cheating, and stealing."
"Plus all the accusations against me cheating and lying. And false allegations when I didn't react to the drama. Physically and emotionally abusive but I'm the male so no one cares."
"That kind of does it. It's sad, to be honest."
- Encased_in_Gold
So, So True
"Loss of trust does it every time. There can be no love without trust."
- mkwas343
Desperate for Love
"Awareness of my own false overhyped perception of her and realized that I have been overlooking her flaws because I was desperate to be with someone."
- ZenMyst
Disloyal and Unsupportive: A Classic Combination
"He cheated on me and told me it's not his problem so I should solve it alone and come back to him once I let go of things. Left him the next day."
- Buttercup0616
The Lack of Respect
"The put-downs, the insults disguised as jokes, constant derision, threats of cheating, laziness, greed, not caring about what they look like (wanting you to be in tip-top shape all the time, while they gain and get heavier and heavier)."
"They look down on you, treat you like a child or worse. Treated like a servant... or a slave. I could just carry on, but I could just give a few examples of my own experience. But you've read my rant long enough to get what I am saying."
- Background_Break2616
Absolutely No Excuse
"Subtle racist remarks that snowballed into blatant racism. Hopefully they have changed for the better."
- ThreeOneThirdMan
Not As a Second Option
"She said no and then came back a few days later saying actually yes, why not."
"Yeah no, you had one chance baby and you blew it."
- Maaaaaath
It's clear why these relationships ended. While it's nice for relationships to work out, a person shouldn't stay with it just for the sake of having a relationship, and these are great examples of why.
The Final Destination movies are not good for those who have any phobias, as the franchise taps into all your fears.
In spite of the films making audiences paranoid about cheating death, it does make you think about our mortality and of the many times we may have had brushes with death.
No matter how hard the characters tried to avoid it, they could never change their fate because any attempt to do so would only result in death striking back with an unforgiving vengeance.
However, there are exceptions.

Strangers online reflected on their evasiveness when Redditor yuckyduckph asked:

"How did you almost die?"
Beauty grows in nature.
But don't be fooled, for risks abound.
Potent Bloom
"Got lost in the Bolivian rainforest for three days after consuming tea made from angel trumpets."
– Leftsuitcase
"I have Angel's Trumpets (Datura) in my back yard, and everywhere in my neighborhood / around town. I don't know how many people realize how toxic they are. In some areas in S America, people refuse to even stand near them. They're quite beautiful in full bloom, tho. NS if all the species (inc hybrids) are dangerous. Cue: botanist."
"I've never understood you people who go drink random plant potions in the jungle, far from hospitals, with 'shamans' 'n' sh*t. Half of my friends have done that. But another friend of mine recently died that way. He was super smart and cautious, too. Had a family. Always be skeptical, wary, and weigh out risks.""
– manlypanda

Warning Ignored
"I was leaving a restaurant with my boyfriend one night and saw a couple in the parking lot messing around."
"She was dancing seductively with a big bunch of Oleander flowers gripped in her teeth."
"For those that don't know, Oleanders are very popular for hedges, hard to kill, but are extremely toxic. You're not supposed to trim them without gloves."
"I stopped in a panic screaming at her to spit it out while telling her boyfriend they were toxic and she should go to the ER immediately."
"They thought I was kidding and told me to basically f'k off. My boyfriend dragged me away and said we should get out of there because we didn't want to see how it ended..."
– flavius_lacivious

Rare Respiratory Attack
"Caught an incredibly rare fungus that attacked my lungs and would have attacked my other internal organs. Took two years to diagnose because it's so rare. Only patient my respirologist has ever seen with it. Dropped to almost 80 pounds. I could literally feel myself slowly dying."

"Infectious aspergillosis. Extremely rare. Almost everyone has some aspergillis in their system because it's everywhere."
– KathAlMyPal

The ocean holds many secrets.
Dangerous Stunt
"In the fall of '91 I was in Hawaii and dove into this blow hole in Hanauma Bay. (That's not me in the video, but it's the blow hole.)"
"My buddies were doing it and it was no problem for them."
"The problem for me was that I was a lot bigger than them, so my lats got stuck as I was face down in the hole."
"The concept is you time the waves and dive in just as the water recedes and the flow pulls you through."
"Well, I got stuck and had to wiggle my way down, ripping up the skin on my lats and ribs."

"So I finally get down and I have to swim like a mofo, but it's too late...the next flow is coming in."
"I'm at the edge, almost there, so I have to grab onto the edge with both hands like a kidnapping victim holds the doorframe so as not to be abducted."
"The wave cycle is not very long, but when you're doing something new and panicking, it feels like an eternity."
"I've heard they have closed off this portion of the bay."
"I know I don't need to do that again!"
– saleswhisperer

Massive Rip Tide
"I swam under the diving rock at Waimea Bay and almost didn't make it to other side (smoker). Same day they dug out the lagoon channel to make the endless wave. My 'friend' took me out to learn bodysurfing the shorebreak and it was about 8 foot sets which were HUGE and heavy. We go to swim out and get absolutely pummeled and pulled out. Then trying to get back in we got sucked into that lagoon river outflow and it was basically a massive rip tide. In about five minutes we were 400 yards out in the bay with out a boogie/surf board. We had to swim east towards sunset Bay to get to shore. I still can't believe we made it."
– Brutusmatic

Place To Avoid
"Exploring tidal cliffs, accidentally slipped into the water. Went in sideways, narrowly missed hitting my head. Just barely clawed my way out of the rough tidal zone; it was way over my head & was so choppy I was being slammed against rock. Please be careful around tidal cliff zones!"
– beachblanketparty

Grateful For Jellyfish
"When I was about 14 I slipped on a tidal cliff hit my head and went into the water, luckily I didn't go unconscious but I was caught in the under current and couldn't see which way was up because it was so f'king cold and dark (Oregon coast, pacific ocean), and just as I was about to give up I saw all these tiny jellyfish above me and swam towards them, got me to the surface and I was able to make it back to shore because I was a pretty strong swimmer at the time."
"Thank you Jellyfish"
"Several years later two people I know were hit by a sneaker wave very close to the same spot and they both died being crushed up against those rocks."
– CurseofLono88

Things don't get any better on terra firma.
Nearly Skewered
"T-boned by a cement truck. Guy at the tow yard couldn't believe I was still alive."
– psharp203
"I can't believe you are still alive either, I've watched two of those cave a road and heard horror stories about them tipping. You good? Got all ya bits n pieces?"
– FlyerOfTheSkys

The Major Rescue Operation
"Went on a high elevation alpine hike on Mt. Rainier with an out of town friend. At around 10,000 feet we decided it was time to head back down the mountain. About five minutes into the descent I was in an uncontrolled glissade across a snow field."
"Even though I knew better, after I was unable to slow myself I put my feet down. That's when my crampons bit into the snow and stopped me, sending all of the force into my legs. I heard an unsettling pop and felt excruciating pain. As soon as I stopped I looked down and saw that the heel of my left boot was where the toe should have been."
"I had severely broken my leg and I was at least a 3 hour hike down with sunlight (and warmth) declining. We were not equipped to be there after dark. Within a couple of minutes I could feel my extremities beginning to tingle. Was going into shock. Fortunately, I had some glucose gel packs which I began to suck on. And that seemed to keep the shock at bay."
"Which was a good thing because the radiating pain was quite enough. Our cell phones weren't working well but another stroke of luck was that I had put a GMRS radio in the bottom of my pack and as such we were able to get word out on the radio that we were in trouble and needed help."
"Ham radio operators heard us and relayed our position and the details to the rangers. The National Park Service couldn't get a helicopter that was willing to fly to that elevation so late in the day (on a Sunday in early October). So they had to gather a party of climbing rangers to come get me."
"A couple of other climbers on the way up the mountain really saved me by giving up their climb and assisting me, covering me with sleeping bags and making tea while one of them went back down the mountain to meet the rangers coming up. Shock and hypothermia very likely would have done me in that night if they hadn't happened upon us and helped."
"It was pitch dark and freezing cold by the time the rangers arrived four hours later. They strapped me into a litter and had to carry me off the mountain. Unfortunately, the climbing rangers are not EMTs and do not dispense meds. So even though they were doing all of the work on the climb down it was absolutely excruciating for me. It was almost 9 hours between the time of the accident and the time I checked in to the emergency room."
– cjboffoli
The one time I casually got certified as a scuba driver was when I was in Cozumel, Mexico, I almost drowned.
I went exploring in an underwater cave, where I probably shouldn't have gone as an amateur diver. I remember swimming upwards and smacking my head pretty hard on some rock work. I felt like I was about to pass out.
I tried my best not to panic, which probably saved my life. I slowly found my way out of the darkness and eventually out of the waters. I felt dizzy the rest of the day.
Yeah, I haven't gone scuba diving since.