Dating is a delicate dance, balancing along the line of "getting to know the other person" and "coming on like a big creeper creepy creep." Sometimes, all it takes is a big swing to get that big hit, and people online are quick to share their lines that worked.

---
Reddit user, u/birchburk, wanted to know what you fell for when they asked:
What pick-up lines have actually worked on you?
Approach When Alone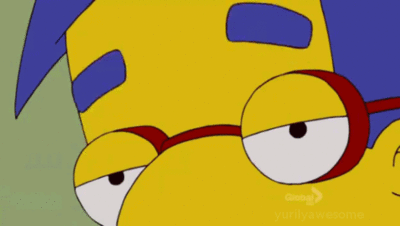 Giphy
"What's a pretty girl like you got to cry about?"
I was at a bar, got into a fight with my sister and she left me there. I was outside, crying on the curb and he hit me with that.
That night, we slept together. When I woke up, we didnt know each others name. 9 years later, we're husband and wife.
Even today when I cry about something he will say "oh looks like I'm getting laid tonight".
Double Turn
I have bright blue eyes, that apparently look great if I wear a blue.
So, out in a blue shirt, a girl came up and said "Oh my god your eyes are beautiful!"
Having just painted my room the same color blue as my shirt, I replied "You should see how good they look in my bedroom!".
I guess both of our pickup lines worked, even if mine was totally unintentional.
Not So Much A Line As A Move
This happened yesterday.
This guy who clearly likes me (has been hitting on me for weeks) was like "hey, you need to hold this" as he had his hand curled in a fist, hiding whatever would be in his hand. He then grabs my hand to put whatever it is in my hand, but just ends up uncurling his fist and interlocking his fingers with mine.
I died laughing. It was quite charming.
Not Everyone Has The Same Luck
Not me but I saw my roommate get laid once by saying "so do you have a bed?"
She said "yeaaaah? you want to like, see it?"
They disappeared and met us later at a different place.
I tried a few times, never worked out.
Sometimes, A Hail Mary Works
I saw this girl going through tinder on her phone. I said 'I've got a tip for your tinder' and when she asked what it was, I said 'delete it and go out with me'.
We went on a couple of dates.
Glad You Caught On
Went to a party. Had my top couple buttons undone. Girl came over and unbuttoned one more and said she was trying to help me get laid.
Happy I took up on that hint
They Flipped It Back On You
I was chatting to a girl in the bar at uni, she was wearing very tight skinny jeans. I asked her "How do you get into those?"
She smirked and said "buying me another drink would be a good start."
Much fun ensued.
NERDS FOR THE WIN
Giphy
I was at a dive bar wearing a shirt with Link (Legend of Zelda) on it in an action pose.
There was a small dance floor at the bar, but I had absolutely zero interest in dancing. I was mostly at the bar to play pool with my friends, and polish off a pitcher or two.
I lost a game, so I was standing off to the side watching my buddies play their game, and glancing around this sh-tty dive bar as I was "people watching".
A girl approached me, looked towards the dance floor and said, "It's dangerous to go alone... take this" and held out her hand.
Her pick-up line definitely worked.
Ve Vill Be Asking Ze Questions
One time a girl hit me with a string of communist themed pickup lines. That made me laugh. I honestly feel like the purpose of pickup lines is just to show you have a sense of humour.
I'm inclined to agree, anything you can do to make the other party laugh greatly increases your chances.
Some You'll Hold Onto For Forever
A cute 20-year-old walked into the music store I worked at in the late 80's, chewing on a straw. I'm normally shy but pulled it out of his mouth and said "may I help you?"
He left his number and "let's split a bottle of champagne" on the receipt.
I called...after marriage and two kids and 21 years...he died. I wish I had that straw.