People Explain Which Fictional Bad Guys Were Actually Right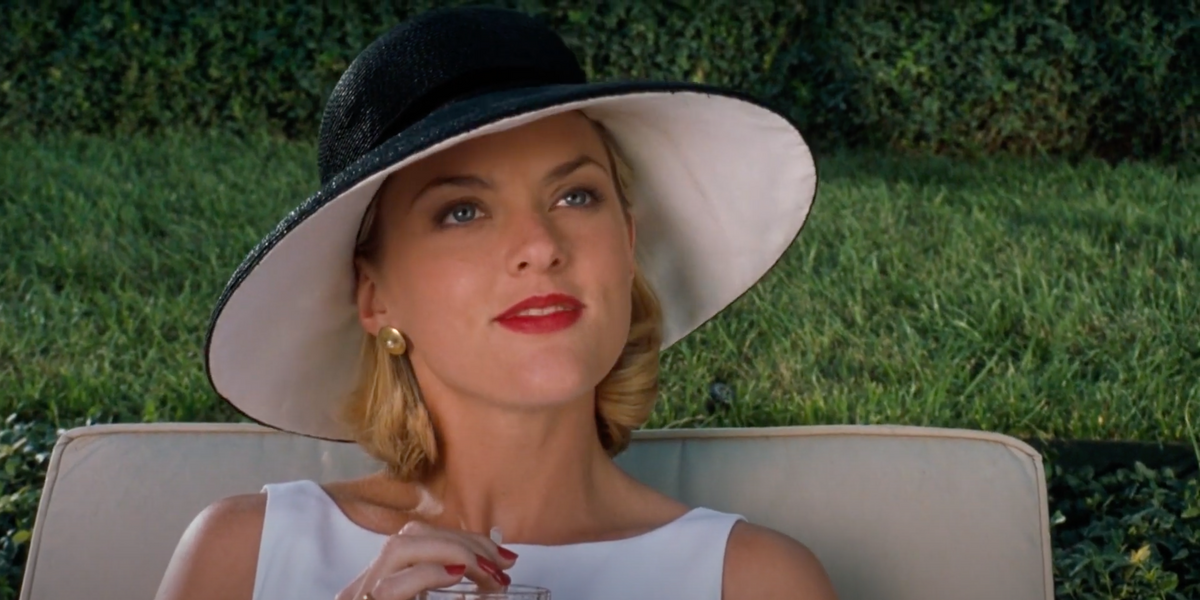 It's that time again! It's time for me to get back on my BS and tell you why The Parent Trap's Meredith Blake was not the villain of the piece, not by any stretch of the imagination.
Can you imagine being her? Forced to deal with two bratty children and a fiance who couldn't even communicate with his ex (who is equally vindictive because they agreed to split their own children apart)?! Meredith deserved better. Those children certainly deserved therapy... and better parents, too. Leave it to Disney to punish her for being the only honest person in the film! Soulless corporation!
After Redditor hurtfocker asked the online community, "Who's a 'bad guy' from fiction who was actually right?" people shared their opinions. Careful, readers, because here there be spoilers.
---
"On the way there..."
The engineer Mace from the movie Sunshine. He's less of the explicit bad guy but is functionally an antagonist to the main character for much of the movie.
For those who haven't seen it, it's a movie about the crew of a spaceship who is on a mission to drop a payload into the sun, to give it a jumpstart as it's dying and that makes things obviously very bad on Earth. The ship has a large dome of solar shields to protect it as it gets closer and closer to the sun, with the ship itself hiding in the shade of the shield. The main group in the movie is actually the second attempt to do this, as the first ship failed on its mission.
On the way there, they receive an emergency signal from the first ship, which is still mostly intact and seems to still have its mission payload but was unable to contact Earth directly. One of the ship's experts, and the main character of the movie, suggests that the mission has a better chance of success if they can take that extra payload and bring it along, in case theirs fails. The ship's engineer, Mace, pretty assertively argues that their best chance is to stay on mission and not deviate from the plan. In fact, for the first half of the movie, he's framed as the antagonist to the main guy because he comes across as the "other guy", whose argument is naturally wrong because it goes against the main character.
Basically, everything that goes wrong in the movie is a direct or indirect result of the decision to deviate from the plan. And from that point forward, Mace is working tirelessly to correct massive f*ck-up after massive f*ck-up. But because he's gruff in demeanor and makes coldly calculated decisions, he's the primary antagonist... for a while.
"He was trying to rid the house..."
Tom the Cat.
He was trying to rid the house of a mouse that not only chewed a hole in the wall but also frequently contaminated and stole food. Tom was just doing his job as the cat of the house.
"He always thought humans..."
Magneto.
He always thought humans would try to destroy mutants and he was right because they tried. He might have not been completely right, but man it's hard not to feel some sympathy for him after the shitty hand that life dealt him early on.
"The mom and the boyfriend..."
The mom and boyfriend from The Santa Clause and the mom and boyfriend from Mrs. Doubtfire.
In both cases, they're trying to protect the children from an unreliable, possibly sociopathic father who is going to bizarre lengths to violate custody agreements (Doubtfire) or get the kid all twisted up in a bizarre, unhealthy fantasy (Santa Clause), and also interfere in the mom's personal life.
THANK YOU.
Something was seriously wrong with both those men. Watching Mrs. Doubtfire these days, it's no wonder why Miranda divorced Daniel's lazy @ss.
"To an extent."
Poison Ivy. To an extent. She's just fed up with the way humans treat the environment.
She's pretty much an anti-hero now.
Proof that rehabilitation works!
"Dude bulldozed his cornfield..."
The bank in Field of Dreams. Dude bulldozed his cornfield to build a baseball field so he could play catch with his dad's ghost. Then they threatened to foreclose because he wasn't paying his bills because he destroyed his source of income.
"He has some very valid anti-dictator points..."
Zaheer from Legend of Korra is my favorite villain of all time. He has some very valid anti-dictator points and fascinating perspectives on detaching one's self from life but ended up taking his vision too far. He is the perfect storm of an air nomad monk gone rogue.
"Poor guy."
Benjamin (Rob Lowe's character) from Wayne's World.
I love the movie, but upon some pondering, I have concluded that if Benjamin indeed were an ice cream flavor, he might not be pralines and d*ck after all. I mean, he picked up a show created by a couple of fast-food employees on the suggestion of a fan and really put some investment into it. He kept most aspects the same ("That looks like Wayne's basement. Only that's not Wayne's basement. Isn't that weird?") except for the theme song, but I bet they could have worked something out on that if they'd discussed it. Sure they had to be censored a little more than when they were at Wayne's mom's house, but those are FCC rules, not Benjamin's.
Wayne and Garth were also pissed about the Vanderhoff spot at the end of each episode, but how did they think the show would make money without a sponsor? And don't say they didn't care about money because they snatched up their advance as fast as they could and booked it outside singing: "We got five thousand dollars! We got five thousand dollars!" Additionally, they got a pretty cool sponsor, all things considered. Was it Rogaine, or Tampax, or Charmin? No! It was an arcade with the latest video games, and the owner just wanted to update everyone on his newest machines! Hell, that could have just been a neat additional segment since the show was primarily about music and youth culture anyway.
Finally, I know Wayne hated Benjamin for stealing Cassandra away from him, but I don't think he really stole her. She was 100% into Wayne until he started being mean and rude to her. She doesn't have to put up with that! She's a rock goddess! How long had they been dating anyway, a week? Benjamin was a gentleman. Yeah, anyway, I guess it was obvious from the start that the movie was about a couple of idiots, but I want Benjamin to get a little respect. He was trying to give an indie project a little mainstream exposure but the history books have recorded him as an ogre. Poor guy.
These make you think twice, don't they?
In the words of the great Meredith Blake, "Here's what's going on, buddy: the day we get married is the day I ship those brats off to Switzerland, get the picture? It's me, or them. Take your pick."
She really deserved to have that chance.
Have some villains you'd like us to (re)consider? Feel free to tell us all about them in the comments below!
Want to "know" more? Never miss another big, odd, funny, or heartbreaking moment again. Sign up for the Knowable newsletter here.
Reddit user Ok-Bid-1179 asked: 'What's the scariest 100% true story you've heard of?'
People love horror films because they know the terror depicted on the big screen is pure Hollywood magic and completely fake.
But when it comes to true-life terrors, even the most dedicated horror film aficionados can be left trembling in their boots.
Curious to hear some of the most absolutely hair-raising events from strangers online, Redditor Ok-Bid-1179 asked:

"What's the scariest 100% true story you've heard of?"
These real-life stories may keep you up at night.
Befriending A Murderer
"My uncle was in a bar one night and started talking to this random guy. He described him as 'a really nice guy.'"
"He met him a few other times in the same bar. They drank and talked about random stuff. Soon after, my uncle stopped seeing the guy at the bar."
"Idk how long after, but my uncle got notified that he had jury duty. He showed up and found out what it was for. A serial killer and the killer was his friend from the bar. Derrick Todd Lee."
"My uncle was promptly dismissed from jury duty for obvious reasons."
– I_am_dean

People had sinister stories related to jobs.
Late Night Shift Employee
"I work midnight shift at a gas station and I have for quite awhile at various stations in different areas with varying levels of criminal activity."
"I have regulars, of course. I'm a small-statured woman (as is my partner the other half of the week, and we've always been partners) so these regulars often worry about us and keep watch on creepy occurrences when they can."
"I had one man who worked in the metro an hour away who would stop in every morning for his cigarettes. He never smiled or seemed friendly, and as I often do, I tried to think of what I could do that might make him smile one day."
"It took many months but I finally pulled it off by having his cigarettes ready on the counter and already scanned for him to pay for as he walked in. He smiled, and then asked me"
"Do you ever get scared on the night shift? You small girl, is not safe."
"I said I sometimes did but we could lock the doors and hide if we had to, and that the provincial police (think state troopers, if you're American) had a station close by and came in often to get their highway vehicles washed. I had a good rapport with those police. He nodded and then told me a story about when he first moved to our country from Eastern Europe with his wife and child back in the late 80's, early 90's."
"He fell asleep at work one night at the gas station he worked midnights at. When he woke up, the phone had been ringing for hours and his manager was shaking him violently asking if he was alright. He was fine, he said, what was the problem? He was sorry he fell asleep."
"His manager screamed that it was fine he fell asleep, to look outside. All of their motor oil was missing and the outside of the place was a mess."
"The thieves had come and swiped all the oil and left him be because he slept through the entire thing, and then moved down the road to the next station for an encore. At that station, the clerk was awake and fought back, so the thieves stabbed him to death and left him to bleed out."
"When he finished telling me this, he concluded with."
"If you ever feel sleepy just lock the door and do it, it might save your life"
"I don't work at that station anymore but I think about that guy all the time and wonder how his grandkids are."
"Here is a link to an article talking about how that poor other clerk's killers were finally found 25 years later:"
https://toronto.ctvnews.ca/mobile/arrest-made-in-1990-murder-of-gas-station-attendant-1.2650933

– IgnorethisIamstupid
Trapped
"There was an incident in Trinidad where some maintenance divers were removing a plug from an oil pipeline and were instantly sucked into it. One was able to escape but the other 4 were trapped for days in a small, oil coated pipe for days with only a small air pocket to breathe in before they died. Thinking about it in detail and imagining what it must have been like for them makes me extremely uncomfortable."
– superficial_user

There's no creepier place than being in the woods. Especially when these sorts of encounters happen.

The Wrong Friends
"When I was 17 I was hanging out with 2 friends and they wanted to go smoke in the woods. I didn't feel like it so I drove them and waited in the car."
"After a while I was getting bored and decided to go meet them but there were 4 paths going off in different directions so I just took the biggest one. After walking for a few minutes in the pitch black forest (before flashlights on phones), I come across this dip in the trail and on the other side is a bench lightly visible due to the moonlight."
"On the the bench is sitting a man and another one in standing in front of him but I can only make out silhouettes. Being sure these are my friends I yell out to them before walking over. If you ever walked the woods at night it's just an uneasy feeling all around so I was cautious to begin with."
"Well it turns out, juste after yelling out to my 'friends,' both silouhettes turn around towards me. Not a word, not a sound, the guy sitting down starts sprinting FULL F'KING SPEED towards me in complete silence. I got the absolute f'k out of there sprinting also the other way and tripping over sh*t because I couldn't see anything."
"I finally get out and lock myself in my car, but I was really worried for my friends. Maybe a minute later I see them both coming out of a completely different path, they also confirmed they never saw me or anyone else. My heart still sinks just thinking about that dude sprinting in silence wtf was that sh*t."
– NoFutureGuy

The Homeless Camp
"Weird....I have a similar story!"
"Years ago I remember sneaking out of my friends house at night to really do nothing but walk around the neighborhood and hide from car headlights. We were young and bored. There was a 'homeless' camp that was down in some woods off the railroad tracks not too far from his house. We had seen the trail and knew what was back there."
"One of the homeless guys that lived there was actually an old friend of my buddies Dad, and he had stopped over a few times and my friends Dad let him shower there and everything. He could have worked if he wanted, but legit told us he just liked living 'off the grid'. Just wanted to give you some backstory on the reason why we thought it would be cool and 'safe' to go check it out at night."
"We were a bit nervous at first thinking what if we get there and his Dads friend isn't there...so we were sneaking up on it. It was a longer walk than we thought. We got kind of close and saw there was a fire going lighting up the woods a bit."
"We start sneaking closer but the trail seemed to continue straight, while the camp set off the trail to the left. We got idk maybe 100 feet from the camp (about 30 meters) and we looked down the trail and saw a faint silhouette of what we thought was a person. The silhouette looked like it was coming from deeper in the woods towards the camp. We froze and ducked slightly to the side of the trail."
"I told my friend that I didn't like it, and we should just sneak the hell out. He said he had the same feeling. As I said, the fire at the camp was just enough to light the area well enough to see. We end up slowly creeping slightly off the trail back to the railroad tracks. We get probably 30-40 or so feet (9-12 meters) and I told him I would rather just hit the trail and just slowly walk back because the bushes and trees and everything were hard to navigate and I would rather be able to see something coming so we could book it out. We played football and were both pretty fast."
"We slide out of the brush and see the silhouette has gotten closer, however moving further from the fire, the light was dimmer, but we could still make out someone or something was standing there moving closer. My first thought was that maybe they saw us duck into the bushes and were coming to check, but it just felt off. My friend and I looked at each other and both mutually and silently decided to pick up the pace. Almost on que, we both looked back and the silhouette was now BOOKING IT TOWARDS US ABSOULTELY SILENT. No noise, just fast movement. We high tail it as fast as we can."
Thankfully, the trail was wide so we weren't bumping into each other or anything. Neither of us looked back until we hit the railroad tracks, then hit the railroad track bridge and were on the other side. I looked back as I was slowing down, past the bridge and didn't see anyone. We got back to his house pretty fast and luckily that was the end of it."
– ZekeMoss18

Life is full of many creepy mysteries.
It's no wonder many films are based on actual events.
The ones that terrify me the most are the home invasion movies like The Strangers.
It may have been Hollywood that dramatized events depicted in the film, but there's no doubt such horrific events that have happened in real life are enough to keep us up at night and on high alert.

According to the American Gaming Association, there were 1005 casinos in the United States as of December 2022. They accounted for $328.6 billion in economic impact with $101.4 billion gross casino revenue.
With all that activity and cash, casinos have to be carefully crafted, well-oiled machines.
For an industry based on luck, they leave almost nothing to chance.
One Stamfordsterling asked:
"What is something that happens at casinos that is hidden from the public?"
Data Mining
"In Las Vegas, the sheer amount of data that is collected and analyzed on everything."
"From the weekend traffic coming from LA, the demographics going to see a concert/show and how that impacts staffing, everything about your slot or table play, down to how the size of the pans used in a buffet relate to food waste."
~ srslytho
Rat Heaven
"How much waste there is."
"Literal tons of food, paper products, stuff like soaps, shampoos, lotions, key packets/folders... It's obscene."
"We've got a lot of rats here in Las Vegas that appreciate it, though."
~ hypothetical_zombie
What Time Is It?
"Casinos hide the passage of time."
"No clocks on the walls and, in general, no windows with views to the outside."
~ HardRockGeologist
"UK government changed the law that all casinos have to have clocks now."
"They don't make them very big obviously but they can lose their license if they fail an inspection."
~ stoofa69
The Ground Beneath Your Feet
"Casino carpets are intentionally designed with crazy patterns."
"They are distracting to look at, so you keep your eyes up and focused on the slot machines and gaming tables. They also make it hard to find the exits and are easier to keep clean."
"There is a whole science to designing casino carpet patterns."
~ Robbie-R
Scent Memory
"Some casinos add scents to the air (they do not pump in extra oxygen in as some people believe)."
~ HardRockGeologist
"The lobby at The M Resort south of The Strip is a patented scent they have with vanilla, pear, and other aromas that frankly, is one of the best things ever."
~ Shoegazer75
"Every casino has its own scent. They want you to associate that smell with the casino subconsciously."
"It's like going to the movies and you smell the popcorn and your brain is ready for the experience."
~ Icuivan
Slot Machines
"If you like to play slot machines never play penny slots."
"Those are the machines that make the casinos their most money."
"Play quarter or dollar machines—you spend just as much or less each spin and they tend to have better payouts. But your brain says penny slots are cheaper but they have machines that you can hit $20 a spin and higher."
"Where I used to work penny machines had a 14% hold while quarter and dollar machines had an 8% hold."
"The hold is how much the machine will win over the lifetime of the machine the higher the hold the more you are likely not to win."
"Also, a machine is never due. They use random number generators that act the moment you hit the spin button or pull the arm."
"The machine already knows if you have won or not as soon as you push the button and everything you see in front of you is for your entertainment."
"Always use your player's card. Yes, they track your play and try to lure you back based on how you play but it's also how they determine if they give you things."
~ Icuivan
"Penny slots are designed so you can play so many lines that virtually every single spin you make wins something, but rarely more than you bet."
"It gives the player the excitement of winning constantly while their bankroll keeps dropping."
"For some players they'll happily put in a dollar, get 86 cents back, get told they're a winner, and push the button again without realizing they just lost 14 cents."
~ NS8VN
Underneath It All
"I wandered down to the basement of MGM from a truck ramp and man, it was like a whole city down there, imagine a massive warehouse with roads and offices and supplies everywhere."
"The opposite of the glitz going on above it."
~ Renorico
"My ex worked for MGM for a while and she hooked me up with a comped room at NY/NY when I came to visit family. She met me at the check-in at NY/NY and then asked if I wanted to see her office."
"She took me through a door, down some steps and then through several corridors, passing by laundries, cafeterias, locker rooms, offices, storage, etc. She would point out all of these different areas and points-of-interest along the way and all I could think of 'where the hell are we? Are we even in the same hotel?'."
"We eventually go up some stairs and out a door and we're now at the valet at Aria next to where her office is located. Granted, we've only walked a few properties over but it's simply unbelievable how much activity there is underneath those hotels."
~ FopFillyFoneBone
Unclaimed Funds
"Just how much money goes unclaimed/uncollected."
"I worked in the accounting department at one of the main gaming conglomerates and was tasked with cleaning up their unclaimed property accounts."
"There were players aka 'whales' who'd deposited millions and just forgot about it for years."
~ Swole_Troll
"My dad, who died last month at age 90, was awfully good at finding machines that had money accumulated on them."
"Most of the time, it was basically pocket change, but he found a couple of 3-figure jackpots over the years. Of course, he would play a round so nobody could accuse him of deliberately breaking rules."
~ wilderlowerwolves
"This was huge when electronic slots were first introduced. Many had a button you had to press to 'pay out' winnings that accumulated."
"But many people had no idea and thought they had lost all the time."
"I'd walk around and look for Pay Out buttons that were lit up, hit them, and rake in the money."
~ Rougaroux1969
The Inside Scoop
"I worked at a casino (well, the resort portion of the casino) for a summer. I don't have any sordid secrets, but general interesting things I learned:"
"The security cameras are scary good. Like can read your name off your badge hanging off your waist good."
"You aren't doing a damn thing the camera can't see."
"At this casino, employees were required to wear badges clearly visible at all times when on the premises, even if not on the clock."
"Escorting your grandma to the bingo hall after your shift? Badge still better be visible."
"In the parking lot? Badge still better be visible."
"At this casino, employees were only allowed to gamble there 1 day a month. You'd think it'd be money right back into the casino's pocket, but they don't want the risk of an employee being heavily in debt."
"Which leads to the next point..."
"Anyone getting a job within the casino itself is getting background checked, especially for bad credit and outstanding debts."
"If you're a guy down on his luck, with some maxed out credit cards and you want a job to get back on your feet, the casino doesn't want you. You're a liability, you're not worth the risk."
"All the cash goes into 'The Vault'."
"I assume it's a literal bank vault. But I've never seen the vault. Most employees have never seen the vault. You don't f*ck around when it comes to the vault."
"You better have a real good reason why you're approaching the vault. Security will turn your a** around and send you on your way, and you'll probably be flagged for questioning."
"People don't just stumble onto the vault, you end up there knowingly. And unless you were specifically, by name, called to the vault, or you have an urgent reason for being at the vault, for which you've already radioed ahead, showing up at the vault is a red flag."
~ thattoneman
I've been to a couple casinos in my life, but aside from the entertainment and food they offer, the experience doesn't appeal to me.
I guess I don't have the gambling bug.
Do you enjoy casinos?
Have you worked at one?
Share your stories in the comments.
When you're on a first date, one of three things will happen. Either you'll like the person and want to go out again, you like the person fine, but not romantically, and won't want to go out again, or the person will display a behavior that is so off-putting (or make you genuinely fearful), that you won't even want to see the person ever again.
My best friend and I are basically the same person, so when she met a guy who he had a lot in common with, she figured I'd like him too and set us up (I had previously told her I was okay with being set up).
Well, it turns out the guy actually hadn't read any of the books, watched any of the shows, or heard of any of the bands he talked about with my friend. I didn't understand why he would lie about all these things until I left the table.
When I came back, he was on the phone with someone and he was telling them he only told her he liked all those things because he liked my friend. When he found out she was in a relationship, he decided he'd let her set us up in the hopes that he could date me until my friend and her boyfriend broke up, and then he could swoop in.
I just walked out and when he finally texted me asking what was up, I told him I overheard him, then proceeded to block him. My friend was mortified to hear about the date, and I decided never to be set up again.
I'm not the only one who has gone on a date and discovered a huge red flag. Redditors have experienced this too, and are eager to share their stories.
It all started when Redditor APT3993 asked:
"What's the biggest red flag you have seen on a first date?"
Dates Of Relationships Past
"They won't shut up about their ex."
– SiriusGD
"Had this happen to me on a 2nd date."
"Asked if she could use my computer, I said OK. Then she pulls up her ex's FB profile to browse through it, and she spent the next 10 minutes comparing me to him, saying he she thinks that I will turn out to be controlling and manipulative like him because we both grew up on a farm and we both like cars."
"Ummm, wut?"
– alwaysmyfault
"He angrily told me I would "love" his ex wife. Proceeded to cry while talking about her. They'd been divorced for 5 years. I genuinely hope he is doing better."

– TX_Mothman
"She constantly compared me to her ex, and sat on her phone for most of the night, then expected me to pay for her two bottles of wine, plus really expensive meal and desert."
"She asked me out btw, not the other way around."
– Stuspawton
I Know What I Want
"The guy who tried to change my order with the waitress because he didn't think the drink I'd asked for was sufficiently feminine."
"I ordered beer. I don't remember exactly what he thought I should have, maybe white wine? It was a long time ago."
"The waitress was looking at me like 'You heard that sh*t too right?' and I told her actually I wouldn't have anything, thanks, and I left."
– MaggieLuisa
"He changed it FROM A BEER TO SOMETHING ELSE!!?! That's amazing to me. Like it's bad enough if you ordered an IPA and he said, "I dunno, sweetie, your delicate female taste buds probably can't handle the hoppiness. Hey, honey, why don't we get the lady a Coors.""
– AdaptiveVariance
The Position Of Boyfriend
"We met for drinks after work (since we both work in the same industry) and she showed up with a list of interview questions. She literally had a checklist on her phone for me to fill out. I thought she was joking at first, but the questions were extremely personal, like how many sexual partners you've had, the oldest, the youngest; How much money you made the previous year; If you owned a house, a car, a boat, a plane; Did you have a criminal history; Where do you parents live; Are they alive; Who did you vote for in the last election; All kinds of stuff like that."
"I even proposed that we could just use that as a conversation starter and we could work through them like that as a fun way to get to know each other. I was really trying. She tells me that she's not answering any of them because I'm trying to date her, not the other way around!"
"I laughed out loud thinking she was kidding, then realized she was absolutely serious. I wished her all the best in the dating world, chugged my beer, overtipped the waitress, and left."
– OkFrostina
"Yeah, I would really push that to the limit without getting law enforcement involved. Start with all the times I have ended up in rehabilitation, my abductions by UFO, the wild, kinky sex partners I have had, the millions I have lost before living under a bridge, etc."
– passporttohell
Scary As Hell
"Had a guy who insisted on buying the most expensive pizza at the restaurant despite my protests then kissed my head when he walked past me to use the restroom. After dinner we walked along the waterfront, he kissed me and then immediately tried to choke me "to be sexy". First date, last date."
– Twours1944
"What the sh*t?? Who taught this idiot that choking in public on the first date all without consent is a great get-to-know-you move??"
– villainsimper
Stranger Danger
"This was literally the day of a first date. But I had matched with an older man when I was still on dating apps. We planned to go on a hike on a very beautiful day by the water. On the day of the date, he wanted me to leave my car at his place, while he drove us through the backwoods so we can beat traffic. I said I'll be happy to drive myself, and he laughed and canceled. His reasoning was he's been stood up so many times and he didn't want to waste his time and me not show up. I said "okay!I apologize for the inconvenience. I hope you find what you are looking for. "and blocked him."
"The red flag was when he genuinely got upset that I didn't want to ride in a car with a stranger through the backwoods for our first date."
– Jesusdoescrack
"You should have said "you fear being stood up, I fear being murdered.""
– The_She_Ghost
Truly Gross
"He pointed to another woman at the bar and said she was his ex. But she happened to be my lesbian roommate."
"Yes, I told him I knew he was full of it cuz she was my roommate, and I pointed out her girlfriend who was there with her. I don't remember what he said exactly but he had no choice but to admit he was lying. I wish I had asked why he said it. I assume to make me jealous? Like that's a good way to start a relationship? Obviously, that was the only date."
– Grapegoop
​Those Who Came Before
"He told me he had been divorced 5 times. I'm taking the advice of 5 women I don't know."
– 13liz
"The way you phrased this killed me 😂"

– CumulativeHazard
Got Her Feeling Emotions
"Does bursting into tears after I told them I didn't like a TV show count?"
– JumboDakotaSmoke
"I'm curious as to what TV show it was?"
– ladydamnation
"Grey's Anatomy."
– JumboDakotaSmoke
"bursts into tears"
– akennelley
Um...What?!
"He took me to his house (he lived with his mom) just so HE could eat dinner with his mom while I sat in the living room. I listened to them eat and talk about my looks like I couldn't hear them. Apparently, I was pretty but "needed to be taken down a peg or two." I said my period had started so I had to go home. A future abuser and his enabler mommy."

– BigMcLargeHuge77
Ew...Just Ew
"We went to a movie. He spent the first half with his hand inside one of his socks, then pulling it out and smelling it, putting it back in, repeat, repeat."
"Then he spent the second half trying to hold my hand. With his sock hand."
– Deleted User
Bad From The Start
"She asked if I could order for her because she was uncomfortable talking to the brown waitress.
"Added: Same girl would not stop talking about Kardashian gossip even though I told her I know nothing about them and didn't care to know."
– CanaDoug420
Stop, Theif!
"He showed up drunk with a bouquet of flowers he admitted he stole from his mother's flower shop."
​Cringe-Worthy
"Went to a charity coffee shop for a date. It was "free" coffee where they just ask for donations which went toward their org's efforts to feed and house people. They explained this to him and asked if he wanted to make a donation for our drinks."
"He said no."
– Shredded_Wheaties
Oh, yikes! I would be so embarrassed!
In fact, I'm kind of losing faith in dating as a concept.
Commercial aviation began in the late 1920s, spurred on by early aeronautical companies and several record breaking solo flights.
Since then, there are few places on Earth that can't be seen or accessed by plane. Only icing limits humans from low altitude flights over certain areas like the polar regions, while a lack of landing locations keeps some areas accessible to only the smallest pontoon planes.
From January through December 2022, United States airlines carried 853 million passengers. Globally, air travel reached a high of over 4.7 billion passengers before the pandemic limited flights.

Since then, global air travel has rebounded to over 3.7 billion passengers.
With almost 100 years and over a trillion passengers, the people who crew these flights are bound to have seen everything happen that possibly could at airports and on a flight.
Reddit user New-Low5765 asked:
"People who work in the airline industry, what are some of the craziest things you have seen?"
Don't Drink And Tow Aircraft
"Worked as ground crew. 2nd day on the job we were issued a notice to gather."
"So when you check in every morning you're supposed to always take a breathalyzer test to prove you can like you know, ride around the tarmack, use pushbacks on planes, etc..."
"For whatever reason this dude hadn't taken it/got past without taking it."
"He was not sober."
"He was tasked with pulling a 370 [aircraft] into a hangar."
"He eyeballed it for whatever reason."
"So here we are watching a video of this absolute loon break the whole wing off while damaging the hangar in the process."
"Because he was drunk, insurance doesn't kick in."
"We were promptly told that Christmas bonuses might be a bit smaller."
~ ProbablyChe
Occupational Hazard
"Someone had the tip of their finger cut off when closing the door to the plane and didn't say anything until the flight landed at the arrival gate and when the door was opened the chunk of finger fell out."
"The staff then said, 'Oh yeah, that's my finger. you can throw it away'."
"I guess he just bandaged and wrapped his own hand."
"It was about 1/4 of his finger including the nail that was cut off. The cutoff portion wasn't particularly bloody and it was really pale."
~ If_I_remember
"A plane I got on once almost left without half of its aircrew on it."
~ BeerisAwesome01
"'Let's just go, they can meet us there'."
~ InformativePenguin
"Plot twist. That included the pilots."
~ Windyandbreezy
Excess Baggage
"Coffin with dead body inside being left off the flight due to overload without notice either to us or the family and the family realising it by seeing it while the plane was leaving and screaming to us."
~ elenivog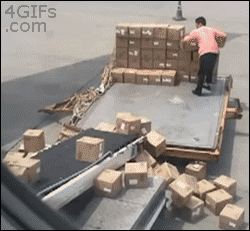 employee of the month ups GIF
Giphy
Noped Out
"Saw the pilot walk into the passenger area and say 'I'm not flying this piece of sh*t' and get off the plane."
"All the passengers followed him."
~ Jaded-Session8422
"Hell yeah, I'm following the pilot off the plane if something like this happens!"
~ lukaron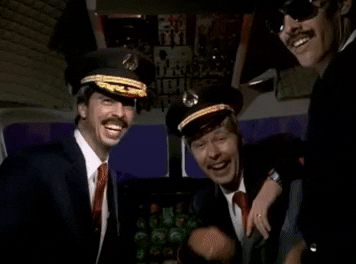 Giphy
"I had something similar happen, but never got on the plane."
"It was sitting there seemingly ready but they never started boarding."
"Eventually the pilots walk off the plane and a few of us heard them say 'This junk isn't going anywhere'."
"Flight ended up getting cancelled a short time later."
~ potatocross
"I was threatened with [pilots walking out] multiple times a week as an aircraft dispatcher."
"Auxiliary power units (APUs) run the air conditioning (AC) in the aircraft and they were always broken down and not fixed quickly, so when the pilots show up it is hot as hell inside and there's no ground crew to connect the external AC."
"So I would get a call from the Captain telling me he is not going to fly this piece of shit because it is too hot."
"Then they'd go on a tirade about how bad the company sucks because they don't do maintenance."
"I would agree with them completely."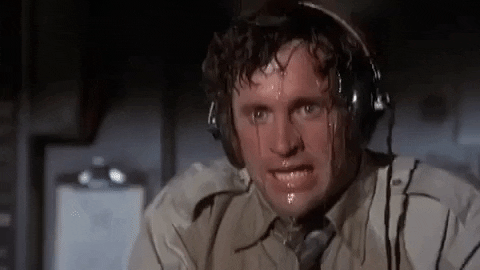 Giphy
"Then by the end of the call they'd say they will take it but the company sucks and needs to fix the APU."

"Occasionally the captain would refuse it, but then the ground crew would hook up the AC and they would always get back inside and fly it."
"For sure there were issues that popped up where the AC had an unsolvable issue and it would result in a cancelled flight."
~ Winchery
"I'm Dallas-Fort Worth based. No APU/AC in November? Meh, whatever."
"No APU/AC in August in Texas?"
"I'm not going on that airplane. Ground just can't keep up."
~ poser765
☣️ Bio-Hazard ☣️
"Flight diverted to my airport because a girl in hotpants got uncontrollable diarrhea from the laxatives she took before the flight to help get over her weekend binge in Vegas."
"She sh*t in her seat and down the aisle and all over the bathroom."
"Five other passengers had uncontrollable vomiting because of this and the panic on the plane from the crew and rest of passengers caused the plane to make an emergency landing."
"They ended up having to cancel the remaining leg of the flight to decontaminate the plane."
"Police were sent and interviewed her and her friends and no charges were filed. I don't know if the airline put her on any kind of no-fly list or tried to have her pay for damages."
~ If_I_remember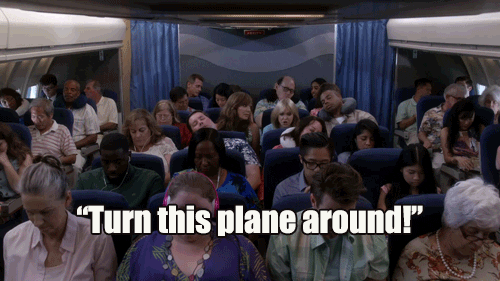 Giphy
Highly Unsuccessful
"There were two suitcases checked in that were full of nothing but weed."
"The police arrested him in the gating area & confiscated the bags."
~ Traditional_Pair4840
"Something similar happened when I was a ramp rat back in the 1960s."
"Law enforcement was going to do the arrest at his destination."
"The weed disappeared before they got there."
~ endadaroad
Stealthiest Catch
"As a baggage handler I once had a shipment of live Alaskan crabs escape their container on the ramp."
"Flights were delayed."
"Turns out those guys scatter when they panic and try to hide under anything and everything."
~ Gregwaaah
"My significant other worked doing maintenance checks on commercial planes."
"This explains why they once found a bunch of dead crabs under the floorboards in the cargo bay. It was a mysterious mystery."
~ Highly_Referential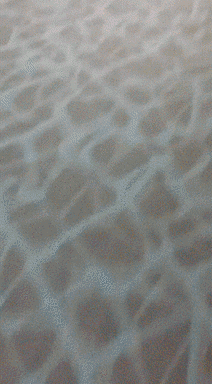 Avoiding A Strip Search?
"A fully naked woman just walked through the terminal and tried to walk through security like she wasn't fully naked."
~ Commercial-Chance561
"She was just very considerately trying to make it easier for TSA."
~ TrooperJohn
"They make you take off your shoes but they don't say that's all you can take off."
~ smartguy05
Language Barrier
"I witnessed this in the security screening of a large American airport."
"And to be fair, there was a language barrier as the passenger in question seemed to be speaking mainly French, and struggling to understand the TSA agent's instructions in English."
"Female passenger (tall, attractive, and sophisticated-looking) was wearing a business suit with a pencil skirt and matching jacket, which was buttoned closed, going through security."
"The TSA agent told her she had to remove the jacket. She ignored and tried to go through anyway."
"He stopped her and told her again more loudly (that's when everyone started noticing)."
"She said no. He insisted. She refused again, and tried to walk through."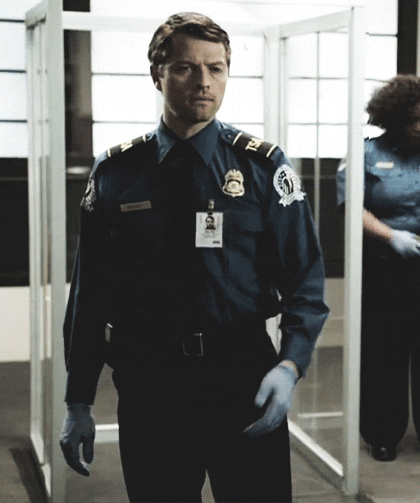 Giphy
"He got angry."
"She tried to explain something but it was unclear because her English was poor."
"It went back and forth."
"They both started getting angry and frustrated. It started holding up the line and other passengers were getting agitated."
"A few people tried to intervene and explain more calmly that she needed to put her jacket through the x-ray machine."
"Finally, near tears, she blurted out 'fine' and removed her jacket, revealing that she was wearing nothing at all underneath, and walked through the screening machine topless."
~ SigmaSeal66
I'm a nervous flyer so it's not something I do often, but I still feel a little cheated that nothing this bizarre has happened while I was traveling.
Has something ever happened during your travels?
Share it in the comments.