Life can be unforgiving, and that's an unfortunate truth of the game. It's usually when things are going bad that we need to find something to hold onto, something pure, unfiltered, disconnected from what's troubling us, to keep us going. Everyone differs in this regard, since everyone has different problems, but maybe there's some help here for anyone suffering right now.
---
Reddit user, u/Redpo0l, wanted to know the best bits to keep pushing when they asked:
[Serious] What fueled you during the tough times?
Someone Else Who Needs You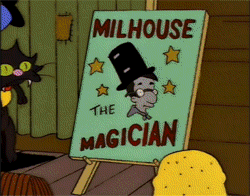 Giphy
My cat
I need to stay alive to take care of him, I need to get up 3 to 4 times a day to feed him, I clean his litter box every day, I go outside around once every month and a half to buy him food. No matter how much I want to let myself wither away in bed, he stays my priority.
Latch Onto Something
Clinging to something or someone. Any kind of moderately good coping mechanism will usually do it, but when the tough times are over you gonna start walking on your own again. Sometimes I tell myself I'm not allowed to die yet, because my kid needs me. Sometimes I tell myself to get a piece of cake. Others it's something as simple as wanting to see a movie that just came out. And before you know it the tough times are starting to pass. And things are ok again for a while.
The tough times will always be there. But they'll never last.
Knowing You're Not The Only One Suffering
So, I have major depression, and I've been to the psych ward when I was younger for trying to kill myself. My family still gives me a lot of sh-t for it, telling me I didn't need to go, and I've heard "You don't have depression" a lot by my family. The only reason I'm still alive is because my friends, my girlfriend, and my dog care about me.

My dog is honestly one of the happiest dogs that I've known, and she always does goofy sh-t to make me laugh. Literally 2 minutes ago, she was next to me, greeting me how she usually does in the morning, which is breathing as hard as she can on me and whacking everything with her tail until I pay attention to her. Works every time. I don't wanna make her think I didn't come home because I didn't want to visit her anymore. My girlfriend is in a sh-tty situation that I desperately want to get her out of, and I keep thinking about how her life would go from bad to worse if I wasn't here to help her however I can until we can move in together. I hope we can before too long, I wanna marry her and take her away from that sh-t permanently.
Get Me To The Next Event
Future events.
I want to know what happens next.
The Family You Actually Care About
I don't have much going on but I still look forward to seeing my nieces. They're 6 and 3 and they genuinely look excited and happy to see me. I don't get that reaction from anywhere else. It cheers me and I spend as much time as possible playing with them or helping them out with mundane tasks like helping my 3 year old niece put on her shoes.
Anything To Get You Out Of The House
Honestly? Watching football.
I was depressed and didn't have any many friends. But started going to the bar for the weekly games, met some of my best friends there.
You Find Something To Take Personally
I don't know why, but I take the Holocaust personally. And there I feel obliged to honour them, not to let their suffering become irrelevant. It's just out of the question for me to quit. The duty to "live on" the lives of the victims keeps me alive.
Are you Jewish?
No, I am a 14 year old German atheist who has no ancestors directly involved with the Holocaust. As I said, I don't know why I take the Holocaust personally, but I have a guess why I take it personally.
Understanding How Little Your Reach Is
Focusing on what I alone could control.
It's easy to tell yourself a story about how hard life is, and how it's got you down, but that keeps you in a disempowered mindset. Find things that you can do for yourself - maybe it's setting up a networking lunch to talk about that new job you've been thinking of, or investing in a friendship. Maybe it's small, like going for a walk outside today because you know it's good for you, or spending some time petting your dog and making sure he feels loved even when you're depleted.

Over time, as I did these things, I grew to trust myself and see myself as someone who was capable and could be relied on. It wasn't easy, and I backslid some days, but all of those little moments eventually added up and showed me that I had value, purpose, and strength.
It's also good to have a trusted friend or two who will sit in the dark with you and hold your hand when you're just feeling low. Not someone who will try to solve your problems or tell you what to do - but a safe person who knows you'll get yourself past this eventually, and they're happy to keep you company while you muster the courage to do it.
Focus On You
Center your focus on self. No one is going to care for you better than you do.
Make a chart, or list or diagram or whatever about the "Problem". Brain storm "Solutions" - write them all down - the do the "Pro" and "Con" columns for each solution. Make sure to focus on the benefits of the solution. You don't want to be thwarted by fantasies. You want to focus on reasonable reality.
Sleep on it. Share it (or don't). Evaluate it with fresh eyes.
Then choose a path and nail it 1000%, adjusting to unforeseen minor complications.
Yes, YESSS...
Cynical as it may be, stubbornness and spite. "If I go down now, everyone who ever doubted me will be vindicated, everyone who put in effort to f-ck me up will be victorious." I won't lose to the sh-ttiness of this world. I only get this one life, and I'll be damned if I'll let it go and give up my chance at making it fulfilling.
...Let The Hate Flow Through You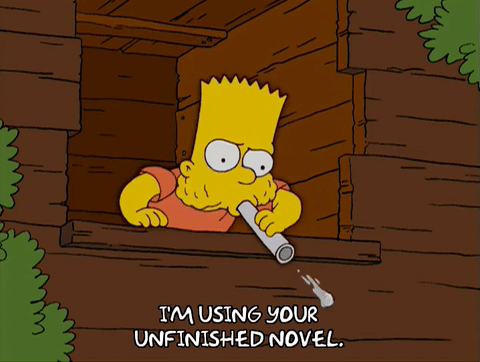 Giphy
Spite mostly. I'm too stubborn to let anyone see me fail.
For me, it was a combination of what you just mentioned and that I felt I owed it to my parents to get out of the rut. It's like I believed that my unhappiness was contagious, in a sense, and I just couldn't do that to them.
But yeah, it was mostly stubbornness and a sense of pride. Or shame, I guess, depending on how you look at it.