When one is soiled, one is soiled and when you're soiled you gotta get that butt clean. Whether you have a sink nearby or a toilet at Port Authority (pray it's never the latter) wash up whenever you can. The air we breathe is warped with soot and filth so if any other bacteria attaches to you, wash it away. Now the process in which you choose to do this may not be the most, by definition, "hygienic" choice... do what you gotta do.
Redditor u/achrist2914 wanted some people to admit what they had to when they were desperate to be clean by asking.... What is the most unhygienic thing you have done?
---
get the hose....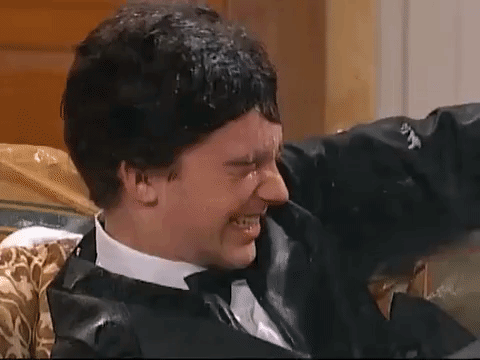 Giphy
I jumped into what was essentially sewer runoff, chest high swirling river of poop, to pull out a four year old boy who had fallen in.
It was in Mexico and next to the site I was working. Kid just fell in and I jumped in after him since the sewage was over his head. Managed to cut my leg open too, so I had to go to the hospital and get a tetanus shot.
Kid was fine, pulled him out, mom hosed him off and sent him back to playing.
When the puss is running... 
I once examined a patient's leg wound without gloves on; looking for fluctuant areas that might indicate an abscess. Bad idea. Next thing my finger pierces the skin (thinned from necrosis and under tension from the pus) and was actually gliding up under the skin. In the split second it took me to realize this an inordinate amount of puss came streaming out onto my hand and arm. Took several minutes to compose myself afterwards. Very nearly wretched a number of times. I'm also pretty sure I finished an entire bottle of hibiscrub washing my hands repeatedly.
The Spittoon. 
As a kid. Don't know why I took a swig from a random soda can left at the sink in a public laundry mat. Turns out it had been used as an ash tray and possibly dip spittoon.
Oh my god this made me actually retch just reading it.
To the Dumpster. 
Once when my roommate was using the bathroom and I needed to poop *right away* and I didn't want to deal with her bull trying to convince her I needed to use the bathroom worse than her I went into the kitchen and ripped 4 sheets of paper towel off the roll, went to my room and closed the door, folded the paper towels to in a double layer, and took a poop on the paper towel. Miraculously, it all landed perfectly on the paper towel and I was able to fold it up and put it in a plastic grocery bag and tie it off like a gigantic dog poop and take it out to throw away in the dumpster outside.
Damn Junior Mints.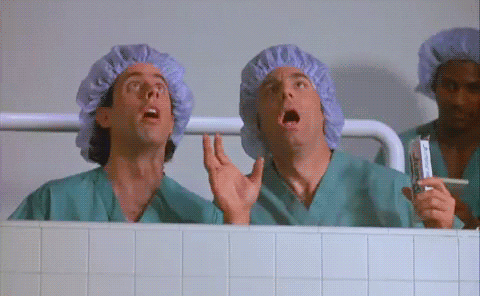 Giphy
9 years old, Dropped a milk dud in the movie theatre so pushed my hand the seats to find it. Found it proceeded to eat it and it was a damn junior mint.
Scars me to this day.
boys & their M & M's....
I was in Boy Scouts when I was a teenager. We were on a week long backpacking trip. As teens do... We started making stupid bets/dares.
One was, "Who can do the grossest thing to an M&M and then eat it?"
I took off the boots I had been hiking in. Took off my funky sock (soaked in swamp water). Wrung it out on a few M&Ms in my hand. And ate the handful of M&Ms and whatever puddle of swamp water was in my palm.
Out with the Cow. 
While doing a rectal exam to make a pregnancy diagnosis in cow, it managed to poo directly into my open mouth.
Just throw the whole cow away at that point.
Salmonella & Snot...
Not me, but a buddy of mine was in a fight with his GF, she was saying he always under cooks the chicken, and she's going to get salmonella. So he takes a raw drumstick and slurps the meat off the bone out of spite.
It made me shiver in a way that I've only done after reading a story on reddit about a mother using her mouth to suck snot from a baby's nose.
Slumped over the toilet...
College: I was drunk and high and all those things and decided my hands didn't work.
Our dorms had a shared bathroom and I was in the stalls, hoping to puke in the toilet. I thought "man it would be rude of me to puke all over the seat, I better put it up just in case"
Since my hands didn't work, I grabbed the seat with my teeth and put it up.
Never puked though.
Edit: Kind of embarrassed this got so visible. Thanks for the gold and silver. To answer the most frequently asked question, I was really messed up, sitting on the floor, slumped over the toilet. Standing up and using my feet didn't seem like a viable option at the time. Don't do drugs kids.
Litterer....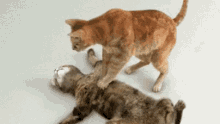 Giphy
When I was a toddler, I crawled into the cat box and started playing in the "sand." Mom of course had to get pictures before stopping her kid from playing with cat poop.