The human body is truly amazing. It's resilient, it can create antibodies to fight off infections, and it comes in all shapes and sizes.
There are some awesome facts about the human body, like that no two people have the same fingerprints.
However, there are also some creepy facts about the human body.
Redditors are well aware of this and are ready to share the creepiest facts they know about the human body.
It all started when Redditor MorBot07 asked:
"What creepy fact about the human body do you know?"
I Need To Go Take A Nap
"Too much lack of sleep can cause the brain to "eat itself", cutting connections and making things like alzheimer more probable in later life."
– 89_degree_angle
"nothing has been able to convince me to start sleeping more but i think this comment really did it for me.."
– r0saliaa
Can't Move
"If your spinal cord loses adequate blood supply for a short period of time, you can be temporarily paralyzed."
"The first sign that your spine is "waking up" again is that you regain a specific reflex, where if you squeeze that person's penis or clitoris, their anus contracts. If that happens, it's a good sign."
– AceAites
Just The Right Spot
"A single punch to the chest can stop your heart. A single punch to the gut can rupture your spleen and kill you. A single punch to the face or back of the head can kill you. (the back of the head being less sudden and more noticeable)..."
"Let it be known that, despite all the things we can endure, humans are insanely fragile in many ways you may not even have thought of."
– wolfyfancylads
The Other Side Of Me
"Some people's organs are on the wrong side of their body, like a mirror image… It's called Situs Inversus"
– smallCraftAdvisor
"This is true! I actually have this. Partial Situs Inversus. Dextrocardia. It doesn't harm me just means my heart in on the wrong side so the opposite lung is smaller. Can cause issues when I'm sick but nothing more."
– FlamingArrowheads
My Choice
"There are pregnancy cancers. You can have little baby cell metastases growing in your brain if you decide to have a baby and some of cell multiplier genes go wrong."
– zeratul196
"Add that to the list of why I need bodily autonomy. 😬"
– chubbycat96
Time For A Reboot
"A seizure, despite how terrifying they may be, are your brain's response to the brain equivalent of a runtime error. Something happened that shouldn't have, and your brain is restarting to get everything running smoothly again."
"Source: epileptic since 2003"
– authorStanCrane
Ick!
"When we die, it looks like your fingernails are still growing, but it's actually just the skin around your fingers shrinking."
– Comfortable-Pin-5769
A Body Is An Ecosystem
"Your body contains just as many foreign cells, i.e. gut bacteria, as your own body cells. These cells produce hundreds of neurochemicals that the brain uses to regulate basic physiological processes as well as mental processes such as learning, memory and mood. Some believe this is the "gut feeling" people sometimes get in certain situations."
– chaoschosen665
Genetics
"I'm currently pregnant with a girl. I'm currently holding the cells that could become my grandchild."
– dreamqueen9103
"Samesies. Every person in existence was once half inside their biological maternal grandmother."
– Magnaflorius
​Counterproductive
"I don't know if it qualifies as creepy.. I'm a nurse, and I've always found it interesting how the body attempts to compensate when sick which incidentally tends to lead to you becoming sicker because of how overworked your body is."
– Chowel98
Different Species, One Body
"An estimated 30 trillion cells in your body—less than a third—are human. The other 70-90% are bacterial and fungal. Ninety-nine percent of the unique genes in your body are bacterial."
– AwiiiLama
Uncomprehensible
"If you have a stroke (or other brain injury) that effects parts of the brain associated with speech, you will probably end up with some type of aphasia."
"For example, my "favorite" type of aphasia is Wernicke's Aphasia; patients can form whole words and even sentences, but they usually make no sense. I had a patient with Wernicke's Aphasia who would constantly say something close to "we have to rescue the dog(s) from the DMV!" It took me about 30 mins to figure out this person wanted something to drink."
– YayAdamYay
A Whole New Person
"I heard or read once that essentially every 7 years your body has completely regenerated. Of course it's a slow on going process but 7 years from now no cell that's currently in your body will still be there."
– randomradomski
No Changes
"Eyes are the only part of the body that don't grow. Same size when you die as when you were born."
– lookatmypackage
We Are Strong
"You could easily bite your own fingers or tongue off, but (unless you're seriously mentally ill) your brain prevents you from doing so."
– endorrawitch
They say knowledge is power, but I'm not sure I'm better off for knowing of this!
We all know that the human body is very complex.
But even with all the recorded and available science, there are certain things about our bodies that continue to elude us, and medical experts can still get stumped about how the human form reacts unpredictably.
Curious to discover some of the mystifying yet unsettling truths about our anatomy, Redditor Hot_Banana_Ice-cream asked:

"What is a creepy fact about the human body?"
Visceral Reaction
"If you wear glasses which vertically inverts your vision long enough, your brain will correct it, and you'll see things normal. But when your take those glasses off, everything will look upside-down again until brain recalibrates again."
– shadow29warrior
Brain Assessment
"Our brain filters out a lot of what we see along with just straight making sh*t up based on extrapolation."
– AdmiralClover

The Experiment
"My favorite is the blind spot at the center of each eye, where the optic nerve is."
"A lot of people don't even know it exists, and even if they do, it is bigger than people often think."
"And it's also really easy to demonstrate to people if you know how. It's one of my favorite bar tricks - all you need is a pen and a napkin to draw a cross and a dot."
https://thebrain.mcgill.ca/flash/capsules/experience_jaune06.html
Alternate demo: https://faculty.washington.edu/chudler/chvision.html
"Edit: If it doesn't work, you're doing something wrong - not getting close enough, the image is too small on your phone, you're not closing the correct eye or not keeping your gaze fixed on the cross."
"It isn't because you don't have a blind spot. Unless you're a squid, you have a blind spot. All vertebrates have them."
– M0dusPwnens

The workings of our innards are out of this world.
The intestines are covered by a double "fleece" of peritoneum. See it like a blanket.
When your intestines get damaged for whatever reason, this blanket starts moving out of itself and crawling upwards towards the place which has the injury. It will stay there until the injury is recovered. And then move on again.
Maybe not the most creepy fact, but definitely interesting in my opinion.
Do Do That Doo-Doo
"We don't just have one anal sphincter. When poo comes along it passes another inner sphincter which isn't under voluntary control."
"Sensory cells can detect whether you're about to pass gas or solid. From toddler age on, you can decide to go or not to go. If the time isn't right (e.g. at a friend's house or no toilet nearby), the inner sphincter can push the poo back and store it there for later."
"That's why sometimes if you need to do a number two but don't go, the urge goes away after about 20 minutes later. (But seriously, go if you can. Constipation risk.)"
"Gas can't be pushed back so easily, so we sometimes toot by accident when moving or engaging the core."
– bmb00zld

The Same Lining
"The inside of your cheek and your rectum are lined by the same type of tissue."
– GasTsnk87
You don't always have control of your body.
Taste Of Curiosity
"The front of your tongue is curious, constantly patrolling, and autonomous. It chases the dentist around your mouth and you aren't even aware of it. So embarrassing and weird/creepy."
– AdeleBerncastel
Licking Partner
"In dental school, I learned this fact when practicing taking impressions on each other. My buddy's tongue kept licking my finger. I asked him to quit licking me, and he was like 'I can't help it!' And then we switched places and my tongue wouldn't leave him alone.And for those of you that don't think your tongue does this: some of you are right. But the majority of you just think your tongue is behaving, but it is all over the place without you even knowing."
– recoveringcultmember

Dancing With The Dead
"Bodies will move as they're coming out of rigor. I've been bumped by a few (I'm a coroner). Bodies can also make sounds as the remaining air/ gas leaves… 2am in the morgue and I thought I was in COD zombies."
– Jar-JarShotFirst69

The Only Way Out
"When you get laser tattoo removal the ink doesn't disappear, you pee it out."
"Your body's immune system breaks down the pigments of ink and it flows in your blood stream, gets processed through your kidneys, then you pee out the ink."
– Fine_wonderland

Our soul-containing vessel is a mysterious wonder unique to us.
We should do whatever it takes to take great care of it because it's the only one we've got.
If we don't, they might turn on us.

The body is an amazing thing.
There isn't enough time to learn everything there is to know about it.

And of course there is some knowledge most of us can do without ever knowing.
That is why I dropped out of anatomy... no thank you.
Redditorsammbhav01 wanted to discuss a little anatomy while they had our attention. They asked:
"What is a nsfw fact about humans?"
I hate body facts. I'm sheepish.
How about Dinner First?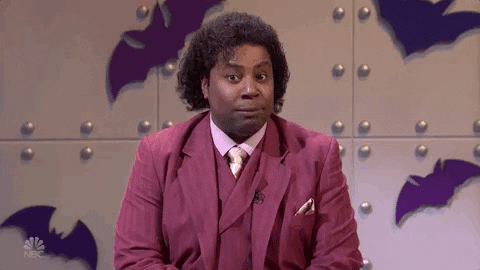 Oh My Reaction GIF by Saturday Night Live
Giphy
"Doctors will press on the penis glans while having one finger in the anus, if by pressing the gland the sphincter of the anus try to close, it means the reflex is still alive, it is sometimes used to check if theres any damage to the spinal cord after an accident."
HallowedBuddy
Bad to Worse
"The most f**ked up human fact I know is: generally, during a kidney transplant, the old kidneys are not removed from the body, they are left inside after the transplant. There is actually a gentleman in the Netherlands who holds the world record for number of kidneys inside his body, which is currently 7."
MugiwaraLee
"I'll make it worse. The native kidneys shrivel up like raisins. So they're just little beans hanging around uselessly once the transplant has been there awhile. They have such a complicated vascular system, it's easier to leave them in — and it helps that they won't take up too much room for long."
miimo0
Quite a Load
"The average human poops close to 400lbs per year."
Outrageous_Ad_9310
"My guess is it's calculated by looking at throughput volume in sewage systems and dividing by the number of people in the service area using census data."
"Could also be a very long series of laborious collections from individuals, but I personally wouldn't want to participate in that work (as the pooper OR the scientist). Now what would be really interesting if we did have individual-level data would be to examine the median, mode, range, error, etc. to determine if the average is 'normal' or skewed by a small percentage of insanely high-volume poopers."
Gumbyizzle
Sexy Time For All
"Some people achieve orgasm getting their nipples pierced."
actuallizard42
Going Down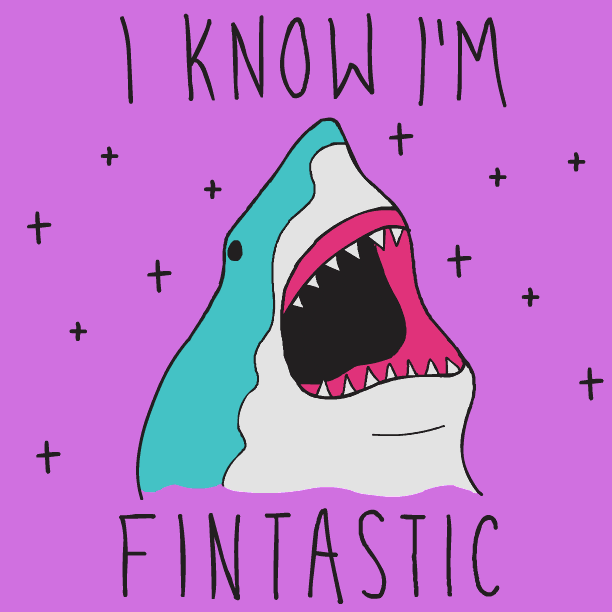 sharks lol GIF by Look Human
Giphy
"Human vaginal secretions contain hyaluronic acid and squalene, which are both used in skincare for hydration and elasticity. Squalene is also produced in high amounts in shark liver, so vaginas and sharks have that in common."
ConnoisseurOfDanger

Clots
"If you continue to have an erection for several hours, blood will start to clot and harden, which decreases oxygenated blood flow to the tissue and can cause ischemia in the penile tissue. If one has an erection for longer than 24 hrs, the chances of having Erectile Dysfunction afterwards are exponentially higher statistically, from my understanding."
Denslow82
Finding Room...
"Toddler's adult teeth are stored right under their eyes at some point."
DramaticChoice4
"Can confirm. During my studies the first time we were shown a child x-ray and asked for diagnosis, everybody was freaking out that there is something seriously wrong (we didn't know it was a child). Turns out we were completely bamboozled and it was a healthy child. That day I learned where and when adult teeth develop during childhood."
TheEsiu
Unsafe/Unclean
"There are traces of human fecal matter pretty much everywhere."
M-Test24
"Mythbusters did a test where they were trying to see if putting your toothbrush in the cupboard would keep it cleaner. They had controls in other rooms that they expected to stay 100% poop free, but every single one tested positive for poop. There is no escape, there is nowhere safe."
safety_thrust
Let it Burn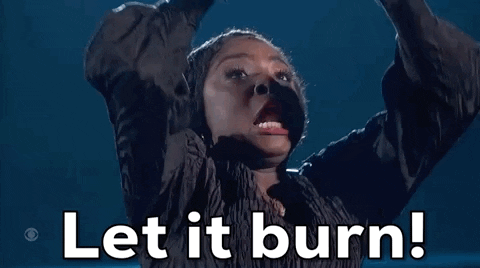 Musical GIF by Tony Awards
Giphy
"The stomach acid in humans is so strong it could eat through most metals. However we're protected because of the mucus lining our gut."
Pfroggy1
The body is crazy. What a design.
Want to "know" more?
Sign up for the Knowable newsletter here.
Never miss another big, odd, funny or heartbreaking moment again.
The human body is still such a mystery.
How much do we really know?
Not a lot apparently. We're learning more all the time.
And most of it is gross.
RedditorBathNo7713wanted to discuss the ick factor of anatomy. So they asked:
"What is the most disturbing fact about the human body?"
The body freaks me out. But it's all I've got. So teach me some things.
Minutes...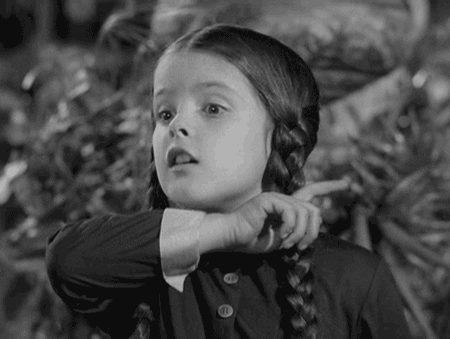 death GIF
Giphy
"The fastest killing virus takes around 4 days to kill you. That would be Ebola. Your immune system can kill you in 15 minutes."
will477
'locked-in'
"If your brainstem (the part of the brain that mediates most motor control for all of the body) is damaged, you can get 'locked-in' syndrome. That means you're fully conscious and aware of your surroundings but unable to move or speak. The only muscles that remain unaffected in most people are the muscles that move they eyes and the eyelids."
"You're essentially trapped within your own body with your only way of communication being blinking or moving your eyes It can be caused by toxins, blockage of the basilar artery which is the main artery of the brainstem, or other brainstem damage."
4oodler
Explosions
"Some people suffer from Exploding Head Syndrome, which causes them to hear a loud bang when they wake up."
ToraMix19
"When I was younger I believe I experienced this a few times. Sounds I heard were: about a million people talking and laughing all at once, a train that irl would've been about a foot away from me based on the volume of the sound, and a door slamming loudly."
aliaisacreature
Pain
"Not sure if this is by design, but I totaled my car once, almost completely uninjured somehow. Then I looked down to my right hand which I remember jabbing into my dashboard at 55mph. Luckily (unluckily?) only my pinky took the blow. But instead of a floppy-udder full of bone-sand, my pinky was 0.5 inches long."
"Broke no bones, but instead perfectly stacked my phalanges, or finger bones, INTO my hand. This is fixed by a muscular Russian murse grabbing your pinky with both hands and pulling very hard. God I wish they gave me more lidocaine."
TelevisionOlympics
Functions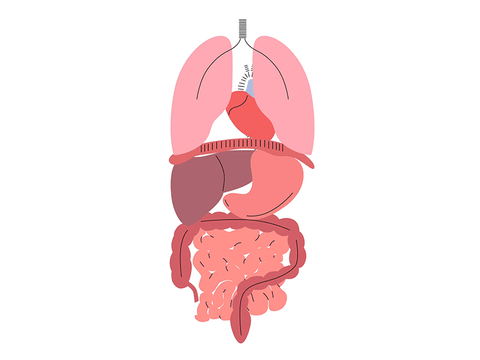 animation art GIF
Giphy
"If you have a surgery where they need to move your organs around they might not function for a day as the body assumes that they are dead."
tonythebutcher13
Move things around? You mean that's not fake when it happens on "Grey's Anatomy?"
Gross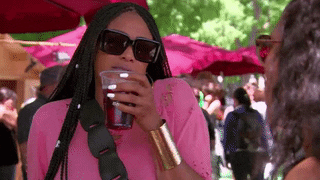 Basketball Wives Ugh GIF by VH1
Giphy
"It is always making disgusting body noises."
"The only reason you are not aware of it is because the ambient noise kind of drowns it out because your ears focus on it. If you go to one of those super-silent rooms that absorb all sorts of sounds, it is a really weird way to reacquaint yourself with your body."
Black_Handkerchief
The Mouth
"Idk about the most disturbing but how bad human teeth are. We'd think it's our sugary and processed diets these days that cause it, but even Otzi the iceman discovered in Italy was found to have terrible teeth, mouth diseases and cavities. It's odd that even with the most basic of diets our teeth are so bad."
Dorianisconfused
In the bowels...
"I noticed this after my abdominal surgery. When I turned over in bed my guts seemed to fall from one side to the other. Mentioned to my doc and she confirmed it was my bowels rearranging themselves."
squatter_
"Apparently the doctor just throws your intestines back in there higgeldy-piggeldy because there isn't a correct way to pack them neatly."
LostDesigner9
A Quick Burst
"There are a vast number of ways that your body can malfunction and kill you with little or no warning. An aneurysm can go undetected until it bursts and kills you. Getting hit in the chest just the right way can stop your heart. You can encounter an allergen that never previously provoked an immune response that freaks out your body so badly that you die. You literally just never know if your body will just... die."
Unsolicited_Spiders
The body is such a conundrum. Sexy and gross all at once.
Want to "know" more?
Sign up for the Knowable newsletter here.
Never miss another big, odd, funny or heartbreaking moment again.
Human bodies are a marvel of engineering - and also make no sense.
Brains are sentient goo that are capable of creativity, insight, intelligence, and incredible achievement. But also I hurt myself typing too hard a while back and my hand just hasn't been right since - and I know I'm not the only one.
The juxtaposition can make for some incredibly awkward moments. This brings us around to this thought...
Reddit user CrypticBrush asked:
"If you could redesign the human body what changes would you make ?"
Armor? Healing abilities? A protective mucus layer?
Less and More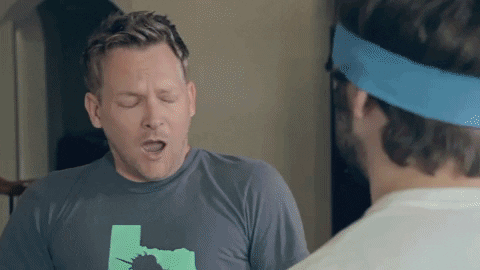 Shoot You Oh No GIF by Film Riot
Giphy
"Less back pain, more laser beam eyes."
- ThirdStrike333
"The Predator approves this."
- 7n13_
"You're gonna have more pain everywhere else from the laser beam eyes of others."
- BigZmultiverse
"Every woman in the world would have serious burns, also more men than anyone would expect."
- BlackSuN42
Drainage
"Human sinuses suffer from a major flaw."
"As our species evolved flatter, taller faces the cavity in our skulls connecting our sinus to our throats moved above the rest of the sinus apparatus."
"This is bad for drainage."
"Humans 2.0 will have that hole lower thus reducing stuffy, runny noses and sinus pressure."
- CaptainChats
"So what you're saying is we're the pug of the great apes?"
- Schlipak
"Nah, we are like the weirdly high nosed giraffe or something."
- TheNaziSpacePope
Teeth
"A new set of teeth that grow when you're 30. A spare of each major organ that remains dormant unless the primary is damaged."
- Chrissy9001
"Also, please rid us of wisdom teeth. Cutting one now."
- boneymod
"A new set of teeth every 10-15 years."
"I got my adult teeth early and completely ruined them and now I have to live with the consequences."
- KnaveOfIT
"We'd need braces again though."
- [Reddit}
"The spare set of teeth is something my husband, kids, and I were discussing just this week."
"The opportunity to grow new teeth to make up for years of teenage or young adult depression, poor soda habits, health issues leading to weakened teeth, etc would be amazing."
- tkdbbelt
The Cursed Circle
"I would like licking chapped lips to work, please."

- tehKrakken55
"It's the politeness that got me. Good luck with your lips."
- Carthuluoid
"Ahh the cursed circle."
"Licking your lips feels better short term, but actually further dehydrates them (just like washing your skin dries it out) so make sure you use a moisturizing lip balm and then lock it in with an oil or some sort (whether you choose petroleum jelly or coconut oil, it's up to you) to prevent loss of hydration."
"Good luck 😬 "
- wellnotyou
Engineering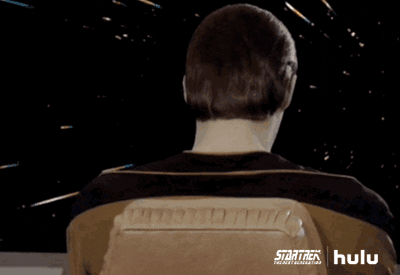 star trek GIF by HULU
Giphy
"The ability to run basically a self-diagnostic, including of the brain, and more effective warnings if something goes wrong."
"Control over more of the body and brain, from 'I'm going to sleep right now' to toggling reproductive functions on and off to triggering the growth of new teeth and so on."
"If we're really pushing it, consciously deciding how our bodies and appearance develop."
"Better joints and spine somehow. I don't know how, I'm not an expert."
"Seeing in ultraviolet would also be pretty cool."
- brokeanail
"I feel like at that point I'll be questioning if I'm a robot."
- Fynex_Wright
"The line between a doctor and an engineer is thinner than what most would like to admit."
- Red_Ranger75
Opt-In Fertility
"For women, the ability to stop periods all together (without medicine or an implant) unless you actively want to have a baby."
- brokendowndryer
" 'Opt-in fertility' "
- misdirected_asshole
"I'd say both exes should get that option. You produce reproductive cells only at will."
"So only couples who are both willing can reproduce."
- OrangeQueen_H
Sleep Mode
"Being able to fall asleep at will would improve human quality of life more than I think anybody can possibly imagine."
"Going to bed when you want regardless of anxiety, taking naps whenever you want, falling asleep on airplanes/road trips, skipping meetings.... the possibilities are endless."
- CN4President
"My wife basically has this. She falls asleep in like, 3 minutes. It takes me an hour to fall asleep. I am super jealous."
- chauna
"I vote for the fall asleep button! Insomnia sucks!!"
- fluffy_boy_cheddar
Obviously A Rush Job
"Optimize brain chemistry."

"So many of life's problems are self inflicted due to anxiety, depression, etc. Life could be so enjoyable if everything else were the same but we regulated our brain wiring optimally."
- DomingoLee
"And never let sadness turn into a depression that then TRICKS THE BRAIN INTO THINKING IT'S NOT BAD ENOUGH TO CALL IT DEPRESSION!"

- Rio_Walker
"The human brain was quite obviously a rush-job hacked together at the last minute. A stem-to-stern re-work is in order!"
- Lochrin00
"Things like this aren't necessarily related directly to trauma like people would think."
"Intrusive thoughts or 'call of the void' can happen to anyone, and can even be induced from some medications."
- Curleysound
"I did archery with a guy with an acquired brain injury."
"He felt drunk all the time and it was not possible for him to get depressed; at the time I can't say I wasn't jealous."
- CrazySD93
One And Done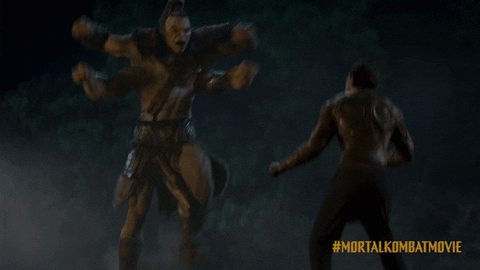 Warner Bros Fight GIF by Mortal Kombat Movie
Giphy
"I would love another set of arms. Carry all them groceries in one trip."
- diskootdatskoot
"F*cking finally I found my people!"
"Been saying that all the time, so much spare space in our torso we could have another set of arms!"
- HellenicRoman
"And I would STILL have to kick the door and ask my family to open the screen door for me."
- TheNewGuyGames
"Oh yes! I say that all the time. Those would come in twice as handy."
- _Mehff_
Why The Same Hole?
"Why did we evolve to eat out of the same hole we breathe in?"
"I'd fix that."
- Actually_Avery
"Yes, this would be my primary design change also."
"Such a liability to have food transit right next to air supply, and sharing a short stretch of track. I would fire that engineer."
- MyBlueMeadow
"As someone who nearly died from choking, I support this change."
"Pro tip, do not talk to friends while sick with a stuffy nose listening to the friends funny story at 4 in the morning while chowing down on a hotdog in your kitchen..."
- TheNewGuyGames
You've heard the mods Reddit came up with. Now it's your turn to do some human designing.
Tell us about your changes and upgrades in the comments!
If you or someone you know is struggling, you can contact the National Suicide Prevention Lifeline at 1-800-273-TALK (8255).
To find help outside the United States, the International Association for Suicide Prevention has resources available at https://www.iasp.info/resources/Crisis_Centres/Want to "know" more?

Sign up for the Knowable newsletter here.

Never miss another big, odd, funny or heartbreaking moment again.