Our bodies know when we're in danger way before we do.
---
Thanks to millions of years of evolution, our "flight or fight" responses are very reliable for getting us out of situations before they get sticky. A bad vibe from someone can be enough for our guts to let us know that it's time to leave.
u/Sadlad111 wanted to know about times people's instincts kicked in, and got some frightening answers when they asked... "What is your most terrifying "we need to leave, NOW" random rush of fear you've felt?"
10. Adults never ask children for help
"When I was a preteen, a strange man stopped and asked me for directions that didn't make sense. As I'm trying to help him a van rolls up and the side door opens. I just booked it and never looked back."
9. This quick thinking mom saved her family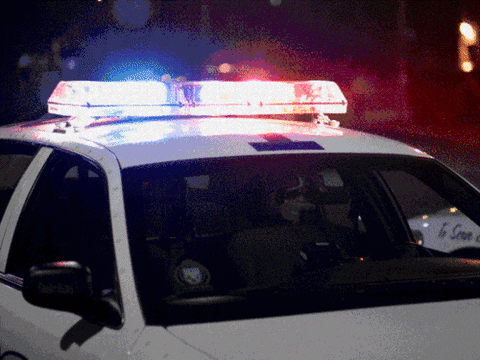 Giphy
"My car was stolen the very night I moved into my new house in a very good neighborhood. The neighbors had warned us that the neighborhood was being targeted at the time. They mentioned a women around the corner that opened the door for knockers in the middle of the night and they attacked her and robbed her and almost killed her.
We had reported the car stolen and did the police reports when it happened. Well, 2 nights later in the middle of the night I hear a knock on the door and they said open up, it's the police. Well, since I had heard the story about the other lady, I was suspicious and did not answer. I grabbed my kids and put them in my daughter's room because it had access to the roof from the window. I called the police to say that two men claiming to be police are pounding on my door. They said there was no police in the area and they're sending a car. Turns out, these same guys stole the car and came back for seconds.
I did get my car back because they brought it with."
8. It's okay to be rude to stay safe
"My mom and I were walking our dog on a semi secluded dried up river bed (for context I was probably 7 or 8). A couple approached us, and instantly something in my gut told me that they weren't safe. The man asked some weird question like, "is it just you and your daughter here?"' and then proceeded to say that he took pictures of kids for a living and that he would love to have me model for him.
I didn't wait to hear the rest of the conversation because after that I took off, and I'm ashamed to admit, left my mom and dog behind with the creepy guy. My mom was livid saying how rude I was and how worried she was because she didn't know where I went, but the intense "leave now!" feeling that came over me totally clouded any sort of reasoning."
7. I'm always on alert in movie theaters
"Went to a movie on Halloween when I was in high school with my boyfriend at the time. It was a huge theatre where there was a staircase all the way to the top row that opened in the middle of the row so you could sit on either side of the opening. My boyfriend and I sat in the back row on one side of the opening. We were watching the movie and around 30-40 minutes after the movie started, a guy walked in by himself wearing a big sweater and sat on the other side of the opening. He didn't really DO anything at first but he gave me a bad feeling and I felt uncomfortable but I continued watching the movie. I noticed the guy seemed really nervous and wasn't paying ANY attention to the movie.
I really couldn't figure out why but he was stressing me out big time and I just felt like we had to get the f--- out of there. I told my boyfriend that I was probably being silly but I wanted to leave. As we were leaving we informed the staff about the guy just in case.
Turns out they had been looking for him as people had reported seeing a guy of that description behaving strangely in the parking lot earlier. The police came and he apparently had quite a few large hunting knives hidden under his sweatshirt."
6. Don't go off with strangers
"When me and two of my cousins went camping with our family (probably about 8-9 years old) we stayed in a campground that had a playground near our spot. We would often go, just the three of us, to play and go back to our camper when it started to get dark because it wasn't too far. But one day we were playing and we weren't the only kids there but this man (40s) came up to us with a dog and started talking to my cousins and they were very trusting. He kept asking them if they wanted hotdogs or cookies and where they were from and telling us that his camper was just over there if we wanted snacks.
This guy gave me a super weird vibe immediately so I looked at my cousins after being quiet the whole time and said "I think I hear grandma yelling for us, dinner is probably ready" and they argued and were confused but after I gave them the 'look' they just shrugged and listened to me. That guy gave me the heebie jeebies and we never saw him again after that day."
5. Sounds like they were up to no good...
"Was at a rest stop in upstate New York near Troy around midnight. This was before cell phones and gps and we stopped to use the pay phone to find a hotel for the night. On the way back to the car, a couple of random guys approached us from behind asking for directions, I told my wife to get in the car when I noticed two other guys coming towards the car from the opposite direction. I hopped in the car and drove away before anything else happened. Might've just been me being overly cautious, but I swear I avoided a mugging or worse by the skin of my teeth."
4. When trusting your gut pays off
"I was at a house party and the people hosting were aggressively telling people to have a good time and go to the basement. Like with a scary tone and a smile. Most of my friends left right away, and the one person who wanted to stay ended up getting mugged."
3. Things can go wrong fast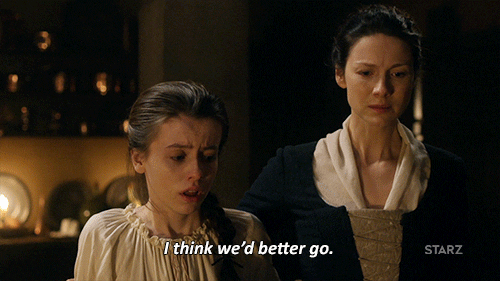 Giphy
"I was at a party my freshman year of college and some seedy people were present. The night was getting very tense, but no fights or anything happened. As the night went on it became very clear to me something was going to happen. I told my friend it was time to leave. No more than 5 minutes after we left someone was stabbed and the stabber was shot."
2. You have to question when someone is being really pushy
"That would be when my mother convinced me it was a good idea to go see a house for sale in the middle of nowehere.
Guy showed us the house and then led us to the door of the basement, insisting we absolutely had to see it. From the top of the stairs I could see a bed and what looked like a semi furnished room.
He insisted we go down first and in that moment I got this strong feeling of unease and just excused myself, turned on my heels and left, headed for the road.
My mom said the guy got really upset, started to swear and sweat, and cut the visit short, so maybe my instinct were on point."
1. He read the room, and he was right
"Years ago my BF owned a truck tire repair company. He stopped by a customers house unannounced one day to try to get a check, as they owed a lot of money. When he came out of the house he was pretty shaken up. He explained the man's numerous other brothers were there (unusual), everyone was very jittery but they cut him a check and then rushed him out. He had a scary feeling that day.
Two days later that customer and his brothers were arrested for a murder, that they had committed the night before we stopped by."