Skeptics may believe there is a logical explanation for everything.

While that may be true, there are things that happen in life that simply defy logic.
Whether it's a creaking noise on the second floor when no one else is home, or demonic hallucinations that may or may not have been part of a dream, people have felt something with every fiber of their being that convinced them there were other forces at work.
Redditor TurtleBoi87 wanted to hear about unexplainable phenomena from strangers on the internet and seriously asked:

"What is the creepiest experience you have ever had?"
Not everyone believes in ghosts. But they also probably would not want to see proof they exist.
The specters are just waiting for the right moment to make an entrance.
A Presence In The House
"I grew up in an old farm house. It was around 150 years old (must be around 175 now) located in a sparsely populated area in north central Iowa. Very rural. There were a lot of small odd occurrences over the years my family lived there, but the most frightening one for me occurred when I was a teenager. I was old enough to be home alone, but not old enough to drive."
"My parents and older sister were all out for the night so it was just me and the dogs at home. I settled in to watch a movie in the living room located on the first floor of the house when I heard someone walking heavily in the hallway above me. This house had plank wood flooring with nothing remotely sound insulating. These steps were distinct, heavy, and unmistakable. I knew I was the only person home and the house was miles from the closest neighbor, let alone town."
"My stomach was in a knot, but tried to be logical and quickly decided it must be a dog (even though the steps sounded much too heavy for our small terriers). I leaned forward in the recliner to call for them, but as I leaned forward I saw that both dogs were already sitting at my feet. And they looked terrified. I took the dogs, the wireless house phone, and ran out of the house, and locked myself in my mom's car in the driveway. I called my parents and waited in the car for them to get home. They had both had enough experiences in the house to not doubt me."
"ETA another story from that house -The family who built the house lived out their lives there, including their daughter. Her name was Minnie and she never married and thus lived in the house her entire life; birth to death."
"A few years after my parents moved I was talking to my mom about all the odd incidents that happened in that house. She asked me if I ever found little gold safety pins around the house. I hadn't. She then shared that she was always finding little gold safety pins when she was alone in the house. Multiple times she had even had them drop onto her, landing in her book or on her sewing project. She would look up and even checked for cracks in the ceiling, but they seemed to fall from nowhere. It made her uneasy, but it mostly just perplexed her."
"Then my grandma told my mom that she had a once met Minnie years ago. My grandma was an RN at the local hospital and when she was a young nurse Minnie came into the ER. She was very old at this point and in poor health. In order to treat her, the nurses had to undress her as she was wearing layers and layers of clothes. My grandma said it was an incredibly frustrating task because all of her layers of clothes were fastened together with hundreds upon hundreds of tiny gold safety pins"

Possessed Laptop
"One time I was in my room trying to go to sleep when my closed laptop randomly blasted screams of what sounded like a woman in pain. I still have NO IDEA how that happened, but it scared the sh*t out of me."
– caitycha
Gramps Has Had It
"I was at home alone with my dogs and one of them wouldn't stop barking. She had a shrill piercing bark. Suddenly a man's voice yells 'SHUT UP.' I was on the phone with my mom at the time and she asked 'who's there with you?.' I said no one I don't know what that was. She told me to gtfo immediately. I didn't, I figure the only person who died while living in the house was my grandpa and I can't blame his ghost. That dog was being super annoying."
A good night's sleep didn't come for these Redditors, who either experienced being in a partial sleep state or witnessed someone who did.
Face Stealer
"As a kid (maybe 12) I walked in to my mums room to kiss her goodnight. I didn't realise she was asleep and as I entered I woke her. She saw me standing in the doorway and jumped straight out of bed. She grabbed me and threw me on to the bed and tried to choke me out, while kind of clawing at my face. I grabbed a pillow to try to put it between us but she was on top of me and screaming. I remember seeing her face in the light coming from the hallway and she was crazed. I kept screaming at her 'it's me! It's me!' But she wouldn't stop. "
"Somehow I got out from under her and I ran out into the loungeroom where my dad was stood up, about to see what was going on. I grabbed him and threw him between me and my mum, who was right behind me and still clawing at my face. He grabbed her and bear hugged her, while her arms reached out over his shoulders, still clawing at me. I don't know how but she woke up, and immediately started crying, really sobbing, and apologising. She said she was stuck in some sort of not quite asleep, not quite awake state and when I stood in the doorway all she could see was that I was wearing her face, and she felt she had to get it off me. We stayed up all night crying and I still won't walk in a room if someone is asleep."
– PiperPug

The Long Night
"Sleep paralysis. Was laying in bed after one hell of a day and the mind was racing like never before."
"Eventually, the body fell asleep but the brain didn't or however the f'k it works. Luckily I prefer to sleep on my sides or face down, that night was face down so I guess I skipped a lot of the nightmare fuel."
"Felt a pressure on my back, akin to say a large cat laying on your back."
"Then came the hallucinations whoo boy. Dark moving figures in my peripheral vison, odd sounds in an empty house, sensations of touch on my arms and legs."
"It was a sh*t night."
– Helluks

"When I was about 10 I was lying in my bed when a pair of hands came up from behind my headboard and started choking me. I remember trying to move or scream but I was completely paralyzed and silent. Then all of a sudden I 'woke up' but I was sitting bolt upright in my bed. Had no idea what sleep paralysis was at the time so it's safe to say it scared the absolute sh*t out of me!"
It's interesting the things the brain interprets what we're seeing.
Cosmic Rays
"When I was younger I've been walking around with a friend of mine in the middle of the night. We walked over an open field when we suddenly stood in a flickering extremely bright and somehow 'dancing' light, we both looked around but there was no light source or something we ran away and when we turned around to see if it's still there it was just gone. Today we still have no idea what happened back then and yeah."
O Brother, Where Art Thou
"Went to visit a friend since I had moved away. We were hanging out in the bathroom and I saw her brother walk by and down the stairs. Couple minutes passed and I asked if her brother was off, she said no he's at work right now. I told her no I just saw him passed by us and he was wearing his sweatpants. He was in fact at work. When he got home the first thing he said was 'you can see it to.' His room was the only room that was ice cold. His mom ran sage through the house and after that his room went back to being warm. His parents or sister would never see this figure, but I did."
Demon Beast
"I started experiencing all the typical haunting stuff. lights flickering, shadows, objects moving, feeling weight on the bed, even being touched."
"Didn't phase me."
"Then I saw a demon beast appear outside my window, just waving at me with the most sinister smile, pure evil, something even hollywood couldn't recreate."
"That got me. Almost left my apartment without my shoes."
"When I returned I was intent on capturing it on video, But it never fully manifested again. I guess it made it's point."
Sinister Silhouette
"Several years ago, before kids) I got up to use the bathroom in the middle of the night. As I crossed from the bed to the bathroom I looked down the long hallway to the guest room at the end of the house. We slept with the doors open then, before kids. The guest room has a big window lined up perfectly to The hall. The shades were shut but there was lots of ambient light in the room. It lit up a black shaped ghost/ vampire perfectly. Only saw it for a second but nearly gave me a heart attack. I have convinced myself that it was just my eyes playing tricks on me,but…."
They say your mind plays tricks on your and your wild imagination confuses your perception of reality.
While that's plausible logic, why do they always have to happen when we're all alone, and usually at night or in the dark?
As a kid, my "imagination" had a field day with me when I spent the night home alone for the first time without a babysitter.
I think I was just paranoid because it was eerily quiet, but I could've sworn I heard the rocking chair behind me creak a few times as I was reading a manga comic book.
When I turned around, the rocking chair was completely still, but the creaking noises simultaneously stopped as I turned around.
It probably didn't help I was reading The Drifting Classroom, one of the most disturbing manga by Kazuo Umezu, a well-known Japanese comic book artist specializing in the macabre and unimaginable horrors.

Keep reading...
Show less
New experiences are the spice of life, but sometimes that spice might be a little more bitter than you originally thought.
Whether the experience turned out to be a total flop, or it was the kind of thing that you're glad you got to do once but don't need to do again, some things are best left as one-off experiences.
*Content note: the following article contains graphic descriptions of injuries, and mentions drug use. Reader discretion advised.*
Keep reading...
Show less
It's that time of year again. It's time to celebrate the spirits. For many it's the greatest time of the year and the best holiday. Like, who needs Christmas when we can relish Samhain. Thanks to COVID, Halloween festivities were a bit muted last year, but now everybody is ready to get out and trick their treat. Safely vaxxed and masked I pray.
So let the costume parade commence. Who has been plotting what? And why? Explain your costume vision. Let's dish...
Redditor u/ral365 wanted to hear about the plans for this year's trick or treat season, by asking:
What's your Halloween costume this year?
I'm not even sure I'm gonna go out this year. I have plans, I always have plans but my execution is a mess. When I do the costumes though, it's all out.
Yum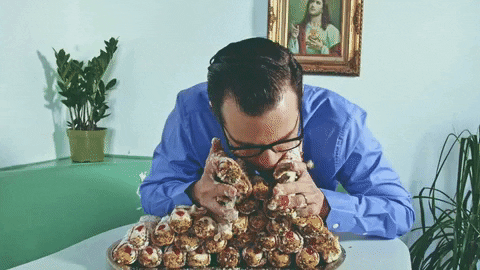 Hungry Music Video GIF by Weezer
Giphy
"Eating candy in the dark with the lights off, watching scary movies. - best costume."
THIS IS THE YEAR!!
"La Llorona. Finally! THIS IS THE YEAR. I've been wanting to do this costume for a number of years, and I finally have the time and means to put the costume I've always wanted together. Just for the record, this is not themed after the Llorona movie that came out a couple years ago. Rather, I'm putting my own spin on it and so far have the main components of the costume, just need to do some alterations, plan out the make up, and work on my ghostly wailing."
Pablo
"Last halloween i didn't dress up and i got stopped 3 times for people to compliment my Pablo Escobar costume. So I guess Pablo Escobar."
"My friend was so grotesque one year that multiple people stopped and complimented on how scary and unsettling his costume was. He wasn't wearing a costume though."
Hey June
"Handmade (started this b**ch in June!) 1883 Victorian dress in pale blue. I'll wear white-out contacts and powdered white make-up. Going for a ghostly look."
"Like those creepy Victorian photographs of people with their dead family members - think they were actually called 'death photographs' or something like that."
Yo Scoobs!!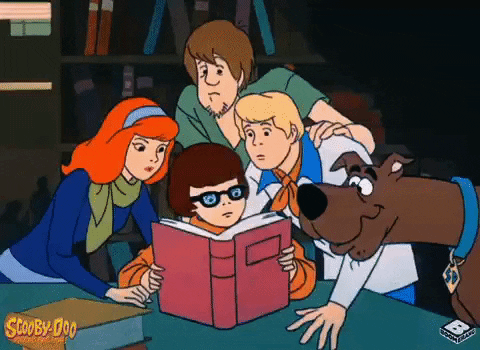 Scooby Doo GIF by MOODMAN
Giphy
"My kids have been adamant that we're going as Scooby Doo characters this year. They have yet to assign me a role."
- romafa
Well y'all seem ready to go. Sounds like Halloween is gonna be a bit LIT this year. I love Scooby-Doo. In my book that's the win so far.
Everybody was...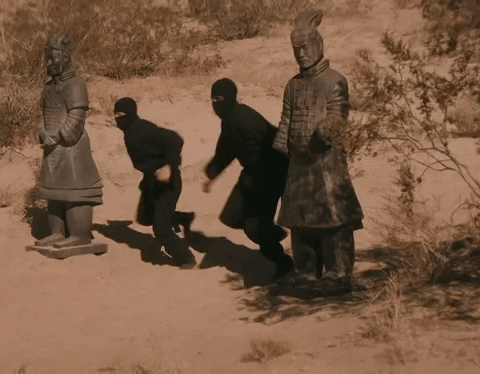 Martial Arts Ninja GIF by SZA
Giphy
"My son wants to be a ninja. my daughter wants to be a ninja. So we are going to be a ninja family!"
I LIVE for Willow!
"Vampire Willow. I'm trying to convince my twin to be Willow, but I don't think it's working."
"Omg, that is amazing! I'd love to do a Buffy themed Halloween but most of my friends haven't seen it. The younger crew haven't (although one is watching and loving it!) and my age are way past it. I still love it though! I don't think my close friends know how much I love it. I might not have the crazy knowledge base I have for the power rangers but its up there!"
- Zanki
Be Green
"I will be dressing as Jim Henson and Kermit, and I will be performing karaoke as drunk-and-entitled-TV-star-Kermit all night. I was thinking of doing Institutionalized, Walk on the Wild Side (with Muppet names instead of Candy, Holly etc) and then maybe an ending with particularly drunk and belligerent version of Bein' Green. I do Kermit voice karaoke of Rainbow Connection regularly, my Kermit voice kills. I plan to stay in character all night, saying inappropriate sh*t as Drunk Kermit then apologizing for it as slightly-more-sober Jim Henson."
Lots of Money
"I've spent an outrageous amount of money putting together a film accurate original trilogy stormtrooper costume this year, and it's probably going to be my Halloween costume for the rest of my life. Also, shout out to r/501st. I ordered an armor-only kit from a builder. It's made of vacu-formed glossy white ABS plastic, and is pretty complete."
"The kit cost about $800 and you have to trim to fit your body, and assemble and glue the halves together, cover strip the seams, etc. The kit did not include soft parts such as undersuit (I purchased underarmor compression shirt and leggings), belt (fitted to the size of the wearer), holster, neck seal (also fitted), and boots."
"The grand total, including accessories (fan kit) and construction materials like glues, paints, etc. was in the ballpark of $1200, and there are still things I'd like to add like a voice amplifier. I also have a 3D printed E-11 blaster kit I'm working on, but isn't finished yet that I'm not including in that total."
"Here's a pic of the completed armor."
- pdxb3
Alone Again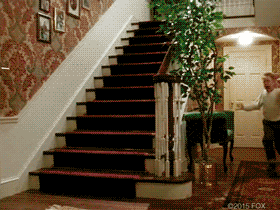 Macaulay Culkin Running GIF by Home Alone
Giphy
"Macaulay Culkin. As I'm home alone. Except I'm missing the part where I have a home. And family. And friends…"
Well those are all interesting. I plan to stay in and rewatch all the Halloween movies. I love Michael Myers. He's masked, which is safer. I'll be ready next year.
Want to "know" more? Never miss another big, odd, funny, or heartbreaking moment again. Sign up for the Knowable newsletter here.
Keep reading...
Show less
Fear is something that is nearly inescapable. It creeps up on us all at some point whether it's in the form of a traumatic event or something slower and more insidious. Sometimes the thing that jump scares you the most is actually also the cutest thing you ever saw... like your kids.

At least that's the case for this writer. A sweet pigtailed three year old tucked away in her bed, I hear a sound so I roll over and turn my phone flashlight on. As I swing it around to scan the room before I get up it illuminates her little face just a few over mine donning a huge crazy smile and wide bulging eyes. As soon as the light hit she let out this giant scream…

Just about fell out of the bed. Why are toddlers so creepy?
Deep-Television9794 asked the Reddit community:
"What's the scariest moment you've encountered in your whole life?"
"about 10+ officers were rushing to my location…"
"I was conducting a cell search and three cartel members 'trapped' me inside the cell by blocking the entrance. One of them held an improvised knife (shiv) and the other two proceeded to try to interrogate me on what I was taking."
"I took off my utility belt as a show that I wasn't going to back down from a fight, an in doing so slyly triggered the panic alarm on my radio while simultaneously making it look like I was shutting the radio off. When the three saw that I was willing to fight to get out, they actually backed down and let me pass... of course by the moment, about 10+ officers were rushing to my location because I wasn't responding to my panic alarm."
"Far as I know, they believed my reinforcements showed up because the bubble officer (camera watcher) called the emergency after not being able to contact me on my radio and never knew I had secretly summoned a small army to rescue me in the event of being jumped."
"They even told me they thought it was 'pretty gutsy' that I didn't back down while in the cell, and from that day onward I never had any problems with them or their group." TheRavingRaccoon
Racist, armed, and insane…he definitely wasn't voting blue…
"Some lunatic put gun in my face while I was camping in an extremely isolated spot in The Olympic National forest. I listened to his xenophobic rant. It was mental chess. He was especially focused on race and orientation and luckily I am white and was able to playcate him. Had I been black or gay I'm convinced he would have buried my me out there. As soon as he was out of sight I packed my sh*t. Before he left he told me that nobody knew who he was or where he was. I bailed." Accomplished-Ad595
​Children are terrifying.
"My younger brother sleepwalks. He would just stand by my bed, silently, until I'd snap awake and see his silhouette looming over me. Sometimes, he turns on the lights when he's sleepwalking. I woke up one night, and he was standing there, turning the lights on and off ... on and off ..."
"I get him back to bed, and I went downstairs to sleep for the rest of the night. Around 4:00 a.m. I woke up to see all of the lights downstairs were switched on." __Dawn__Amber __
At night!?
"Oxygen tank cut off air while on a scuba dive 15m under water at NIGHT. To this day no one knows how the oxygen tank closed. It wasn't malfunctioning cause I realized the problem 20 mins into the dive. For 20 mins there was absolutely no problem." Laelaps_d_paradox
In flight terror…
"I was on final approach to a local airport and had chosen runway 26 to land because that's what you are supposed to do at this particular airport, unless the wind favors another runway. There was a 3 knot tailwind and I should have landed the opposite direction on runway 8 but I thought 'what the hell, I can basically fly straight in and it's only 3 knots.'"
"I'm running low on fuel and I'm a student pilot flying solo so I don't want to fly around the airport, I just want to get down and fill up. I get down to about 20ft from the runway and all of a sudden I feel a gust of wind pick me up from behind and the nose immediately points down. My lift is gone so I'm basically falling to the ground."
"I instinctively yank back on the yoke but there's no air flowing over the elevator so I hit nose wheel first (and I thought the propeller hit too but somehow it didn't) and sort of bounce forward into a precarious position where the left side wheel and nose wheel are touching the ground and my right wheel is still 2 feet in the air."
"It looked like the left wing might drag on the ground if I didn't just front flip onto the runway. Not really sure how that ended up settling, I guess the wind just died down"
"Next thing you know I'm stopped on the runway and the airplane is violently shaking (I'm thinking I bent the prop shaft) and I'm violently shaking (adrenaline) and I rev up the engine a little to get going and get off the runway. The engine ended up running smoothly after a few seconds and the shaking stopped."
"Unsure about what just happened and how the airplane could possibly be okay, I taxied to the fuel pump and shutdown. It took me a few hours after I refueled, calming myself down and then building up the courage to get back in the airplane and fly home."
"It is a 15 minute flight back to my home airport and I did the whole thing white knuckled and quivering. But I'm glad I did. I ended up having a great landing and had I not gotten back on the horse that day I may have never got my license."
"Still though, that moment when I lost control and all I could see out of the windshield was runway… scariest moment of my entire life." migwell28
The Best Questions To Ask During A Job Interview | George Takei's Oh Myyy
"This was the moment I thought an man died in my hands…"
"I used to live near a large open stormwater drain with no fencing around it. Three drunk guys drove their car straight into it. I went out and found the driver trying to get his friend's foot out of the windshield."
"On the field on other side of the drain, I saw the third passenger who was covered in blood. I asked if they were ok and my neighbor called the ambulance/police. The blood-covered friend passed out and was twitching so I ran to the car, grabbed a towel from the back seat and ran to help him."
"I found a large, deep cut on the back of his neck/head. I rolled him to his back and used the weight of his head to put pressure on the wound. I was talking to him, trying to keep him awake and he went into shock, twitching and unresponsive."
"This was the moment I thought a man died in my hands. I was able to wake him and the ambulance took over from there. That was the most harrowing moment of my life" Dargroth-soul-taker
"This just brought back a memory. My dad, sister, best friend and I drove to San Felipe for a little get away for spring break. We would often go there for family vacations but this time we invited my best friend. Had an amazing week and started the drive home."
"It was maybe 2 or 3 in the morning, pitch black in the middle of the desert when we got stopped at a random check point by a bunch of men carrying machine guns. They made us get out and stand on the side of the road so they could search our car and were asking us all a bunch of questions."
"It was one of the most terrifying experiences of my life. Didn't help that my sister (probably 16 at the time) turns to look at my friend and I and very seriously says 'I hope you know that they can easily murder us all right now and no one would ever know.' Great, thanks a**hole."
"Pretty sure my dad slipped them as much cash as he could and they let us go on our way. That was the last time we went to San Felipe" pineyruacarajoo
Internet predators…
"So, 14 year old girl living in Northern UK at the time. (I'm now 27 happily married mum of one). MSN messenger was all the rage back then and every day was a race to rush home from school and log onto the family PC."
"I probably should mention that my parents were teenage parents (mum 16 at my birth and dad 17), so I grew up in a really relaxed environment where sex, drugs and alcohol were regularly talked about openly to ensure I made informed choices in my teenage years. One night after logging into MSN, I got chatting to a really cute 15 year old lad (let's call him Luke) from the town next to me (10 minute bus ride)."
"We spoke daily for weeks and weeks turned into months of messaging, swapping pics and eventually we started talking on the phone. After around 3 month, Luke suggested we meet up, great idea I thought, I couldn't wait for my friends to meet him."
"But Luke didn't want any of my friends to come and specifically states it should be just me and him on our first meeting (he's really shy). Ok no problem! So we arrange to meet at a local hang out spot for teenagers in my town, but Luke can't get there until 6pm - no issues - my parents were happy so long as I was home by 11pm on a weekend."
"So the big Friday night comes! I race home from school, texting with 'Luke', both super excited. I've spent the whole day planning my outfit with my friends and they know where we are meeting up. 5.30pm turns around so I leave the house - now as I'm leaving the house USUALLY, I would always shout to my parents 'Bye!'"
"But something in my head made me tell them where I was going and asked if my dad could pick me up at around 8pm - I still to this day do not know why I asked this - very rare that I ever asked my dad or mum to pick me up and never told them where I was."
"So I arrive at the 'spot' and sit on a bench waiting. The time ticks by and Luke still hasn't turned up. By 6.30 I was getting a little prickly so I try to call him and get voicemail. I get up to leave - obviously heartbroken and a little confused - and start leaving the park to head home."
"As I get to the main gate to leave, a man approaches me. Now let me just say, this man was very clearly in his 40's. He had sleeve tattoos and really long hair which was tied into a pony, with full facial hair. He was dressed smartly in black jeans and a black shirt."
"He called my name and I just felt instant icy fear through my veins. I looked behind me as though to pretend that wasn't my name, but this guys seen multiple pictures of me and my friends, he knows it's me. I put my head down and rushed past him but he grabbed my arm and started to shout 'wait, wait, I need to explain'."
"By this time i was Absolutely terrified and started to run. Sheer panic and terror just totally put me into flight mode. There was a taxi parked up at the side of the park, I pounded on his window and he unlocked the door. The taxi driver knew something was wrong and started to drive while I was bawling my eyes out."
"Taxi driver takes me home where my mum and dad are waiting at the front door - again something they never ever did. My mum still to this day says that she knew something wasn't right that night and they were about to come looking for me. Visit to the police station that night and handed over my devices, but because this guy, (turns out to be a reputable 43 year old businessman with a wife and 2kids from the next town over), never spoke sexually or indicated any sexual desires, nothing ever came of it."
"My folks obviously ramped up the Internet security from that point and it's something I hammer home to my 4 year old already. So yeah, I don't know what his intentions were but, he posed as a 15 year old boy to get me to meet him, and I'm just thankful every day for that taxi driver who took me home no questions asked and to my own tuition for telling me something isn't right here and leaving." daningham101
Don't let these harrowing stories keep you up too late at night and stay safe out there friends!
Want to "know" more? Never miss another big, odd, funny, or heartbreaking moment again. Sign up for the Knowable newsletter here.
Keep reading...
Show less
People are obsessed with hauntings and ghost stories.
Unexplainable phenomena remain a fascination for even for the timid. It's like driving by the scene of a traffic accident. As horrific as they are, people can't help but slow down and look.
This is why ghost hunting shows remain popular. Audiences in general like being freaked out.
But the real horrors that keep me up at night are the ones perpetrated by the living.

Curious to hear about hair-raising anecdotes, Redditor Napalm_Nancy_Yeet asked strangers online:

"What true, non-paranormal story gives you chills?"
No ghosts or murderers here, but these stories are creepy, nonetheless.
Incognito Photo-Bomber
"Seeing that photo of the guy hiding in the trees. The kid took a selfie on a mountain trail and sent the pic to his family then went missing. After closer inspection they noticed there was a guy crouching down hiding in the trees behind where the kid was.... On this trail that no one was supposed to be on..."
Undiscovered Body
"A guy was sleeping on top of fridges at a grocery store trying to hide from work. He fell between the wall and one, and died there. Nobody knew where he was until his rotting body stunk up the place."
These tragic stories are nightmare-inducing.
The Fight For Survival
"Alive. Bunch of kids survived a plane crash but couldn't get out of the mountains. Wound up cannibalizing each other. A few were eventually rescued, their stories are harrowing."
The Drowning Girl
"The story of Omayra Sanchez. Don't look it up if you are sensitive. She was a kid that got a feet trapped under debris during a flood and was imposible to rescue. They could interview her while was slowly dying of infection and hypothermia."
What criminals are capable of are far more haunting than any spooky specter.
Stalker
"The story of Daniel LaPlante. There's quite a bit of information so I'll try to sum up the creepiest bits."
"Daniel met a girl named Annie and took her on a date or two. They talk for a while but eventually, Annie found him to be a bit creepy and dumps him. He continues to stop by the house uninvited but quite sneaky about it. He'd tap on windows and stuff, get Annie and her sister riled up and scared. They'd try to convince their dad someone was out there but he was often working and didn't hear or see anything."
"So one night, the two sisters went to the basement to do a seance, trying to contact their mom who had died somewhat recently I believe. They hear tapping on the walls and run up stairs. All is well for a while, but the tapping and knocking continues. It comes from all over the house and they can't figure out why."
One night, dad finally heard the knocking and investigated. He opened a closet door to find Daniel standing there with a knife or machete. That's scary enough but Daniel was also wearing his late wife's wedding gown (I think make-up too but not sure). Dad fought him off and he was finally arrested. If that isn't weird enough, they found out he had been moving around, even spending the night INSIDE the walls of their house. That's how he'd watch them and it explains the constant knocking from all over.
Prior to this incident, he had assaulted and murdered a pregnant woman and drowned her two children.
I left out a fair bit of details and maybe the timeline is off but I'm telling this from memory.
The Bedroom Watcher
"A few years ago in Saratoga NY there was a guy who would break into people's houses just to watch them sleep. Never took anything, just watched people sleep. They caught him, but it apparently really messed with the minds of the victims. Saratoga Sleeper Creeper."
Laundry Man
"When I turned 18, I got my first apartment. I started using the laundry down the street. I noticed the owner would show up within 10 minutes of my arrival. Didnt matter what day or time. Always trying to chat me up, drive me home etc. Creeper dude. One day, a man I didnt even know was there and yelled at him for staring at my clothing in the dryer while touching his hand to the door. He was staring at my panties. It was so uncomfortable, I began to take my laundry back to my parents."
"About 10 years later, scrolling FB, i see an age progression for a teen girl who disappeared from that laundry, a week before I began going there. I never forgot how scary he was, and would have remembered any missing child posters or even newspaper articles because I was a daily reader then. Turns out, this guy is the only suspect, also lived across the street from me so it explains why he always arrived when I showed up. I had to walk past his place with my clothes."
"She's never been found."

The Paroled Rapist
"A paroled rapist and his wife abducted an 11 year old girl and assaulted her on a weekly basis, even forcing her to give birth to two children. All throughout this time he was being monitored by parole officers and psychiatrists who praised him for his supposed rehabilitation and even tried to have him taken off parole several times, unaware that he was holding three people captive under their noses."
"This went on for eighteen years until he was finally caught when he brought his daughters-by-rape to a campus and the police officers reported it to his parole officer."
The Netflix docuseries, Don't F**k With Cats, seriously kept me up at night.
Witnessing a twisted psychopath's gruesome torturing of animals ​was disturbing enough, but it turns out his social media stunts were only the beginning.
The three-part series, while being a well-produced show, wound up being the creepiest thing I have ever seen.

Keep reading...
Show less