Jennifer Aniston channeled her inner Ellen while guest hosting The Ellen DeGeneres Show. The former Friends star sprung up out of nowhere and surprised unsuspecting fans during a tour of the sitcom set.

But it's the yelping fans' reactions that totally stole the show.
---
The actress, who just won a Screen Actors Guild Award for her role in the Apple TV+ drama series The Morning Show, looked mighty comfortable sitting in Ellen's chair and running the show.
She even took some shots at Ellen herself during the opening monologue.
I can't believe Jennifer Aniston spilled all of my secrets, when I've never told a single person that she attends F… https://t.co/7oZCpwcmc9

— Ellen DeGeneres (@Ellen DeGeneres)1579888802.0
Twitter fans were loving the substitution too.
jennifer aniston hosting the ellen show is a blessing https://t.co/9jkQ2LF4Yf

— nicole (@nicole)1579839875.0
And while this may have been Aniston's first time hosting a talk show, her body language just screamed chill. She might as well have been in her pajamas.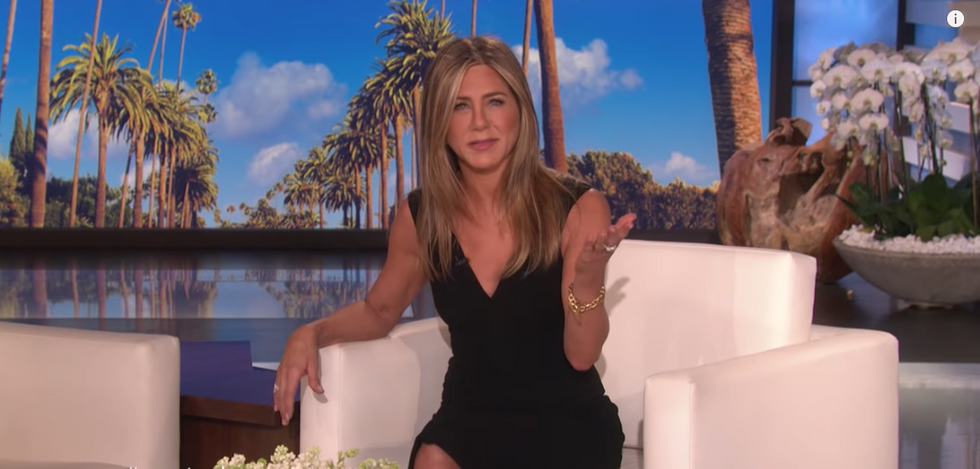 TheEllenShow/Youtube
After sharing a quick video sent by Ellen, Aniston wasted no time before moving on to conjure the most Ellen-esque behavior she could.

She reminded the audience that The Ellen DeGeneres Show is filmed on the same Warner Brothers Lot where Friends used to be filmed.
"The set is actually still here, it's part of the Warner Brothers Studio Tour."
"So I thought, while I'm here, I'll go take a visit."
jennifer aniston saying "i'm on my way to central perk" on a loop https://t.co/hRMLJ0uFDo

— sag award winner jennifer aniston (@sag award winner jennifer aniston)1579900043.0
As the Ellen Show clip rolls, we see a smattering of tour groups posing for a picture on the famous "Central Perk" coffee shop couch, where the whole cast of Friends was sure to be seen at least once every episode.

What the visitors to the set don't realize, however, is that as Aniston is hiding behind the couch, as the photographer asks them who their favorite "Friend" is.
Joey, Ross, and Phoebe all get mentions. Aniston's character, Rachel, doesn't come up so much, but Aniston just looks like she's having a blast.
Watch below at the 2:48 mark for the Central Perk shenanigans.
The video is a hoot to see just how the unsuspecting visitors react.

First, they freak out because a fully grown adult has just jumped from out of nowhere and screamed in their faces.
Then that initial horror gives way to the sudden shock of being a foot away from one of their favorite TV stars.
Talk about whiplash.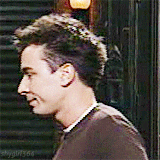 Giphy
People are pretty sure they would have died. Or passed out.
@andylassner I would've passed out 100%.

— la kriss. (@la kriss.)1579883653.0
@andylassner ~dear God that would be frightening.

— Tanya Reeve (@Tanya Reeve)1579882915.0
From @TheEllenShow : I relate to so many of these people with their reactions, except, mine would likely be the la… https://t.co/nSTJ54lhcF

— Sarah Goswick (Eruditio et Ludus) (@Sarah Goswick (Eruditio et Ludus))1579879211.0
How much fun does that look?