Horror comes in many forms.
Sometimes the scary moments we encounter draw their horror from the eerie unknown in the same way horror films spook us.

Other times, terror comes in a very real-world, pragmatic form--sudden and grave danger of complete vulnerability.
However it comes, it's a whole lot better to read about it on the internet than experience it first hand.
Redditor aggressivepicklenato asked:
"What is the scariest thing that's happened to you?"
Every single day, we are forced to deal with all sorts of things that we'd prefer to never see, hear, touch, or experience for the rest of our lives.
And yet, we understand that plenty of those moments are completely out of our control. We deal with the annoyances and get on with our day.
But most of us have a breaking point. There are some things out there that we truly hate. So much, in fact, that we cannot even focus when they come along.
The worst part of it all? Sometimes the thing we hate is loved by others, so it's all around us all the time.
Redditor Nighthawk2288 asked:
"What is something/someone extremely popular that you utterly despise?"
Many Redditors are most turned off by the latest changes to culture thanks to the internet.
Pulling You In
"These posts on all social media sites that are like 'your second friend has to do X' that are just prompting you to tag people who don't want to be tagged, to drive up engagement on whatever the page put the post out."
"In the same vein: obvious scam posts about giving away a house (no one fu**ing does that) and sh** like 'how old will you be in 2060/your mothers maiden name and the first letter of your birth month are your stripper name!' That people somehow fall for."
-- ReaverRogue
Unfortunately, It's Probably Not Going Anywhere
"The term 'life hack' " -- Believeland-OH
"I know.I hate that too. You can't hack life! This isn't the matrix!" -- Afraid-Baby8276\
"Life hack! Plant seeds from your vegetables for free food!" -- Suyujin
Others had a bigger problem with celebrities and the other famous individuals that we can't seem to ignore. And again, the internet had a lot to do with it.
Always Less Than
"I dislike the worship of celebrities.I think it can create toxic fanbases where people lives can become totally consumed by that person and attack others who dislike that person.Very unhealthy."
Famous For...?
"Any of those Kardashian people, they all look very tacky and artificial. But are a pretty good reflection of our society. I can see why our society loves them"
And others offered up some odd ball choices.
Little Rhyme and Reason
"Bananas. The combination of the taste and texture sets something off in me, and is even overpowering when blended into a smoothie. Nothing really against them, I just hate eating them personally."
"Banana bread is alright though. I don't know either."
-- MasonP2002
Everywhere They Turn
"Felt. You'd be surprised how frequently it's used in many things. It's texture makes me want to hurl."
Hot Take
"ORCA FU**ING WHALES. THEY ARE BLACK AND WHITE PANDA-@SS OF THE SEA AND I DO NOT CONDONE THEM."
"THIS MESSAGE WAS BROUGHT TO YOU BY THE SPERM WHALE GANG"
They Are Pretty Squishy
"Bubble tea honestly. It looks like someone stuck Orbeez in a drink and called it a day. They are disgusting too."
-- DesertOps4
Surely these are not the only despised popular trends out there. But whatever yours is, know that you're not alone in freaking out when nobody else is.
Want to "know" more? Never miss another big, odd, funny, or heartbreaking moment again. Sign up for the Knowable newsletter here.
As much as the narrative of the drunken nighttime tattoo excursion has some appeal, the truth is that tattoos are important decisions.
They are permanent, they're often visible and elicit questions from the people you interact with, and whether or not the finish product looks good is dependent on a slew of factors.
So anyone seriously interested in getting one--especially if they never have before--would benefit from some guidance.
Redditor Syrewolf asked:
"What advice do you have for someone looking to get their first tattoo?"
Many people emphasized the permanence of a tattoo. They described ways to help people be sure they're absolutely certain about their choice.
Everywhere You Look
"I had my first tattoo set as a background, screensaver and picture next to my bed for a full year before getting it done. figured if I could look at it everyday for a year and still want it, it was a good idea."
-- Noxish
Daily Check In
"Put a picture of the tattoo you want next to something you look at often (bathroom mirror for example) and just leave it there for a few months to make sure that design doesn't get old to you."
-- GoHomePig
Simulate the Future
"If you're feeling unsure, try using photoshop or similar to edit the desired tattoo onto your body to see if you like it—it's not a perfect solution but it can help you have a better idea of what you're getting."
"I would also recommend letting yourself marinate on one design for 6-12 months to make sure it's what you want."
-- doomrabbits
Other people explained the importance of going through all the right motions to make the thing a legitimate, nice looking piece of body art.
Not All Artists Are Equal
"Get a good artist."
"Make sure you have seen examples of their work, ON PEOPLE. A art portfolio is nice and all, but the difference between working with paper and working with flesh is gigantic."
"I knew a dude who did tattoos for years. Dude still can't write or spell correctly and the art is badly mediocre, at best."
"Make sure you've seen what they have done on actual people."
"Good artists get pricey. But you're gonna live with this forever and it will be what others see. Make sure it's something worth looking at."
-- AlgaeWafers
Get the Good Stuff
"GET IT DONE PROFESSIONALLY."
"I got my first tattoo only about a month ago, and it's on the right side of my right calf. it didn't hurt too bad, I got it from a family friend that does tattoos-"
"I hate it so much. it's awfully done, the lines aren't even, and it got infected because he didn't use a clean needle."
"Also, I know this sounds like common sense, but make sure ur artist is giving you what you want!! I wanted a moon and stars but he ended up doing musical symbols??? another reason I hate it lol."
-- foxy1ooboo
Know Their Strengths
"Research the artists in your area. So many people walk into shops wanting, let's say, a portrait done by someone who doesn't do portraits. And then moaning when it's not quite right. Tattoo artists are very versatile but they're human and they have a comfort zone. A style they prefer."
"For example, in my area there is are a few portrait guys, a guy who specialises in traditional old school tattoos and a few who can only do flash."
"And like everyone else has said, don't go cheap and please don't go for a kitchen job. That is someone who comes to your house and does it. Most of these guys you'll never hear from again."
Patience
"If you find yourself questioning if you can afford it or not, don't do it yet. Save up more. Tattoos are one of the things you should NEVER compromise on. Find an artist you like (they'll be $150/hr or more) and use that one. Don't skimp and head to the shi**y strip mall joint with no reputation. Spend the money, because its there for life."
"Tattoos and land - those are the only two things you're pretty much gonna keep for life."
Finally, some people spoke to those people that want a tattoo but were struggling to take the leap.
Keep It Casual
"Get whatever you want, if you think it's cool get it. I personally just enjoy getting tattoos. It doesn't have to be meaningful, if you like it you like it. My half sleeve was completely designed by my artist. Just him ideas of what I thought."
Listen To Your Gut
"Get it where you want to get it. You might worry about a certain area being more painful to get tattooed than another, but if you want it in the more painful area, get it there. The pain only lasts a few hours, but the tattoo is permanent."
-- xandrenia
Be Intentional, But Go For It
"Don't stress so much about it. Get something small and simple that you like from an artist whose work you think is good. Follow them on Instagram for a couple months before choosing them."
"There's no need for it to be a complicated image you spend years thinking about and designing perfectly, you can do that later when you have more experience."
"Also, follow aftercare instructions perfectly!"
-- pieandtacos
So go out there and get inked, people!
Want to "know" more? Never miss another big, odd, funny, or heartbreaking moment again. Sign up for the Knowable newsletter here.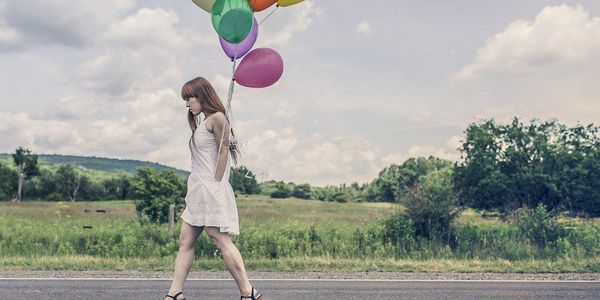 Sometimes the pressure of of having a wonderful time on your birthday can put undue stress on a thing that should be, above all, relaxing and enjoyable.
That can make us zero in on the occasional slights and bits of selfishness in our friends and loved ones on our big day.
But nit-picky observations are one thing, and glaring affronts are a whole other.
A recent Reddit thread asked people to share the most sensationally awful birthdays they've ever had.
Redditor hated1327 asked:
"What is your 'worst birthday ever' story?"
Many recalled the birthdays that left them stuck doing an activity that they had absolutely zero interest in.
The Clear Priority
"My fifteenth birthday, was on holiday with my bio-dad and step mum who despised me and my sister. My dad wished me a happy birthday and asked me what I would like to do, before I could answer my step mother insisted she needed a new pair of shoes."
"I spent my fifteenth birthday sitting quietly in the corner of a shoe shop while somebody who hated me and wanted to alienate me from my father tried on endless pairs of shoes, that he would buy for her."
-- ninja_jay
Polite and Quiet
"On my 21st birthday, a family friend who is an old lady invited me and my family to a dinner with her and her family, because by the Lunar calendar her birthday was on the same day as mine."
"Her family and my parents can all speak Cantonese. I cannot. They decided to go to a seafood restaurant. I am allergic to most seafoods."
"I spent my 21st birthday sitting at a table full of people not saying anything and not eating anything, because I couldn't do either."
-- Chroisman
Like Any Other Day
"I was really excited for my 19th birthday. I was going to have lunch with my gf, hang out with my friends after, and end the evening with pizza at my parents' home (as is family tradition; fu** cake)."
"The gf's mum picks me up (no car at the time because I was living with the gf and paying rent) and we go down to her university and she has to pick up some books so we go to the bookstore and she kills 2 hours in lines and shopping for clothing. Not all the books were bought so we went to an off-campus book store. Another hour or so in line. I text my friends and cancel our plans."
"We then go to The Olive Garden and she spends the whole time talking to her mum about something that the mum's most recent bf did. Started chatting up the server and mentioned it was my birthday to her SHE wished me a happy birthday. Gf looked at me puzzled. She had forgotten it."
"It's now 8pm and we are driving home. I'm in the backseat and I call my parents and tell them that I'll be home soon. There's an accident down the road on The highway... My parents call me and ask where I am. I tell them to eat without me. 3 hours later we are out of the traffic jam and I go to my parents home and cry."
"Broke up with her a few weeks later because she was cheating on me (for months now) and I was still salty about her forgetting my birthday and ruining that day. I hope you have a happy birthday! May it be less shitty than my worst."
Others talked about the times they found themselves forced to feel uncomfortable for someone else who wasn't having a good time.
A Complete About Face
"On my 22nd birthday, my housemates girlfriend insisted we go out. She kept badgering me about it until I named a local place that was semi-expensive, I also said chilis. She kept pushing for the more expensive place insisting it was my special day."
"We got there, she looked at the menus and immediately threw a fit, complaining she couldn't afford anything. When her boyfriend attempted to buy her meal, she declined him multiple times, and refused to share his as a compromise."
"For the rest of the night we ate in silence interrupted by her complaining about hunger pangs and how anyone could afford the place she had insisted we all go to."
-- zz4
The Best 'Actually, You're Speaking To The Boss' Experience | George Takei's Oh Myyy
Leading With a Guilt Trip
"My wife hates going to the movies so for my birthday one year she relented and took me to one I had been dying to see. This was all her idea and when she told me what we were doing I was super excited. As we are pulling up to the theater she starts guilting me with 'do you REALLY want to go see this?' and guess what, we didn't."
"Two years ago she was going to cook my favorite meal for me but put it off until the last minute and so then made some BS excuse about how she had plans to take me and the kids out for dinner. We get all loaded up in the car and she says, 'where do you want to go?' she had no plans."
"I was pissed but I picked a place but the wait was too long for her so we fought and I ended up eating a bowl of Chex for my birthday dinner. She will make elaborate plans for anyone and everyone else's birthday but when it comes to mine she uses it as an excuse to give me a big Fu** You!"
-- [deleted]
Red Flags Everywhere
"21st birthday. The week leading up to it my (now ex - thank fu**) boyfriend had been ignoring me, typical sh**. So the day comes, we take a boat ride (not my idea but hey, who cares it's only my birthday). Naturally after we end up at the bars, working our way back home and surely enough I'm drunk off my a** by the time we get there."
"So seeing this, he decides that now would be a good time to pick a huge argument with me in the middle of the bar, followed by a dramatic exit so he could smoke a cigarette, or so I assumed. It wasn't until I realized it had been like 20 or so minutes that I walked outside to realize he had left me there."
"Yeah. That one definitely takes the cake for me."
Others shared the sensationally bad birthdays. These were almost cartoonishly awful.
Two Hits
"10th birthday. my mom got a pinata. my best friend was trying to hit the pinata. on his back swing, he clocked me right in the forehead, but on his forward swing, he broke open the pinata. all of my friends saw the candy and immediately rushed to it while I was laying on the ground bleeding with a huge gash right above my eyebrow."
"I had to go to the hospital and get 5 stitches."
Into the Abyss
"When i was 5 I had a large birthday party at my house with everyone from my neighborhood and kindergarten class. We had a clown and a bounce house and everything. After the clown performed we all got in the pool and the next thing I know my dad is yelling at this kid 'dont let go of the damn cat.' "
"The kid let go of my brand new kitten and it went straight up in the air because he tied all of the balloons to its collar. So, we all watched my kitten get hung and disappear almost 29 years ago. =("
-- BLACKMACH1NE
Yikes
"Everything was going well, until I sat down with an opened Birthday Badge in my trouser pocket."
"The pinner pierced my testicle and I had to go to A & E."
Here's hoping that these people never endure a birthday that tops these bad examples.
Want to "know" more? Never miss another big, odd, funny, or heartbreaking moment again. Sign up for the Knowable newsletter here.
As much as we'd all love to believe that we can brush off unkind words, it's simply not true. There are some things that all the confidence and self-esteem in the universe couldn't protect us from.
Of course, mean words and shocking statements hit hardest when they come from someone we're close with: a friend, a parent, a romantic partner.
And not only do they hit hard in the moment, but they sting for years and years.
A recent Reddit thread asked folks to dredge up the worst of the worst.
Redditor IceMountain10 asked:
"What's the most fu**ed up thing someone has ever said to you?"
Many people talked about the wildly upsetting things their parents have said to them. These statements are enough to leave one wondering just how things got to the point they did.
Inverse Role Model
" 'you're adopted, you don't get to have opinions' "
" 'you're going to end up like your real dad' my real dad was an alcoholic and an addict. He fu**ed up his life and never came back."
-- Panginodon
No Shame
" 'is that the only reason you fu**en came home?' "
"Said by my mother in front of my 8th-grade counselor who had brought me home and explained to my mother that my 40-year-old stepbrother had sexually assaulted me twice. I'll never forget my mother's look of disdain or the look of utter horror on my counselor's face."
Scapegoating
"When I was 7 my mother and step father were having relationship issues. After a fight in which she ended up leaving the house, my step father sat me down. He gave me an extremely longwinded speech about why I was a terrible, bastard child."
"I don't remember much of it, but he ended it by saying, 'It's your fault your mom and I are breaking up. You're rotten and I hate you.' I don't think I'll ever forget that."
Cartoonish In It's Meanness
" 'I dont love you, I never did, and I regret not aborting you. You and your father have ruined my life and I hate you both.' " ~My mother when I was 10.
"I do not regret ending my relationship with her at all."
-- maciver6969
Others talked about the people in positions of authority that demoralized them. It stings so much more when it's someone you'd like to respect.
Joke's On Him
"In college I studied journalism but I had to take a required PR class. We had to keep these journals about our thoughts about news events for some reason, and I was trying to be thought-provoking..."
"...and so I wrote about this theory about why college students tend to be apathetic about the news, it had to do with the insular nature of the college campus. It was probably bullsh**, but I was writing about a theory I had."
"The professor ripped it apart and then ended his scribbling with 'I find it hard to believe you will succeed at anything, much less journalism.' "
"I went on to write for ESPN, so he can kick rocks."
How Not to Motivate a Child
"Not me but this one takes it"
"In high school, one of my classmate's dad died at the start of the year. All the teachers knew as he'd talked about it and been absent over it. Fast forward a few months and the kid handed in 'sloppy' homework as the teacher called it. Then, he made a point of, in front of class, saying 'your dad would be embarrassed' "
"Kid just got up, picked up his things and walked out. Pretty sure we all universally hated that teacher after that"
-- AA005555
People Share Dark Secrets From Their Profession The Public Doesn't Know | George Takei's Oh Myyy
Nice Try
"When my mom got diagnosed with stage IV cancer, my boss at the time said she was excited that I was getting to go through this. She meant it in a 'beat an obstacle that life throws at you' kinda way."
"My mom passed away two years later and there was nothing exciting about watching her deteriorate and having to say goodbye. Who the fu** says that?!"
Finally, some people's peers, be it significant others or close friends, were the ones to deliver the verbal blow.
Enough Was Enough
"I've had leukemia a couple of times and my then wife looked at me during an argument and said these words, 'I hope this cancer eats you from the inside out, and that no one is by your side when you die!' I wad so stunned I just turned around and went to the bedroom and went to sleep."
"The next morning she literally said 'I'm sorry I said those things last night, but you know how angry you get me.' I left the next day and never looked back. It was twelve years of hell with her and I stuck through it to be around my kids, but at that moment I knew this had to be it or I'd never get out."
-- Felicitucky
Turning Their Back
" 'I've decided to remove The Problem (you) from my life since it's affecting me too.' "
"my friend said this to me after he found out that I got sexually assaulted. By his friend."
It All Becomes Clear
"My ex finished our relationship after 15yrs. To me it was out of the blue. 5 days later my best friend told me that 'you should be over it by now' as I'm sobbing my heart out to her."
"To her I should have been able to mourn and grieve my 15 year relationship in just 5 days!! Turns out he was cheating on me with her"
-- namchelukla
And as we end this list all feeling a little sympathetic and maybe even upset about our own examples, let's flip it around: when did you say something so nice to someone they were stunned?
Want to "know" more? Never miss another big, odd, funny, or heartbreaking moment again. Sign up for the Knowable newsletter here.