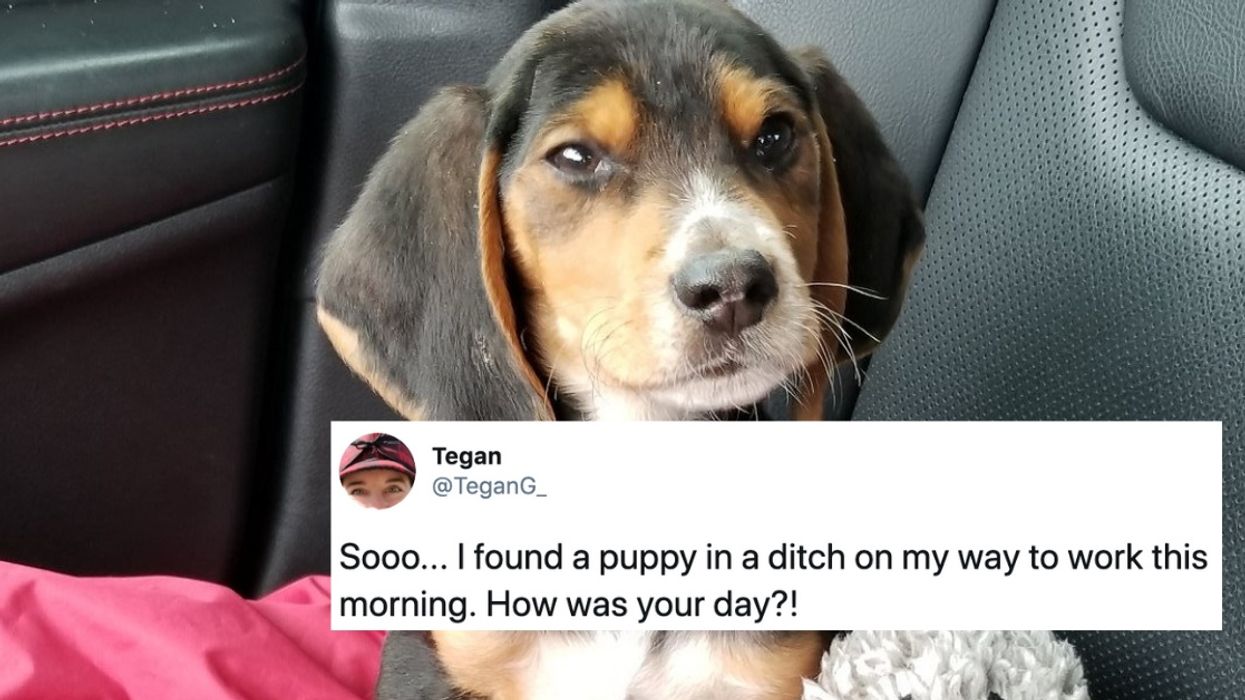 The morning commute is often the most boring part of the day.
It's hard driving to work while you're still waiting for your first cup of coffee to kick in.
Twitter user @TeganG_ recently had a decidedly un-boring trip to work however, when a "branch" on the side of the road started moving as she drove by.
---
She shared a photo of a beautiful puppy with the caption:
"Sooo... I found a puppy in a ditch on my way to work this morning. How was your day?!"
Tegan, who lives in a rural part of Wisconsin, was driving along a dirt road she always takes to get to work.
She noticed that the detritus on the side of the road seemed a bit different from the way it usually looked.

Then a "branch" in the ditch moved, and she stopped the car.
Tegan had to coax the poor thing toward her with some cheese from her lunch.
She wasn't used to dealing with puppies, so she decided to keep him as close as possible while she went in to work to retrieve the things she needed to telework.
When she tried to get ahold of someone to take the puppy, she had to call around to a few different people before she landed on the right shelter.
Tegan got a heck of a surprise when she told Forest County Humane Society where she had found the pup in the ditch.
The poor doggo, now named Larry, had been outside by himself all night in dangerously cold temperature.
The reunited pups were super adorable!
They were much too excited to cooperate when Humane Society staff tried to weigh them.
This was obviously the best time to run around and dodge the humans; they were just trying to play, right?
Tegan decided that Larry would become a permanent part of her family, after Forest County Humane Society made sure he was healthy enough to go home.
Tegan also asked anyone who enjoyed her epic tale of puppy saving to consider donating to the shelter who took in the puppies.
Rural animal shelters often struggle to get enough funding, so even a small donation can make the world of difference in the lives of the companion animals they rescue.
The call for donations was a huge success.
Tegan will definitely give little Larry a wonderful home, and thanks to her and those who enjoyed her story, Forest County Humane Society will be able to help hundreds of other animals find the same.
If you would like to help the Humane Society in their mission to help companion animals find loving homes, you can donate on their website (via PayPal): https://www.forestcountyhumanesociety.org/donate

If a monetary donation isn't your thing, try calling your local animal shelter and asking what you can do to help. Shelters are often in need of volunteers or gently used items like towels and blankets.
It doesn't always take money to make a difference!