Coming out to one's family isn't always a scary or negative experience, but many folks have to deal with at least some emotional turbulence in their family relationships.
People whose families are highly conservative or religious, or both, often have an even bigger hurdle to overcome in being accepted by their families.
---
Reid Chandler recently shared screenshots of a series of texts he sent to his father after a particularly hurtful comment after the family's Thanksgiving celebration.
Reid came out to his family 8 years ago, but his brother came out to their parents over the holiday.
As he was driving the two of them to the airport after Thanksgiving, their father told the two brothers:
"Don't take this the wrong way, but it makes me and your mom feel like we've done something terribly wrong as parents."
After thinking about the comment for a week, Chandler decided that he couldn't let it stand and needed to respond.
He then decided to share screenshots of his response to Twitter, not expecting anywhere near as much attention as the post has received—his post currently has nearly 30,000 likes on Twitter, and 2,600 retweets.
Reid captioned his share of his response:
"I love my parents and I won't tolerate mean comments… but understand we are from a really southern, conservative background and me coming out was tough."
"My brother coming out last week was tougher. It took me that long to process but my dad needed to hear this."



What followed that caption was a chastisement, but it was also a plea for his father to do better.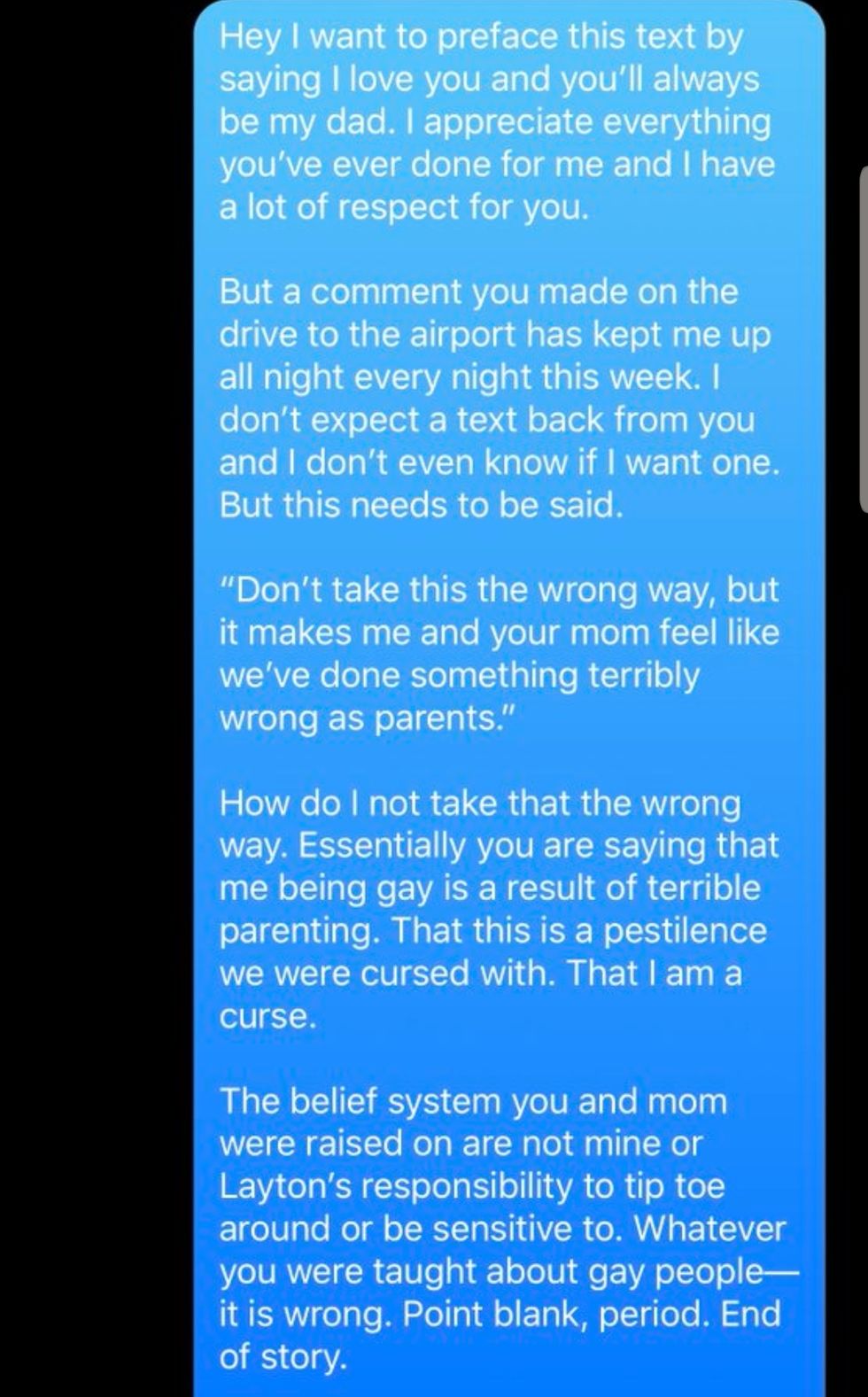 @thereidfeed/Twitter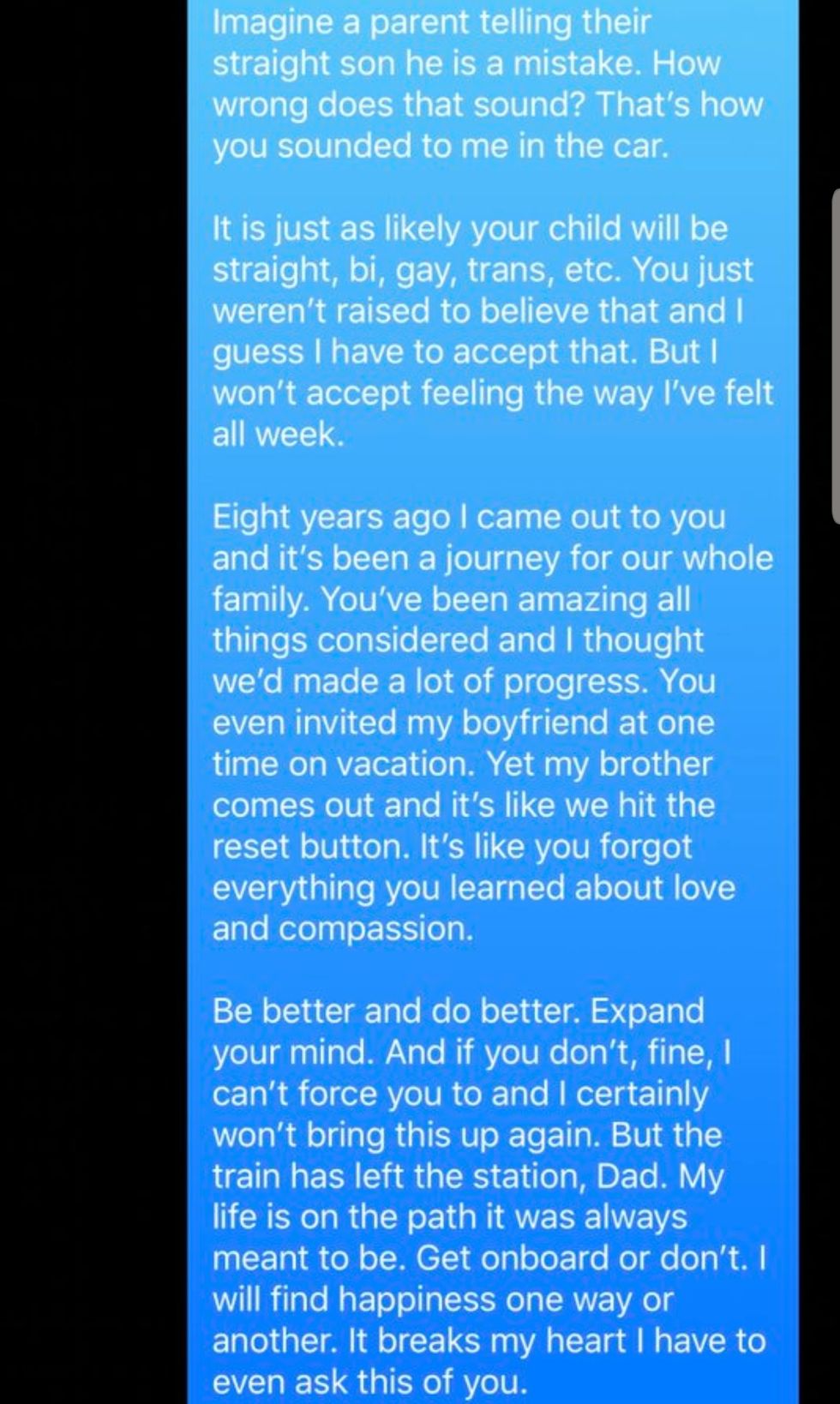 @thereidfeed/Twitter

@thereidfeed/Twitter
So I love my parents and I won't tolerate mean comments... but understand we are from a really southern, conservati… https://t.co/rt6yT86X9p

— reid (@reid)1575611856.0
After seeing the amount of attention his post was getting, Reid considered deleting it, questioning why he chose to share it in the first place.
However, he chose to leave it up because of the "warm and moving" responses he was receiving.
But all of these responses are so warm and moving. Thank you all for your kind words and support. Especially seeing… https://t.co/K3e7SbOEY2

— reid (@reid)1575636576.0
Many people shared similar experiences, or expressed a desire to have had Chandler's words to go by when they came out.
@thereidfeed 24yrs ago I came out as a teen in conservative Texas unsure how family, friends, or peers would respon… https://t.co/lhKUscopun

— Brian Normoyle (@Brian Normoyle)1575634668.0
@thereidfeed I'm from a similar background. I'm really sorry this has been your experience. I know how this feels. I hope things get better.

— Daniel "latkes & eggnog" Summers (@Daniel "latkes & eggnog" Summers)1575629409.0
@thereidfeed Please leave them up! I've been struggling to find similar words to say to my father, who had once be… https://t.co/P9wetyauZg

— @🏳️‍🌈Tis the Tyger 🏳️‍🌈 (@@🏳️‍🌈Tis the Tyger 🏳️‍🌈)1575638598.0
Others told Reid they were proud of him for speaking up.

@thereidfeed I'm sorry you had to send that text, but I'm proud of you for saying it and speaking your truth

— brodes (@brodes)1575613570.0
@thereidfeed I don't know you at all but those words resonate so much. Beyond proud of you for standing up for you… https://t.co/OdiAfHDl8c

— funyun ringeruss (@funyun ringeruss)1575636948.0
@thereidfeed It's a necessary lesson (from POV) on tolerance vs complete acceptance. I appreciate the vulnerability… https://t.co/PuuwgwZGa8

— BigGayMike (@BigGayMike)1575638921.0
@thereidfeed What you said was spot on and I'm so glad to hear that your dad's response was kind and loving. I wis… https://t.co/LkctdZjtBO

— Mrs. B (@Mrs. B)1575669922.0
Reid's words to his father resonated with a lot of people, both those who had a difficult time coming out to family and those who have supported others through that experience.
Sometimes it really is better to take time to process difficult emotions before responding, rather than having a heated conversation in the moment.
The book The Great Big Book of Families is available here.
"This fun and fascinating treasury features all kinds of families and their lives together."