On Thursday, August 16, Queen of Soul Aretha Franklin reportedly passed away in her home. She had been suffering from pancreatic cancer, and both her family and the music industry at large are mourning her loss as a titan of vocal performance.
Fox News broadcast a memorial segment in remembrance of Franklin, but they happened to overlook one detail: at a key moment in the video, alongside the text "Aretha Franklin, singer, 1942 ― 2018," a picture appears of a woman singing. Upon closer examination, it's obvious the singer is not Franklin, but is, in fact, fellow superstar Patti LaBelle.
---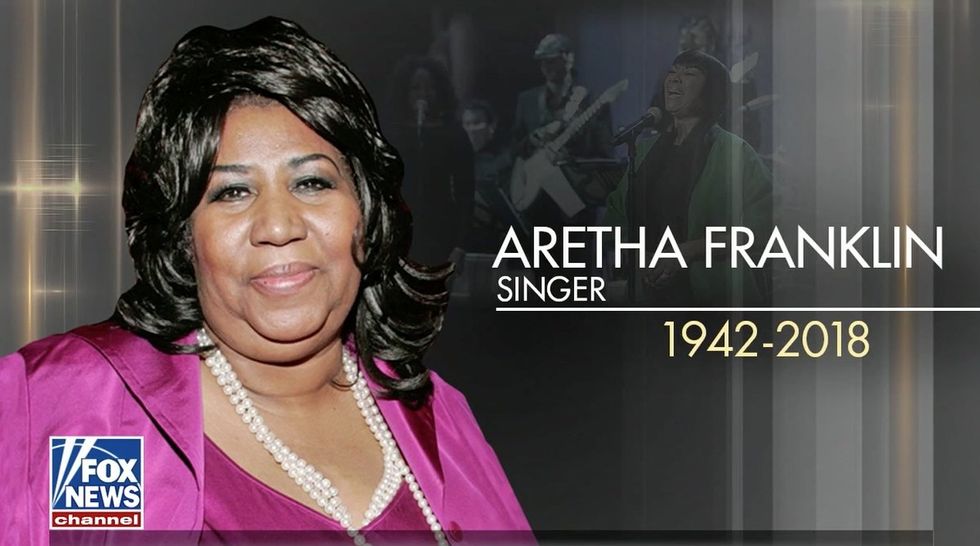 @AndrewKirell/Twitter
The photo of LaBelle appears to have been taken during LaBelle's 2014 performance of "Over The Rainbow" at the White House for President Obama.
Twitter had a few words to say about Fox News mixing up these two notable and very recognizable singers.
WHY would Fox News be petty and use this pic of Aretha and add Patti LaBelle in the background?!! https://t.co/vruO5Fm4vh

— Vince J. Blige (@Vince J. Blige)1534444142.0
JFC... @FoxNews is so inept, they used a photo of Patti LaBelle in their #ArethaFranklin tribute graphic. https://t.co/Rudbr6QYxW

— Hugh Jasoul (@Hugh Jasoul)1534444042.0
People threw healthy doses of snark in the news network's direction.
1/ It's understandable that @FoxNews would use a photo of @MsPattiPatti Labelle to announce Aretha Franklin's death… https://t.co/bMHRRl7yd9

— Bad Fox Graphics (@Bad Fox Graphics)1534443862.0
Fox News honored Aretha Franklin by using a graphic that contained a photo of Patti LaBelle. It's probably hard for… https://t.co/pcLcs0yznZ

— Chelsea Handler (@Chelsea Handler)1534475502.0
Many on social media were simply shocked that Fox could make such a glaring oversight.
It seems @FoxNews used an image of Patti LaBelle, thinking it was Aretha Franklin. This is why the correct name for Fox is #FauxNews.

— Rhiannon, 'queer as fuck' according to my friend D (@Rhiannon, 'queer as fuck' according to my friend D)1534443461.0
@FoxNews why did you have Patti LaBelle in the background of that last shot of #ArethaFranklin

— Gordon (@Gordon)1534428960.0
Others were not as surprised.
Because of course Fox News mixes up Aretha Franklin & Patti LaBelle. https://t.co/zIXvD2282B

— Chris Strider (@Chris Strider)1534443572.0
After all, it was another big day at Fox News!
In the span of seven hours, @FoxNews has lambasted "communist Japan" and confused Patti Labelle for Aretha Franklin… https://t.co/VPH8mXVKH9

— Charlotte Clymer🏳️‍🌈 (@Charlotte Clymer🏳️‍🌈)1534447050.0
If you watched Fox News today you learned that the United States defeated Communist Japan and Aretha Franklin is Patti LaBelle

— Sarah Cooper (@Sarah Cooper)1534456438.0
The network attempted to explain their mistake, but their excuse was a bit disingenuous.
Okay this is getting weird. Fox News claimed in their apology that Aretha was accidentally cropped out of an image… https://t.co/Kb473k5A3D

— Andrew Kirell (@Andrew Kirell)1534452318.0
The mistake is especially cringe-worthy considering the contentious relationship LaBelle and Franklin shared. After Franklin's passing, however, LaBelle appeared to let bygones be bygones with a message on Twitter:
Rest in peace Aretha. ❤ https://t.co/QT7HeY5SIf

— Patti LaBelle (@Patti LaBelle)1534431847.0
One can only hope LaBelle, Franklin, and viewers will extend the same forgiveness towards you, Fox News.
H/T - HuffPost, Entertainment Weekly