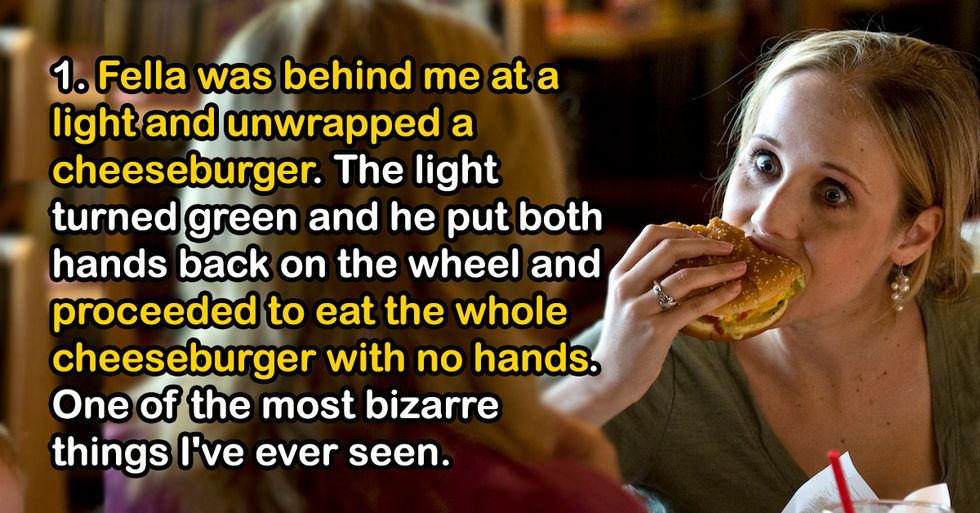 Drivers Reveal The Weirdest Things They've Seen Someone Do Behind The Wheel
[rebelmouse-image 18348390 is_animated_gif=
dam=1 expand=1]

Cars are sacred personal spaces and people do weird things in them, though they're not always safe. Eating, shaving, putting on makeup, playing instruments, even having sex occur while driving. But some drivers do some really strange things behind the wheel, and thankfully someone noticed.

SpookyMolder7 asked, What's the weirdest thing you've seen someone do while driving?

Submissions have been edited for clarity, context, and profanity.
Fella has some serious hands-free skills.
[rebelmouse-image 18348391 is_animated_gif=
dam=1 expand=1]

Fella was behind me at a light and unwrapped a cheeseburger. The light turned green and he put both hands back on the wheel and proceeded to eat the whole cheeseburger with no hands. One of the most bizarre things I've ever seen. Really funny though.
A meat mask with cheese and crackers. What's not to love?
[rebelmouse-image 18348392 is_animated_gif=
dam=1 expand=1]

Was stopped at an intersection and looked at the car next to me. Guy took a piece of deli meat and bit mouth and eye holes in it to then place on his face to wear as a sort of mask. Followed by randomly placing cheese and crackers on the deli meat on his face. He then turned and smiled at me with a thumbs up.

Oh Portland...
This has bad idea written all over it.
[rebelmouse-image 18348393 is_animated_gif=
dam=1 expand=1]

Read a book

She had the book on the steering wheel.
Well, potatoes are the apples of the ground (at least in French)...
[rebelmouse-image 18348394 is_animated_gif=
dam=1 expand=1]

Passed an old red truck that was going about ten below the speed limit. When I passed him I saw he was holding a baked potato and was eating it like an apple. He was the most content looking man I'd ever seen.
Someone came prepared for intense traffic. Nicely done.
[rebelmouse-image 18348396 is_animated_gif=
dam=1 expand=1]

I was stuck in dead still traffic on the Schuylkill Expressway in Philadelphia in the middle of July-people who know the hell that is the Schuylkill can fully appreciate this story-

Anyway, we are dead stopped and no one is getting on or off this road. Its been a standstill for over an hr and it's miserable and hot. I look next to me and the driver in the next lane is chowing down on an ice cream cone. Soft serve.

I have no idea where he got it. No one was moving on this road. We were not close to any off ramps that could be gotten to in any reasonable amount of time, keeping a cone of soft serve in a cooler in your car seems unlikely...and with how immovable this traffic was, there was no f_cking way he had just stopped off for a cone..

I'm flummoxed to this day.

Tl;dr: icecream wizard on the Schuylkill
3 limbs. 2 horns. Who knows which will prevail.
[rebelmouse-image 18348397 is_animated_gif=
dam=1 expand=1]

Saw a guy driving on a highway in Maryland using his foot to steer while he played the clarinet. It was actually pretty impressive.
Easy to explain: some people just obliviously aim their car.
[rebelmouse-image 18348398 is_animated_gif=
dam=1 expand=1]

This is a bit hard to explain.

In a small, suburban street, a woman drove past the turn she was looking for and stopped about 20 meters down the road. So she started reversing at high speed to get back to her turn. However, another car had just pulled out of the street, heading in the opposite direction...so the reversing woman smashed the back of her car into the back of the other car.
When your lazy game is really on point.
[rebelmouse-image 18348399 is_animated_gif=
dam=1 expand=1]

Walking their dog. Yes, I saw someone driving and their dog was on a leash from the car while the dog was walking outside. O_o
Your skills are noted but I'm gtfo out.
[rebelmouse-image 18348400 is_animated_gif=
dam=1 expand=1]

I'm pretty surprised she survived to adulthood- Christmas 2007 I saw my sister smoke a cigarette, talk on the phone, while eating a meal (complete with a beverage), driving a stick shift all while putting on her makeup. Icy roads be damned. I was terrified.
This isn't weird this is amazing.
[rebelmouse-image 18348401 is_animated_gif=
dam=1 expand=1]

Saw a pickup truck hauling an upright piano with a man playing it as the vehicle moved down the road.

The pianist appeared to be "strapped" to the piano to keep him from bouncing around during transit. He just kept playing and grinning as people stared in amazement.
Let's go for a ride.
[rebelmouse-image 18348402 is_animated_gif=
dam=1 expand=1]

A couple having sex.. the girl was on top. I couldn't understand how he didn't crash. It was also the middle of the day which made it much harder to believe.
BIG PLOT TWIST BELOW. YOU WON'T BELIEVE IT.
[rebelmouse-image 18348403 is_animated_gif=
dam=1 expand=1]

I once saw a BMW driver paying attention to other vehicles, driving sensibly and (you might want to sit down) indicating every lane change. I was so shocked, I dropped my phone into my bowl of soup, which splashed up and ruined my newspaper.
It's a little weird to stick a pig on a moped.
[rebelmouse-image 18348404 is_animated_gif=
dam=1 expand=1]

A man on a moped with a pig in the footwell.
Sounds like someone's about to get sent to Belize.
[rebelmouse-image 18348405 is_animated_gif=
dam=1 expand=1]

Driving to Vegas from LA my buddy and I saw a van strangely backing up into the desert abyss. Like, completely off the paved road. The driver and passenger both had sacks/bags over their heads. We were both freaked out and speechless for the rest of the ride.
When you gotta go, you gotta go.
[rebelmouse-image 18348406 is_animated_gif=
dam=1 expand=1]

Technically they pulled over to do it, but they abruptly flung open the car door and had explosive diarrhea all over the side of the road on the freeway. I felt so bad for them because as hard as they tried to shield themselves with their car door, everyone could definitely see their butt.
There's no better place to feel yourself than in your car, but do it safely please...
[rebelmouse-image 18348407 is_animated_gif=
dam=1 expand=1]

Driving on the highway one morning for work hit some traffic and slowed a bit. Had the window down and started hearing some crazy jam band music blasting from the car coasting along next to me so I looked over and dude was straight rocking out on his tambourine with both hands while screaming out the lyrics. He was steering with his knees and id swear his eyes were closed for the whole 20 seconds I spent admiring him.
He's a modern day knight, cruising for justice.
[rebelmouse-image 18348408 is_animated_gif=
dam=1 expand=1]

Last Monday I saw someone behind me on a moped holding a sword while driving.
Driving while tired is the same as driving drunk... try to avoid it.
[rebelmouse-image 18348409 is_animated_gif=
dam=1 expand=1]

Nodding off while doing 80mph down the Mass Pike. Somehow she didn't cause an accident, despite repeatedly drifting into the median and making full use of all 3 lanes.
I think my corn is getting tired, best let it get some air before I continue eating it.
[rebelmouse-image 18348410 is_animated_gif=
dam=1 expand=1]

A guy eating corn on the cob. When he rested from eating it, he held it out the window.