An English couple was blindsided when a venue canceled their wedding two months before the big event.
The heartbroken couple believes the reason behind the cancellation is they are a gay couple.
---
Kevin Chaffe and his fiancé Ken had their wedding date set for March 28, 2020.
A venue is the foundation of wedding plans. One of the first steps to planning a wedding is booking a venue.
After the location is locked down, everything falls into place around it. Though the planning process is notoriously stressful, it's all worth reaching the ultimate goal of having a celebration of love between you and your partner for your family and friends to enjoy.

But that was almost ruined for this couple.

Chaffe and his partner were all set to say "I do" at Priors Tithe Barn, a rustic-style venue in the Cotswolds, south central England. The happy couple were anticipating their wedding date to be unforgettable.

The date became unforgettable for the wrong reasons.
According to Pink News, Chaffe unexpectedly received the news from his wedding planner that the venue had canceled the event.
Chaffe was told that the cancellation was due to it being a same-sex marriage.
He later called the venue out on Facebook.
He began the post:
"So our wedding reception venue cancelled on us today because we're gay!
He had multiple correspondence with both our names in it ....."
He expressed his disappointment that something like this could happen in 2020.
"I think this is just disgusting that in a modern world where u can by law express the love for your partner irrelevant of the gender , we could get married in a church by law!!"
Luckily, the couple's wedding planner, Kerry Jones, was able to save their big day.
"It has been a devastating blow to myself and ken but with that being said our truly amazing friend and outstanding wedding planner Kerry Jones had us another venue within the hour , I can't thank kerry enough for the support she has provided us today even when faced with such horrific news kerry your amazing and a truly wonderful human being ."
Chaffe then encouraged others to share his post about the incident:
"I've posted a picture of the venue that doesn't agree with same sex marriage so by all means share this post far and wide , there's not room in this world for this type of blatant discrimination And homophobia .
Love is love"
Jones commented, expressing, that as a wedding planner, the ordeal was heartbreaking to go through.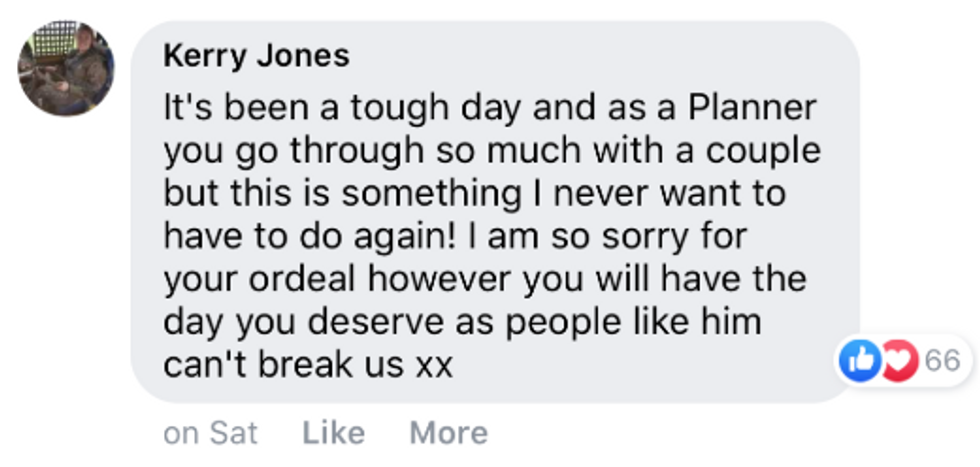 Kerry Jones/Facebook
People went in on the venue.

Kelly Guest/Facebook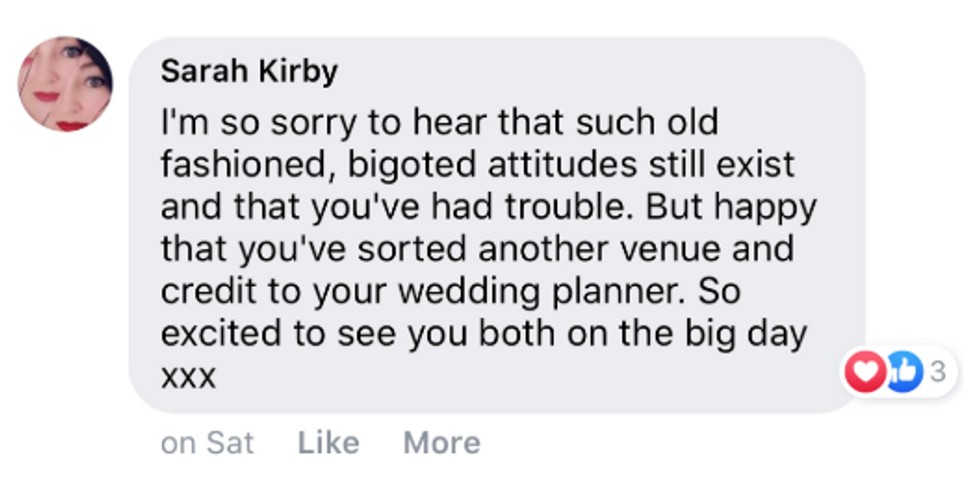 Sarah Kirby/Facebook

Jack Brint/Facebook

Helen Lee/Facebook

Jacquie Poole-Voyce/Facebook
People began swarming Priors Tithe Barn's page with negative reviews.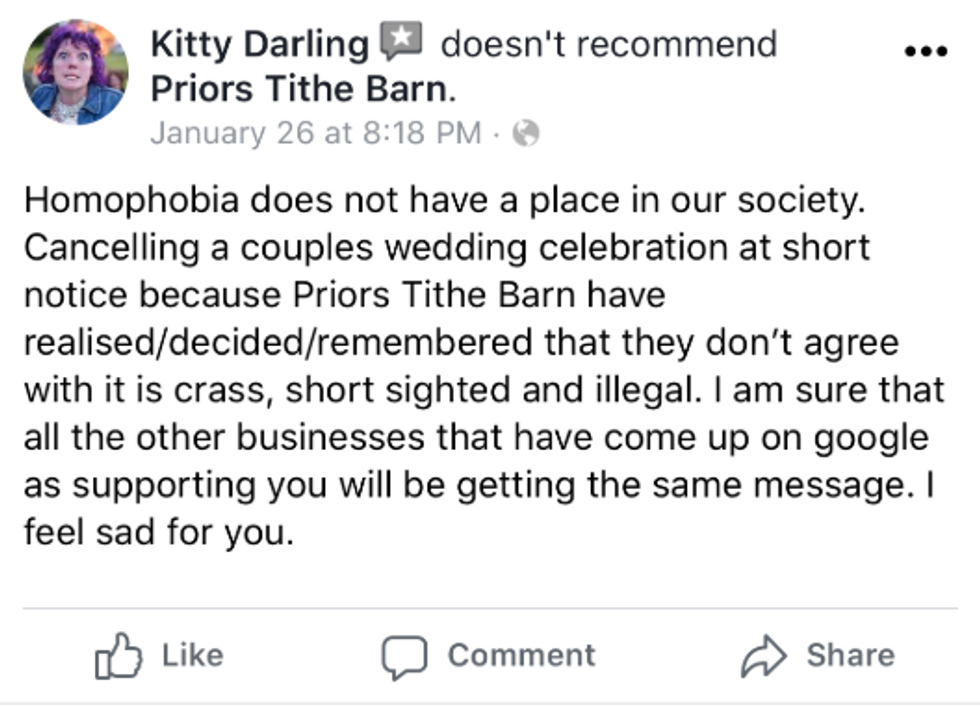 Kitty Darling/Facebook

Imogen Locke/Facebook

Lucy Weatherwax/Facebook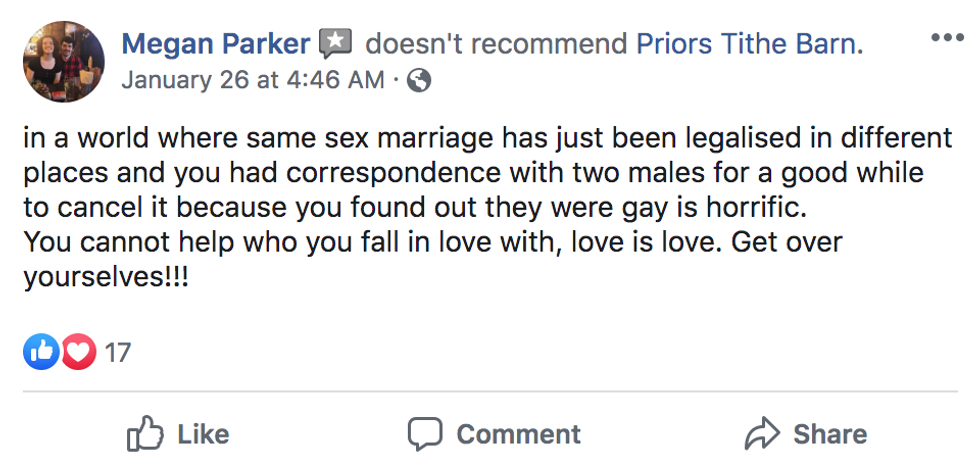 Megan Parker/Facebook
The venue's 5 out of 5 rating quickly fell down to a 1.1 out of 5.
Chaffe later gave The Daily Mail more details about what had happened.
The owner of Priors Tithe Barns, Tim Wiltshire, allegedly told a caterer for the wedding he "didn't believe in same sex marriage." The discriminatory comment made it back to Jones, who then shared it with her clients.
It's not clear who actually canceled the event.
Wiltshire claims that Jones was the one to cancel on behalf of the couple, but Chaffe says that their planner passed on the message they were no longer welcome:
"[Wiltshire] basically said he doesn't agree with same sex marriage and we can no longer use the venue."
Chaffe believes the sudden cancellation, despite Wiltshire having seen their names in emails, is due to the owner assuming it was a mistype.
Wiltshire is blaming the couple's catering company for the misunderstanding.
As he tells it, there was a miscommunication while speaking with the caterer and the issue has "grown out of proportion." Though, one must question what the conversation entailed for such a misunderstanding to have happened.
He has also argued that the wedding was never officially booked:
"The venue position - we are legally licensed here for weddings - is that obviously within that license all couples of the same sex can be married here, but the reservation came through a catering company, I have personal views that don't relate to the official wedding venue views."

Wedding planner Jones has vowed to never work with the venue again.
Jones posted on her business's, Cotswold Chic, page about the incident, following up her initial acknowledgment of the controversy with a positive update on Chaffe and Ken.
Jones updated the concerned public:

"As I am sure many of you will be aware Saturday we posted a distressing statement regarding the discrimination one of our couples faced from their Wedding Venue."
She thanked everyone for supporting the couple:
"The outpouring of love and support for the couple has been so overwhelming that myself, Kevin & Ken would like to thank you all for your kind words at such an emotional time for them both."
She made it clear that their intentions were to bring light to the issues LGBTQ people continually face even in modern times.
"The situation has created lots of attention and has raised awareness of the fact that discrimination still exists in this day and age and we are thankful for that as there is no place for it in modern society."
In opposition to Chaffe's post, Jones discouraged people from attacking anyone.
"Cotswold Chic, Kevin & Ken would like to ensure that people know that the situation they were put in was published to create awareness and not create a hate campaign against anyone in particular. Everyone is entitled to their beliefs regardless if we agree with them or not and our grievance was the fact that these beliefs lead them to be treated unfairly in this instance."
Jones requested privacy while they resolve the dispute and vowed to continue to speak out against bigotry.
"We are now going to be dealing with this situation privately in order to resolve the matter amicably however we shall continue to campaign against discrimination as a whole and not just against one company/individual."
Most importantly, the happy couple are about to embark on a loving marriage together.
"I am keen that the real issue here which is that Kevin and Ken are looking forward to declaring their love for each other and we need get the excitement back by continuing to move forward with their wedding plans privately.
Thank you all once again and remember Love is Love xx"
A website called Citizen's Advice details what qualifies as discrimination due to sexual orientation in the United Kingdom.
The organization offers help in tackling discrimination, as well as advice on steps one can take to combat it. They offer support to people who feel they have been discriminated against due to age, gender, sexual orientation and race.