Chelsea Mitchell, a student athlete, filed a case against trans students participating on the track team.
She claims it's "unfair" for trans girls to race against her in the sport.
However, shortly after filing the case, she beat another fellow sprinter—who happened to be a trans girl.
The lawsuit was filed by the Christian law firm Alliance Defending Freedom, known for its strict anti-abortion stance as well as their attacks on LGBTQ equality. It argued that trans students have an unfair advantage to cisgender students, and that they have "deprived" them from titles and scholarship opportunities.
Despite statistics showing no such advantage exists, people still claim the lie is reality.
On February 14th, Mitchell beat Terry Miller in a 55m race. As a result, the case seems to have lost some credibility.
However, Mitchell stood her ground.
"I don't think it could go against [the case], there's still tons of girls that lose on a daily basis."

"I try to just clear everything out of my mind, this is just track, you know, it's just running, just focusing on myself, not trying to think about anything else that's been happening."
The ACLU made a statement on this particular case that it is a "a dangerous distortion of both law and science in the service of excluding trans youth from public life".
The same complaint was filed by two additional girls—recruited by anti-trans groups—in the Connecticut school system.
A week later, a united front of women and LGBTQ+ rights organizations stood with Miller, and released a public statement collectively. Many groups cosigned on the statement, which was in support of transgender student athletes competing alongside their cisgender peers.
Miller herself released a statement on the complaint, defending her participation as a sprinter.
"I have faced discrimination in every aspect of my life and I no longer want to remain silent."
"I am a girl and I am a runner. I participate in athletics just like my peers to excel, find community, and meaning in my life. It is both unfair and painful that my victories have to be attacked and my hard work ignored."
Many folks on the internet have jumped to Miller's defense.
Kate Farrar, the executive director of Connecticut Women's Education and Legal Fund, was one of the cosigners on the collective statement.
She told Outsports:
"The heart of feminism is acknowledging gender identify and recognizing all aspect of oppression. In that vein, we felt the need to show a united front of support for transgender rights in our state."
Keep reading...
Show less
During her acceptance speech for a prestigious honor at the 2020 Greater New York Human Rights Gala, Kristin Chenoweth navigated the typically rocky waters of religion and LGBTQ rights through her characteristic beaming smile and charismatic flare.
With a playful demeanor throughout the speech, the star of the original Broadway Wicked production expressed her stance that bridging the gap isn't merely possible, but ideal.
This year, at its largest Gala event in the country, the 2020 Human Rights Campaign awarded the annual "Global Ally for Equality Award" to Broadway, TV and film actor Chenoweth.
In a press release put out before the event, HRC President Alphonso David outlined why the Tony and Emmy winning actor deserved the honor.
"Kristin Chenoweth is a dynamic, multi-faceted artist who has used her platform to lift up the LGBTQ community."
"On the stage, screen and beyond, Chenoweth is leaving her mark while proudly standing with us as a powerful ally and advocate."
Chenoweth was over the moon about the win, clearly reverent to HRC's important mission and impact, as the star's caption on an Instagram post drove home.
"Humbled, honored, inspired, grateful... Thank you for the most beautiful evening, @humanrightscampaign. YOU are the change we need in the world!"
And although the Emmy and Tony winner sent all the credit to the Human Rights Campaign, the internet is sending some love her way too.

julie_james/Instagram

garyboltz/Instagram
Chenoweth's acceptance speech followed right along with the HRC's overall mission statement, a pledge as succinct as it is meaningful:

"As the largest national lesbian, gay, bisexual, transgender and queer civil rights organization, HRC envisions a world where LGBTQ people are ensured of their basic equal rights, and can be open, honest and safe at home, at work and in the community.
The full, 7-minute speech charms and empowers.
With typical levity, Chenoweth kicked off the speech with a key takeaway from her meeting with Naomi Campbell, who was honored the same night with HRC's "Global Advocacy Award."
"I realized I was the size of her one leg, ladies and gentlemen," grinned Chenoweth from behind a podium that nearly reached her shoulders.
But Chenoweth quickly moved on to a story that reminded all why she was there.
She shared her childhood experience when, on the schoolyard in her home state of Oklahoma, a friend of hers was called a "dyke."
At home, Chenoweth's mother did two things. First, she explained a dyke as "a woman who loves another woman." And second, she said she didn't see any problem with that.
Addressing the crowd directly, Chenoweth brings her faith into the equation, positioning it in service to acceptance, rather than opposed to it:
"As an adopted child...people say they don't believe in miracles...I say, 'thank you God for putting me in the right family'."
Chenoweth continues with another tale, this one from her time as a Freshman at Oklahoma City University, when a gay friend of hers confided that he was ready to go to Hell for his sexuality.
Again, Chenoweth's family showed that faith and LGBTQ activism can swim in the same pond, this time from the words of her grandmother.
"You know what I do? I read the bible like I eat fish."
"I take the meat that serves me well, but I don't choke on a bone."
Throughout the whole speech, Chenoweth reminded that her LGBTQ acceptance comes from a core, gut feeling. She repeatedly stated:
"I'm just speaking my truth."
Keep reading...
Show less
The Seattle-based global coffee shop chain Starbucks is raking in awards, turning heads on the internet and raising all sorts of money to support trans youth after making a splash with an effective and woke UK television ad.
On February 2, 2020, Starbucks premiered an ad Channel 4, one of the UK's four major television networks.
The ad portrays a young trans man as he navigates a world in which he is not the norm. Viewers watch as he is repeatedly called "Jemma," presumably his birth name.
The act of continuing to refer to a trans person by the name they no longer use is called "dead naming." It's a common microaggression many transgender people face.
You can watch the Starbucks ad here:
The ad underscores that names carry assumptions.
For someone in the young man's position, hearing "Jemma" during a fatherly introduction, seeing the name on a student ID and being confirmed as "Jemma" when receiving a package are not small mix ups.
The moments remind of his former identity and add up to a thousand cuts.

As the ad closes with the young man buying a coffee at Starbucks, where "James" is written on the cup and called out by the barista, the coffee shop corporation positions itself as a champion and safe space for trans people.
The Starbucks UK Youtube account included the following note along with the posted full ad.
"At Starbucks, writing your name on a cup and calling it out is a symbol of our warm welcome.
"It's a small gesture, but it's symbolic of what we believe in: Recognition and acceptance, whoever you are, or want to be. We welcome everyone."
On its website, Starbucks also published a full page dedicated to its global initiative to support trans folks.
The internet is thoroughly impressed with the advertisement, with many on Twitter expressing hearty gratitude to the corporation.
Some tweets came from notable trans activists.

Amanda Jetté Knox, bestselling author of Love Lives Here: A Story of Thriving in a Transgender Family, kept it simple.
@DadTrans and @mimmymum, a couple of popular accounts run by the parents of trans children, also expressed their thanks.
This last tweet mentions an additional action of support from Starbucks folded in with the ad campaign.
The coffee giant is using the notoriety of the video to drive viewers to Mermaids, a UK-based charity organization dedicated to supporting trans kids and families of all gender diverse varieties.
Starbucks is also selling mermaid-shaped cookies and donating proceeds to the charity, pledging to raise £100k (~$130k) .
The cookies are being received quite well too.
The partnership is actually a match made in heaven, given the Starbucks mermaid logo (to be exact, it's a siren, as it has two tails).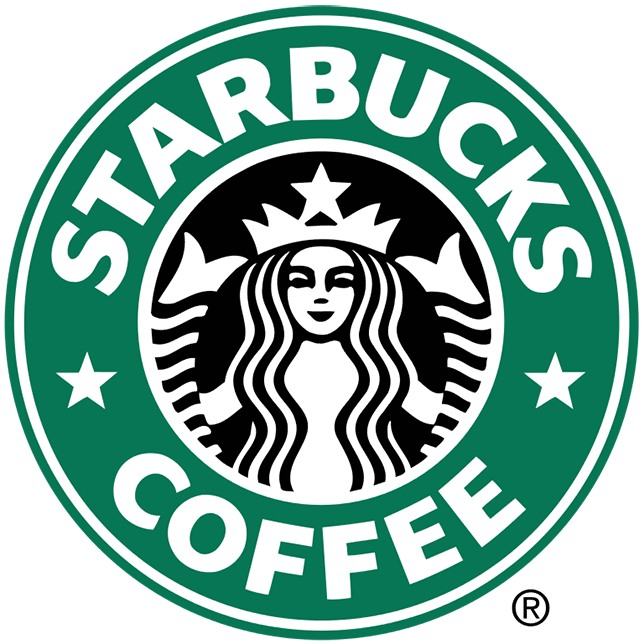 starbucks.com
And people in the UK can plan to see the ad on Channel 4 plenty of times in the coming weeks.

Channel 4 awarded the advertisement its "Diversity in Advertising" award, ensuring Starbucks £1m ($1.3m) worth of no-charge commercial airtime.
In the past, the company has been far from perfect when dealing with marginalized groups—like when two black men were arrested for sitting in a Philadelphia Starbucks location while waiting for a business meeting.
The company appears to be performing a partial about face, at least with regard to LGBTQIA+people.
It now falls on every specific location worldwide to provide the inclusivity outlined in the "James-not-Jemma" advertisement.

If you or someone you know is struggling, LGBTQ+ Youth can get help through:
Transgender people can get help through the Trans Lifeline at https://www.translifeline.org/ or call US: 877-565-8860 Canada: 877-330-6366
Keep reading...
Show less
An English couple was blindsided when a venue canceled their wedding two months before the big event.
The heartbroken couple believes the reason behind the cancellation is they are a gay couple.
Kevin Chaffe and his fiancé Ken had their wedding date set for March 28, 2020.
A venue is the foundation of wedding plans. One of the first steps to planning a wedding is booking a venue.
After the location is locked down, everything falls into place around it. Though the planning process is notoriously stressful, it's all worth reaching the ultimate goal of having a celebration of love between you and your partner for your family and friends to enjoy.

But that was almost ruined for this couple.

Chaffe and his partner were all set to say "I do" at Priors Tithe Barn, a rustic-style venue in the Cotswolds, south central England. The happy couple were anticipating their wedding date to be unforgettable.

The date became unforgettable for the wrong reasons.
According to Pink News, Chaffe unexpectedly received the news from his wedding planner that the venue had canceled the event.
Chaffe was told that the cancellation was due to it being a same-sex marriage.
He later called the venue out on Facebook.
He began the post:
"So our wedding reception venue cancelled on us today because we're gay!
He had multiple correspondence with both our names in it ....."
He expressed his disappointment that something like this could happen in 2020.
"I think this is just disgusting that in a modern world where u can by law express the love for your partner irrelevant of the gender , we could get married in a church by law!!"
Luckily, the couple's wedding planner, Kerry Jones, was able to save their big day.
"It has been a devastating blow to myself and ken but with that being said our truly amazing friend and outstanding wedding planner Kerry Jones had us another venue within the hour , I can't thank kerry enough for the support she has provided us today even when faced with such horrific news kerry your amazing and a truly wonderful human being ."
Chaffe then encouraged others to share his post about the incident:
"I've posted a picture of the venue that doesn't agree with same sex marriage so by all means share this post far and wide , there's not room in this world for this type of blatant discrimination And homophobia .
Love is love"
Jones commented, expressing, that as a wedding planner, the ordeal was heartbreaking to go through.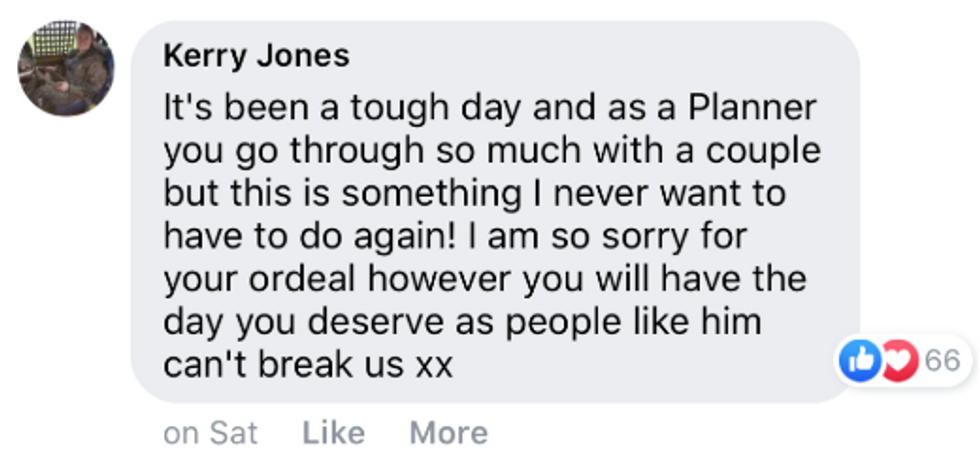 Kerry Jones/Facebook
People went in on the venue.

Kelly Guest/Facebook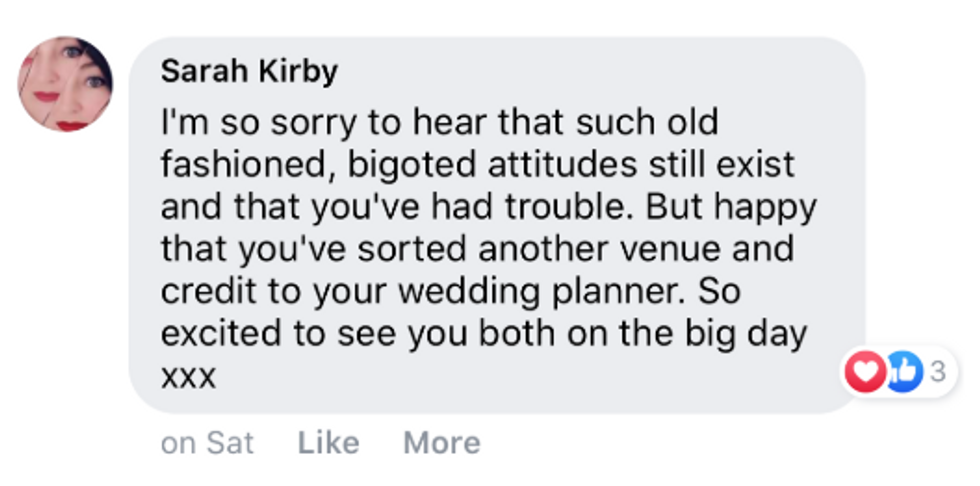 Sarah Kirby/Facebook

Jack Brint/Facebook

Helen Lee/Facebook

Jacquie Poole-Voyce/Facebook
People began swarming Priors Tithe Barn's page with negative reviews.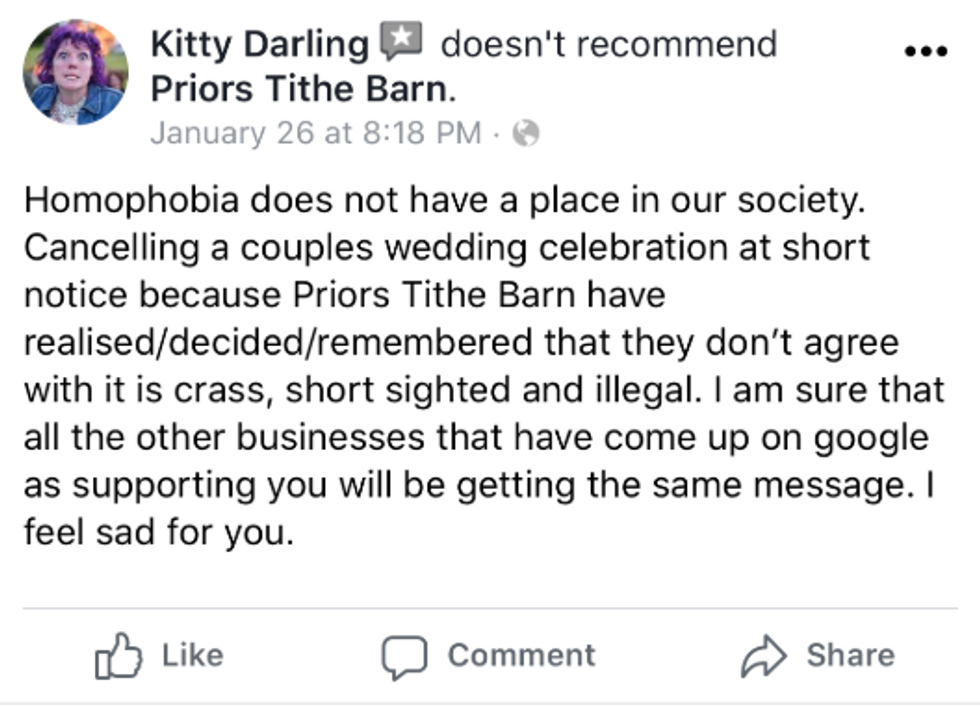 Kitty Darling/Facebook

Imogen Locke/Facebook

Lucy Weatherwax/Facebook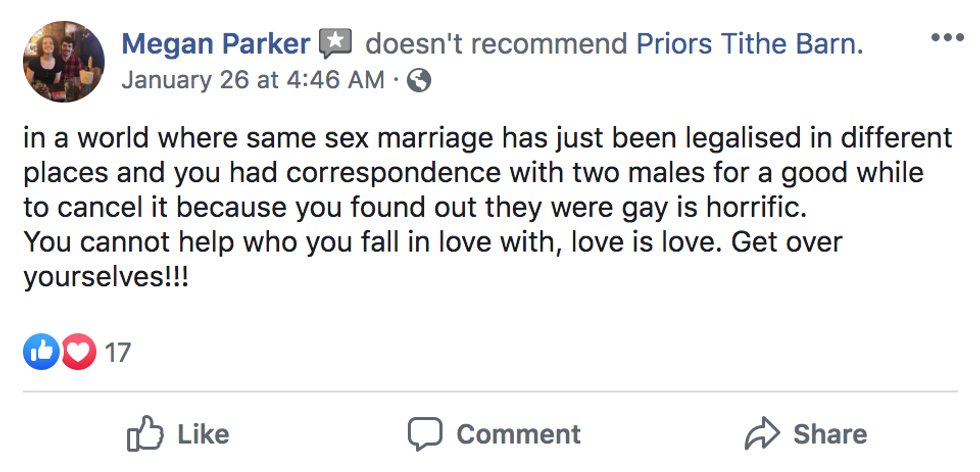 Megan Parker/Facebook
The venue's 5 out of 5 rating quickly fell down to a 1.1 out of 5.
Chaffe later gave The Daily Mail more details about what had happened.
The owner of Priors Tithe Barns, Tim Wiltshire, allegedly told a caterer for the wedding he "didn't believe in same sex marriage." The discriminatory comment made it back to Jones, who then shared it with her clients.
It's not clear who actually canceled the event.
Wiltshire claims that Jones was the one to cancel on behalf of the couple, but Chaffe says that their planner passed on the message they were no longer welcome:
"[Wiltshire] basically said he doesn't agree with same sex marriage and we can no longer use the venue."
Chaffe believes the sudden cancellation, despite Wiltshire having seen their names in emails, is due to the owner assuming it was a mistype.
Wiltshire is blaming the couple's catering company for the misunderstanding.
As he tells it, there was a miscommunication while speaking with the caterer and the issue has "grown out of proportion." Though, one must question what the conversation entailed for such a misunderstanding to have happened.
He has also argued that the wedding was never officially booked:
"The venue position - we are legally licensed here for weddings - is that obviously within that license all couples of the same sex can be married here, but the reservation came through a catering company, I have personal views that don't relate to the official wedding venue views."

Wedding planner Jones has vowed to never work with the venue again.
Jones posted on her business's, Cotswold Chic, page about the incident, following up her initial acknowledgment of the controversy with a positive update on Chaffe and Ken.
Jones updated the concerned public:

"As I am sure many of you will be aware Saturday we posted a distressing statement regarding the discrimination one of our couples faced from their Wedding Venue."
She thanked everyone for supporting the couple:
"The outpouring of love and support for the couple has been so overwhelming that myself, Kevin & Ken would like to thank you all for your kind words at such an emotional time for them both."
She made it clear that their intentions were to bring light to the issues LGBTQ people continually face even in modern times.
"The situation has created lots of attention and has raised awareness of the fact that discrimination still exists in this day and age and we are thankful for that as there is no place for it in modern society."
In opposition to Chaffe's post, Jones discouraged people from attacking anyone.
"Cotswold Chic, Kevin & Ken would like to ensure that people know that the situation they were put in was published to create awareness and not create a hate campaign against anyone in particular. Everyone is entitled to their beliefs regardless if we agree with them or not and our grievance was the fact that these beliefs lead them to be treated unfairly in this instance."
Jones requested privacy while they resolve the dispute and vowed to continue to speak out against bigotry.
"We are now going to be dealing with this situation privately in order to resolve the matter amicably however we shall continue to campaign against discrimination as a whole and not just against one company/individual."
Most importantly, the happy couple are about to embark on a loving marriage together.
"I am keen that the real issue here which is that Kevin and Ken are looking forward to declaring their love for each other and we need get the excitement back by continuing to move forward with their wedding plans privately.
Thank you all once again and remember Love is Love xx"
A website called Citizen's Advice details what qualifies as discrimination due to sexual orientation in the United Kingdom.
The organization offers help in tackling discrimination, as well as advice on steps one can take to combat it. They offer support to people who feel they have been discriminated against due to age, gender, sexual orientation and race.
Keep reading...
Show less
Many people across the globe are forced to seek asylum in far away places for fear that their sexual orientation or gender identity will lead to persecution, prosecution and even death in their home countries.
That risk must generally be proven when requesting asylum.
Spoiler: there's a right way and a wrong way to ask for proof.
Buzzfeed News recently acquired internal documents from Australia's Department of Home Affairs through a Freedom of Information request.
The documents, at their worst, note that some Australian immigration officers asked if asylum seekers could successfully return to their home countries, pretend to be straight, and so avoid persecution.
In 2018, the Department of Home Affairs conducted an internal review of immigration officer performance during the interview stage of an asylum seeker's journey through Australia's immigration apparatus.

A total of 21 interviews occurring between November 2016 and August 2017 were randomly chosen and reviewed.
To humanize and contextualize this, consider that these interviews are the moment when a non-straight and/or non-cisgender person arrives to prove their case. If the interview goes well, the person will be able to remain in Australia, safe to inhabit their identity without fear of violence anymore.
The burden of proof becomes significant in a moment like that.
Does this person need to show that they'd be persecuted at home if they openly expressed their orientation and/or gender, or that they'd be persecuted even if they kept their orientation or identity hidden?
Australia answered this question nearly two decades ago, in a 2003 ruling by its highest court.
At that time, the court heard a claim brought by two gay men seeking asylum in Australia despite remaining in the closet back in Bangladesh. The court ruled that asylum claims based on sexuality must be considered even if it's possible to hide that sexuality in the country of origin.
Officers must, according to that ruling, consider only what would happen if an asylum seeker were openly gay or openly non-cisgender at home.
A decade's passing apparently made that distinction fuzzy.
Four of those randomly chosen 21 interviews include immigration officers asking an asylum seeker if they could keep their sexuality discreet at home and not face persecution.
In two other interviews, asylum seekers were in a heterosexual marriage. Immigration officers cited this and called their homosexual orientation claim into question, effectively a "straight until proven gay" approach.
Both those asylum claims were rejected.
One interview asked the person, "Why do you think you are gay" displaying a clear misunderstanding of how sexuality works.
Ghassan Kassisieh is the legal director for Equality Australia, a national nonprofit organization dedicated to "promoting and protecting LGBTQIA+ rights."
He spoke with Buzzfeed News about the negligent disregard of Australian government policies by the immigration officials.
"Seventeen years after the High Court ruled that applicants must not be expected to remain discreet about their sexuality in order to avoid persecution, 4 out of 21 interviewers seem to have continued down this problematic line of questioning."
"Worse still, applicants who say they remain heterosexually married to avoid bringing shame on themselves and their families, are simply not believed to be gay."
In its conclusions, the official government review acknowledged concerns and dedicated itself to improvement.

"Assessment of LGBTI claims can be difficult, as the evidence is usually limited to the applicant's personal account."
"It is important that the questions asked during the interview assess the credibility of the LGBTI claims, but are also sensitive and not overly intrusive."
The Department of Home Affairs did provide new instructions to immigration officers to ensure interviews were conducted more sensitively.
Kassisieh's response to those changes was positive, but cautious.
"Guidelines are only good if people follow them."
"While the department must be commended for its guidelines, training and quality assurance processes, the results of its audit show that more needs to be done to ensure every applicant is given a fair hearing no matter who is making the decision."
Keep reading...
Show less