After dotting her i's and crossing her t's, Ohio University freshman Zoey Oxley was sure she handed in her best work on a paper for her music performance class.
Unfortunately, she realized after submitting her paper that she had gotten the professor's name completely wrong.
Not only did she get his name wrong, she managed to inadvertently ridicule her superior.

---
Instead of writing "Professor John Hendel," she wrote "Professor whats his nuts" in the paper's header.

Oops.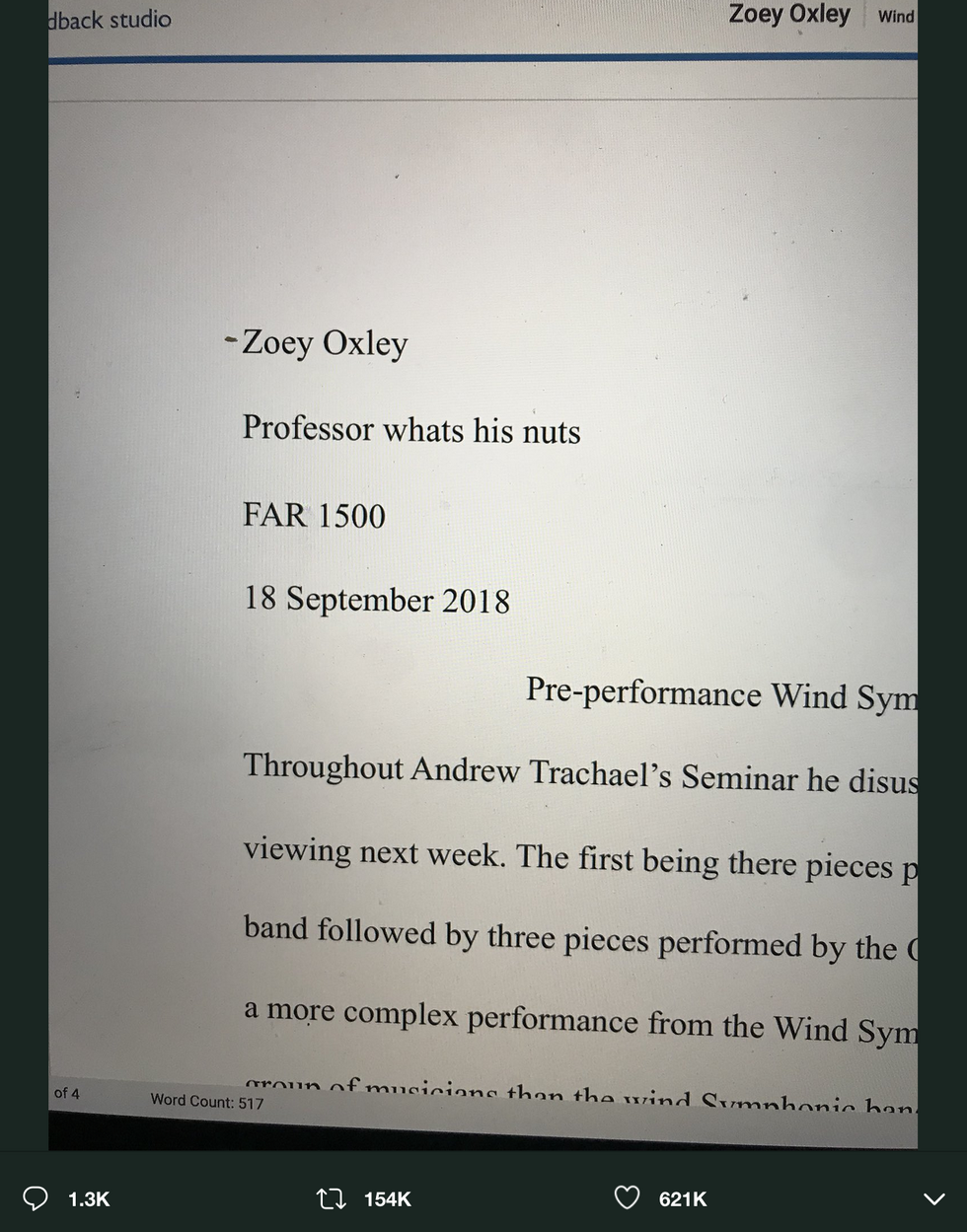 (@Zoeyoxley/Twitter)
The mortified pupil went into damage control and wrote a letter of apology, this time by addressing her professor with the proper name.
"Professor Hendel, I am writing this letter very embarrassingly. As I began writing my paper, I wrote out the template," she wrote, explaining her kerfuffle.
"Unfortunately, I could not remember your last name, so I filled it with something completely unprofessional. It was my intention to change the name before submission, but it completely slipped my mind.
"I attempted to resubmit the assignment but was unable to. I am so very sorry for the lack of respect that was used and again I apologize for this mistake."
"I hope that this does not reflect what you think of me and that the next assignment I can address by the correct name. Thank you again and I am so sorry. Thank You, Zoey."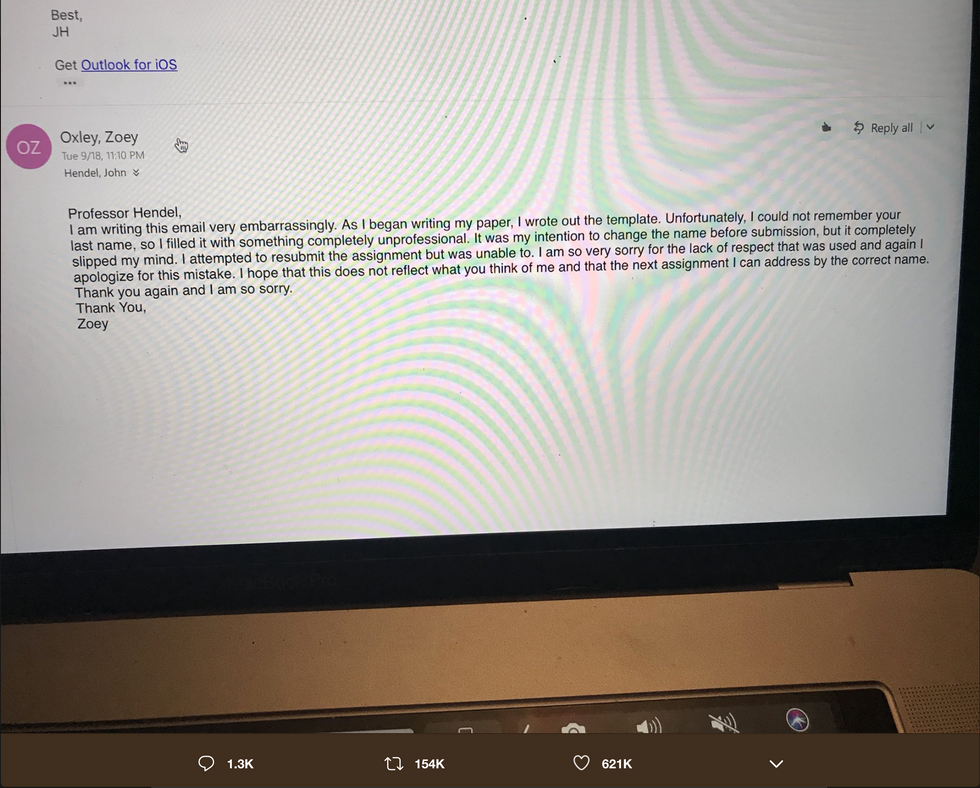 (@Zoeyoxley/Twitter)
But Professor Hendel, who according to Indy 100 teaches how to playwright at an Ohio theater program, saw the snafu as a comedy of errors and decided to make light of situation with a tweet that went viral.
He even paid homage to the slipshod appellation by changing his Twitter handle.

A student emailed me, profusely apologizing for getting my name wrong at the top of their paper, and I was like, "T… https://t.co/goRZVvVYgI

— Professor whats his nuts (@Professor whats his nuts)1537380541.0
Hendel told Business Insider about how funny he thought the situation was over a two-page essay for his introductory-level class.

"Her email to me was so apologetic and so specific. She knew exactly what had happened and how to fix it. I just thought the whole thing was really funny. I told her, 'I'm not holding it against you, I'm fine with it.' Because I think it's funny."
"The stakes are so low on this paper."
Others came forward with their own amusing anecdotes.

@Zoeyoxley I had a prof a few years ago whose last name was Jewett and I forgot how to spell his name on an essay a… https://t.co/Uh6s9pP5Lf

— less ✨✨✨ (@less ✨✨✨)1537486726.0
@magicalmiranda1 @Hendyhendel I did the same thing for a presentation I had to give last semester. I got an A and m… https://t.co/F9W7YscJPA

— Julianna French (@Julianna French)1537506170.0
@Zoeyoxley @gxbrihella same https://t.co/dnvQviQxPh

— briley🌹 (@briley🌹)1537504269.0
@Zoeyoxley My boyfriend and I had a lab instructor named "Mr. Pinch" and he accidentally submitted one of his quizz… https://t.co/emy0u1mIGt

— Amber Dominguez (@Amber Dominguez)1537592043.0
@alexau17_ @Hendyhendel Lol. My working title on a paper was "Delete Your Aunt on Facebook" and it never got correc… https://t.co/drQ0XoHJc2

— Britt Nicholson (@Britt Nicholson)1537481820.0
These exasperated students wrote long overtures practically begging for forgiveness only to get short assurances from their professors.

@Zoeyoxley @emilyrosebriggs I once turned in a paper with the title "Is Genocide Modern or Nahh?" and emailed my pr… https://t.co/4VIW819L5b

— Alicia Petit (@Alicia Petit)1537469635.0
@aliciaepetit @Zoeyoxley @emilyrosebriggs Professors who reply to super long emails with very short, curt responses… https://t.co/rpTkQzMdmW

— Become As Bobs (@Become As Bobs)1537573175.0
@zzintkalaluta @aliciaepetit Yes😂😂 I remember writing "I can't come to class because of the snow storm, I emailed m… https://t.co/gQ5bOqzr4N

— Sierra (@Sierra)1537470212.0
The class doesn't resume for another three weeks, but Hendel assures Oxley that all is fine.
"The fact that she [also tweeted about it] kind of told me, 'OK, we're both cool with this. We both think it's funny. Good.' I accepted her apology, no problem. I don't expect it to happen again."
H/T - GettyImages, Twitter, BusinessInsider