Hotels are weird, if you think about it. You're paying money to lay down on a pillow for sure a thousand other people have slept on. Hopefully, the hotel has done their due dilligence, cleaned the room as best they can, and provided excellent service to make you forget this fact.
It's when the hotel doesn't cover the previous tenants that we seem to find the biggest problems.

Reddit user, harbac, wanted to hear the horror stories from the moment you checked in when they asked:
"What was your worst hotel stay experience and what made it so terrible?"
You don't expect opening the door to your hotel room to feel like a raffle, spinning the wheels of a slot machine hoping for them to line up to a pleasurable experience.

*Grandpa Simpson Leaving The Restaurant GIF
"My dad went to a hotel once and checked in to a first floor room. He went in the room, put his stuff down, opened the curtains...and a man was hiding there."
"My dad went "excuse me", closed the curtains, got his stuff and left. Went to the front desk to explain that a man was hiding in his room. Turns out the guy had just robbed a place and somehow got into the room with an open window."
arcant12
Peeing With The Buddy System
"The bathroom locked from the outside. If you accidentally shut the door all the way, you had to have someone in the room open the door for you when you were done. If you were by yourself, you were SOL until someone came back, or you called the front desk from the bathroom to send someone up. This was pre-mainstream cell phone usage, so you may not have had your phone on you at all times."
"Needless to say, we got our stay comped."
cousin_geri
Double Up!
"Motel 7 in El Paso had a software problem, lost track of occupied rooms. Rather than checking, they issued keys to possibly occupied rooms and waited to see if anyone complained!"
"I twice opened my new hotel room door to find other guests in there. Jesus."
FrankieMint
Hotel Room A/C Is Famous For It
"The air conditioner was SPITTING OUT ICE while I was sleeping. Woke up thinking I wet myself but then realized half the bed was soaked. Other than that it was fine."
kimochii12
Ready To Peace Out
"I needed to find a hotel in Dayton, OH because of my daughter's gymnastics competition. I read online reviews and the Travel Lodge there got good reviews. The price was good too, so I booked it."
"I had difficulty finding it because it was dark and their sign wasn't lit. Parking lot was pitch black. Just outside the entrance there were 2 sketchy guys that looked like they were negotiating a drug deal."
"Inside the motel lobby was dimly lit with flickering lights. The room was no better. Stained sheets, holes in the bedspread and hair in the shower. The fitness room consisted of a stair stepper that was broken and an old tv on the ground that was also broken."
"I told the front desk that I wanted to cancel our reservation. She said, "I don't blame you. This place is gross. I had an I interview at Kohl's & hope they hire me so I can quit this place."
DareWright
Keeping The Answers Close To The Chest
"Checked into a casino hotel in Shreveport, La. Put our stuff in the room and then went to the casino. Came back hours later and could not get into our room. Traipse to the front desk to find out why the card key was not working. Was informed that our room had to be exterminated due to "an infestation". When I inquired what type if infestation? I was told that the desk clerk was not allowed to divulge that information. Got hotel manager and he lead us back to our room, let us in and the place was tossed: furniture overturned, mattress off of bed, etc. There was our luggage and belongings pretty much where we left them."

"Manager than took us to our new room and gave us the key cards for it. I asked how the hell do you check someone into a room then discover it is infested with whatever? He was unable to adequately answer my question. I asked him about what type of extermination chemicals they used because our stuff had been exterminated as well. He again could not comment. Wound up throwing out any consumables, didn't wear anything from our luggage and checked out early the next morning, never to return again to that hotel. When we got home washed everything in the hottest water available. As an aside: itched for a couple of days afterward but this was probably power of suggestion."
whatoosee
A Lot Of Movement
"Happened over Christmas time in China. Came back to the hotel after dropping my boyfriend off at the airport so was clearly not in the best mood only to find a lot of my belongings moved around the room and items missing... including my passport..."
"There was food that she moved into the bathroom, my deodorant was in the shower and my shower gel was on the tv cabinet, things were taken out of my suitcase and other items were put into my suitcase, jewellery was on the floor etc. Just really random stuff had been moved."
"I had to go to reception and try to speak Mandarin (I was studying) and explain the situation. My passport was the main issue and I managed to get it back but I had gifts from my mum that were thrown out."
"Turns out the cleaner had taken my passport with the sheets to the laundry room which is crazy as it was actually in a cupboard (no safe available). Checked out 2 weeks early and got a refund for all the missing items as she admitted to throwing them away but she wouldn't say anything about why she had gone through my things or why she had moved anything."
mao64
These are probably the ones you were expecting.
Just, so much blood.

Kind Of Hard To Miss
"I stayed at a Travel Lodge a few years back. Went to get into bed and there was a blood stain on the sheet right in the middle of the bed. Pulled the sheet back and there was a HUGE puddle of it on the mattress, still wet. Not nice!"
kaylrobs
"Not as bad as that but Airbnb I stayed in a few weeks ago. It was just a room in the bottom on someone's house that had 3 other secluded rooms. Was pretty rough even by my standards but was late so settled in, finally laid down to find the duvet was covered in dry blood."
"Decided to sleep with just a sheet and heater on high woke in the middle of the night to a faint/tranc like voice speaking another language nonstop for 30mins (probably longer after I fell asleep)."
"First thing in the morning noped out of there.."
kosterzoo
What?! Even More Blood?
"Went to a historic hotel in Chattanooga, TN. Walked in the room, blood everywhere. The bathtub, the curtains, the walls, floor, lamp, everywhere! Hotel refused to move us. We moved ourselves to a different hotel that night."
ResLifeSpouse
"I stayed in a hotel on the strip in Vegas for a conference a few years ago. Was talking to my wife on the phone while getting ready for dinner, and had to tell her "Honey, got to go, I think I just found wet blood in my room.""
"Called the hotel, and they said they'd send someone up to look at it. I pointed out what I had found - a drop on the frame of the dresser. He took it apart, and someone had bled all over this thing and all they had done to clean it was wipe off the surface. The frame around every drawer had puddles of blood."
"They neither moved me or reimbursed me. Unfortunately it was the same hotel where the conference was held so I was kind of stuck."
Matosawitko
Look up reviews, ask around, and be willing to cancel if something goes wrong. There's no need to sleep in blood.
Ever.

Want to "know" more?
Sign up for the Knowable newsletter here.
Never miss another big, odd, funny, or heartbreaking moment again.
Keep reading...
Show less
The finite nature of a hotel stay can lead guests to behave in ways they wouldn't normally. And where there is saucy behavior, there are the artifacts left behind.
And who is there to pick up those pieces on the following morning? The hotel staff--cleaners, maintenance people, technicians, even managers when things get unruly enough.
Some Redditors who've occupied those positions recently shared the wildest things ever left behind by guests.
Some were gross, some exciting, and some just downright puzzling.
MichaelJCaboose_ asked, "Hotel cleaners of Reddit, what's your most memorable find left behind by a guest?"
Many people chose to share the times they came upon the disgusting remnants of an uninhibited night before. The guests responsible left a collage of artifacts that looked more like a still-life picture of hedonism than a living quarters.
Alone Time 
"Three empty bottles of wine, about two dozen cherry pits scattered all over the floor and under the furniture, and red-colored puke all over the bedspread."
"There was only one guy staying in the room."
-- OneWayRabbit
The Consequences of Fame 
"Found a human poo in the kettle once. Worse part was it was a 'celebrity' (crappy uk reality show) doing a guest appearance at a local club."
"Him and his mates filled the rooms iPad with di** pics too. Hotel got rid of the iPads shortly after that."
-- Geknock
Taking it Literally
"By the tub: empty gallon JUGS of milk next to empty CONTAINERS of Quaker Oats."
"Ma'am that is not how you have an oatmeal bath."
"If it matters, it was whole milk."
Of Another Species
"Not me, but my best friend works in house keeping at a hotel chain. I've heard some nightmare stories, but there are two that really stand out. The first was after a furry convention came through town, and there was an absurd amount of sex toys left behind. It's pretty common to come across them from time to time, but this almost had to be purposeful."
"The second was a massive unflushable sh**. She refused to dispose of it, and left the task to her manager. She described it as inhuman, and the size of a football. It took a spatula and a knife from their kitchen to make it manageable enough to flush."
People Explain The Worst Thing That's Ever Happened To Them On Their Birthday
No Closet Is Too Nice 
"Friend worked a 5-star hotel and found a turd in the closet." -- Boganvillia
"That's not a very nice thing to call your guest, but as someone that worked in customer service, I agree. They are turds." -- theassassintherapist
"Closet poopers are what happens to shy poopers if they don't face their poop anxiety." -- Stunning_Honeydew201
OTC Drug Use
"Packets and packets of ibuprofen. Just everywhere - bottles too. It was football players staying there."
-- Locust45
Work Retreat
"I do maintenance. Had a group of part time housekeepers that are mentally handicapped working with their job coach go into a suite with adjoining door. There were 3 construction workers staying, 2 and their supervisor."
"In the one side with a pull out couch and DVD player, they found a full size blow up doll, empty small bottles of lube, used condoms, several beer bottles, and a stack of porn on DVD. Doll was on the pull out couch and everything else was all over the bed."
Other former cleaners described the times they came to a vacant room to find some very unexpected objects. These weren't as gross as the previous examples.
But the mysteries of what exactly the guests did with these items are still unsolved.
Steer Clear of Gadgets
"Almost tazed myself with a 'tube of lipstick' that I found under the bed." -- Naprisun
"insert lipstick taser gif here" -- georgiomoorlord
"so nobody's talking about this person using hotel bed lipstick" -- ST4R3
Hisssss
"Wasn't the cleaner, was overnight manager. The morning shift housekeeper called me to a room that had a live diamondback rattlesnake in it. We were located downtown, no way it just came in from outside."
"Found out a week later the guest was part of that snake handler church."
Back on the Road 
"My friend's family owns a motel. He tells me they once found an auto transmission in the bathtub of a room." -- smorkoid
"Yup, I've heard of this before. You go to the town on a bachelor party, take a pill and then wake up and your transmission is in the bathtub full of ice and 3rd gear was removed" -- cavegoatlove
Making it Cozy
"I worked as a hotel cleaner during undergrad."

"My first day of work someone left a hatchet in the bathtub."
"Also, someone completely decorated the room with framed family pictures.. and left them all there. I think their stay was only 2 days. They set some up on the furniture.. but also legit hung some on the walls."
-- Eric_Partman
Finally, some people shared about the times they were pleasantly surprised to find that guests left behind some really nice stuff.
And, of course, finders keepers was in full swing.
Ahhhhhhh
"I worked for a hotel that had cabins, so I would be in and out all day in the hot sun. On one of those hot days I opened the fridge to find an unopened bottle of Dr. Pepper in the freezer part.. it was perfectly slushed."
"It made my day. This was years ago, too!"
-- Syndaquil
As If They Knew
"A whole box of magnum ice creams. My fave!" -- nightcana
"If this was in Melbourne, you're welcome. I bought them but got invited out. Checked out the next day and left them in the freezer and I couldn't stand the thought of putting them in the bin." -- hemansteve
Repurposed
"My partner gets apartments ready for the next people renting them out after leases are up, they've found so, so many bdsm toys. One of which (a flogger) is my cats favorite toy over all others now including her very expensive cat toys hahaha"
Celebrity Guest
"My girlfriend worked the front desk at a hotel where snoop Dogg stayed."
"He left his drawers and white tees. Snoop also left a bunch of Tic Tacs."
"But the best thing he left was a plastic Tupperware bowl over the smoke detector."
-- niketen
It's a fun idea to think back on all your hotel stays and recall anything you've left behind over the years.
And then, depending on what exactly it was, you can imagine what the other side of that story turned out to be.
Want to "know" more? Never miss another big, odd, funny, or heartbreaking moment again. Sign up for the Knowable newsletter here.
Keep reading...
Show less
Staying in a hotel offers the guest a unique luxury: live exactly as you'd like--within the bounds of the law, hopefully--and then walk out without cleaning anything up.
Then the staff swoops into to clean it all with unbelievable efficiency before the next guest arrives to do the exact same thing.
After all, that's a big part of what the guest pays for.
But some people completely overstay their welcome. They trash the place, break the law, ad leave things utterly destroyed. Or, in some cases, the do things that are absolutely puzzling.
karmeleon_ asked, "Hotel housekeepers, what's the strangest thing you've seen in a room?"
Want to "know" more? Never miss another big, odd, funny, or heartbreaking moment again. Sign up for the Knowable newsletter here.
Keep reading...
Show less
Sleep is a human necessity.
So much so that without it, we die. To make sure we don't do that, our bodies will force us to sleep whether we want to and are comfortable or not.
Every now and then that means having a less-than-five-star sleeping experience.
One Reddit user asked:
What's the worst place you ever had to spend the night?
We expected some interesting answers from more adventurous users who travel, hike, etc. Everybody loves a good seedy hotel story.
What we weren't expecting was a comment section full of bonkers stories about private islands, failed drug smuggling, surviving disasters and unintentionally doing permanent ear damage over some snoring.
Yeah. It's a lot.
Want to "know" more? Never miss another big, odd, funny, or heartbreaking moment again. Sign up for the Knowable newsletter here.
Keep reading...
Show less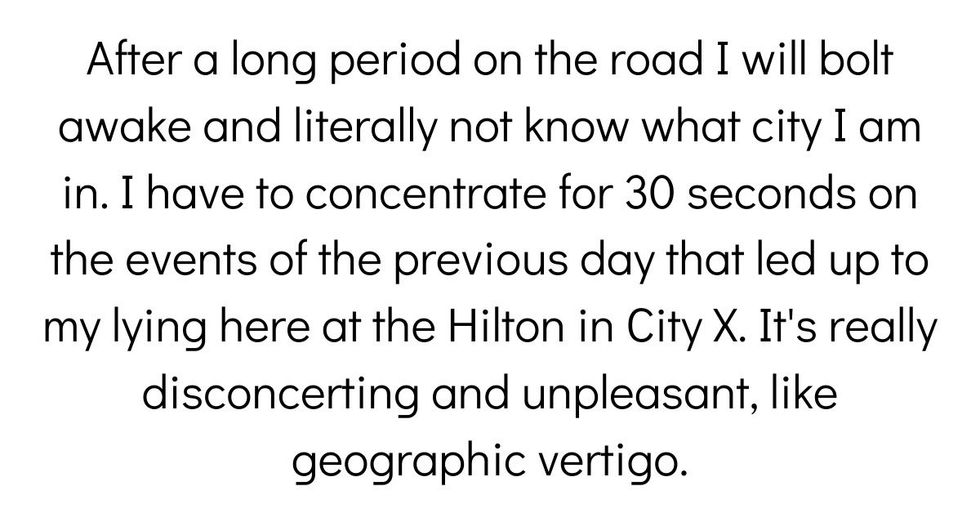 For many of us, hotels mean we're on an exciting out of town trip.
But imagine a new one every single day of the week, all over the country or the world. Would that waffle maker thing be enough?
Surely there muse be some perks to the hotel life. Constant room service, posh front desk help, sweet pools and hot tubs would be lit.
But maybe all that bouncing around wears on ya.
A Redditor asked, "Those who basically "live" out of hotels due to work travel, what's the best and worst part of it?"Those who basically "live" out of hotels due to work travel, what's the best and worst part of it?"
Keep reading...
Show less