Like all award shows, the 62nd Annual Grammy Music Awards seem to be as much about the outfits worn as the awards given out.
Chrissy Teigen and John Legend did not disappoint in the clothing department.
But taking risks with the wardrobe, for all the heads it turns, provokes savage trolling. Even if you're John Legend.
---
Teigen and Legend, married since 2013, appeared at Grammys 2020 wearing a couple asymmetrical spectacles.
Unsurprisingly, Chrissy Teigen stole the show.
Her bright orange dress dazzled with wispy layers and plenty of skin exposed.
Subtler Legend, who began the night with 10 Grammy wins and 30 nominations under his belt, didn't totally blend in himself.
His sleek, unbalanced Alexander McQueen-designed getup was all shine and textures.
But despite the warm reception of camera flashes and interviews along the red carpet, the internet has its own views about fashion.
Especially John Legend's fashion, apparently.
One Twitter user unleashed some tactful criticisms of Legend's look.
Note a couple things about that tweet.
First, she doesn't take full responsibility for the trolling. She insulates herself by quoting her boyfriend's judgment, opting to play the mere messenger.
The troll is hesitating, she's exposing a weakness that Chrissy Teigen will absolutely pounce on.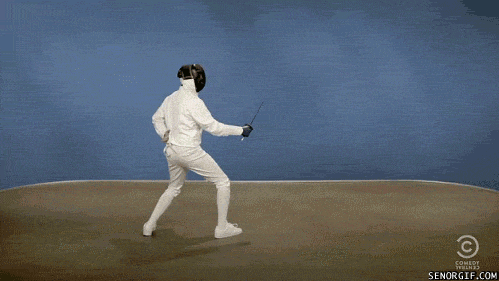 Giphy
But make no mistake—this is absolutely a troll move, as much about garnering a response as sharing a legitimate critique.

That's clear when she tags Chrissy Teigen, inviting a clap back from the clap back whiz herself.
That glowing orange dress apparently left full mobility and access to her phone, as Ms. Teigen was quick with a counter punch.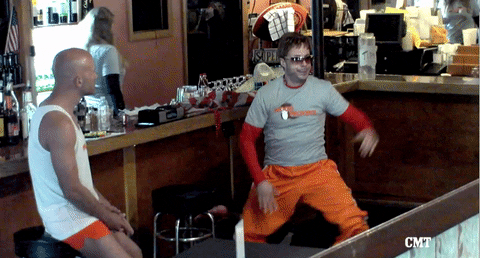 Giphy
Chrissy Teigen, fending off trolls even in the middle of the Grammys.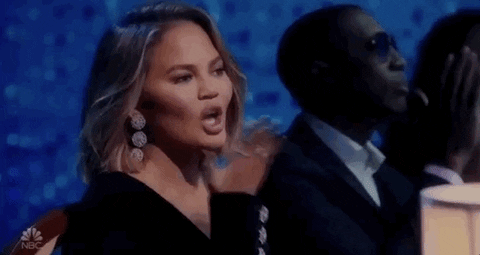 Giphy
Twitter loved the back and forth.
The original troll had absolutely no problem being taken to task either.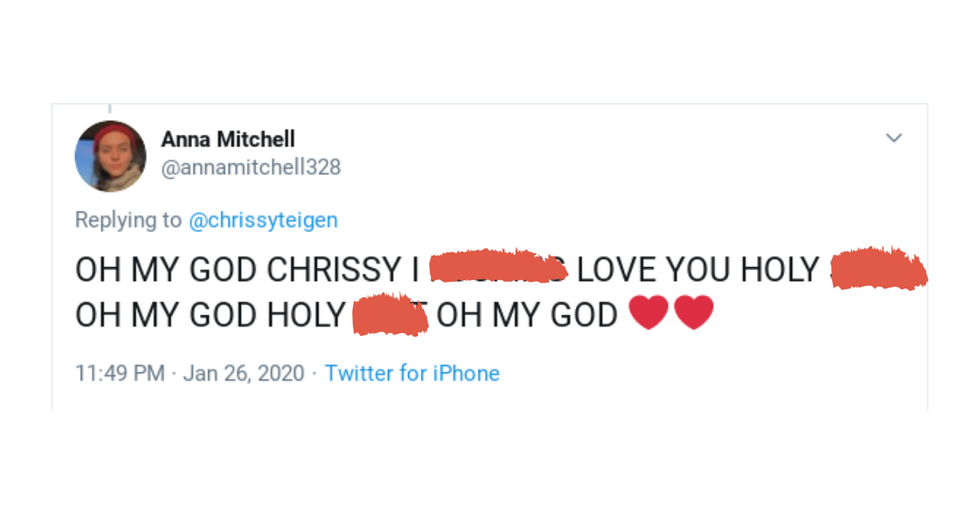 @annamitchell328/Twitter
But Legend, in fact, gets the last laugh here.
While this whole spat was going on, he was busy raking in his 11th Grammy, this one for Best Rap/Sung Performance, which he shared with DJ Khaled and Nipsey Hussle.
(Quick sidebar that this wasn't the only trolling that went down around Grammys 2020. Tyler, the Creator had to swat away some insults himself.)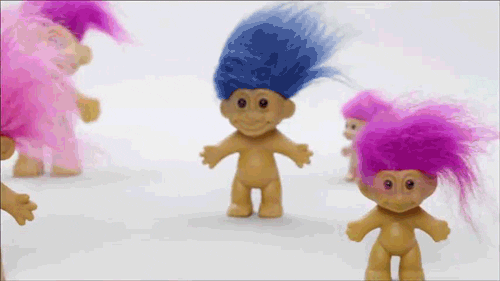 Giphy
After the quick defensive maneuver, Teigen quickly moved on from track pants-based insults, opting to spend her time doing some celebratory grooving with her boo after the big night.

Par for the course for Teigen, she kept us all filled in right up until the end, reflecting on a night when everything seemed to be in the right place.
Alas, for all Teigen's clap backs, she appears to have plenty going on outside the virtual world to cushion any blow that might be sent her way.