If there is one person who is winning at social media, it's Chrissy Teigen.
The model, author, and television personality is very active, giving people insight into her life.
Most recently, Teigen showed off her pantry, promising an "organizational orgasm" in a series of pictures.
And, well, she isn't exactly wrong.

@chrissyteigen / Instagram
"...look how purdy my pantry is!!! neat freaks, swipe for an organizational orgasm. Thank you, @riorganize!!!"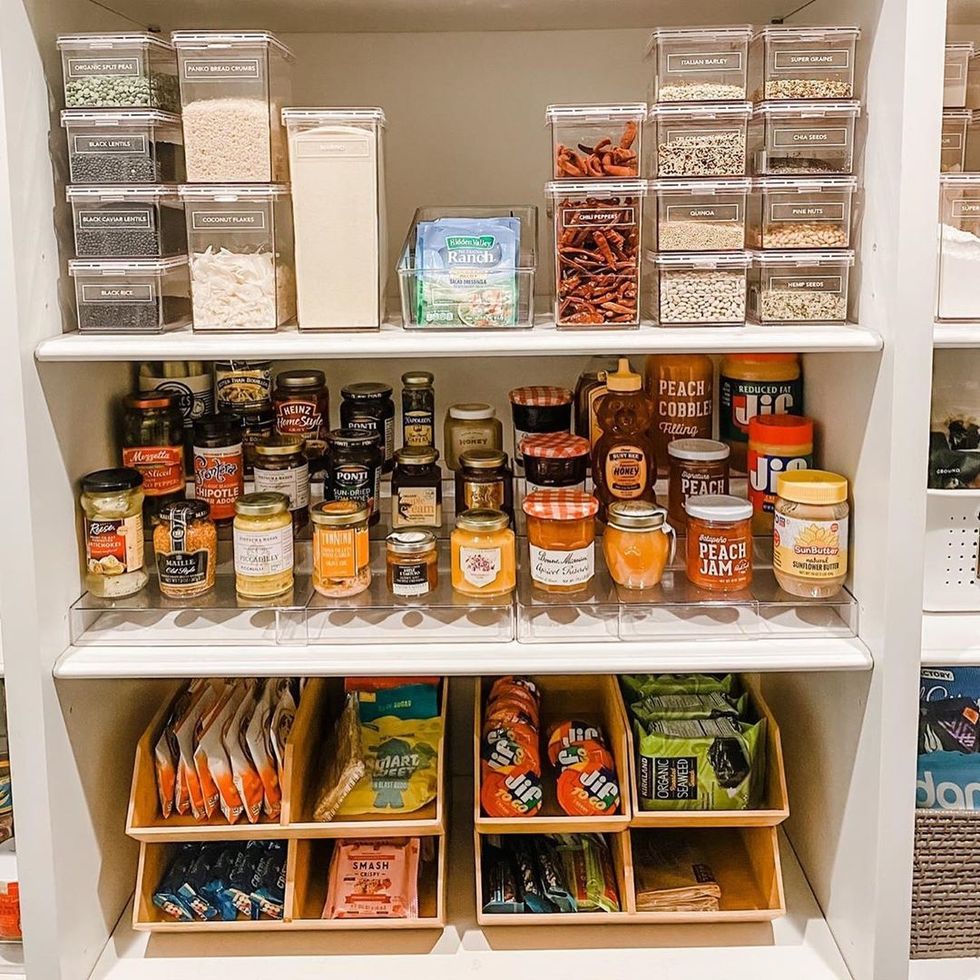 @chrissyteigen / Instagram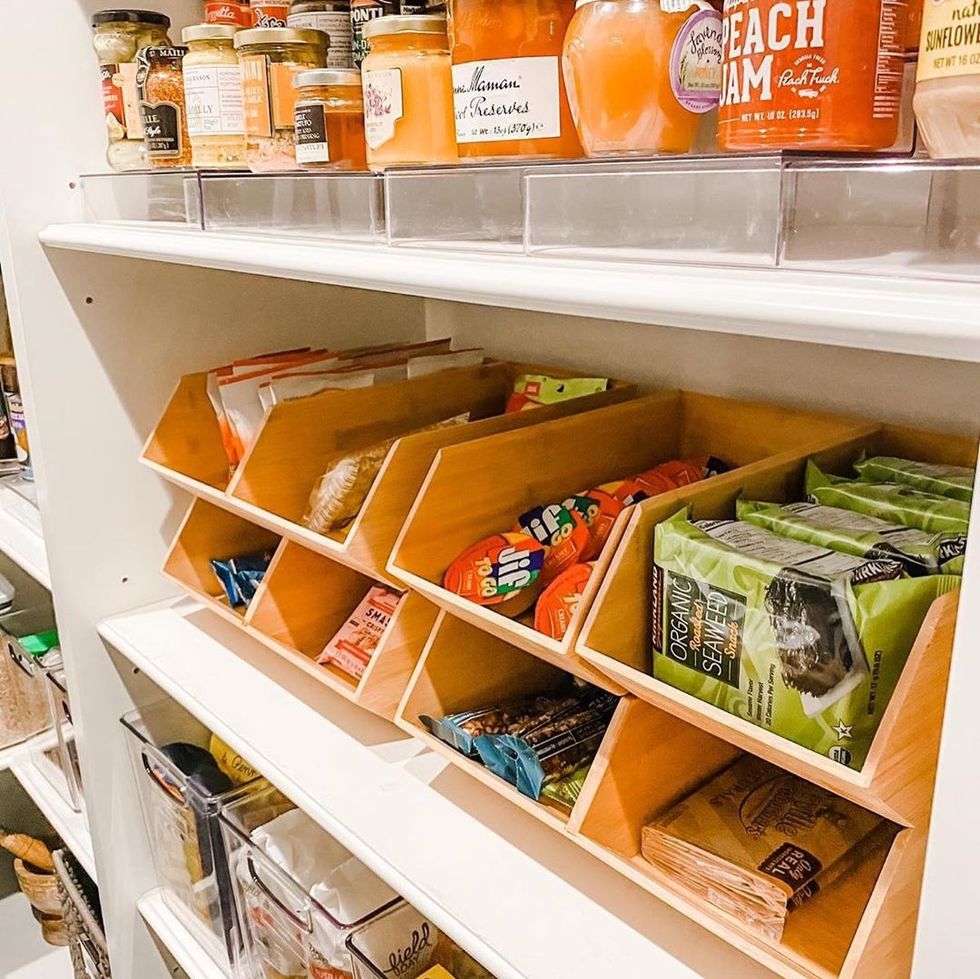 @chrissyteigen / Instagram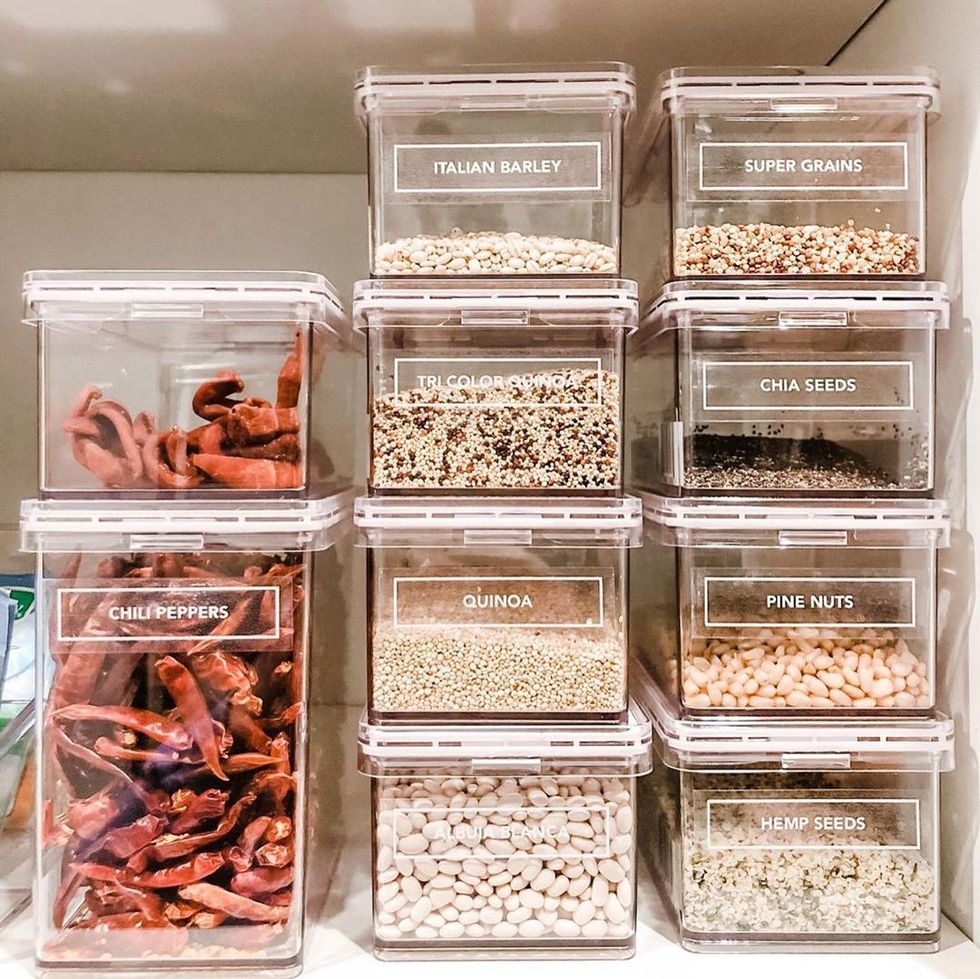 @chrissyteigen / Instagram
This is beyond just organized.
This is a dream pantry.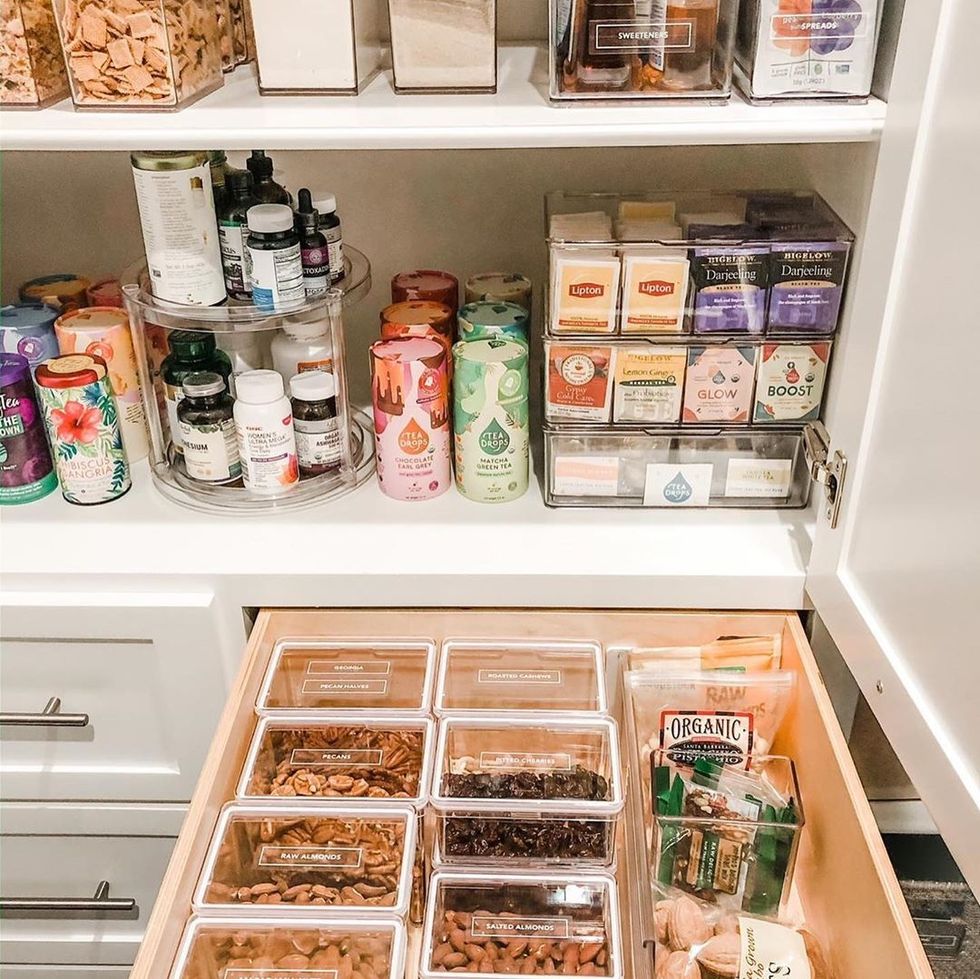 @chrissyteigen / Instagram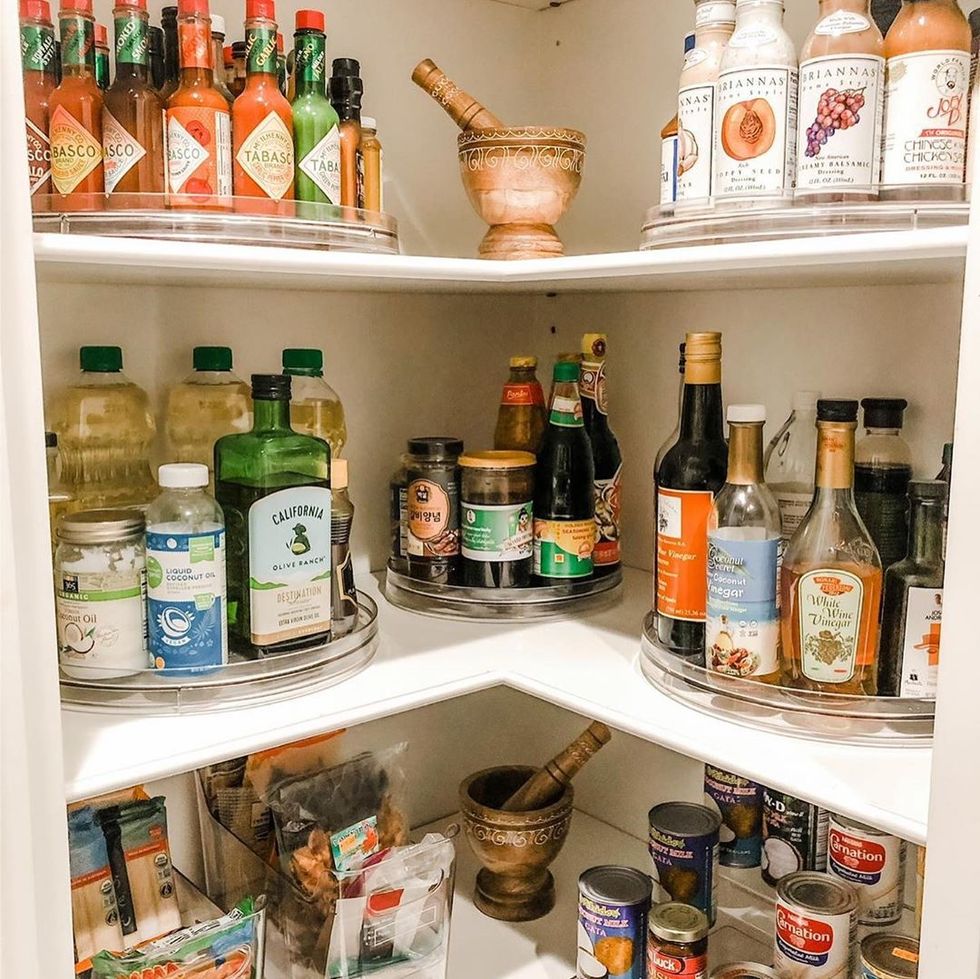 @chrissyteigen / Instagram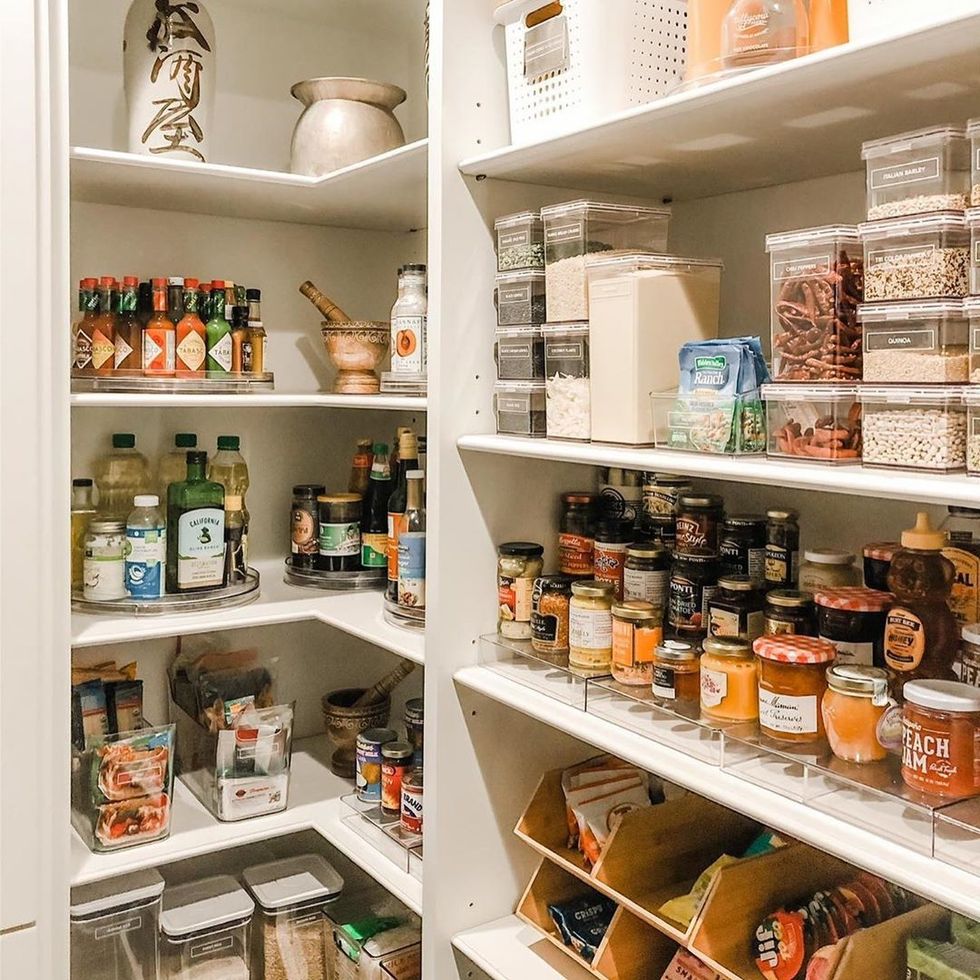 @chrissyteigen / Instagram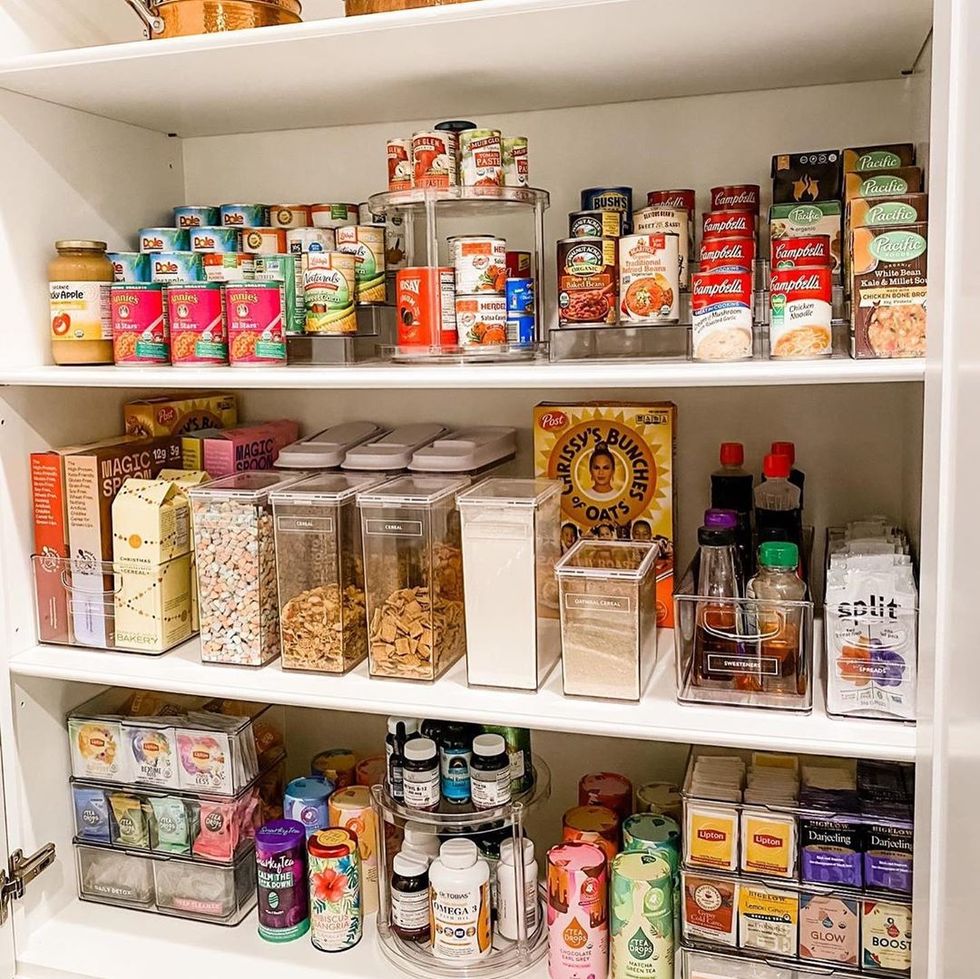 @chrissyteigen / Instagram
As someone who likes to do the cooking for my family, I've often considered reorganizing my pantry, but even those hypothetical plans have never gone this far.

The post went viral with everyone weighing in with praise on the post.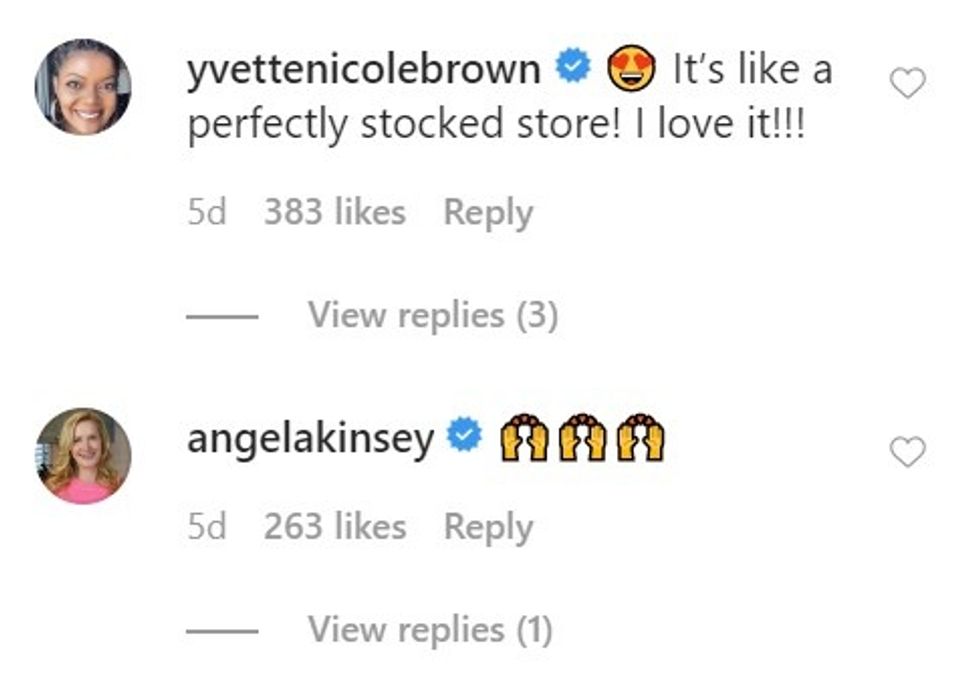 @chrissyteigen / Instagram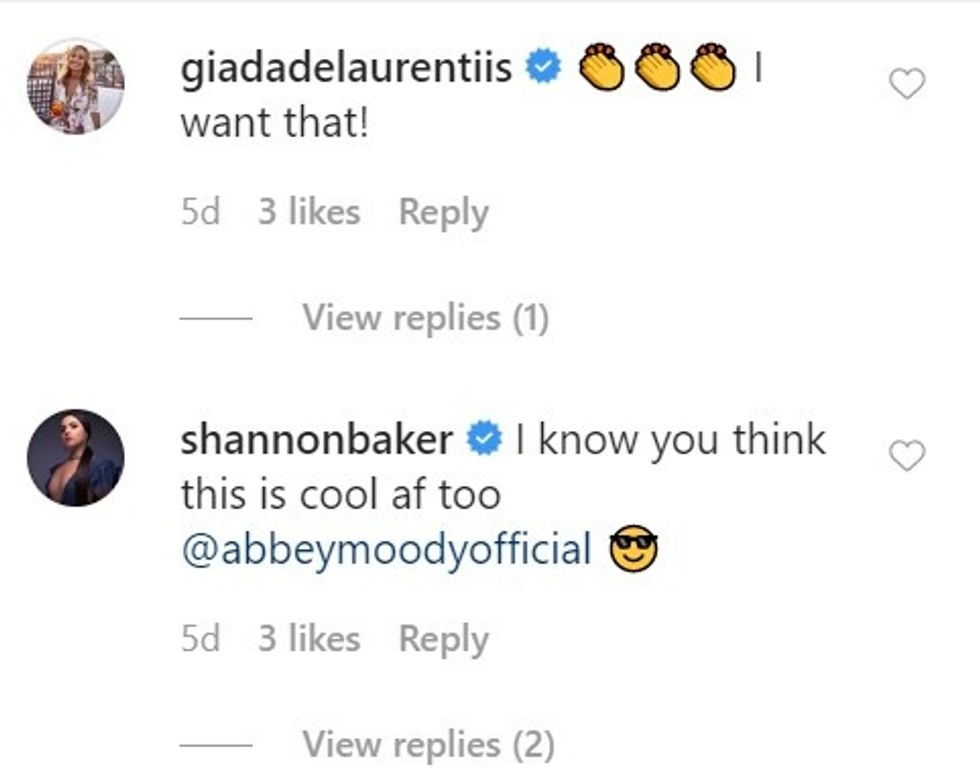 @chrissyteigen / Instagram
However, this also gives us a look into what Teigen keeps in the pantry, and it's amazing.

There's so much jam and peanut butter, snacks for the kids and well-presented spices and sauces for cooking. It's all displayed, with ease of access.
However, how many bottles of Tobasco sauce does someone really need?

@chrissyteigen / Instagram

@chrissyteigen / Instagram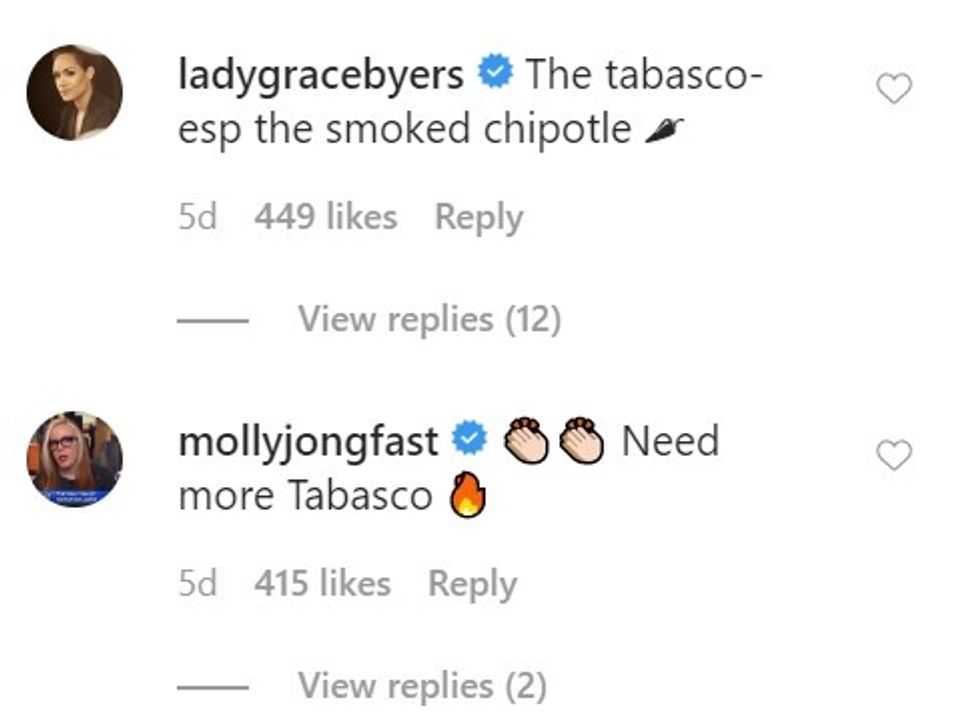 @chrissyteigen / Instagram
Now, this isn't just the case of the rich and famous having more time to do something we plebeians do not. They also have more money to hire someone to do it for them.

In the post, Teigen gave a shout out to RíOrganize, a business that offers "full-service luxury organization."
Ría Safford, the founder of the business shared her excitement to work with Teigen on her own Instagram.
In an interview with People, Safford shared her secrets to make the pantry not just pretty, but functional.

"This project was a partnership with iDesign and is a lot of the products we used are there. There were some additional products that I purchased on my own, but the main products are The Home Edit collection."
Clear and labeled bins, tiered shelves, and Lazy Susans keep things neat but also easily accessible. The whole endeavor is very impressive.
And Safford has every reason to be proud.
In addition to making the rest of us drool over her organizational skills, Teigen's post even had Marie Kondo stop by to praise the work.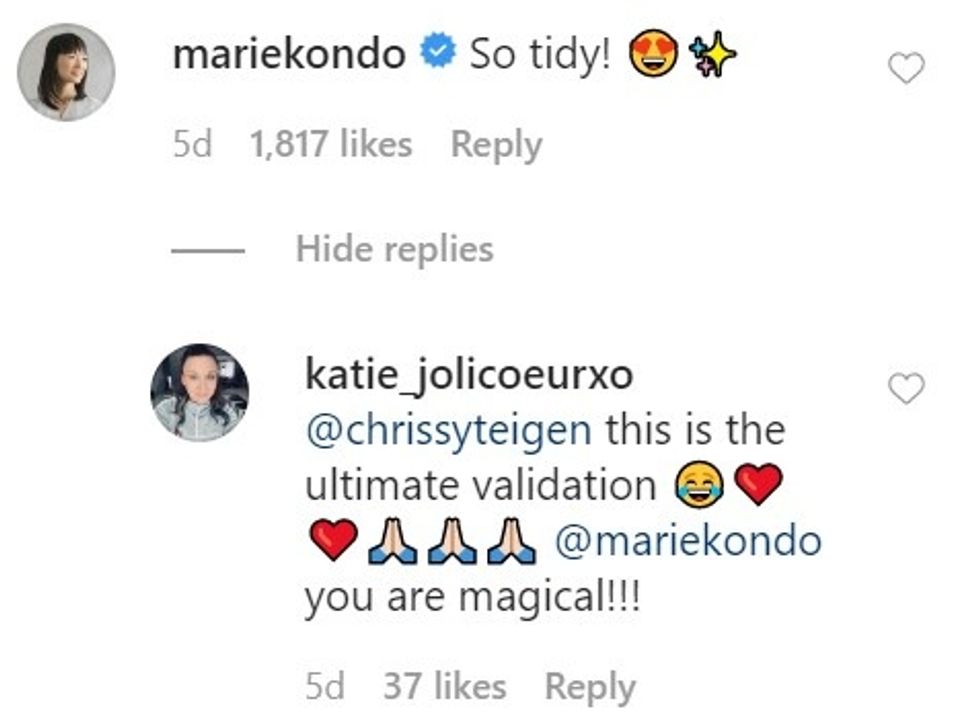 @chrissyteigen / Instagram

@chrissyteigen / Instagram
After seeing this, I might need to make plans for my own kitchen. At the very least, organizing all the tea I have should be a priority.

But after seeing Teigen's pantry, I'm considering stocking up on Goldfish.

@chrissyteigen / Instagram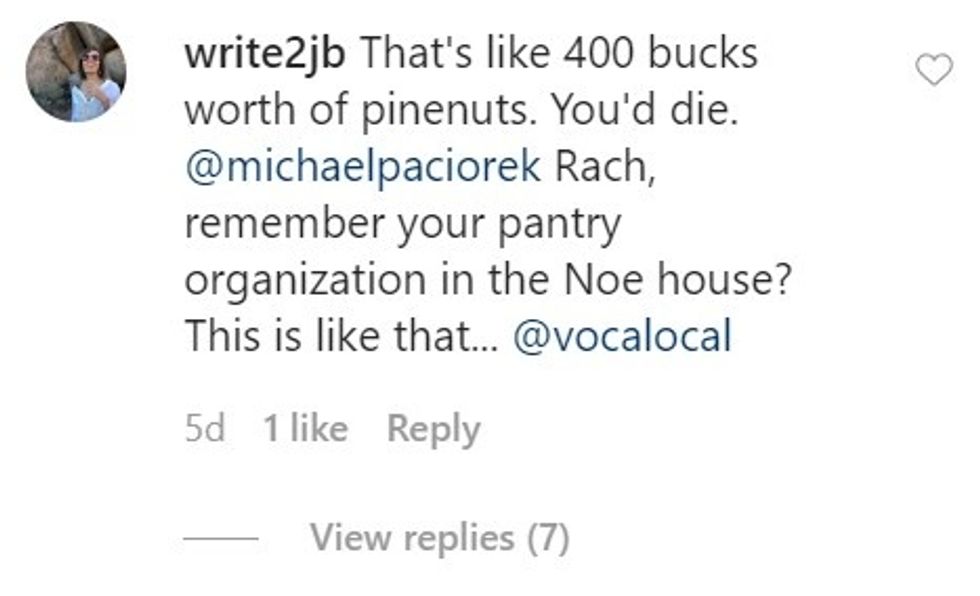 @chrissyteigen / Instagram
**

Keep reading...
Show less
Like all award shows, the 62nd Annual Grammy Music Awards seem to be as much about the outfits worn as the awards given out.
Chrissy Teigen and John Legend did not disappoint in the clothing department.
But taking risks with the wardrobe, for all the heads it turns, provokes savage trolling. Even if you're John Legend.
Teigen and Legend, married since 2013, appeared at Grammys 2020 wearing a couple asymmetrical spectacles.
Unsurprisingly, Chrissy Teigen stole the show.
Her bright orange dress dazzled with wispy layers and plenty of skin exposed.
Subtler Legend, who began the night with 10 Grammy wins and 30 nominations under his belt, didn't totally blend in himself.
His sleek, unbalanced Alexander McQueen-designed getup was all shine and textures.
But despite the warm reception of camera flashes and interviews along the red carpet, the internet has its own views about fashion.
Especially John Legend's fashion, apparently.
One Twitter user unleashed some tactful criticisms of Legend's look.
my boyfriend said "tweet chrissy teigen and ask her why the hell she let john walk out the house looking like a foo… https://t.co/CoBXxGqmOE

— Anna Mitchell (@Anna Mitchell) 1580099438.0
Note a couple things about that tweet.
First, she doesn't take full responsibility for the trolling. She insulates herself by quoting her boyfriend's judgment, opting to play the mere messenger.
The troll is hesitating, she's exposing a weakness that Chrissy Teigen will absolutely pounce on.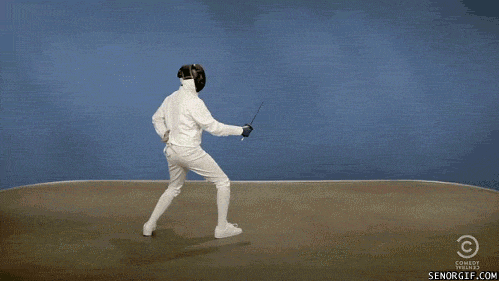 Giphy
But make no mistake—this is absolutely a troll move, as much about garnering a response as sharing a legitimate critique.

That's clear when she tags Chrissy Teigen, inviting a clap back from the clap back whiz herself.
That glowing orange dress apparently left full mobility and access to her phone, as Ms. Teigen was quick with a counter punch.
@annamitchell328 tell your boyfriend to button up his track pants

— christine teigen (@christine teigen) 1580099996.0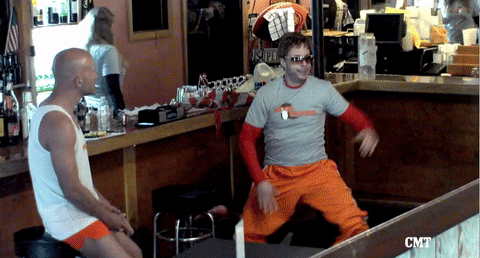 Giphy
Chrissy Teigen, fending off trolls even in the middle of the Grammys.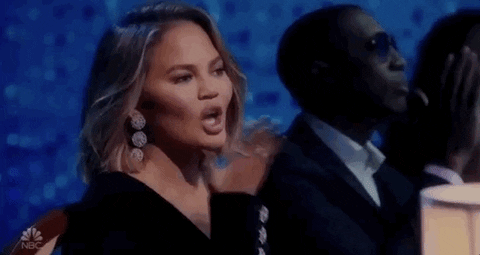 Giphy
Twitter loved the back and forth.
@chrissyteigen @annamitchell328 yasssssss queen

— sʜɑɴɛzɑ🌸 (@sʜɑɴɛzɑ🌸) 1580141933.0
@annamitchell328 @chrissyteigen The clapback queen is BACK! #youtriedher #sheneverleft

— erica addison (@erica addison) 1580189379.0
The original troll had absolutely no problem being taken to task either.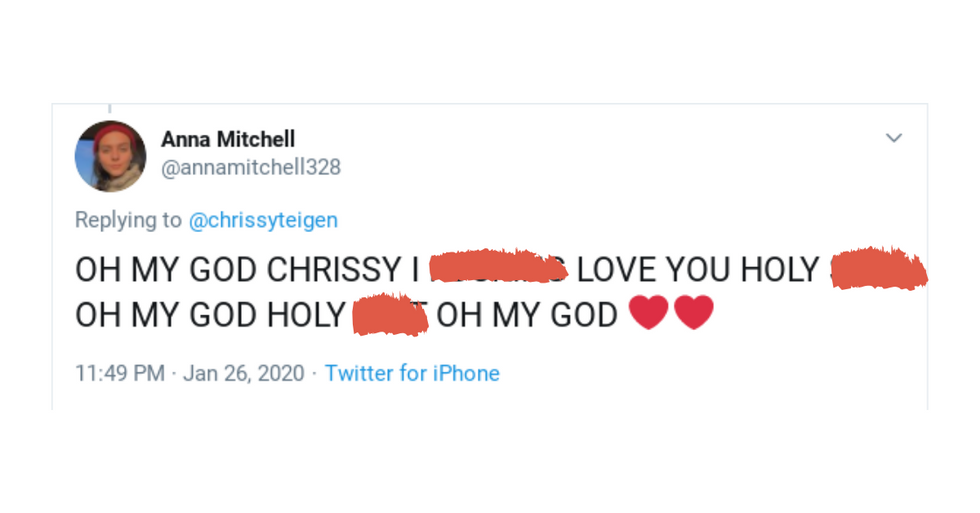 @annamitchell328/Twitter
But Legend, in fact, gets the last laugh here.
While this whole spat was going on, he was busy raking in his 11th Grammy, this one for Best Rap/Sung Performance, which he shared with DJ Khaled and Nipsey Hussle.
(Quick sidebar that this wasn't the only trolling that went down around Grammys 2020. Tyler, the Creator had to swat away some insults himself.)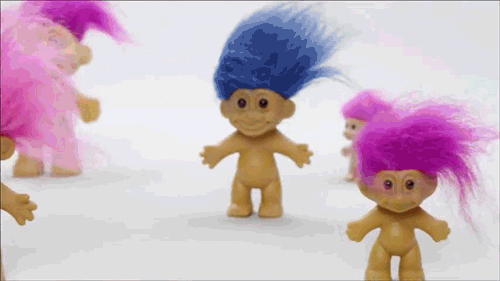 Giphy
After the quick defensive maneuver, Teigen quickly moved on from track pants-based insults, opting to spend her time doing some celebratory grooving with her boo after the big night.

11rh Grammy. Congrats my love, let's have a drank https://t.co/CcQdYTVNcJ

— christine teigen (@christine teigen) 1580107289.0
Par for the course for Teigen, she kept us all filled in right up until the end, reflecting on a night when everything seemed to be in the right place.
home. kissed my family hard tonight. love you guys.

— christine teigen (@christine teigen) 1580117342.0
Alas, for all Teigen's clap backs, she appears to have plenty going on outside the virtual world to cushion any blow that might be sent her way.
Keep reading...
Show less
Cookbook author Chrissy Teigen and judge of NBC's Bring the Funny served up some giggles this week while going through airport security.
The Transportation Security Administration has strict rules when it comes to allowable food items, and keeping track of what can or can't be packed in a carry-on is daunting for the casual jet setter.
So what about gravy?
The 33-year-old model wondered if airport security would give a thumbs up for her cold gravy to travel with her.

While filming her traveling companion tilting the Tupperware with the substance in question, Teigen asked:
"Is it a liquid? Or is it a gel? Or is it gravy in a solid form?"
let's play "is cold gravy tsa approved" https://t.co/ykxh0pJ1l6

— christine teigen (@christine teigen) 1561483323.0
Her followers were concerned about why she was smuggling a whole container of the good stuff.

@chrissyteigen IDK, but why do you have that much cold gravy?

— becca (@becca) 1561483492.0
@notrachel @chrissyteigen For the turkey she has in her purse. DUH!

— Tara Hunter, MNM 🏊🏾‍♀️🚴🏾‍♀️🏃🏾‍♀️ (@Tara Hunter, MNM 🏊🏾‍♀️🚴🏾‍♀️🏃🏾‍♀️) 1561483643.0
One suggested she dump the contents into a diaper to ensure safe passage.
@chrissyteigen Just store it in a diaper. They won't dare touch it.

— Tom Megginson⚡️adperson (@Tom Megginson⚡️adperson) 1561483372.0
Twitter contestants weighed in based on past experiences or word on the street.
@chrissyteigen They made me dump my $15 jar or white chocolate peanut butter I was trying to bring home from Hawaii… https://t.co/7kVnUVWJsL

— Gina (@Gina) 1561484046.0
@chrissyteigen I hear that if you FREEZE queso you can bring it through security. Not that I tried to bring back… https://t.co/3rQhbg6KgV

— Ashleigh (@Ashleigh) 1561483484.0
@chrissyteigen I had a solid as hell fig jam from the Italian market in Philly and the bastards jacked me for it. I… https://t.co/Mw6ZlJ3dPM

— washed feeling (@washed feeling) 1561485115.0
Did the gloopy sauce make it on board?

Over 36,000 people responded to Teigen's online poll and a good majority voted, "Yes! It wasn't a liquid."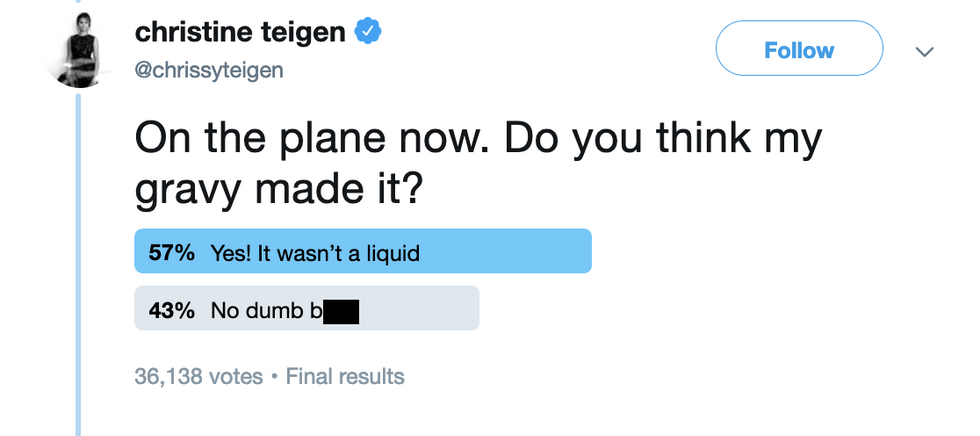 @chrissyteigen/Twitter
Permission was contingent upon one thing, and it's a bit of a mush.

results: cold gravy IS allowed if you mix it with mashed potatoes https://t.co/HKJGdl9CFq

— christine teigen (@christine teigen) 1561484009.0
I guess I forgot to tell you about the potatoes

— christine teigen (@christine teigen) 1561484141.0
@chrissyteigen Definitely not a time to say "these are some bomb mashed potatoes and gravy."

— DanDan The Elephant (@DanDan The Elephant) 1561484118.0
@chrissyteigen I'm so glad the TSA has finally solved terrorism.

— Shelby Petersen (@Shelby Petersen) 1561484158.0
@chrissyteigen that's why it's called the gravy train not the gravy plane, Teigen

— Scoop K (@Scoop K) 1561484206.0
Here's a tip for those traveling with their own nosh.
TSA spokeswoman Jenny Burke told USA Today:
"The general rule of thumb is that if you can spill it, spread it, spray it, pump it or pour it, then it should go into a checked bag. Liquids in carry-on bags must follow the 3-1-1 liquids rule."
The TSA's website says gravy is allowed as long as it's less than 3.4 ounces, but Burke added that the ultimate decision rests on the TSA officer on whether or not food items can pass through the checkpoint.

Just pass the gravy, please.

Keep reading...
Show less
Chrissy Teigen and John Legend are well known online for their very real presentation of parenting. They don't sugar coat their lives for social media, and that includes talking about their kids.
Chrissy Teigen recently talked with People about how important it is that parents support each others' decisions and share the role of the "bad guy."

"You just have to be on the same page all the time because it's not fair when there's one bad person [or] a bad guy."
"No one wants to be the bad guy, so it's helpful when you're all the bad guy. It's important to be on the same page."
The couple support each other's decisions, sometimes leading to sharing the "bad guy" role.
Chrissy's mom, Vilailuck (a.k.a. Yai), is also part of this process.
Chrissy said that Luna will sometimes approach one of the three, then not liking their decision, approach one of the others to try to get a different answer.
"Luna thinks she can get away with things with us or take things to certain people."
"I'm like, 'No, we're all in this together. Sorry, we're on the same page. If Yai says you need to apologize for this, I'm gonna say the same thing,'"
This tendency to go from one parent to another to get a better answer is something that a lot of kids try.
There is a pretty common stereotype in heterosexual couples that dads are the "fun" parents, the ones more likely to let kids get away with something, while moms are in charge of discipline and saying "no."
The couple's method of sharing that "bad guy" role leads to more consistent parenting.
Teigen did say that John is still the "easier" of the two, but only when it's "meaningless stuff" like letting Luna have string cheese 20 minutes before dinner.
Teigen joked about that particular incident during the interview:
"But I'll be like, 'Oh, you're having string cheese for dinner. Okay, well, it's 20 minutes until dinner, now you're gonna be full.'"
"And when you talk to the kids you're really talking to your husband. You're like, 'Well, you shouldn't have had that 20 minutes before dinner because Mommy is making fish sticks, but I guess you're gonna be a little full now!"
Social media users love how open Teigen and Legend are about the realities of parenting.
Teigen's frank posts about their lives together are a refreshing change from the picture perfect versions many people portray.
I am so happy that I'm alive at the same time as @chrissyteigen & @johnlegend and @daxshepard & @IMKristenBell Non… https://t.co/jWqSmzZZOz

— SarahLynn (@SarahLynn) 1555893155.0
@chrissyteigen Is it too late at the age of 30 to be adopted by @chrissyteigen and @johnlegend? Seriously. These tw… https://t.co/hf9pe2q87b

— Tessa Rickart (@Tessa Rickart) 1555882795.0
I fully plan on taking parenting tips from Chrissy Teigen and John Legend

— Jess (@Jess) 1555349399.0
Legend seems to be following through with what he said in a 2016 interview with Entertainment Tonight before Luna was born:

"I'm not one of those people that's like 'well my boy can do anything he wants, and then my girl's gotta, you know, be in the convent."
He said that it was more important to him to teach his future kids to be confident, "good people."
That's the way all parents should be!
Keep reading...
Show less
We are no strangers to talking about Chrissy Teigen. She is highly relatable and also absolutely hilarious. However, she shines the most when she's both.
Teigen was with her husband, John Legend, to watch the Miami Heat in Florida. It was the final regular season home game for Dwayne Wade before he's set to retire.
And he must have wanted to go out with a bang, because he took a dive into in the audience, ending up in Teigen's lap.
Hey @chrissyteigen, let us know if you want a copy of this one. Photo by @CTJPhoto #OneLastDance #HEATCulture… https://t.co/U1dTYu8VAW

— Miami Herald Sports (@Miami Herald Sports) 1554864552.0
I'm not a professional athlete, but I have a feeling you aren't supposed to do that.
Lucky for Wade, Teigen was a good sport about the whole situation. It probably also helped that she was there with Gabrielle Union, famous actress and Wade's wife.
It looked like she was ready to chew his ear off after he crashed into her friend.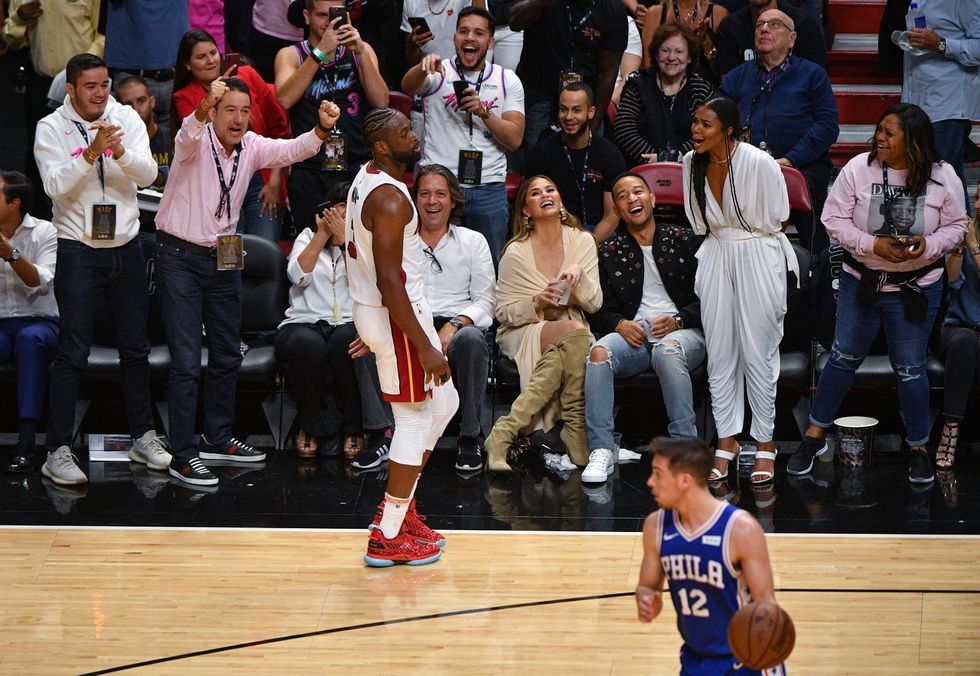 Mark Brown/Getty Images
The internet also enjoyed the photo so much. It was caught at just the right moment, with Teigen and Legend reacting as most anyone would in the situation. However, Wade's expression is still so focused on the game.
It creates the kind of dynamic you don't find in a normal photo. It's like a lightning strike. It's a work of art.
Or as everyone else says, a renaissance painting.
😂 a renaissance painting https://t.co/ZKlD1Ch2gJ

— christine teigen (@christine teigen) 1554865025.0
Okay, y'all know that picture of @chrissyteigen, @johnlegend, and @DwyaneWade that everyone's saying looks like a R… https://t.co/3bvecgIiSB

— anna (@anna) 1554964893.0
This portrait of @DwyaneWade falling on @chrissyteigen and @johnlegend is hilarious 🤣 https://t.co/cBYIfTxnFD

— James Rawl (@James Rawl) 1554904893.0
LEFT: "The Raising of Lazarus" by Caravaggio (1609) RIGHT: "The Raising of Dwyane Wade" by Chrissy Teigen and John… https://t.co/SlkPoMkYe2

— Mike Beauvais (@Mike Beauvais) 1554867756.0
If you focus on any one portion of the moment of impact, you're bound to find something new. I personally enjoy the near perfect symmetry between Teigen and Legend as an athlete lands in their laps.
Maybe you're the romantic type, and instead, I'll draw your eye to Wade's left arm, which is being cushioned by Union. She's obviously ready to catch her hubby.
It's the kind of photo that could be studied for ages.
But this is the internet, so let's just turn it into a meme.
@HeraldSports @chrissyteigen @CTJPhoto Could this be a meme? https://t.co/y6aRT4arjP

— Andrew Hunt (@Andrew Hunt) 1554866024.0
a vibe. @chrissyteigen @johnlegend @DwyaneWade https://t.co/MfhE6N7tbX

— Chelsea Glosser (@Chelsea Glosser) 1554999487.0
Chrissy Teigen and John Legend catching Dwayne Wade falling is the renaissance-level meme template we've all been n… https://t.co/D4TPD460En

— gentle png file (@gentle png file) 1554952119.0
#OneLastDance @DwyaneWade is that over protective young brother your father tells you to go with on your first dat… https://t.co/bWrjscaxsY

— Mutebi Alex Kato 🐐 (@Mutebi Alex Kato 🐐) 1555007099.0
This is so amazing!!!! 🤣😭 @chrissyteigen @johnlegend @DwyaneWade #LastDance #WadeCounty https://t.co/WwUNCIZazJ

— Phillipa Stephenson (@Phillipa Stephenson) 1554949307.0
The photo is sure to be remembered in the annals of history as a moment of pure art. Either that, or it's going to be the reaction image people use for a day and a half and promptly forget about until someone makes a "Best of 2019" article.
Whatever the case, it's great it can bring some joy to the internet. I just hope the next time Teigen makes the internet laugh, it's a little more on purpose.