People Share The Animals That Don't Get The Love And Recognition They Deserve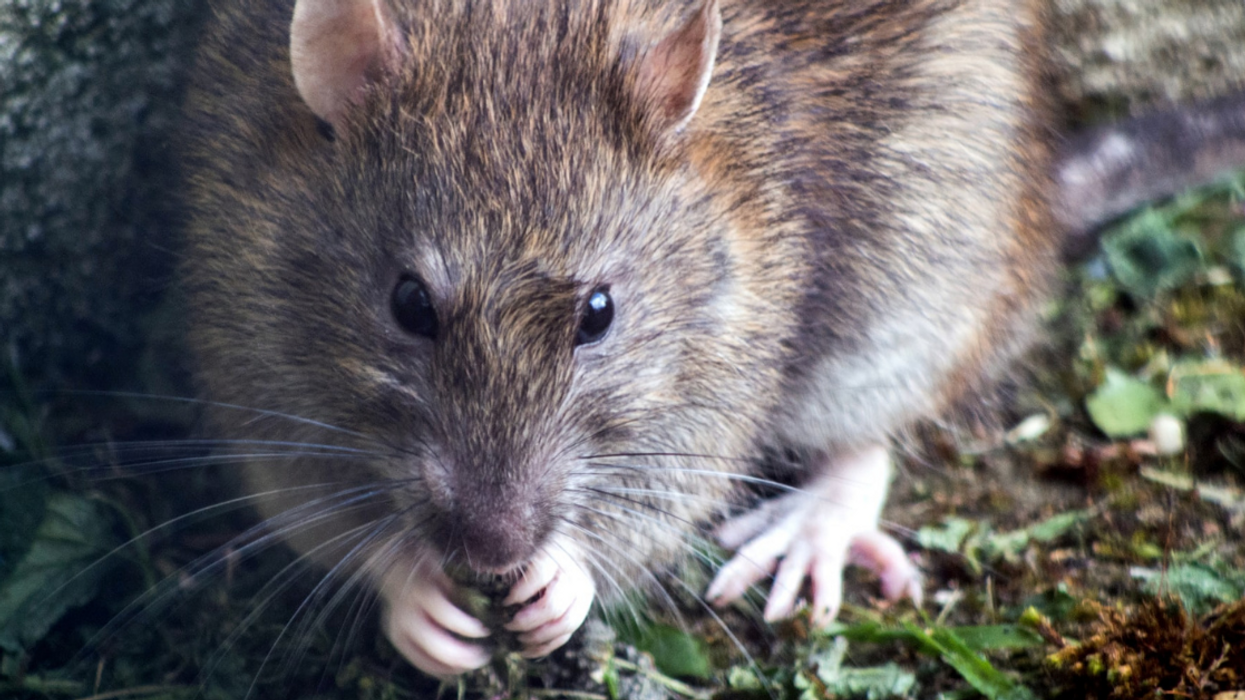 Hello dear readers,
Do you have a moment to talk about how Disney owes hyenas a huge apology?
Shenzi, Bonsai, and Ed may have been hilarious and iconic characters, but they also convinced people that hyenas were unintelligent, sneaky, and evil.
I'd like to have a word about that.
---
Hyenas are incredibly intelligent, both as individuals and when working together as a group. The hyena regularly out performs chimps in intelligence and teamwork tests.
Uh huh. Take that, Bubbles and Curious George. (He's a chimp, not a monkey, deal with it. Don't @ me.)
Hyenas are demonstrably smarter; but we think of chimps as furry little brainiacs. Make it make sense!
You want girl power? Forget Nala.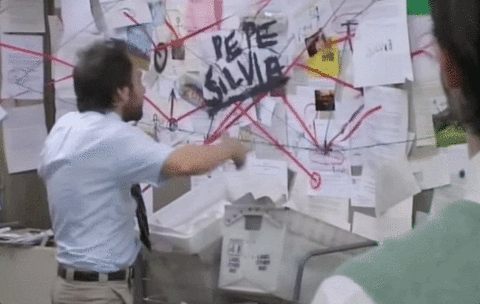 Always Sunny Reaction GIF
Giphy
You want hyenas for that. Their society is led by the girls, female hyenas are bigger and stronger than the boys, and the ladies aren't afraid to get scrappy.
They're also thought to be among the best mothers in the animal kingdom. Hyenas invest more energy per cub than any other terrestrial carnivore...
Far more than lioness, DISNEY. Y'all out here making Sarabi look like the distraught mother the whole movie and it turns out she probably didn't even notice Simba was gone...
While I appreciate Jasiri as your "good hyena Lion King character to make up for the movies" and acknowledge that Sisi Ni Sawa is a bop... I remain salty.
Lots of readers literally had no idea what that last paragraph meant, which is exactly my point!
It wasn't enough. Hyenas deserved better!
Reddit user sqnyq asked:
"Which animal do you think deserves more love and recognition than it gets?"
So yeah ... I don't really have a passionate and long-held opinion on this completely asinine matter at all.
Backyard Buddies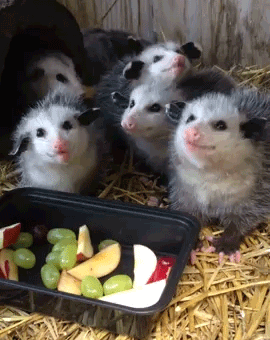 Giphy
"The opossum!"
"Eats ticks and pests, rabies resistant, carries cute babies on its back, has a bunch of teeth, marsupial!"
- impregnatEcOpWives
"Omg yes!! Every time I've ever seen a opossum they've been the chillest wild animal I've ever met."
- xchakrumx
"Yus! They eat ticks, which helps combat lime disease."
- Triborg501
"And they have little fingers 😍"
- ipakookapi
Diseased Flesh Eaters
"Turkey vultures."
"Hear me out: they look ugly AF, but they're gentle creatures who just clean up the environment naturally."
"If they get too scared, they will vomit themselves. They can eat diseased flesh without taking on any illness. They live in a flock, and are tied to their mates until death."
"They're also endangered in some areas."
- boomblebeez
"They were my favorite animal as a little kid and my family could never understand why lol"
"But they are just freaking rad. Also turkey vultures are so HUGE up close it's amazing."
- xchakrumx
Keep Count
"Backyard birds."
"Set up a bird feeder and see how much enjoyment you can get just by watching and counting the different kinds of birds that show up."
"From my old deck I was able to identify 28 different species of birds."
- Feels2old
"I love the birds in the green space outside my flat!"
"I get robins, sparrows, great tits, big dumb wood pigeons, woodpeckers, Eurasian jays, and the occasional pheasant. They're all adorable, my cats and I have lots of fun watching them."
- burgeremoji
Criminal Masterminds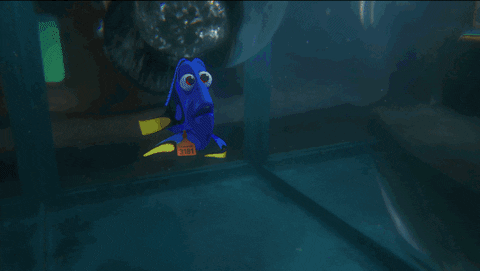 Finding Dory Octopus GIF by Disney/Pixar's Finding Dory
Giphy
"Octopus are very intelligent creatures and fascinating to watch."
- bagpipesfart
"I love that story about a big aquarium having fish going missing from a lot of it's tanks, so they put up some cameras and their octopus turned out to be the culprit."
"It climbed out of its tank, walked over to the other tanks, jumped in, munched down some fish, climbed out, walked back, and put its lid back on."
- ipakookapi
"Not only that, the octopus actually memorized the guards walk around pattern to time its escape so that it didn't get caught!! Crafty little bugger"
- RazvanDubrinsky
"My favorite is the one that was being 'annoyed' by a light above its tank, so it figured out that it could shoot water at the light to cause it to short circuit and turn off."
"This also caused a bunch of the aquarium's other electric systems to short out, causing a bit of a commotion."
"Several people question his motives; believing that it wasn't about the light bothering him, but because he enjoyed the resulting commotion."
"Considering that some of the other stories about him show he was a sassy little thing, either one wouldn't surprise me."
- GrimmSheeper
Bad Press
"Sharks, they do get recognition but most of it is negative. Sharks are 👌👌"
- --Dominion--
"Sharks are my fav animal."
"A couple years back we went on vacation to Florida and I went snorkeling with sharks with no cage just open ocean."
"It was easily the best, most relaxing, experience I've ever had. I think there was about 4 different kinds of sharks (I only remember lemon and bull sharks) and they were beautiful."
- manbamtan
"My favourite shark fun fact. They are older than the rings of Saturn."
- lenny_ray
Irritating Humans
"Spiders."
"Most are harmless to humans and they get rid of irritating bugs."
"They are also perfect for keeping away irritating humans."
- falkordragon233
"Nice choice."
"As long as they're not venomous, it's literally just a little guy living in your house and eating flies and mosquitos."
- ipakookapi
"Thank you!"
"I adore spiders. I got into macro photography for a while and spiders are my favorite to photograph - they're often so much more beautiful than we realize."
"And those little jumping spiders are the cutest darn things ever."
- BlacksmithAlert1313
Interesting Death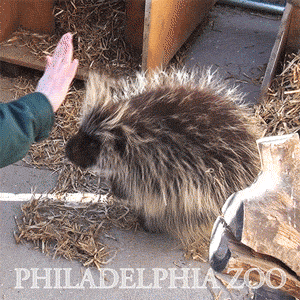 oscar keeper GIF
Giphy
"I like porcupines and find them interesting, but they smell like stale death."
"Any I've been near smell horrible and carry a cloud around them. It's entirely possible my experience is an outlier; I've only encountered them a few times, so I could be misled by a narrow sample."
"But the smell was assaulting. Still like them!"
- Dangercakes13
"Used to work at a zoo in my teens. Porcupines are super stinky to ward off predators."
"We used to rock paper scissors for who was going to pull weeds by their enclosure."
- SuparToastar
"I love them. They're cute and make cute noises. Also, have some of the best defense mechanisms."
- frostmasterx
How Many More Bugs
"Bats are one of the most beneficial animals on the planet."
"A single bat can eat over 1,000 insects in one night of feasting. Take into account the largest bat colony is in Texas and is about 20-40 million bats (depending on time of year)."
"Think about how many more bugs there would be without those bats."
- Winter-Life8196
"They are cute and fascinating and we should all be proud of them, they're the only mammals who have managed actual flight."
- siani_lane
"Upvote for skypuppies! Pollinators, bug eaters, they're so biologically important."
- trocarkarin
Incredible
"Donkeys. Grumpy horse with bunny ears 😍"
- ipakookapi
"Yes!"
"They're stronger than horses, which is probably why they're carrying around all our stuff. They have great memory and bond for life."
"The reputation for stubbornness comes from the fact that they refuse to move if they feel they're in danger rather than run away."
"Horses flee. Donkeys stand their ground."
- dustnrose
"I love horses, been around them most of my life. But donkeys scare me, precisely because they don't have that same fleeing instinct as horses."
- imlumpy
"They're so close to horses but are suddenly so heartful and loving and they show affection in a very visible way."
"They can also cry if they miss someone and they usually come to greet people like dogs do."
"I'm your average dude, but they have a soft spot on me 😅"
- Yukazaka
"Fun fact, some farmers keep donkeys to protect their horses from coyotes and wolves. Donkeys will stomp the sh*t out of coyotes and that is incredible."
- JauneStrife
Pocket Puppies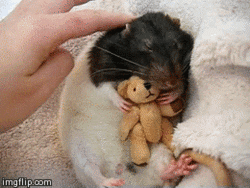 sleepy photos GIF
Giphy
"Rats."
"They are incredibly smart, sweet, and social animals."
"One reason why they are often used for experiments (lab rats) is because they are so socially similiar to us humans. That gets more and more heartbreaking the longer you think about what that means."
"Rat Park is a great read about an experiment on how our life conditions affect likelyhood of drug addiction."
- [Reddit]
"100% I was scrolling to see if anyone had said this."
"I am a huge dog person but it wouldn't have been fair to have one in college. Rats are amazing and as rewarding as dogs."
"They are just as smart and loving. They learn tricks, love to cuddle and play."
"Sammy and Oliver got me through some of the lonely times of college."
- Dance-Various
"Totally agree, my ladies are so smart. They are way better trained them my cat."
"My favorite nickname for then is pocket puppies."
- supercalisto
Yucky Heroes
"Carrion feeders of every stripe."
"They are the heroes of the animal kingdom, providing important steps in decomposition and reclamation of matter, and people think they're yucky."
"If you hit an animal with your car, and are able to stop, please stop and move the animal to the side of the road, it helps prevent carrion feeders from getting hit by cars later."
- kharmatika
Genes Are Jerks
"Okay so I know a lot of people hate pandas for them eating bamboo even though they're designed to eat meat, but it's not because they're stupid. They lost their taste for meat."
"A gene they had which 'motivated' them to hunt and eat meat somehow disappeared. It's not like they can control that."
"And people also say they don't mate on their own. Well god made female pandas go into heat for only three flippin days out of an entire flippin year! That's it!"
"Since their population numbers are so low and they don't exactly live in herds, what are the chances a male and a female are going to see each other in that time frame?"
"Exactly. Haters."
- Horror-Award-1144
Snake Spotting
"Crows. They are so intelligent!"
"When i was 14 working at a farm, some crow opened our chickens door. It didn't go in, it just opened it."
"The door was there to keep specific chickens separated from others, so I was annoyed like why the f*ck would a crow just open that door?"
"Anyways I closed it. A few minutes after I stepped away, the same crow opened the door again."
"This time when I went, I took a look. I was shocked."
"There was a huge snake in that enclosure with the chickens and the crow was literally trying to help the chickens to get away from the snake!"
"People just look at them as some useless bird or whatever but they are not."
- SolubleSlug
Little Tie Fighters
"The termite."
"They are fascinating and they know when it's going to rain!"
"The termites have a caste system. The soldiers will boot out the aeletes only when it will rain within 24 hours."
"Aeletes are winged reproductives; they will fly out of the nest and try to start a new one. They look like the tie fighters in Star Wars: four fixed wings like a biplane."
"They are harmless; you will see them in the evening with low wind, about 70% humidity and 30 degrees C. [World's American, I know. I wasn't brought up with Fahrenheit] "
"That's also a survival tip. If you see the winged reproductives flying then it's going to rain soon. Go to higher ground, prepare to collect rain etc."

"There are many different kinds of termites. Many have not yet been discovered."
"Some are similar to cockroaches in the way they lay eggs; the Giant Northern Australian termite. Others use parthenogenesis to reproduce. For instance, the French Guianan termite."
- Dense-Independent-66
Beaver Baddies
"Beavers."
"Did anyone say that yet? If they did, please know they are an awesome person. Please learn why! Links included because don't take my word on anything."
"Beavers are incredibly hard workers, capable of the same level of decision making and precision that goes into our construction of dams or homes or chopping down trees. There ears can sense the slight trickle of water indicating a leak."

"In a story linked below the arrival of settlers in the 1800's wiped out beavers in one area effectively destroying the ecosystems that the beaver dams had created and wildlife depended on. The loss of beavers was still so profound that HUMANS started to make their own beaver dams!!"
"Then like the born workers they are, a few beavers must have heard through the grapevine and took over what humans were doing with far more than their teeth and bare hands."
"They work so hard. Their work ethic is better than any humans. They are always on call. No nights off."
"Now, I truly admire the team work and socialist structure of most any colonies, but beavers can build dams that transform its environment and create their own mini ecosystem. They are incredibly important and considered a keystone species."
"The largest beaver dam is half a mile long and started in the 70's and is located in Canada. That's generations of beavers dedicated to the 'family business' of continuing this huge dam."
"They of course continue to MAINTAIN a dam a half mile long. Made of just sticks and trees and mud and whatever other tricks they have. I have the utmost respect for their abilities and contributions to their environments!"
"Seeing videos blowing up their incredibly hard work makes me sad. I get it, someone's poor garden is flooded and we can't stand for that. Or someone's property is filling with water and they have the right to not want it to."
"But, it just seems so horrible to destroy something so incredibly built and with such hard work and dedication and brain power that we need to blow it up to take it down."
"For the record, I get that beavers can cost millions in damages to property and some support trapping when their numbers get high or they become a problem."

"But, I just truly hope animals have the capacity to just laugh at a species who's numbers are growing faster than the environment can handle or support, whom quickly destroy and invade their homes before they take over and are everywhere, who cost thousands and thousands of years of growth and strength and survival in trees every year with their destruction, that species having the NERVE to point to others as needing help being controlled."
"Calling others destructive or a nuisance."
"The best part is saying with a straight face how another species population is growing too fast and too large and needs to be culled and controlled!"
"I know, I'm human. But even if it's just us, it still feels hypocritical to say."

"BEAVERS ARE AMAZING (Just don't think about the rodent thing)"
"Sources:"

"https://www.science.org/content/article/beaver-dam..."
"https://phys.org/news/2010-05-world-biggest-beaver..."
"https://www.mentalfloss.com/article/67662/sound-ru..."
"https://www.bu.edu/articles/2015/beavers-vs-humans/"
"https://www.sciencefocus.com/nature/why-do-beavers..."
- Rgsnap
You've heard Reddit get all Steve Irwin and champion for animals that don't get enough love.
Now it's your turn, wildlife warriors!
What creatures don't get the love they deserve?
Want to "know" more?

Sign up for the Knowable newsletter here.

Never miss another big, odd, funny or heartbreaking moment again.
Medicine is a difficult profession. Thanks to the wonder that is human nature, healthcare workers are subjected to incredible Darwin-award-winning scenarios daily, so it's no wonder that many of them feel the need to go home and scream into their pillows at night. From self-inflicted injuries to dangerous prescription misuses, these Redditors revealed the most facepalm-worthy patients they've ever encountered.
But be warned: They'll all leave you wondering how we've survived this long as a species.
In almost every interaction with a Karen, there will come a point where she (or he) will ask to speak to the manager. They seem to think that if they over others and just act a fool, they can get what they want—but the following managers REFUSED to let these Karens get away with their inconsiderate antics.
In the United States, it's no secret that sex education for minors is inconsistent at best.
But some people learned very unexpected stories about how babies were made, and those stories had a way of making a lasting impression.
Curious about other's stories, Redditor ILoveYourCat asked:
"How did you think babies were made when you were little?"
One Time's the Charm
​"I knew babies came from sex as a fairly young child. My parents never sugar-coated that. But for some reason, as a kid, I thought you only had to have sex once to have multiple pregnancies. I seriously didn't fix that misunderstanding until early middle school."
- Crazey1988
"At some point, when I finally accepted that you had to have sex to have a baby, I thought the only time people have sex was to make a baby, and it only took one time to get the job done."
"Then when I figured out teenagers were having sex, I thought you had to be married and have sex to make a baby, but then when my unmarried cousin got pregnant, I was just confused."
"But I was sure my parents only had sex four times, and then when my mom got pregnant with number five, I thought, 'Wow, they did it again.'"
- Raw_Combination_438
Stealing Storks
"A stork delivered them, of course. What the f**k, lol (laughing out loud)."
- Dells51
"Storks... I thought people trained them to steal babies from a factory and you would leave special treats on your doorstep as payment and encouragement for the stork to steal one for you."
"I was scared to death of birds for the longest time and would have a tantrum at the zoo when I saw a flamingo."
- No_Finish_3144
Young Conspiracy Theorist
"The government. I used to think that we lived in a totalitarian society and that the government was in complete control of everything."
- bebotak**t
"I thought the President sent people their babies when asked by mail."
- GustavoAlex7789
Scheduled Baby Delivery
"The women in my family explained to me at the age of six that a doctor calls you sometime after reaching adulthood at the age of 18 to schedule a baby delivery date."
"The husband either pays to schedule the appointment or the government does after verifying that you have been married and financially stable for quite some time."
- Lokikat00
Marital Kissing
"When two people kissed."
- Short-Reality7353
"I thought the same thing, but I understood that when my mom gave me a kiss, there was no risk. Being someone raised in a very Christian background, I assumed that when you got married, God made kissing a reproductive act."
"Since I made this assumption, I remember questioning why teenage pregnancy could possibly be an issue."
- meuserj
The Ultimate Christmas Gift
​"I thought Santa was bringing them."
- NorskoTheScorpion
"He was. I mean, Christmas comes but once a year..."
- Nouveauuuu
"I MAY NEVER ENJOY CHRISTMAS AGAIN."
- NorskoTheScorpion
A New Meaning to 'Forest Friends'
"When I used to ask my dad where I came from, he'd say he found me under a rock in the forest. Of course, I would go look for babies under rocks, too, but all I ever saw was dirt and those rolly-polly pill bug thingies."
"It was so gross thinking babies were just found THERE that I was actually relieved to find out how they were actually made!"
- melodie-artist
Pregnant By Proximity
"I thought women got pregnant by just being around a man, and I was always confused about what would happen if a woman still lived with her parents or dad after she's an adult."
- ILoveYourCat
Coming of Age Story
"I thought it was a 'just happens once you reach a certain age' sorta thing. As a woman, I was terrified because pregnancy sounds like the most awful thing, lol (laughing out loud)."
"(I know the end result is worth it but even as a 31-year-old, I'm like, nope.)"
- BansheeShriek
Sounds Plant-Based
"I thought they grew like a seed inside the mother's belly."
- maclaglen
"Technically, that's true."
- ManagementFresh4960
"Watermelon seeds."
- bravovice
"Well, not like that."
- ManagementFresh4960
The Power of Marriage
"My mum told me you couldn't have a baby if you weren't married. Note that she said 'couldn't', not 'shouldn't'."
"When my unmarried cousin was sleeping a lot my mum told my aunt 'she's having a baby'. I thought 'she can't be having a baby, she isn't married.'"
"A couple of weeks later she had an engagement party, quickly followed by a registry office wedding. She had a baby a few months later."
- MolassesInevitable53
Baby Trees
"I thought they grew on trees. True story."
- 8inchsalvatorre
"Baby trees, lol (laughing out loud)."
- ILoveYourCat
"I was surprised when I learned how it really happened, lol. I was like, 'You mean there are no trees?' And Mom just shook her head."
- 8inchsalvatorre
They Were Just There
"I don't recall a time where I gave the matter any thought without knowing the reality of it."
"Like, literally, until the day I was first introduced to the concept of birth, I don't think I cared where babies came from."
- N_Who
"Right, the little guys just EXISTED."
- Mizar97
Educated Is Best
"I asked my mom and she told me the truth."
"Educate your kids, folks. They can handle it."
- Bite_Me_23
Spontaneous Babies
"I didn't... They just showed up, honestly."
- badguywindow
"That's what I thought. I was terrified as a little kid that I'd wind up being a teenage mother because I thought it just happened spontaneously."
- dinosore
"Exactly what I thought would happen. Like one day you were just, boom, six months pregnant."
- badguywindow
While these responses might be funny, it's an important reminder of an area in the educational system that's often lacking.
But in the meantime, while the system's curriculum is getting sorted out, at least we can take comfort in the fact that we weren't alone in believing these tall tales.
What is it that makes people confess their deepest, darkest sins to millions of strangers on Reddit? While we may not know the answer, we do know that the following confessions run the gamut from funny to salacious to nasty nightmare fuel. In fact, you might want an Ouija board to send some of these skeletons back to the closets from whence they came.