As a kid, the zoo seemed like a fantastical place where the animals poked their heads out to see us behind the glass panes or the metal bars, and happily retreated to their expansive lair whenever they felt like it.
Unfortunately, the logistical realities of zookeeping aren't quite so posh.
There often seems to not be enough space for the animals; feeding, mating, and cleaning is a constant, overwhelming battle for zookeepers; keeping ticketed customers happy around somewhat unpredictable animals far from their home habitats can be a nightmare.
If you ever wanted to know just what goes in to maintaining a the average zoo, a recent Reddit thread is for you. Who knew how many experienced zookeepers use Reddit so much?
gomi-panda asked, "Zookeepers of Reddit, what's the low-down, dirty, inside scoop on zoos?"
Many people talked about their zoos' emergency preparedness. The plans in place for when disaster strikes might surprise you.
So Basically Unarmed
"Partner was a zookeeper in Dallas. Safety protocols for when a large, dangerous animal escapes its enclosure dictate that you lock yourself in whatever room you can get to quickest and grab the nearest weapon..."
"...which, for most zookeepers, was a broom or rake for cleaning up animal poop."
-- musical_hog
Get In Line
"I had to draft the zoo's contingency plan for all sorts of emergencies. Flood, tornado, extreme heat, war or attacks, you name it. The plan included a prioritized list of which animals in the collection we would have to sacrifice to feed to the other animals in extreme situations."
"I literally created a zoo food chain. Humans were left off the list entirely."
One Chance
"I used to volunteer weekly at a large zoo and at one point management started doing monthly dangerous animal escape drills. Someone would run around in a lion onesie and we'd have to react as if one of the large animals had escaped."
"It was hilarious but one of the funniest things I was taught was that if an incident did occur you have to tell the nearby guests to get inside only once. If after that they refuse to follow you indoors (the protocol was to hole up in the large activity centre buildings) , you're to leave them there, go inside yourself and lock the doors."
"It makes sense because people can be very stupid and you don't want to risk everyone's lives because of one Karen, but it amused me no end that the protocol was to just let them get mauled."
Other zoo workers described the rather bizarre behavior of some animals they've taken care of on the job. Animals, as we know, are often smarter than we think.
So it's best to keep zoo-goers a little in the dark about what's going on.
Keep Your Fruits to Yourselves
"Some people like to bring fruit and stuff to throw into the animals cages, even though they're not suppose to. If you're around and someone throws a pineapple into the gorilla or chimpanzee dens, gtfo. They will throw that thing full blast at someone."
"I saw a man get hit full force right in the side of the head and he was lights out. Pineapple exploded on impact. Paramedics came and everything."
-- Sedintwinz
Former Flat Earthers Explain What Finally Made Them Come Around | George Takei's Oh Myyy
Science is science. Fact is fact. Truth is truth and simple is simple. These are things we must now attest to in 2021. Can we please all get onboard with wha...
Mourning Period
"We closed the baboon exhibit because a baboon had a still birth and the troupe was 'grieving.' "
"In reality they were throwing parts of the infant corpse around and there was nothing we could do about it."
Loving on the Buckets
"I worked with large tortoises. We had these 5-gallon buckets for cleaning the poop out of enclosures and other buckets for feeding them fresh grass we cut. The first day on the job I took both buckets into the pen and started by dumping out the grass."
"Then I went around to collect poop. I heard this awful loud grunting and something breaking. One of the 300 lb males tried to bang the bucket in front of visitors and flattened it. He would even follow me around just in case I might leave more innocent buckets unattended."
-- DrteethDDS
Draw Straws?
"Aquariums have captive breeding programs for some of the dolphins and whales, but they are too difficult to transport for mating. So they have to use artificial insemination. Which requires semen samples from whales."
"Which means that it's someones job to get the dolphins and whales in order to collect the sperm. It's part of the animal's training, and the whales will roll over and present their genitals on command."
Finally, some focused on the smell. We know, intellectually, that their must be some truly vile stenches kicking around in the zoo profession.
But apparently, know amount of mental imagination could possibly prepare one for the reality of it.
Train Car for One
"The poor penguin keepers can never quite get rid of the miasma of dead fish that envelopes them. As for me, the stinkiest job I ever had to do was cleaning out the duck ponds."
"Managed to empty a whole train carriage that evening, even though I had changed and my work clothes were double-bagged."
-- ShadyElmm
A Solitary Life
"If you work with the animals there's a good chance you'll not be able to have any kind of social life, between the long hours/weekends and the stench."
"I've been kicked out of stores after work because I apparently stunk way worse than I thought I did - even after scrubbing off!"
"And I'm around animals every day, but I still can't stand when otter / sea lion keepers are around me in 'all-hands' meetings. The rotten fish + ferrety otter smell combo is a gagger. Meanwhile, I work with apes, and they say that I smell like I haven't showered in a decade (again...even after I shower)."
-- bindobub
Spit*
"Our camels will spit if you piss them off, and it's not just saliva like most people think."
"You really really really really don't want to upset our camels if you have any plans the rest of the week, please and thank you!"
-- leepingphal
So next time you find yourself in a zoo, give a nod to the zookeepers you see. You never know that insane things they've seen or touched that morning.
Want to "know" more? Never miss another big, odd, funny, or heartbreaking moment again. Sign up for the Knowable newsletter here.
Keep reading...
Show less
In the age of the internet, sometimes it can be very cool to hate on things just because other people do. Bandwagons can be fun, right? But honestly, not all of the things hated on actually deserve it. Save your hate for things that actually call for it.
Wanna jump off the bandwagon? Then keep reading!
U/lit3rallyuseless asked: What doesn't deserve the hate it gets?

​Film and media are probably the biggest contender for being hated on randomly. It may seem harmless, but not always deserved.
Actors are people too!
Actors who played characters that people didn't like.
Really if you hated the character then the actor did a good job (assuming that was the role).
The best cartoons.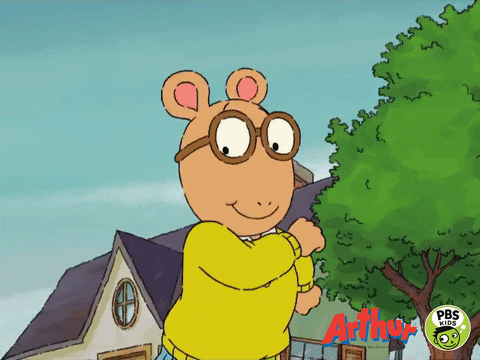 nice day summer GIF by PBS KIDS
Giphy
Child cartoons. Some are actually really good, even as an adult.
I feel like watching cartoons aimed at generally a younger audience allows for you to be reminded of some life lessons, I know I forget some things, or didn't realise others, or it at least partially renews my awareness of something I should still like or appreciate

This doesn't deserve awards, it's just my opinion that is apparently shared by many.
This man did nothing wrong.
Guy Fieri, he literally is the nicest person in the world but since he looks like he was electrocuted by mountain dew people want to saw his head off.
Even before that, I was witness to his other charitable work. A few years back, Santa Rosa was hit by some terrible fires and he showed up at a few shelters and personally cooked up and served some killer buffet food. No cameras, no massive team of PR, just a dude with an assistant to keep him on schedule to hit up other shelters in the area. Guy Fieri legit earned a lot of respect in my book for that.

You know who DEFINITELY doesn't deserve hate? Animals. They're just living their best lives, and need to be left alone.​
The best cats.
Black cats.
We got a black cat for the first time last year. I've since formulated the theory that black cats might get some of their reputation from the fact that people can't see them well in the dark and so they seemingly appear out of nowhere and they might be instinctually cautious because they know people have a tendency to kick them while walking in the dark. Our black cat is the sweetest cat I've ever known.
They get a bad rep.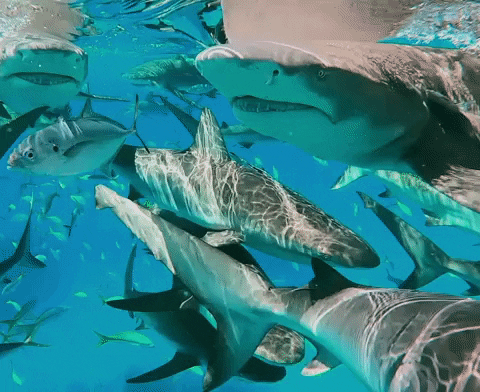 Discovery Sharks GIF by Shark Week
Giphy
Sharks. They are beautiful, complex creatures, deserving of respect and, like any wild animal should be left alone in their natural habitat, but they get this reputation as vicious bloodthirsty monsters. This is only because every shark attack is news, and only then because they are so rare. More people are killed EVERY DAY by mosquitoes than sharks kill in a year.
Any apex predator that has remained evolutionarily unchanged for hundreds of millions of years, whose existance predates TREES, is deserving or our respect and admiration. Shine on, you crazy cartlaginous fish, shine on.
So cute too!
Opossums. They're neat little critters. They eat tons of ticks that carry Lyme disease, (mostly) don't carry rabies because their body temp is too low, and they're the only marsupial native to North America! They get a bad rap because their first defense is to hiss and bare teeth, but failing that, they just play dead.
If you don't have the predisposition to hate them, you'll find they're pretty cute too.
E: this is about /opossums/, the north American species.
Kiwis, I feel for you, but this comment isn't about your possums.
​Hating on other people for just living their lives also seems to be a big contender for things that don't deserve to be hated on.
This is so true.
Unemployed people. A lot of people genuinely are looking for work and did not want to lose their last job/it was beyond their control (like a layoff) but they get so much hate and called lazy by most people. I know too many unemployed people that are actually really trying hard. They definitely aren't lazy. (Not saying lazy unemployed people don't exist, but to be fair, so do lazy employed people too lol)
Leave the weather man alone!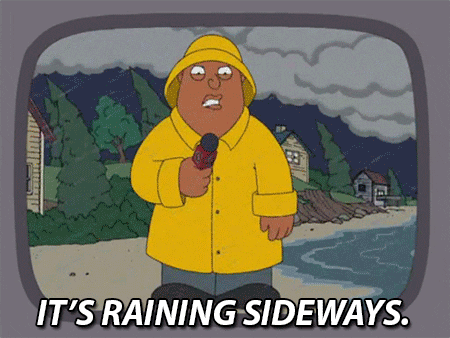 Fox Raining GIF by Family Guy
Giphy
Meteorologists. They try their best to predict the weather based on patterns, models, and data. They're not perfect because predicting the weather is insanely difficult. When they get it wrong, I think we should go easy on them. It was probably an outlier result almost no one could have foreseen.
I've seen people get angry over the meteorologists for getting it right. Like they control the weather - it is their fault we are having rain, that kind of BS. Never made sense to me, but hey, I have plenty of relatives I clashed with growing up.
Please stop being d*cks to these people.
Customer service associates.
I hate when customers think that I, the minimum wage person forced to sit there and listen to them yell, am personally responsible for every policy they disagree with. Like, ma'am, if I had that much power and influence, I wouldn't be sitting here on a Saturday evening serving you.
Wholesome and necessary.
People don't deserve hate they give themselves when they are not doing too good at the moment.
I'm in a weird place and I didn't know I needed to read this. Thanks buddy.

If you haven't heard it from anyone else today, I'm proud of you.
It seems like people hate on things simply because they think they're meant to hate them. But you can always be the change and make an effort to stop being an a**hole about certain things.
No matter what though, sometimes haters gonna hate
Keep reading...
Show less
Alongside all the fun facts out there are a plethora of totally unnerving pieces of information.
They take many forms: behaviors and abilities of animals, the surprisingly easy ways to suddenly die, and cosmic realities of the solar system that are enough to make us feel existential horror
Lucky--or unlucky--for us, a bunch of Redditors shared their favorite scary facts.
Keep these in mind for the next time you want to freak people out when the conversation gets stale.
Ppeanoot asked, "Whats the scariest fact you know?"
So commit these to memory and drop them on party-goers when you least expect it.
Want to "know" more? Never miss another big, odd, funny, or heartbreaking moment again. Sign up for the Knowable newsletter here.
Keep reading...
Show less
"Fun facts" come in all sorts of flavors. There are the truly fascinating tidbits, the scary facts, the unnerving elements of animal behavior, or maybe some rampant, unchecked societal issue bubbling under the surface.
But there is another class of facts: the comforting facts.
These brief informational gems are just nice to think about. They warm the heart and make us feel small in all the best ways. Unfortunately, they're not always the easiest to track down.
Lucky for us, Reddit exists.
JennyAndTheBets95_ asked, "What's the most comforting fact you know?"
So next time you find yourself asked to share a fun fact during an ice breaker or team building activity, go with one of these. And be prepared to hear a relieved sigh from around the circle.
Want to "know" more? Never miss another big, odd, funny, or heartbreaking moment again. Sign up for the Knowable newsletter here.
Keep reading...
Show less
Pets are the actual best. My cat Aurora is objectively the cutest cat in the world (yes, objectively), and I can't get through the day without watching her zoom around the house. She knocks a lot of stuff over, but she has the charm to back it up.
Aurora isn't the only cute animal out there. So many pets outdo themselves every day with how adorable they are. Here are a few stories from the pet owners of Reddit.
U/clickstorm7 asked: What's the cutest thing your pet has done?

As for Aurora, the cutest thing I see her do is hang out with our two corn snakes. She'll sit on top of the cage and watch them all day long. I mean, she probably wants to eat them, but we ignore that.
Give your pets a hug today!!! They're the best.
Keep reading...
Show less