A young woman named Julia was recently on Tinder and was swiping through people. Innocent enough, right? Not in her case.
---
Julia swiped left on one particular man who could not contain his anger at being rejected.
She posted about the experience on Twitter.

i rejected a man today, who found me off tinder but we did not match. this is how the conversation ended after i sa… https://t.co/Ty1O3opdae

— julia 🐷 (@julia 🐷)1542470267.0
The man, whose now-deleted Instagram name was @yayipper, found her Instagram profile and decided to ream her for swiping left.
Julia posted screenshots of the end of her conversation with him.
These screenshots are from after she told him repeatedly she was not interested in him.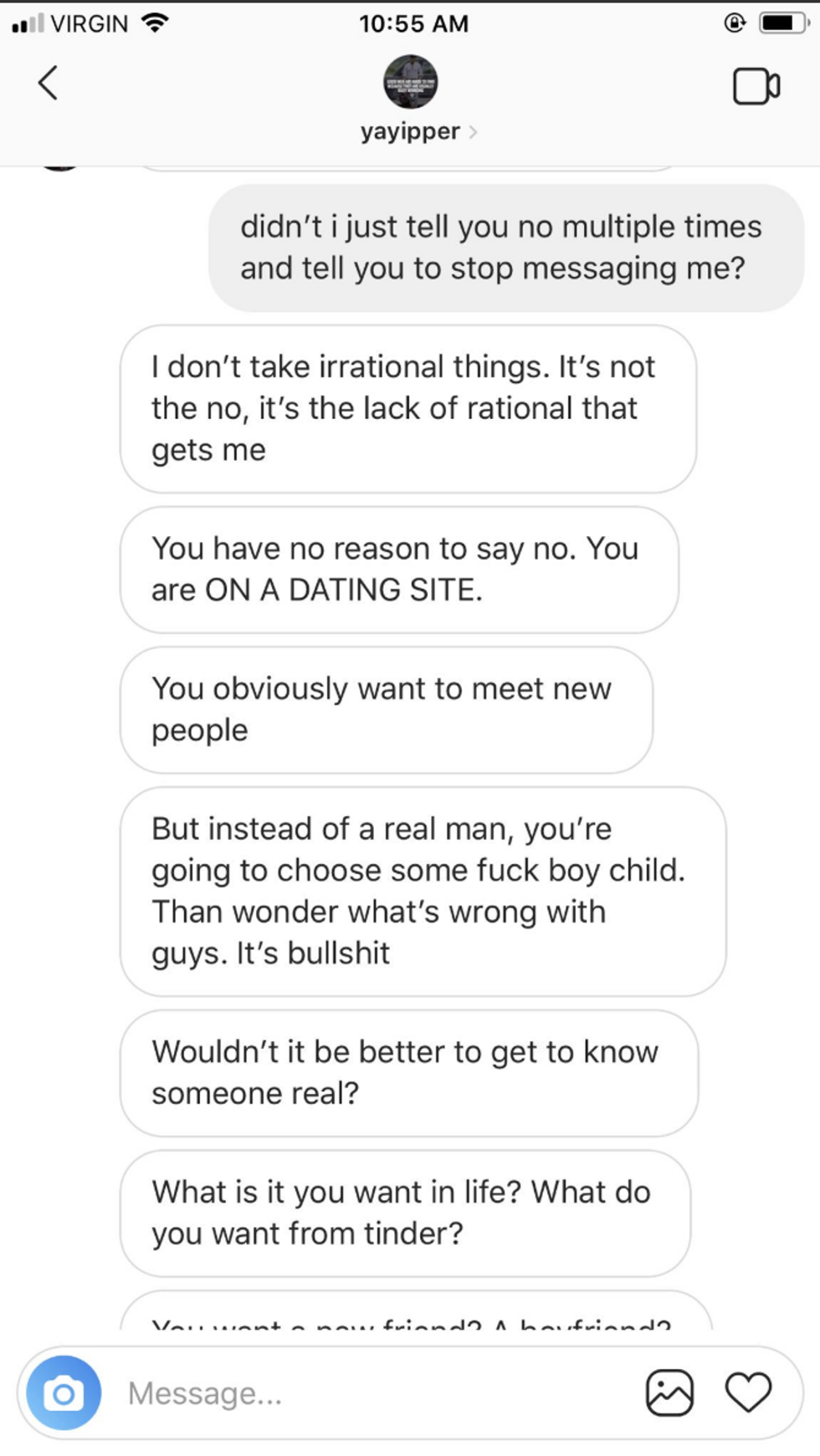 @gothhunny (Twitter)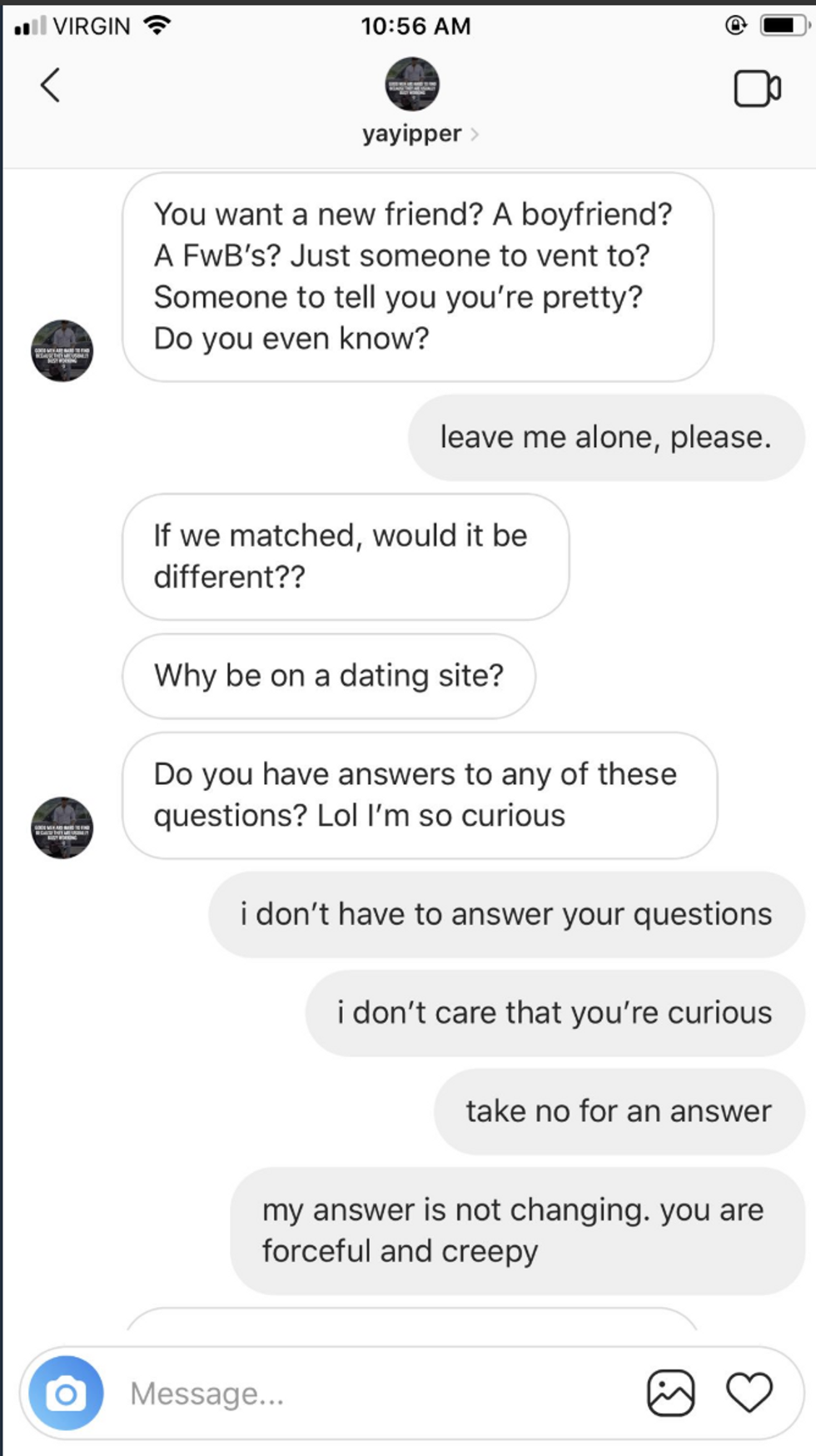 @gothhunny (Twitter)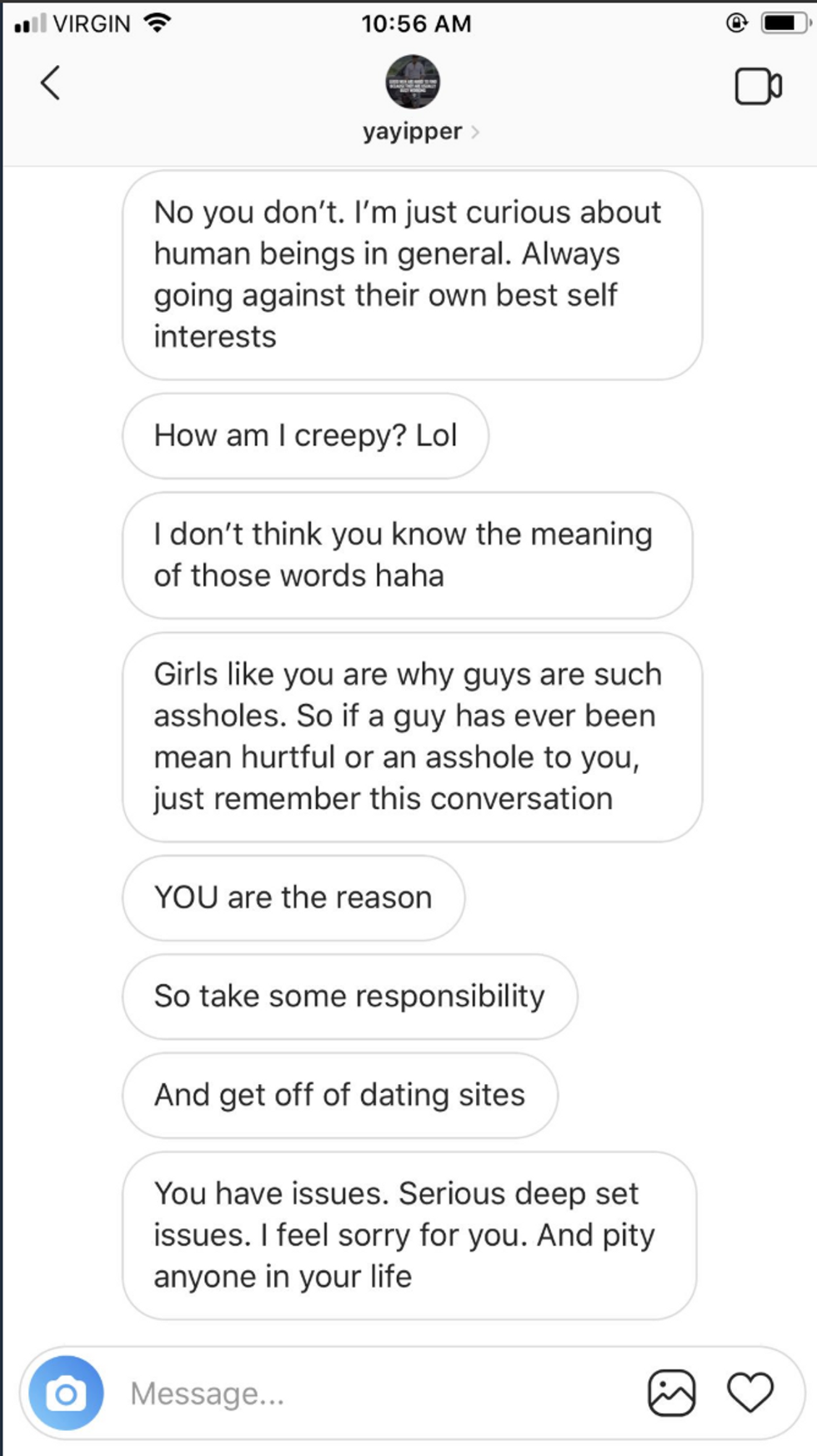 @gothhunny (Twitter)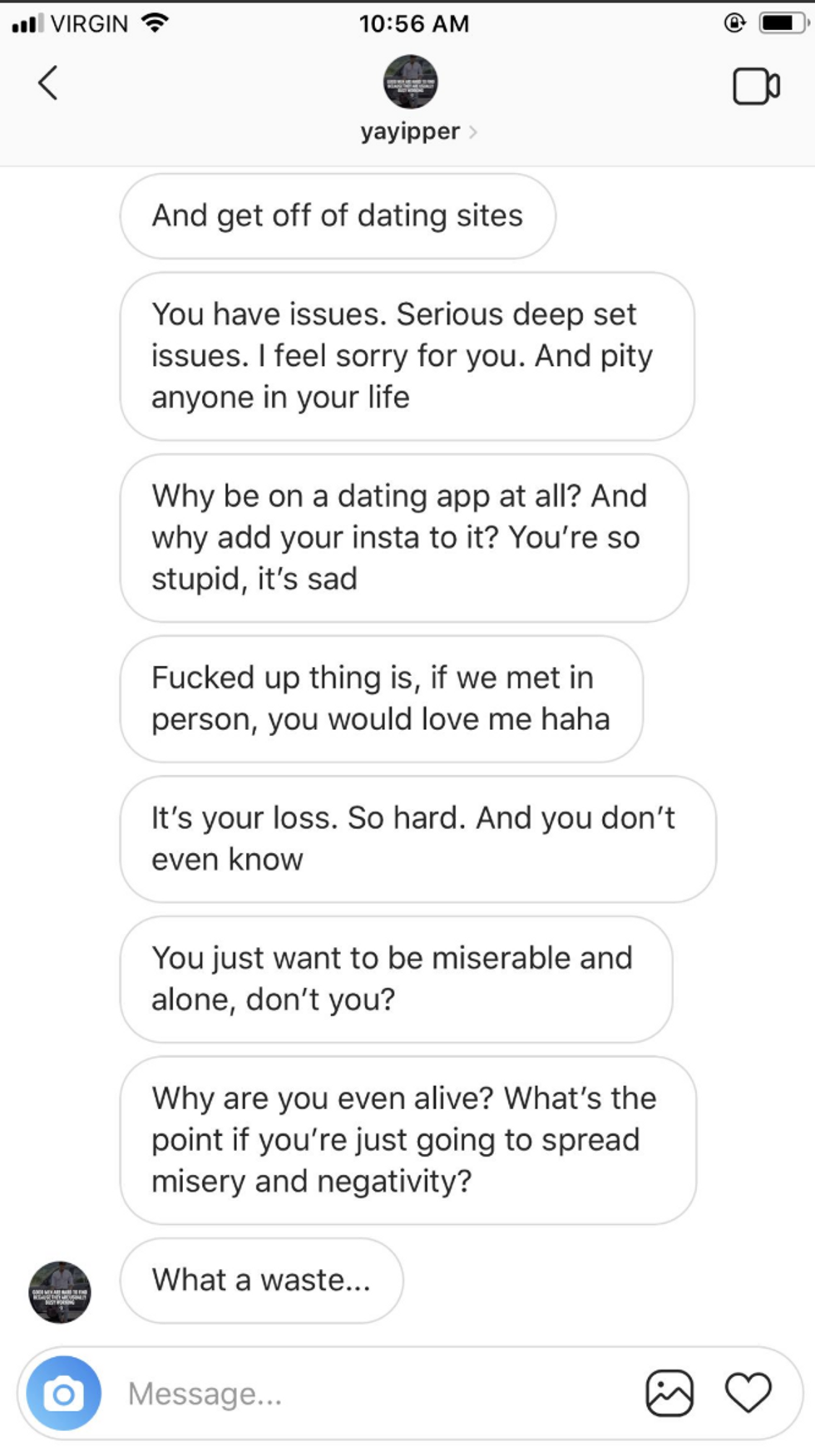 @gothhunny (Twitter)
He called Julia "irrational" and said that she had:
"no reason to say no. [She is] ON A DATING SITE."
After more back and forth, Julia told him:
"take no for an answer. my answer is not changing. you are forceful and creepy"

However, @yayipper did not stop.
He questioned her definition of "creepy" and blamed her for rude men's behavior:
"Girls like you are why guys are such assholes. So if a guy has ever been mean hurtful or an asshole to you, just remember this conversation. YOU are the reason. So take some responsibility."
He finally ended the conversation with the most disturbing bit of all:
"Why are you even alive? What's the point if you're just going to spread misery and negativity? What a waste..."
People are dumbfounded by @yayipper's behavior.
@gothhunny "You have no reason to say no." *Is the living embodiment of several reasons to say no*

— Sami Lehtinen (@Sami Lehtinen)1542608300.0
@gothhunny So.... saying no = not rational. ...... But questioning the point of someone existing, and threatening… https://t.co/yW7US1YpzD

— ShannonTM (@ShannonTM)1542603349.0
@17Dragonesses @HenryUchechukw9 @gothhunny His mentality is ughhh 😣😣😣

— Queen May (@Queen May)1542630202.0
@gothhunny This type of guy is reason why I bought myself a fake engagement ring to wear at work. I will say that i… https://t.co/83BrqSNCHV

— Jannamarie (@Jannamarie)1542604276.0
@gothhunny So by his rationale a woman on a dating site must accept a date from ANY man on that site, otherwise she… https://t.co/BM1pvbDKkk

— Ashley MacLennan (@Ashley MacLennan)1542639809.0
@gothhunny I screamed when he said "you have issues" whaaaaat?? https://t.co/e2frdUVbLR

— itsAryauna (@itsAryauna)1542606822.0
@gothhunny You absolutely do NOT deserve this. This literally pissed me tf off. I don't even know you but I have yo… https://t.co/2xV1zDMVQC

— Cyn 💜 (@Cyn 💜)1542599840.0
And many saw the danger behind his words.

@gothhunny That "If we met in person you'd love me" thing is so worrying, because it may be true. Or, maybe not '… https://t.co/ArzivJF3uq

— BS-13 (@BS-13)1542618741.0
@stephens_ben @gothhunny The fact that he was so persistent and unable to accept no... leads me to believe he is of… https://t.co/sJN3fkOm2u

— Alexonism (@Alexonism)1542661634.0
@gothhunny Boys are so entitled its nauseating

— 🔥🐍 Commander Lady Anaconda ♠️🔥 (@🔥🐍 Commander Lady Anaconda ♠️🔥)1542608111.0
@gothhunny @flynncait our society glorifies men and demonizes women & leaves it up to women to deal with the fallou… https://t.co/yMyLMRlO2N

— Hailey Ramos (@Hailey Ramos)1542692504.0
In a Kavanaugh/Weinstein/Cosby era, this sort of behavior is all the more disturbing. Good for Julia for holding her ground.
And in case anyone was unclear, "no" means no.