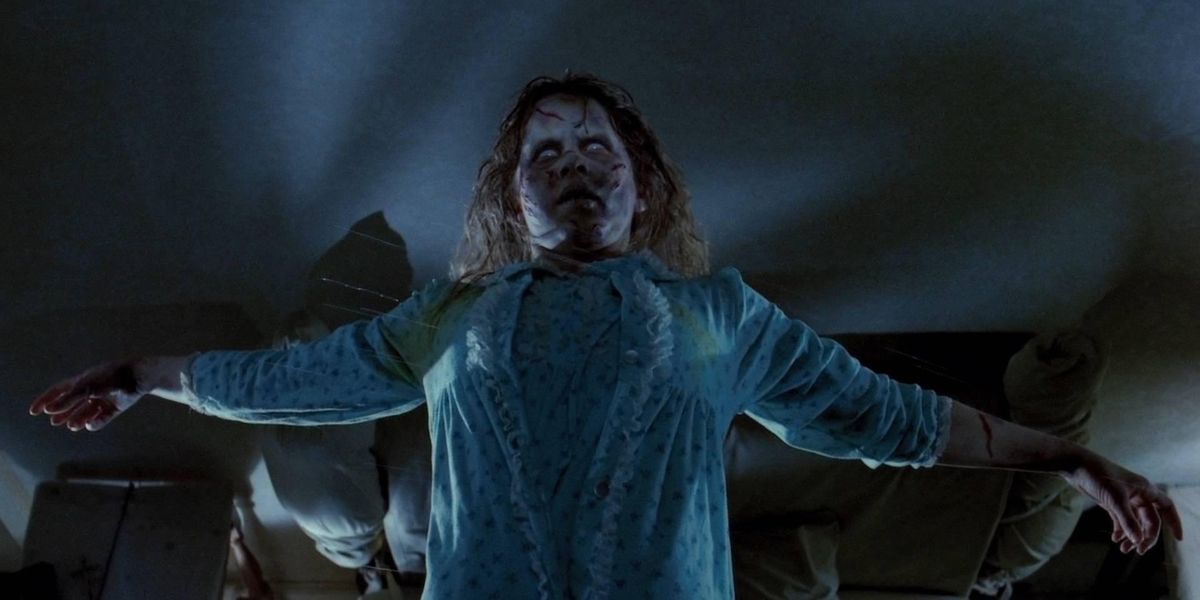 Some horror films will never grow old. It's October! Get into the horror film spirit.
There are so many classics worth seeing. Last year, a friend of mine who had never seen too many horror films asked me if we could get together so they could enjoy some classics.
Of course we had to watch the original Halloween. They loved it. I wish I could once again experience what it was like to watch that movie for the first time. Living vicariously through their experience was well worth it, though. And there are plenty more horror films out there for you to enjoy!
---
People shared their favorite classic horror films with us after Redditor baylawna6 asked the online community:
"What older horror movie still holds up?"
Alien (1979)
"Alien. Too bad everybody saw a version of that by now, but watching the chest-bursting scene for the first time might possibly be the most impressive thing I saw in a movie, ever."
Novel_Board6813
The first time I saw that as a kid I was utterly horrified. And I loved every single minute of it. It absolutely holds up!
The Changeling (1980)
"The Changeling. Everything but the wheelchair bit at the end, which is... unfortunate. Everything else is A+."
Chimera1012
Probably one of the best classic haunted house stories. Excellent!
The Omen (1976)
"The Omen."
"It's got everything: amazing kills, investigative horror adventure, perfect actors, killer soundtrack, creepy kid, multilayered story, and more! I think it was Wes Craven who said he never figured out how they did that beheading scene so well."
markstormweather
This is absolutely one of my favorite horror films ever. Everything about it is a master class in filmmaking.
Rosemary's Baby (1968)
"Rosemary's Baby. It's more of a psychological thriller than horror in some ways, but it's a really disturbing movie if you can adjust to the pace and watch Rosemary be gaslit by everyone around her over control of her body. Really well written film that was executed just about perfectly."
EloHellDoesNotExist
This is a perfect film. Rosemary's loss of control has grown only more horrifying in a post-Roe world.
The Night of the Hunter (1955)
"The Night of the Hunter. Nothing supernatural or extraterrestrial in this one. Just two vulnerable children fleeing from a very bad man. The cinematography makes it feel like you're watching an actual nightmare."
Mother_Demand1833
This is a perfect film and truly one of my favorites. The cinematography is out of this world.
The Shining (1980)
"The Shining. In fact, the older it gets, the creepier it feels. Those zero CGI horror flicks definitely have a different feel from some of the modern ones. The Overlook feels eerie even if nothing scary had happened."
OrlandoMB
The Shining is indeed incredible. The 1997 miniseries that more closely followed Stephen King's book unfortunately felt very campy.

Invasion of the Body Snatchers (1978)
"Invasion of the Body Snatchers. I remember being f**king terrified as a kid when Donald Sutherland did his thing at the end."
isfrying
I love the original film very much but the 1970s remake improves on it considerably. The 1993 take on the story—simply called Body Snatchers—is well worth a watch.
Whatever Happened to Baby Jane? (1962)
"Whatever Happened to Baby Jane? Terrifying because there's no jumps scares, no supernatural threats, just two horrible people being horrible to each other."
[deleted]
It's an unsettling film and the final few minutes are a master class.
Night of the Living Dead (1968)
"Night of the Living Dead. I can't watch that at night. The whole film has such an unsettling mood, that I genuinely get creeped out."
UCantArtIfUWant
I watch this movie at least once or twice a year. It's pretty much perfect.
The Exorcist (1973)
"The Exorcist still holds up to this day. Maybe it's the whole religious aspect but I still know people who refuse to watch it again even after seeing it years ago."
BansheePuca
The Exorcist is a perfect movie. It works as both a horror film and as an upsetting family drama. Ellen Burstyn's acting alone is worth the price of admission.

It's spooky season everyone! Get into the spirit. These classics will never grow old.
Have some horror favorites of your own? Tell us about them in the comments below!