Travelers Reveal The Terrible Places That They Most Regret Visiting In Their Lives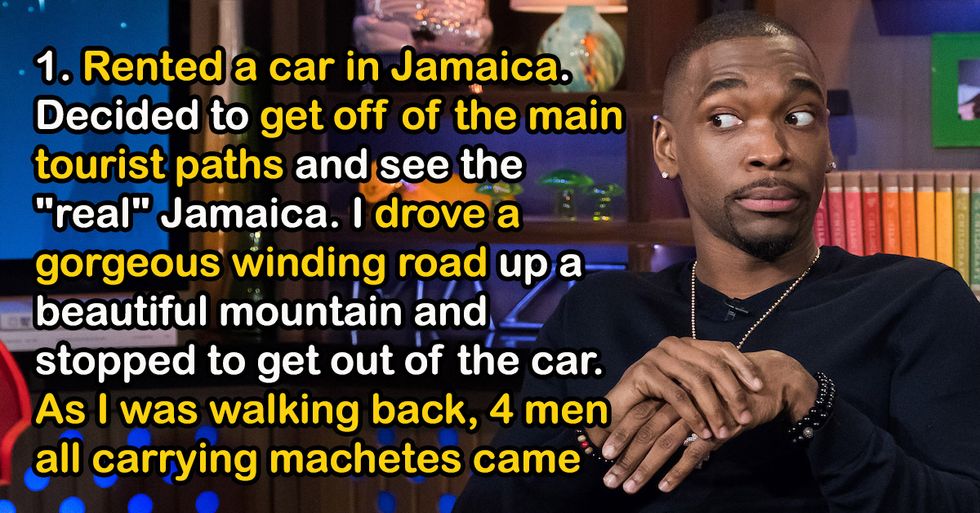 Travelers Reveal The Terrible Places That They Most Regret Visiting In Their Lives
[rebelmouse-image 18361563 is_animated_gif=
dam=1 expand=1]

Traveling, whether at home or abroad, broadens the horizons and really teaches us about the world... that is unless you're one of these travelers. What they learned is to never, ever, go back to these places. One Reddit user asked: Travelers of Reddit, what place made you think, "I have made a huge mistake by coming here?"

We were expecting a list of far-away lands with city names we can hardly pronounce, because that's what we think of when we think world travel. But it turns out quite a few of the most awful places people have been are pretty close by and not that hard to pronounce. We're talking about you, Times Square. We edited some of the entries for clarity, and in some cases combined different responses into one.

Why? Because a surprising number of people really hate Blackpool in England, that's why.
"Very GTA"
[rebelmouse-image 18361564 is_animated_gif=
dam=1 expand=1]

Honduras.

Me and girlfriend got into a taxi and In the footwell in the rear of the car were lots of spent bullet casings. When the driver was fighting for position in traffic, he was shouting out the window and holding up bullets at other drivers. He did a great job, we got where we wanted and we paid a fair price.

Very GTA.
Busted Blackpool
[rebelmouse-image 18361567 is_animated_gif=
dam=1 expand=1]

Blackpool in the UK.

No offence to anybody, but it's probably the only place I've visited and instead of wanting to make the most of it, I actually contemplated leaving ASAP. Even the overnight stay was a night too long.

It was a big tourist place back in the day. It's got a famous tower, piers, theme park all that stuff. The big event were the illuminations where a couple of miles of the coastline would be lit up. It was pretty cool back in the day so some people still speak fondly of it, but I heard it died on it's arse pretty much.

I f*cking hate Blackpool.

Litter, loud ladies nights and stag parties, the smell of fried onions and doughnuts, sunburnt lobster-colored people, sewage on the beach, grey horrible concrete buildings, terrible quality "comedians", moldy hotel rooms, white supremacists, gutters flowing with vomit and dismembered bodies in wheelie bins. Absolutely horrendous place. 2pm on a Saturday, there were packs of exceedingly drunk people puking in the street.

Roll up roll up try your luck. But no, seriously, don't.
Wheel-y Bad Time
[rebelmouse-image 18361568 is_animated_gif=
dam=1 expand=1]

Cleveland.

Went in to pay for gas and came out to a rental car with no goddamn wheels on it. Cashier said they:


"Didn't see nothin' and the cameras was broke."
Time Share
[rebelmouse-image 18361569 is_animated_gif=
dam=1 expand=1]

A time share presentation. Holy sh*t it was like a prison of nice people who hold you there with niceness.

Never never do that... I'll never get those 5 hours back.
Too Much Bourbon
[rebelmouse-image 18361570 is_animated_gif=
dam=1 expand=1]

Bourbon Street, New Orleans

I went down for a friends wedding. They decided to take us to Bourbon Street and it was...it was just not at all what I expected.

I pictured that it would be a great place full of colorful things, great booze, neat stuff to see, and interesting people......instead I got over priced booze (which I kind of expected), overly crowded streets and average bars - besides the piano bar, that place is amazing.

The worst part was the smell. My god I just don't understand how people don't get sick from the smell alone.
Jamaica Got "Real"
[rebelmouse-image 18361571 is_animated_gif=
dam=1 expand=1]

Rented a car in Jamaica. Decided to get off of the main tourist paths and see the "real" Jamaica. I drove a gorgeous winding road up a beautiful mountain and stopped to get out of the car to get a picture. As I was walking back, 4 men all carrying machetes came running at me from out of nowhere.

They actually chased the car about a block.
Floating Bodies
[rebelmouse-image 18361572 is_animated_gif=
dam=1 expand=1]

I've been to the Philippines about 5 times and must say the people are lovely and I've always had a good time... but f*ck me! the first time I landed in Manila I wanted to go back to the airport and leave ASAP.

Our taxi driver stopped at a convenience store about 10 minutes from the airport. We were swarmed by 10 filipinos who begged us for money and tried to pickpocket us at the same time. When we got back in the car, they surrounded the car holding babies up to the window, crying and begging for money.

Somewhere in Manila, the driver took a wrong turn and went down a street where he said "this is a bad area." Not a good sign. There was a guy walking down the street towards the car with a handgun. Taxi driver reversed up the street and got us the fuck out of there.

We got caught up in a terrible traffic jam and at one point were stopped on this small bridge that looked into a waterway. The driver started pointing into the water where a dead body was floating.

I love the Philippines, but I hate Manila and get out of there immediately every time I go.
Ten Minutes Too Long
[rebelmouse-image 18361573 is_animated_gif=
dam=1 expand=1]

Daytona Beach.

It was pretty disgusting, with garbage all over the beach. We spent ten minutes there, packed up and left.

It's famous for NASCAR, bikers, Spring Break, and being dirty. Accurate.
Cabbie Drug Deals And Brothels
[rebelmouse-image 18361575 is_animated_gif=
dam=1 expand=1]

Juarez, Mexico.

Went there with a few buddies from the Army. We went there first in 2006. The last time I was there was 2010 I believe. During the day it was shady, but typical. At night is when the action happened. We were just home from Baghdad, Iraq when we first went. We just came home from war, were young, felt invincible and thought:


**"How bad can it really be?" **

We realized that most of the cab drivers really didn't care where we said we wanted to go. They would get kick backs from the brothels for bringing people there. No matter what we said, somehow we were always dropped off at a strip club or brothel.
Hollywood Bad Dream
[rebelmouse-image 18361576 is_animated_gif=
dam=1 expand=1]

Honestly, the biggest let-down I've ever experienced while traveling was Hollywood, California. It was... seedy. The whole place was just this false, sickening, soulless mess. I stayed in a grotty hostel - I slept clutching my possessions - and got up and got to the Greyhound station as early as I could.

My only memory was just wanting to be anywhere else. I hated everything about the city.
Class Trip
[rebelmouse-image 18361577 is_animated_gif=
dam=1 expand=1]

I was in 8th grade and I went on a class trip to Washington DC.

When we left the airport and actually entered the city, it was terrible. We saw these amazing historic landmarks surrounded by homeless people everywhere. I even saw a group of about 5 tents and a fire set up near an overpass. Even on the tour bus, the guide swung by the homeless shelter, which had like 50 people waiting outside in a line. There were also lots of panhandlers and people walking around with boxes of sunglasses, encouraging us to buy a pair.

Because we were young tourists, whenever we entered a food court area, people literally yelled at us to get food from them.
Death Valley
[rebelmouse-image 18361578 is_animated_gif=
dam=1 expand=1]

Death Valley.

Everyone knows that its hot. Or rather, they think they know. But you don't know. It's not something that can be explained. That place is f*cking hot. You know how when you leave a car out all day in the summer and open the door, and a blast of heat comes out?

That's a pleasant breeze in death valley.
Mucus Consumption
[rebelmouse-image 18361579 is_animated_gif=
dam=1 expand=1]

Hanoi, Vietnam.

My little brother kept covering his nose because of the smell, and everyone consumed their mucus in public like it was some snack.
Scaremare
[rebelmouse-image 18361580 is_animated_gif=
dam=1 expand=1]

Lynchburg, Virginia near Halloween. They call it Scaremare.

They have this huge "haunted house" with and outdoor area full of zombies and all sorts of gruesome stuff. That part is really fun, but after you genuinely have a good time, they TRAP YOU IN 1 TO 6 TENTS and tell you that you're a bad person, a sinner, unclean, UNCLEAN, etc... for a good 10-15 minutes. And the "staff" won't let you leave this attempt at brainwashing. Jesus this, God that... it's a whole sermon that you didn't sign up for and can't leave. Like they temporarily kidnap you for Christ or something.

Sponsored by Liberty "University" every year.

Waiting in line for over 3 hours, hearing people chant and "pray" it was f*cking awful.

Don't. Go. To. Lynchburg. Virginia. Ever.
São Sad
[rebelmouse-image 18361581 is_animated_gif=
dam=1 expand=1]

São Paulo, Brazil

It's only worth visiting as a layover hub or if you know people who live there. São Paulo is quite the sh*thole and I can't think of another non-third world city I'd consider worse. Anthony Bourdain described it perfectly:


"It's like LA vomited on NYC."

The traffic is apocalyptic and public transport is awful for such a large city. People spend most of their time hustling and in traffic, just to lock themselves away in their gated apartment complexes as a reward at the end of the day. Why gated? The crime, of course. Almost everyone has a story of being mugged. And it's f*cking expensive! I live in Switzerland and I found prices for most things to be surprisingly high even by my standards, I don't know how the locals afford it.

The saddest part is that you have such an amazing mix of people there from every background you can imagine. White, black, Japanese, Lebanese, etc. I just wish they didn't spend most of their lives stuck in traffic in such a depressing place.
Happy New Year
[rebelmouse-image 18361582 is_animated_gif=
dam=1 expand=1]

Times Square on New Year's Eve.

I went one year when my girlfriend, her brother, and his girlfriend were visiting her dad in New Jersey. He took us to a Broadway play and a fancy sushi dinner and we parted ways with her dad and step mom so we could head over to Times Square. It was awful, terribly crowded and loud and we couldn't even get close enough to see anything. After a while we decided to just give up and we went to a Korean barbecue instead.
"Charity" At Gunpoint
[rebelmouse-image 18354595 is_animated_gif=
dam=1 expand=1]

Nairobi, Kenya

I ended up on a stopover with a group of other women. We all had stuff stolen, all blatantly overcharged and all ended up staying in one room. We had to stay together for safety since random men were coming into our rooms.

These men had keys to get into our rooms, so the hotel was absolutely involved.

Finally, we had enough and as a group we all confronted the manager in his office, refused to let him out or let his friends in to help him. We managed to get all our drinks and food refunded. We thought things were turning around, but the following day we were forced at gunpoint to put all the remaining currency into "charity" bins at the airport.

Never again.
Stuck In A National Uprising
[rebelmouse-image 18361583 is_animated_gif=
dam=1 expand=1]

I happened to be in Cairo during the Arab Spring/Arab Revolutions in 2010. Saw some nasty sh*t and felt like I was witnessing the apocalypse.

I was three hours away having lunch by the water when it started. We heard explosions on the main road and the police had set up barricades to stop the huge crowd from marching through the streets. They were using tear gas to try and disperse everyone but it wasn't working. We saw people being beaten bloody by the cops. Because this was on the main road, which is by the water, I had to push through the crowd to get to the middle of the city where it was quiet. That means I got teargassed - which was awful! I found a cafe in a safe area and waited there for 5 hours until it was prayer time so I could go back to my hotel.

The next morning I found a guy who was driving to Cairo so I paid him a few hundred dollars to take me to the airport. There were tanks lined up along the highway while we were driving. I thought Alexandria was bad, but Cairo was so much worse. It looked like the whole city was on fire and there were burnt out armored police cars and buses in the streets. We saw more people clashing with the police, sporting bloody faces and ripped clothing. A few people were limping, injured, and helping each other get away. It was insane.

It took forever to get to the airport and check in. My flight was delayed two hours, then again, then cancelled until the next morning. Same thing the next day. The airport ran out of food and bottled water and the ATMs ran out of money so people couldn't buy snacks. Somehow they managed to get more food in and people were given vouchers. Planes could land, but they couldn't fly out and people couldn't safely leave the airport - the place was packed to the brim! Because of the lack of bottled water, people were drinking tap water and became sick.

The bathrooms were nightmarishly filthy and some people preferred to sh*t in the corners of the waiting lounges.

Finally the military let the pilots and crew through into the airport on the third day and my flight to Morocco departed. I did not smell too fresh when we landed.
"Psychiatry" Museum
[rebelmouse-image 18361584 is_animated_gif=
dam=1 expand=1]

I accidentally wandered into a Scientology-backed psychiatry museum in LA called Psychiatry: An Industry Of Death. I knew I had to escape as soon as the video at the start of the tour began. I was curious and took a picture of the signage outside to show to my friends for laughs later.

Then a guy came out and said the free tour was starting in a minute. I had time to kill so I was like uh....sure why not. Wrong choice. The place was pretty eerie from what I remember. When we walked past exhibits without actually reading anything they would pop out of a corridor and ask us why we weren't interested. They watch you from beginning to end. Some people even complain about being locked in until they've finished watching a film.

I didn't know of the Scientology affiliation until I looked it up afterward to see who funded this horror show.

H/T: reddit
A bride has a lot to do before her big day, from planning the dinners, to getting her dress, to deciding on the decorating details. This quest for the perfect wedding can sometimes be even more stressful than finding a lifelong partner—but that doesn't mean these women had any excuse for going full Bridezilla in front of their staff.
"Two roads diverged in a wood, and I— I took the one less traveled by, And that has made all the difference." ~ The Road Not Taken by Robert Frost
Life is full of choices. Each one we make can send our lives in entirely different directions.
Sometimes our decisions work out for us and sometimes disaster ensues.
But let's focus on the positive.
Reddit user Kai6180 asked:
"What's the best decision you've ever made?"
Relocating
"In 2012 I got an offer from Amazon. It meant leaving Arizona and all my friends and family to move to Seattle. I stressed about it for a long time and finally decided to take it for a year and then move home."
"Met a girl my first week here and married her 5 years later."
~ Lotan
Trusting Instincts
"I found [what I thought] a US Army grenade simulator as a kid. It had a pull string."
"I held it and was going to pull it but changed my mind. Instead I tied it to tree and got more string until it I had about 10 feet."
"It blew a hole in the pine tree about the size of pie tin and about 2 inches deep. The cops came. I would have lost my hand or worse."
"The year was 1968."
~ enkiloki
"Changing my major."
"I have so much more motivation for school now that I actually love what I'm studying."
~ user8203421
Isn't It Romantic?
"I don't give a f'k if it's cheesy, but proposing to/marrying my wife."
~ Derekeys
"Right there with you, buddy."
"If this answer is cheesy then call me Mr. Rella."
~ GreenManTenTon
"Was going to say same. 34 years happy."
~ Factsaretheonlytruth
"Accepting an accidental friend request from the woman who'd eventually become my girlfriend."
~ warlordwinters
"I agreed to snap with a girl who texted me first on an Online Dating site last December. Just reached 8 months with the woman that will most likely become my wife."
"I thought she was a bot or something when she first texted me."
~ Murphy338
Setting Goals
"A bit over a year ago, I decided it was time to lose weight. Now, I had the yearning to lose weight before that, because being fat sucks."
"But I got a haircut that looked really good and I looked in the mirror and it was as if I were seeing myself for the first time. I looked at myself and thought 'I could be pretty. I really could. You know what? I'm going to give this an honest try'."
"So I did. I researched the hell out of weight loss, began calorie counting and I am proud to say that Ihave lost 127 lbs... so far."
"Now it isn't even a matter of 'Gee, will I ever reach my goal weight?' It is a matter of WHEN."
"My whole life has changed, and 95% of those changes have been positive. I have met a version of myself I never knew existed. And it is f'king beautiful."
~ Rearldeen34
"At 30 years old with a wife and two kids, go to college."
"My standard of living dramatically improved after graduating."
~ Spud9090
"I'm 36 and in my second year."
"My daughters will know a better life than I had."
~ mrw4787
Moving On
"Leaving my ex. We were horribly toxic together and I'm so much happier now."
"Give yourself time to grieve and process. Even when it's the best decision, the pain from the loss is still there. It will be ok. A new kind of ok."
~ HeyJoe459
"Needed this, just left a very one way relationship where everything was about her and now I am free but still hurts to lose that talk every single day aspect."
~ 1trickana
"Leaving and going no contact with my abusive family."
~ tvcxsxalty
"Congratulations on that, ❤️ people have no idea how hard that is."
~ loveloveyourself7
"I just did this. I knew I had to get away from them. COVID made things worse."
"I hired a company to help me fix my credit and I bought a house in a small town in a different state."
"Right now the heat is keeping me indoors but once fall comes it's going to be heaven."
~ BookmarkThat
"Right there with ya'."
"I feel much more relaxed."
~ ActualFirelord
"Divorcing my husband just short of 50 years!"
"No more negative influence."
~ jennifer3333
"My aunt divorced her husband after 38 years and she has been a new person ever since."
"You can tell the weight was lifted."
~ rb928
Facing Addiction
"Stopping drinking alcohol."
"Today I have my life back and I am very grateful."
~ Outrageous_Duty_8738
"Getting sober from alcohol - 1,290 days but who's countin!"
~ slycooper89
"Quit smoking and drinking, started to exercise!"
~ PeachFuzzTamer
"I quit drinking and smoking on the same day about 14 years ago....it was a rough couple of weeks..."
~ Psychological-Joke22
Waiting
"After college I started interviewing for graphic design jobs, and I realized 'Oh, this would be excruciating corporate bullsh*t'."
"I had a moment in time where I knew I needed to decide between a miserable "grownup" job that pays well after a few years, or just working wherever and focusing on enjoying life."
"I wanted to live life, not devote myself to joyless adulthood and a career. I ended up meeting a lot of awesome people, including close friends I still hang out with a decade later, and making countless memories I cherish."
"Recently I started focusing on making more money and being a serious adult, and it feels like the right time for that."
~ UStoAUambassador
Unconditional Love
"Getting a Golden Retriever puppy.
"That was 11 years ago and now I have 3. So much happiness and love."
~ the_best_taylor
"Animals help in ways I don't think some humans really understand."
"My girls [cats] act like they hate me but they are always there for me...for one minute."
~ Flamesclaws
Like we said, life is full of choices.
So which ones worked out well for you?
Ideally life is a rollercoaster of highs and lows.
Constant highs set up an unrealistic expectation of the world that can come crashing down hard over the smallest setbacks.
Constant lows are just plain cruel.
A mix helps develop coping skills and problem solving while not crushing the spirit.
Curious about what constituted low points, Reddit user beesechugersports asked:
"What was the worst year of your life?"
Childhood Trauma
"1987. I was 13."
My dad was killed when he was hit by a car. Total accident."
"I think about the driver sometimes. I hope he forgave himself."
"I honestly don't recall ever feeling anything toward that guy. I think I was more upset with the neighbor who came to our door to tell us he thought my dad was in an accident."
"My mom piled us in the car and we drove down the street to the scene. My dad's body was under a sheet.
"That night I was numb until my mom hugged me and I bawled in her arms. After that I pretty much shut down emotionally for a couple decades."
"Took me a long time to get help for my own PTSD."
~ surfingonmars
Losses
"2011 - Lost my job, girlfriend, friends, had to move back in with my folks where I fell into a deep depression."
"That went on on until 2014 when I was able to turn the ship around."
~ max-peck
"People underestimate how horrible those 2-3 yrs of depression feel."
"I was in rock bottom depression for 2 yrs and it felt like a decade passing by."
~ secondhand_bra
Future Derailed
"2012. The year started out great. I met and befriended an adult film actress on my birthday and had an active sex life for the first time ever."
"I was finally off the night shift at my job. I applied for grad school. I was accepted into a program for veterans at the Writer's Guild of America."
"I had finally arrived."
"But by September it was all over. My relationship with 'Nadia' had turned toxic and ended in a huge fight."
"I was rejected from grad school. The WGA program didn't pan out for me."
"Worst of all, I was fired from my good job. I nearly became homeless and had to go back to working the night shift guarding a gated community in Beverly Hills."
"By the year's end, I was alone and broke (I would declare bankruptcy early the next year) with no hope for the future."
~ SgtSharki
Economic Downturn
"2014. My business suffered a 4 million dollar loss."
"Then my fiancée who I was with for 6 years left me for her boss just 3 months before our wedding."
"I wasn't able to find another partner but I did recover from the absolute shambles I was in."
"Just the fact that I'm able to function normally and interact with people again without breaking down is a big win for me."
~ S_MZ
Post College Struggles
"2014—the year I graduated college and was looking for work and had bad acne and unrelenting pressure from my parents and a poor social life and I worked Uber while studying for the Chartered Financial Analyst exam that I ended up failing."
~ Damerman
Friends Lost
"2017. I lost my best friend that year.. we met during our first year of university and immediately hit it off and became close."
"We were inseparable for 7 years. I've never been the same since then.. I died with him."
"I wish I could've helped him.. I wish I could just take one last drive and smoke one last cigarette with him ,and tell him how much I love him and how much he means to me."
"Please tell your friends that you love them whenever you get the chance.. you never know when will be the last time you hang out together."
~ Syouf
Seeing the Light
"2018. Realized I was part of a cult."
"It was called the Great Commission Churches when I attended though they've changed their name multiple times over the years when they've been accused of abusive practices."
~ Consistent-Way-2018
Long Road to Recovery
"2019. Last straw at my job, where the management team turned on me, resulting in me putting in my 2 weeks after my complaint against a lying supervisor was dismissed."
"Had no more income, so I couldn't pay rent, and thus had to move out of the shared house I had with a friend and his fiancée (wasn't on lease, had no obligation to stay, and the fiancée even told me "you know, you don't have to live here" during an argument)."
"Said fiancée convinced him to turn on me and drop me as a friend, which resulted in him going off and convincing the only other friend I had to do the same."
"Covid hit."
"My cat developed a genetic illness that paralyzed her and my step-father put her down behind my back. My childhood dog developed cancer and was suffering so she was also put down, but I was able to hold her while she passed."
"Great aunt died of cancer, great uncle (other side of family) died of cancer."
"That was the lowest I've ever been, and I haven't even recovered 20% yet."
~ Whatsa-Throwaway
Pandemic Pandemonium
"2021 was the year when my mental health was worse than ever."
"Looking back I'm proud of myself that I just survived."
~ Master-Mood1816
"Well done on that and also, same."
"2021 can go straight in the bin."
~ sicklything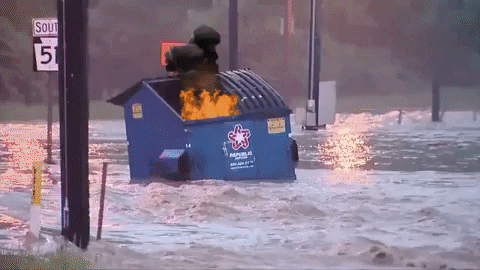 Giphy
Aftermath
"On the flip side 2021 was probably one of the best years of mine as an adult."
"My girlfriend and I were able to spend so much time together because she was only working maybe 1 day a week and I worked at an empty warehouse from 7 to 3 Monday to Friday."
"When everything went back to normal we both were working so much we ended up splitting up, so I guess 2022 sucked pretty bad."
~ ofTHEbattle
Piling It On
For some, their worst year isn't done with them yet.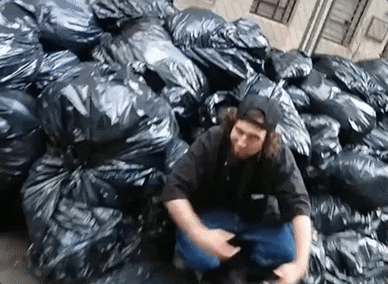 Giphy
"2023. By far the worst year of my life.
"Got laid off, took forever to find a new job, fiancée got pregnant then lost it then she got cancer, hated my new job, went heavily into debt to survive, fiancée beats cancer, she gets a life insurance payout from her father's passing, she gets pregnant again."
"Then I find out after she up and vanishes suddenly that every single thing was a lie. She faked it all from top to bottom for two years and pulled the rug out from under me, suddenly running off with our dogs."
"Since then I guess she needs some sick gratification that she's not getting from just all that and continues to stalk me on social media/Reddit as well as spoof her phone number to text me sh*t with purely the intent of trying to hurt me."
"Losing the dogs hurt and still hurts, won't lie, but being rid of her has been nothing short of a blessing."
~ Ok_Outside_4650
"This year—2023."
"My dog died in June."
"My wife died in July."
"My cat died in August."
"I have 5 kids."
~ MichaelHoncho
Dear whatever doesn't kill me, I'm strong enough now.
"Every year seems to beat the previous."
~ BenChodABQ
Oof, that's a lot to take.
While some are still going through it, many have already come out on the other side.
Here's hoping better days are ahead soon for everyone.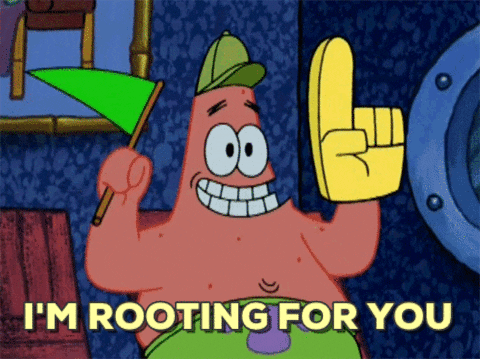 Giphy