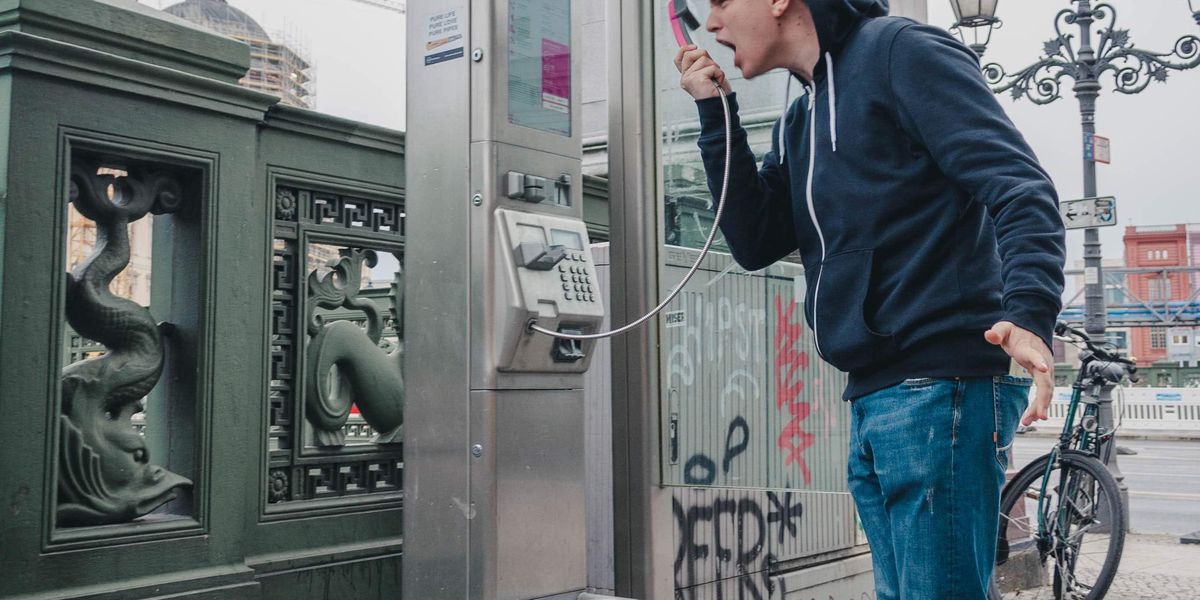 Alexandra Mirgheș on Unsplash
Just because a person is affable and approaches life with an abundance of joy and enthusiasm doesn't mean there's not a hint of darkness there somewhere.

---
It's called being human.
No matter how positive one is perceived in public, everyone has their snapping point–which, for the record, is not an excuse for slapping someone for all to see.
Everyone has a different tolerance level, but we all have the capacity to reach a boiling point.

Curious to hear what those might be, Redditor harmonybyday asked:
"What immediately makes you angry?"
Life circumstances can test our patience or push us over the brink.
Rude Awakening
"Waking up before your alarm thinking you still have a couple of hours to sleep. Then you check your phone and realize you only have a few minutes."
– Actuaryba

Laundry Drama
"wet socks."
– yParticle

Poor Customer Service
"Calling a gigantic corporation knowing full well I will speak to a robot for the first 5 minutes, on hold for the next 30, to explain my situation to 3 different people, of which none will help me."
– xailar

There's nothing more infuriating than the actions of other people.
Taking Too Much Space
"Some folks seem to have an utter lack of situational awareness, and as a result are constantly getting in the way of themselves and others."
– yParticle
Cart Blockers
"Especially at the grocery store. I said 'excuse me' three times to an old woman whose cart was blocking a product I needed. She had her nose in her phone. I moved her cart to get the item and she never noticed."
– Pnknlvr96

Job Made Difficult
"I work at Walmart and the amount of people who try to walk in front of me while I'm pulling a pallet full of boxes is ridiculous. Like those things are heavy. I can't stop quick like they can with their little carts so I sometimes end up hitting them, even tho I try my best to stop."
– Shadowweavers

They Think They Know What's Best
"Someone assuming my opinion or intentions before asking me directly."
– sevencoves

Jumping To Conclusions
"People who assume without getting all sides of the story."
"Example: believing that person who told you about someone else, without getting that someone else's side. Get all the facts, please."

"Another is reading a headline and making comments without reading the article."
– JAInTexas

Guilty
"Being falsely accused."
– penny_can
False Accusation
"Nothing gets me angrier than being accused of something I haven't done."
"When I was an early teenager, I would wrap my used sanitary products in tissue and put it in the bin next to the toilet."
"One day I get called downstairs - the toilet was blocked, because someone had flushed sanitary pads."
"Being the only menstruating person in the house, I was blamed. My Mum said in a condescending tone 'you know you're not supposed to flush them!?' I explained what I do with them, that I put them in the bin".
"The argument got heated and eventually they just said 'don't do it again' and dismissed me."
"Later, I was walking past the bathroom and I saw my Nan taking the tissue from the bin and putting it in the toilet."
"I flipped the f'k out! How long had she been doing this??"
"The worst part is that I've always tried to be honest so that sh*t like this doesn't happen. Not saying I never lied, but I was never stupid enough to deny anything if I'd been caught. There was no reason for them not to believe me, because if it was me, I'd have said 'yes, sorry, I won't do it again.'"
– Susim-the-Housecat

Incompetence Levels
"People who are incompetent but don't know that they are incompetent, and they try to fix things that do not need fixing."
"Incompetent and lazy, ok. Competent and lazy, ok. Competent and hardworking, ok. Incompetent and hardworking, please get out!!"
– spiffyga

One Bright Idea

"When someone is the only person to hear my idea and then immediately repeats it and passes it off as their own. Makes me feel like Maury in Big Mouth: Rage, rage, fucking RAGE!"
– aphrodesa
Lane-Change Deniers
"People who drive slow in the right lane but speed up as soon as you try to pass them in the left lane."
– el_monstruo

Going Nowhere Fast
"People who cut ahead of you on the road only to go slow."
"If you're in such a hurry to risk my life and yours then push your foot down on the pedal a bit more."
– YouCanMakeNewAccts

Drivers Who Do This Suck
"People not using turn signals properly."
– atlienk

As for myself, I have little patience for those who disrespect the elderly.
What pushes me further is when I imagine my own parents or elderly friends I've lost who are the ones being harassed or taunted.
Anyone picking on the vulnerable is a coward, in my humble opinion.

Want to "know" more?
Sign up for the Knowable newsletter here.

Never miss another big, odd, funny or heartbreaking moment again.