Timothée Chalamet is one of the hottest young actors around, and Harry Styles is easily one of the most in-demand pop stars. There really isn't a better celeb-on-celeb combo right now, and when i-D Magazine brought the two together for an interview, what they chose to talk about surprised a lot of people. Of course they discussed one another's work, current politics, fame, and David Bowie. Those are all pretty standard topics for interviews. The conversation turned to masculinity and vulnerability, and that's when the internet lost it.
One trade in particular sparked a reaction: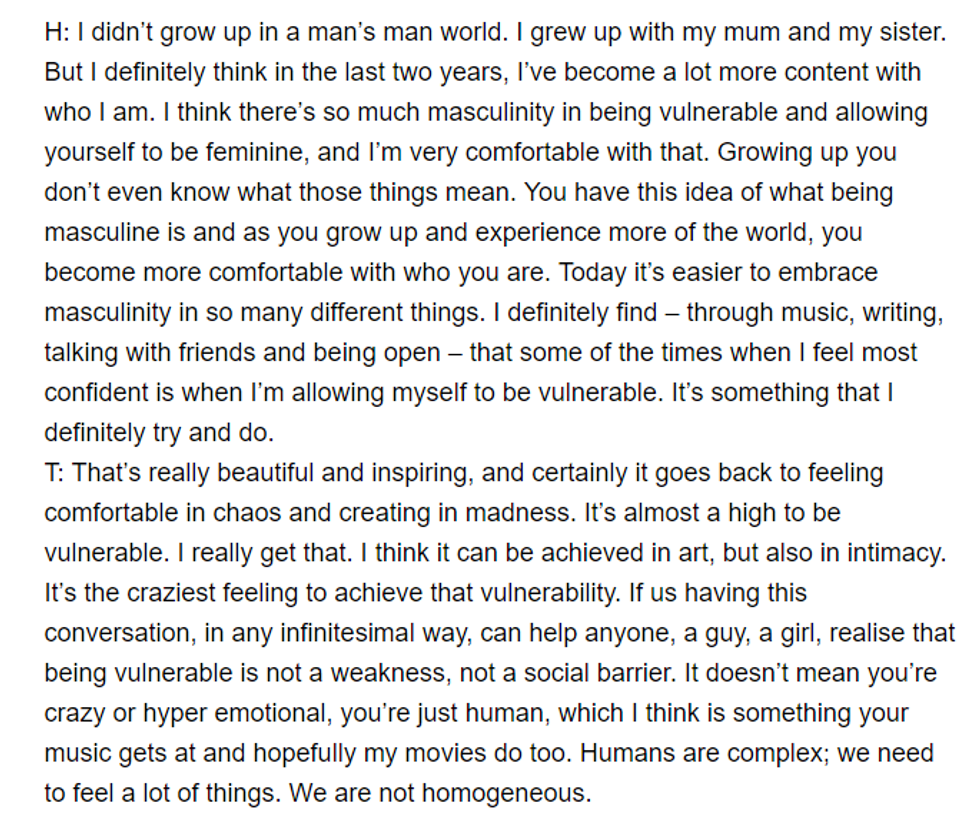 i-D
The men discussed how they considered it a strength to allow themselves to be vulnerable both in their art and in their personal lives. They both shirk the archetype of stoic masculinity in favor of an idea of masculinity as multi-faceted and honest. Masculinity has been such a hot-button topic lately that there's no way this was happening without Twitter fighting about it.

Some people HATED it. The insults came out fast.
But others? There are absolutely here for it.
A significant number of people took issue with the idea that vulnerable masculinity was "new" in any way.

We want your thoughts. Is "new" masculinity really new? Is it a positive change? How do you think having two of the hottest young celebs talking about masculinity will change the way young men interpret it? Sound off!
You can read the full interview on i-D here.