Although it sounds fun to send a gift to a stranger and get a few in return, this holiday scam is nothing more than an old pyramid swindle dressed in sparkly wrapping paper.
---
The leaves have fallen and the weather has turned brisk, so you know what that means: time to start scamming people on the internet. An old time favorite has started to make the rounds once again in the form of a fun-filled gals present exchange. Only problem is, hardly anyone ever actually gets a gift.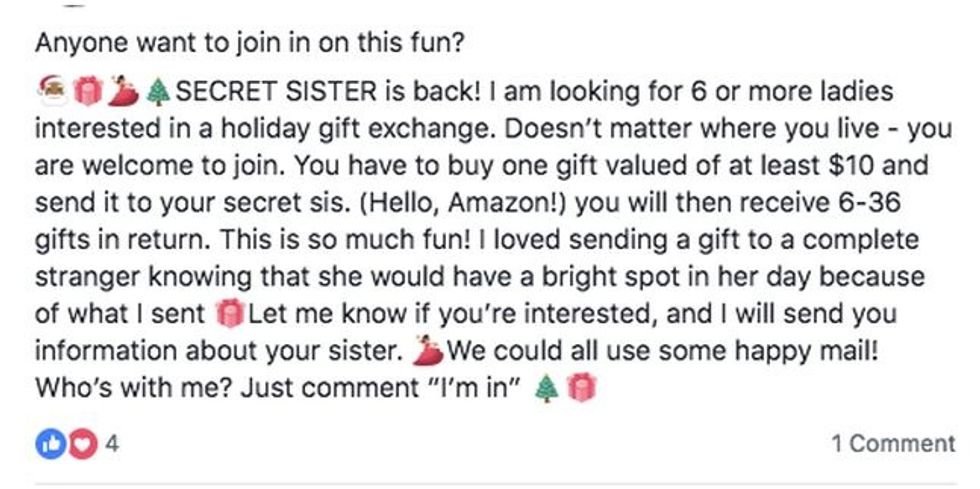 Facebook
Three years ago, the U.S. Postal Inspection Service took to Facebook in the hopes of thwarting the scam.
The post in full reads:
"More on the "Secret Sister" Deal on Facebook
Several of you have reached out to ask questions about the legality of these types of events or questioning how it could be a scam if you know friends who have already received gifts.

We caution folks against becoming involved in these types of events because they are a form of pyramid scheme. The people at the top of the "pyramid" benefit most--and might actually receive the items promised. However, for everyone to receive what they've been promised, each layer of the pyramid must attract new recruits. It's mathematically impossible to sustain.

Consider a typical pyramid that involves six individuals in the chain. By the time you've reached the fourth level of participation, nearly 1,300 recruits must be on board. Today, social media might make that a bit easier in than days past, which required chain letter-type solicitations by mail. However, upon reaching the sixth level of participation, you'd have to attract more recruits than could be seated in Chicago's Wrigley Field. By the seventh level, you'd need more participants than folks living in Anchorage, AK. The ninth level requires you to recruit all of Houston, Tx and the Washington Metro area combined—and you still wouldn't have enough participants.

The 11th round requires everyone in the United States to join in, if the promise is to be fulfilled. The odds are likely greater that Santa Claus, himself, would fly his sleigh into the middle of Times Square to personally distribute the gifts.

Fraudulent pyramid schemes typically violate the Lottery Statute (Title 18, United States Code, Section 1302). They contain all three elements of a lottery: prize (expectation of monetary or other gain from participation in the pyramid); chance (the monetary return you may receive from your participation is entirely up to chance, that is, dependent on the efforts of those below you in the pyramid), and consideration (the price of your gift to join the pyramid).

Pyramid schemes carry hefty penalties. If you are convicted federally, you may be fined or imprisoned not more than two years, or both; and for any subsequent offense you may be imprisoned not more than five years. But there's more than federal prosecution to worry about. Many states have anti-pyramid laws on the books that call into question the legality of these activities. Facebook's rules may also prohibit this type of activity.
Absent all the legalities, it's unfortunate—but nonetheless likely—many well-intentioned, present-bearing sisters will experience first-hand the age old adage: "tis better to give than to receive", as the sense of sorority dissipates upon realizing the promise of a gift in return cannot be fulfilled. The best way to avoid disappointment? Avoid the pyramid altogether.

Thanks for reading. We appreciate your interest and engagement."
Word is definitely spreading over social media to not fall for this one.
Twitter is far too cynical to fall for this.
Maybe not everyone got the memo.
Luckily there were plenty of people to let them know.
Nothing says happy holidays like getting ripped off!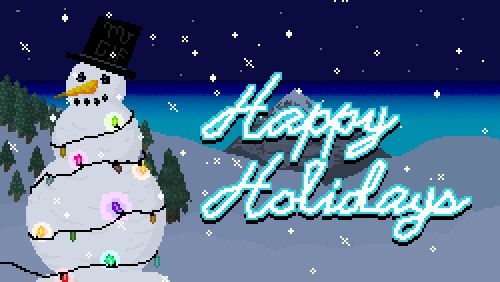 Giphy