Jenelle Evans, star of MTV's Teen Mom 2, recently opened up about her latest stint on the show.
She also addressed her husband's animosity towards the LGBTQ community and stated they are both fine with his words and actions.
---
David Eason, who has a 19-month-old daughter with Evans, was also a part of the MTV reality show. However he was promptly fired after posting homophobic tweets in which he called gay and transgender people "abominations."
David Eason shared yet another homophobic post, and followers were quick to call him out. https://t.co/dFwUUBHyqQ

— Us Weekly (@Us Weekly)1535566320.0
Since his firing in February, not much has changed. Eason went back to making deliberately inflammatory posts mocking LGBTQ people.
On Wednesday, he took to his Instagram profile "easondavid88" and posted an illustration of a heterosexual bride and groom with the words "Straight Pride" across the top and the caption "it's Natural, it's Worked for Thousands of years and you Can Make Babies" at the bottom.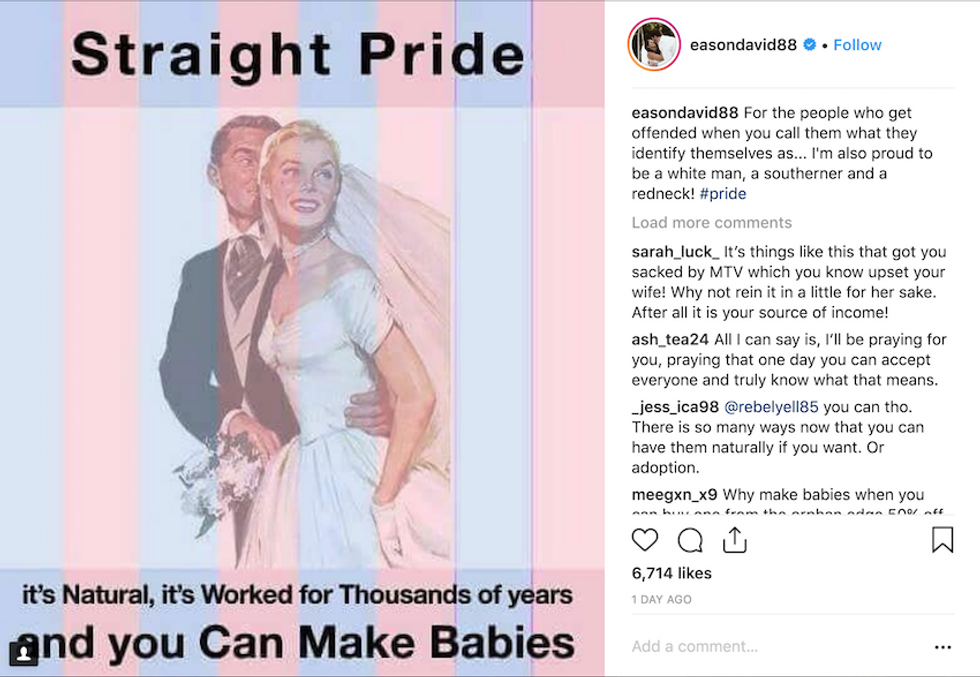 Being fired from MTV didn't teach him anything. (@easondavid88)
In his own caption for the image, Eason stated:
"For the people who get offended when you call them what they identify themselves as... I'm also proud to be a white man, a southerner and a redneck! #pride"
Eason fails to specify "the people who get offended" and which words he thinks matches what they "identify themselves as." Along with his usual homophobia, his caption added a reference often found in White Supremacist and alt-right rhetoric to justify racism and their use of racist language.
Is Eason now claiming there are words he uses for non-White people that they use to "identify themselves?"
@TheAshleysRR Not a surprise https://t.co/XfJKx5gbgK

— amanda (@amanda)1535680235.0
His post riled many fans of Teen Mom 2 on social media.
Some of Eason's own followers—who should be familiar with his homophobia and transphobia—sounded off in the comments section of his post. The broader community of fans for his wife's show also took to Twitter.


Instagram
@TheAshleysRR I do believe he's racist, homophobic, and as dim lit as they can come. But I also think he does all t… https://t.co/AVYaftrVRu

— 𝕾𝖍𝖊𝖑𝖑𝖞 𝕳𝖊𝖇𝖊𝖗𝖙 (@𝕾𝖍𝖊𝖑𝖑𝖞 𝕳𝖊𝖇𝖊𝖗𝖙)1535695081.0
@TheAshleysRR Oh god. I can't with him..

— Tiger (@Tiger)1535724945.0
However, not surprisingly some of Eason's own fans support and share his call for White Pride and anti-LGBTQ views.


Instagram

Instagram
However some picked up on the added White Supremacist rhetoric in his caption and admonished him for it.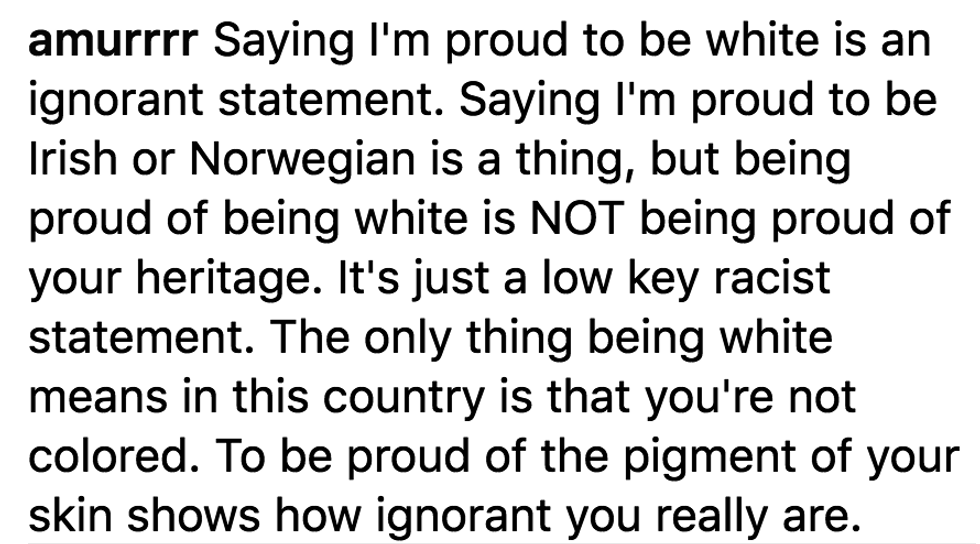 Instagram
One person asked a genuine question of the father.

Instagram
Someone on Twitter thought they knew the answer based on his strong commitment to publicly posting anti-LGBTQ rhetoric even after losing his job.
@TMMamaDrama If David found out his kids were gay we all know what he would do! He would probably disown them and n… https://t.co/RIaDKQ751k

— Ashley Nacole Pires (@Ashley Nacole Pires)1535473220.0
Eason's controversial post came just two days after his wife downplayed his homophobia and transphobia.
Jenelle Evans stated:
"He doesn't hate those people."
Evans sat down with Dr. Drew for the second part of the Teen Mom 2 season 8 reunion interview in Wilmington, North Carolina.
She confirmed not much changed since her husband was fired back in February.

"He still feels the way he feels. He thinks he shouldn't have said it the way he did, but he still stands by his views. He deleted it right afterwards, he said he was sorry, and he still hasn't been on Twitter."
Evans however claimed her husband could go online and post his anti-LGBTQ views, but he doesn't.
"He can still go online right now and rant all he wants — he still doesn't. … We've discussed it and I've said you don't need to be as outspoken."
Oops.
@TheAshleysRR Sounds like someone may be in denial...😏

— Kileyfornia (@Kileyfornia)1535683924.0
But Evans, 26, defended her husband's verbal assault on the LGBTQ community with a bizarre analogy. According to Evans, homophobia or transphobia is just like not wanting your child to go to medical school.

"He just says he just doesn't want his kids to grow up and be that way."
"Just like if you don't want your kid to grow up and be a doctor … some dads are just like that. …"
"It's been the way he was raised. … He doesn't run around the house saying, 'I hate gay people'."

Watch it here:
Jenelle segment #3 Defending David 👀👀👀 https://t.co/7KERUSzko7

— *Cause I Find You* (@*Cause I Find You*)1535423586.0
@TMMamaDrama @Fetal_Mistake So so cringy. I don't understand how someone could be with someone with so much hate in their heart.

— Emily Jade (@Emily Jade)1535430058.0
@TMMamaDrama And the best part was "he didn't say it , he typed it"

— newbeginnings0321 (@newbeginnings0321)1535473107.0
"Erica" on Twitter found a flaw in Evans's justification for David Eason's behavior due to his apparent—according to his wife—homophobic, transphobic and possibly racist upbringing.
Erica argued that being raised one way doesn't automatically mean you have to adopt the same hateful beliefs. Although she was also raised in an environment that promoted hating anyone unlike herself, Erica chose not to embrace her family's anti-LGBTQ and racist ideology as an adult.

@TheAshleysRR I was raised in a family that believe it's acceptable to call POC the "n" word, and that homosexualit… https://t.co/yHqSgqw4Ko

— Erica 🎩 (@Erica 🎩)1535508430.0
@TheAshleysRR Beliefs. And as an adult, I've been able to soften the hearts, and change the opinions of a few of th… https://t.co/zGrNhwymxb

— Erica 🎩 (@Erica 🎩)1535508495.0
Evans and Eason married in September 2017. They have a 19-month-old daughter, Ensley.