A police department in rural Alabama used their social media account to preach to their followers. People were not happy.
---
In a now deleted Facebook post from Tuesday, the Opp Police Department went on an all caps shouty rant declaring the crimes being committed in the county were due to the fact that folks have turned away from God and turned to Satan.
The since deleted post read:
THIS PAST SUNDAY, A YOUNG MAN WAS SHOT AND KILLED IN KINSTON. MONDAY NIGHT, A MOTHER WAS SHOT AND KILLED IN NORTHERN COVINGTON COUNTY. THERE HAVE BEEN FIVE MURDERS IN COVINGTON COUNTY IN 2018. THESE MURDERS HAVE BEEN DONE BY OUR YOUNG PEOPLE. THIS IS HAPPENING BECAUSE WE HAVE TURNED AWAY FROM GOD AND EMBRACED SATAN. WE MAY HAVE NOT MEANT TO DO SO BUT, WE HAVE. IT IS TIME TO ASK FOR GOD'S HELP TO STOP THIS. IT IS TIME TO BE PARENTS AND RAISE OUR CHILDREN, NOT HAVE THEM RAISE US. IT IS TIME TO FULLY SUPPORT LAW ENFORCEMENT AND STAND BY THE OFFICERS AND DEPUTIES THAT ARE FAR TOO OFTEN HAVING TO WALK INTO THESE DANGEROUS SITUATIONS AND CLEAN UP THE MESS. FRIENDS, IT IS TIME TO STAND UP AND BE RESPONSIBLE, GROWN UP LEADERS IN OUR COMMUNITY. BOTTOM LINE, THERE ARE SHEEP; THERE ARE WOLVES AND THERE ARE SHEEP DOGS. WHICH GROUP DO YOU BELONG TO ?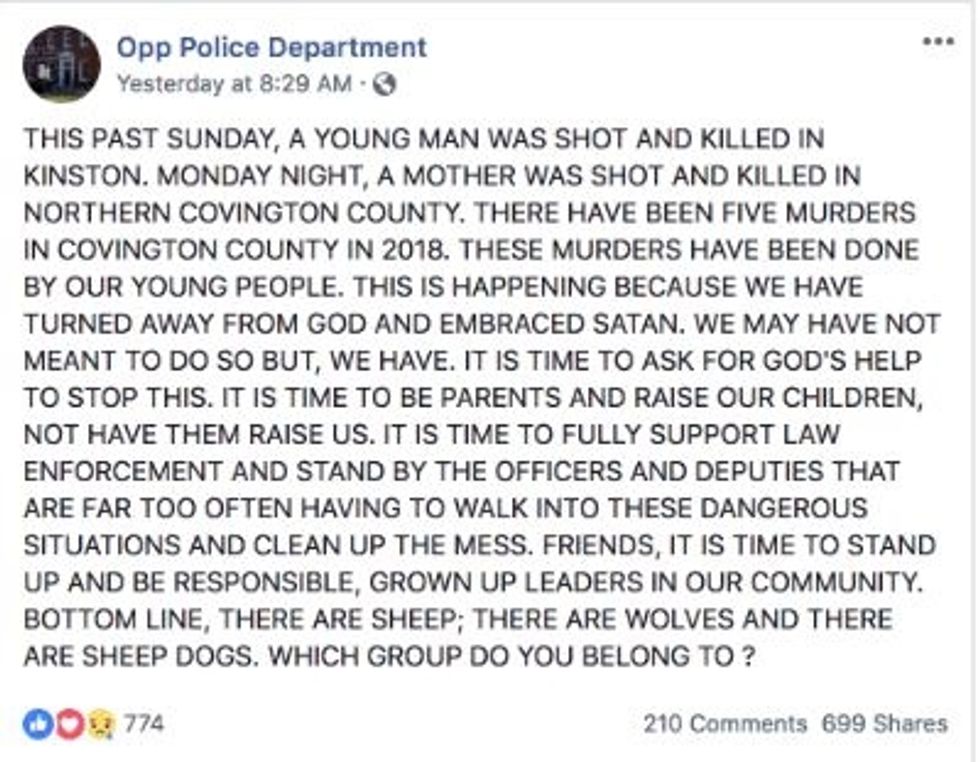 Facebook Opp Police Department
The non-profit organization Freedom From Religion Foundation spoke out against the post saying:
"It is highly illegal for a government entity, such as a police department, to endorse or deride religious belief. The Opp Police Department's post does both, urging readers to "ask for God's help" while blaming those who have "turned away from God" and "embraced Satan" for a rise in violent crime."
FFRF Co-President Annie Laurie Gaylor adds:
"This inappropriate post sends a chilling message to non-Christians and non-believers that they are presumed guilty."
Folks are speaking out against the post.
Someone may need a time out.

Very special indeed!